Enchanted Forest Birthday Party
Be swept away to the enchanted forest themed birthday party.  From woodland,
to fairies, and butterflies too this birthday theme is perfect for your little one.
Disclaimer: Please note that some of the links below are affiliate links in which I will receive a commission if you purchase those items through that link. I used and recommend all the products below because I have found the company and products are reliable and are my personal preference.
So somehow I managed to pull off throwing my first (and probably last) first birthday party. I still cannot believe I have a one year old. Seems like only yesterday I was bringing this beautiful baby home from the hospital.
Enough with the sentiments. I have literally been planning this party shortly after she was born. And it all started with Pinterest of course. I originally started with a pink and gold theme party, but quickly realized I needed more than some colors as a theme. That's where this party went from pink and gold to enchanted forest.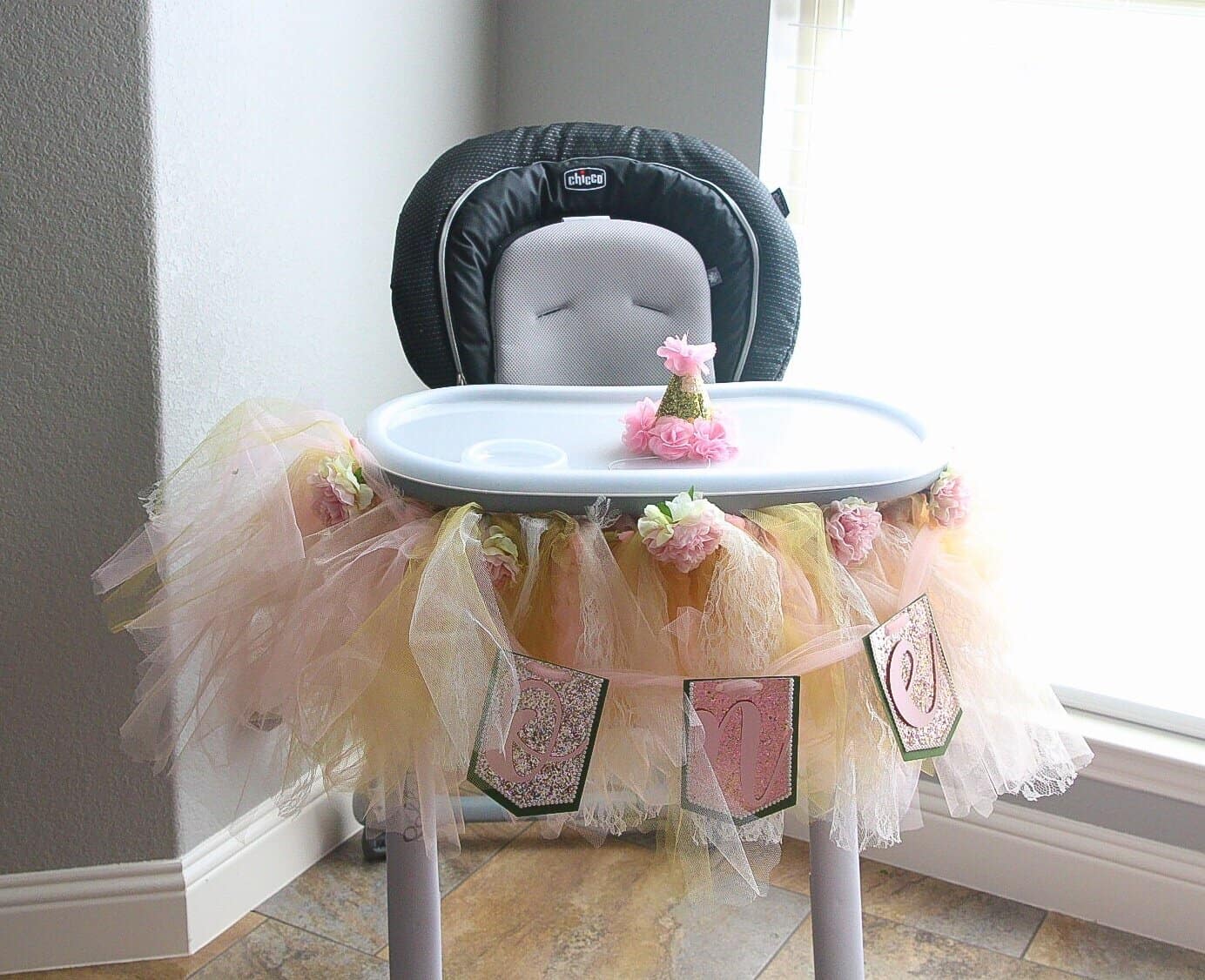 Not even sure why enchanted forest was the theme I wanted, but I wanted something with flowers. Honestly there isn't a lot of enchanted forest themed pins out there. There's a lot of woodland theme, which works with the enchanted forest some. So I just got busy pinning as many ideas as I could.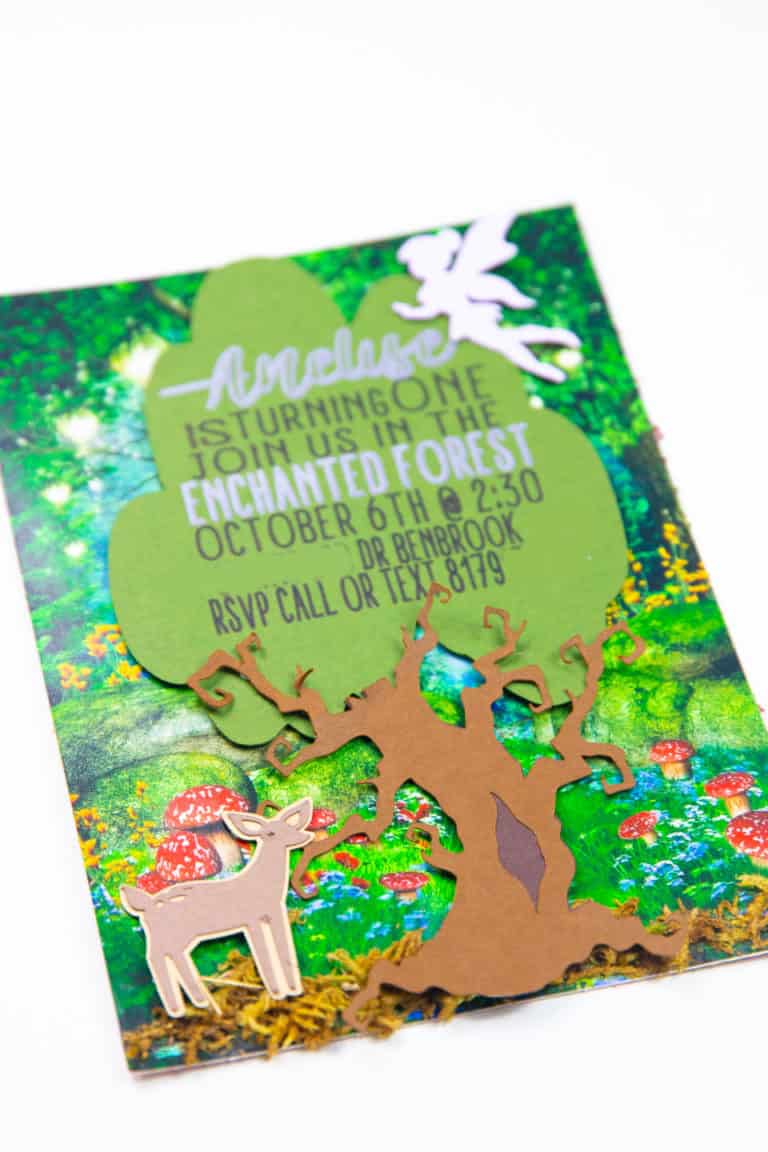 So from the ideas I found on Pinterest i got inspired to create new ideas to do. So first thing first was the invitations. I couldn't just go with regular made to order invites, I had to do something special.
Well what was I thinking? I literally worked on these for months, doing a little at a time. Now they are super cute, but did cost .70 cents a piece to mail because of the thickness. You only have a first birthday once though.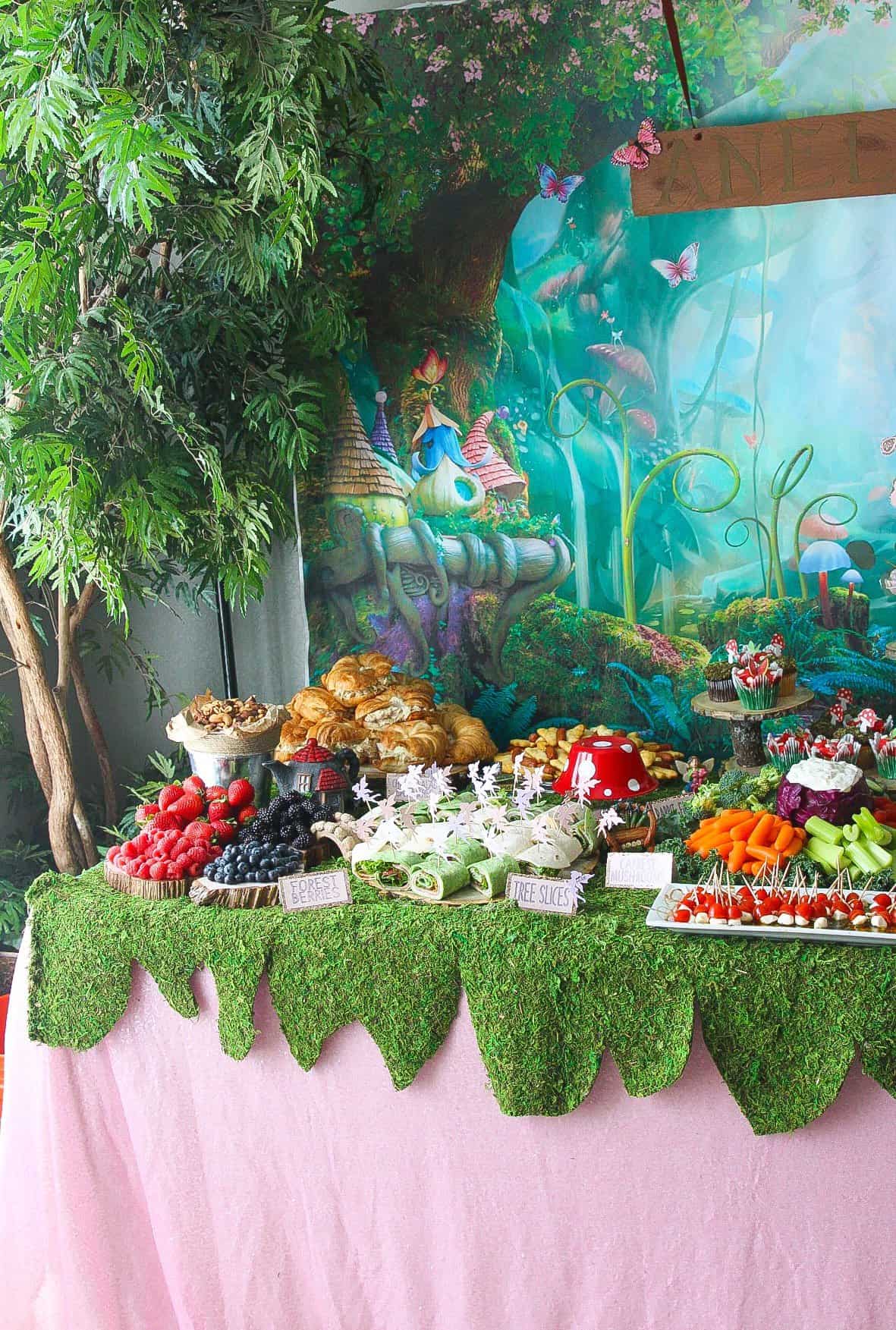 Me being the food blogger I am, I knew the most important part would be the food and how it was displayed. The food table was EVERYTHING. Honestly I don't think it could have turned out any better than it did. I started with an enchanted forest backdrop that I ordered off eBay and went from there.
I bought some rolls of moss and cut them into shapes to fit around everything that would be on the table. Then got some of these Gnome Fairy Garden Accessories Kit off amazon and placed them around the table. I think it added a cute touch.
Now to the food. By the way I had so much left over because I think I thought I was feeding an army not just family and close friends. Either way some people had enough to take home and enjoy later.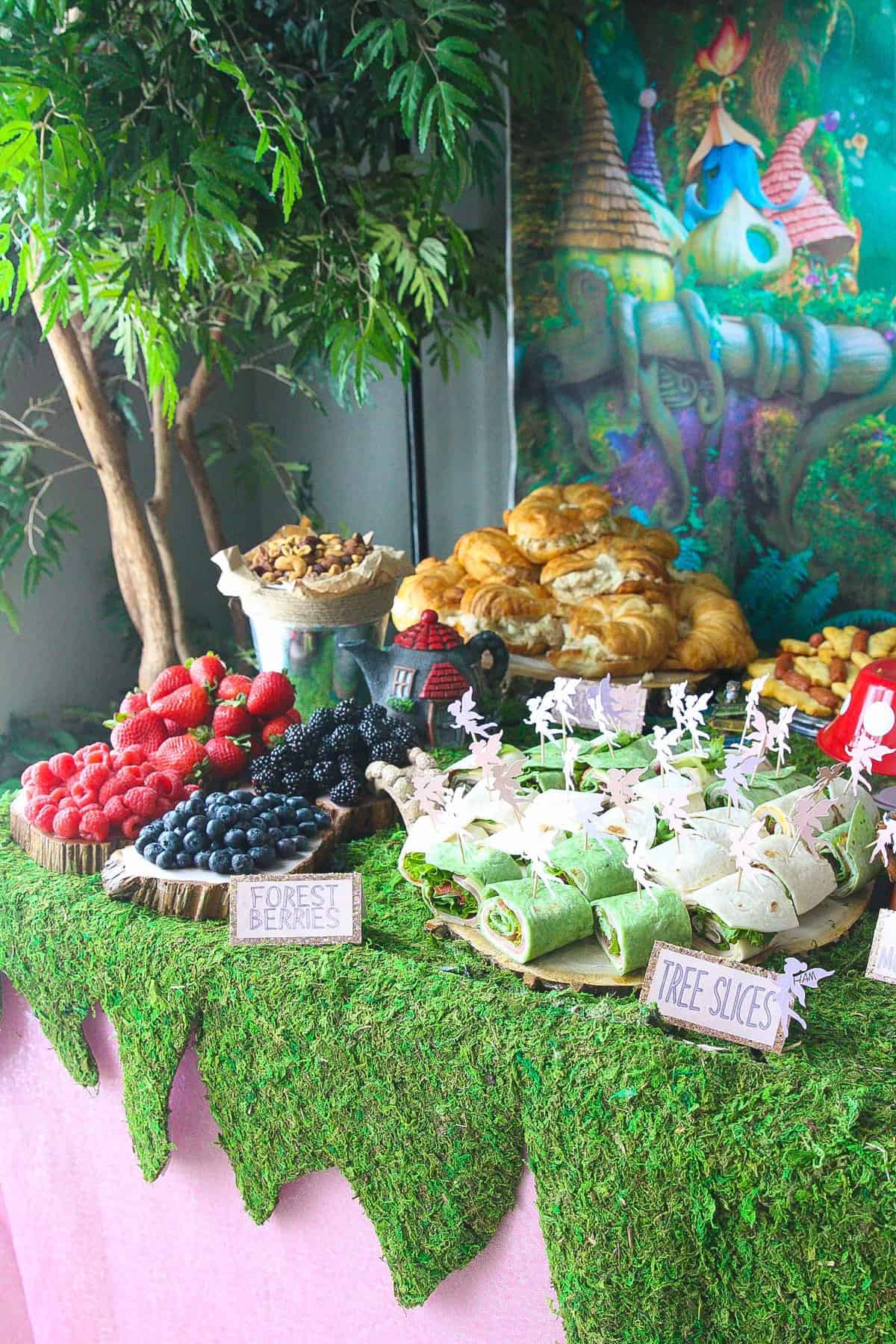 For "mains" I did chicken salad sandwiches on Sams club croissants. Then did a mixture of turkey and ham tortilla roll ups. Didn't want to go the cream cheese method so just did mayo and used different colored fairy toothpicks that I made with my Cricut to tell which was turkey and which was ham.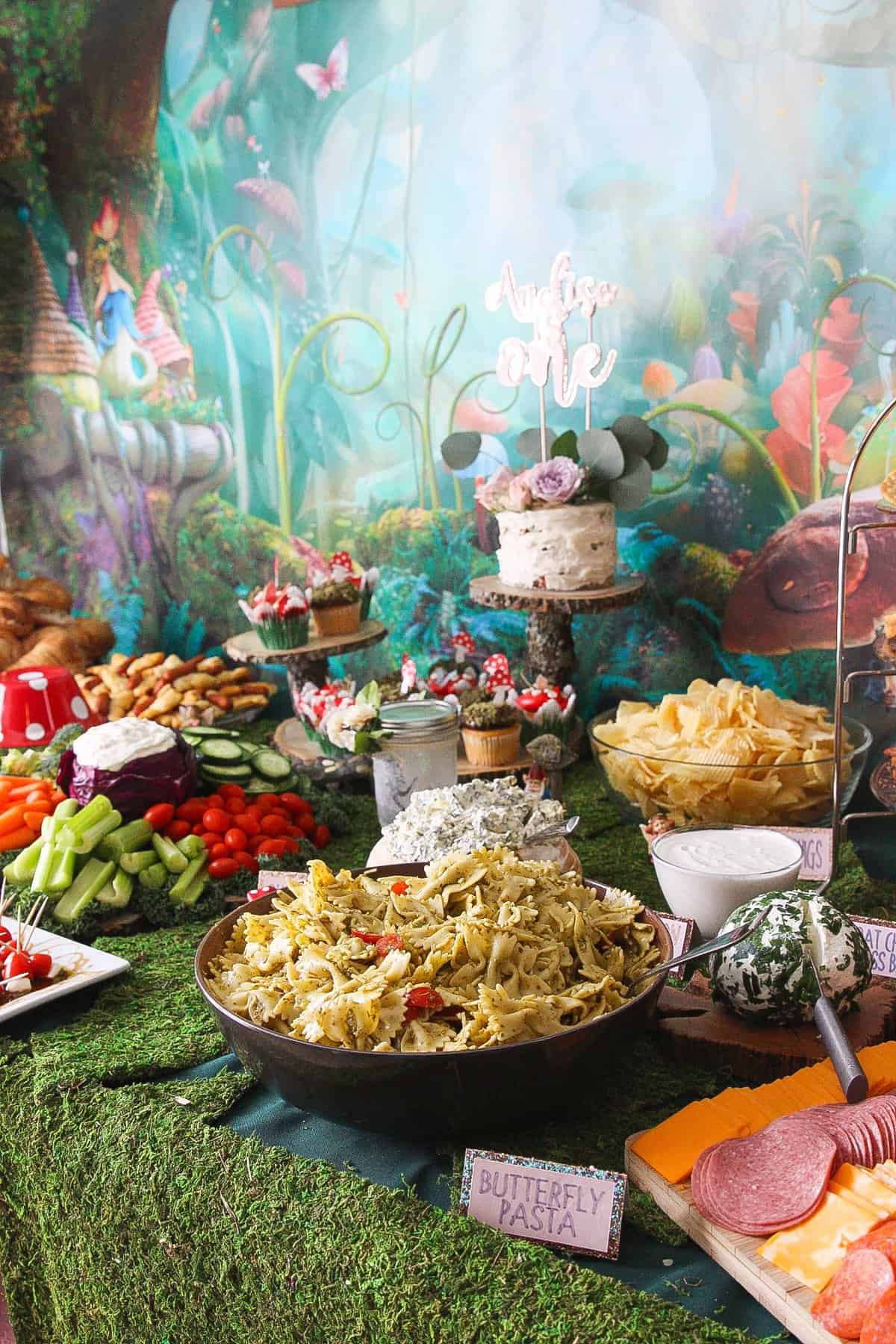 I made some butterfly pasta just using butterfly pasta, a couple jars of pesto and throwing in some mozzarella cheese balls and cherry tomatoes. Super easy and tasty.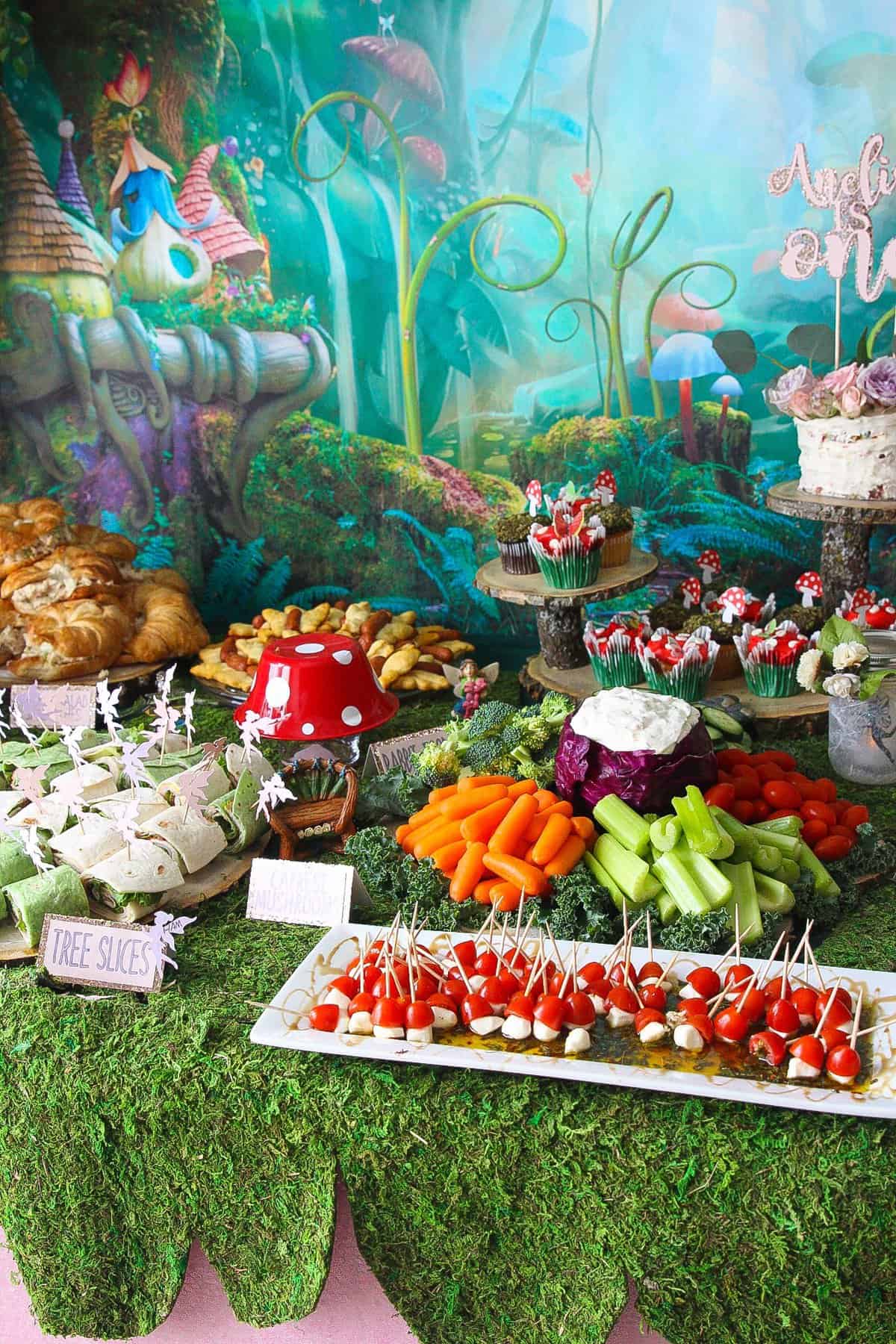 And because I can't get enough of caprese type foods I did caprese mushrooms. I used my marinade recipe from my caprese salad recipe and poured that out on a plate. Then drizzled some balsamic vinegar reduction sauce on top. Then just cut some cherry tomatoes in half stick a half on a toothpick and then a mozzarella ball.
I made a moss ball out of goat cheese and some fresh parsley. Goat cheese usually comes in a tube form so I laid out some plastic wrap and put my goat cheese in the middle, wrapped and shaped into a ball. Then chop up some fresh parsley and roll your goat cheese ball in it.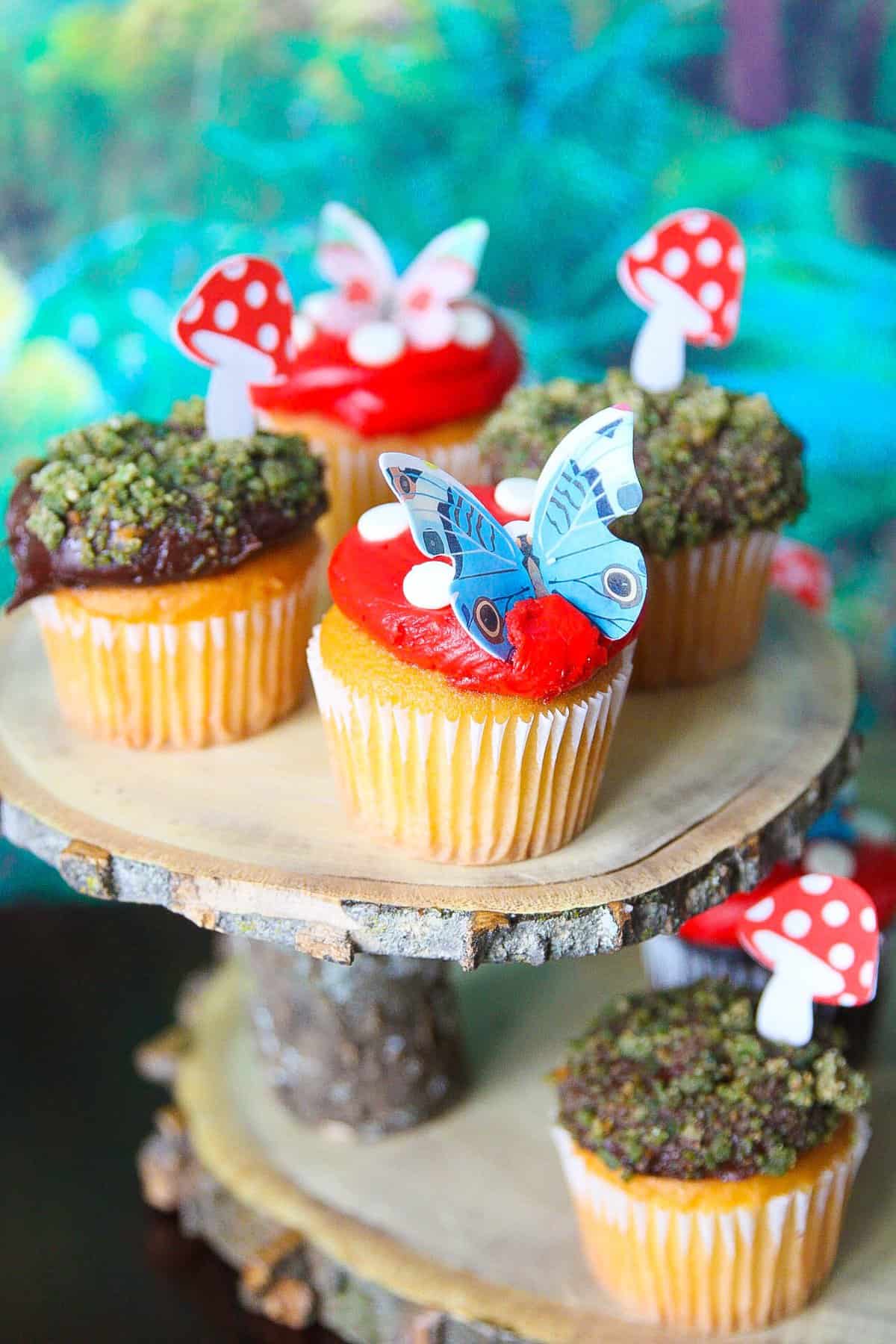 As for the cupcakes, I originally thought Sam's club would make them how I wanted, but no. So I just bought them with the cake flavor and color frosting I wanted and did all the decorating myself.
For the moss ones I crushed up graham crackers and adding green food coloring to it. Then just roll the top of your cupcake in it and that's it. Topped with a paper mushroom I made with my Cricut.
For the red mushrooms I just bought white chocolate chips and added them on top. Then I bought these cute Edible Butterflies
to add on top.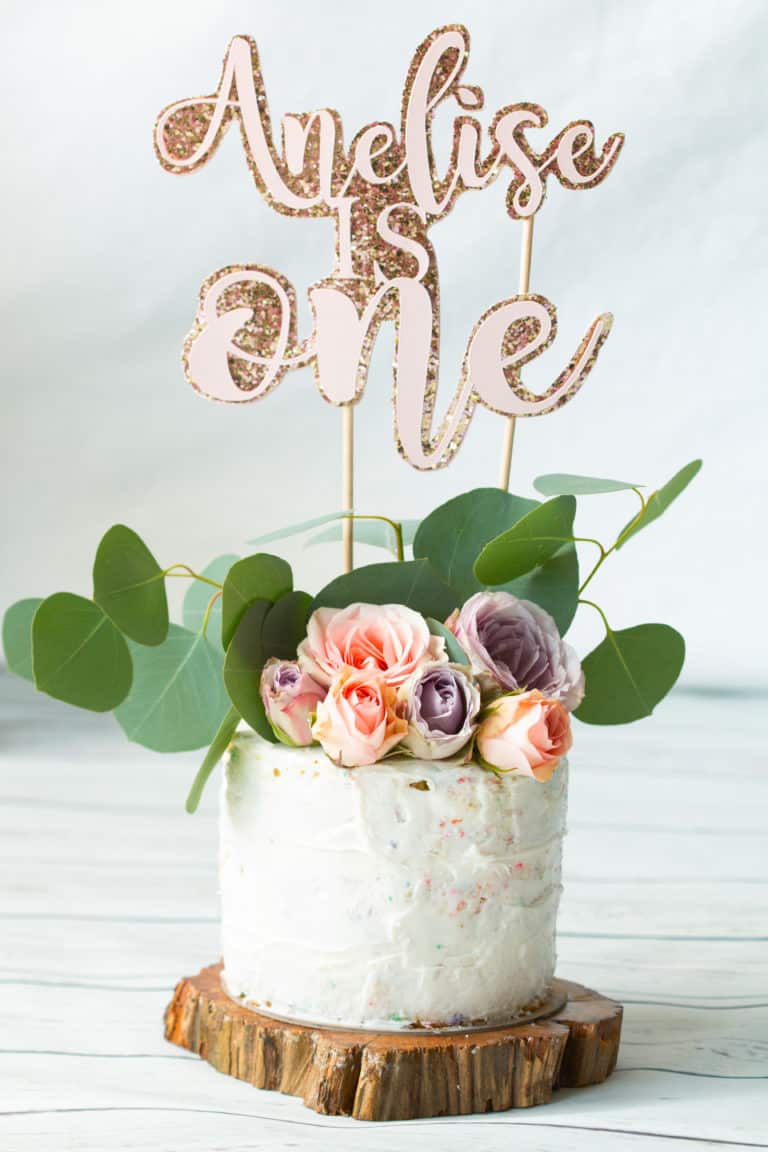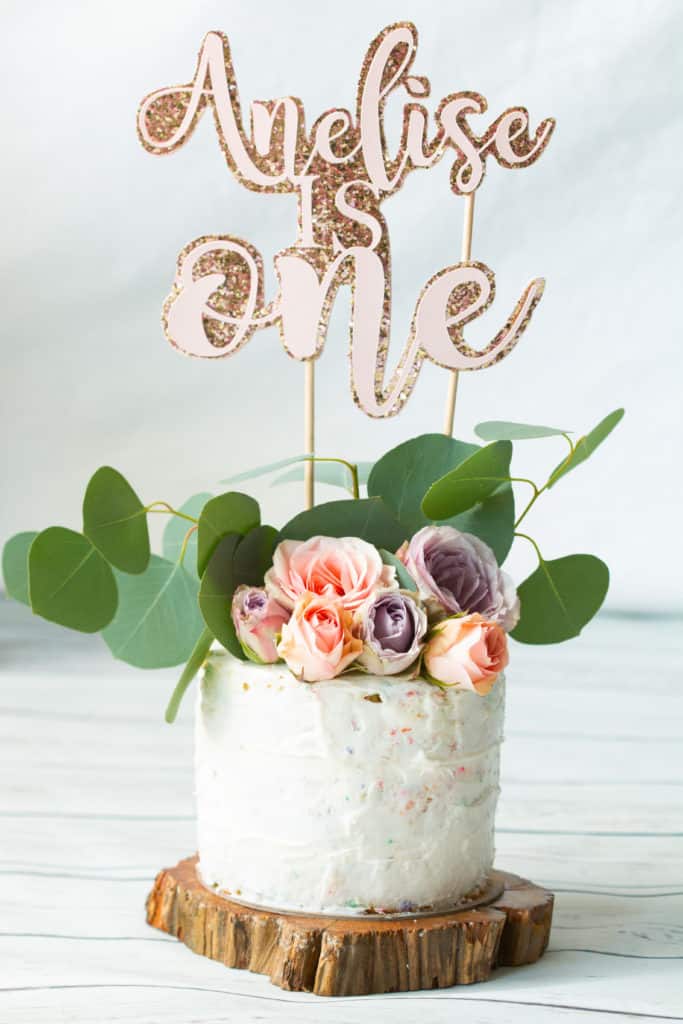 Of course she had to have a smash cake.  I decided to take on this task myself as well.  I wasn't going to go with something crazy elaborate so I thought I'd be able to handle it.
I just look regular white cake mix added a bunch of sprinkles and cooked in pretty big cake pan.  Then I bought this circle baking ring and cut out 3 layers from the big cake pan.
Used icing out of a jar and iced it to give a semi naked look.  Add some flowers and greenery and made this cake topper with my cricut.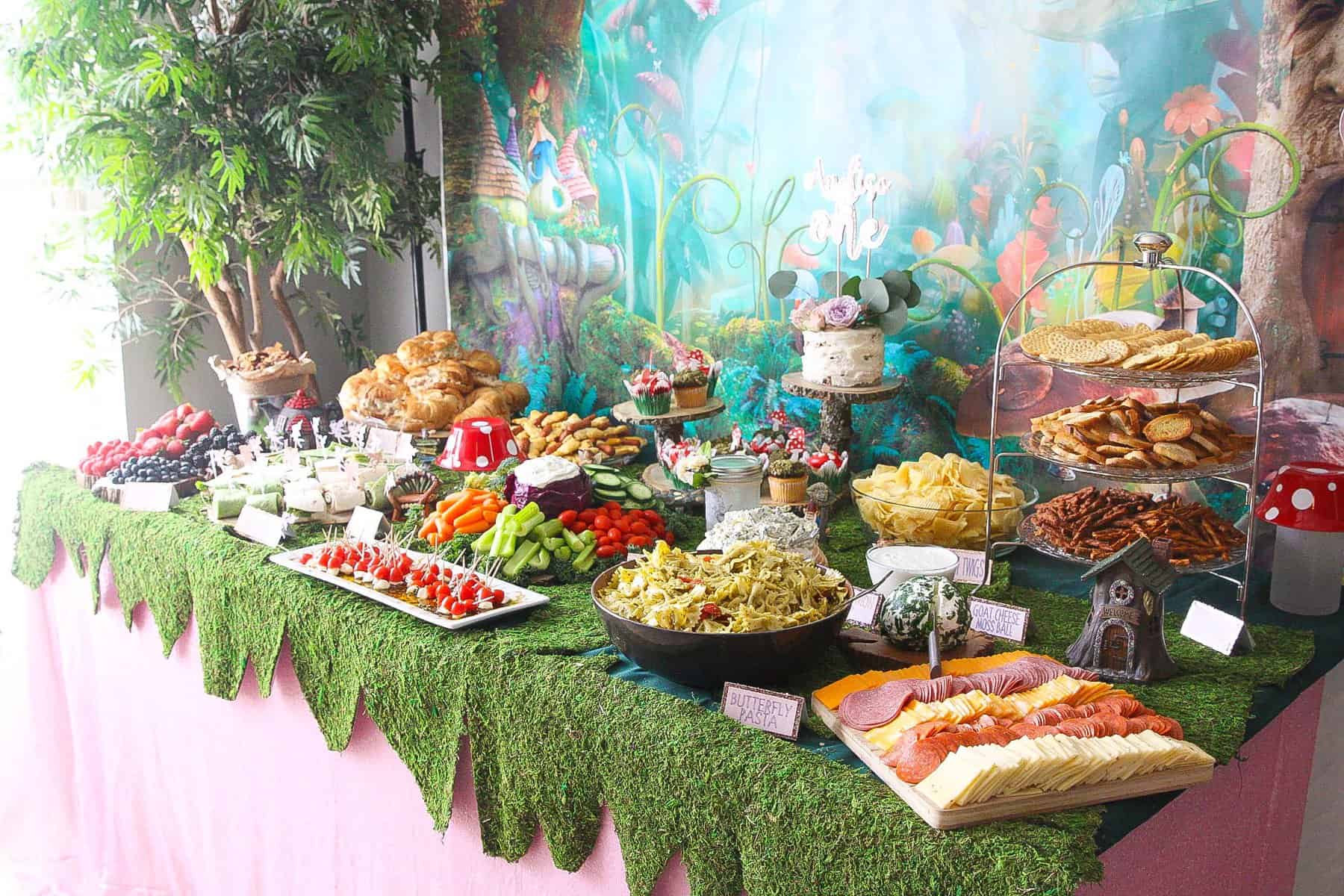 You can never go wrong with a fruit and veggie tray. The fruit is pretty self explanatory. For the veggies I got some kale to lay all the veggies on top of. Then bought a red cabbage and dug out the middle and added some ranch dip inside.
I always love to have a meat, cheese, and crackers platter because let's be honest you can't go wrong with meat and cheese.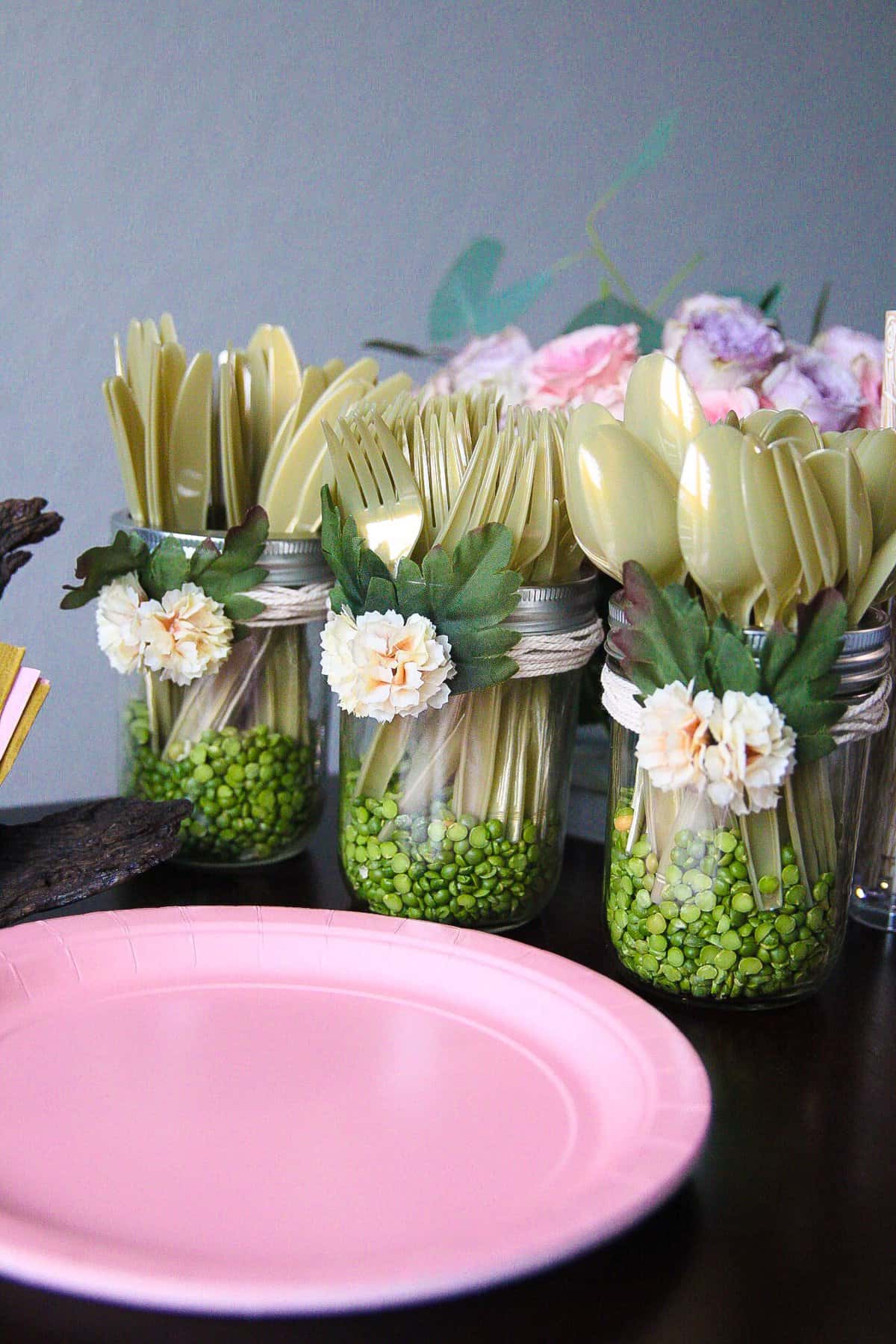 I added some dried split peas to some mason jars before adding the silverware. I thought it added a nice touch. Then wrapping some twine and adding a couple fake flowers really made it pop.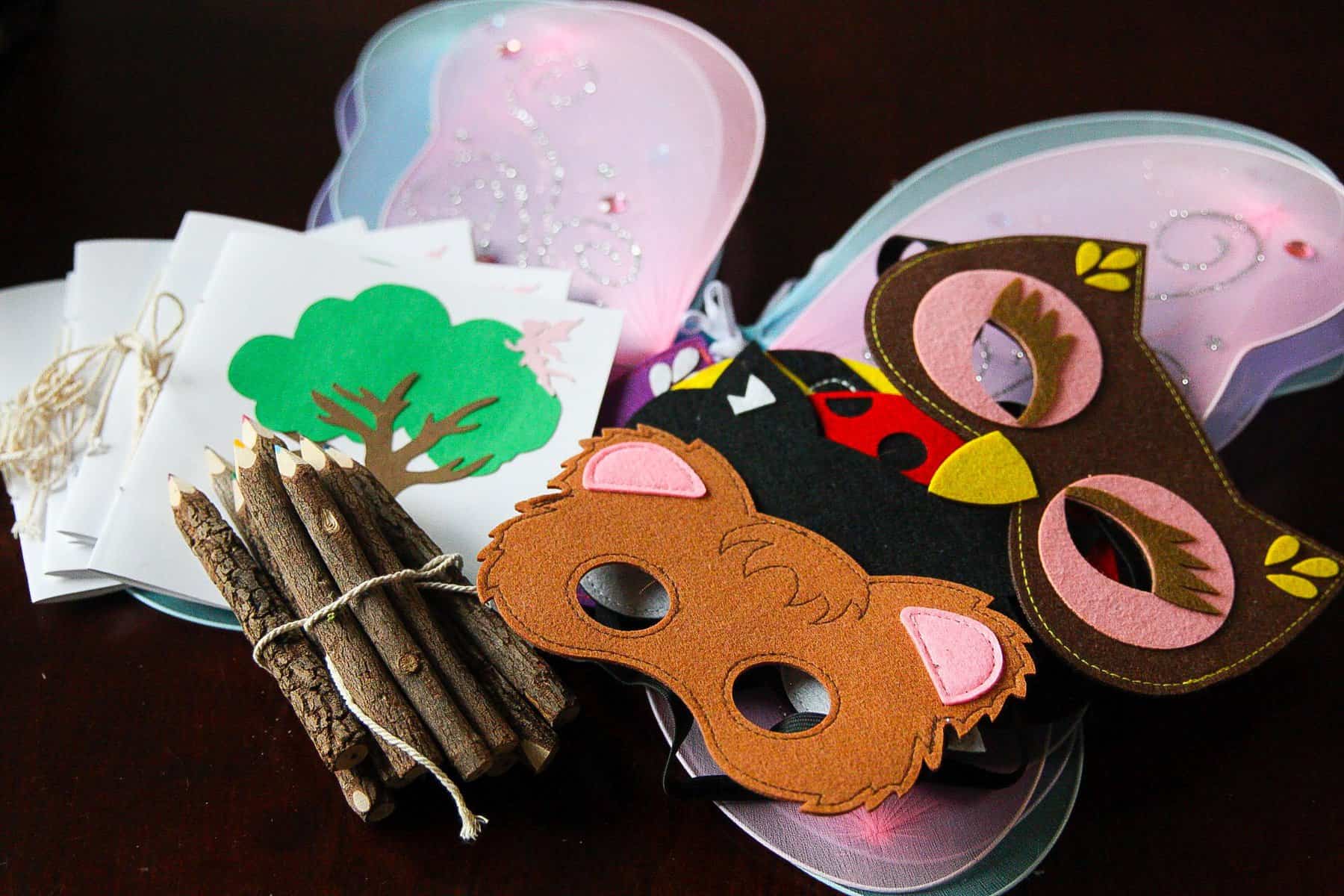 For party favors I bought some fairy wings from dollar tree and some Felt Animal Masks
on Amazon. The kids really loved them. Then I made some home made coloring books and bought these adorable Twig Colored Pencils on Amazon.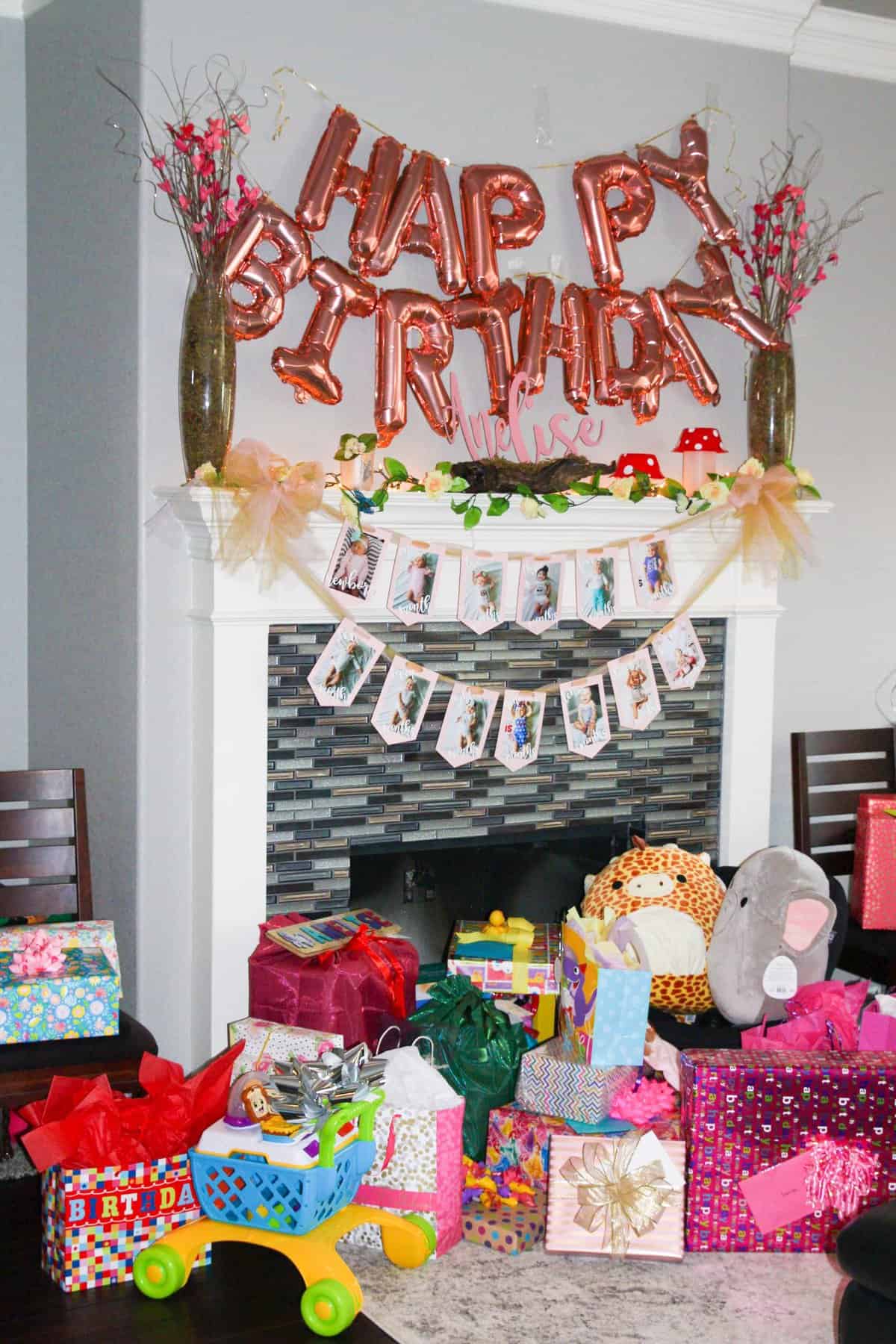 All in all it turned out to be an awesome party. Nobody left hungry and I think had a great time.