Quick and easy cute fall table center
pieces perfect to spruce up your dinner
table. These are so easy and fun to make
you'll get a ton of compliments.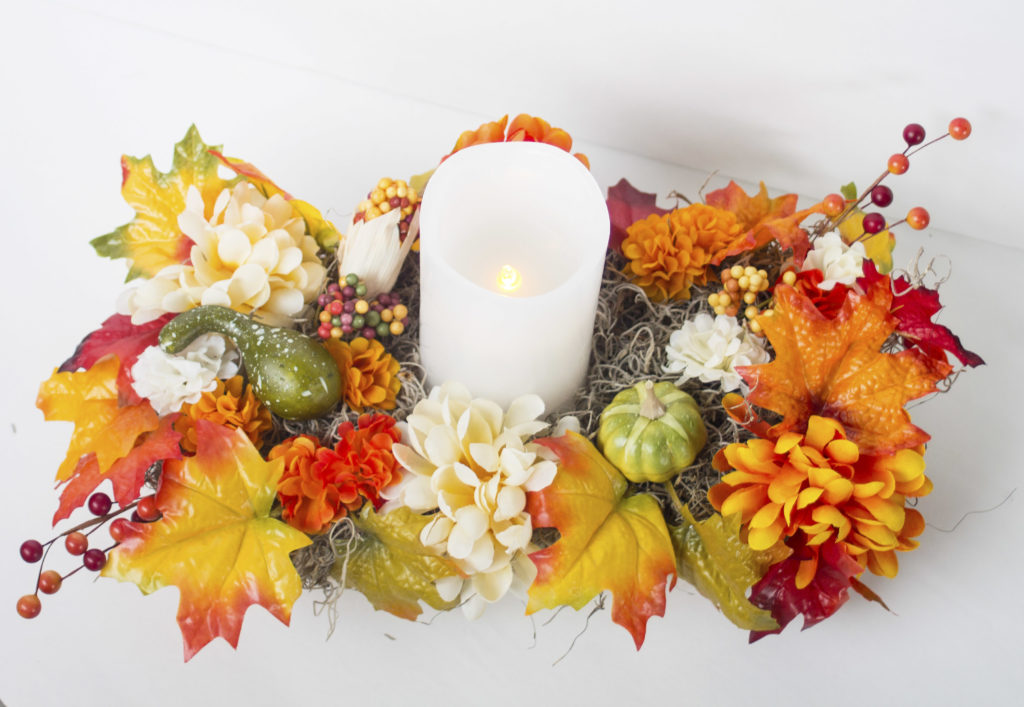 Disclaimer: Please note that some of the links below are affiliate links in which I will receive a
commission if you purchase those items through that link. I used and recommend all the products
below because I have found the company and products are reliable and are my personal preference.
Don't you just love when the seasons are changing? You get to wear a whole different set of clothes, eat different seasonal foods, and get to decorate your house up with seasonal decor. Which means you get to make new crafts.  That's why these fall table center pieces are perfect for your home.
I know it's a little early in the year to prepare for fall, but let's just call it being prepared. Whenever I get an idea I usually don't have the patience to wait to make it. I want to make it right then and there.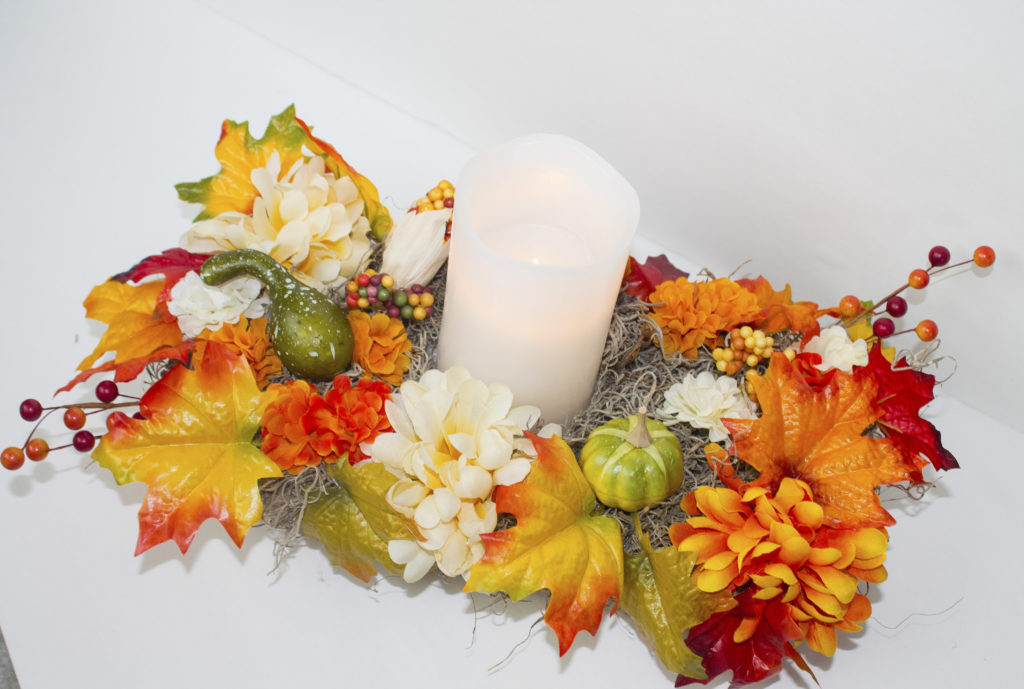 I'm planning on having a Friendsgiving for the first time this year. Talk about stressful. I already have so many ideas going round and round in my head trying to plan. With being the host I'll be in charge of the whole table setup and of course the turkey. The turkey will be another first for me as well.
So my plan is to rent 2 six foot long tables and set them up together in the living room. I already have a pretty table center piece for a regular size table, but now I'm dealing with 2 tables together. So instead of making a whole new table center place, I decided on making 2 smaller table center pieces to place in between the main table center piece and some tall vases full of flowers.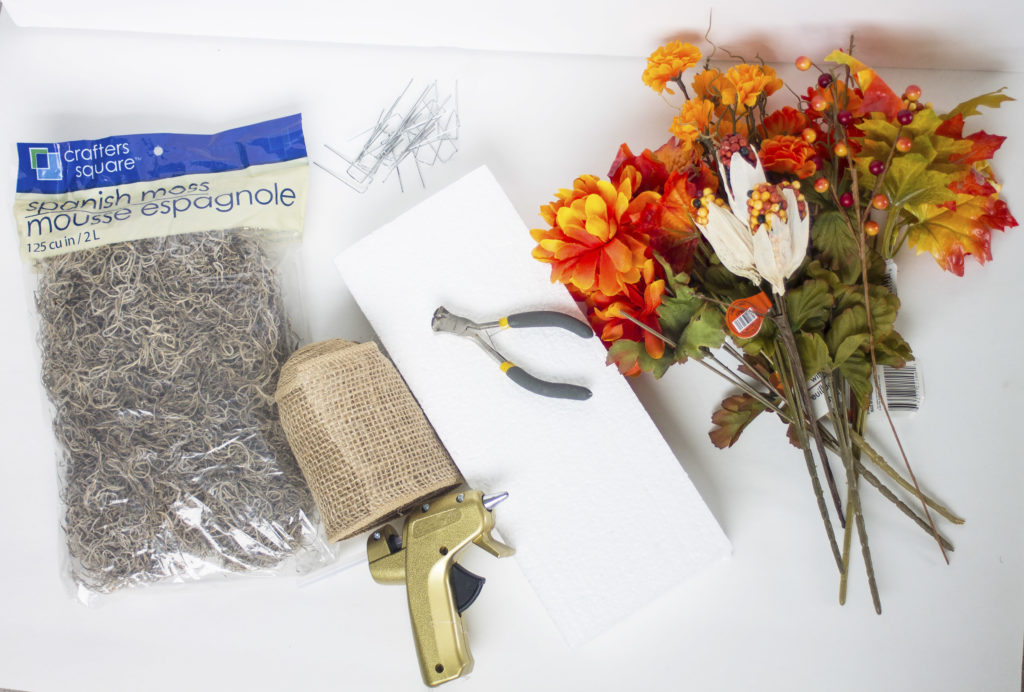 For this project you can pick any size Styrofoam Block
you want. This one I did is much smaller than a regular size table center piece since I already have my main one made. The Styrofoam I used was actually the packing from a desk I bought. So if you happen to have some left over Styrofoam sitting around that is the size you need, you just saved money on not having to buy your base. If you don't any Styrofoam Block
will work. You can pick some up at your local craft store in the floral section.
The other supplies you will need is some Spanish Moss
, fall floral stems, Floral Pins
, Burlap Ribbon
, fall pumpkins, gourds type objects, and hot glue gun. All these items can be found at your local craft store.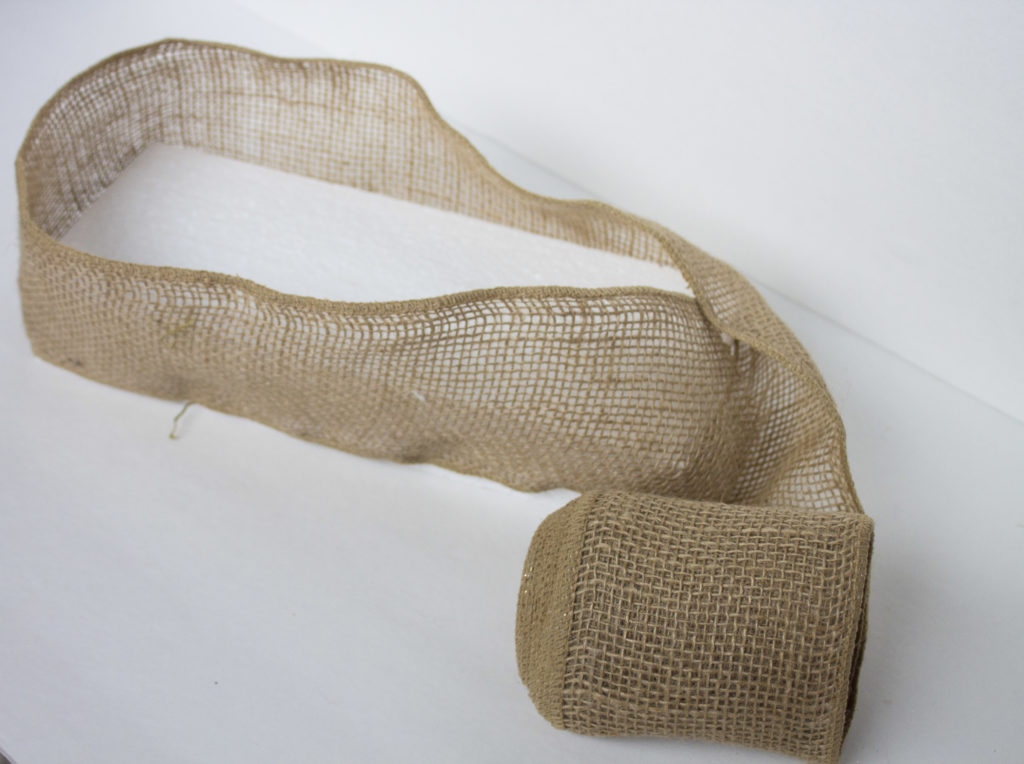 First start by measuring your burlap ribbon around your piece of Styrofoam. You want it to overlap just a little bit. Then cut your ribbon.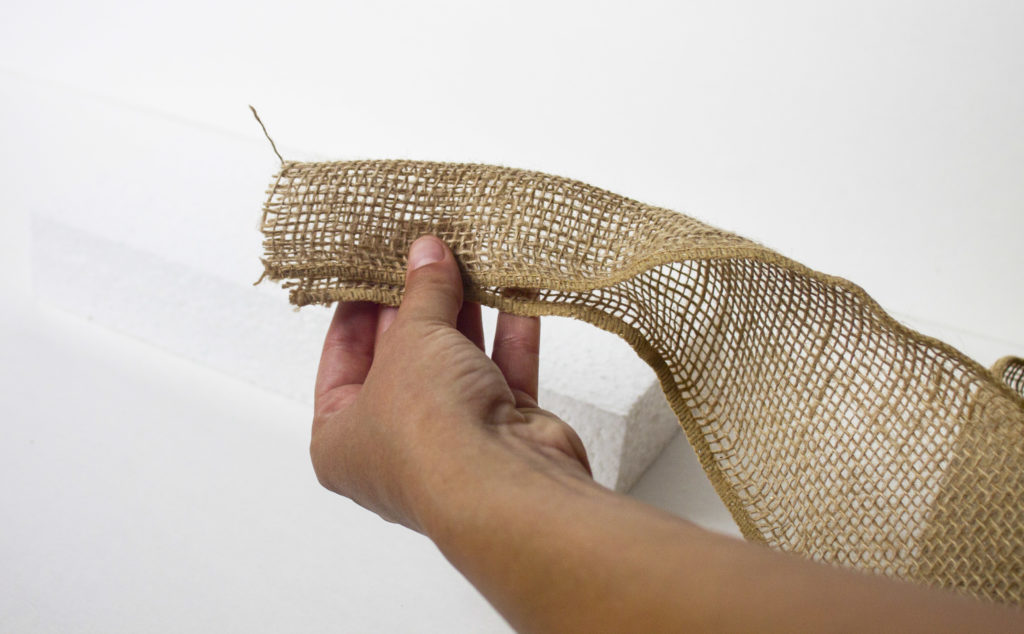 Burlap naturally have tiny holes throughout it. Because of this I folded my ribbon in half so that there are 2 layers and you can't see the white of the Styrofoam through the tiny holes.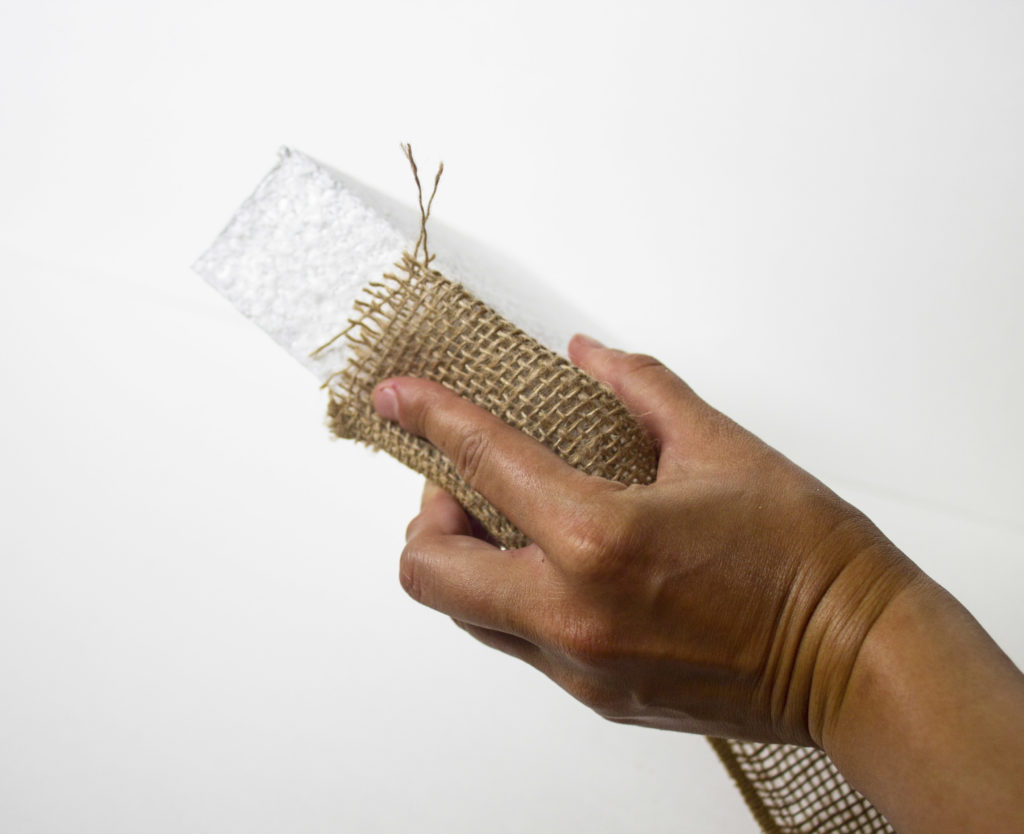 I started with my ribbon in the middle of one of the smaller ends of the Styrofoam. Just put a line of hot glue on your Styrofoam and press down firmly with your ribbon. Styrofoam does melt some when it is in contact with heat. Don't worry it won't melt too much.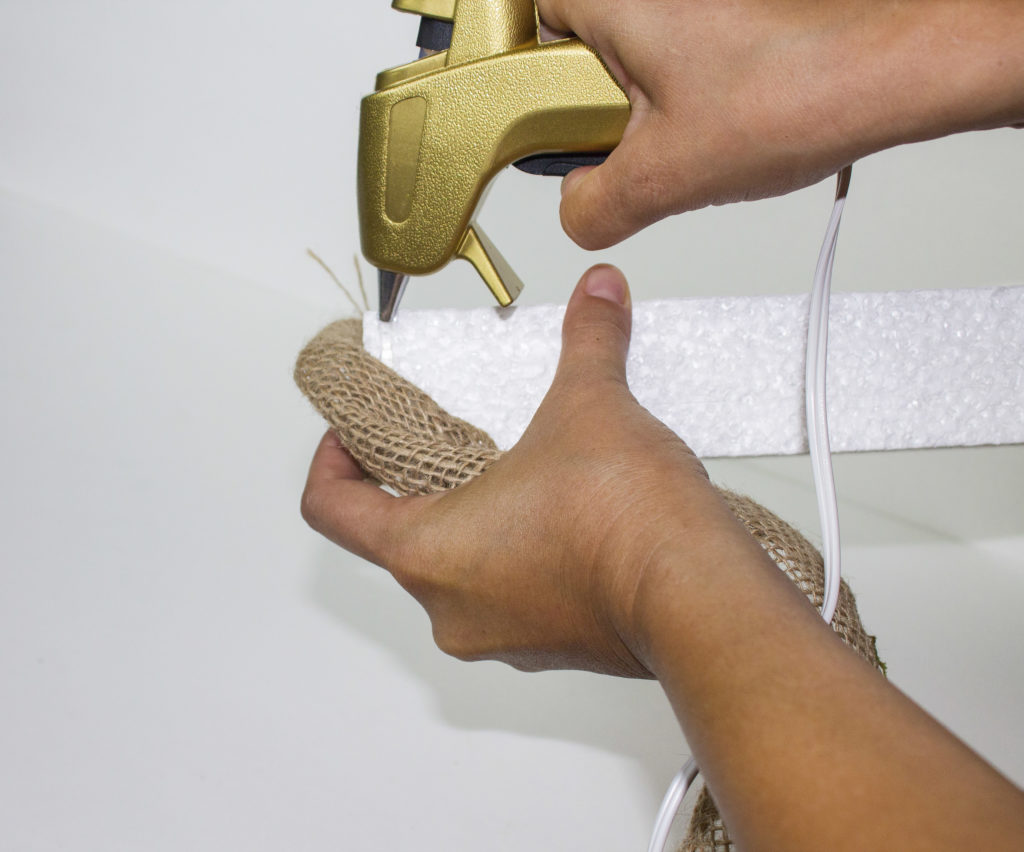 Next you'll want to pull the ribbon tight after the glue has set and go around the rest of the edges of the Styrofoam. I usually glue after every corner of the Styrofoam. You want to make sure the ribbon is nice and smooth around the Styrofoam by pulling it tight as you go.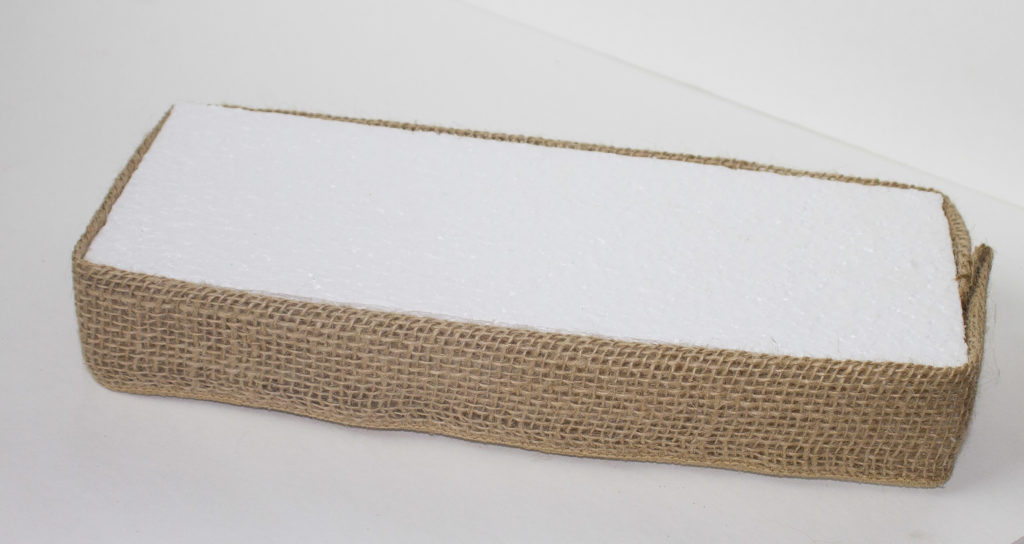 When you come back around to the beginning of the ribbon, with the end piece I like to fold it just a little at the end. This creates a nice smooth end instead of a frayed end. Glue the end well since it's a little thicker.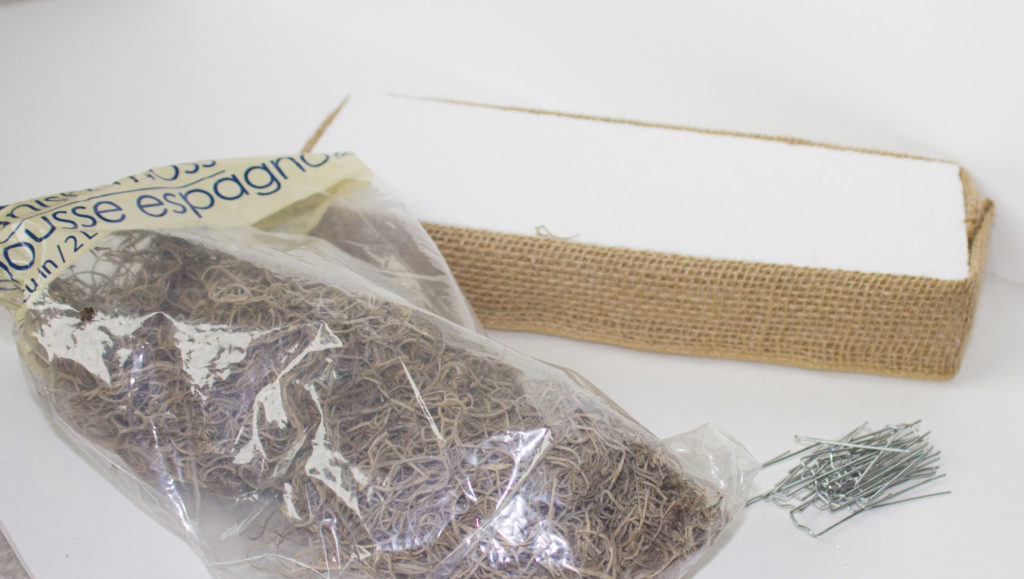 Next you'll need your moss and floral pins. Believe or not I have found these items at Dollar Tree before. Score, cheap supplies. Beware the moss creates a huge mess. Better to be working on top of some newspaper or something for a quick clean up.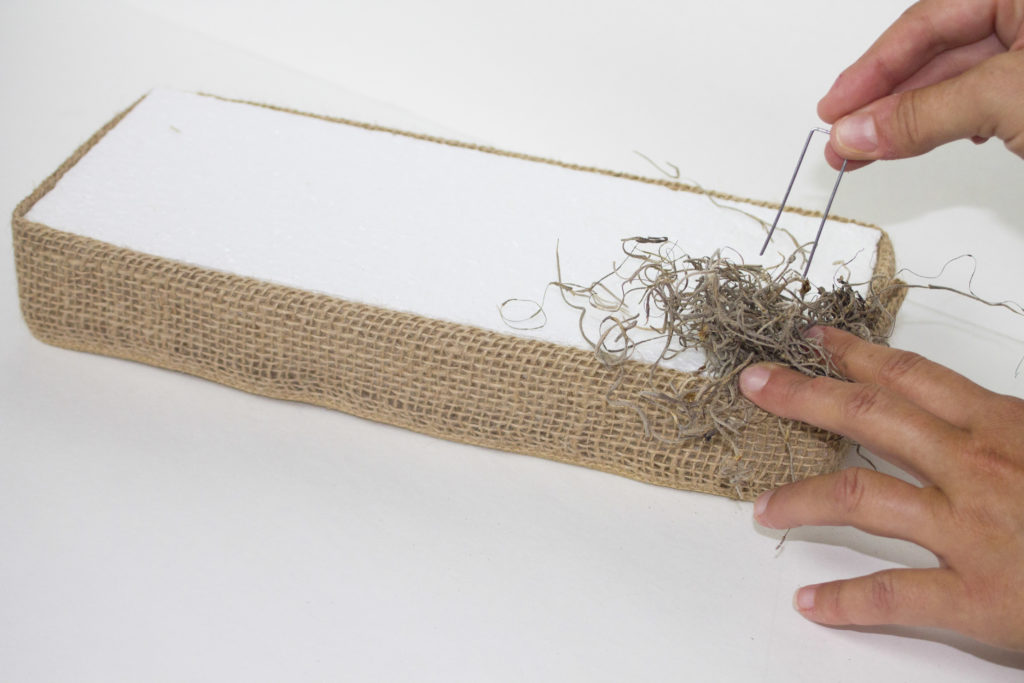 You want to take a good enough size piece of moss and start at one end. You want to pin down the moss in a diagonal motion towards the center of the Styrofoam. This is because you don't want the pin sticking out the bottom or the side.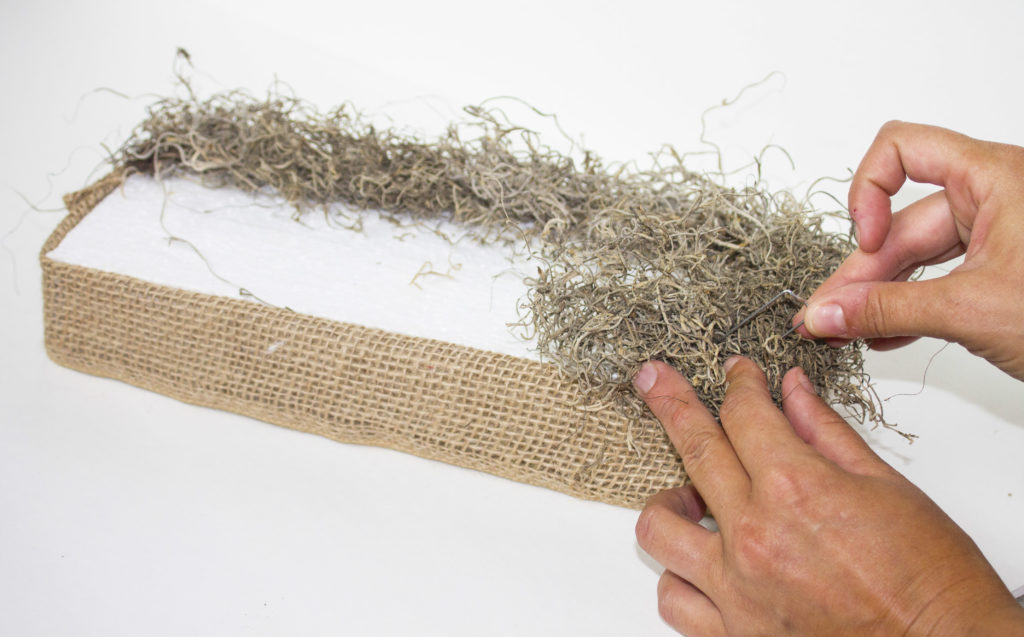 You want to go all way around the Styrofoam with the moss. I cover up all the white of the Styrofoam with moss except for the center. I leave the center moss free to place a candle.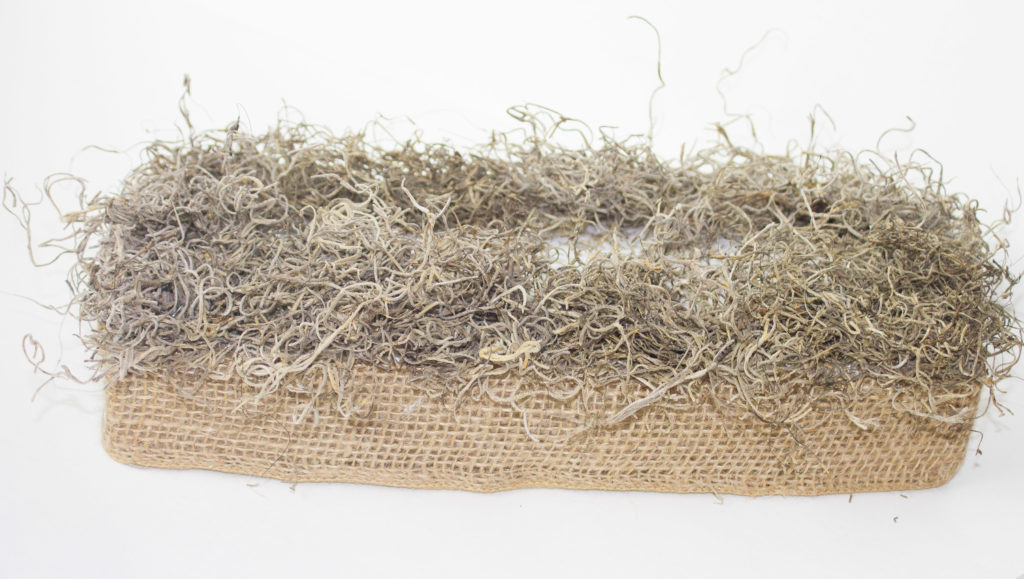 It should look something like this. If there are too many frayed moss pieces hanging off the edge just take some scissors and cut them off. I like to leave them hanging off the side some.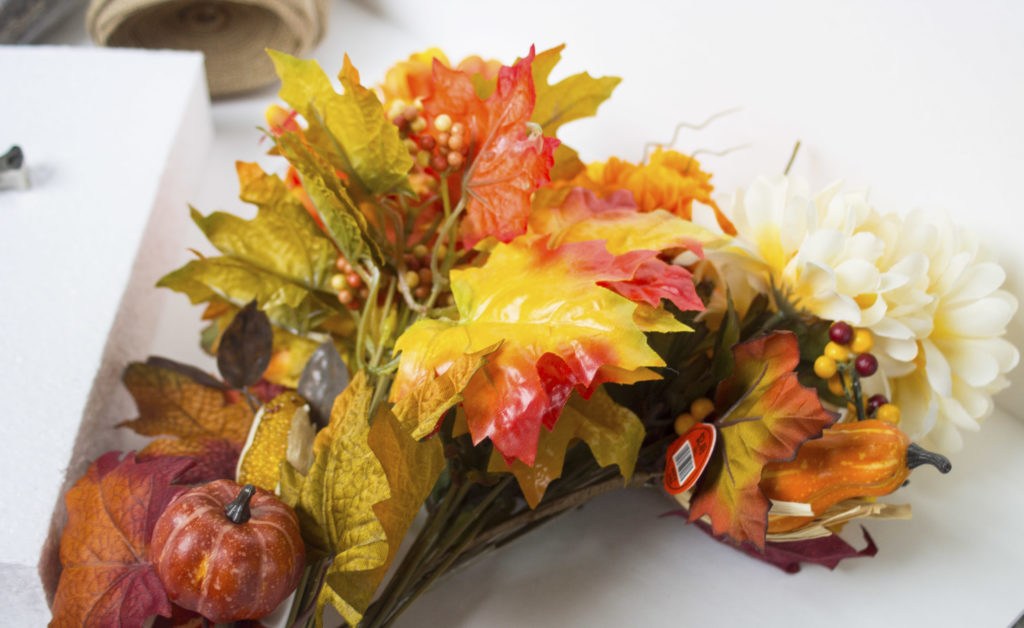 Next is the fun part. Time to get creative. The fall floral I used for this I got from Dollar Tree and Hobby Lobby. Hobby Lobby has a great fall collection too that always seem to be on sale. It might be a little over whelming deciding which floral pieces to get, but just get matching colors and you'll be good. Red, orange, and yellow seem to be the go to fall colors.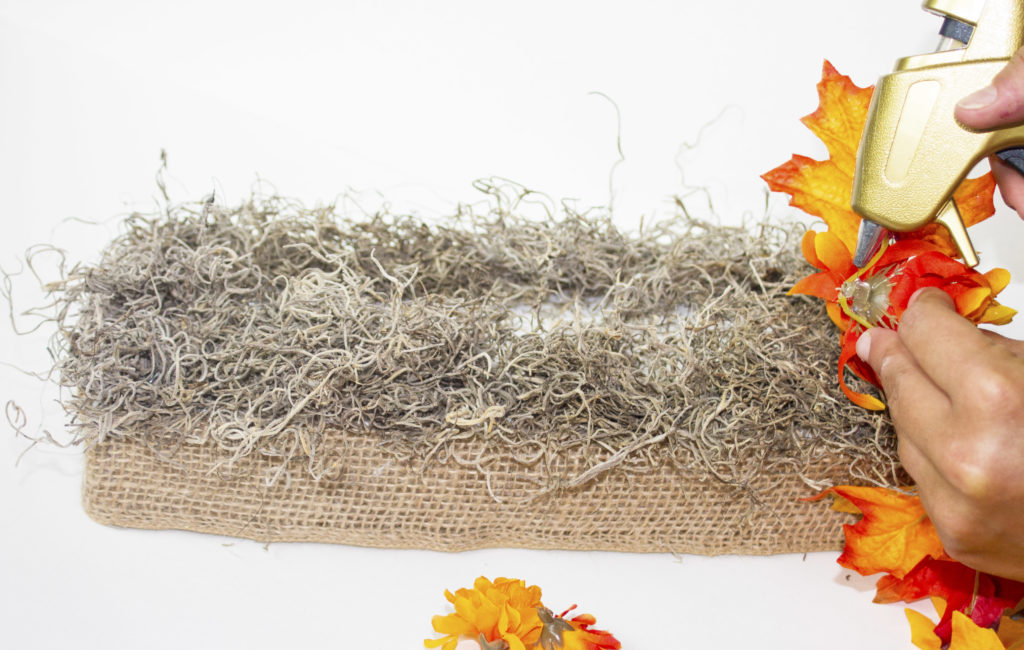 For fall stuff I like to take a leaf pair and glue it behind a fall flower. They accent each other well. Then just glue it to your base.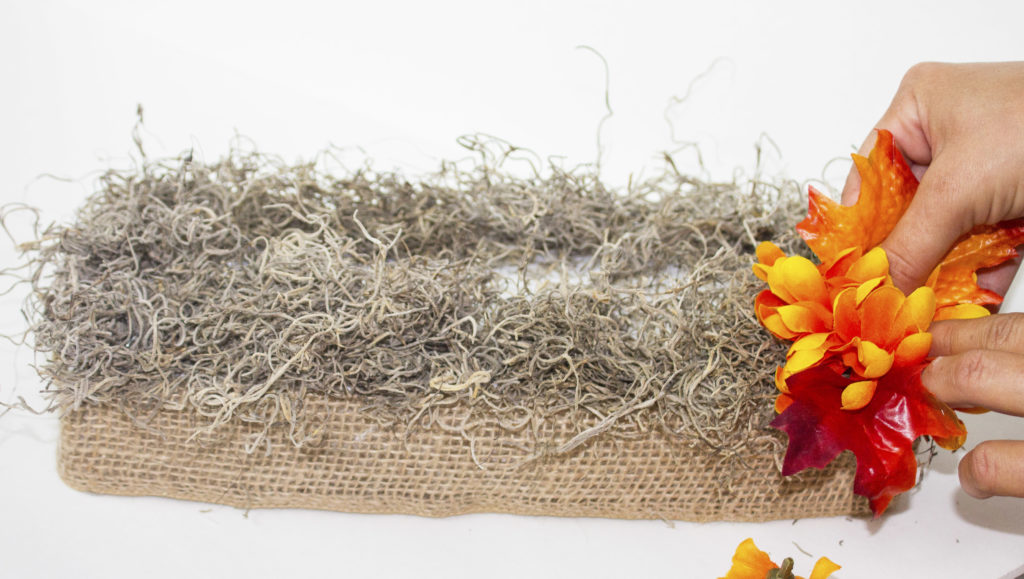 You want to press down firming because you want the glue to reach the Styrofoam and not just the moss.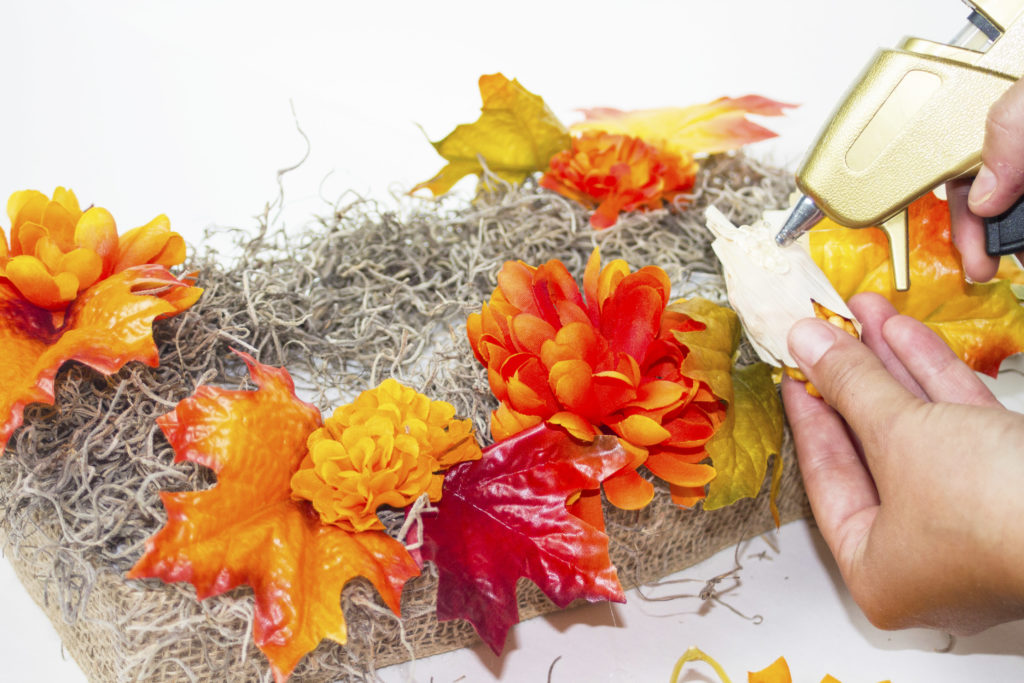 A good rule I follow when making pieces like this is, what I do on one end I do on the other. Example if I put a white flower with leaves at one corner, then at the diagonal corner I will put a yellow flower with leaves. It just keeps it somewhat even. I also try not to put the exact same color flowers next to each other.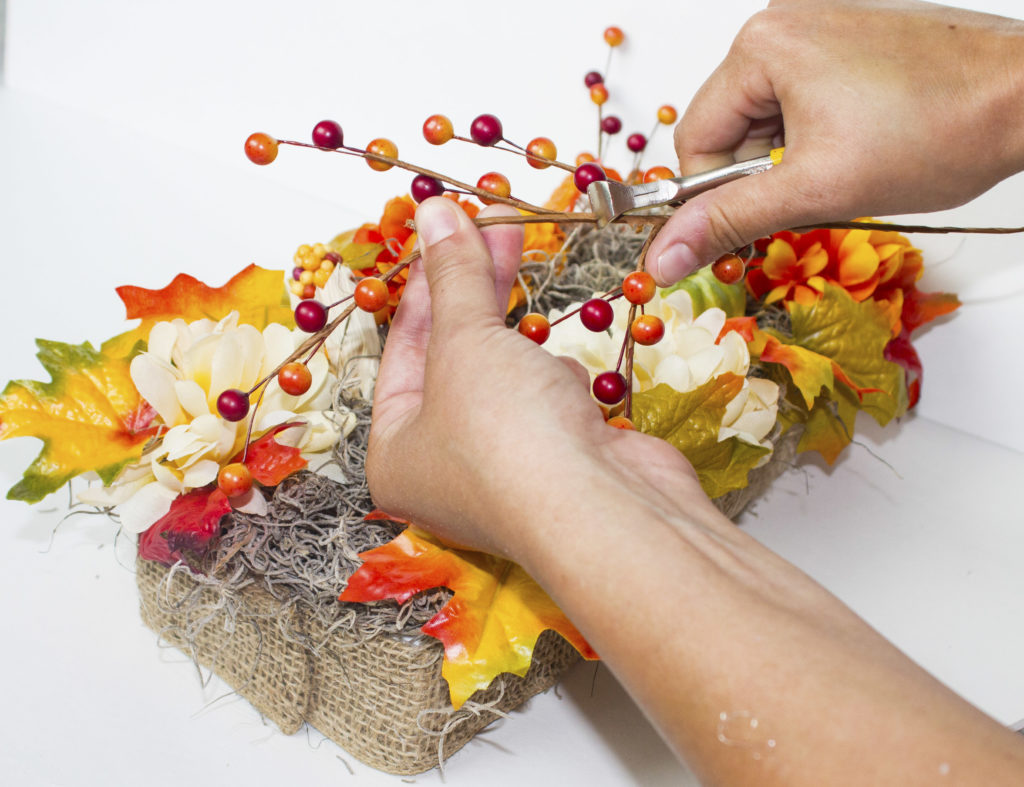 For this next part I found these bead stems at Hobby Lobby. For my project, using the whole thing would be a bit too much and only want to use a couple stems for the 2 corners. The wire on these are a little thick so I used wire cutters to cut off the amount I wanted.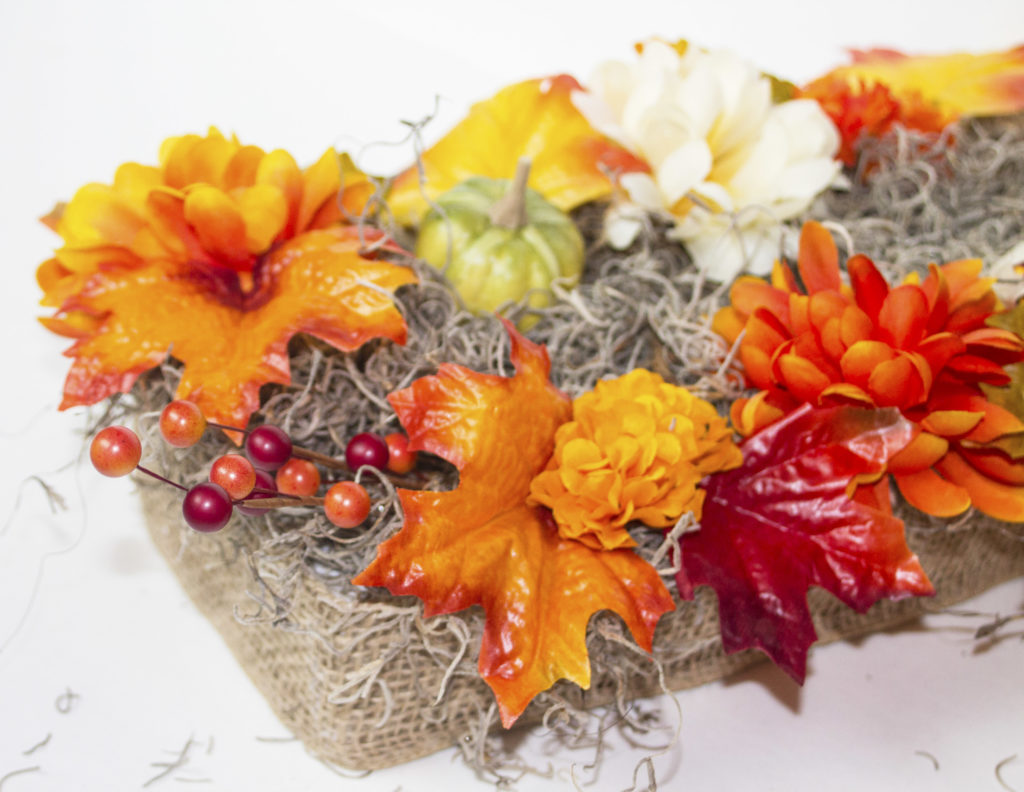 I just added a little hot glue at the end of these and stuck it right into the Styrofoam.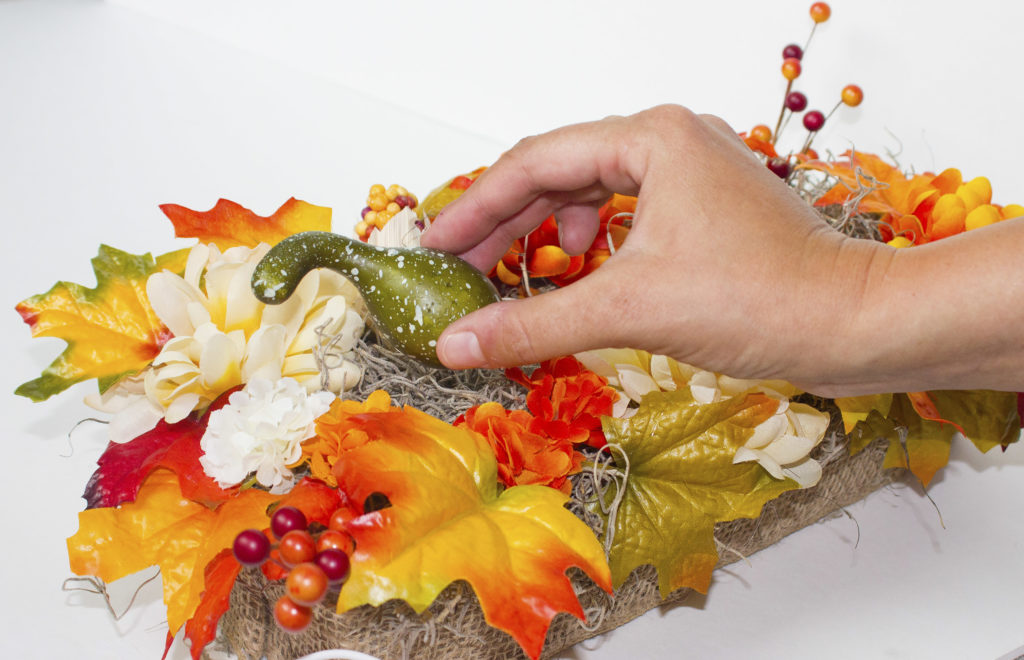 I love adding little pumpkins and other type of mini fall objects to my display. They are also good because they take up space. Just pick your objects and glue them down.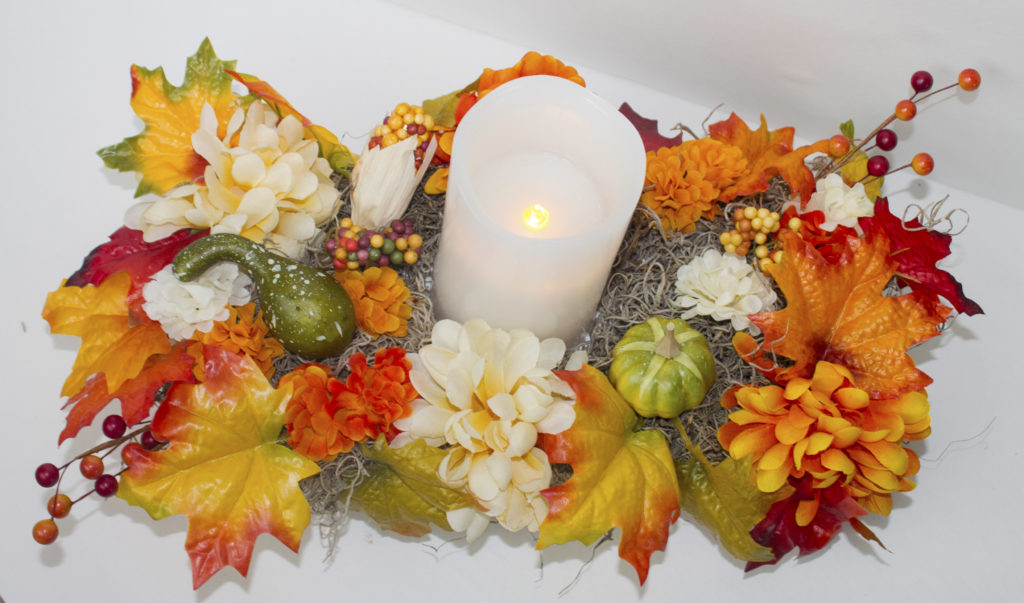 I always love adding candles to the middle of my center pieces. Originally I used real candles, but was too afraid to ever actually light them because something might catch on fire. So I started using these Flameless Candles-6 Pack
. So easy to use and last forever. I actually just ordered some more of these at Amazon, which will be perfect for these smaller center pieces.
And there it is. Such a quick and easy design to spruce up your dinner table. You can always make these for other areas such as, front entry way table, small guest bathroom decor, or even your kitchen bar area. I have in fact made these for all of those areas.
I hope I gave enough details of how you can too make these super cute table center pieces. Happy Almost Fall, Y'all!