A collection of free farmhouse fonts that you can download and use in Cricut design
space. In just a few simple steps you can use these fonts for free.

Have you gotten your fill of all things farmhouse? No, not me either. So sad to see Chip and Jo to end their show, but the show must go on.
So many people are creating home décor with the farmhouse feel using their Cricut. Whether it's for themselves or a gift for others.
I put together a collection of my favorite farmhouse themed fonts that you don't have to pay for to use.
If you are using these fonts for design space and don't know how to download and get them in design space go to this post Free Fonts in Cricut to learn how quick and easy.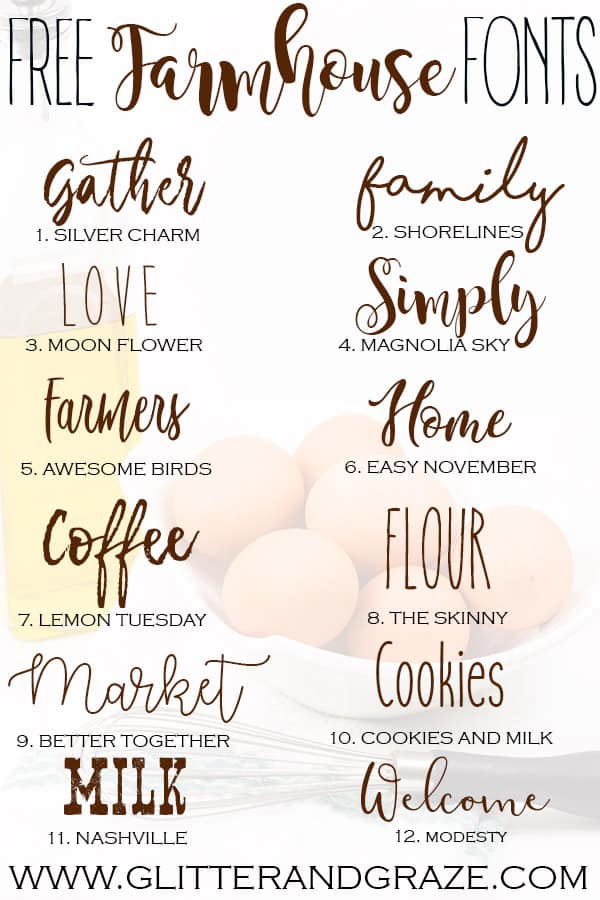 1. SILVER CHARM 2. SHORELINES 3. MOON FLOWER 4. MAGNOLIA SKY
5. AWESOME BIRDS 6. EASY NOVEMBER 7. LEMON TUESDAY 8. THE SKINNY
9. BETTER TOGETHER 10. COOKIES AND MILK 11. NASHVILLE 12. MODESTY
If you liked this post check out these
Free Signature Fonts
Free Pretty Fonts for Cricut
Cricut Explore Air- Free Fonts
Gifts for the Cricut Crafter
Did you make something using one of these fonts? Then post a picture on Instagram and use the tag #glitterandgraze