Here is a collection of free signature fonts you can download on your computer and use
them in Cricut design space.
If you haven't downloaded free fonts before and used them in design space, then you are missing out. Why pay for fonts when you can download them for free right off your computer?
Here is a link to downloading free fonts with a step by step of how to download the fonts. Most important step is to always completely close out design space after downloading a new font and re open it. If you don't do this step the new fonts will not appear.
I'm sure the number one question I'll be getting on this post is will these fonts write out without an outline. That all depends on the size of what you are writing out and the size of the point of the marker/pen you are using.
My suggestion is to do a test run with a word in the size you are wanting the final outcome to be along with what pen/marker you will be using.
You can also cut out any of these fonts too. Just remember though that design space usually doesn't connect the letters so you have to use the letter spacing at the top to change this.
Sometimes you even have to only use a few of the letters in a word and make a new text box to create the rest of the letters and move them next to each other and then weld them all. Don't forget about welding if you are wanting to cut out as one connected word.
Hopefully you enjoy this collection of signature fonts you can download for free.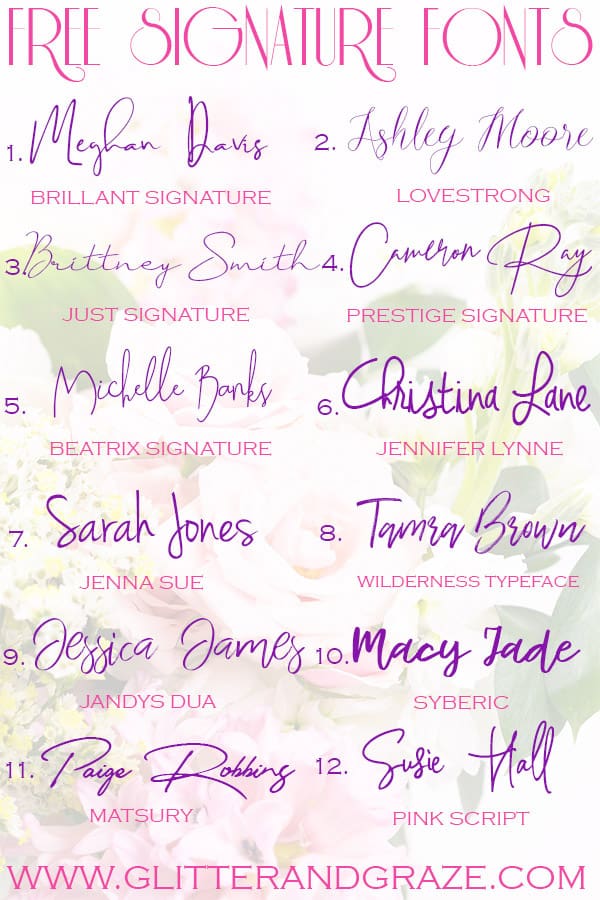 1. BRILLANT SIGNATURE 2. LOVESTRONG 3. JUST SIGNATURE 4. PRESTIGE SIGNATURE
5. BEATRIX SIGNATURE 6. JENNIFER LYNNE 7. JENNA SUE 8. WILDERNESS TYPEFACE
9. JANDYS DUA 10. SYBERIC 11. MATSURY 12. PINK SCRIPT