These Mexican sausage balls are a tasty twist on a crowd favorite. Made with chorizo and jalapeño biscuit mix these really pack a punch.

Let me start off by saying this Mexican sausage balls recipe is kind of a geographic target recipe. I say that only because the jalapeño cheddar biscuit mix I used is from a Texas based grocery store called Central Market. Their parent company HEB also sales a jalapeño cheddar biscuit mix.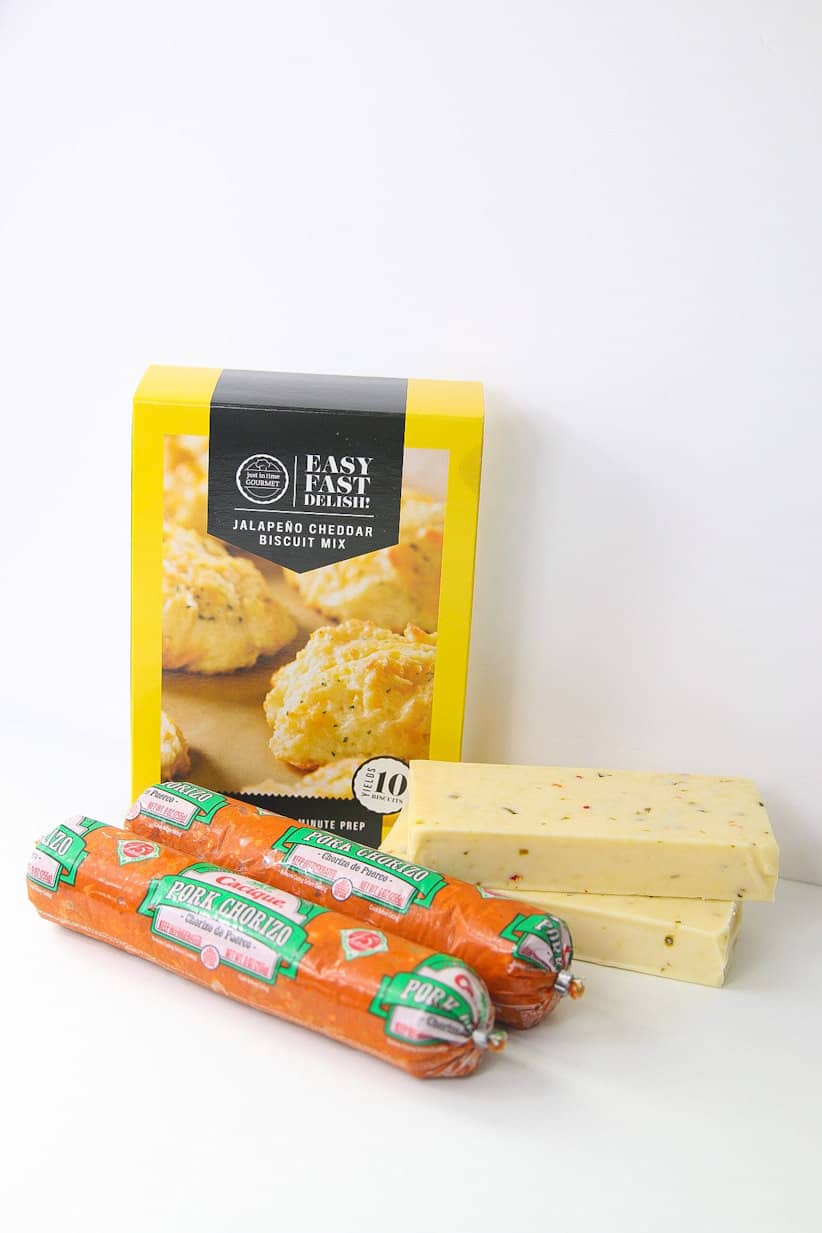 The company who makes this mix is actually based out of Texas as well. I'm not saying if you aren't from Texas you can't make this. All you need is some jalapeño cheddar biscuit mix, doesn't matter the brand.
Us Texans do love us some jalapeño cheddar biscuits though. All we've gotta do to get some is run through the drive through at our nearest Whataburger to get some. Greatest invention Whataburger came out with besides their spicy ketchup and jalapeño ranch.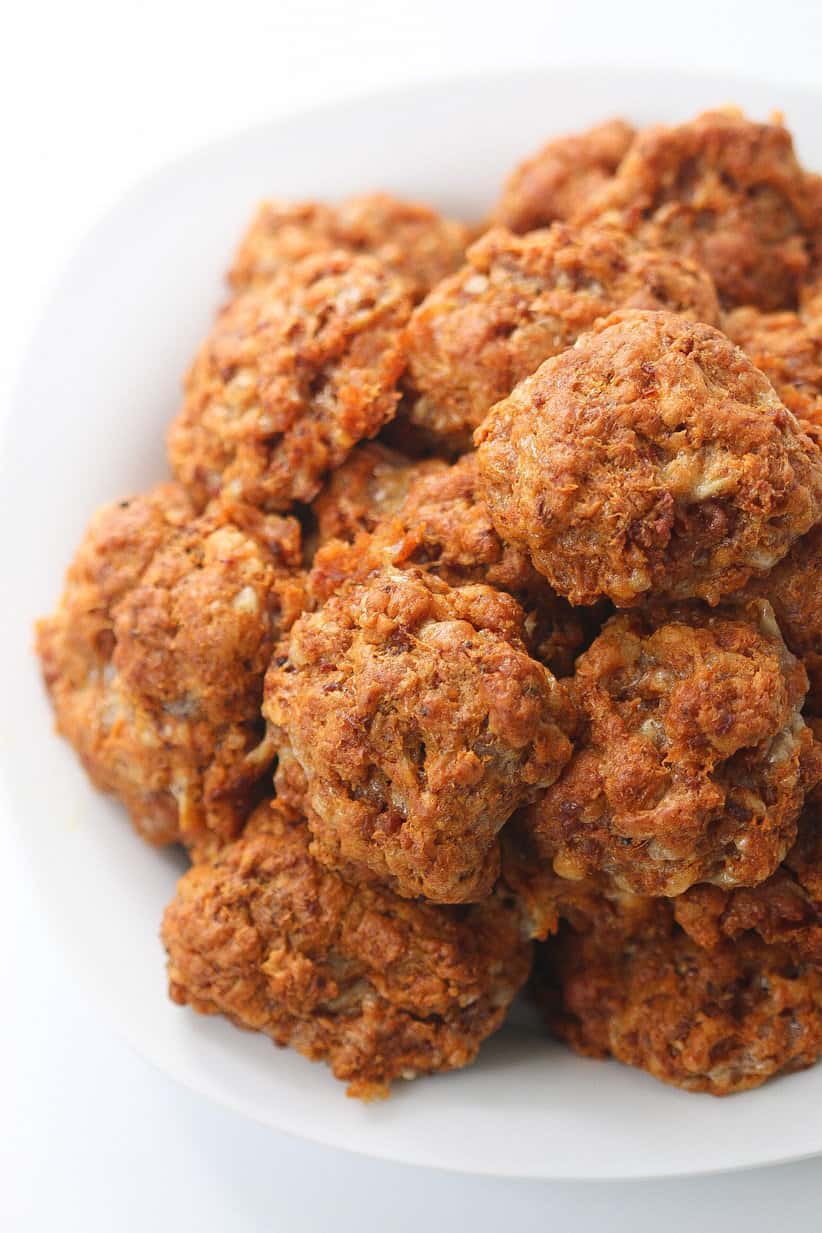 One of my most popular recipes to date are my Even Better Sausage Balls where I use red lobster biscuit mix to make the sausage balls. Not only an internet favorite, but a party favorite too. My picky eater husband just loves them so much that's what he wants for Christmas morning breakfast.
I wanted to give the classic sausage ball recipe a little kick. I've already done that with using different biscuit mix, spicy sausage and some spicy cheese, but I wanted even more of a kick. That's where jalapeño biscuit mix and chorizo come in.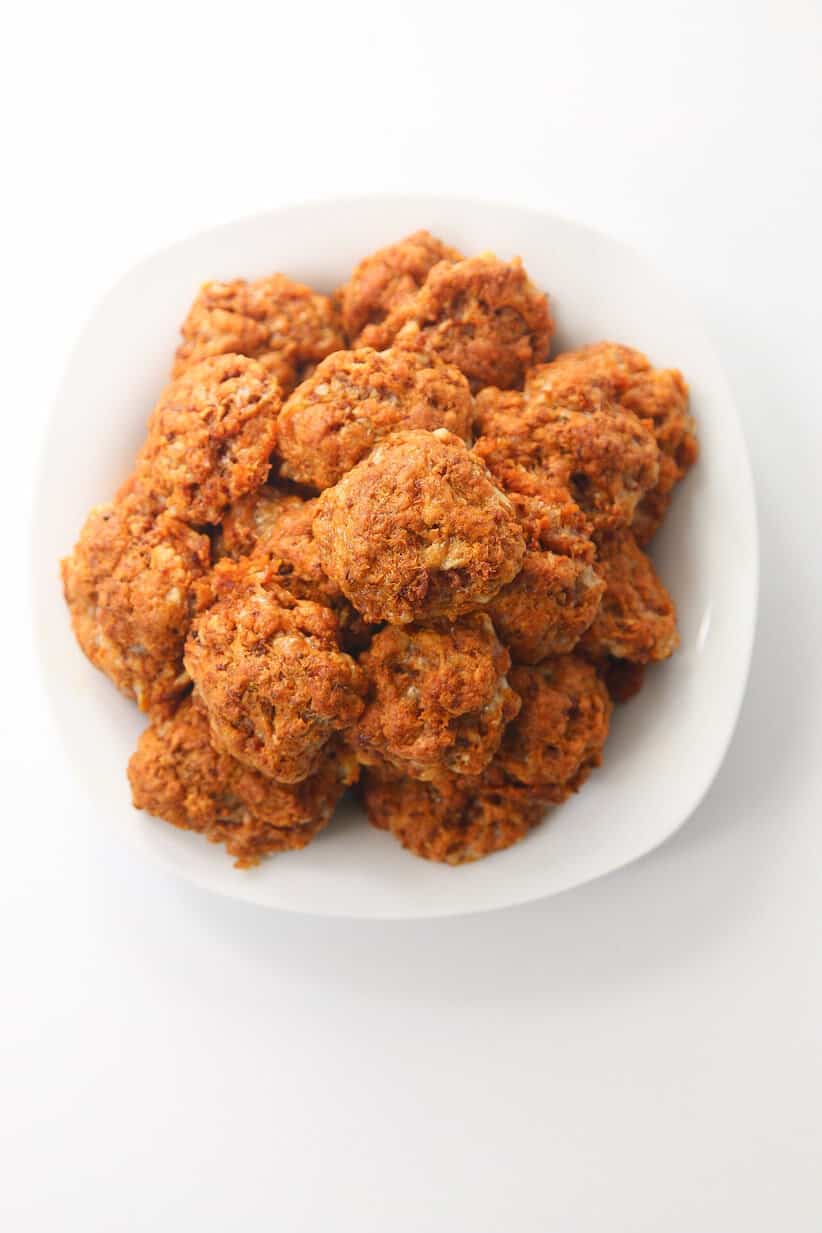 If you don't know about the wonderful Mexican sausage called chorizo then you are missing out. I have a great queso dip called chorizo queso where I load it up with chorizo. Chorizo is basically regular sausage with a bunch of Mexican style spices added to it. It is so good.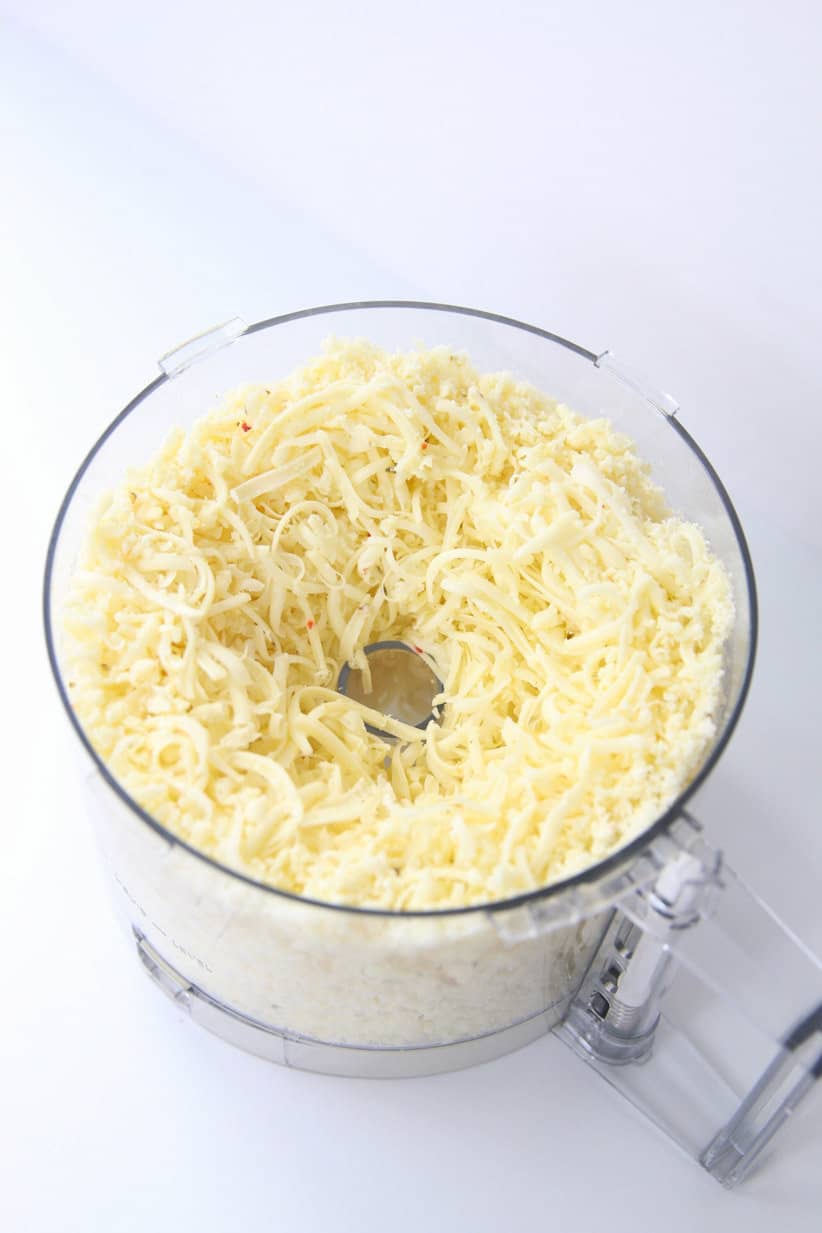 So this is basically like any other sausage ball recipe. Add the biscuit mix, sausage, and cheese together and mix well. I use my stand mixer for this and then my hands but I use gloves especially with this one because of all the spices from the chorizo.
Now form into 1 inch balls and place on a grease baking pan. Cook for 25 minutes and they are ready to go.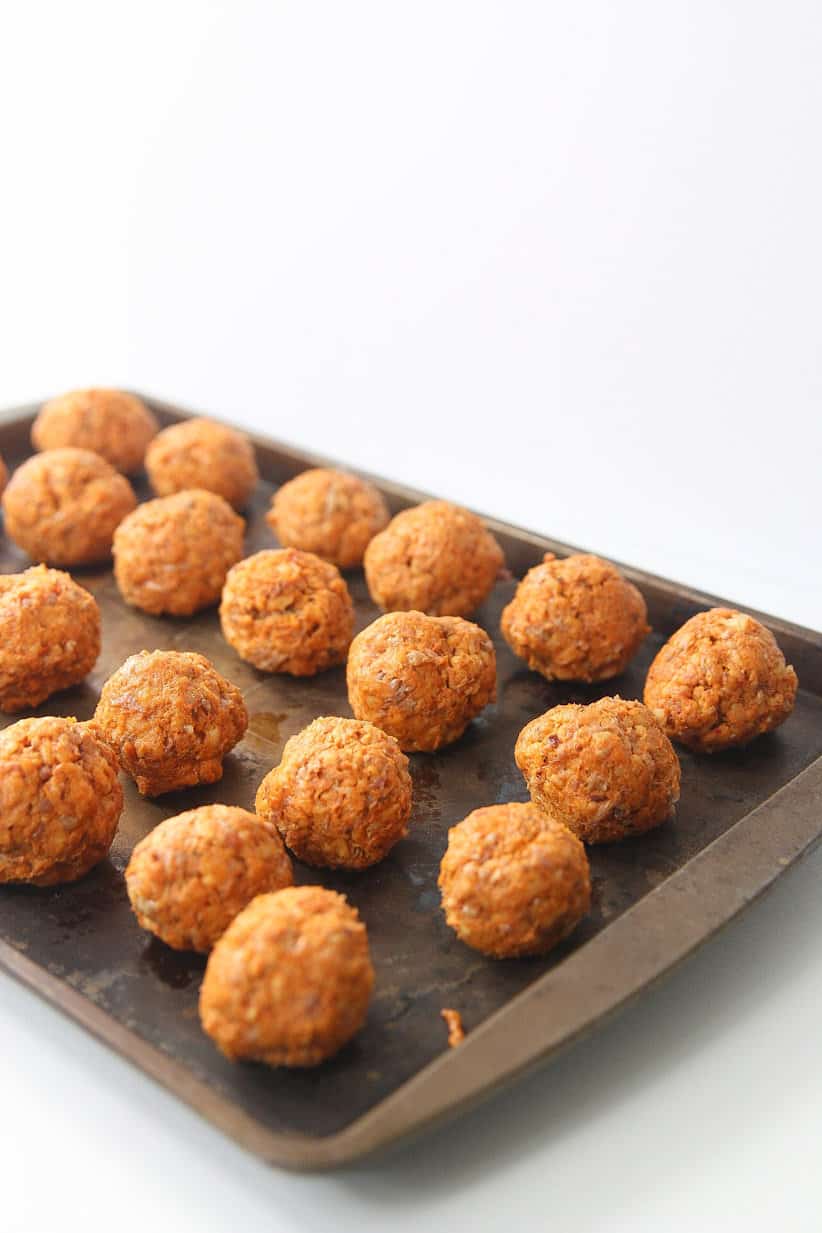 You can actually cook them for less time. The center of the balls only need to reach 256 degrees to be safe for consumption, but I'm one of those people who always is mildly freaked out if meat isn't cooked enough. I mean I will check my chicken with every bite to make sure it's fully cooked kind of crazy.
One thing about cooking the balls longer they might not keep a complete cylinder shape. So if you are set on having a perfect ball shape start checking the internal temperature around 18 minutes.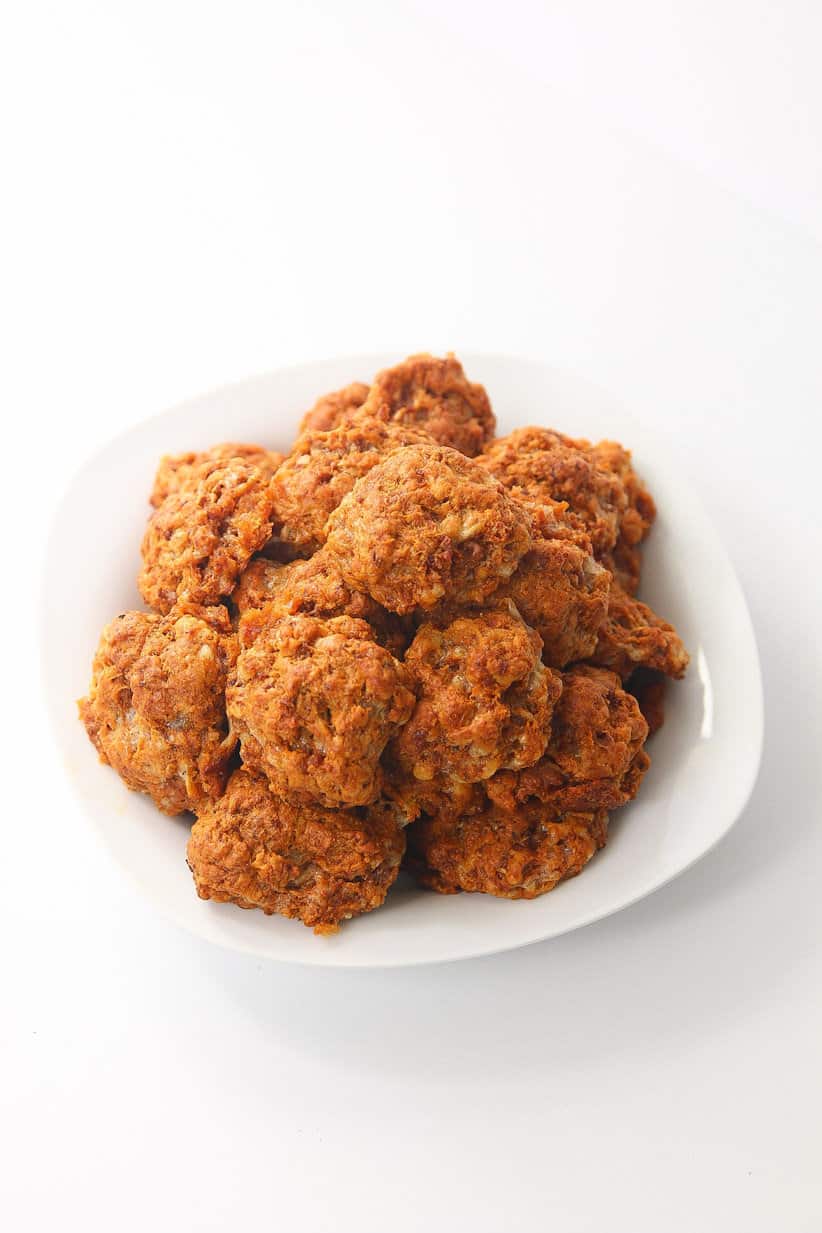 To get rid some of the excess grease after cooking place them on some paper towels to soak up that grease. Once they have sat enough to not burn your mouth serve and enjoy.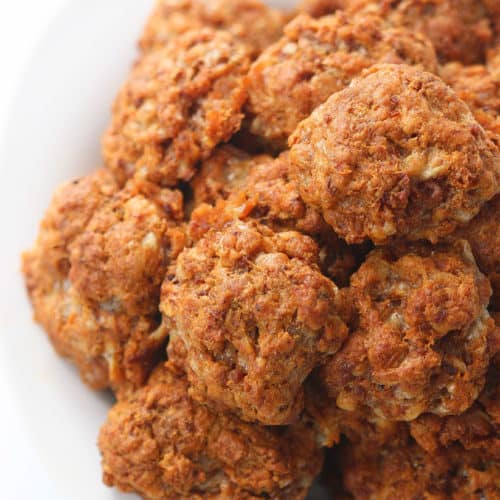 Mexican Sausage Balls
These Mexican sausage balls are a tasty twist on a crowd favorite. Made with chorizo and jalapeño biscuit mix these really pack a punch.
Print Recipe
Ingredients
1

Box

Jalapeño cheddar biscuit mix

9 oz

2

Tubes

Chorizo

9 oz each

16

Oz

Pepper jack cheese
Instructions
Preheat oven to 350 degrees and shred your cheese.

Mix together chorizo, biscuit mix and cheese really well. I suggest wearing gloves when handling this meat because of the spices.

Form into 1 inch balls and place on a parchment paper lined baking pan and cook for 25 minutes.

After cooking set your sausage balls on paper towels to soak up some of the grease.
Nutrition
Serving:
1
g
|
Calories:
105
kcal
|
Carbohydrates:
4
g
|
Protein:
4
g
|
Fat:
7
g
|
Saturated Fat:
3
g
|
Cholesterol:
16
mg
|
Sodium:
284
mg
|
Potassium:
8
mg
|
Vitamin A:
120
IU
|
Calcium:
77
mg
|
Iron:
0.3
mg