Pumpkin & Feta Salad with Pecans and Cranberries
Savor the unique flavors of our Pumpkin & Feta Salad with Pecans and Cranberries – a festive crowd-pleaser.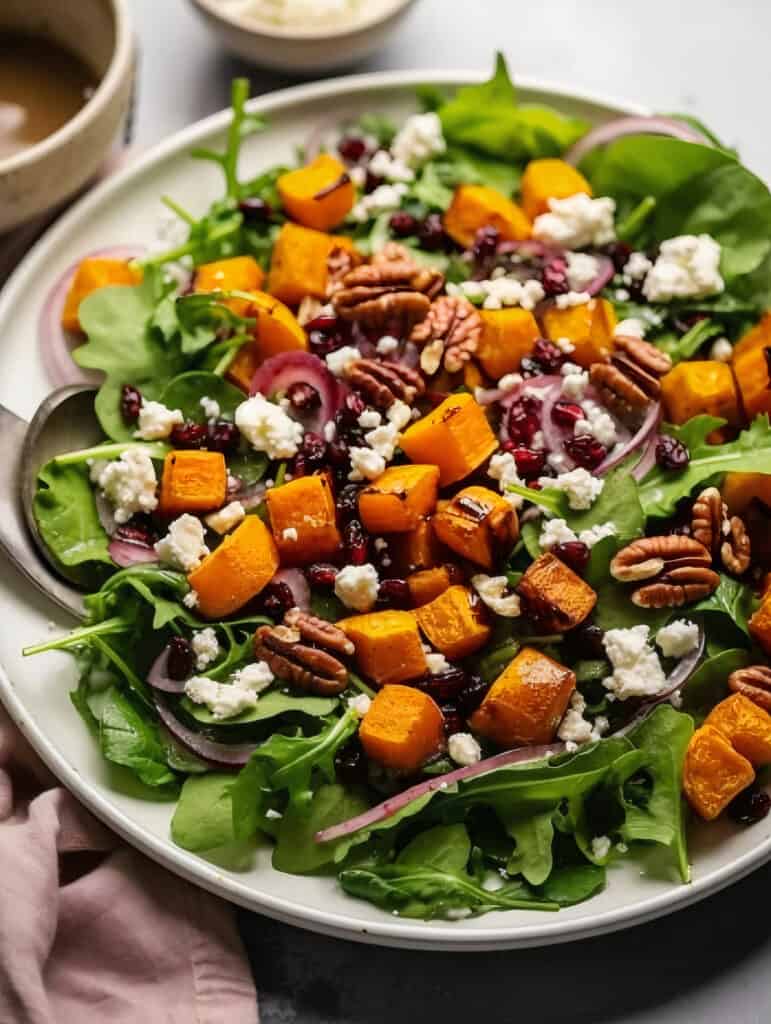 Add a burst of festive flavor to your holiday table with our Pumpkin & Feta Salad with Pecans and Cranberries. This vibrant salad boasts a delightful mix of sweet roasted pumpkin, tangy feta cheese, crunchy pecans, and tart cranberries. It's not just a feast for the eyes, but a symphony of flavors and textures that will have your guests reaching for seconds. Perfect for Thanksgiving, Christmas, or any special gathering, this salad is a memorable side dish that brings together the best of the season's produce.
Why this Recipe?
Seasonal Ingredients: Pumpkin and cranberries are both ingredients that are particularly associated with fall and winter celebrations in many cultures, including Thanksgiving and Christmas. Using seasonal ingredients is one way to bring a festive feel to a dish.
Colorful Presentation: The bright orange of the pumpkin, the deep red of the cranberries, and the green of the salad leaves all contribute to a vibrant, colorful presentation that's often associated with festive dishes.
Unique and Special: The combination of ingredients – roasted pumpkin, tangy feta, crunchy pecans, and tart cranberries – makes this salad a bit more special and unique than a regular everyday salad. Serving dishes that are a little out of the ordinary can help make a meal feel more festive.
What can I use instead of feta?
If feta's not your thing, try substituting with goat cheese or mozzarella. They both offer a creamy contrast to the other ingredients.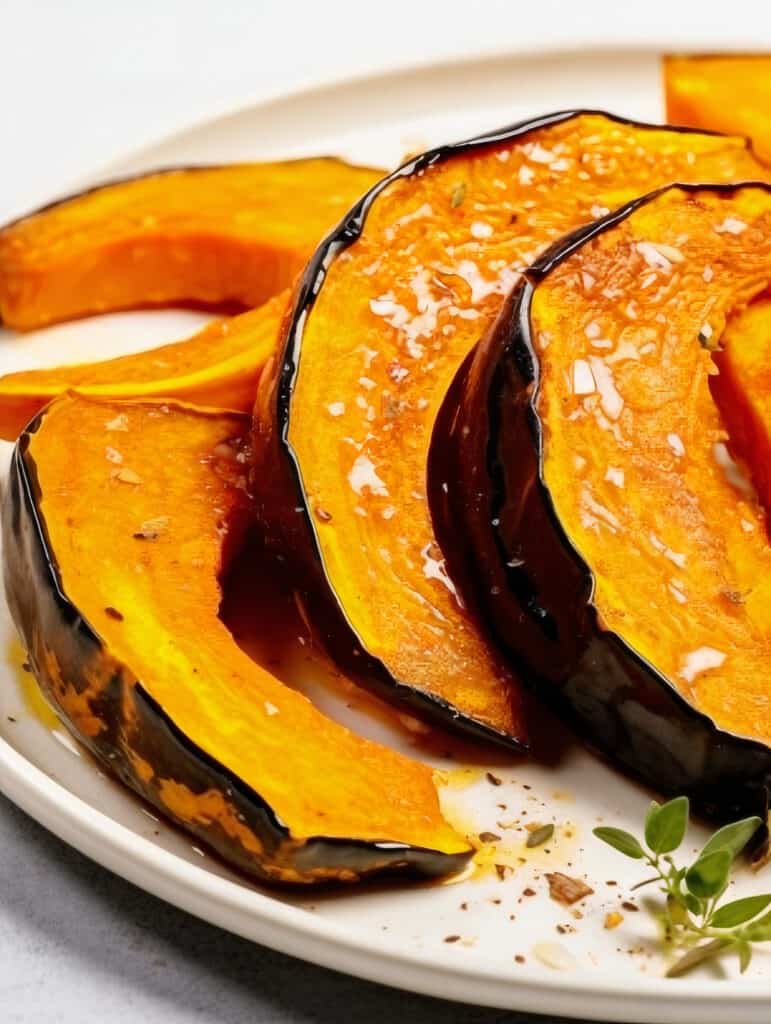 Ingredients for Pumpkin & Feta Salad with Pecans and Cranberries
Pumpkin: Look for a small to medium-sized pumpkin that feels heavy for its size. The skin should be firm and free of blemishes. If you give it a tap, it should sound hollow. When cut open, the flesh should be bright orange and firm.
Feta Cheese: Opt for block feta cheese if you can, it's generally fresher and more flavorful than pre-crumbled versions. The cheese should have a tangy smell, and it should taste sharp and salty.
Pecans: Choose pecans that are uniform in color and size. They should have a sweet, nutty smell – avoid any that smell musty or rancid. If possible, it's best to buy pecans still in their shells, but shelled pecans are fine too if they're fresh.
Dried Cranberries: Seek out vibrant, dark red cranberries that are plump and glossy. They should taste tart yet sweet. Avoid overly dry or stem-filled bags.
Honey: You'll want to find a honey that's pure and raw. It's got this golden thickness to it that's just delicious. Different honeys can have different flavors based on where the bees have been buzzing around, so pick one that you really like.
Dijon Mustard: Go for a quality Dijon that's got that perfect balance of tang and a little kick. It should be creamy and not too vinegary.
Apple Cider Vinegar: Look for something that's got a nice, clear amber color to it. You want that crisp apple flavor to shine through. If you can find raw, unfiltered apple cider vinegar, even better – it's got probiotics!
Olive Oil: Extra-virgin is the way to go. It should taste fresh, slightly fruity, and maybe a little peppery. You'll know you've got good quality oil if it's a darker color.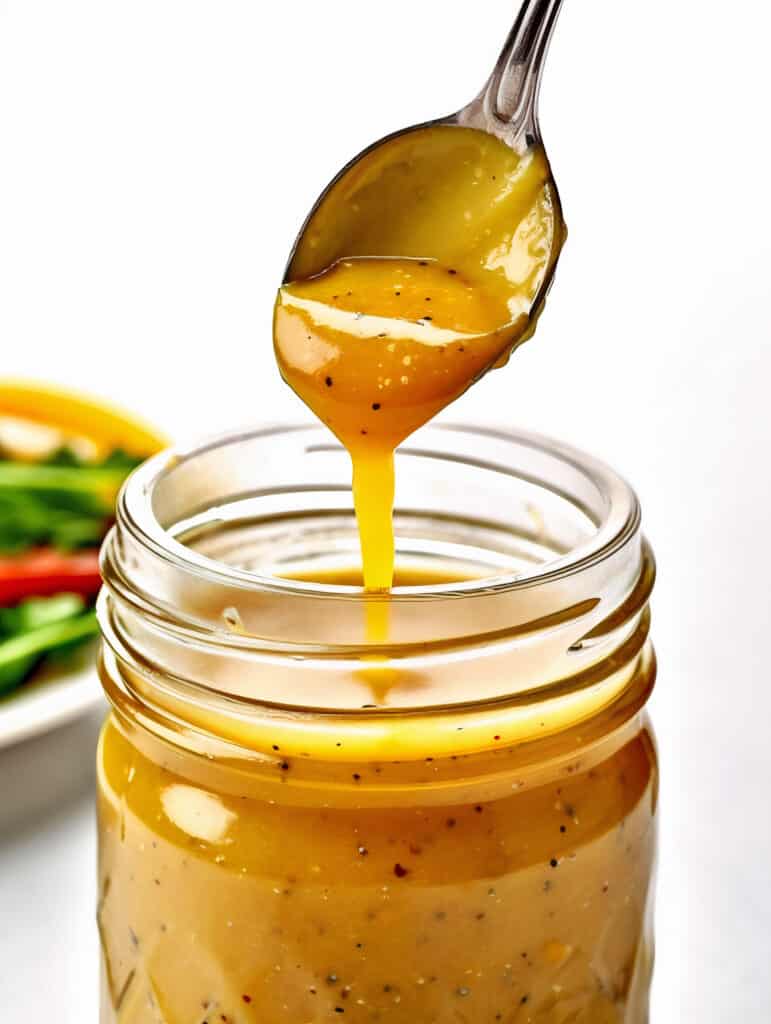 What other dressings could work with this salad?
While the honey mustard dressing is delicious, you could also try a balsamic vinaigrette or a maple-Dijon dressing.
Recipe Modifications for Pumpkin & Feta Salad with Pecans and Cranberries
The Pumpkin: Not a pumpkin fan or can't find one? No worries. Sweet potatoes or butternut squash work beautifully here. Roast 'em up just like you would the pumpkin.
The Feta: Not into feta? Try goat cheese for a creamy, tangy swap. If you're all about that melt-in-your-mouth mozzarella, that works too.
The Pecans: Not a pecan person? Swap 'em out for walnuts or almonds. Want to make it nut-free? Toasted pumpkin seeds or sunflower seeds give that crunch without the nuts.
The Dried Cranberries: If you're not a fan of cranberries or want to switch things up, dried cherries or raisins could step in. Want something fresh? Pomegranate seeds would be super festive!
The Dressing: If honey mustard isn't your jam, try a simple balsamic vinaigrette. Or mix up a maple-Dijon dressing for a fall flavor twist.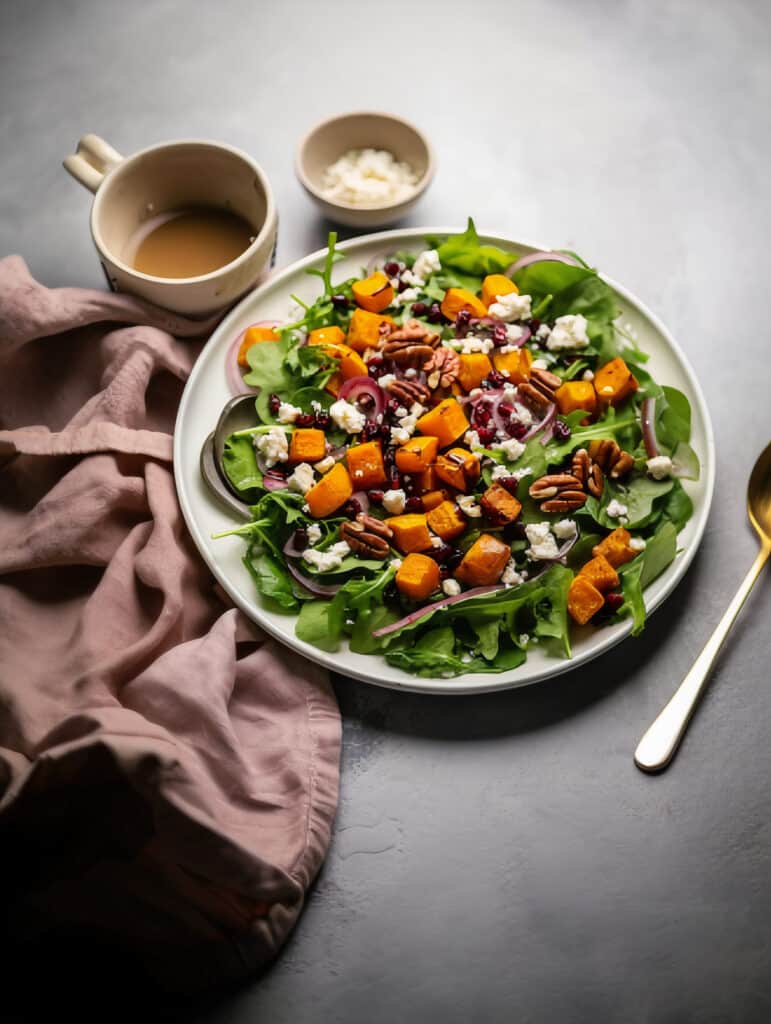 Can I make this salad in advance?
Absolutely! You can roast the pumpkin and prepare the dressing a day or two ahead of time. Just store them in the fridge, then assemble the salad when you're ready to serve.
Tips and Tricks for this Recipe
Roasting the Pumpkin: Here's a pro tip – don't crowd your pumpkin pieces on the baking sheet. Give 'em some room! If they're all squished together, they'll steam instead of getting those tasty roasted edges. Trust me, caramelized pumpkin is where it's at.
Toasting the Pecans: Alright, this is a game changer – toast your pecans before you toss 'em in the salad. It's super easy. Just heat them up in a dry pan for a few minutes. But keep an eye on them – they can go from toasty to burnt real quick!
Rehydrating the Cranberries: If your cranberries are feeling a bit tough, here's a trick: soak them in hot water or even orange juice for about 15 minutes. They'll plump right up! Just make sure to drain them well before you mix them into the salad.
Balancing the Flavors: Now, this is important – taste as you go. Need a bit more sweetness? Drizzle in some more honey. Want it tangier? Splash in some extra apple cider vinegar. You're the chef – make it how you like it!
Prepping Ahead: If you're cooking for a big holiday meal, do yourself a favor and roast the pumpkin and whip up the dressing a day or two ahead. Store them in the fridge, then just toss everything together when you're ready to serve.
Want some more Festive Recipes?
White Chocolate Cranberry Walnut Fudge
Even Better Sausage Balls
The Best Pumpkin Pie Recipe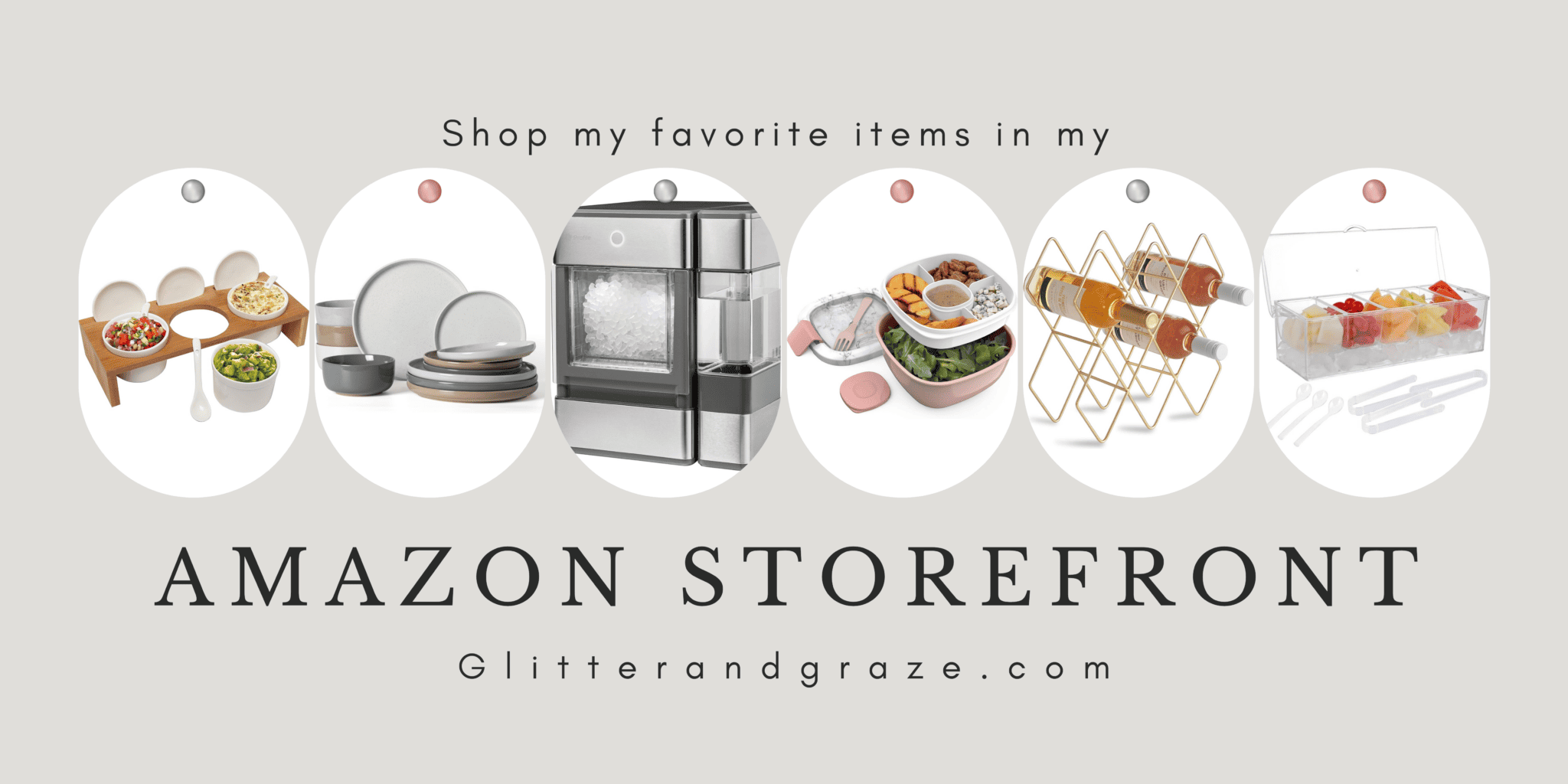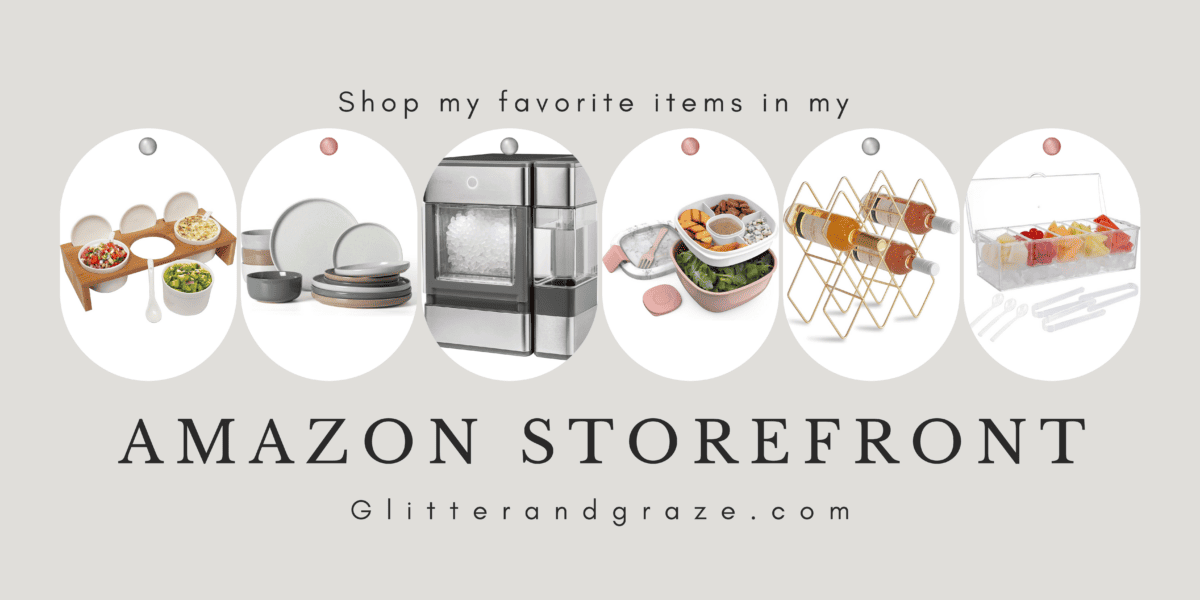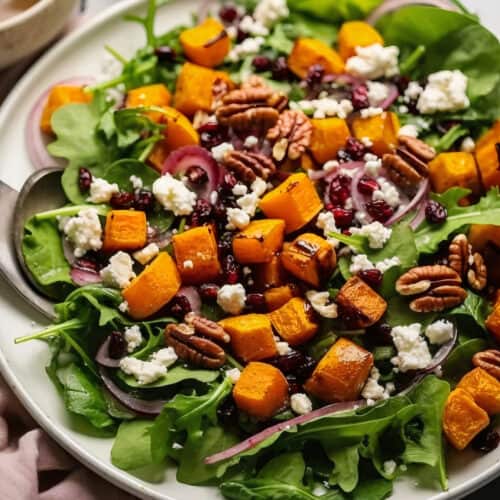 Pumpkin & Feta Salad with Pecans and Cranberries
Savor the unique flavors of our Pumpkin & Feta Salad with Pecans and Cranberries – a festive crowd-pleaser.
Print Recipe
Ingredients
1

small pumpkin 2lbs

2

tbsp

olive oil

salt and pepper to taste

1

cup

crumbled feta cheese

1/2

cup

pecans

1/2

cup

pomegranate seeds

4

cups

mixed salad greens

1/2

red onion

1/2

cup

dried cranberries
Dressing
1/4

cup

olive oil

2

tbsp

apple cider vinegar

2

tbsp

honey

1

tbsp

Dijon Mustard
Instructions
Preheat your oven to 400°F (200°C)

Peel the pumpkin, remove the seeds, and cut it into 1-inch cubes

Toss the pumpkin cubes in olive oil, salt, and pepper, and spread them out on a baking sheet. Roast in the preheated oven for about 25-30 minutes, or until the pumpkin is tender and slightly caramelized. Let it cool

While the pumpkin is roasting, toast the pecans in a dry pan over medium heat until they're slightly browned and fragrant. Let them cool

Prepare the dressing by whisking together the olive oil, apple cider vinegar, honey, Dijon mustard, salt, and pepper

Assemble the salad by placing the salad greens in a large bowl. Top with the roasted pumpkin, crumbled feta, toasted pecans, pomegranate seeds, thinly sliced red onion, and dried cranberries

Drizzle the dressing over the salad just before serving. Toss gently to combine.
Nutrition
Serving:
1
g
|
Calories:
453
kcal
|
Carbohydrates:
43
g
|
Protein:
9
g
|
Fat:
31
g
|
Saturated Fat:
7
g
|
Polyunsaturated Fat:
4
g
|
Monounsaturated Fat:
18
g
|
Cholesterol:
27
mg
|
Sodium:
389
mg
|
Potassium:
1113
mg
|
Fiber:
4
g
|
Sugar:
26
g
|
Vitamin A:
23653
IU
|
Vitamin C:
35
mg
|
Calcium:
224
mg
|
Iron:
3
mg