This spicy ranch spinach dip is a kicked up version of the Knorrs spinach dip. With only 5 ingredients you will love this simple dip.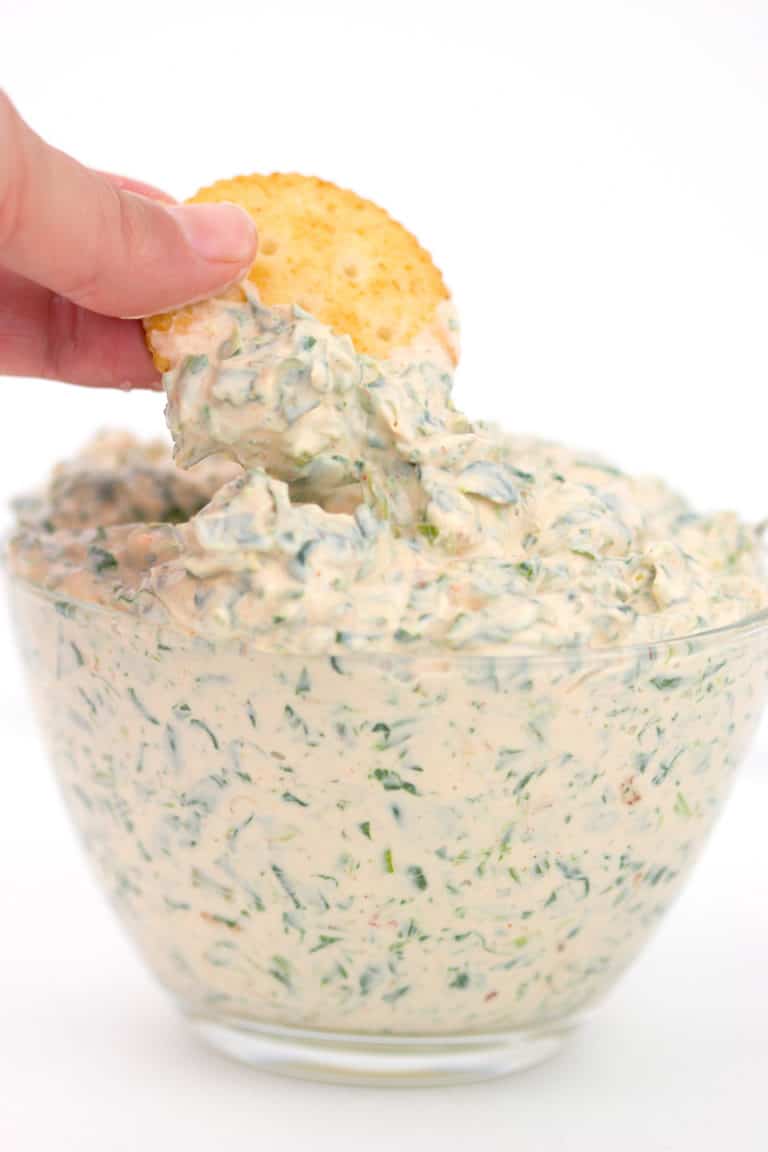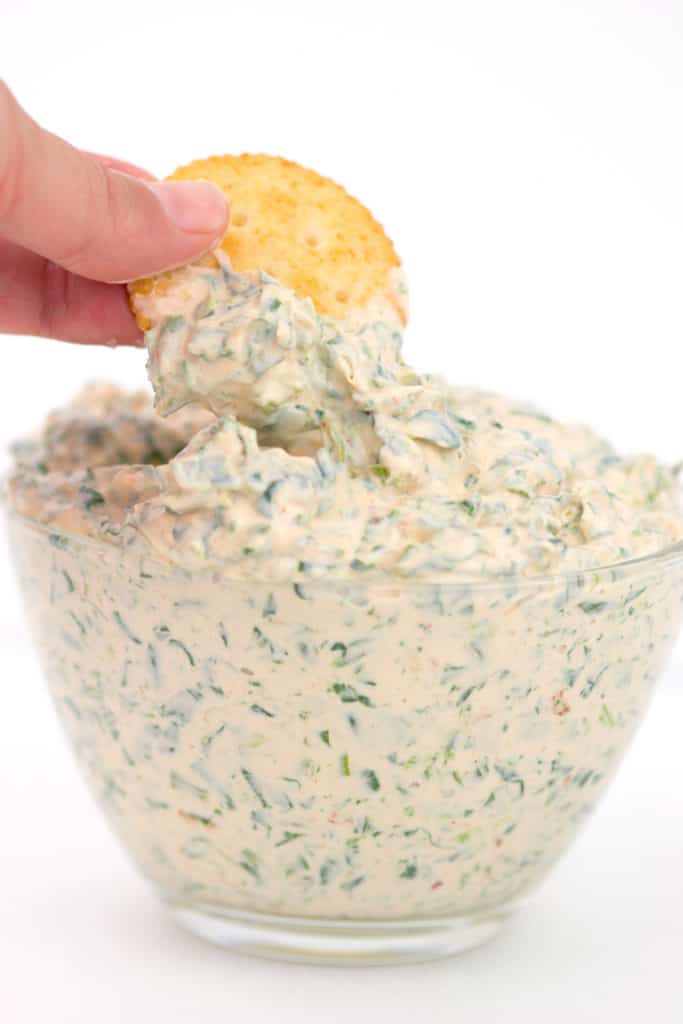 I have to admit that I love dips. Any dish where you can dip some sort of carb into something creamy or chunky and eat together I'm all for. So dips are my favorite recipes to come up with.
This dip is so simple to make and doesn't call for many ingredients at all. So when you want to go the easy route this dip is the one for you.
What makes this dip different?
Just about everyone has had spinach dip made with Knorr vegetable mix, which is amazing on it's own, but I like to change things up. If you want to check out the original recipe go here to find out.
That's where the Hidden Valley Spicy Ranch mix comes into play. It really does make this dip so much better.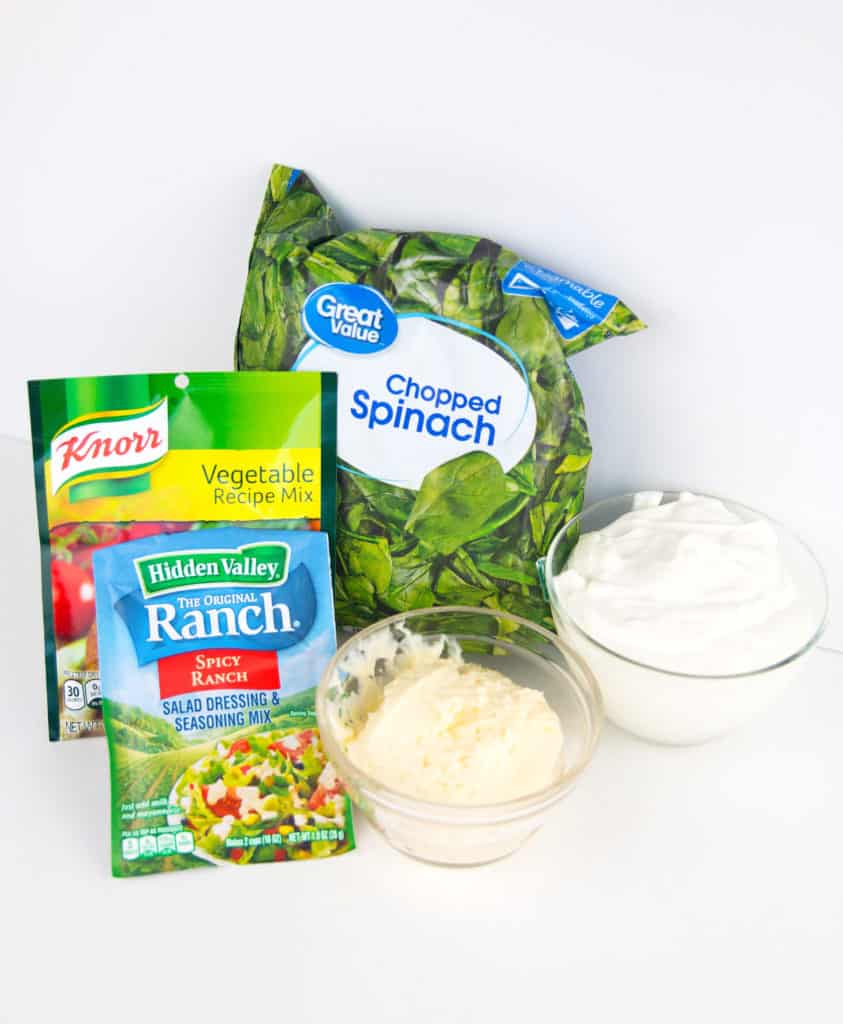 Ingredients for Spicy Ranch Spinach Dip
Spinach– Frozen chopped spinach works best. Just be sure to get all the water out of it before adding to the dip.
Sour Cream– just regular ole sour cream does the trick
Mayo– I have made this with regular mayonnaise and miracle whip and both taste great. Really just use whatever you have on hand.
Knorr Vegetable Mix– This stuff has been around as long as I can remember and it's amazing. Just about every grocery store carries it.
Hidden Valley Spicy Ranch Mix– I absolutely love using this dip. You can pick it up at your local grocery store.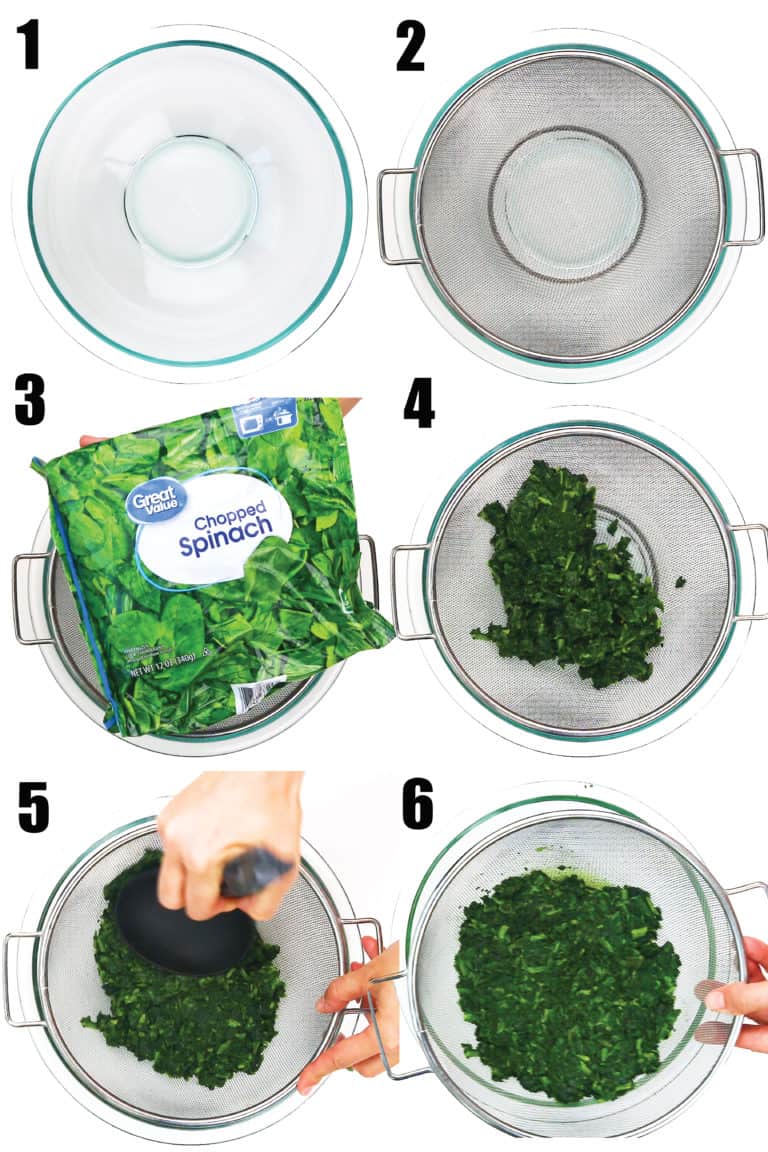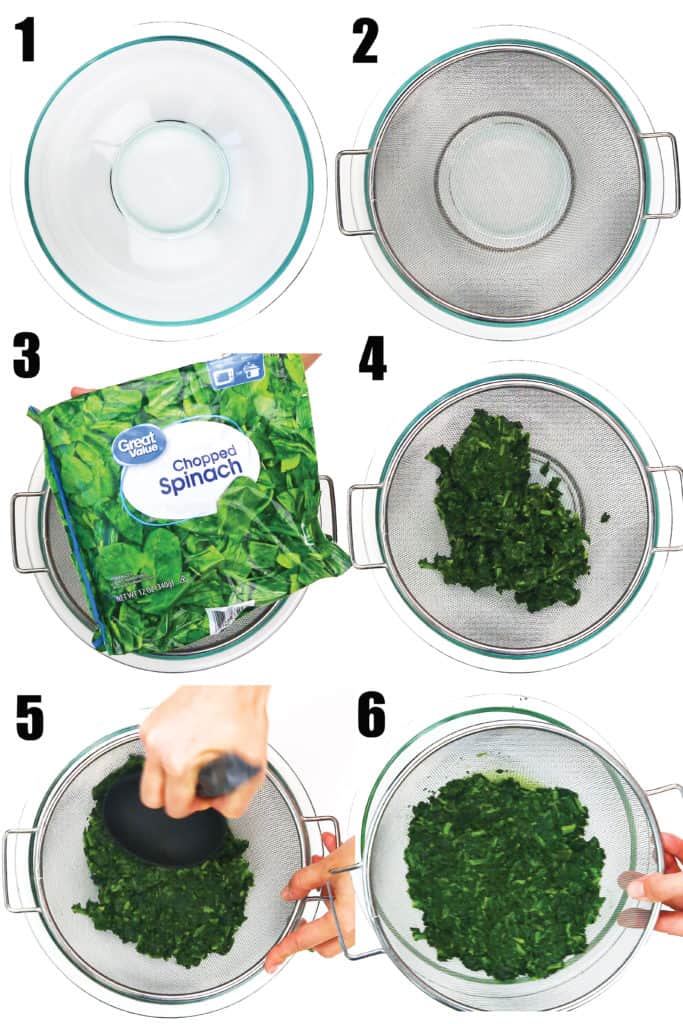 Prepping the Spinach
Be sure and let the spinach defrost first before trying to get all the water out. Do not cook the spinach. Take a bowl (Photo 1) and add a strainer over it (Photo 2)
Take your defrosted spinach (Photo 3) and add it into the strainer (Photo 4) Next take a ladle or big spoon and push down to push out all the water (Photo 5) Once you feel you got all the water out set the spinach aside (Photo 6)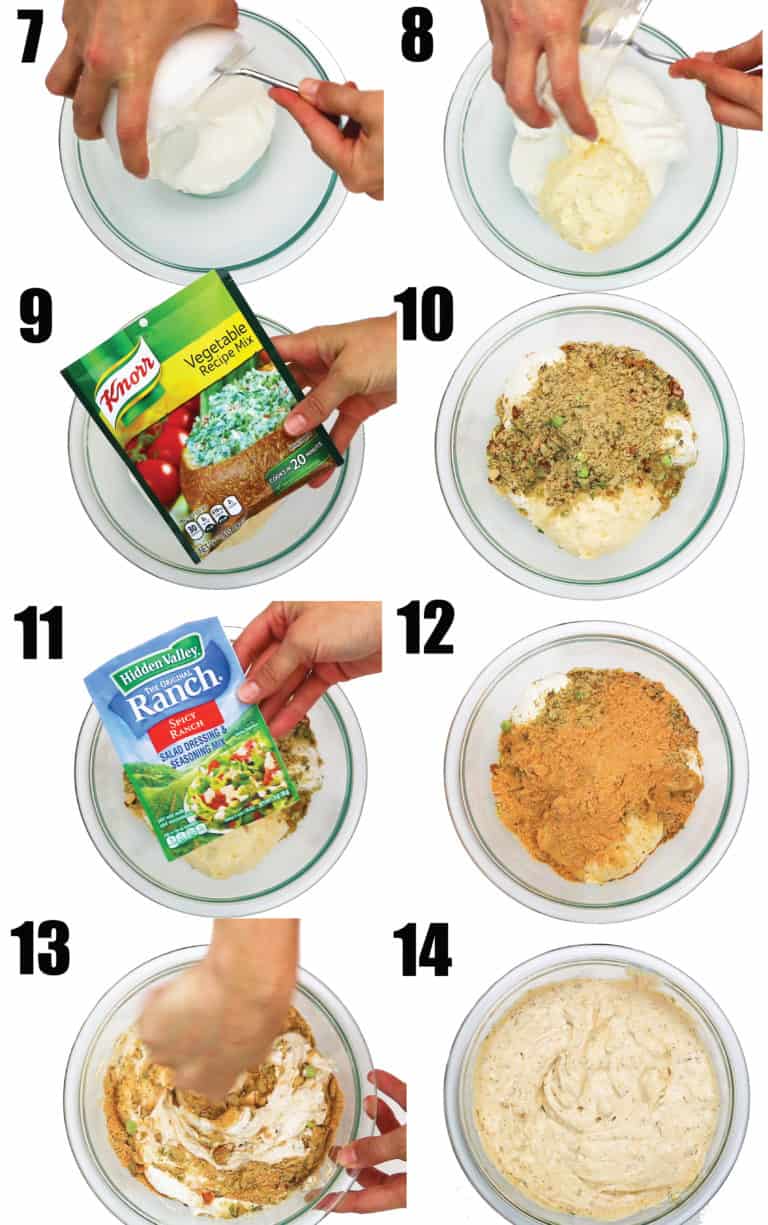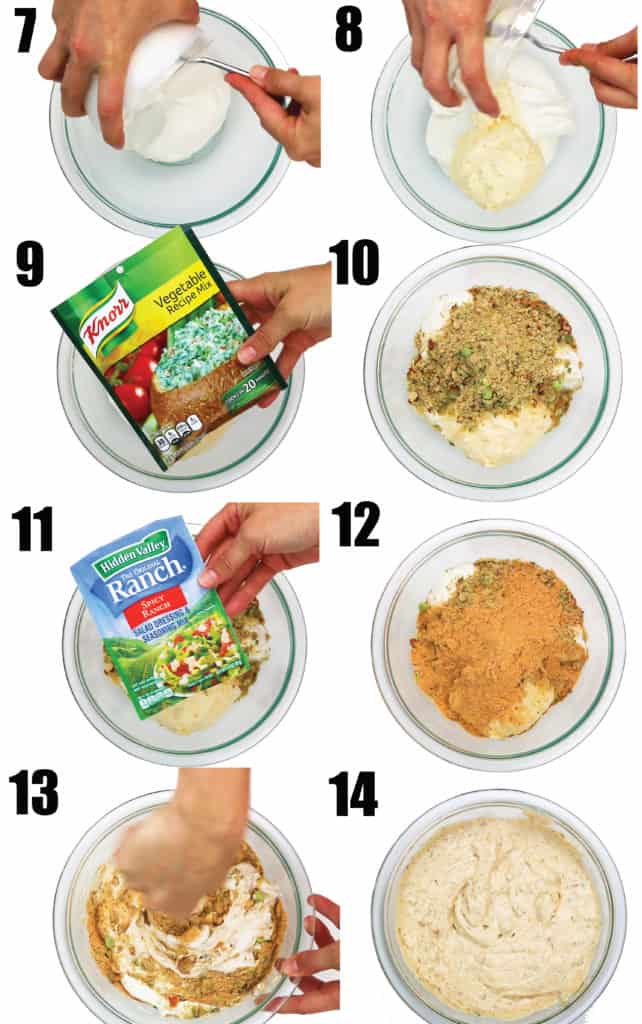 Mixing the Dip
Take a bowl and add the sour cream (Photo 7) and next add the mayo (Photo 8). Take the Knorr vetable mix (Photo 9) and add it to the bowl (Photo 10)
Take your spicy ranch dressing mix (Photo 11) and add it to the bowl (Photo 12) and start to mix everything together really well (Photo 13) until you can't see anymore clumps (Photo 14)


Add the spinach to the dip mix (Photo 15) Use a fork to mix in the spinach to help pull apart some of the spinach that is stuck together (Photo 16)
After mixed cover and put in the refrigerator at least an hour, but I think overnight is best (Photo 17) Be sure and give it another mix before serving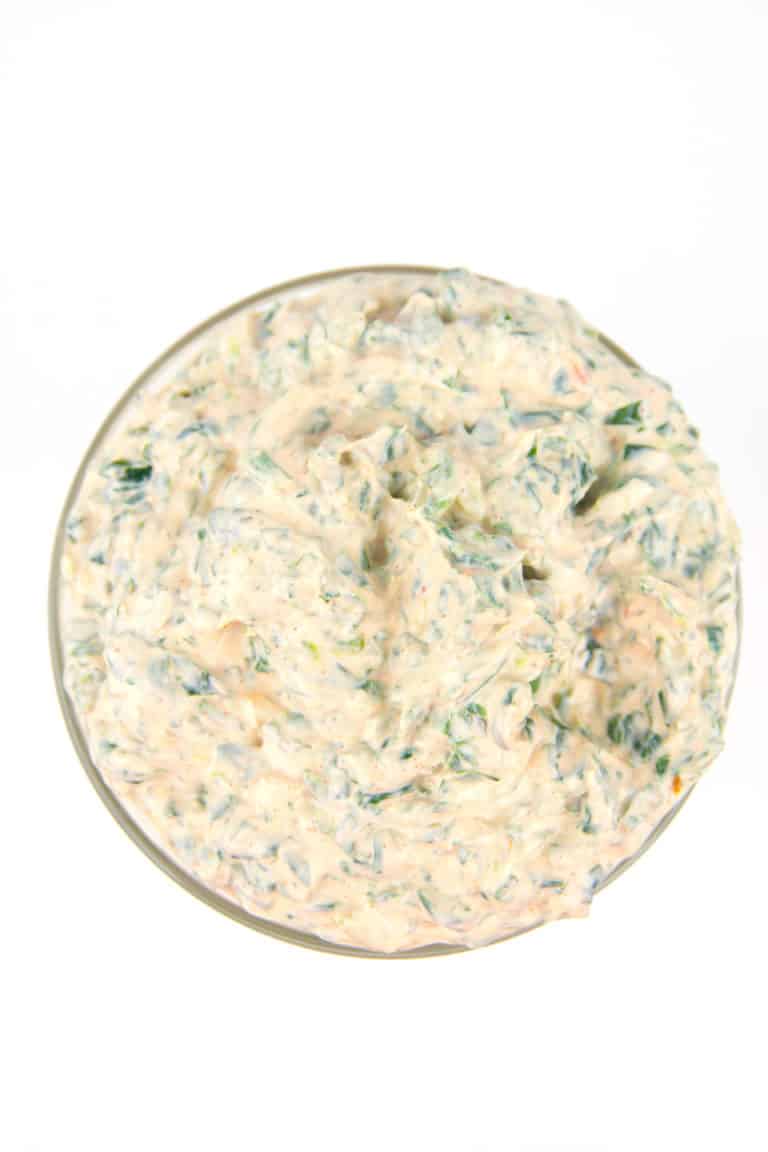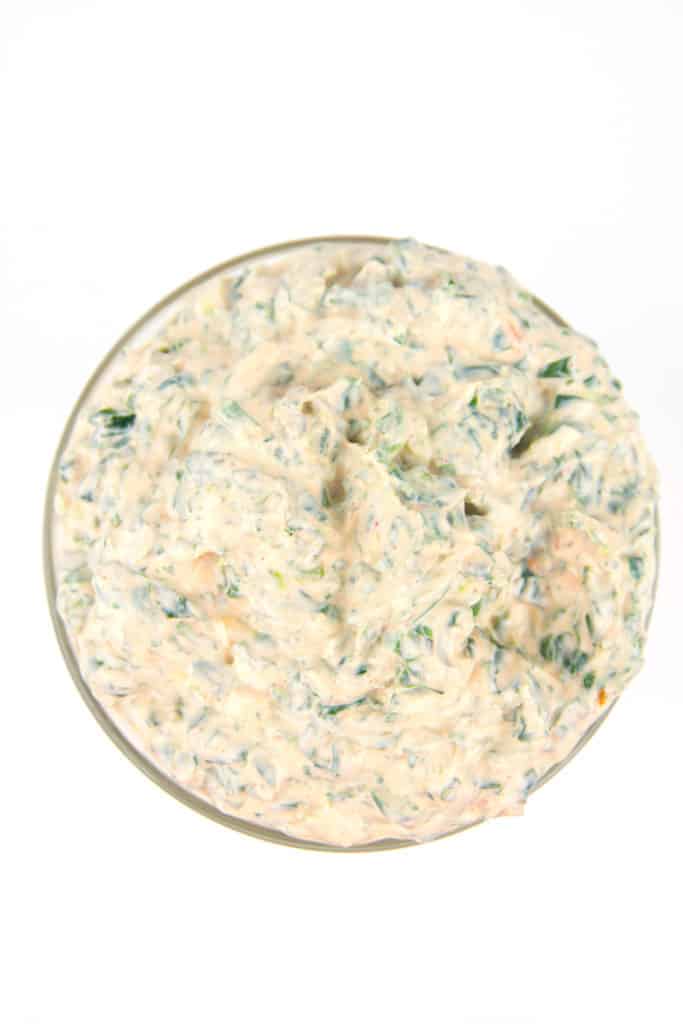 Tips and Tricks
Make sure your frozen spinach is defrosted all the way before getting all the water out of it. You don't want to water down your dip
You can quick defrost your spinach by placing it in some water while still in the bag. Just make sure there are no holes in your bag before adding it to the water.
You can use fresh spinach if you like. Cook it until it's at the consistency you like and drain all the water and let cool before adding it to the dip.
After prepared, cover and refrigerate. I prefer to make it the day before and stir it a few times throughout the time in the fridge. Some of the seasoning sticks together so letting it sit and stir it every so often helps break up the clumps.
I like to serve this with Ritz crackers, but other buttery type crackers work great too. It's even good with pretzel chips or toasted baguette bread.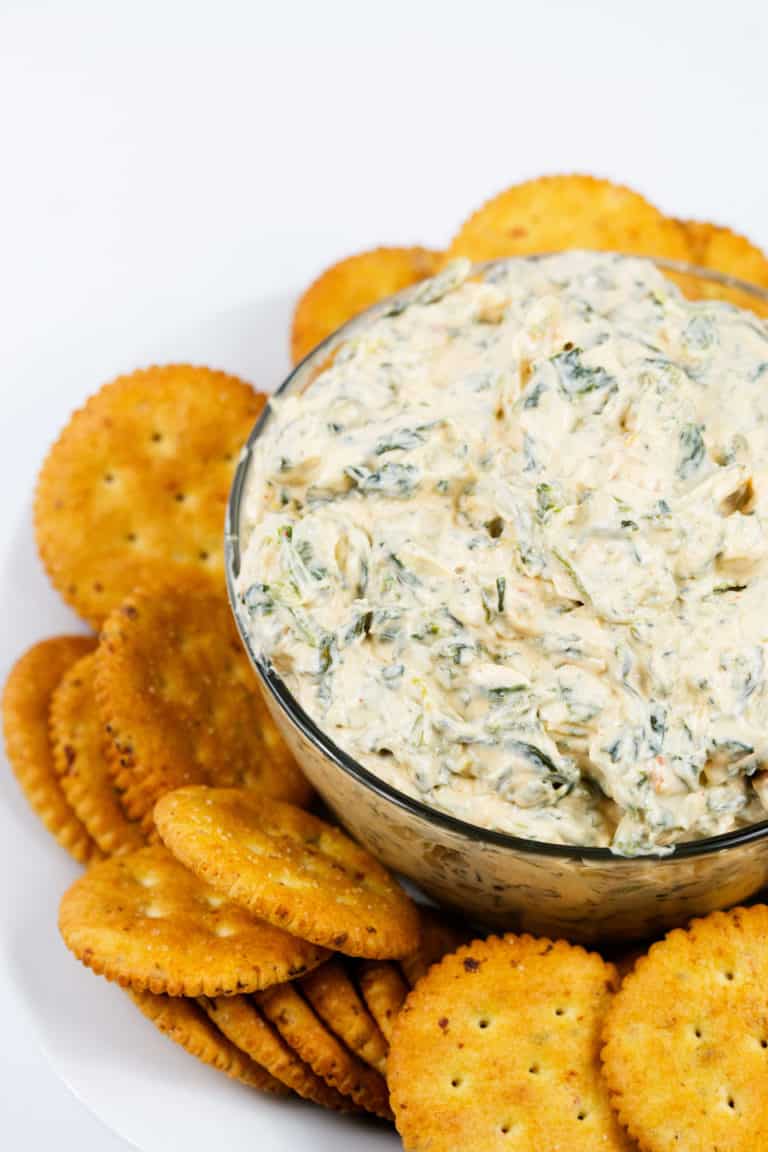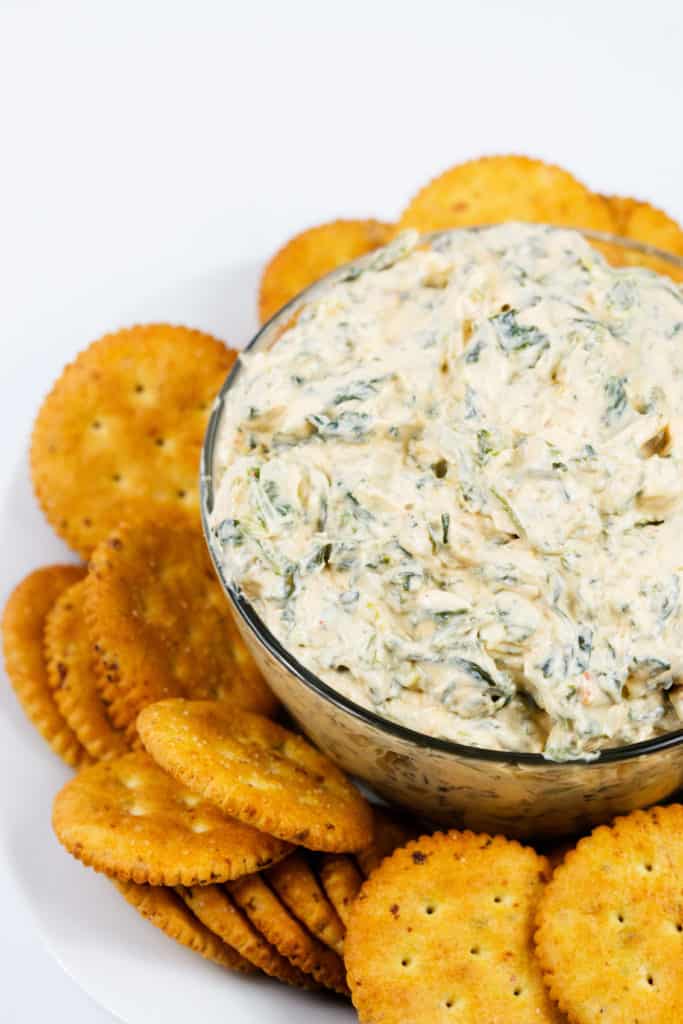 Want more recipes made with this Spicy Ranch mix?
Spicy Ranch Jalapeno Dip
Spicy Ranch Oyster Crackers
Spicy Ranch Potatoes
Spicy Ranch Onion Fries
Or check out all my Appetizer recipes to get your party off to a good start!
Did you make this recipe? Then give a star rating below and tag your picture on Instagram with #glitterandgraze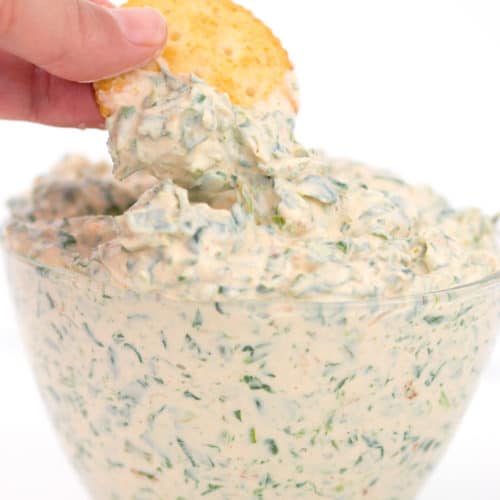 Spicy Ranch Spinach Dip
This spicy ranch spinach dip is a kicked up version of the Knorrs spinach dip. If you want a spinach dip that is even better than the original, then this recipe is for you.
Print Recipe
Ingredients
16

oz

sour cream

1

cup

mayo

10

oz

frozen chopped spinach

1

package

knorr Vegetable mix

1

package

spicy ranch dressing mix
Instructions
Lay out frozen spinach and let defrost. If the bag is sealed well you can lay in a sink full of water to defrost faster

Drain spinach through a strainer over a bowl to get out excess water.  Use a ladle to help push out the excess water.

Add sour cream, mayo, Knorr vegetable mix, and spicy ranch dressing mix to a bowl and mix together well.

Add spinach to dip and mix really well with a fork to separate the spinach

Cover and refrigerate at least an hour or overnight if possible.
Nutrition
Serving:
1
cup
|
Calories:
893
kcal
|
Carbohydrates:
22
g
|
Protein:
7
g
|
Fat:
86
g
|
Saturated Fat:
26
g
|
Cholesterol:
109
mg
|
Sodium:
2091
mg
|
Potassium:
555
mg
|
Fiber:
2
g
|
Sugar:
6
g
|
Vitamin A:
12070
IU
|
Vitamin C:
6.5
mg
|
Calcium:
294
mg
|
Iron:
2.2
mg
Update Notes; This recipe was originally posted in July of 2018, but was republished with new photos, cooking tips, and step by step picture instructions in November 2019