These pizza cheese sticks are a must for your super bowl party. A great way to combine two great classics.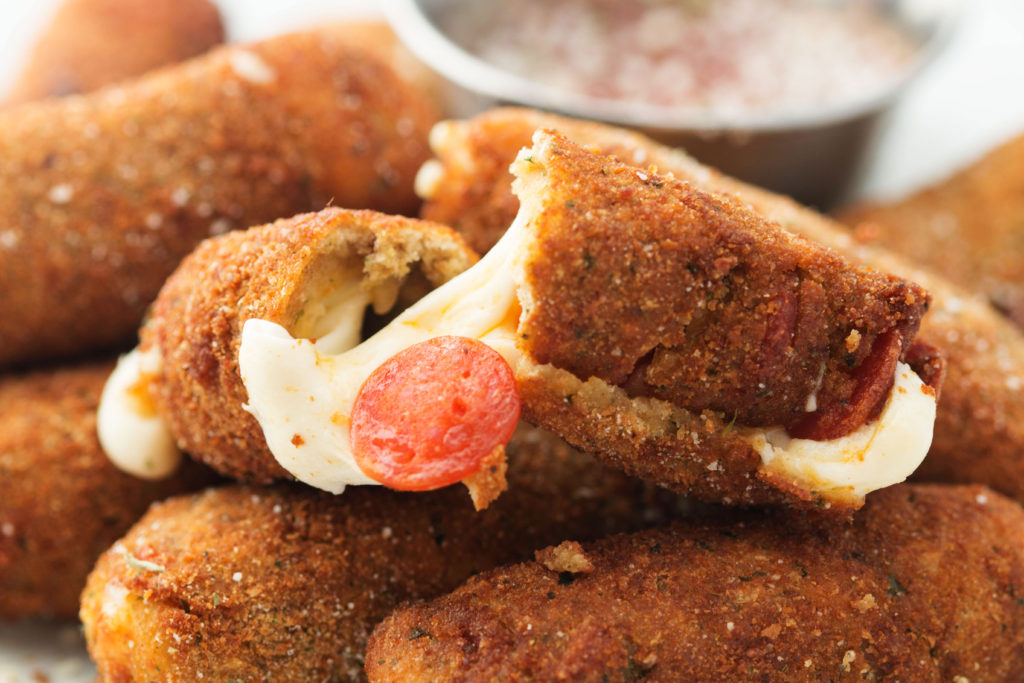 If there are two things I love as a guilty pleasure its cheese sticks and pizza. Both are filled with gooey cheese. I'm obsessed with cheese. Why can't cheese have no calories? In a perfect world.
I have been brain storming on what can I make that screams football party food. That's where this yummy combo came from. Here's how to make those tasty pizza cheese sticks.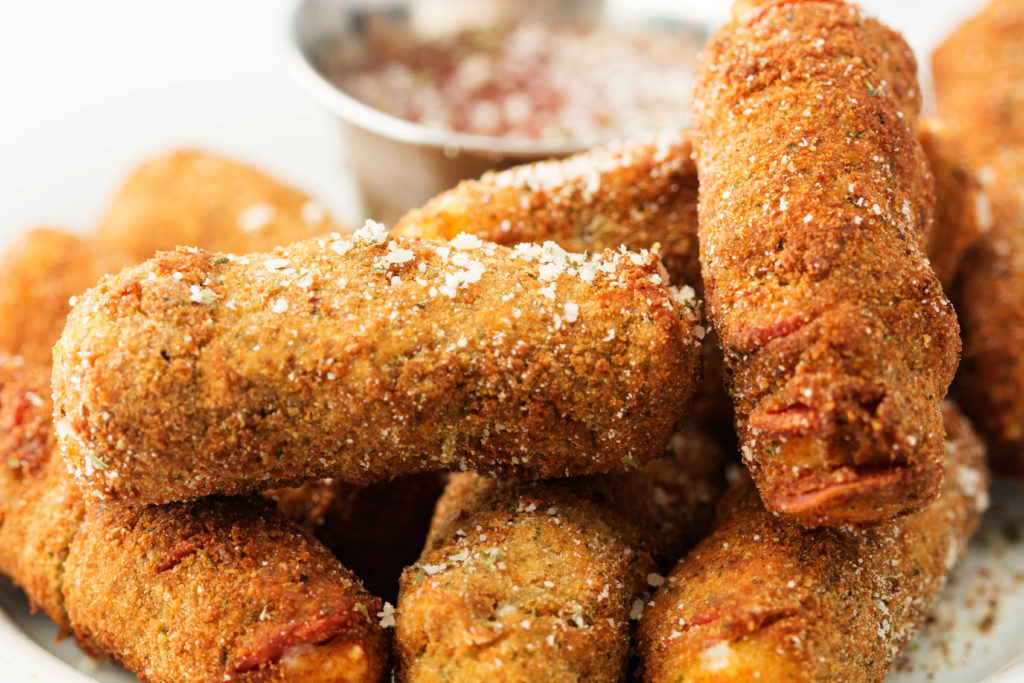 Now who wouldn't love fried pizza? That's basically what this is. Warning this is by no way healthy. I will never claim it to be either. But usually the best tasting things aren't.
My problem was how do I get the pepperoni inside the cheese sticks with still keeping the classic cheese stick form. Then, bing, the perfect idea of how.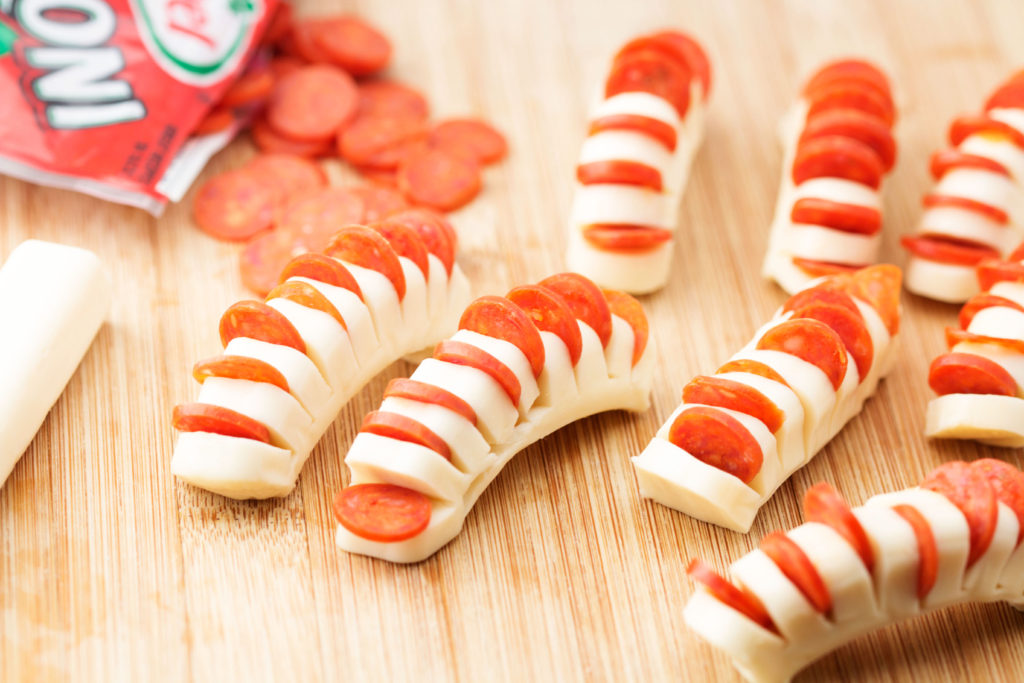 That's where what many people call hassleback comes in. It's basically where you cut slits into your main ingredient and add other ingredients into those slits. So that's just what I did. Cut slits into the string cheese and added mini pepperoni into those slits. Now the pepperoni pieces will be mixed in with the cheesy part of the cheese stick.
Your breading is where a lot of the flavor will come from. You've got to have that classic pizza Italian taste. Just add your seasonings to your Italian bread crumbs plus some Parmesan cheese and smell the goodness.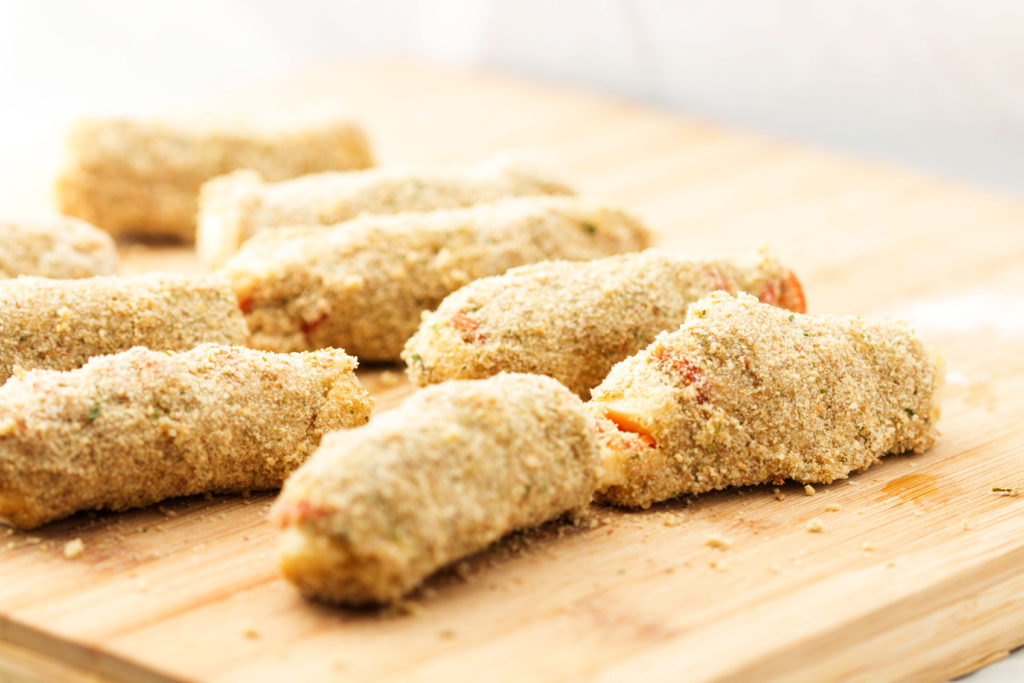 Just dip your cheese stick in some flour, then the egg mixture and then bread crumbs. Repeat the egg mixture and bread crumbs one more time. You can now start to mold the cheese sticks a little. I just squeezed the cheese stick in my hand to push down those pepperonis more into the cheese stick.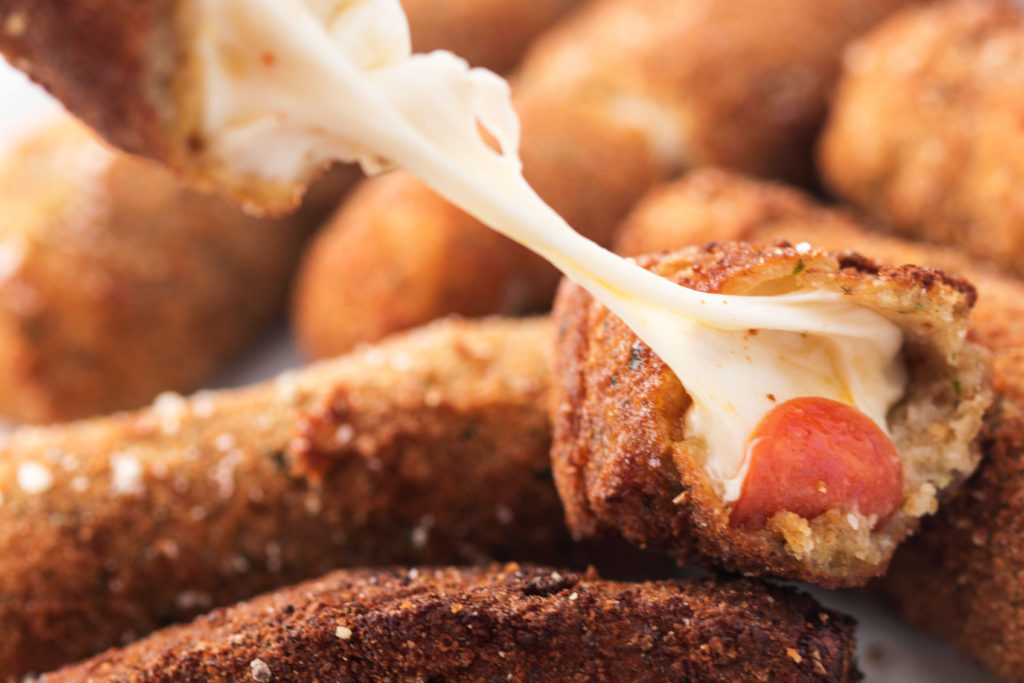 The good thing about this recipe is you don't have to have a deep fryer to make these. Just need a pan and some oil and you're ready to fry away.
You don't want to over fry these either so 30 seconds or so is the perfect time for these. I suggest only doing a couple at a time and turning them to get an even cook.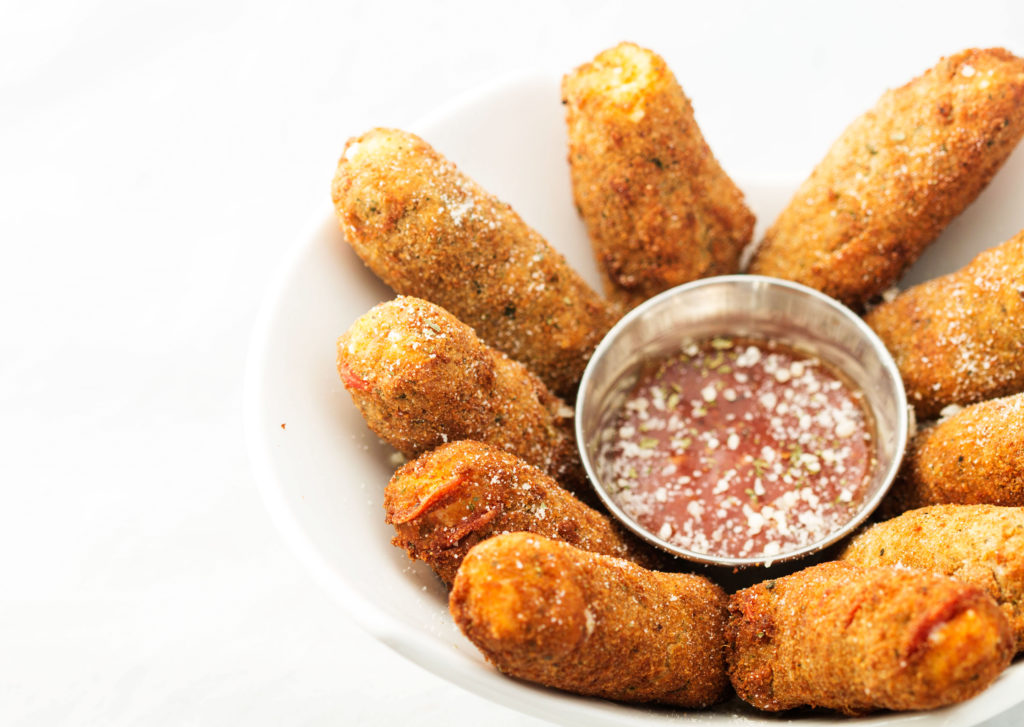 For you die hard pizza lovers dipping these in marinara sauce gives you that perfect pizza like taste. But if you're a true Texan, like I am, I wouldn't dip these in anything else than ranch dressing. If you're serving for a crowd go ahead and serve both dipping sauces and let your guests decide.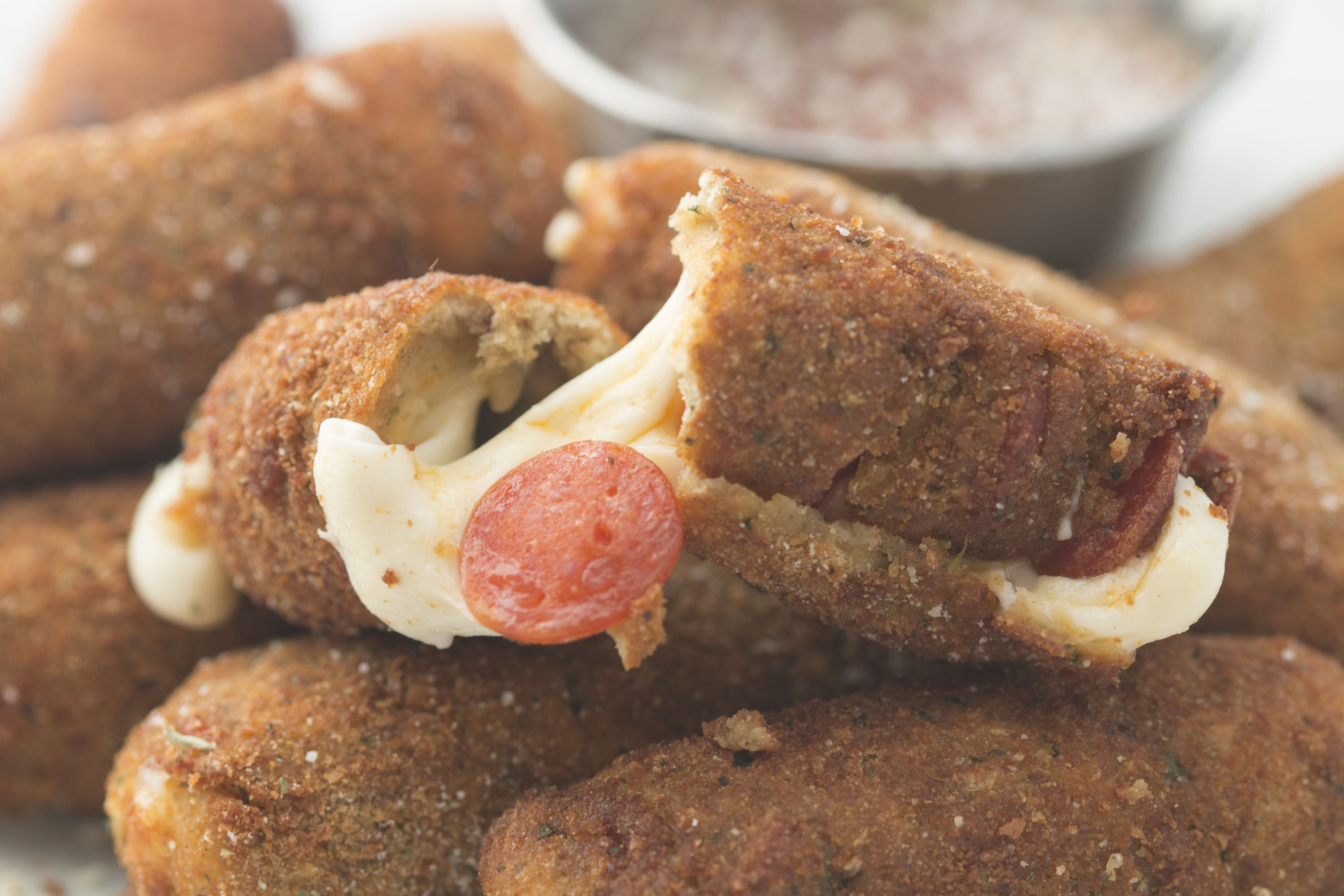 Pizza Cheese Sticks
These pizza cheese sticks are a must for your super bowl party. A great way to combine two great classics.
Print Recipe
Ingredients
12

sticks

string cheese

1

bag of mini pepperoni

2

cups

italian bread crumbs

1/2

cup

flour

2

eggs

2

TBSP

oregano

1

TBSP

basil

1

TSP

garlic powder

1

TSP

paprika

1

TSP

onion powder

4-6

cups

Canola Oil
Instructions
Cut string cheese in half and cut slits 3/4 away down in the cheese through the whole length of the stick

Stuff mini pepperonis in each slit

Mix together all spices with bread crumbs and spread out on a plate

Whisk together eggs in a bowl and spread out flour on a separate plate

Dip cheese sticks in flour then egg wash and then bread crumbs. Repeat with egg wash and bread crumbs

Heat oil in a pot to medium high heat. Once at temperature place a few cheese sticks at a times to cook. Be sure to keep them moving around to cook evenly.

Cook for about 30-45 seconds for a golden brown.

Take out and place on some paper towels to drain extra oil

Serve with marinara or ranch dressing
Nutrition
Serving:
1
cheese stick
|
Calories:
89
kcal
|
Carbohydrates:
7
g
|
Protein:
2
g
|
Fat:
5
g
|
Saturated Fat:
1
g
|
Cholesterol:
10
mg
|
Sodium:
183
mg
|
Potassium:
29
mg
|
Vitamin A:
75
IU
|
Vitamin C:
0.2
mg
|
Calcium:
20
mg
|
Iron:
0.6
mg