With this chopped
Caesar salad you get
the same traditional
salad with a twist.
Plus no raw egg
Caesar dressing.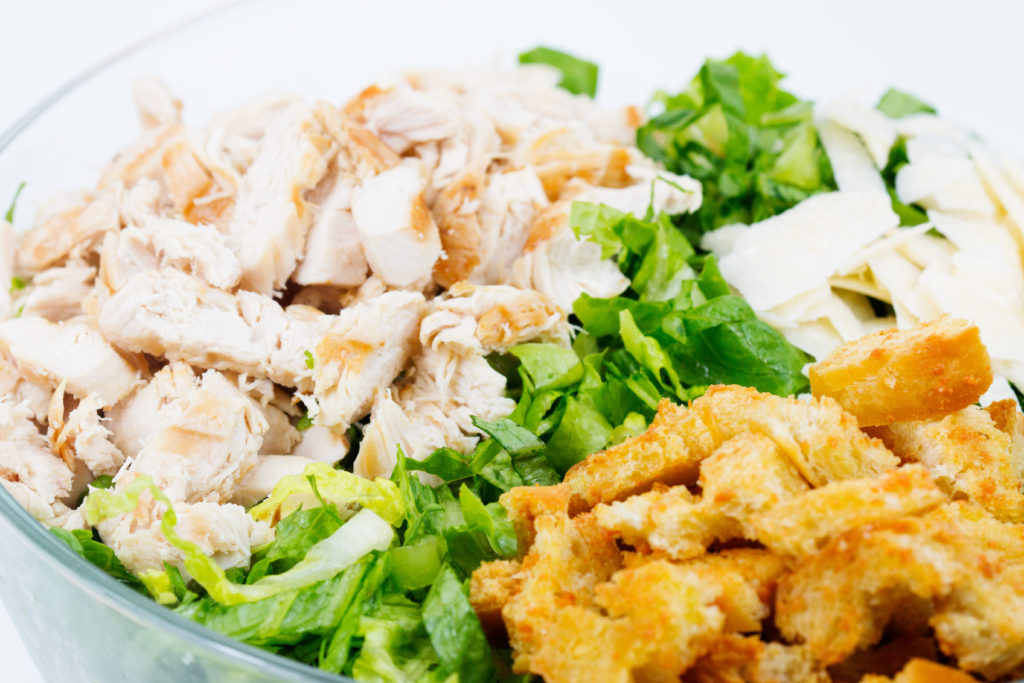 I just love salads. I could literally eat them everyday. I think I really just love dressings. A dressing can make or break a salad. A good dressing goes a long way in my book.
I was one of those pregnant women who avoided everything they said to avoid. One of those things was Caesar salad. They say because of the raw eggs in the dressing.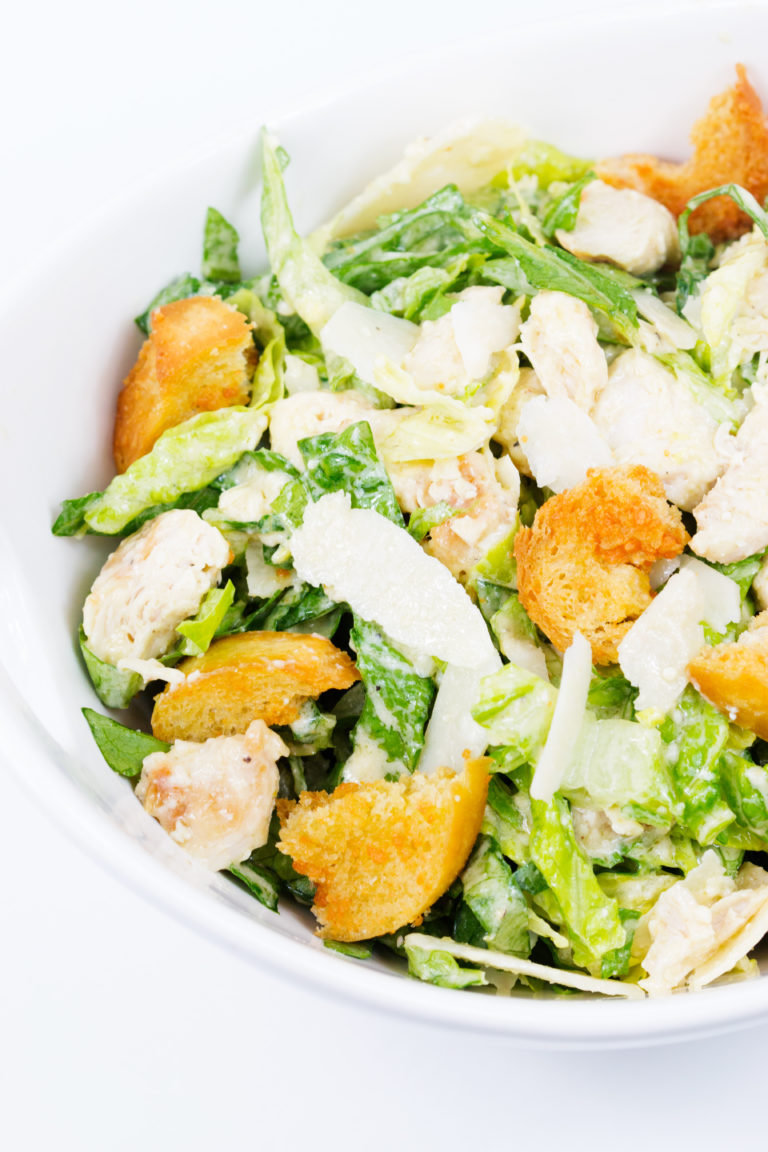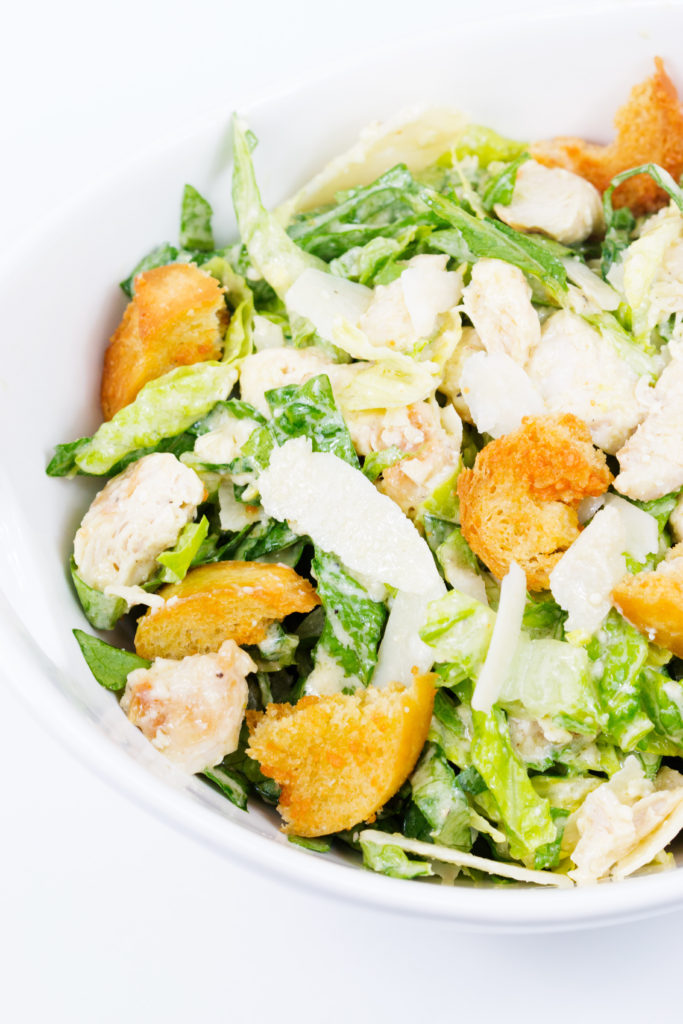 Well if you are pregnant this is one Caesar salad you can have because there is no raw eggs, just mayo instead which is okay to have. I wish I would have came up with this sooner so I could have curved that pregnancy craving.
The twist on this Caesar salad is it's chopped. As in chopped I mean almost shredded lettuce. And we know how much I love all things shredded. There is something about a chopped salad that I prefer over regular one.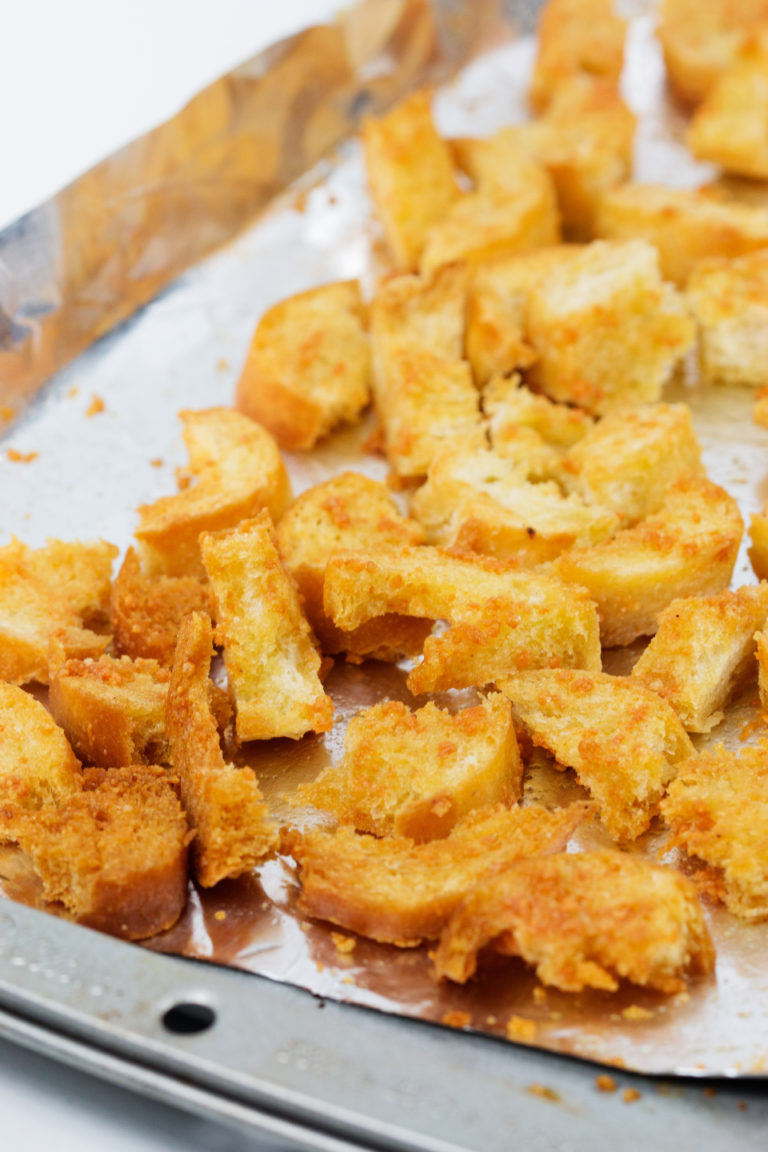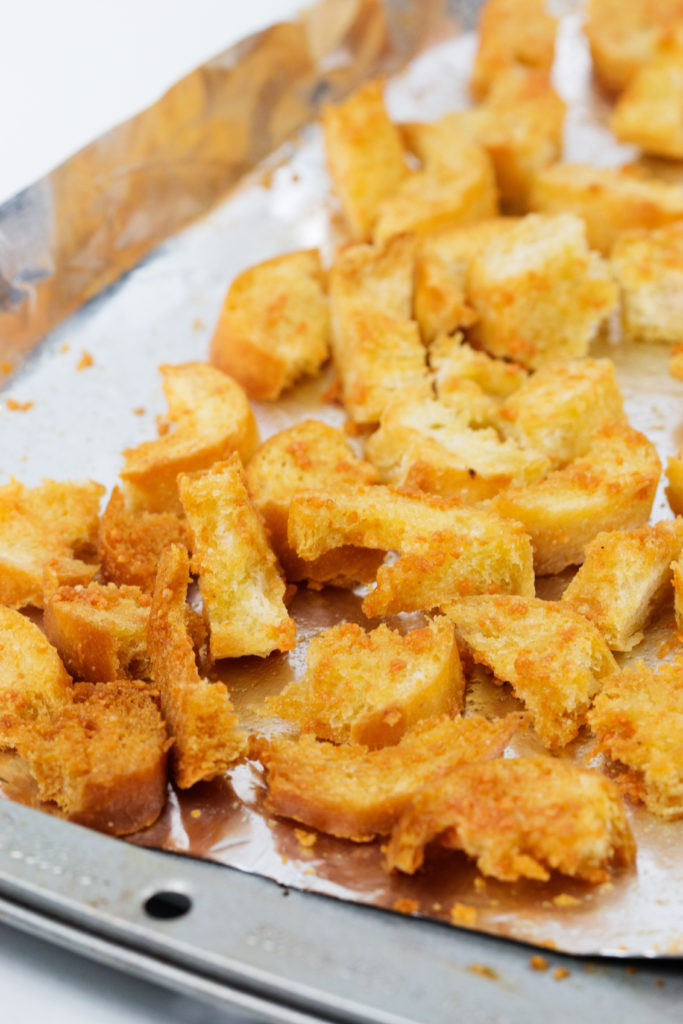 Something else I love are homemade croutons. They are so much better than store bought. Plus you can come up with different flavor combinations. I used half a baguette bread, olive oil, and garlic salt and talk about perfection.
Have you had shaved Parmesan cheese before? It is my favorite way to have my Parmesan. You can really taste the flavor of the cheese when it's in bigger pieces and I love the flavor of Parmesan. I just buy a small block and use my potato peeler and shave away.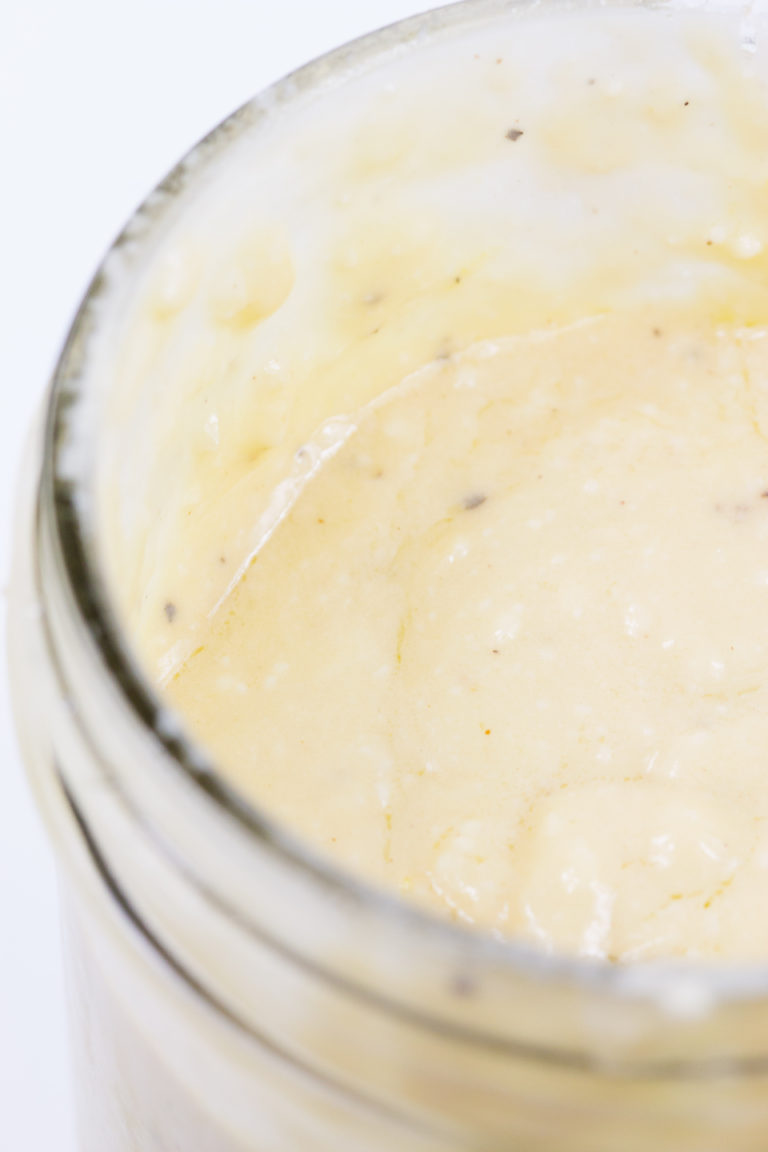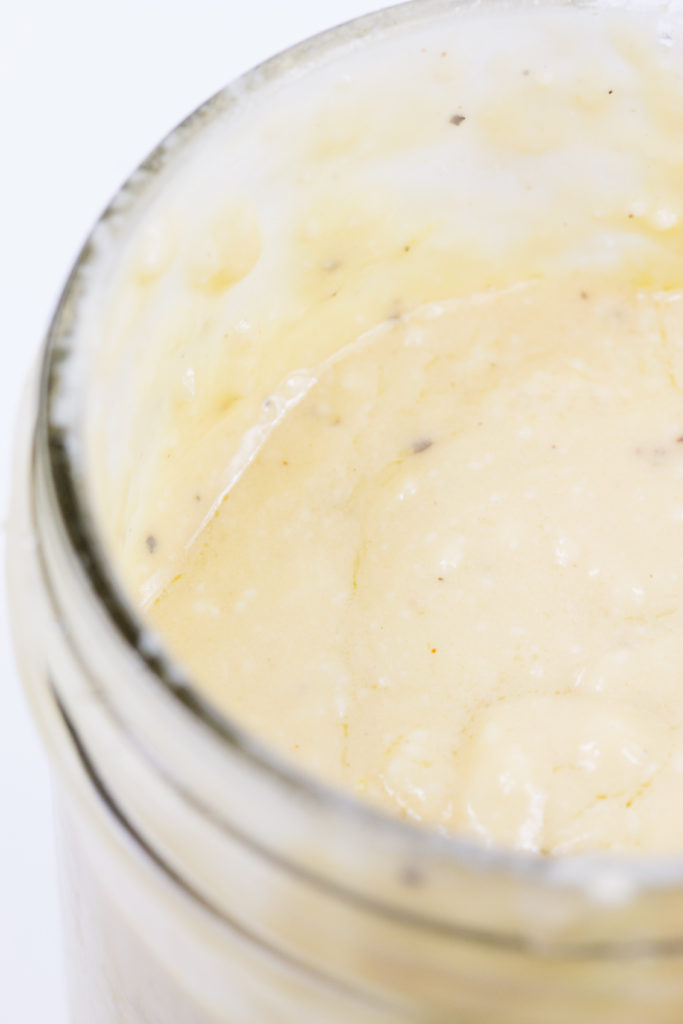 As for the dressing you want to make sure you have a good quality olive oil. Believe me you can taste the difference. I just add all the ingredients together in a mason jar and whisk together really well.
I like to let my dressing sit in the refrigerator for a bit so the dressing can marinate all the flavors together. Plus I also prefer cold dressing.
After making the dressing you want to start with the croutons so those can be cooked and ready to go by the time you are done with the rest of the salad. Heat your oven to 350 degrees.
Just tear off pieces of baguette bread and throw them in a bowl. In another bowl mix together olive oil and garlic salt then pour over the bread pieces and mix around. Lay out on a baking sheet and cook for about 10 minutes until golden brown, then let cool.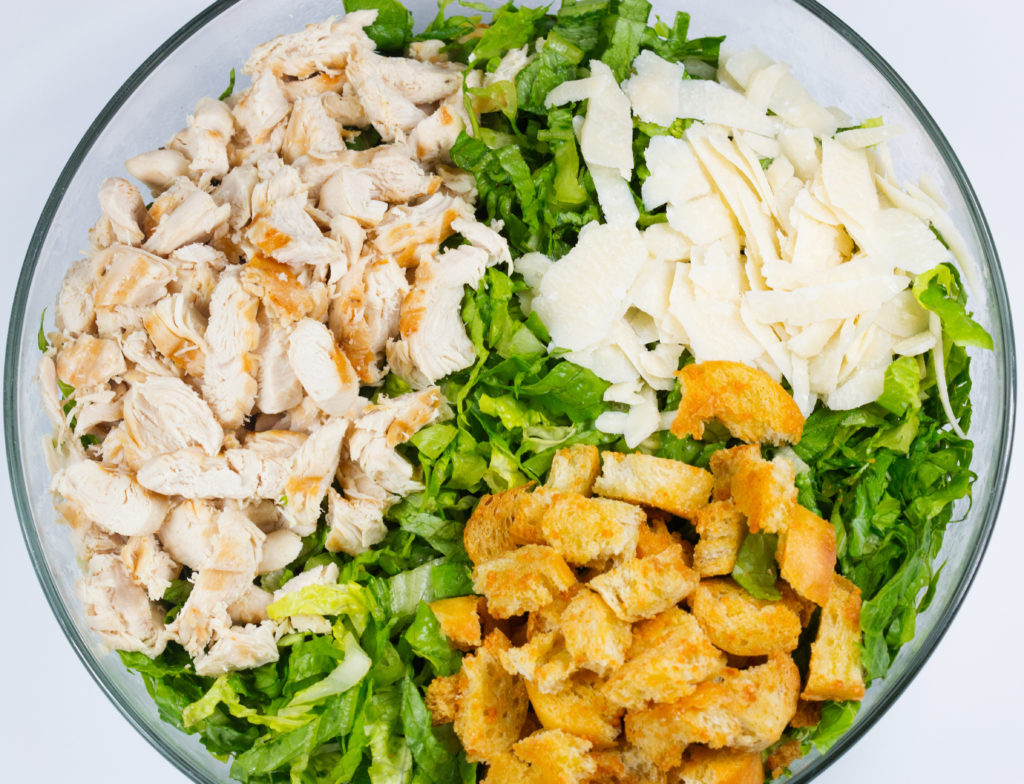 For this recipe I took some of the Caesar dressing and brushed it over my chicken and put the chicken on my mini griller and cooked until done. Then just chop into pieces and your chicken is ready to go.
To make this a chopped salad you want to make your pieces of lettuce real thin. I start by washing all my romaine leaves and dry them off. Then I stack half of them on top of each other and make thin width cuts.
After cutting them all into thin strips I go back and give a few extra chops the opposite way so the pieces aren't super big.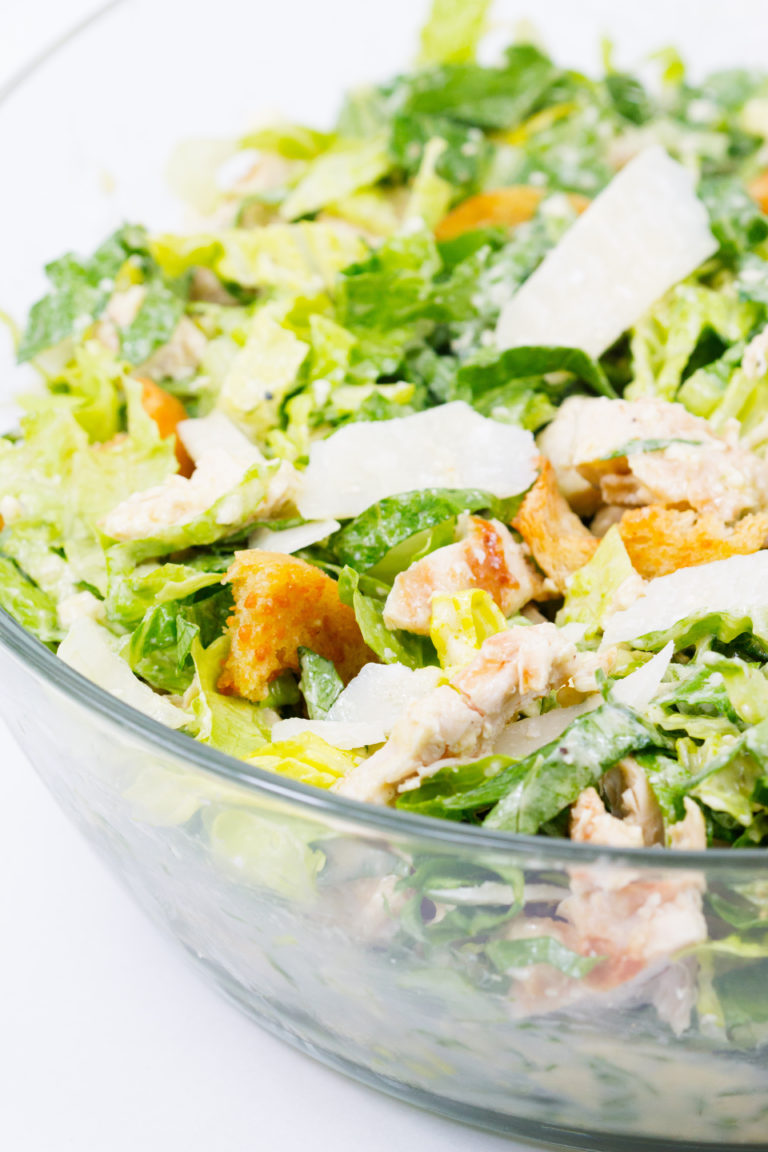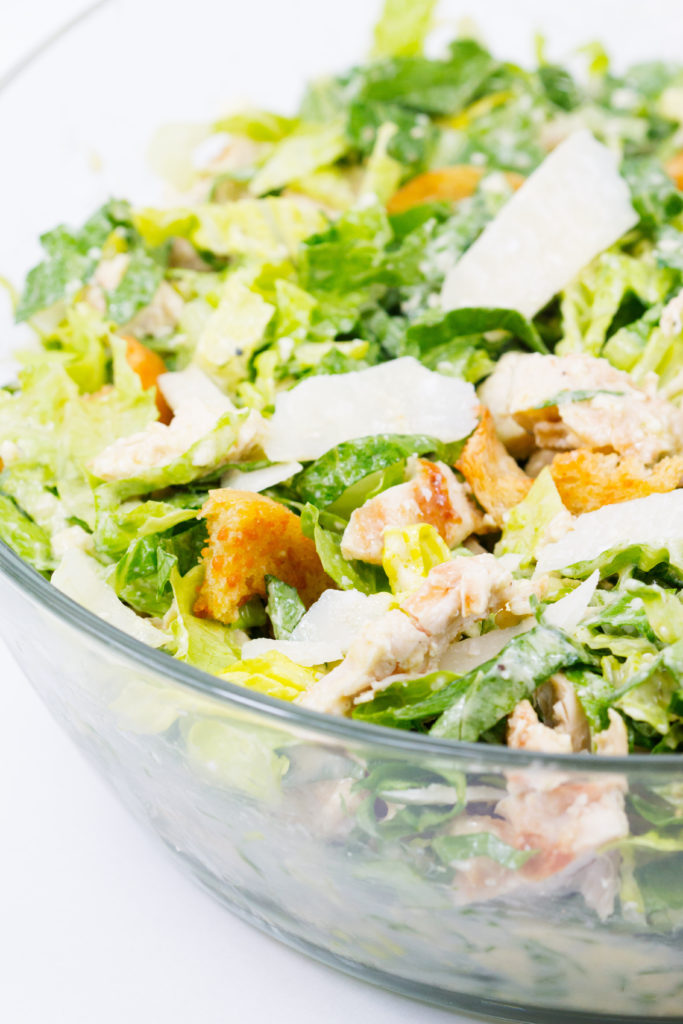 Now it's just time to add all the ingredients together in a big bowl and mix in the dressing. And that is it. Perfect for lunch or dinner or even as a starter.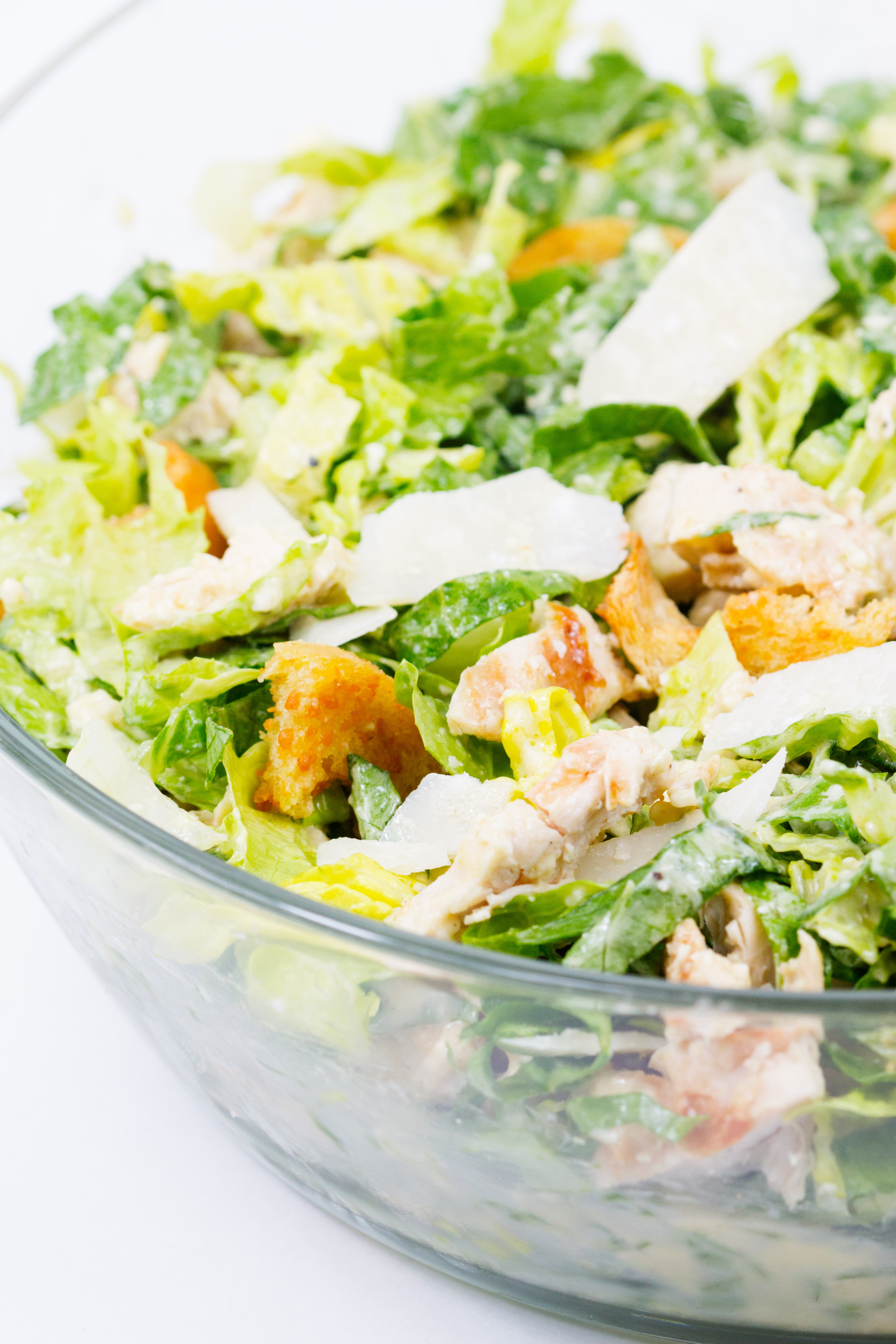 Chopped Caesar Salad
With this chopped Caesar salad you get the same traditional salad with a twist. Plus no raw egg Caesar dressing.
Print Recipe
Ingredients
1

head of romaine lettuce

8 cups chopped

2

full chicken breasts or 10 tenders

1

cup

of shaved Parmesan cheese
For courtons
half a baguette bread or 2 cups bread pieces

1/4

cup

olive oil

2

TBSP

grated Parmesan cheese

1/2

TSP

garlic salt
For Caesar Dressing
1/2

cup

grated Parmesan cheese

3/4

cup

mayo

1/4

cup

olive oil

2

TSP

anchovy paste

3

TBSP

lemon juice

half of a lemon zest

2

TSP

worshershire

1/4

TSP

pepper

1/4

TSP

salt

2

cloves

of garlic minced

1

TSP

Dijon mustard

1

TBSP

red wine vinegar
Instructions
Add all Caesar dressing ingredients in a jar whisk together and refrigerate

Preheat oven to 350 degrees

Tear pieces of bread and add to a bowl

Add crouton olive oil, Parmesan cheese and garlic salt to a bowl and mix then pour over bread pieces

Lay out on a baking sheet and cook for 10 minutes or until golden brown, then let cool

Brush chicken with Caesar dressing and grill or cook in an oven until cooked, then chopped in pieces

Wash all romaine lettuce pieces and dry

Take half of the pieces stacked on top of each other and cut into thin pieces. Do the same with all the lettuce then add to a big bowl

Add all other ingredients and stir in dressing
Nutrition
Serving:
2
Cups
|
Calories:
665
kcal
|
Carbohydrates:
3
g
|
Protein:
32
g
|
Fat:
58
g
|
Saturated Fat:
12
g
|
Cholesterol:
98
mg
|
Sodium:
1295
mg
|
Potassium:
420
mg
|
Sugar:
1
g
|
Vitamin A:
795
IU
|
Vitamin C:
5.4
mg
|
Calcium:
387
mg
|
Iron:
1.1
mg