With this stack cobb salad you not only get a delicious salad, but a pretty one. Perfect meal to wow any guests.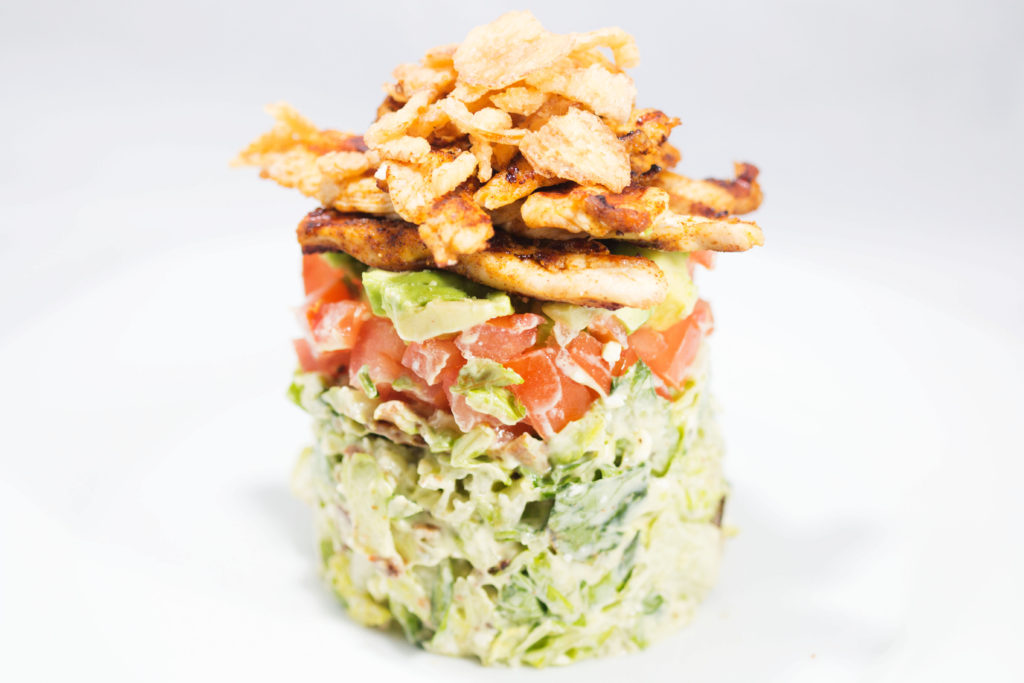 Disclaimer: Please note that some of the links below are affiliate links in which I will receive a commission
if you purchase those items through that link. I used and recommend all the products below because I
have found the company and products are reliable and are my personal preference.
It's that time of year again when everyone is on a diet. If I had to guess being healthier or to lose weight is the number 1 resolution of most people. Too bad I've been on a healthier eating regime for a couple months now.
Trying to loose all that extra weight I gained before I got pregnant. I mean we have a Mexico trip coming up in less than 2 months and I want to look decent in a bikini. So bring on the diet food.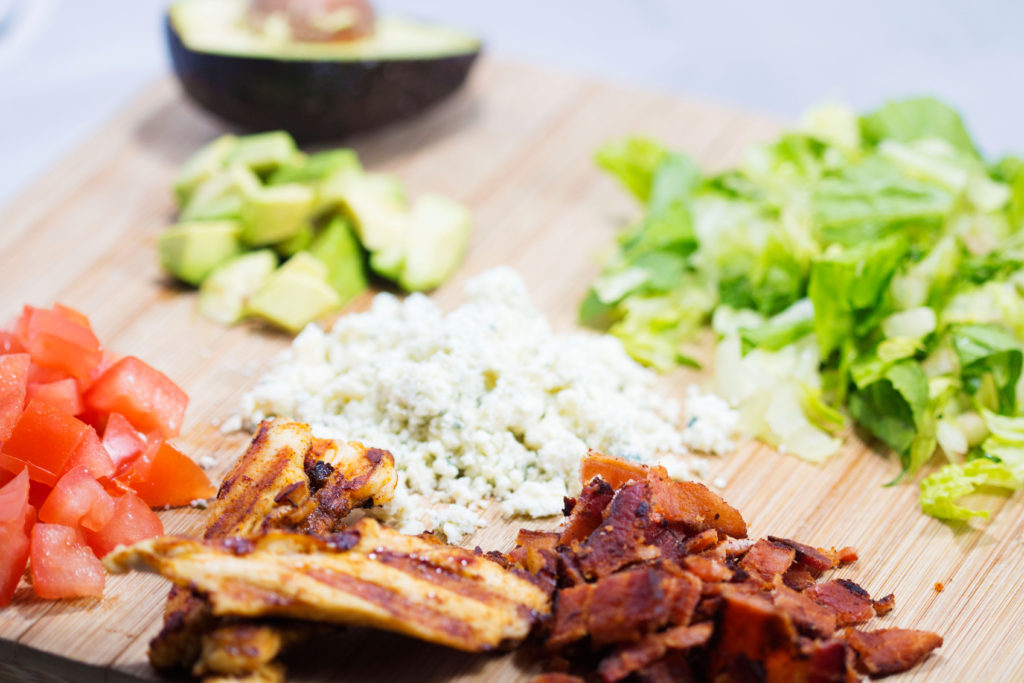 I'm not one to sit there and count all my calories and make food tasteless. I've done that before and it's so hard to stick to eating like that non stop.
I pretty much know what has a lot of calories or the things I should just stay away from. And with the holidays just passing I didn't give up my holiday meal to eat something super healthy either.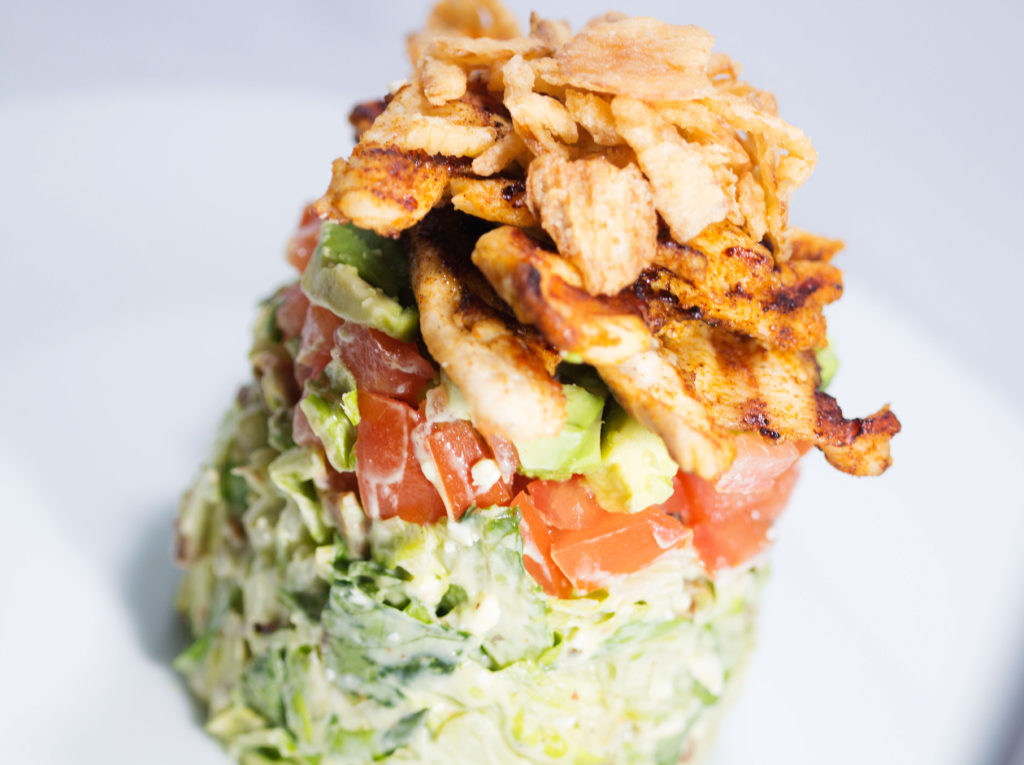 But now that the holidays are over time to get back on track. Luckily I love salads. I could eat salad everyday and be happy. The big calorie kicker on salads is the dressing. So if you can be dressing conscience you're doing pretty good.
I am Texan so that means I love me some ranch dressing. We put that stuff on everything. Only problem is it's full of calories and fat. But that should be a no brainier because it tastes so good.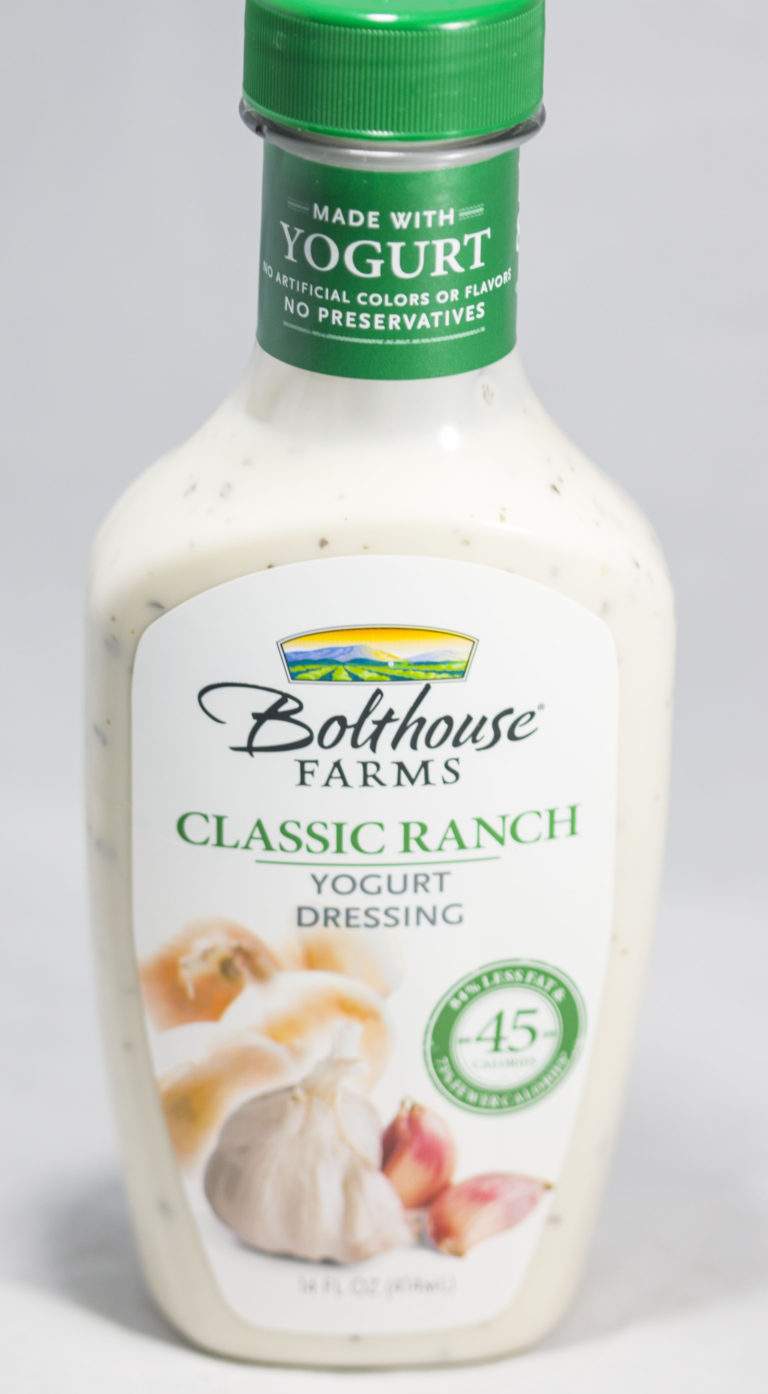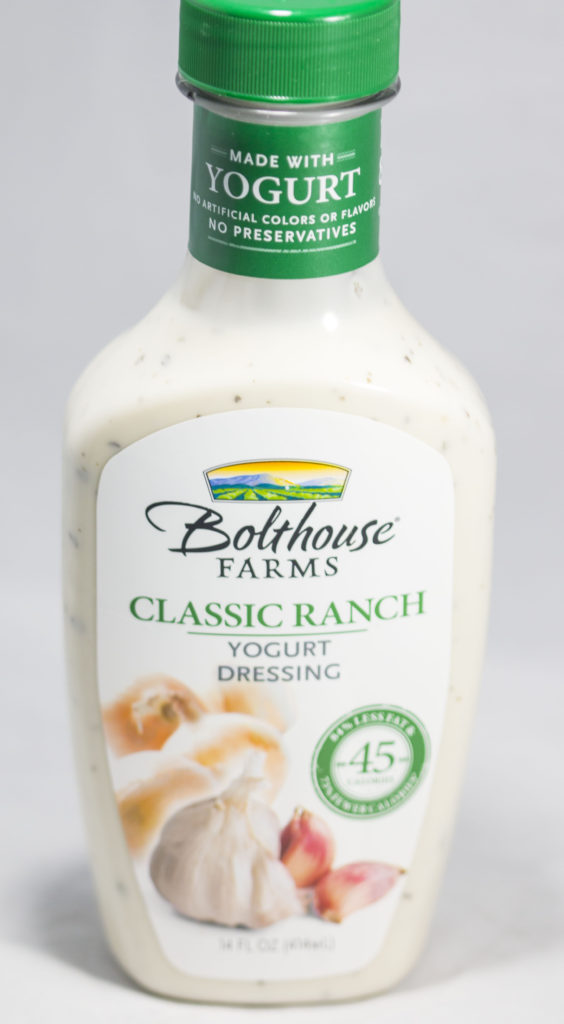 That's why I use this Bolthouse Farms ranch dressing that is made with yogurt and is at least half the calories. It is the only one I have found to even resemble the taste of real ranch dressing. And no I am not being paid by Bolthouse Farms to endorse them.
I honestly love their dressings and have been eating their dressings way longer than I even had my blog. Now obviously you can use any ranch dressing for this recipe, I'm just telling to a healthier alternative if you're trying to watch your calories.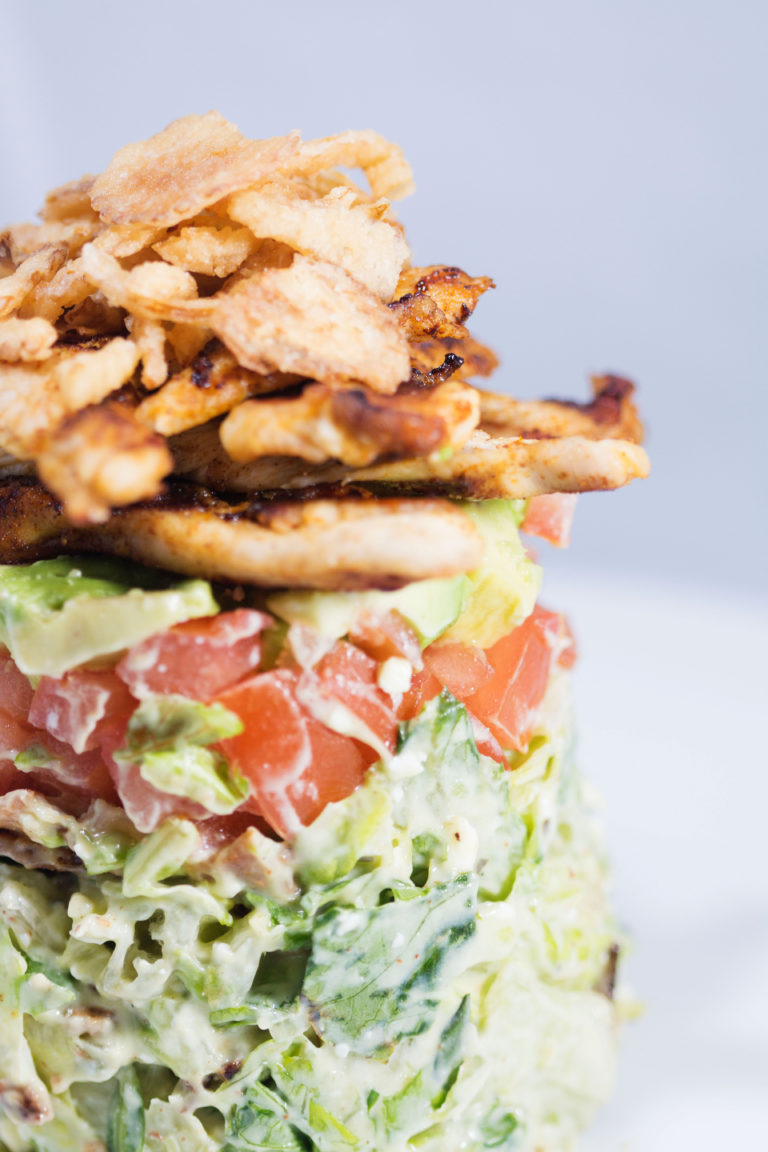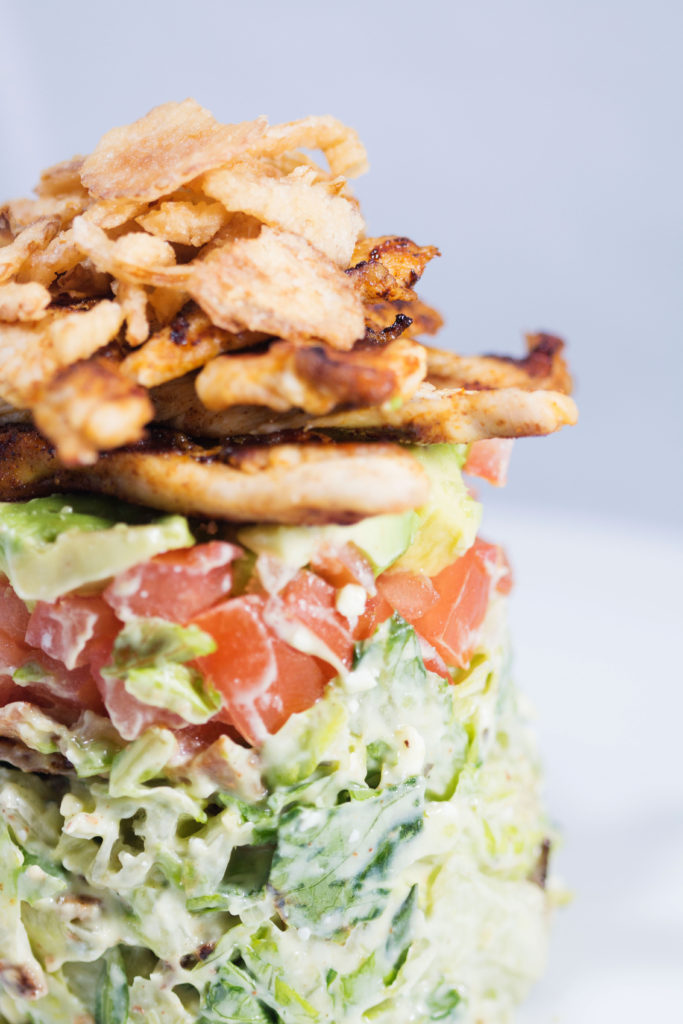 I think there is nothing nicer than a pretty salad. You know the ones that aren't just thrown together in a bowl, but actually look pretty. That's why I love stacked salads.
Yes, when broken down they are the same as any ole salad, but the presentation you can't beat. When you really want to look like you know what you are doing in the kitchen, a stacked salad is the way to go.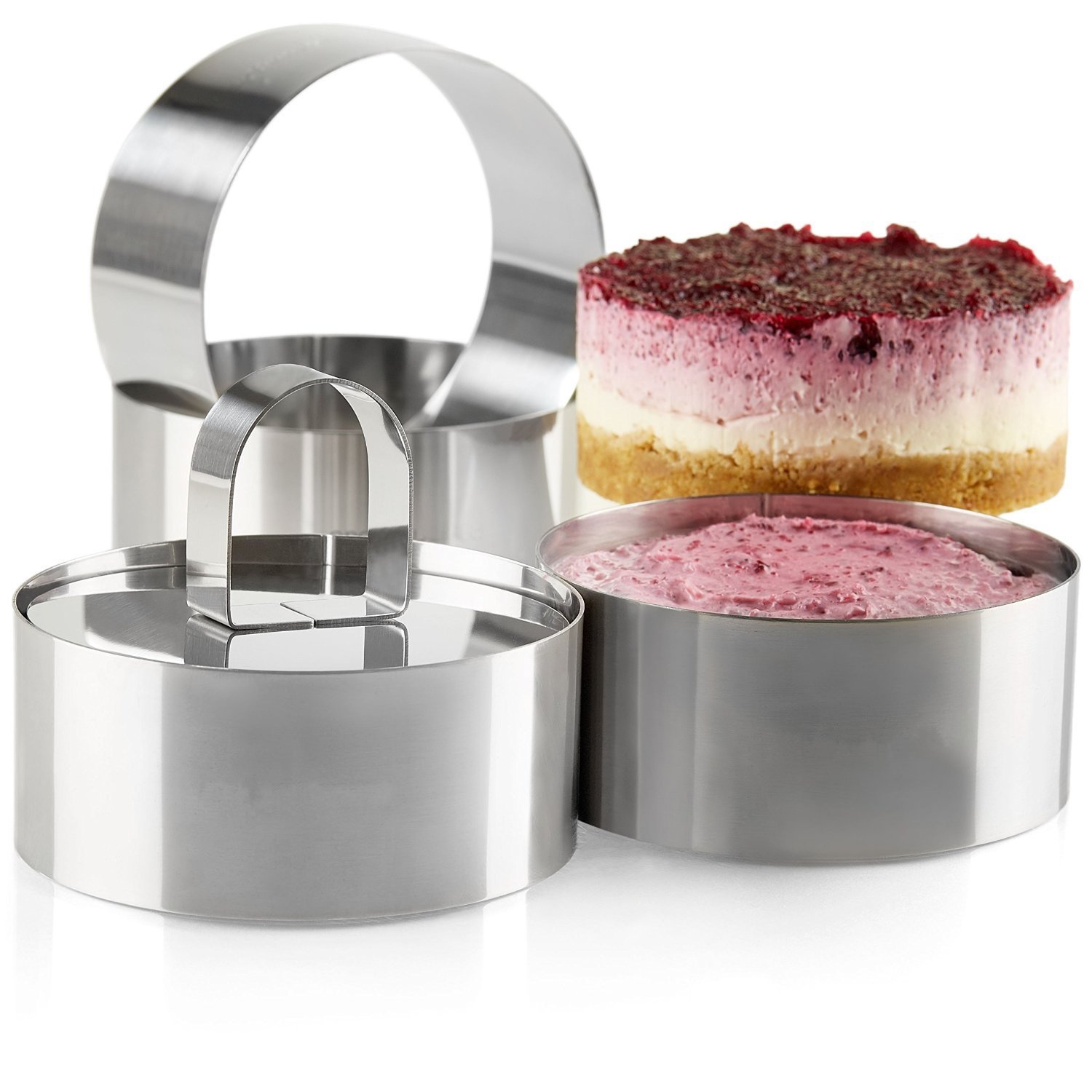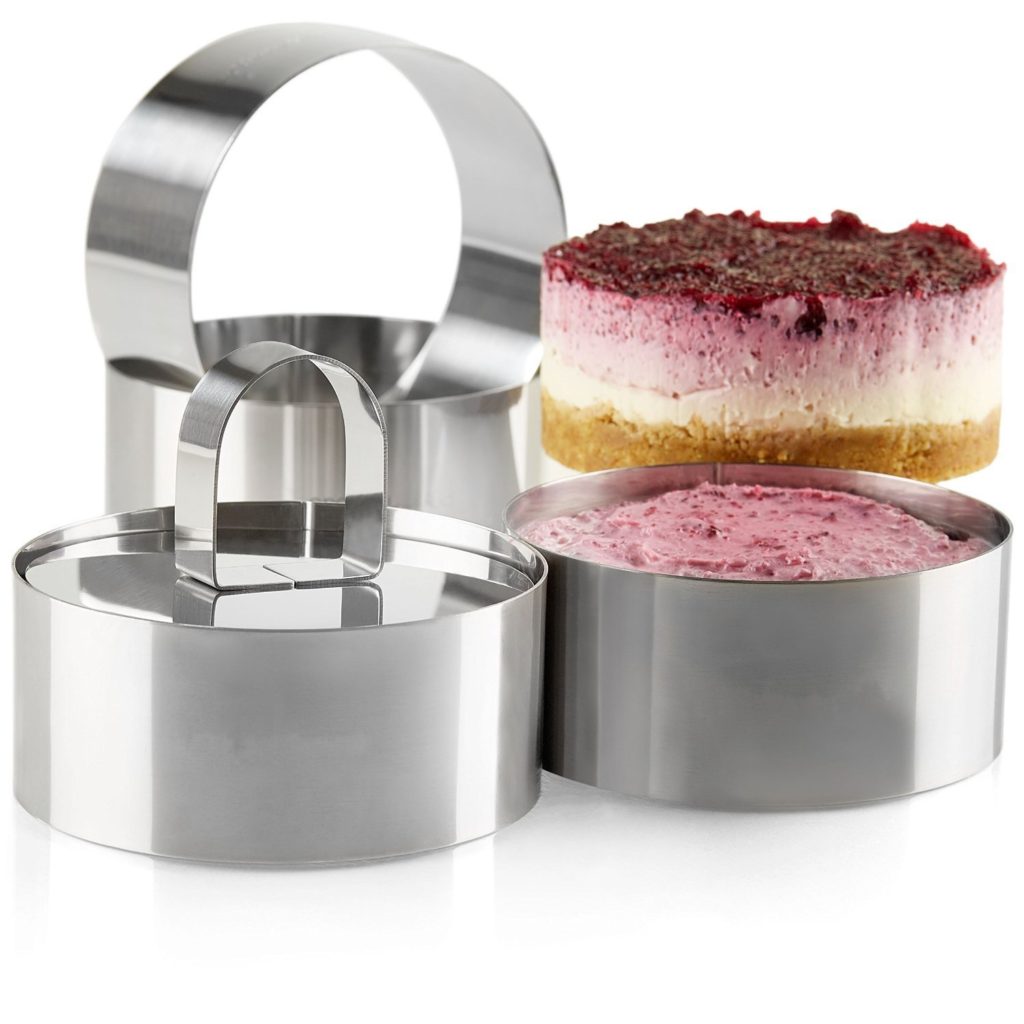 They have these niffty little Food Tower Presentation Cooking Rings you can buy on Amazon that are perfect for stacked salads. I just spray a little Pam in the inside of them before I start stuffing my food in it so it slides out real easy. You just want to make sure none of your food is runny and is packed in well so your stack will stay together.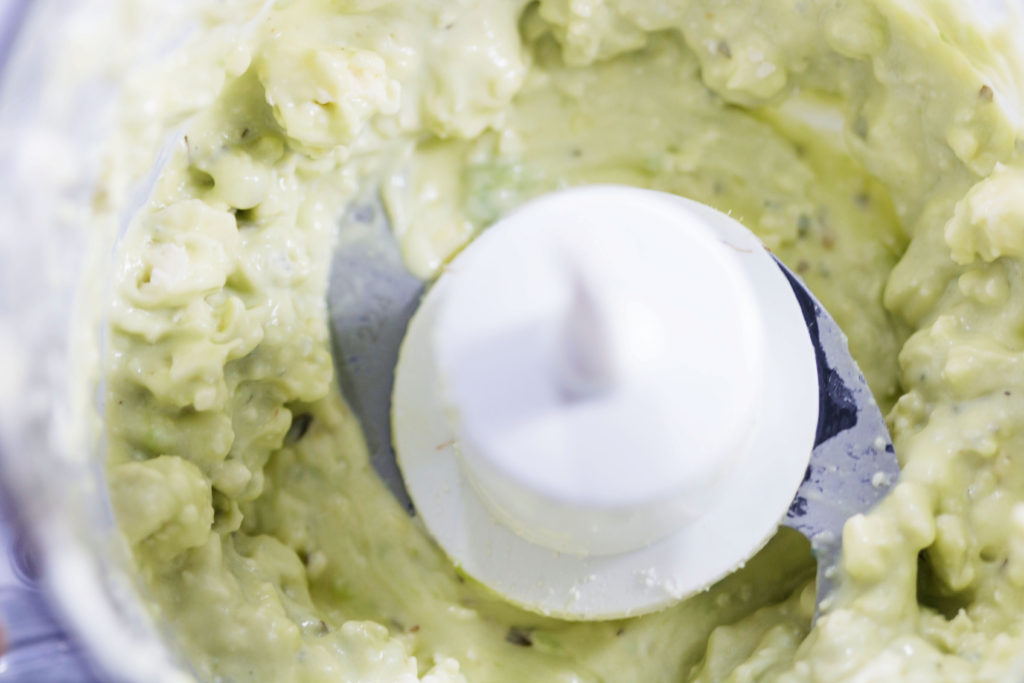 Now you just start preparing each layer. For the salad layer you want to take your lettuce and chop it up real good. I personally like to use the food processor to blend up the avocado, dressing, and blue cheese.
It's much easier than having to mash up the avocado, then the blue cheese and then mix in the ranch. Once that is all blended together add it to your lettuce and the chopped bacon and mix together. This will be your first layer.


Now take your chopped tomato and do a layer of those. The other half of the avocado I cut up into chunks and did a layer of it. Be sure and pack it in real good. Now you want to careful use your lid thing to your mold rings and pull the rings off of the salad.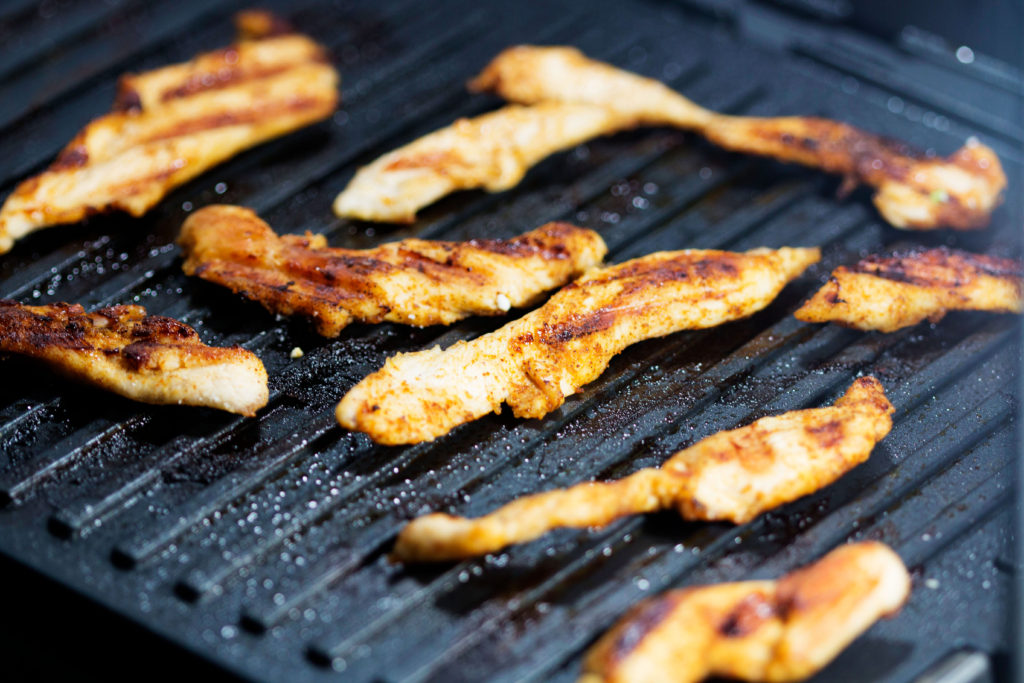 As for my chicken I just cut mine into strips and put a little taco seasoning on them and threw them on my Cuisinart 5-in-1 Griddler, Silver, Black Dials. I just love this little griller.
So easy to use especially when it's freezing outside and using the outside grill is not going to happen. You can prepare the chicken before everything and have it waiting ready to go.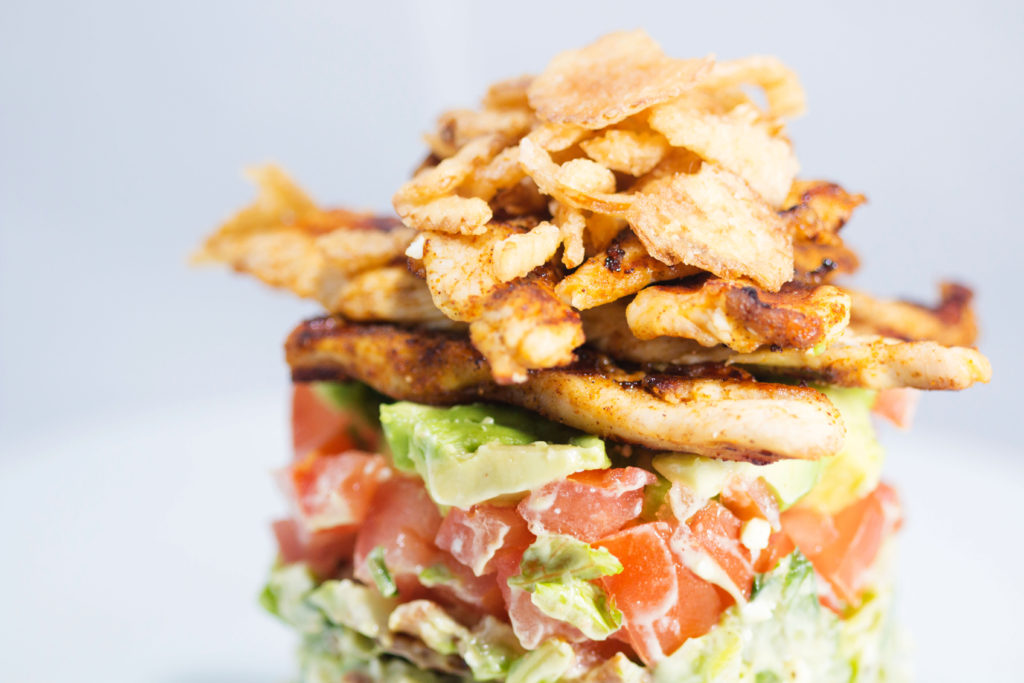 Then to add a little crunch I added some of those crispy onions on top. I could serious eat the whole bag in one sitting.
One tip be sure and start your stack making on whatever dish you plan to serve it on. Yes you can transfer it by sliding something hard and thin underneath the stack and move it, but making it on what it's being served in is so much easier.
And just like that you have a beautiful and tasty salad to serve.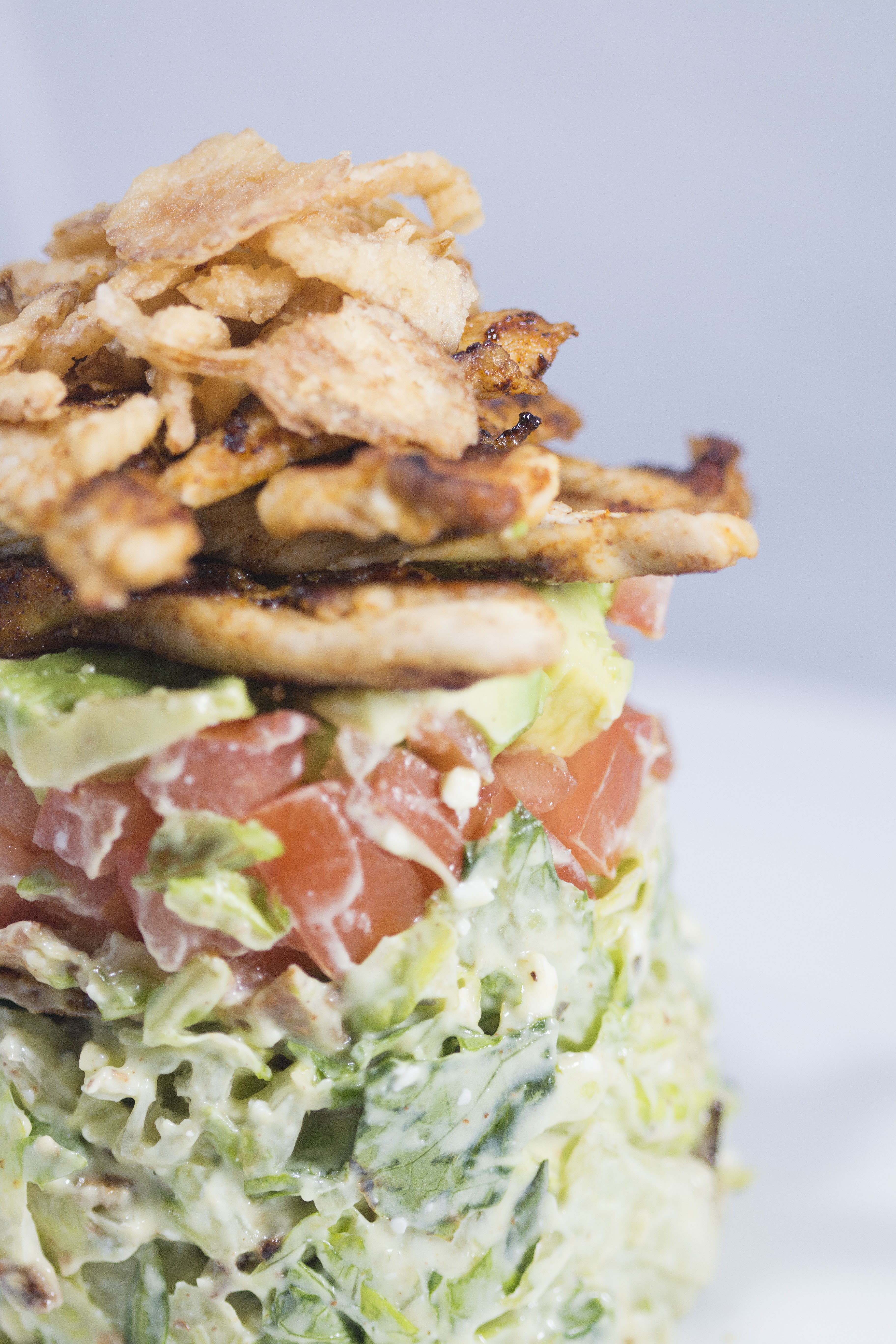 Stacked Cobb Salad
With this stack cobb salad you not only get a delicious salad, but a pretty one. Perfect meal to wow any guests.
Print Recipe
Ingredients
1

chicken breast

2

cups

chopped romaine lettuce

3

slices

of chopped bacon

1

medium avocado

1/3

cup

chopped tomato

1/4

blue cheese crumbles

1/4

cup

ranch dressing

1

TBSP

taco seasoning

1/2

TBSP

olive oil

1/4

cup

fried onions
Instructions
Add olive oil and taco seasoning to sliced chicken and grill

Chop up lettuce in a big bowl and add chopped bacon

In a food processor add half of the avocado, ranch dressing and blue cheese crumbles and chop

Add avocado dressing mix to lettuce and mix together well

Spray your molds with pam on the inside and place the first mold on the plate you are serving.

Stuff the whole first mold with the lettuce mix. Pack it in good

Put the second mold on top of that and pack in a layer of tomato

Next take the other half of the avocado and chop in chunks and add a layer of it on top if the tomato layer

Use the mold lid and press down on top of the avocado layer and pull the first mold off and then the second

Add chicken on top and then fried onions
Nutrition
Serving:
1
salad
|
Calories:
1329
kcal
|
Carbohydrates:
35
g
|
Protein:
62
g
|
Fat:
106
g
|
Saturated Fat:
23
g
|
Cholesterol:
208
mg
|
Sodium:
1825
mg
|
Potassium:
2361
mg
|
Fiber:
17
g
|
Sugar:
6
g
|
Vitamin A:
8890
IU
|
Vitamin C:
37.3
mg
|
Calcium:
110
mg
|
Iron:
4.3
mg