Best Slow Cooker Korean Beef
Tender beef in a flavorful soy and ginger sauce – our Best Slow Cooker Korean Beef recipe is perfect for a crowd-pleasing dinner.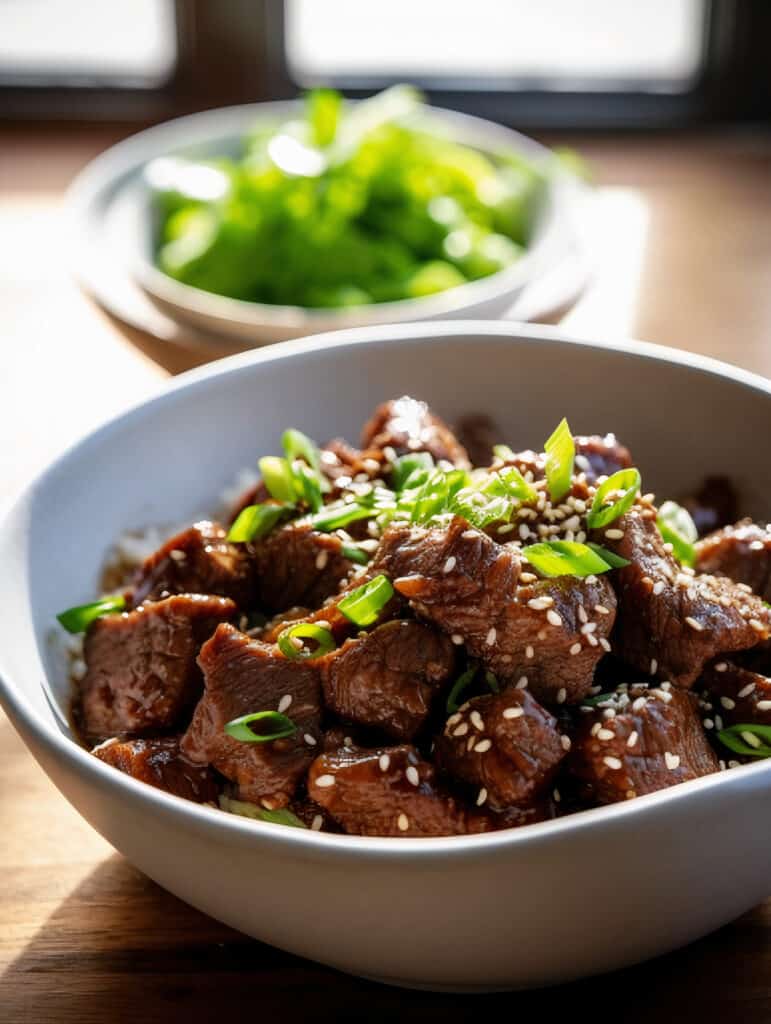 I'm excited to share with you my Best Slow Cooker Korean Beef recipe, featuring tender sliced beef in a flavorful soy and ginger sauce. This crowd-pleasing dinner is easy to prepare and packed with rich, delicious flavors that will have your family and friends coming back for more.
So whether you're a busy parent or a home cook looking for a new recipe to try, this slow cooker Korean beef recipe is sure to impress. Keep reading to learn how to make this savory dish and elevate your cooking game today.
Variations for the Best Slow Cooker Korean Beef
Add vegetables: Add sliced carrots, bell peppers, or zucchini to the crockpot with the beef to add more nutrients and flavors to the dish.
Spicy version: Increase the amount of red pepper flakes or add some sriracha sauce to make the dish spicier.
Use different cuts of beef: Try using sirloin or flank steak instead of chuck roast for a different texture and flavor.
Serve with different sides: Instead of rice, serve the Korean beef with quinoa or noodles for a fun twist.
Make it gluten-free: Use gluten-free soy sauce and replace the brown sugar with coconut sugar or honey to make the dish gluten-free.
Garnish with different herbs: Top the dish with fresh cilantro or basil for a burst of fresh flavor.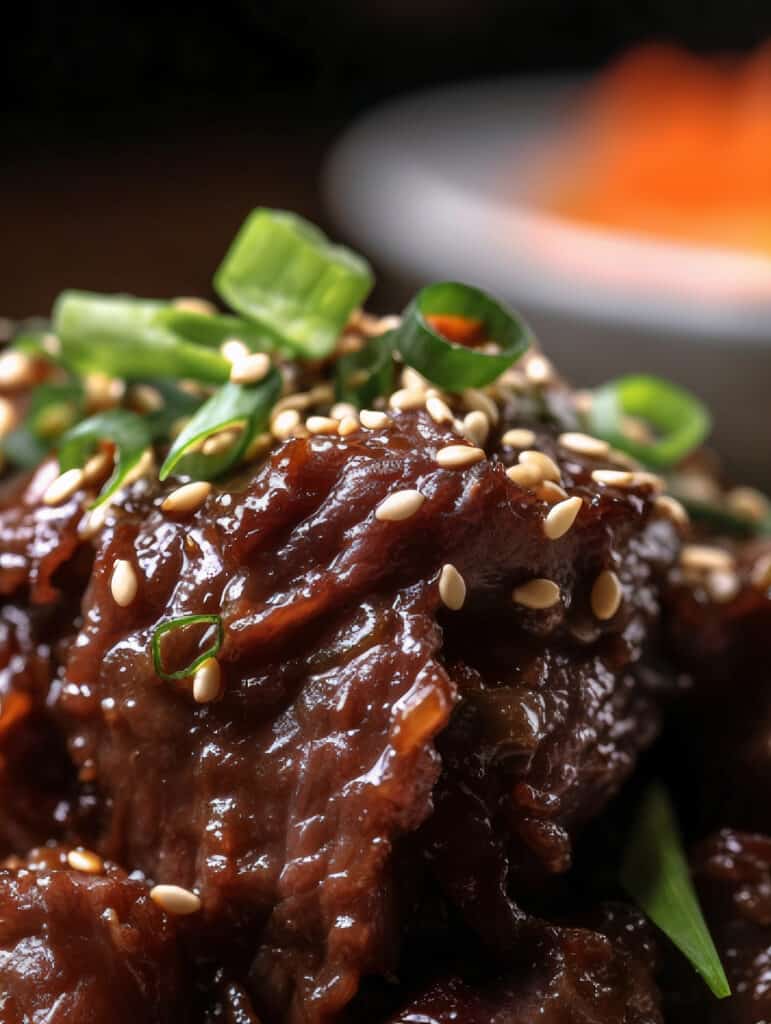 What can I serve with this?
Steamed rice: Serve this over a bed of fluffy steamed rice for a whole meal
Kimchi: is a spicy, tangy Korean side dish made from fermented vegetables, such as cabbage or radish and is always a great addition
Stir-fried vegetables: Sauté some bok choy, mushrooms, or snow peas with garlic and soy sauce for a side
Egg rolls: i can't say no to egg rolls. Crispy fried or baked egg rolls would be a great addition
Spicy tofu soup: pick up your favorite tofu soup from the store and serve it as a side
Storing Leftover?
To store leftover Best Slow Cooker Korean Beef, allow it to cool to room temperature before transferring it to an airtight container or a zip-top plastic bag. You can keep the leftovers in the refrigerator for up to 3-4 days.
If you want to keep it longer, you can store it in the freezer for up to 3-4 months. To thaw frozen leftovers, transfer the container to the refrigerator overnight or use the defrost setting on your microwave. When reheating, make sure to heat the beef thoroughly to an internal temperature of 165°F (74°C) to ensure it's safe to eat.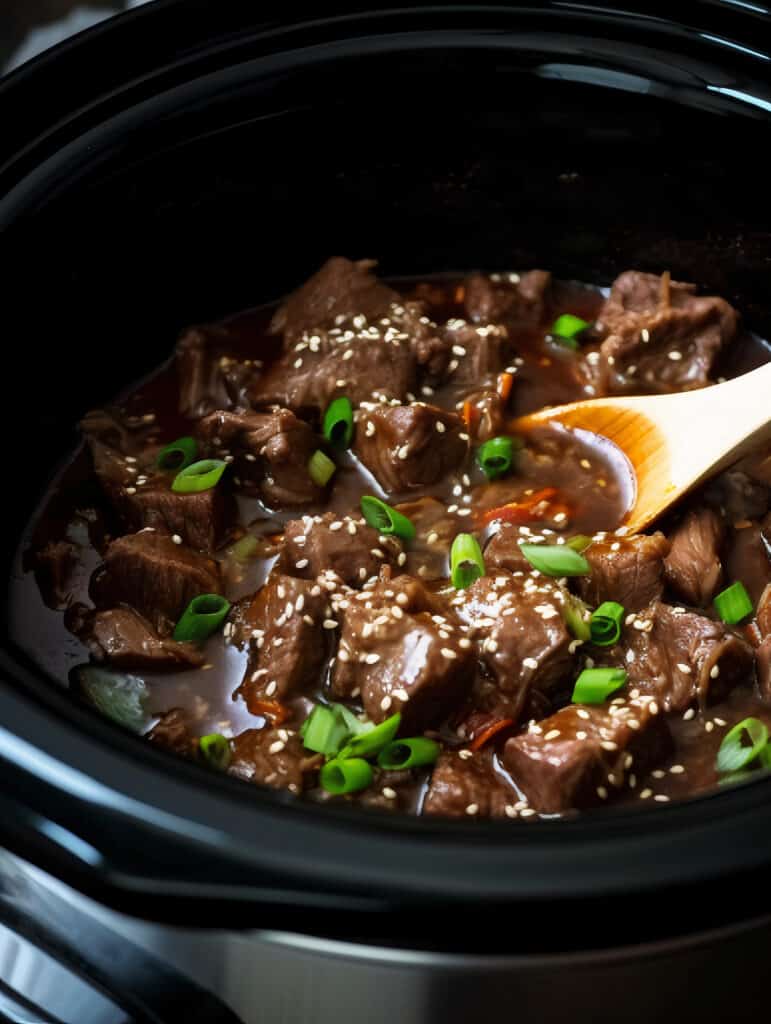 Ingredients for Best Slow Cooker Korean Beef
Chuck roast – this is a tender cut of beef perfect for slow cooking
Soy sauce – Adds savory and saltiness to the dish
Brown sugar – gives a little bit of sweetness to balance the soy sauce and red pepper flakes
Garlic – because garlic and beef go great together
Ginger – gives a zesty flavor to balance the richness of the beef
Red pepper flakes – to add a little kick
Sesame oil – because most Asian dishes prefer this oil
Green onions – Adds a pop of color and freshness to the dish
Sesame seeds – provides a little crunch and nuttiness
Shop some of my Favorite Tools you'll need for this recipe:
8 Quart Slow Cooker
Gorilla Grip Durable Kitchen Cutting Board Set
Japanese Chef Knife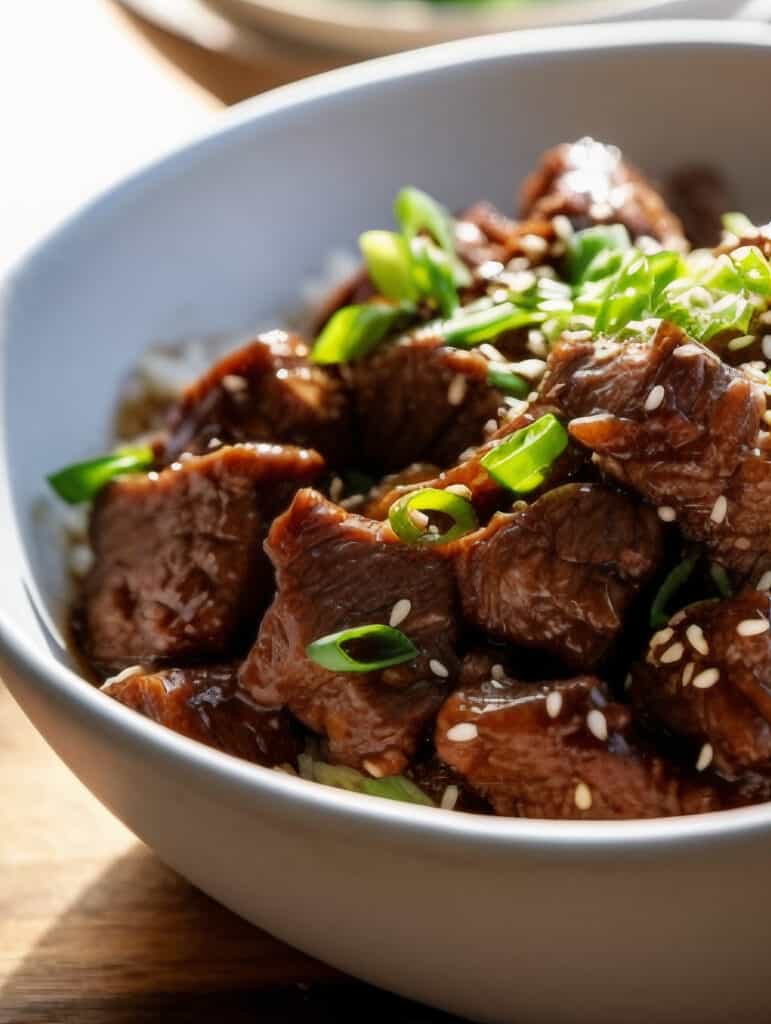 Tips and Tricks for this Recipe
Sear it: Before you throw it in the crockpot, try giving the beef a quick sear in a hot pan. This will help lock in those delicious flavors
Keep it consistent: Make sure to cut the beef into pieces that are about the same size so they cook evenly
Spice it up: If you like things spicy, you can crank up the heat by adding some extra red pepper flakes or hot sauce. If you're not a fan of spicy food, you can tone things down by using less red pepper flakes or leaving them out altogether.
Add some veggies: Don't be afraid to throw in some sliced onions, bell peppers, or shaved carrots into the mix
Use low-sodium soy sauce: To cut down on the salt content, try using low-sodium soy sauce
Thicken up the sauce: If you like your sauce a bit thicker mix a tablespoon of cornstarch with some water and stir it into the slow cooker during the last 30 minutes of cooking.
Serve it up: This dish is perfect served over rice or noodles, which will soak up all that delicious sauce
Prep ahead of time: You can get a head start on this recipe by starting the sauce and cutting up the meat ahead of time. This will save you some time on the day of cooking
Save: this is a big batch so if you don't eat it all you can always freeze and save for a later date
Want more Slow Cooker Recipes?
Slow Cooker Barbacoa
Chorizo Queso Dip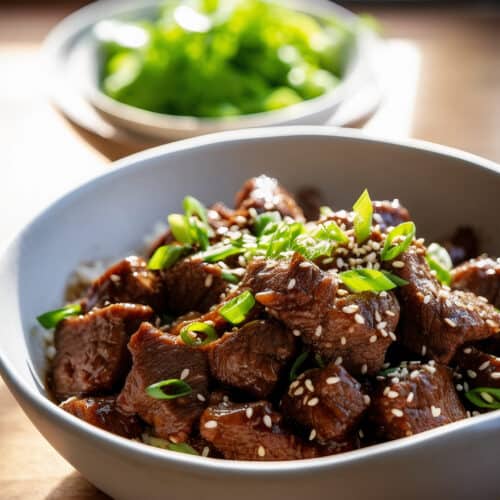 Best Slow Cooker Korean Beef
Tender beef in a flavorful soy and ginger sauce – our Best Slow Cooker Korean Beef recipe is perfect for a crowd-pleasing dinner.
Print Recipe
Ingredients
2.5

lbs

chuck roast

1/2

cup

soy sauce

1/2

cup

brown sugar

1/4

cup

rice vinegar

1/4

cup

sesame oil

1/4

cup

mirin

1

tbsp

grated ginger

1

tbsp

minced garlic

1/2

tsp

black pepper

1/4

tsp

red pepper flakes

4

chopped green onions

1

tbsp

cornstarch

1

tbsp

water

1

tbsp

sesame seeds
Instructions
In a mixing bowl, whisk together soy sauce, brown sugar, rice vinegar, sesame oil, mirin, ginger, garlic, black pepper, and red pepper flakes

Place the chopped beef in the crockpot and pour the sauce over it. Stir to coat the beef evenly

Cook on low for 6-8 hours or on high for 3-4 hours

In a small bowl, whisk together cornstarch and water to make a slurry

About 30 minutes before serving, add the cornstarch slurry to the crockpot and stir to thicken the sauce

Garnish with chopped green onions and sesame seeds. Best served with white rice
Notes
Sear it: Before you throw it in the crockpot, try giving the beef a quick sear in a hot pan. This will help lock in those delicious flavors

Keep it consistent: Make sure to cut the beef into pieces that are about the same size so they cook evenly

Spice it up: If you like things spicy, you can crank up the heat by adding some extra red pepper flakes or hot sauce. If you're not a fan of spicy food, you can tone things down by using less red pepper flakes or leaving them out altogether.

Add some veggies: Don't be afraid to throw in some sliced onions, bell peppers, or shaved carrots into the mix

Use low-sodium soy sauce: To cut down on the salt content, try using low-sodium soy sauce

Thicken up the sauce: If you like your sauce a bit thicker mix a tablespoon of cornstarch with some water and stir it into the slow cooker during the last 30 minutes of cooking.

Serve it up: This dish is perfect served over rice or noodles, which will soak up all that delicious sauce

Prep ahead of time: You can get a head start on this recipe by starting the sauce and cutting up the meat ahead of time. This will save you some time on the day of cooking

Save: this is a big batch so if you don't eat it all you can always freeze and save for a later date
Nutrition
Serving:
1
g
|
Calories:
537
kcal
|
Carbohydrates:
26
g
|
Protein:
39
g
|
Fat:
32
g
|
Saturated Fat:
11
g
|
Polyunsaturated Fat:
6
g
|
Monounsaturated Fat:
15
g
|
Trans Fat:
1
g
|
Cholesterol:
130
mg
|
Sodium:
1317
mg
|
Potassium:
735
mg
|
Fiber:
1
g
|
Sugar:
21
g
|
Vitamin A:
130
IU
|
Vitamin C:
2
mg
|
Calcium:
74
mg
|
Iron:
5
mg