This tender slow cooker barbacoa is the perfect recipe for your next dinner. Watch this recipe become your next family favorite.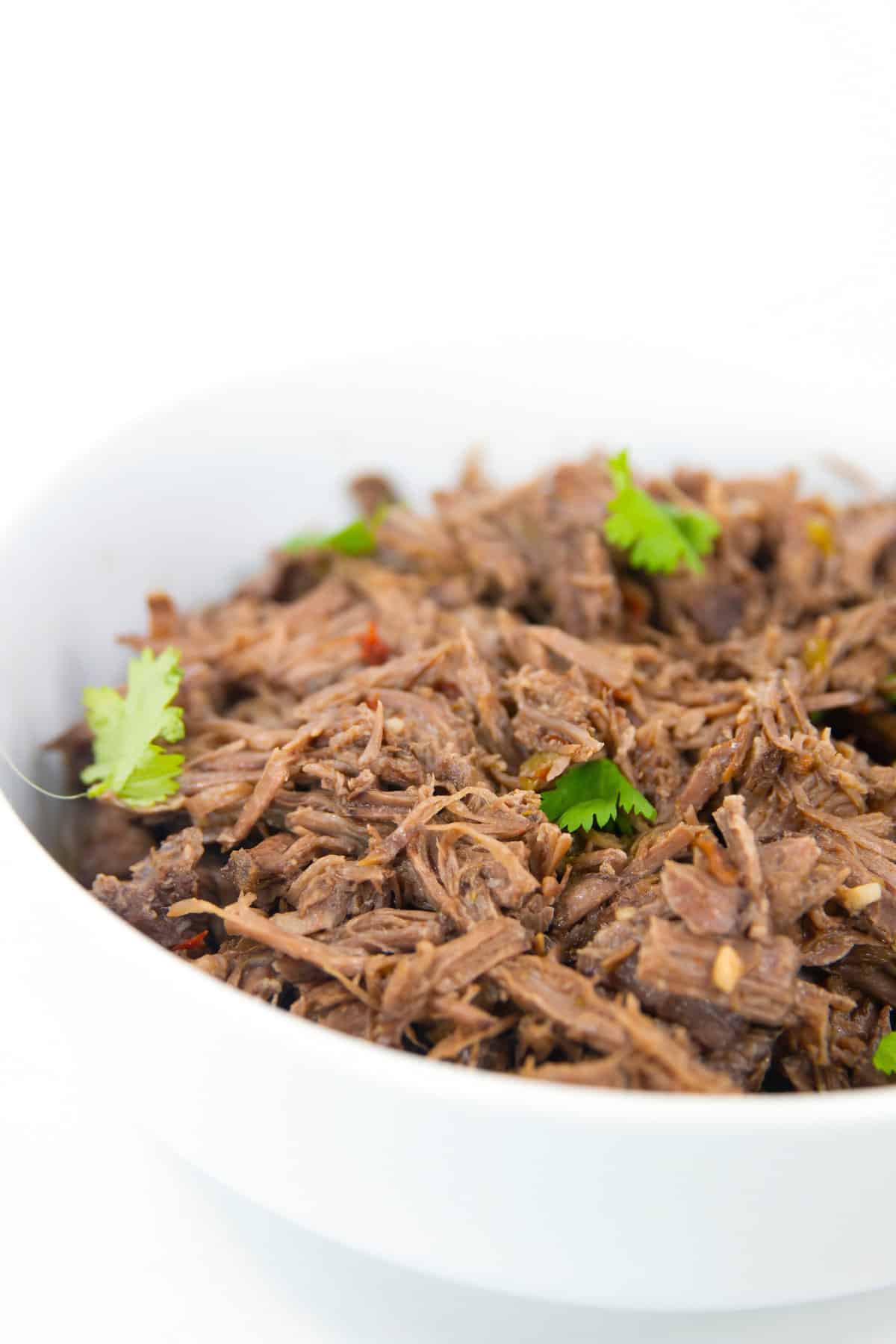 I am obsessed with barbacoa. Just give me some street tacos filled with tender barbacoa and I'm one happy girl.
I have been wanting to make this recipe forever. I mean if I can make barbacoa right at home, what could be better? And how easier can it get than making it right in your slow cooker.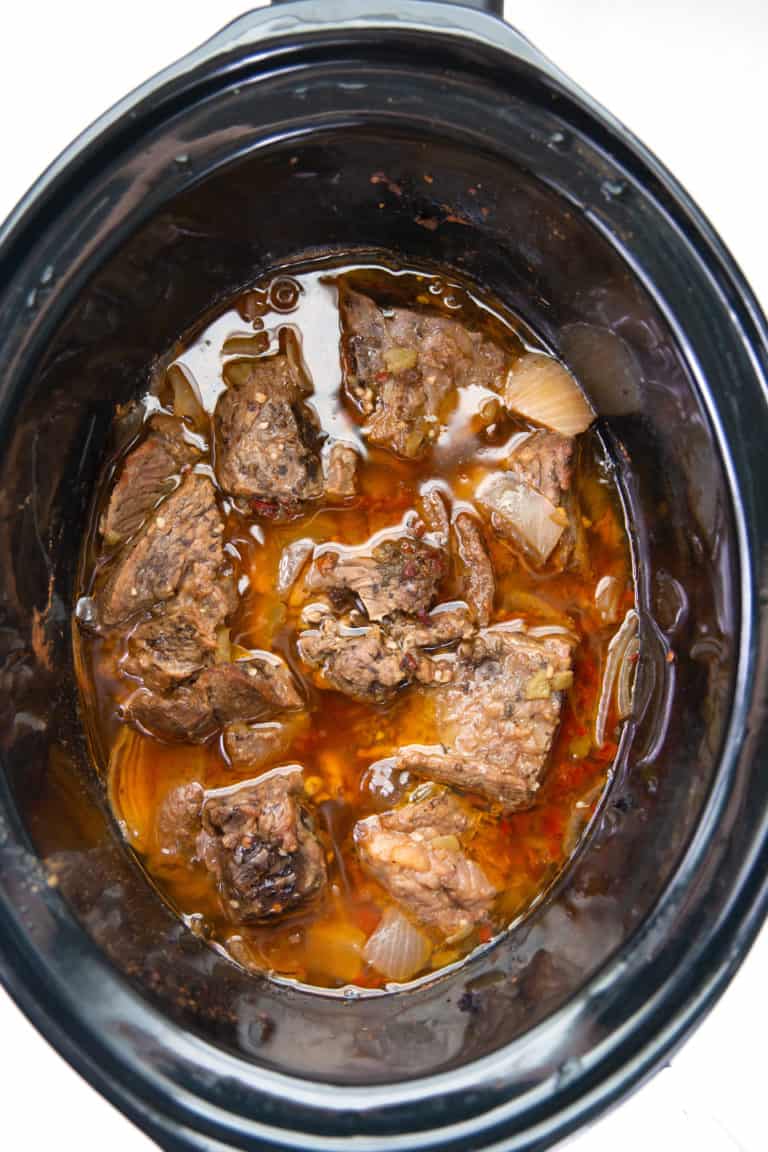 What is Barbacoa?
Traditionally barbacoa is a prepared of usually sheep, goat, or beef that is steam cooked in an underground oven until very tender.
Today it is usually prepared stove top or slow cooked with beef.
It is usually served with tortillas with either salsa, cilantro, onions, and limes.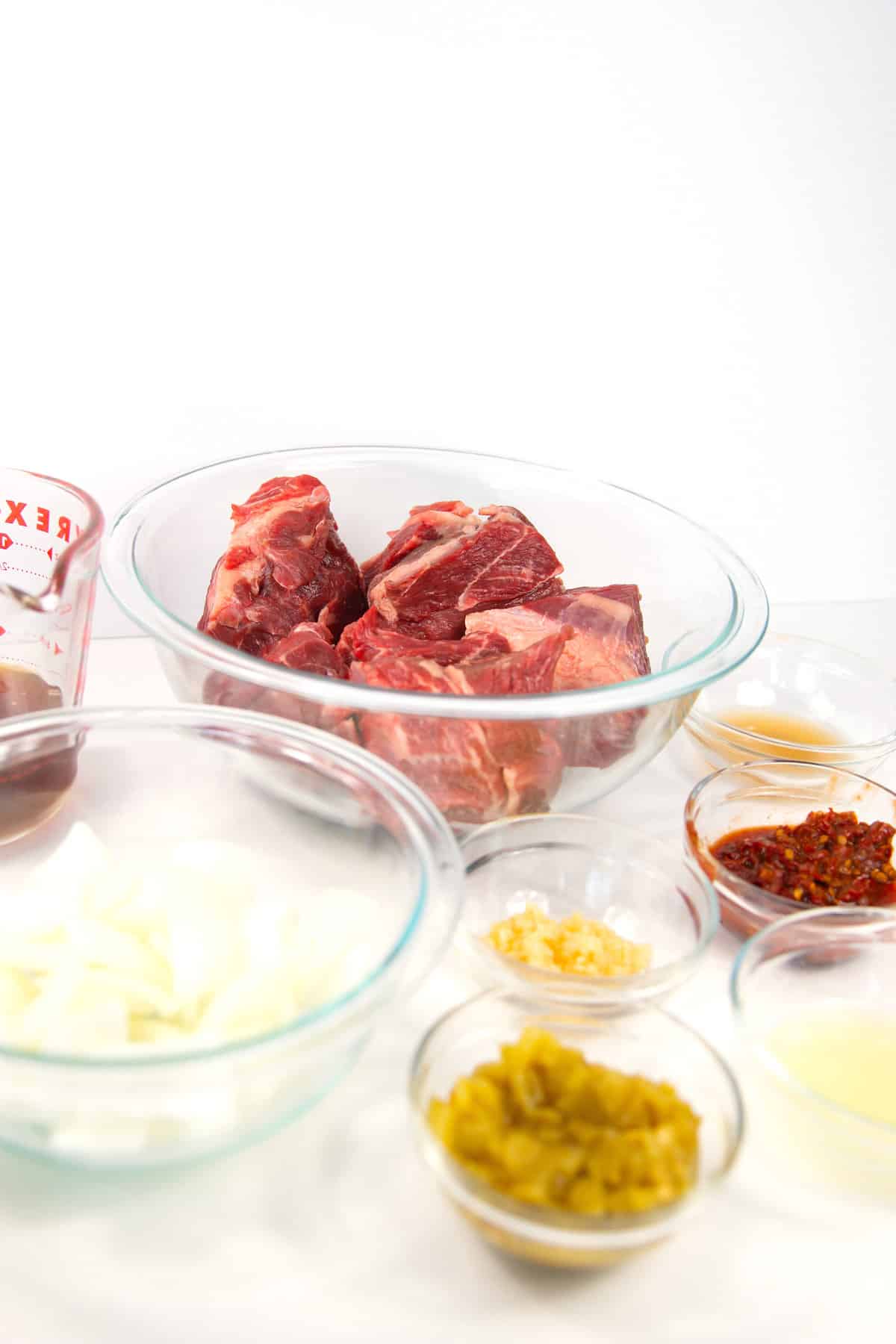 What gives Barbacoa its unique flavor?
The chipotles in adobe sauce really bring a smoky flavor out. The amount of chipotles are a personal preference. If you want more spice add more chipotles. My version is kid friendly.
Apple cider vinegar brings a little acidity to the meat and so does the lime juice.
Green chilies bring a little spice and a little of that pepper flavor that a lot of Mexican dishes have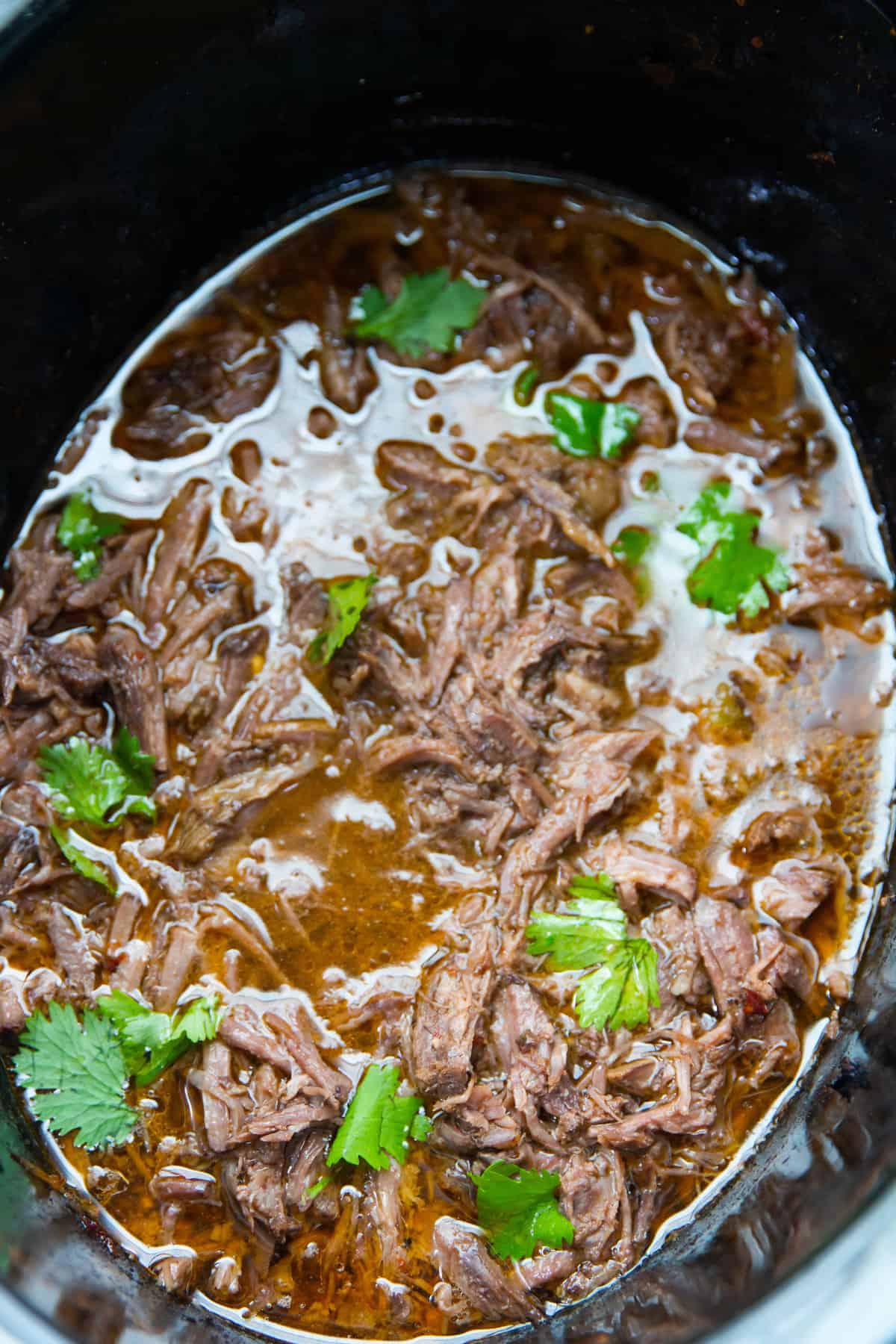 How to make Barbacoa
Add 2 inch chunks of chuck roast to slow cooker (Photo 1) Add chopped onions (Photo 2) Pour beef broth into slow cooker (Photo 3) Pour in lime juice (Photo 4)
Pour in apple cider vinegar (Photo 5) and add green chilies to slow cooker (Photo 6)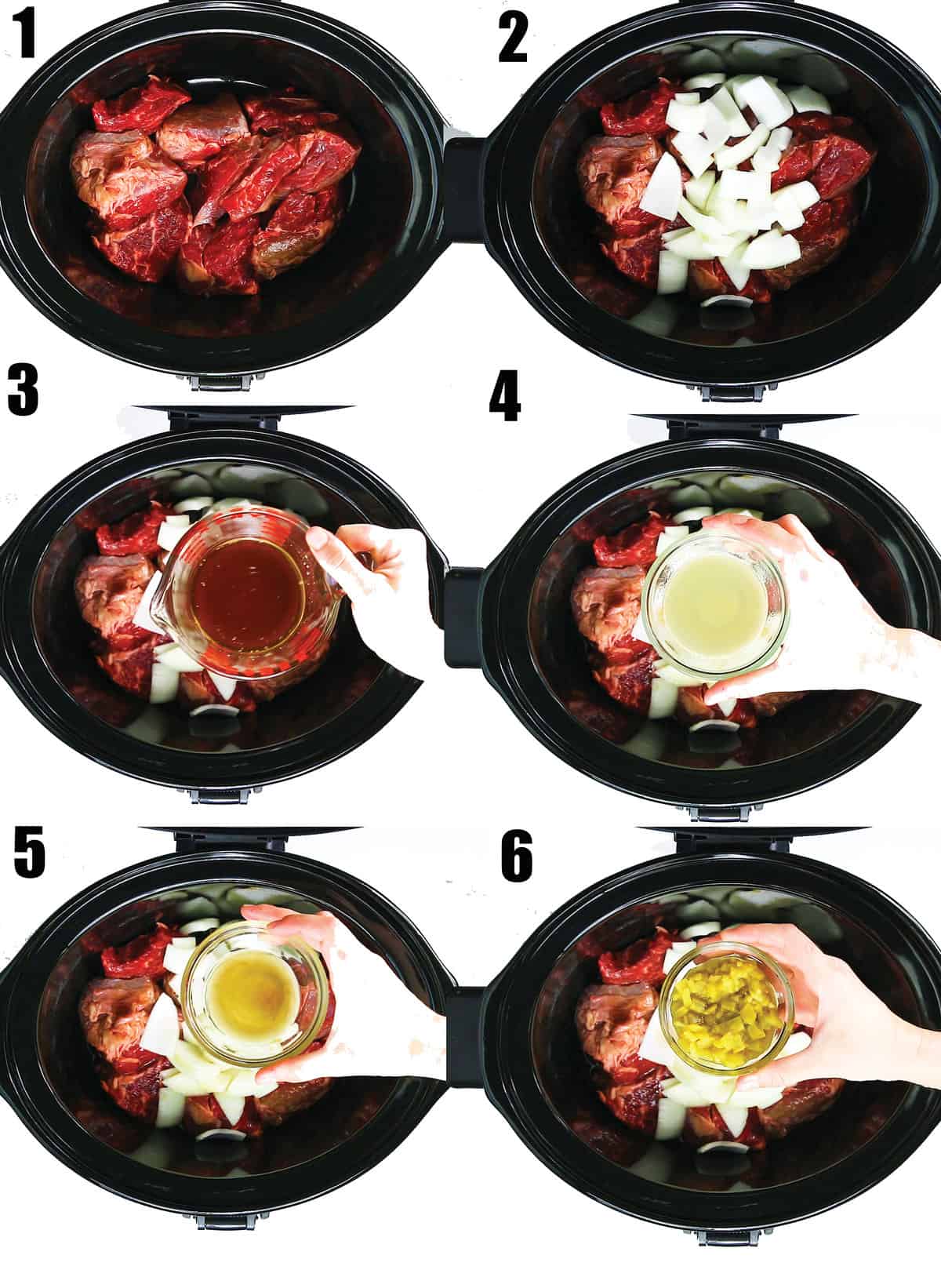 Add chopped chipotles and adobe sauce to slow cooker (Photo 7) Add minced garlic (Photo 8) Add cumin (Photo 9) Add oregano (Photo 10)
Add salt to slow cooker (Photo 11) and add the bay leaves (Photo 12)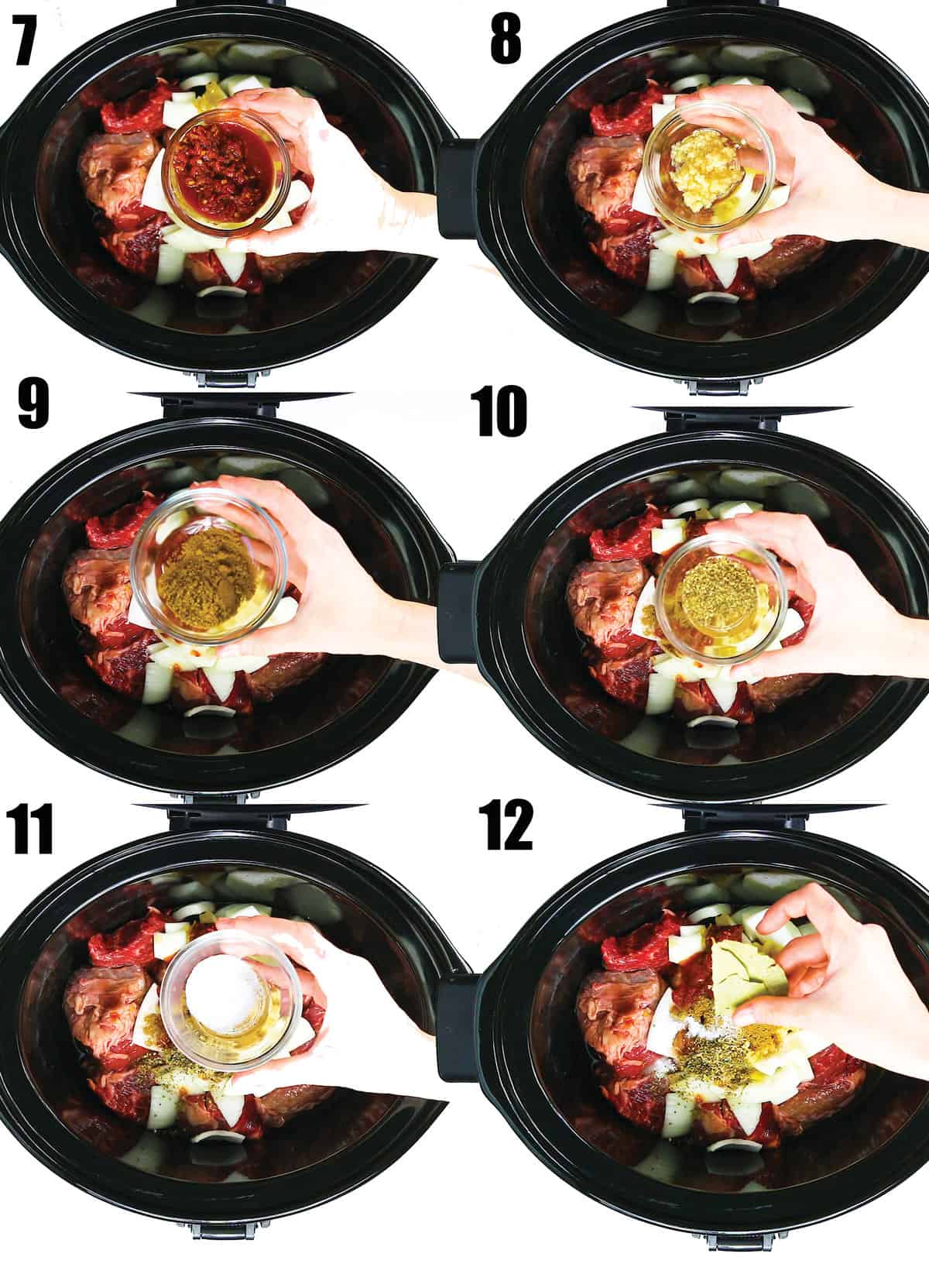 Stir everything in the slow cooker really well (Photo 1) and close lid and turn the settings to low for 6-8 hours or high for 3-4 hours (Photo 2)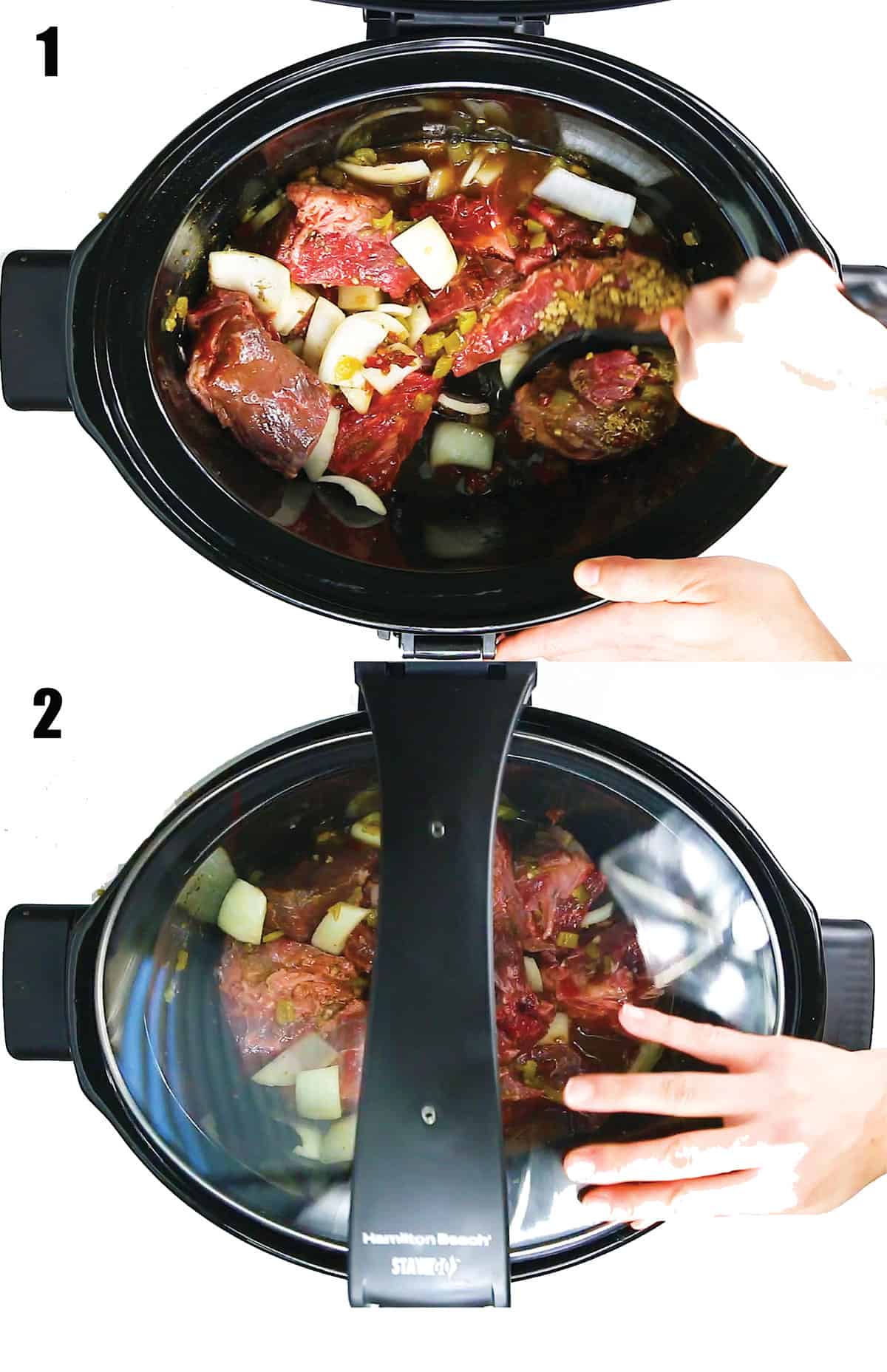 Open lid and use tongs or slotted spoon to remove beef from the slow cooker and add to a cutting board or plate (Photo 1)
Take two forks and shred the beef (Photo 2) Use a strainer to get out any onions, chilies, or peppers out of slow cooker juice (Photo 3) then add beef back to slow cooker for 10 minutes on warm (Photo 4)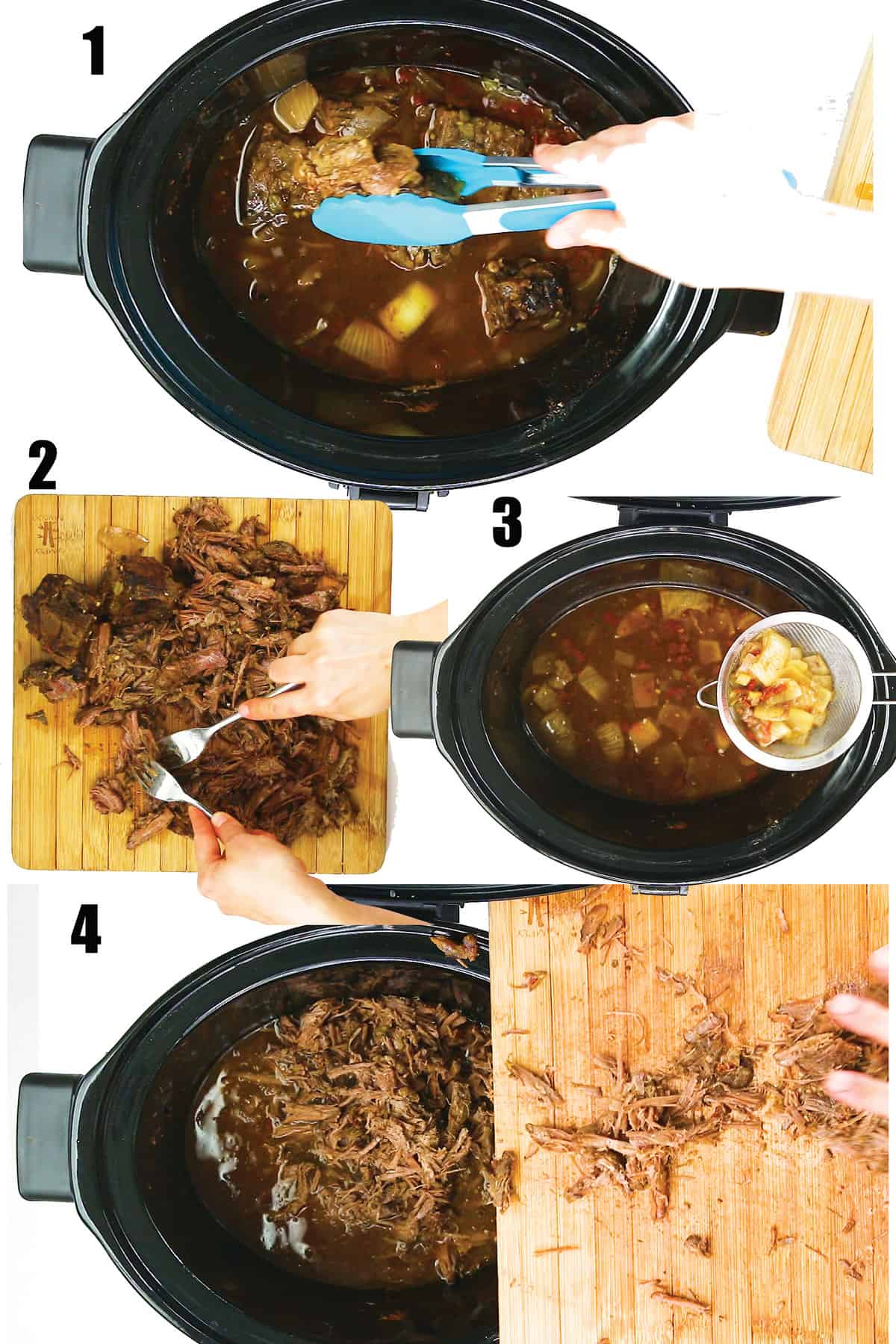 Ways to Serve Barbacoa
Serve in a corn tortilla and then top with Mexican Coleslaw and some cilantro, avocado, and lime juice and serve as a taco.
Add this meat in a burrito in place of ground beef
You can top barbacoa on cheesy nachos and pile on all the extras like salsa, jalapenos, sour cream, and guacamole
Making a taco salad? This meat is so tender it is perfect for a salad
This meat does great in your favorite enchilada recipe
Barbacoa is a great filling for tamales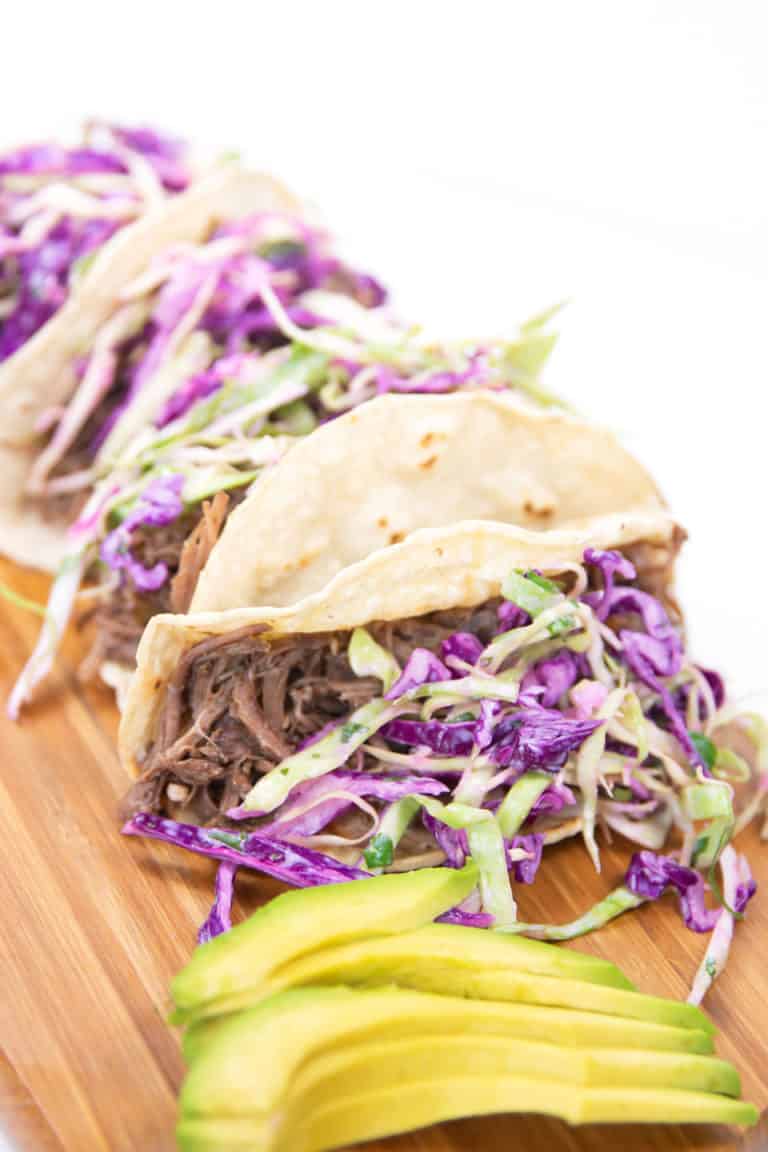 Cook's Tips
Chuck roast is the preferred piece of beef for this recipe because chuck roast because the connective tissue melts as the chuck braises and self-bastes the beef, making it very tender.
Trim off any extra chucks of fat before cutting into about 2 inch chunks
It is an option to pan sear the meat about 5 minutes per side. I chose to skip this step, but will try it next time
You can substitute the beef broth for a Mexican beer. I think a lime flavored beer would really give this recipe a nice flavor
The amount of chipotle peppers is up to you. The amount I used doesn't make this recipe spicy. Add a few more chipotles to kick up the spice
If you don't want to shred the beef by hand you can throw the beef into a stand mixer and mix it on low for 30 seconds
I do recommend not skipping the step of putting the meat back in the juice after shredding it. This lets those flavors soak up in every piece of the meat. Let it set for at least 10 minutes with the slow cooker on warm
I do recommend straining out any of the peppers, chilies, and chipotles before adding the shredded beef back in the slow cooker
This is freezer friendly. Freeze in smaller portions after completely cooled in a freezer bag. You can freeze this up to 6 months
Other Mexican inspired recipes to try
Easy Mexican Coleslaw
Chorizo Queso Dip
Mexican Sausage Balls
7 Layer Bean Dip
Or check out all my Cinco de Mayo recipes to find the perfect dish straight from south of the border!
Did you make this recipe? Then give a STAR rating below and share your picture on Instagram with #glitterandgraze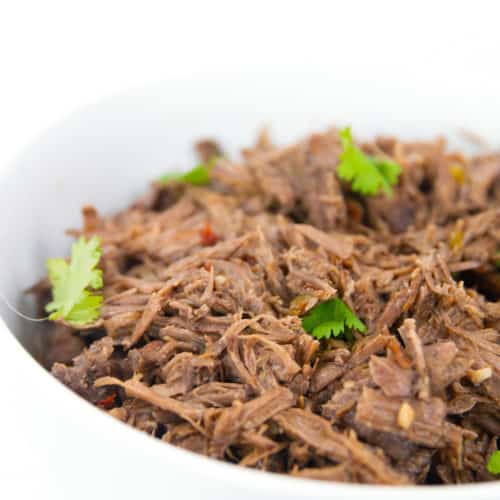 Slow Cooker Barbacoa
This tender slow cooker barbacoa is the perfect recipe for your next dinner. Watch this recipe become your next family favorite.
Print Recipe
Ingredients
3

lbs

chuck roast

1.5

cup

chopped sweet onion

1 medium onion

3/4

cup

beef broth

2

TBSP

lime juice

1 lime

2

TBSP

apple cider vinegar

3

TBSP

chopped green chilies

2

chopped chipotles in adobe sauce

2

TBSP

adobe sauce

from chipotles

2

TSP

minced garlic

1

TBSP

cumin

1

TSP

oregano

1

TSP

salt

2

whole bay leaves
Instructions
Trim any excess fat off chuck roast and cut meat in 2 inch chunks

Add beef to slow cooker, then add onions, beef broth, lime juice, apple cider vinegar, green chilies, chipotles with adobe sauce, garlic, cumin, oregano, salt, and bay leaves

Stir around all ingredients and close lid and turn slow cooker to low for 6-8 hours or high for 3-4 hours

Open lid and remove beef chunks and put on a cutting board or plate

Take 2 forks and shred the beef

Use a strainer to scoop out any onions, bay leaves, chipotles, and chilies and add beef back to slow cooker and set on warm for 10 minutes
Notes
Chuck roast is the preferred piece of beef for this recipe because the chuck roasts connective tissue melts as the chuck braises and self-bastes the beef, making it very tender.
Trim off any extra chucks of fat before cutting into about 2 inch chunks
It is an option to pan sear the meat about 5 minutes per side. I chose to skip this step, but will try it next time
You can substitute the beef broth for a Mexican beer. I think a lime flavored beer would really give this recipe a nice flavor
The amount of chipotle peppers is up to you. The amount I used doesn't make this recipe spicy. Add a few more chipotles to kick up the spice
If you don't want to shred the beef by hand you can throw the beef into a stand mixer and mix it on low for 30 seconds
I do recommend not skipping the step of putting the meat back in the juice after shredding it. This lets those flavors soak up in every piece of the meat. Let it set for at least 10 minutes with the slow cooker on warm
I do recommend straining out any of the peppers, chilies, and chipotles before adding the shredded beef back in the slow cooker
This is freezer friendly. Freeze in smaller portions in a freezer bag after completely cooled. You can freeze this up to 6 months
Nutrition
Serving:
1
g
|
Calories:
332
kcal
|
Carbohydrates:
5
g
|
Protein:
33
g
|
Fat:
19
g
|
Saturated Fat:
8
g
|
Cholesterol:
117
mg
|
Sodium:
628
mg
|
Potassium:
634
mg
|
Fiber:
1
g
|
Sugar:
2
g
|
Vitamin A:
405
IU
|
Vitamin C:
4.2
mg
|
Calcium:
47
mg
|
Iron:
4.4
mg