Chicken Parmesan Spaghetti Cups
These chicken Parmesan spaghetti cups are the perfect bite size appetizer for your next party. A fun twist on a classic Italian dish.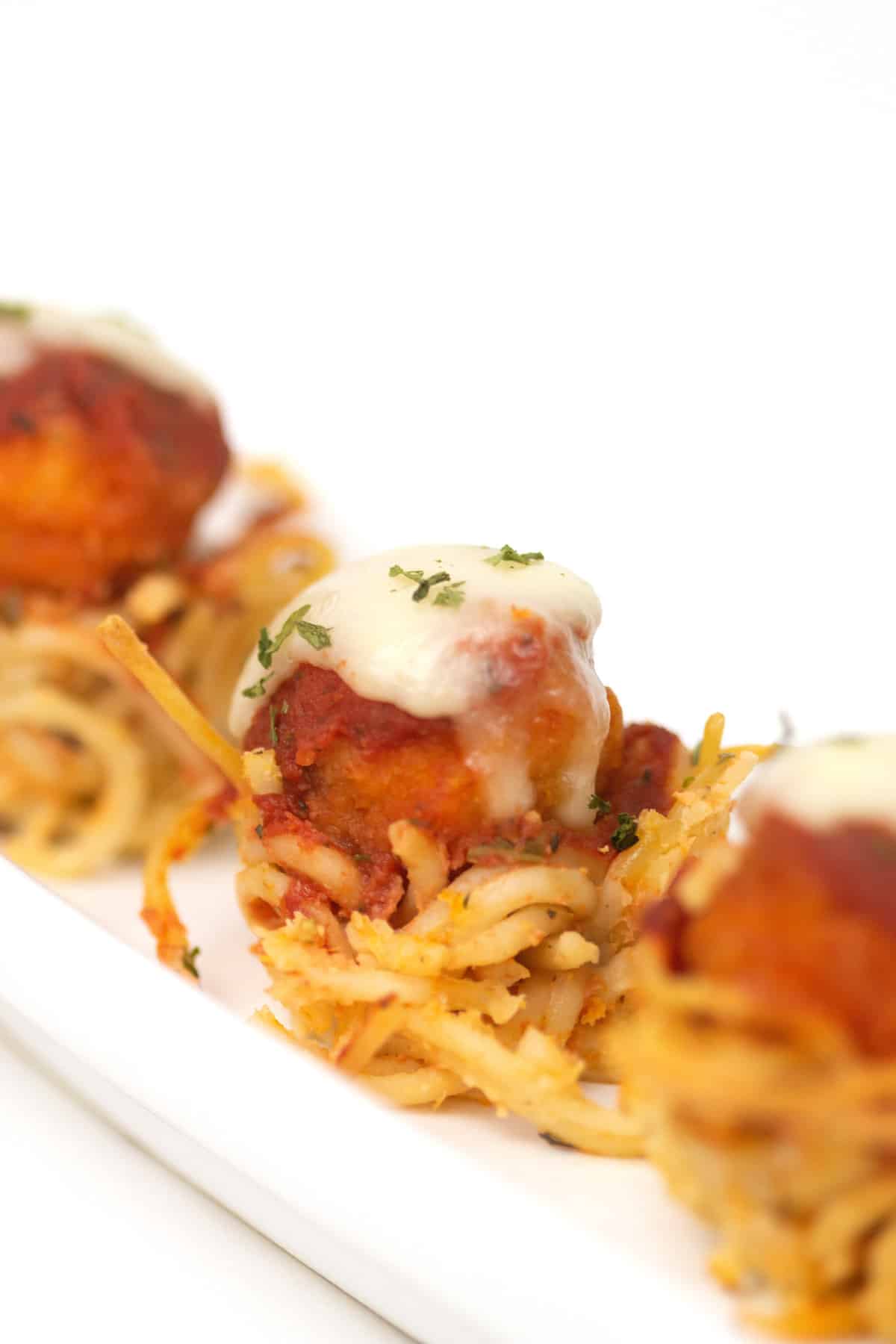 There is nothing I love more than finger foods. So I am all about appetizers and party food. I really love having the choice to try a little bit of a lot of things.
And what is cuter than mini main dishes? Such as mini burgers, mini hot dogs, so why not mini chicken parmesan.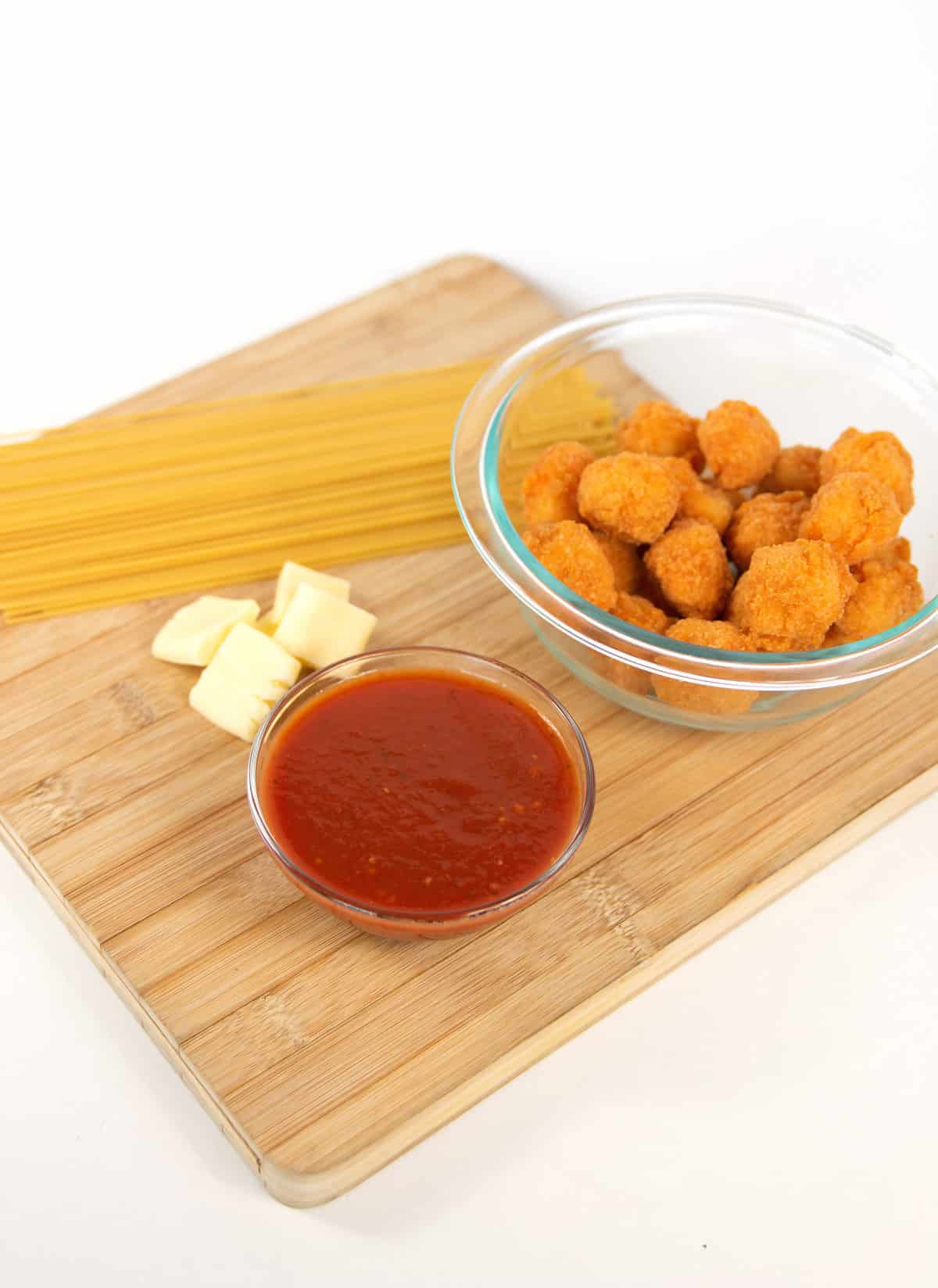 What do I need to make these?
Popcorn chicken– You can easily find this in the freezer section of your local grocery store. Chicken nuggets are a little too big for this recipe
Spaghetti or angle hair pasta and you don't even need a lot of it
Pasta sauce– to make this really easy just buy some premade sauce or I have a really great sauce recipe on my Chicken Parmesan recipe
Mozzarella Cheese– I personally used string cheese, but shredded or sliced works just as well.
Grated Parmesan Cheese– because no great Italian dish is without it
Eggs– to help form the spaghetti cups
Olive oil and Italian seasoning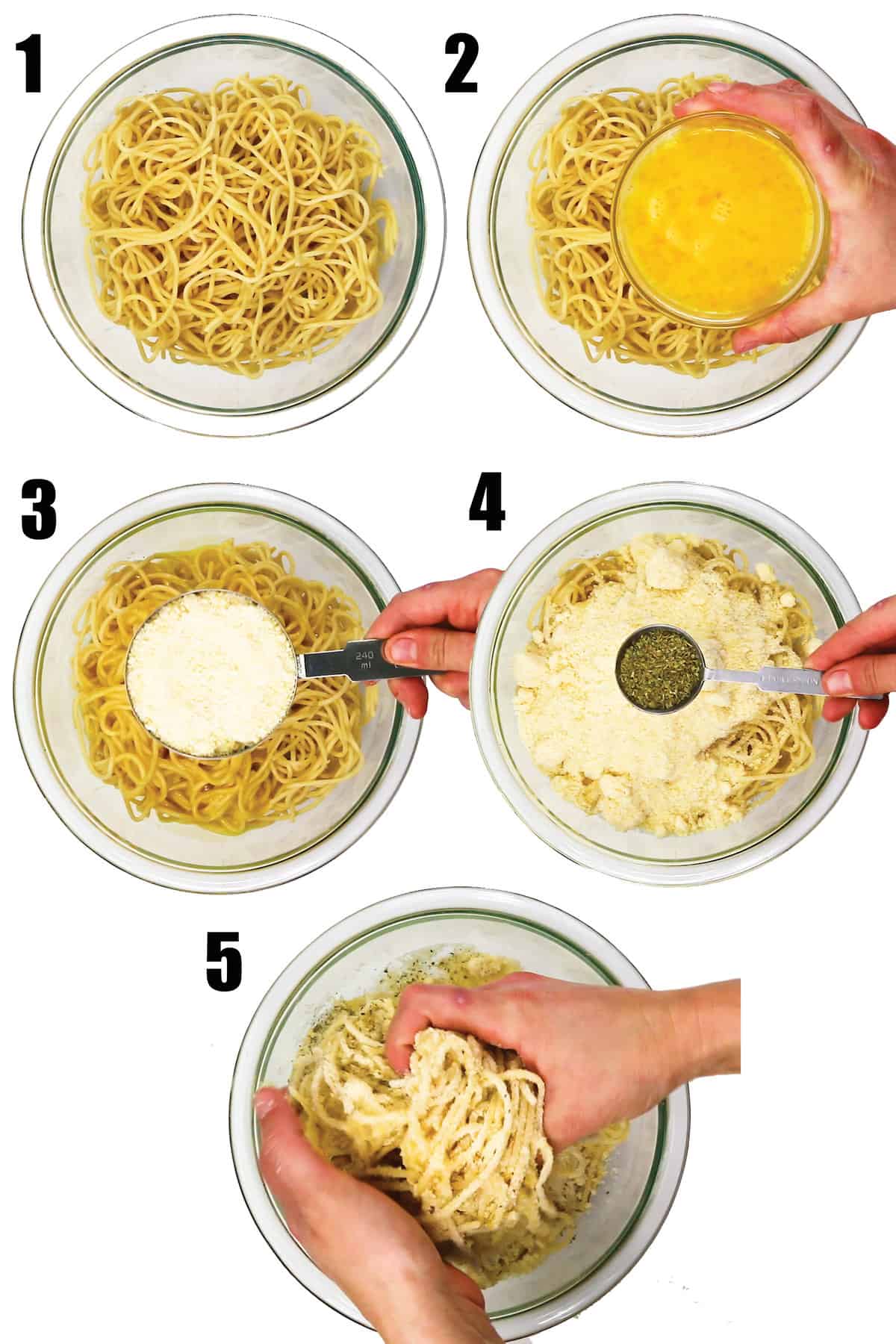 Prepping the spaghetti
Start by taking the cooked spaghetti and letting it cool some or rinse with cold water and add to a bowl (Photo 1) Then add the whisked eggs to the spaghetti (Photo 2)
Next add the grated Parmesan cheese (Photo 3) and Italian seasonings (Photo 4) to the bowl of spaghetti and mix together really well with your hands (Photo 5)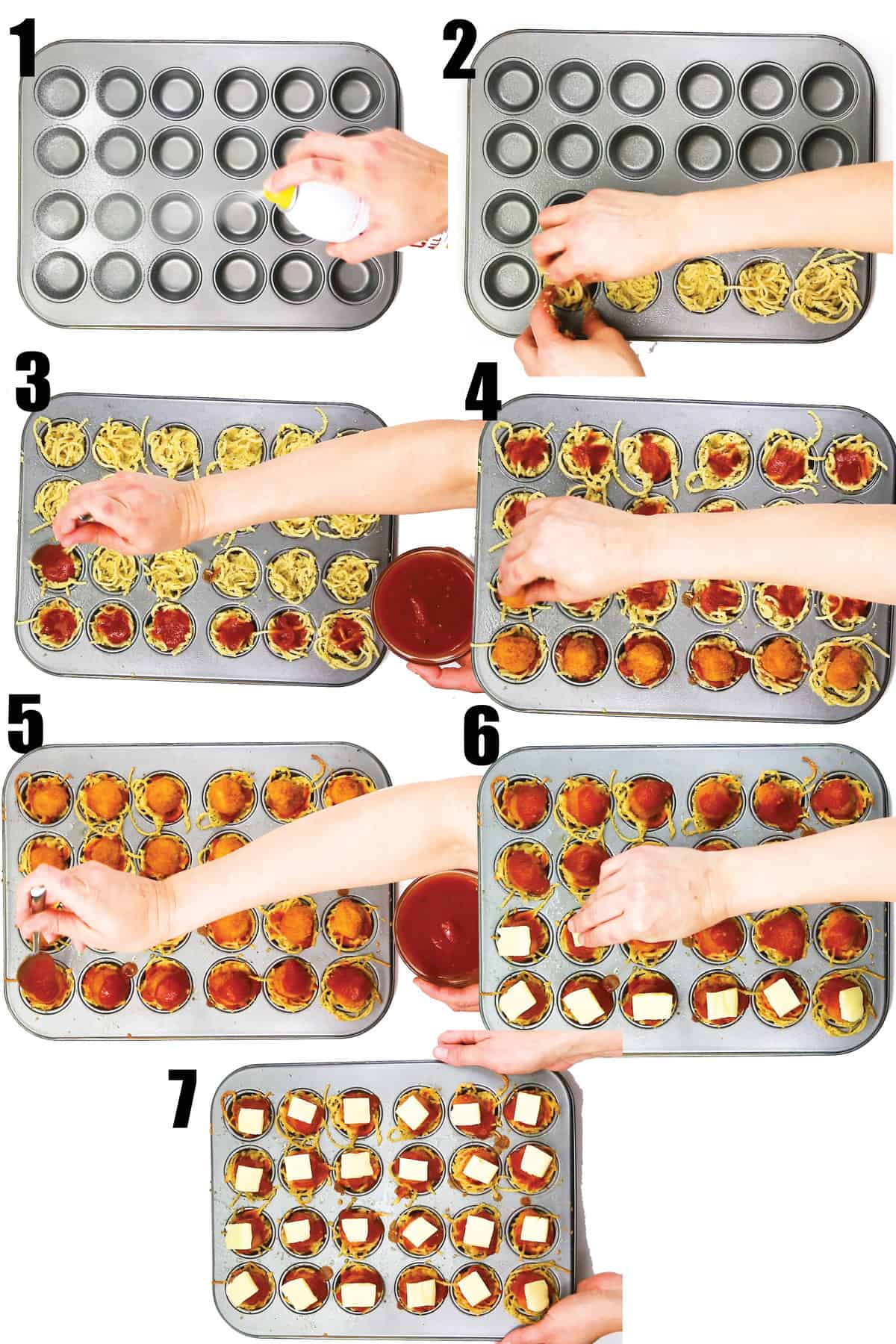 Assembling the Chicken Parmesan Spaghetti Cups
Take a mini muffin tin and spray each muffin spot with cooking spray (Photo 1) Take a little bit of the spaghetti mixture and form it in the muffin spot (Photo 2) Repeat with each muffin spot
Add a little bit of spaghetti sauce on top of each spaghetti cup (Photo 3) Then add a popcorn chicken to each spaghetti cup (Photo 4)
Cook that for 10 minutes in the oven at 375 degrees
Next pull the muffin tin out of the oven and add spaghetti sauce on top of each popcorn chicken (Photo 5) and then a piece of Mozzarella cheese on top (Photo 6) Put back into the oven for 5 minutes (Photo 7) for the cheese to melt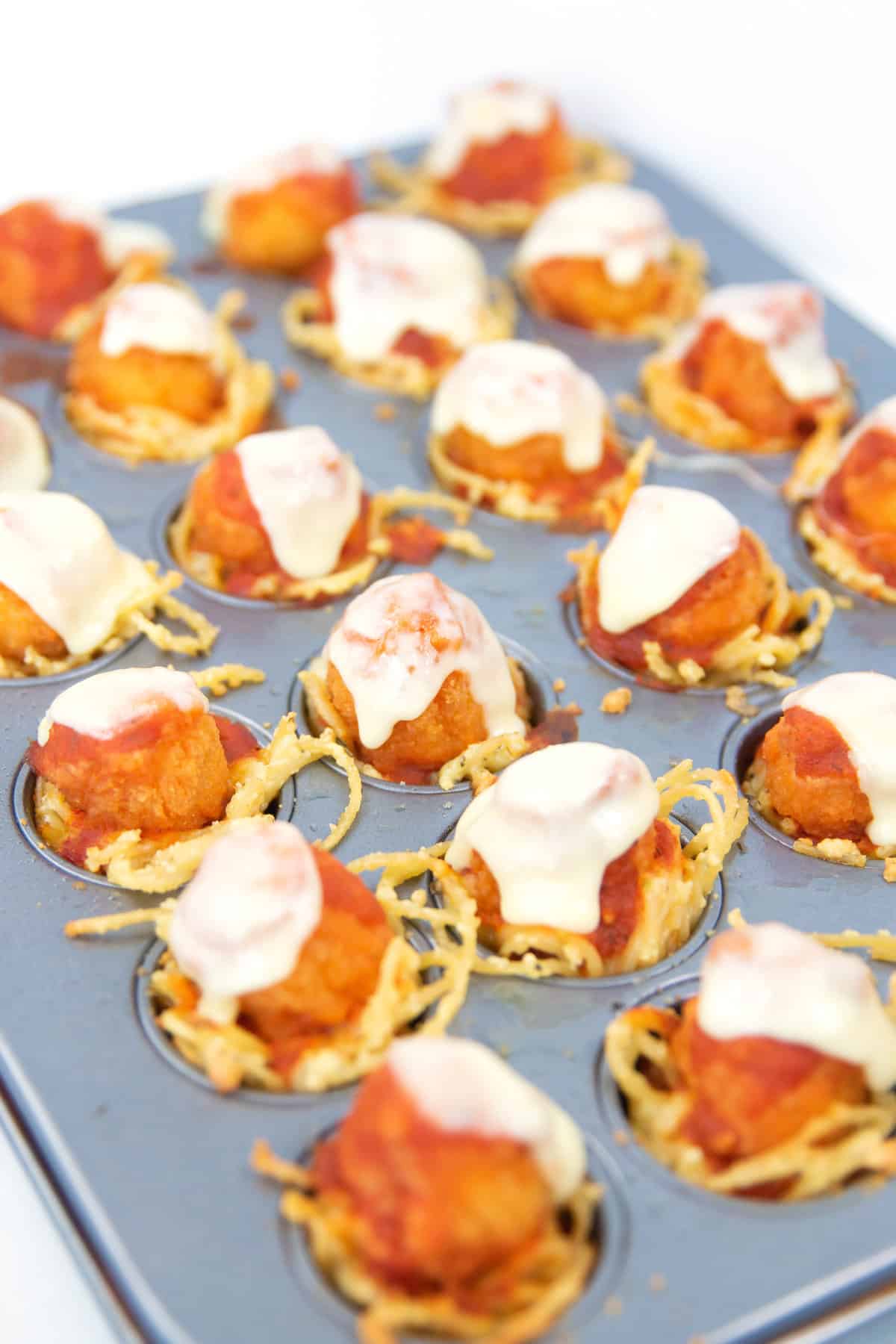 Tips and Tricks
Make sure to grease the whole inside of each muffin tin. Otherwise the spaghetti will stick and tear
Do use popcorn chicken instead of chicken nuggets. The popcorn chicken is just the right size for the mini muffin tins
Any store bought pasta sauce will do or you can use my pasta sauce recipe from my Chicken Parmesan recipe. I would just dilute it with a little bit more water to get the texture of sauce you are going for.
What type of Mozzarella cheese you use does not matter. Cut slices of Mozzarella down to fit over the popcorn chicken. Throw some shredded Mozzarella on top. Or use parts of string cheese like I did.
Don't add the top layer of pasta sauce and layer of cheese until after you have already cooked the cups and chicken before. The cheese will be too melted and start to get hard.
You can use regular muffin cups, but you will need more spaghetti and will probably want to use chicken nuggets instead of popcorn chicken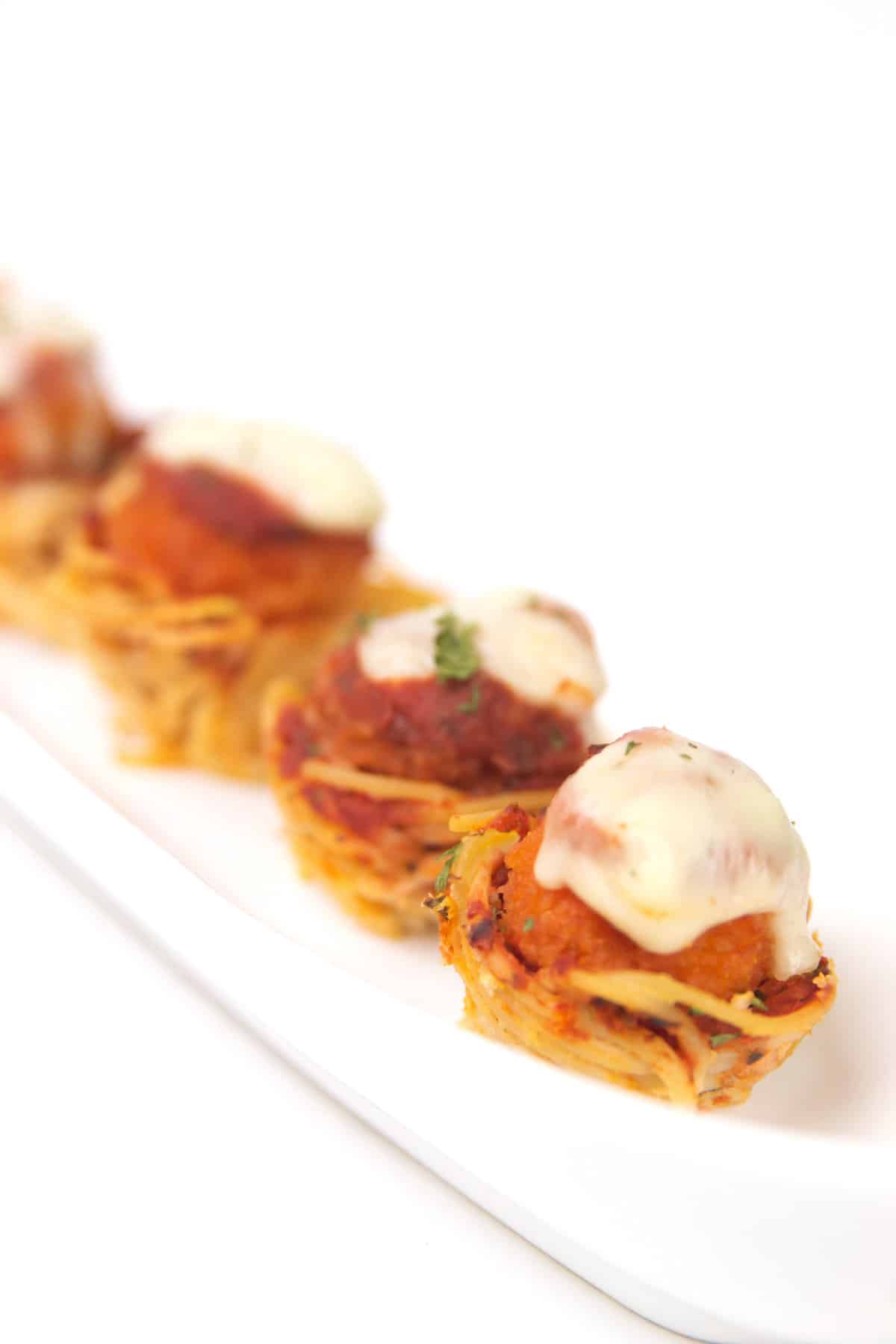 Want more bite size recipes?
Chicken in a Biscuit
Even Better Sausage Balls
Spicy Sausage Mashed Potato Bombs
Buffalo Chicken Bombs
Or check out all the other great Appetizer recipes I have
Did you make this recipe? Then give a Star rating below and tag your picture on Instagramwith #glitterandgraze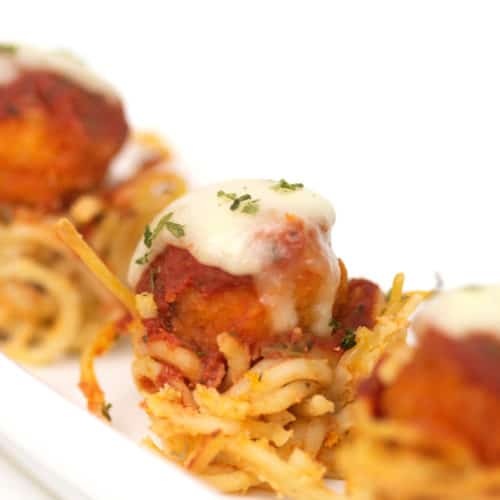 Chicken Parmesan Spaghetti Cups
These chicken parmesan spaghetti cups are the perfect bite size appetizer for your next party. A fun twist on a classic Italian dish.
Print Recipe
Ingredients
5

ounces

spaghetti cooked

30

popcorn chicken

depends on the size of your muffin tin

5

slices

Mozzarella cheese

1

cup

grated Parmesan cheese

10

ounces

pasta sauce

1

TBSP

Italian seasoning

2

eggs
Instructions
Cook spaghetti as directed on box. Either let cool or rinse with cold water in a strainer

Preheat oven to 375 degrees

Add parmesan, whisk eggs, and Italian seasoning to the bowl of spaghetti and mix together well

Spray a mini muffin tin with cooking spray

Take some spaghetti and fill each muffin tin with it and form a little bowl shape

Add some pasta sauce on top of each spaghetti bowl

Add a popcorn chicken into each spaghetti bowl and cook for 10 minutes

Remove from oven and add some pasta sauce on top of each popcorn chicken

Add a piece of Mozzarella cheese on top of each popcorn chicken and put back in oven for another 5 minutes
Notes
Make sure to grease the whole inside of each muffin tin. Otherwise the spaghetti will stick and tear
Do use popcorn chicken instead of chicken nuggets. The popcorn chicken is just the right size for the mini muffin tins
Any store bought pasta sauce will do or you can use my pasta sauce recipe from my Chicken Parmesan recipe. I would just dilute it with a little bit more water to get the texture of sauce you are going for.
What type of Mozzarella cheese you use does not matter. Cut slices of Mozzarella down to fit over the popcorn chicken. Throw some shredded Mozzarella on top. Or use parts of string cheese like I did.
Don't add the top layer of pasta sauce and layer of cheese until after you have already cooked the cups and chicken before. The cheese will be too melted and start to get hard.
You can use regular muffin cups, but you will need more spaghetti and will probably want to use chicken nuggets instead of popcorn chicken
Nutrition
Serving:
1
g
|
Calories:
59
kcal
|
Carbohydrates:
2
g
|
Protein:
4
g
|
Fat:
3
g
|
Saturated Fat:
1
g
|
Cholesterol:
17
mg
|
Sodium:
194
mg
|
Potassium:
47
mg
|
Vitamin A:
120
IU
|
Vitamin C:
0.7
mg
|
Calcium:
66
mg
|
Iron:
0.3
mg
Servings:
30
spaghetti cups