Cilantro Lime Sheet Pan Fajitas
With these cilantro lime sheet pan fajitas you can make your entire dinner on just one pan. Juicy steak full of flavor you won't be disappointed.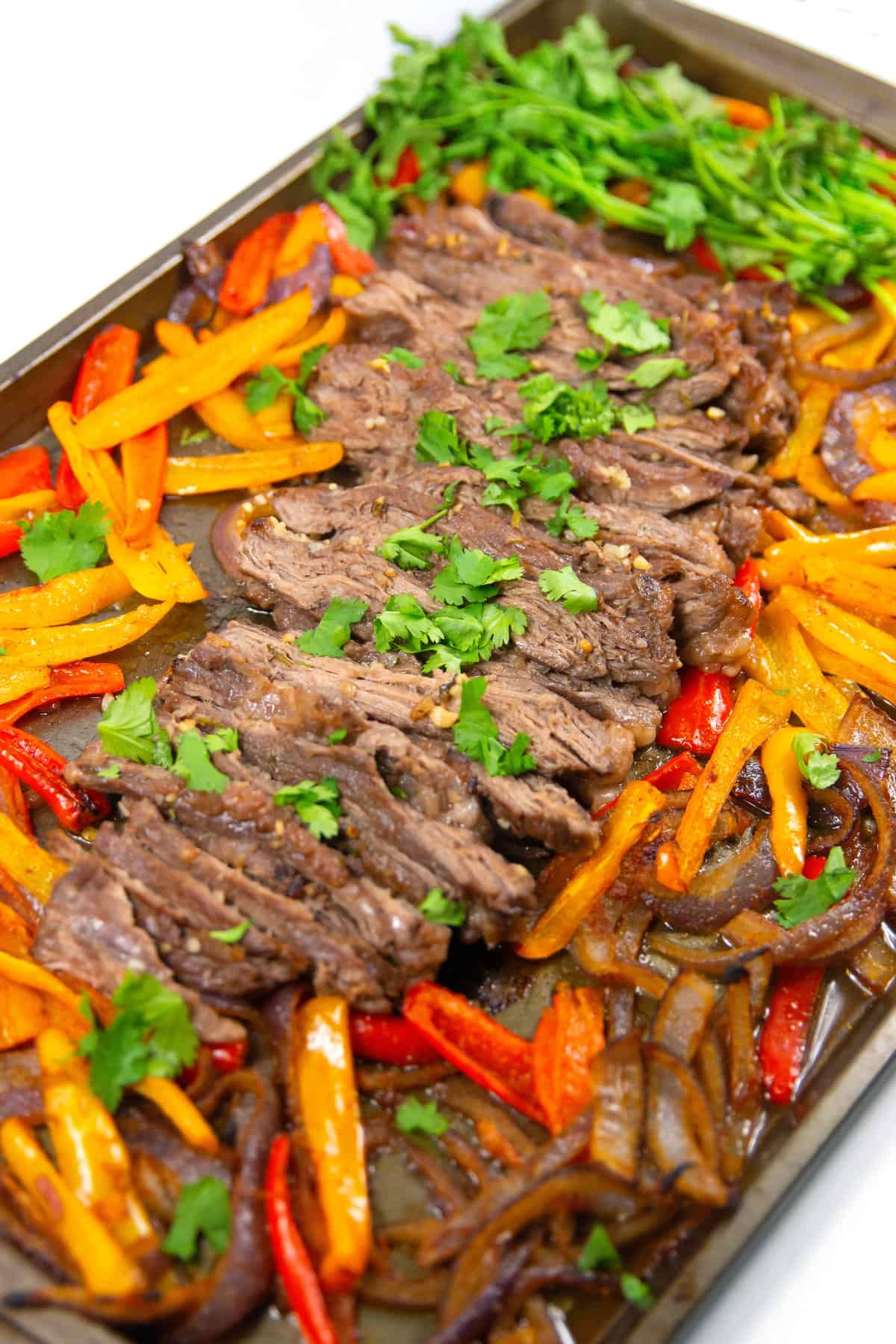 There's nothing more Texan than Mexican food. Or Tex-Mex at least. You can't drive a mile without passing a Mexican food restaurant in Texas.
And this family gets its fair share of Mexican food. But sometimes I like to make it at home and that's where this recipe comes in handy.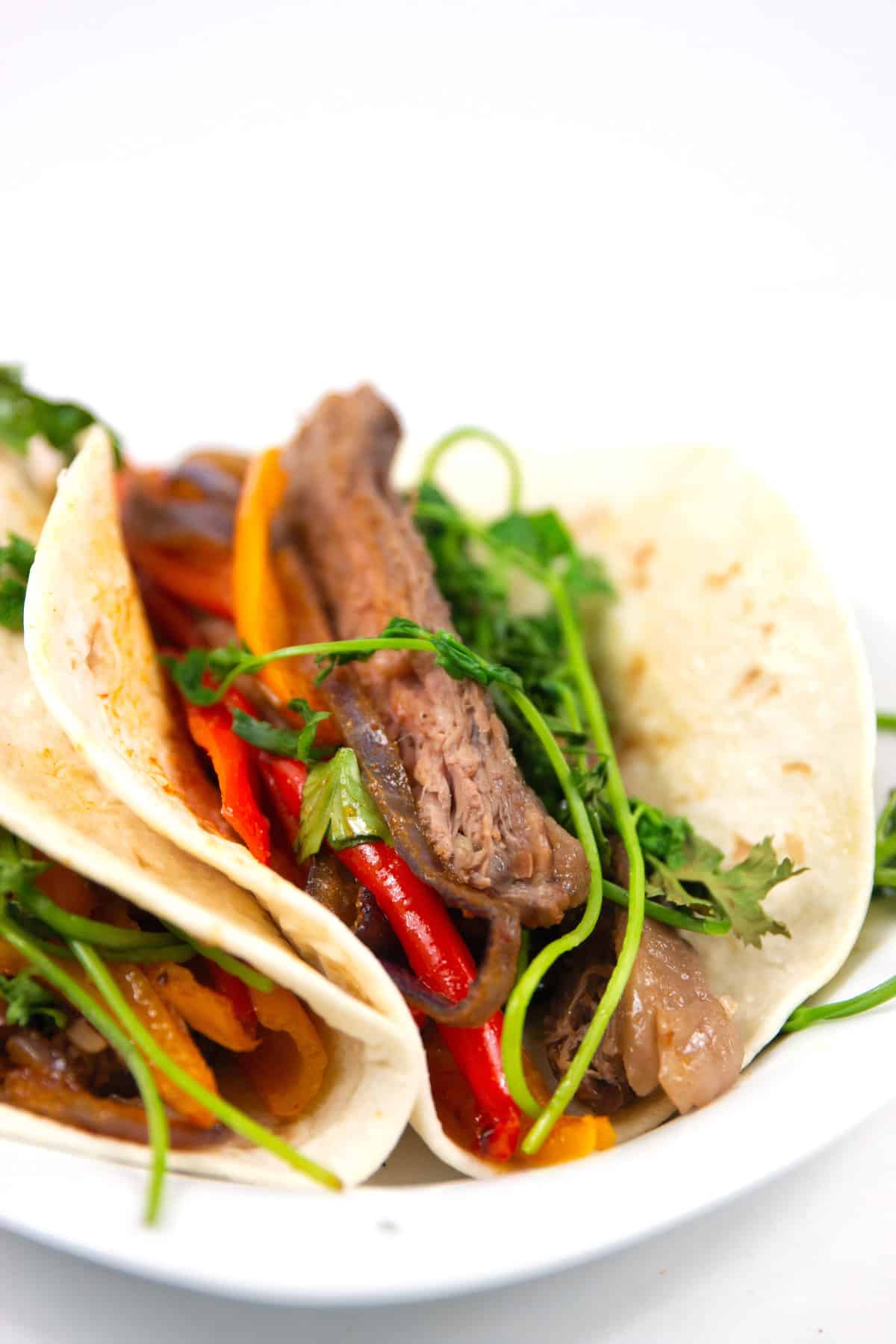 Important Tips
Be sure and get a good piece of meat. Some fat is okay, but too much is not good. When in doubt ask the butcher or someone in the meat department.
This recipe calls for skirt steak, but flank steak is sometimes substituted. Flank steak tends to be less tough, but not as much flavor
Did you know lime juice actually helps tenderize beef? So don't skimp on the lime juice.
After taking the meat out of the oven let it sit 5-10 minutes. It is still cooking and gives it time for the juices to settle.
Whatever you do cut against the grain. Which means look for the parallel lines of muscle fiber running down the meat, and slice perpendicular to them. Here is an example.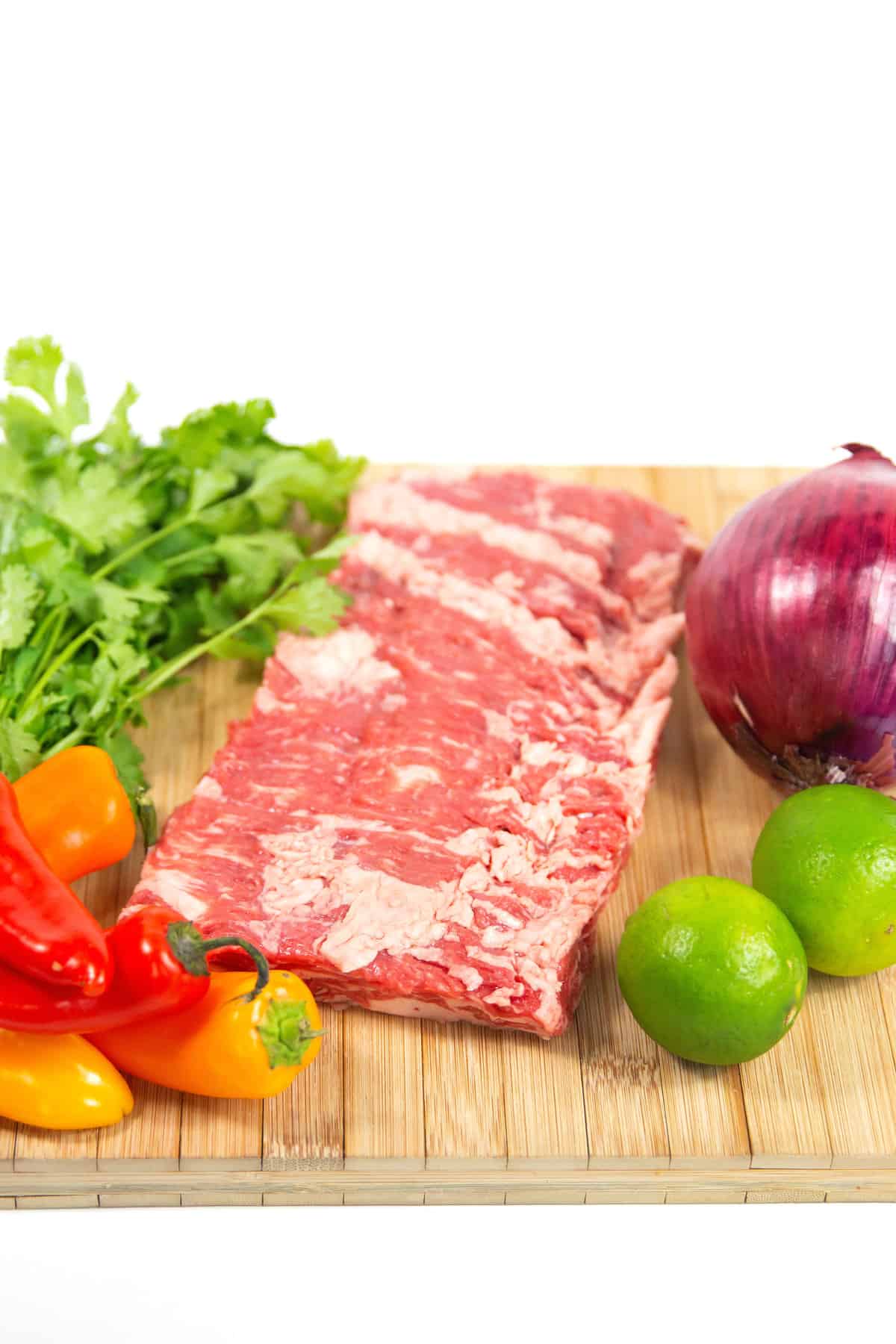 Making the Cilantro Lime Marinade
First add chopped cilantro to a bowl (Photo 1) Next zest each lime (Photo 2)
Then squeeze the juice out of each lime and discard of the rest (Photo 3) Add minced garlic to the mix (Photo 4)
Add dried onion flakes (Photo 5) Add olive oil (Photo 6)
Last add salt and pepper (Photo 7) and whisk all together (Photo 8)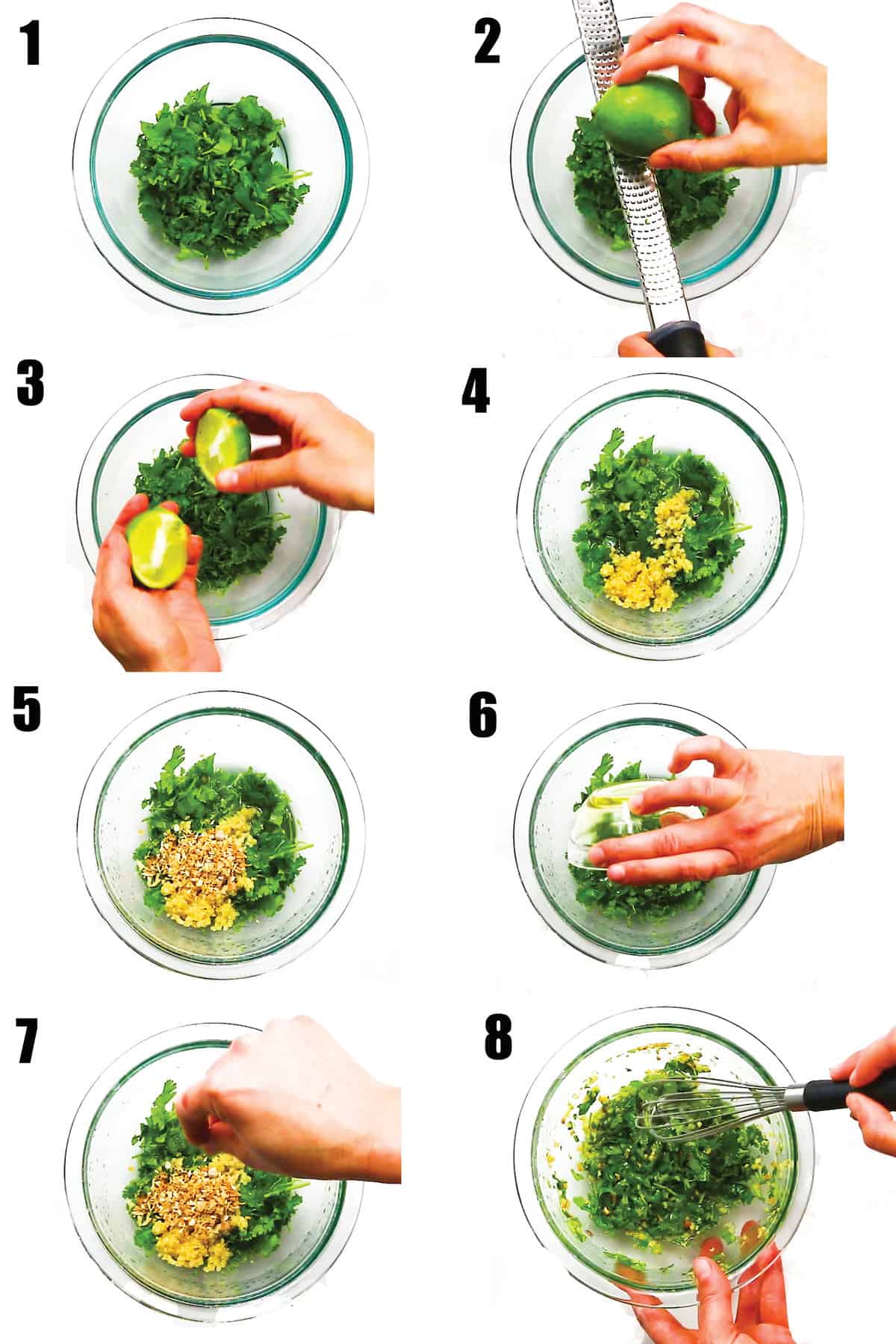 Next add your slab of beef to a big plastic bag and add cilantro mix. Seal bag and mix together well.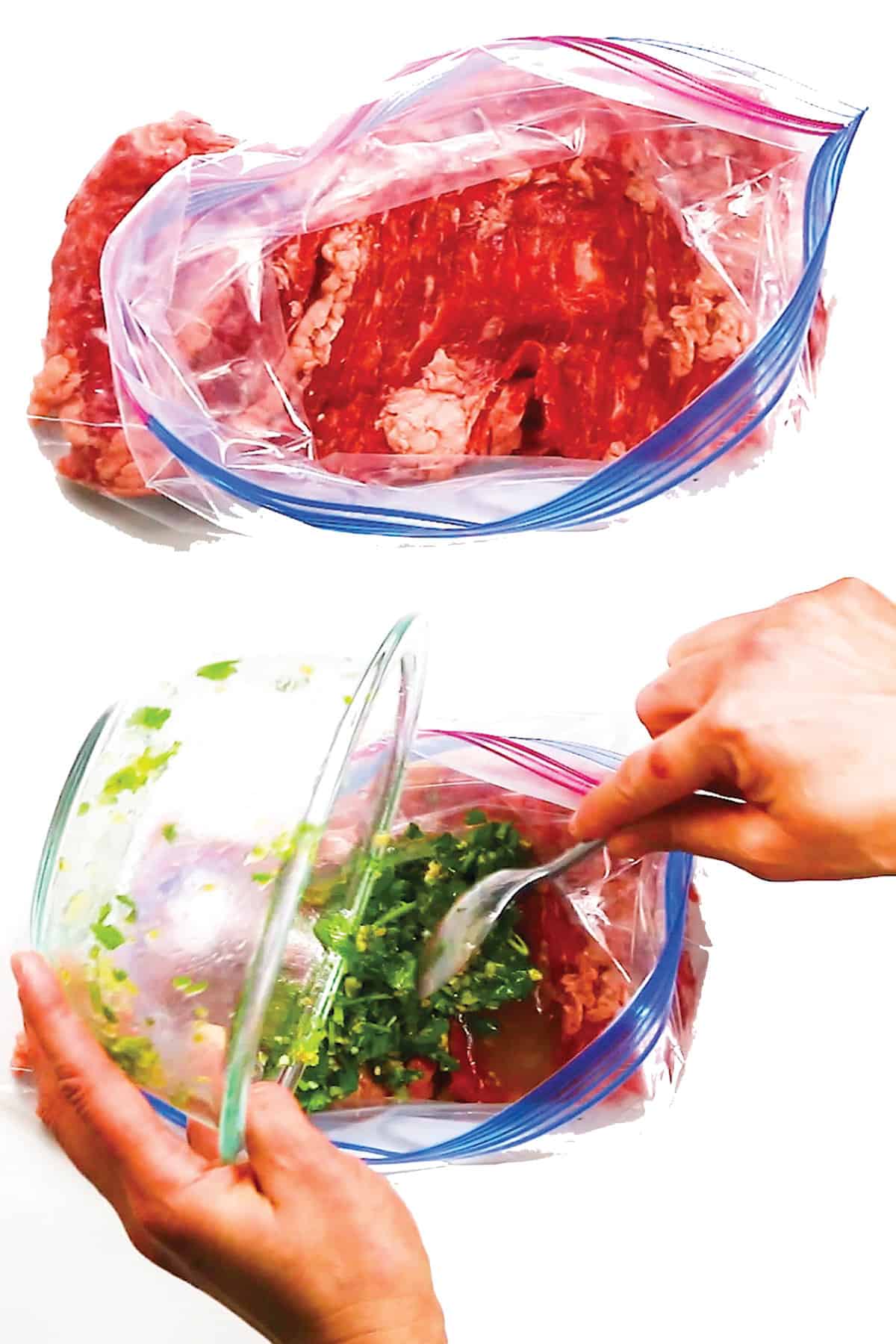 How long to Marinade?
The short answer is as long as you can. Well, not for days, but if you can marinade overnight or the whole day then do so.
I usually just make up the marinade in the morning and set the beef out 30 minutes before cooking.
If you only have a couple hours to marinade that is fine too.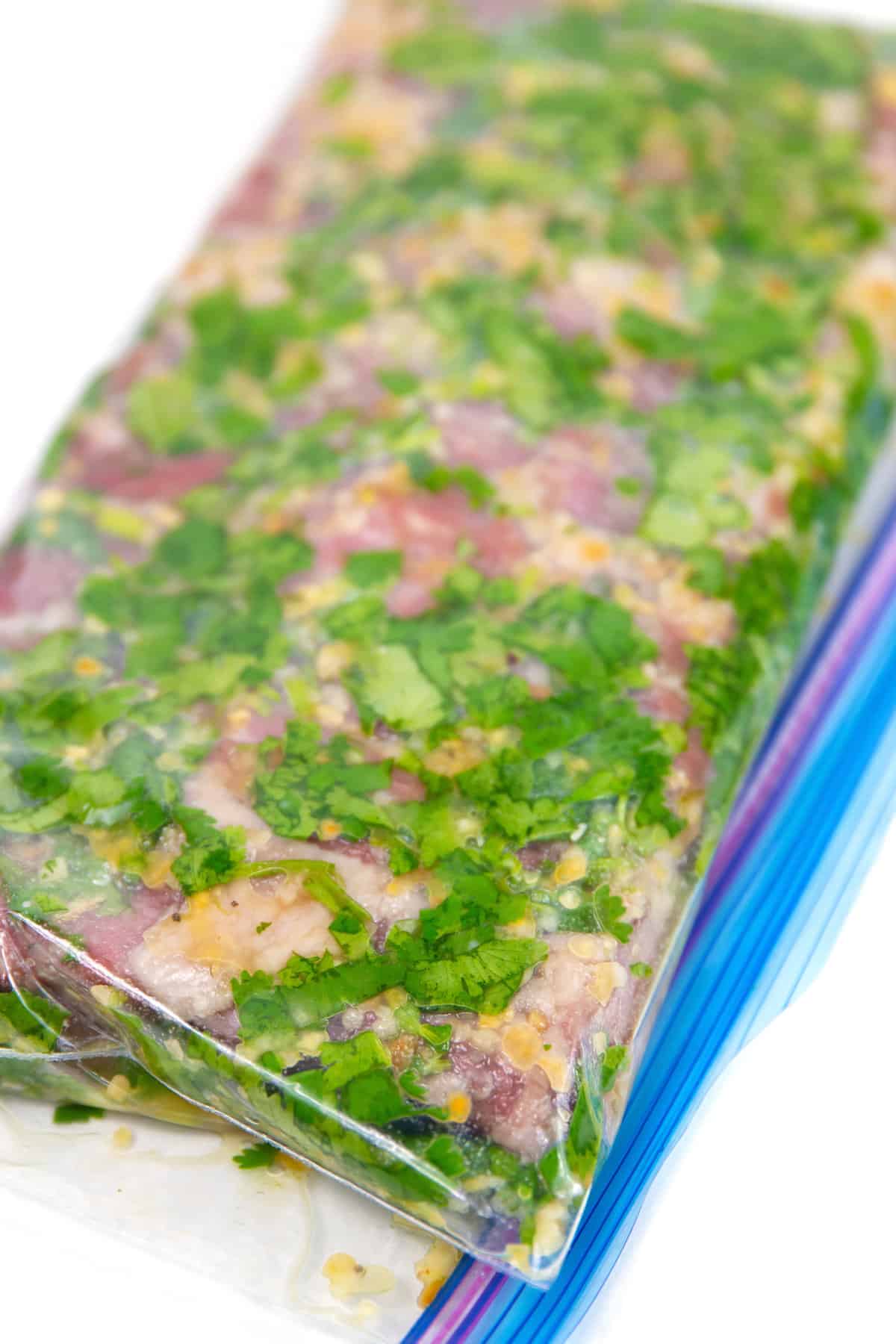 Making the Veggies
Start with slicing your bell peppers in long strips and add to a bowl
(Photo 1) Next add your sliced purple onions to the bowl (Photo 2)
Add olive oil to the bowl (Photo 3) Next add chili powder (Photo 4)
Add the onion powder (Photo 5) and paprika (Photo 6)
Add garlic salt (Photo 7) and cumin (Photo 8) and mix together (Photo 9) set aside.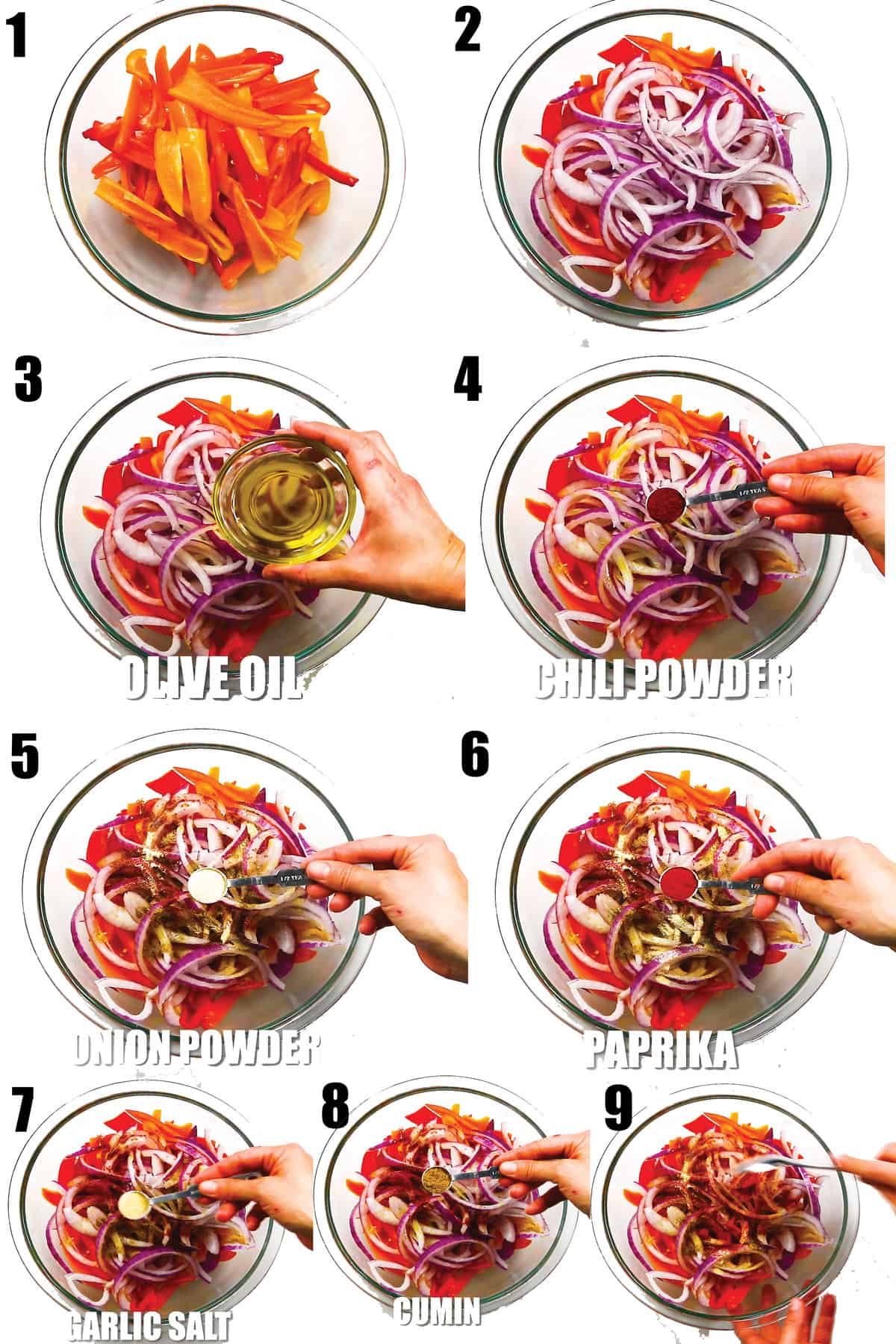 Cooking the Fajitas
Don't forget to let your meat sit out of the refrigerator for 30 minutes before cooking.
Add beef to the middle of a baking sheet (Photo 1) and then add vegetables around the beef (Photo 2)
Cook for 13 minutes on 450 degrees then broil on high for 2 minutes
Let it set 5 minutes before cutting into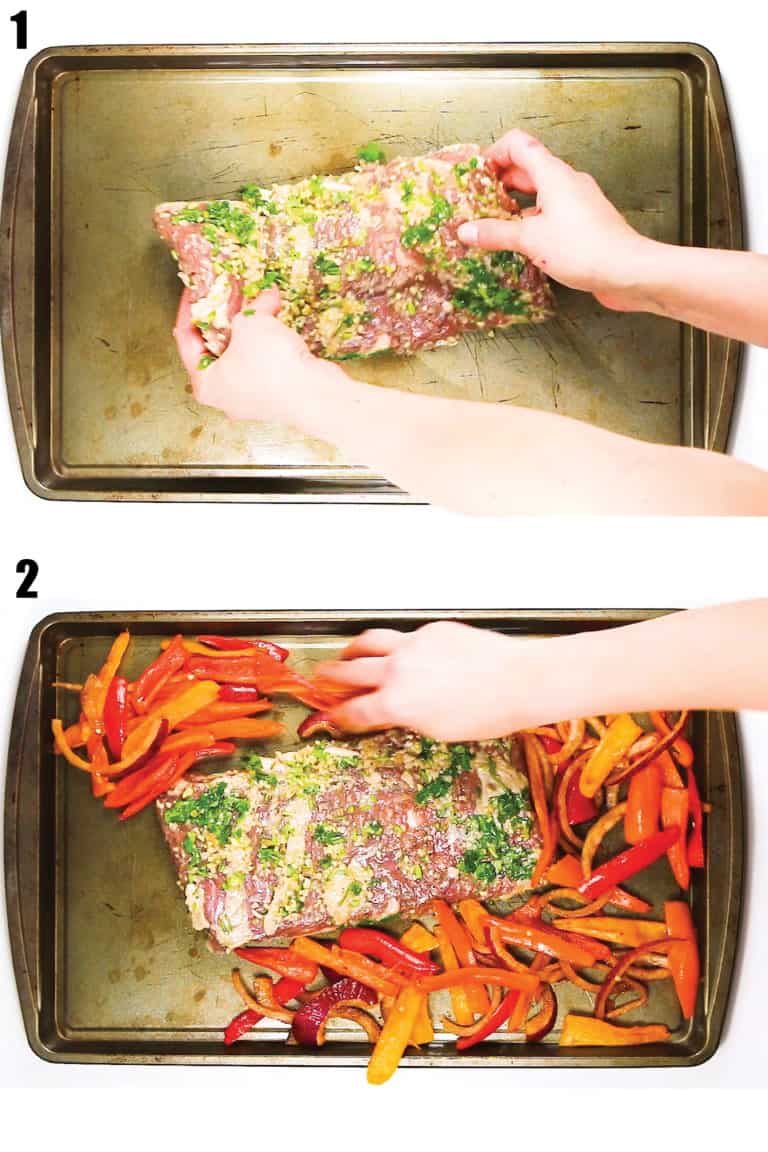 Additional Options
If using tortillas you take some foil and lightly rub some water in between each tortilla then wrap and they can go in the oven for 10 minutes while the fajitas are cooking.
Serve with sour cream, cheese, or maybe some guacamole.
These are also great to throw on top of a salad or make a burrito bowl with some Mexican rice or cilantro lime rice.
You could also add some sliced fresh jalapenos to the veggies to add a little spice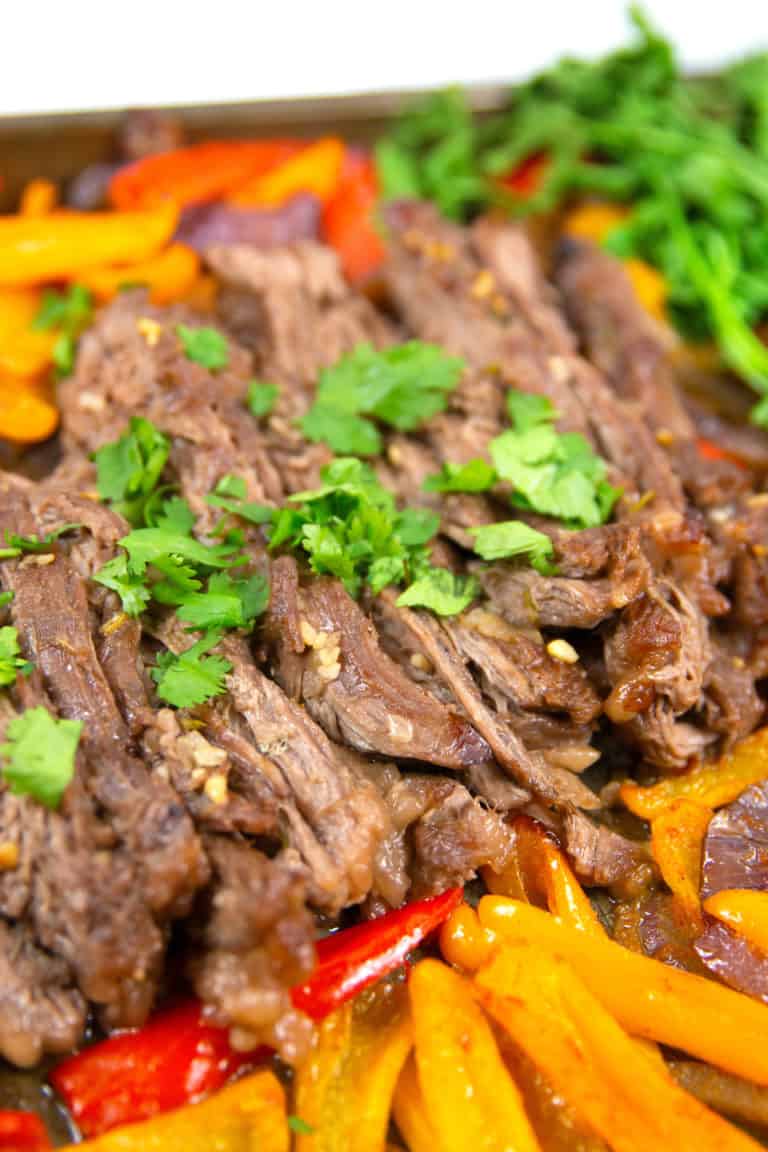 If you like this recipe check out these
Chipotle Chicken Avocados
Cilantro Lime Beer Can Chicken
Chicken Tortilla Soup
Loaded Queso
Need more Mexican style recipes? Check out my Cinco de Mayo recipes for the perfect Tex-Mex dish.
Did you try out this recipe? If so give a star rating below. Also tag your picture on Instagram with #glitterandgraze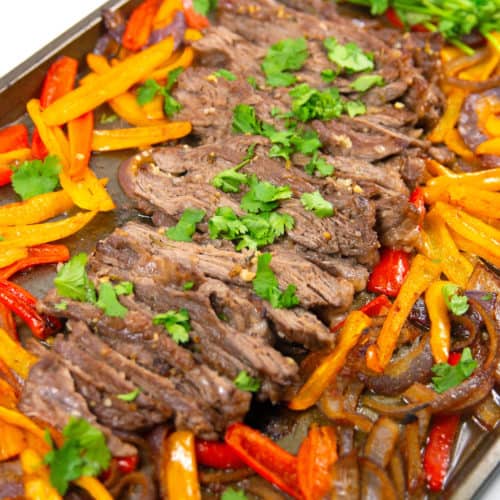 Cilantro Lime Sheet Pan Fajitas
With these cilantro lime sheet pan fajitas you can make your entire dinner just on one pan. Juicy steak full of flavor you won't be disappointed
Print Recipe
Ingredients
1.5

lbs

skirt steak

1

medium red onion

4

cups

sliced bell peppers
Cilantro Lime Marinade
3

limes

zest & juice

1

cup

chopped cilantro

1

TBSP

minced garlic

2

TBSP

olive oil

2

TSP

dried onions
Seasoning for vegetables
2

TBSP

olive oil

1/2

TSP

garlic salt

1/2

TSP

onion powder

1/2

TSP

chili powder

1/2

TSP

cumin

1/2

TSP

paprika
Instructions
Add cilantro, minced garlic, dried onions, and 2 TBSP olive oil to a bowl.

Zest 3 limes and squeeze juice into cilantro mix and whisk togther

Add beef to a plastic bag and pour over cilantro mix and seal bag and mix together well. Place in refrigerator all day or as long as you can.

Preheat oven to 450 degrees and take meat out of refrigerator 30 minutes before cooking

Slice onions and pepper and add to a bowl with all the vegetable seasoning and mix well

Take a big sheet pan and lay meat in the middle and spread out vegetables around the beef

Cook for 13 minutes then turn on high broil for 2 minutes

Wait 5 minutes before slicing and cut against the grain
Notes
Be sure and good a good piece of meat. Some fat is okay, but too much is not good. When in doubt ask the butcher or someone in the meat department.
This recipe calls for skirt steak, but flank steak is sometimes substituted. Flank steak tends to be less tough, but not as much flavor
Did you know lime juice actually helps tenderize beef? So don't skimp on the lime juice.
After taking the meat out of the oven let it sit 5-10 minutes. It is still cooking and gives it time for the juices to settle.
Whatever you do cut against the grain. Which means look for the parallel lines of muscle fiber running down the meat, and slice perpendicular to them.
I usually just make up the marinade in the morning and set the beef out 30 minutes before cooking.
If you only have a couple hours to marinade that is fine too.
If using tortillas you take some foil lightly rub some water in between each tortilla then wrap in foil and they can go in the oven for 10 minutes while the fajitas are cooking.
Serve with sour cream, cheese, or maybe some guacamole.
These are also great to throw on top of a salad or make a burrito bowl with some Mexican rice or cilantro lime rice.
You could also add some sliced fresh jalapenos to the veggies to add a little spice
Nutrition
Serving:
1
person
|
Calories:
445
kcal
|
Carbohydrates:
20
g
|
Protein:
39
g
|
Fat:
23
g
|
Saturated Fat:
5
g
|
Cholesterol:
102
mg
|
Sodium:
398
mg
|
Potassium:
1046
mg
|
Fiber:
5
g
|
Sugar:
9
g
|
Vitamin A:
5200
IU
|
Vitamin C:
210.5
mg
|
Calcium:
82
mg
|
Iron:
4
mg