Indulge in a creamy symphony of flavors with our delectable Creamy Mushroom Pasta, where every bite is a delight!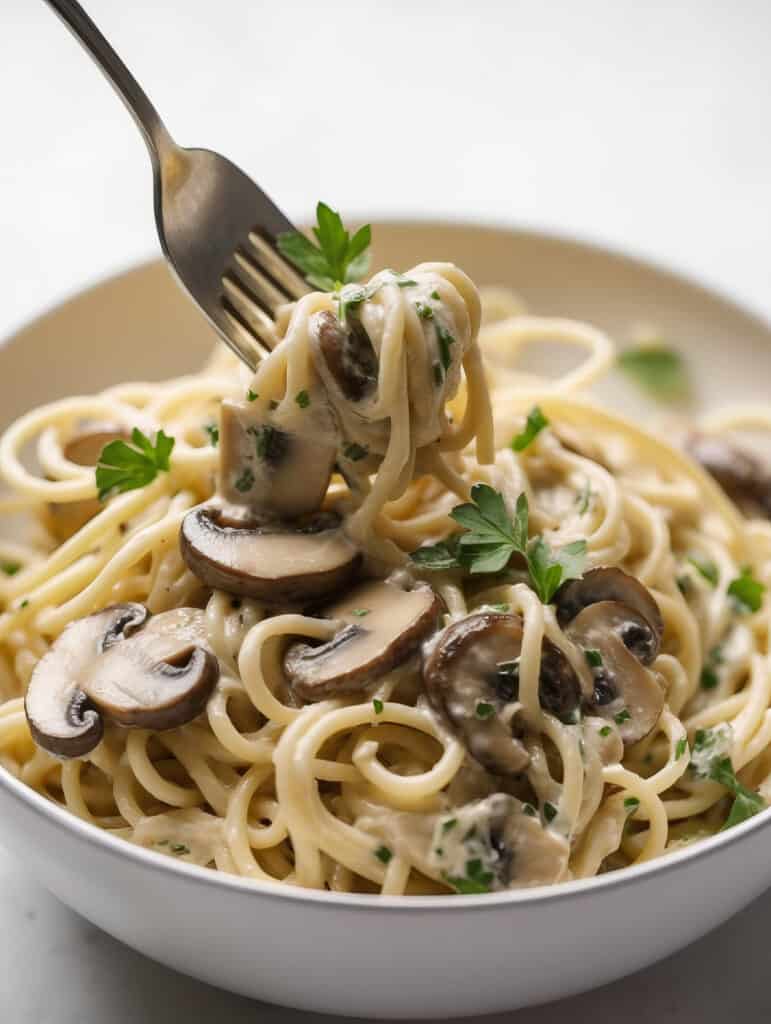 This Creamy Mushroom Pasta recipe is an absolute game-changer! Trust me, I'm a busy 34-year-old woman who knows the struggle of finding time to cook delicious meals. But fear not, because this dish is not only ridiculously easy to make, but it also tastes so unbelievably good that you'll be craving it every week.
Imagine perfectly cooked pasta enveloped in a luscious, velvety sauce made with cream of mushroom soup, sautéed mushrooms, and a hint of Parmesan cheese. It's a heavenly combination that will leave you wondering why you ever bothered with complicated recipes. So grab your apron and get ready to indulge in a bowl of pure comfort and satisfaction. Trust me, you'll thank me later!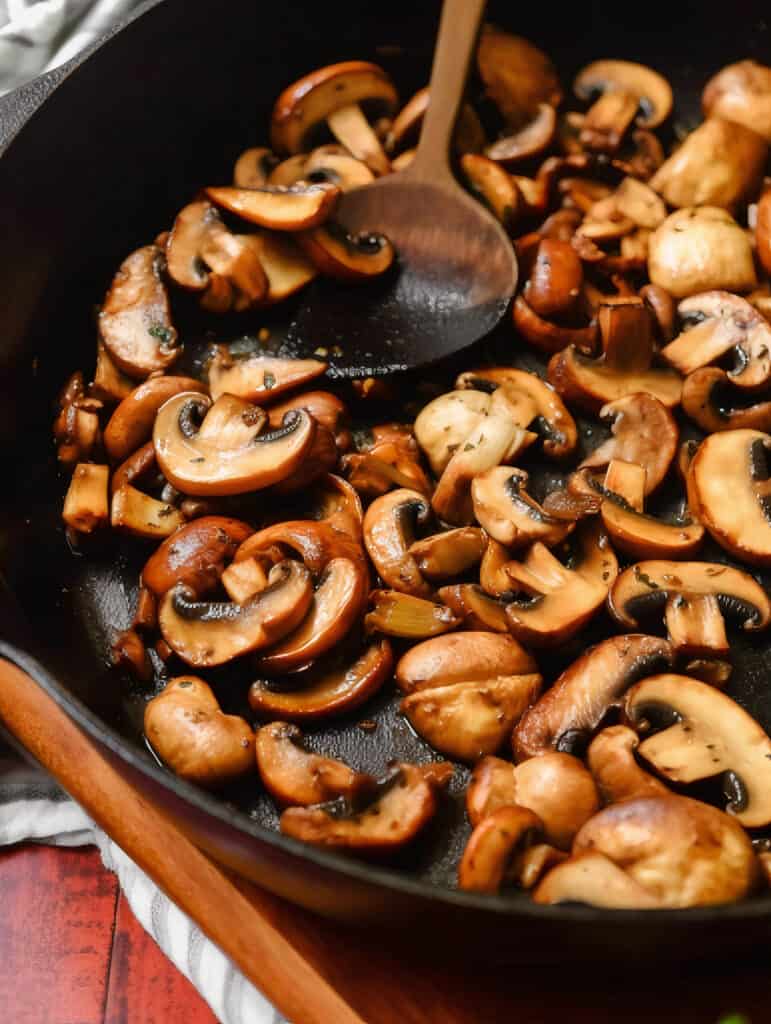 Why Make this Creamy Mushroom Pasta?
Quick and Easy: This recipe is a lifesaver for busy individuals who want a delicious meal without spending hours in the kitchen. With simple ingredients and straightforward steps, you can have a satisfying meal on the table in no time.
Creamy Delight: If you're a fan of creamy dishes, this recipe will be your new obsession. The combination of cream of mushroom soup, milk, and Parmesan cheese creates a luxuriously smooth and velvety sauce that coats every strand of pasta, making each bite pure bliss.
Versatility: While the recipe calls for specific ingredients, you can easily customize it to suit your preferences. Add in some cooked chicken or shrimp for a protein boost, toss in your favorite veggies for added freshness, or sprinkle some chili flakes for a touch of heat. The possibilities are endless!
Crowd-Pleaser: Whether you're cooking for yourself, your family, or hosting a dinner party, this creamy mushroom pasta is sure to impress. Its comforting flavors and creamy texture have broad appeal, making it a reliable go-to recipe for any occasion.
Leftovers Made Delicious: This pasta dish is a fantastic leftover transformer. The flavors develop even more overnight, making it a fantastic option for meal prepping or enjoying as next-day leftovers. Simply reheat and savor the incredible flavors all over again.
Budget-Friendly: With affordable and easily accessible ingredients like canned soup, pasta, and mushrooms, this recipe won't break the bank. It's a fantastic way to create a satisfying meal without splurging on expensive ingredients.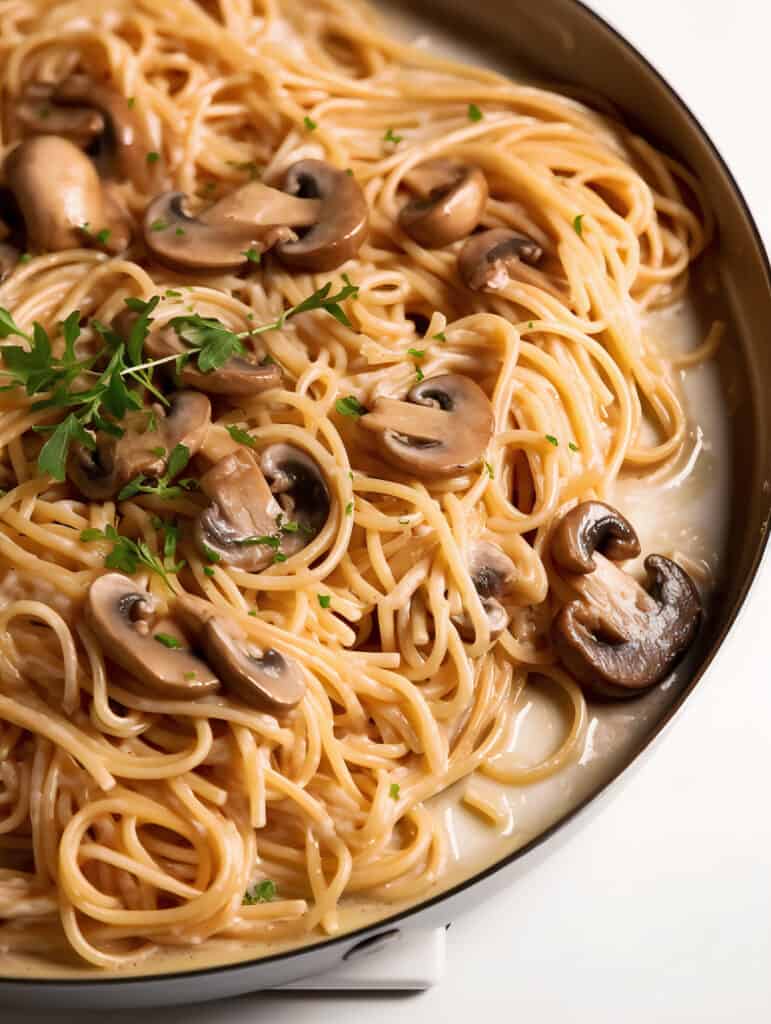 Choosing Ingredients for Creamy Mushroom Pasta
Pasta: Choose a type of pasta that can hold the creamy sauce well, such as fettuccine, linguine, or penne. You can opt for regular, whole wheat, or gluten-free pasta depending on your dietary preferences.
Cream of Mushroom Soup: Look for a high-quality cream of mushroom soup that has a rich and robust flavor. You can choose a brand you trust or make your own homemade version if you prefer.
Mushrooms: Fresh mushrooms are the star ingredient in this dish, so choose ones that are firm, plump, and free from blemishes. Popular mushroom varieties like cremini, white button, or portobello work well in this recipe. Feel free to mix and match different types for added complexity of flavors.
Chicken Broth: Opt for low-sodium chicken broth to have better control over the overall saltiness of the dish. If you prefer a vegetarian option, you can substitute vegetable broth instead.
Milk: Use whole milk or a milk alternative like almond milk or oat milk, depending on your dietary preferences. The milk adds a creamy and smooth texture to the sauce.
Olive Oil: Choose a good-quality extra virgin olive oil for sautéing the mushrooms. It adds a delightful flavor to the dish. If you prefer, you can substitute with butter or a different cooking oil of your choice.
Parmesan Cheese: Grate fresh Parmesan cheese for the best flavor. Avoid using pre-grated varieties, as they tend to have a drier texture and less intense flavor. Parmigiano-Reggiano or Grana Padano are excellent options.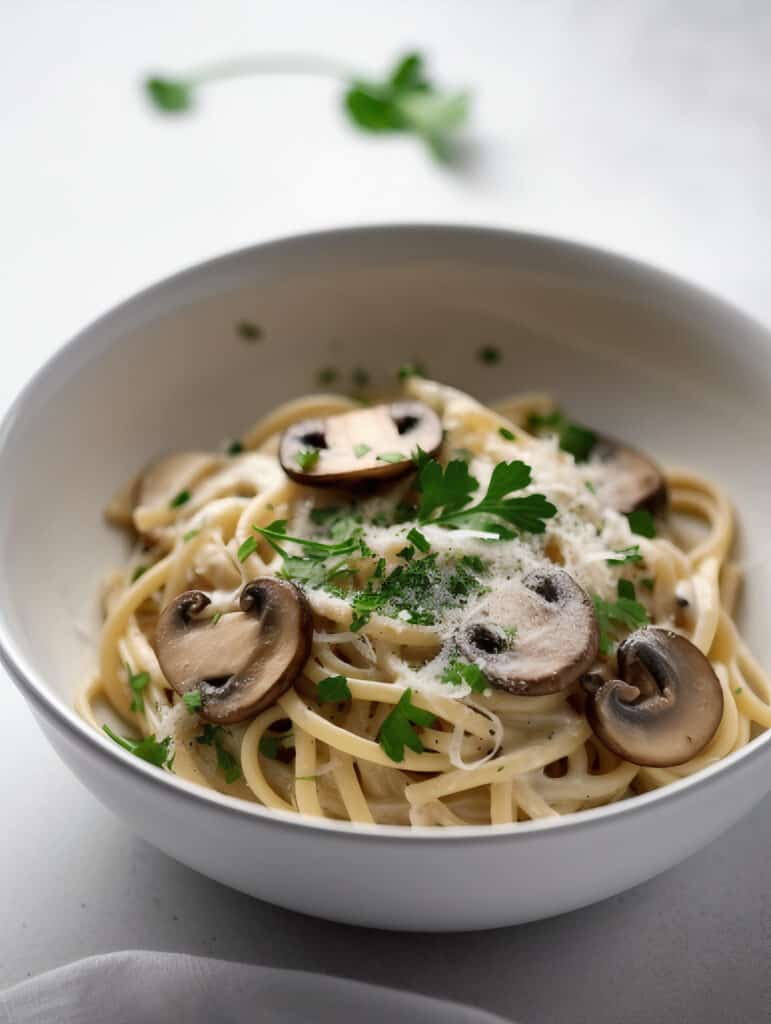 Tips and Tricks for Creamy Mushroom Pasta
Cook the pasta al dente: Follow the package instructions and cook the pasta until it is al dente, which means it should still have a slight firmness when bitten. This ensures the pasta maintains its texture and doesn't become mushy when combined with the creamy sauce.
Sauté mushrooms properly: When sautéing the mushrooms, make sure to cook them in a single layer in the pan without overcrowding. This allows them to brown evenly and develop a rich flavor. Overcrowding the pan can lead to the mushrooms releasing excess moisture and steaming instead of browning. Cook them in batches if needed.
Enhance the mushroom flavor: To intensify the mushroom flavor, you can add a splash of Worcestershire sauce or a dash of soy sauce while sautéing the mushrooms. These umami-rich ingredients will add depth and enhance the overall taste of the dish.
Season throughout the cooking process: Seasoning is key to bringing out the best flavors. Season the pasta cooking water with salt before adding the pasta, as it will help enhance the pasta's taste. When sautéing the mushrooms, season them with a pinch of salt and freshly ground black pepper to enhance their natural flavors. Taste and adjust the seasoning of the sauce before combining it with the pasta.
Customize with additional ingredients: While the recipe is delicious as is, feel free to add other ingredients to make it your own. You can incorporate cooked bacon or pancetta for extra savory goodness, stir in some sun-dried tomatoes for a burst of tanginess, or sprinkle fresh herbs like parsley or basil for added freshness and aroma.
Simmer and let flavors meld: After combining the cooked pasta with the sauce, let the dish simmer on low heat for a few minutes. This allows the pasta to absorb the flavors of the sauce, resulting in a more cohesive and flavorful dish.
Garnish for visual appeal: Sprinkle some additional grated Parmesan cheese, chopped fresh herbs, or a drizzle of olive oil on top of the plated pasta for a beautiful presentation. These finishing touches not only add visual appeal but also enhance the overall taste.
Want More Pasta Recipes?
Caprese Pasta Salad
Creamy Cajun Chicken Linguine
Chicken Parmesan Spaghetti Cups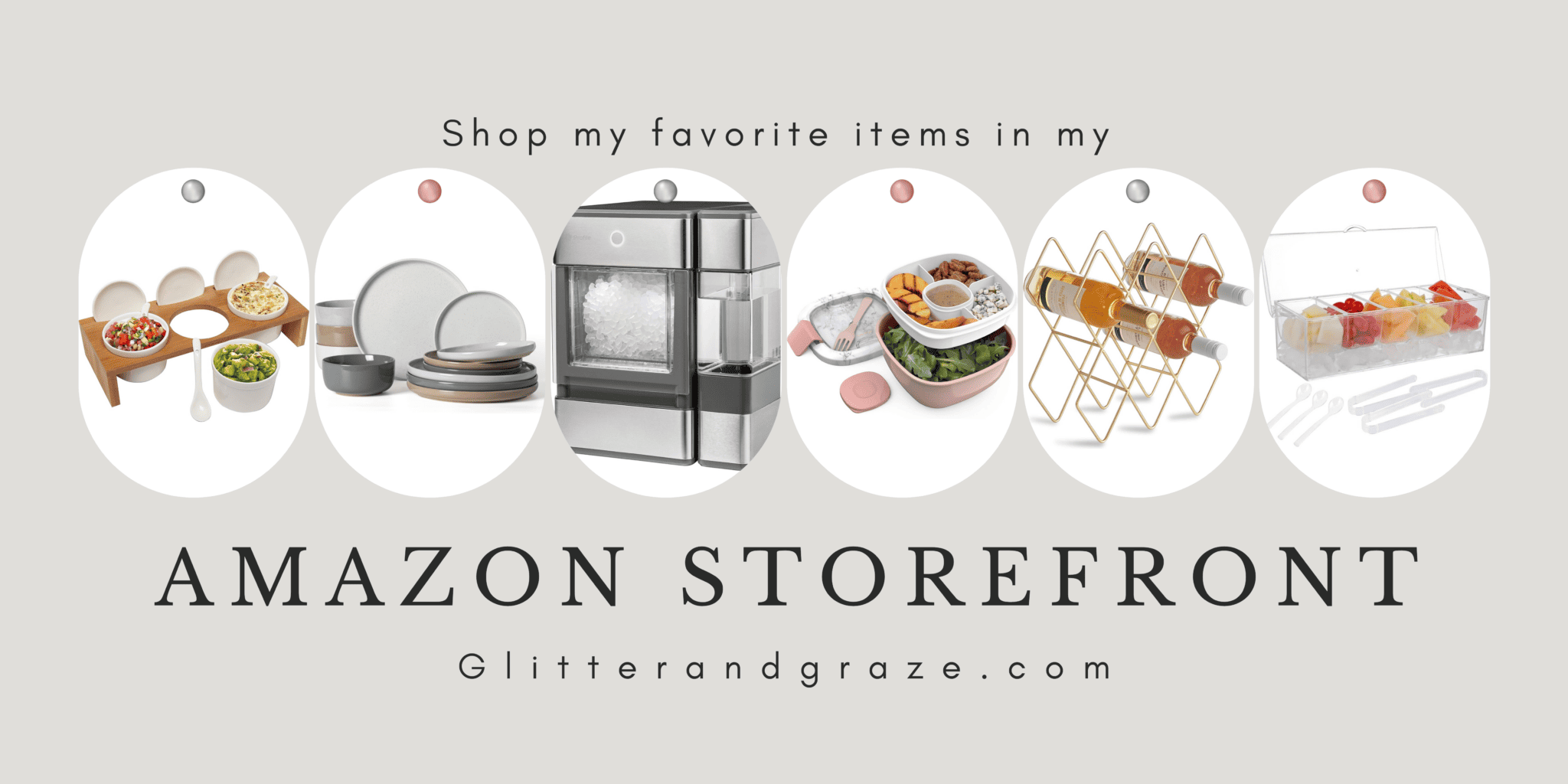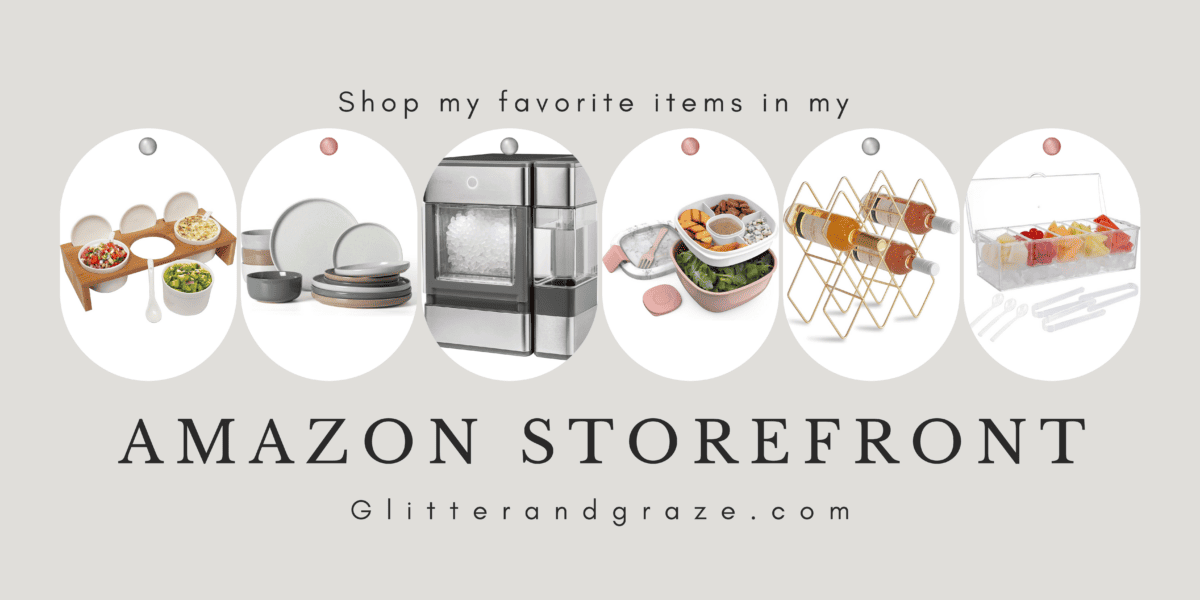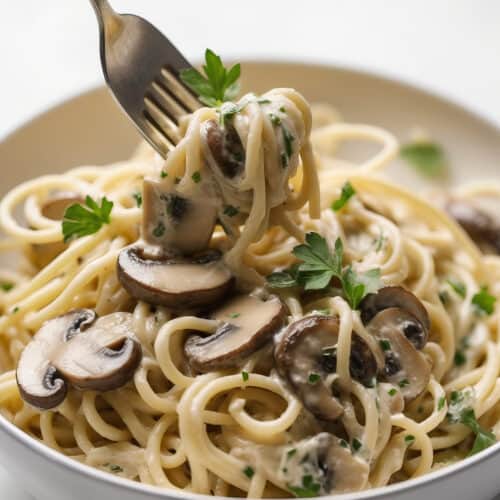 Creamy Mushroom Pasta
Indulge in a creamy symphony of flavors with our delectable Creamy Mushroom Pasta, where every bite is a delight!"
Print Recipe
Ingredients
12

oz

of pasta

1

can of cream of mushroom soup

4

cups

of sliced mushrooms

1/4

cup

chicken broth

1/4

cup

of milk

2

TBSP

olive oil

2

TBSP

grated Parmesan cheese

1

TBSP

Italian seasoning

1/2

TSP

of garlic salt
Instructions
Cook pasta in salted boiling water as directed on the package

Add chicken broth, olive oil and sliced mushrooms in a big skillet over medium high heat for 4 minutes

After mushrooms after cooked add all other ingredients and cook until it bubbles up and reduce to low heat

Once pasta is done cooking drain and add to mushroom mixture for a few minutes
Nutrition
Serving:
1
g
|
Calories:
422
kcal
|
Carbohydrates:
68
g
|
Protein:
15
g
|
Fat:
9
g
|
Saturated Fat:
1
g
|
Cholesterol:
3
mg
|
Sodium:
401
mg
|
Potassium:
542
mg
|
Fiber:
4
g
|
Sugar:
5
g
|
Vitamin A:
70
IU
|
Vitamin C:
3.1
mg
|
Calcium:
86
mg
|
Iron:
2.1
mg