This Fiesta Poblano Dip combines the flavors of poblano cream, corn, beans, rotel, and cream cheese to make the perfect crowd pleasing dip.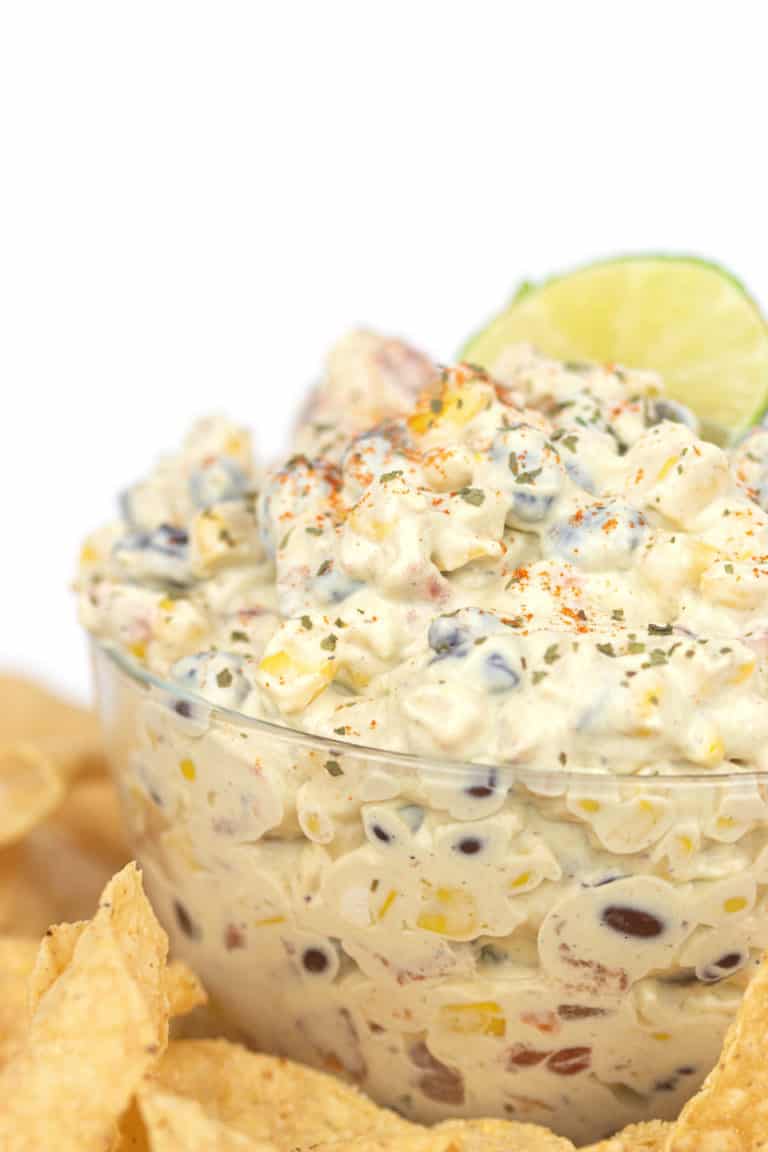 This fiesta poblano dip is an easy "south of the border" themed dip you can whip up in no time perfect for your next get together.
What to Serve with This Dip
Chips– my number one choice would be some tortilla chips. You can never go wrong with tortilla chips
Veggies– Maybe trying to cut the carbs, that's no problem. Serve with some bell peppers, carrots, or zucchini spears
Pita– some soft pita or even pita chips go great with this dip
Crackers– some good crunchy crackers go great with this dip
Other Variations for This Dip:
Bell Peppers– chop up some bell peppers and add it to the dip
Onions– Another great item to chop up and add to the dip
Jalapeno– Wanting a little spice? Chop up some fresh or pickled jalapenos and add it to the dip
Ranch Dressing– Want a little ranch flavor? Add some ranch dressing or ranch dressing seasoning to this dip adding a little at a time until it has the desired taste
Cayenne– Want a little spice, but not from jalapeno? Try adding some cayenne pepper a little at a time until you get the spice you want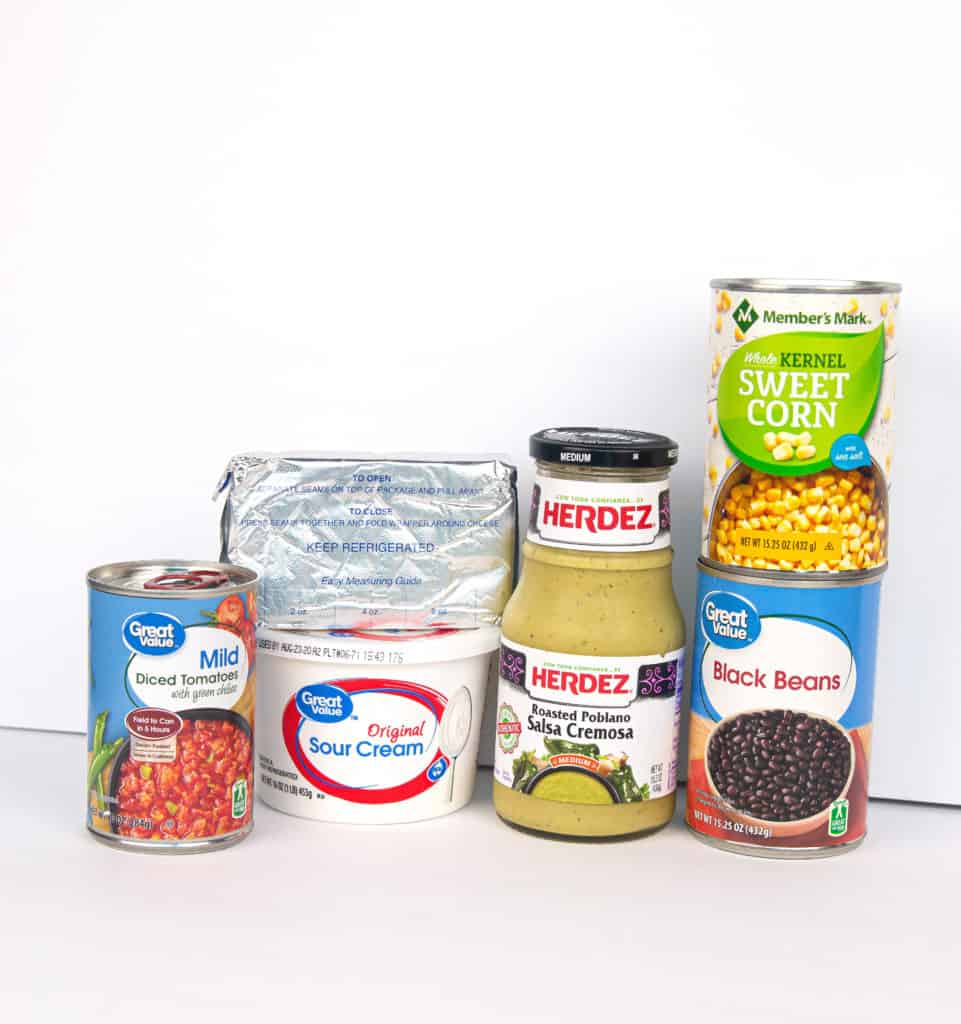 Ingredients for Fiesta Poblano Dip:
Cream Cheese– one block, softened
Sour Cream– Just a bit
Herdez Roasted Poblano Salsa Cremosa– you can pick this up in most grocery stores
Diced Tomatoes and Chilies– You can use the Rotel brand or the generic kind. Be sure and drain the juice
Black Beans– Drained and rinsed
Corn– drained and rinsed
How Long is this Dip Good For?

If stored in an air tight container this dip is good for up to 3 days. So it's for sure a dip you can make ahead of time.
How to Soften the Cream Cheese

I suggest letting it sit out in room temperature for 30-60 minutes. IF you're in a pinch and need it to soften faster you can put it in the microwave in a bowl and microwave it in short burst of 5 seconds until softened.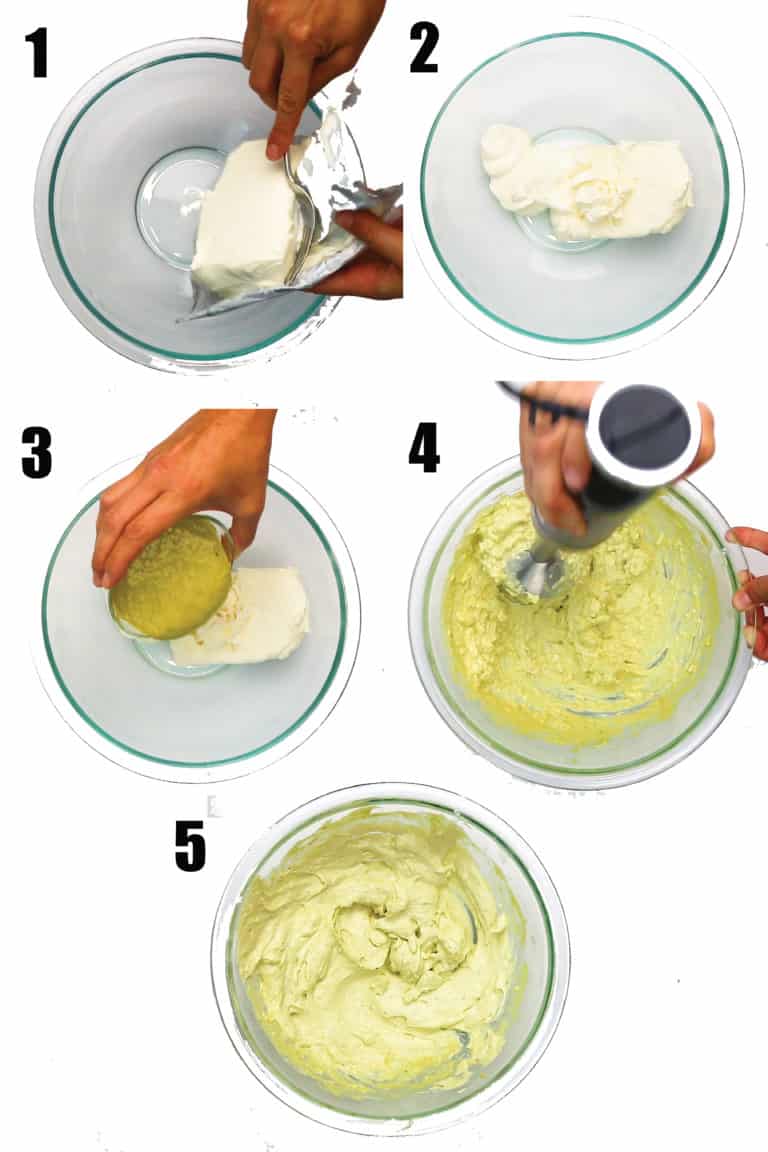 Prepping the Cream Sauce
Take your soften cream cheese and add it to a large mixing bowl (Photo 1) Next add the sour cream to the bowl (Photo 2) and then the Herdez roasted poblano salsa creamosa (Photo 3)
Take a hand mixer (Photo 4) or stand mixer and whip the ingredients together until it's all smooth and mixed (Photo 5)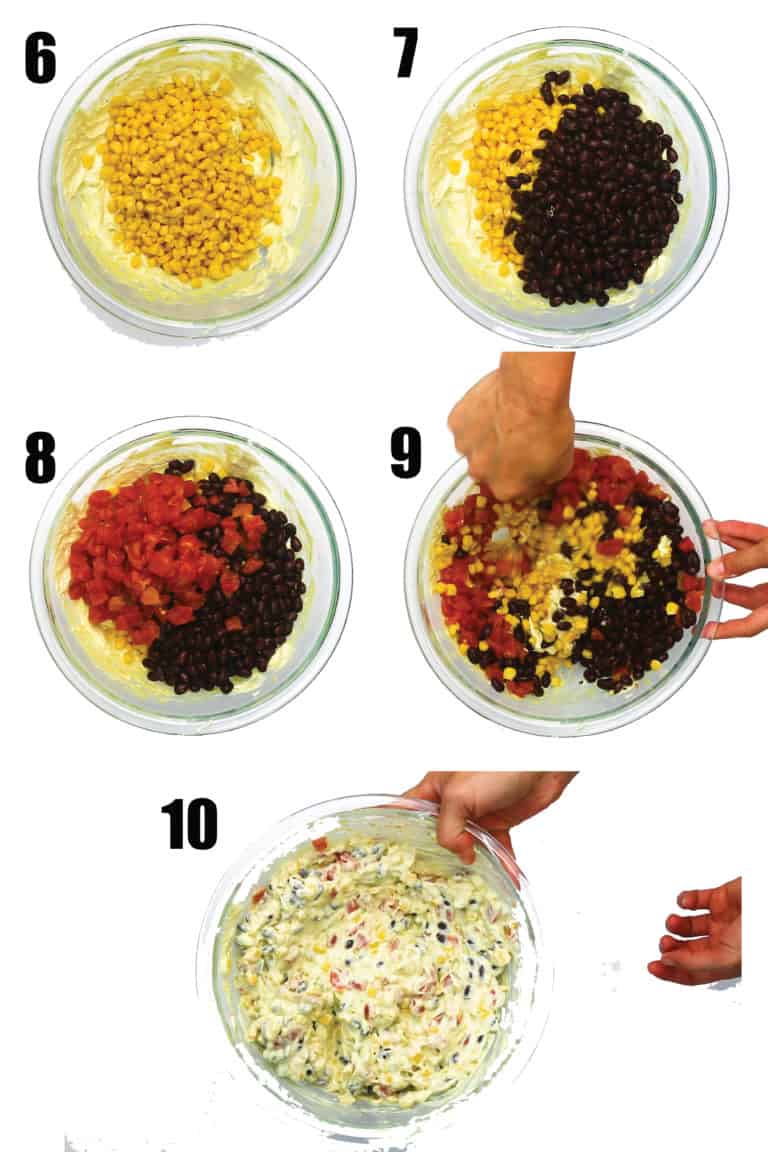 Finishing the Dip
Take your drained and rinsed corn and add it to the dip (Photo 6) then add the drained and rainsed black beans (Photo 7) and then the drained tomatoes and chilies (Photo 8)
Take a large spoon and mix all the ingredients together (Photo 9) until it's completly mixed (Photo 10)
Serve immediately or store in the refrigerator until time to serve. Take it out of the refrigerator at least 30 minutes before eating to soften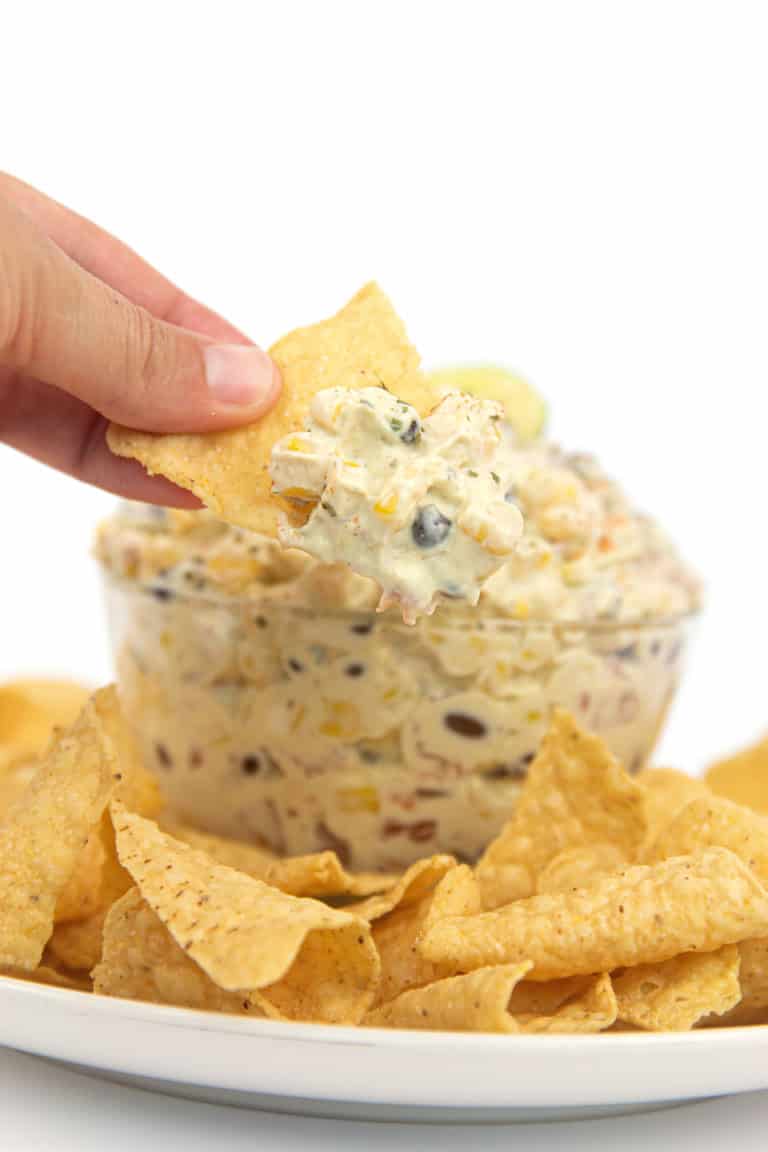 Tips for Fiesta Poblano Dip:
Let your cream cheese soften before trying to mix it. Set out for 30-60 minutes
When mixing the cream cheese, sour cream, and poblano cream use a hand mixer or a stand mixer with the whipping attachment. You aren't going to achieve it completely mixed with a fork like I tried
Use a spoon to mix the tomatoes with chilies, corn and black beans. You do not want to use a mixer because it will smash them
It does harden up when refrigerate so I suggest sitting it out for 30 minutes before ready to eat
Want More Dip Recipes?
Easy Cheddar Bacon Ranch Dip
7 Layer Taco Bean Dip
Frito Chill Pie Dip
Love Dip
Or CHECK OUT all my Appetizer recipes!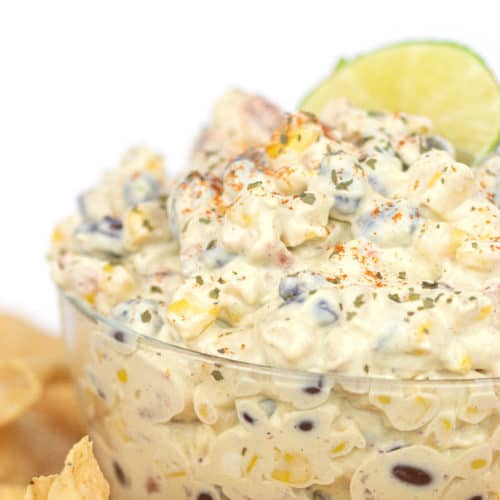 Fiesta Poblano Dip
This Fiesta Poblano Dip combines the flavors of poblano cream, corn, beans, rotel, and cream cheese to make the perfect crowd pleasing dip.
Print Recipe
Ingredients
8

oz

Cream cheese

1/2

cup

Sour Cream

1/2

cup

Herdez Roasted Poblano Salsa Cremosa

1

can

Corn

drained and rinsed

1

can

Black beans

drained and rinsed

1

can

Diced tomatoes with green chilies

drained
Instructions
Take a large mixing bowl and add cream cheese, sour cream, and poblano cream and mix with a hand mixer

Next add the corn, black beans, and diced tomatoes with green chilies and mix together with a spoon

Serve then or cover and refrigerate. Take out of the refrigerator 30 minutes before serving
Notes
Let your cream cheese soften before trying to mix it. Set out for 30-60 minutes
When mixing the cream cheese, sour cream, and poblano cream use a hand mixer or a stand mixer with the whipping attachment. You aren't going to achieve it completely mixed with a fork like I tried
Use a spoon to mix the tomatoes with chilies, corn and black beans. You do not want to use a mixer because it will smash them
It does harden up when refrigerate so I suggest sitting it out for 30 minutes before ready to eat
Nutrition
Serving:
0.5
cup
|
Calories:
249
kcal
|
Carbohydrates:
23
g
|
Protein:
7
g
|
Fat:
16
g
|
Saturated Fat:
8
g
|
Cholesterol:
39
mg
|
Sodium:
108
mg
|
Potassium:
379
mg
|
Fiber:
4
g
|
Sugar:
5
g
|
Vitamin A:
665
IU
|
Vitamin C:
8
mg
|
Calcium:
69
mg
|
Iron:
2
mg