This orzo vegetable salad is a perfect
light side dish. This pairs great with a fish or chicken main. Quick and easy to whip up.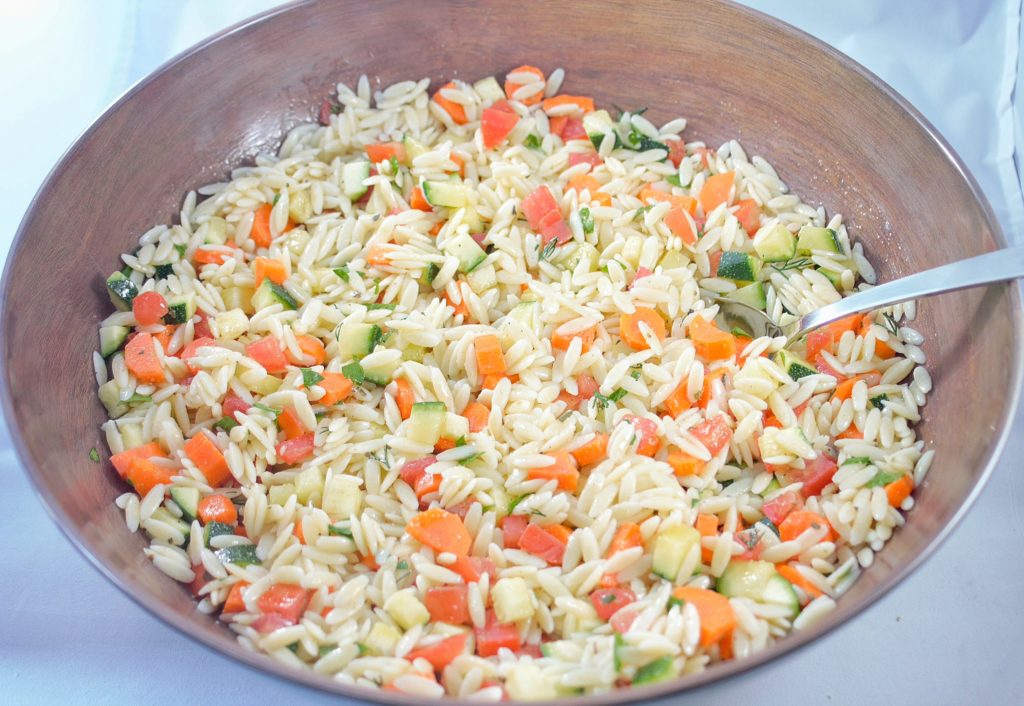 Oh orzo. How we love thee. It's such a light pasta to work with. It doesn't even seem like pasta to me. I mean it looks like a big grain of rice honestly. But you will not find orzo in the grain section of the grocery store. Go straight to the pasta section.
The inspiration for this dish comes from my favorite grocery store of all time. Central Market. They have this great big pre made food section. You just pick out the items you want, how much you want and take it home and heat up and enjoy. They have so much to choose from.
They also have these great dinners to go that come with one main meat and two sides. The one I love is the salmon filet with sauteed spinach and cold orzo vegetable salad. It's a perfect portion size and it's only 450 calories for the whole meal.
Then I thought to myself I need to figure out how to make this salad myself. There was only one thing I didn't particular like about their recipe. They add mint to it and a lot. Don't get me wrong, I enjoy mint, but not for this dish. So naturally I did not want mint in my version and decided dill sounded so much better. Of course they don't give out the recipe for this so creating this recipe took a lot of taste testing.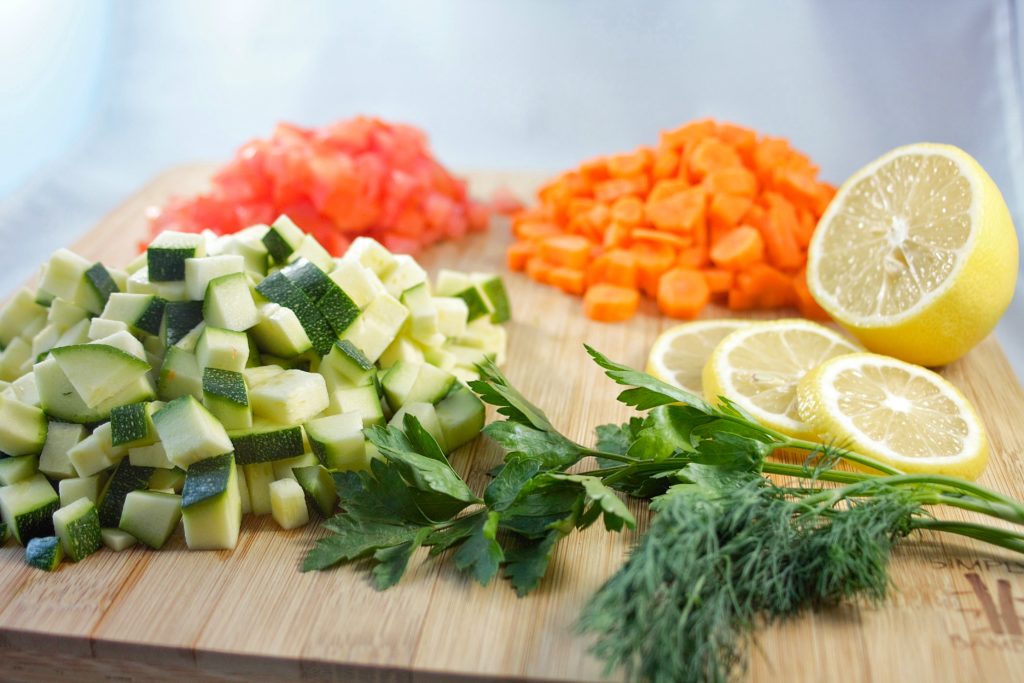 One thing I need to start telling myself is stop buying pasta that comes and packaged in Italy because I can never read the directions. Not only is it in Italian its in metric measurements. Fortunately we have this wonderful thing called google.
Cooking orzo is just like cooking any other pasta. For this recipe do not add any oil to the water you're going to boil your orzo in. I usually add olive oil when I'm cooking any other pasta, but since this is a cold salad skip the oil, for now at least. Still add salt to the pasta water.
Another good tip for after you cook your orzo is rinse it in cold water in a strainer. This helps from the pasta sticking together. It also helps cool down the pasta which is a plus since this is a cold salad.
You want to chop up all your veggies in small pieces. Not micro sized pieces, but small. As far as the parsley and dill goes you want to use fresh instead of dried. There is just so much more flavor when they are fresh. Chop them up real good.
So originally I tried using olive oil instead of using so much canola oil and oh no. I love using olive oil and use it on just about everything, but on this recipe canola works so much better. The olive oil was just too strong of flavor for this light pasta salad.
Now mix all your ingredients all together in a big bowl. Personally I feel if you let this salad marinated overnight the orzo soaks all the juices and the taste is so much better. Just cover and refrigerate until you are ready to serve.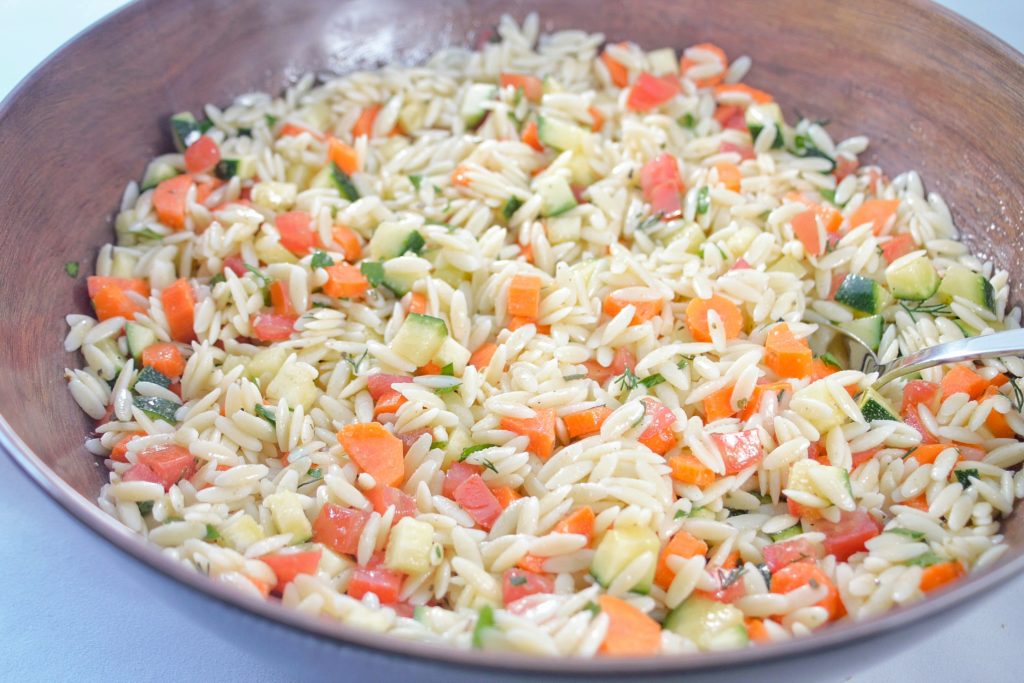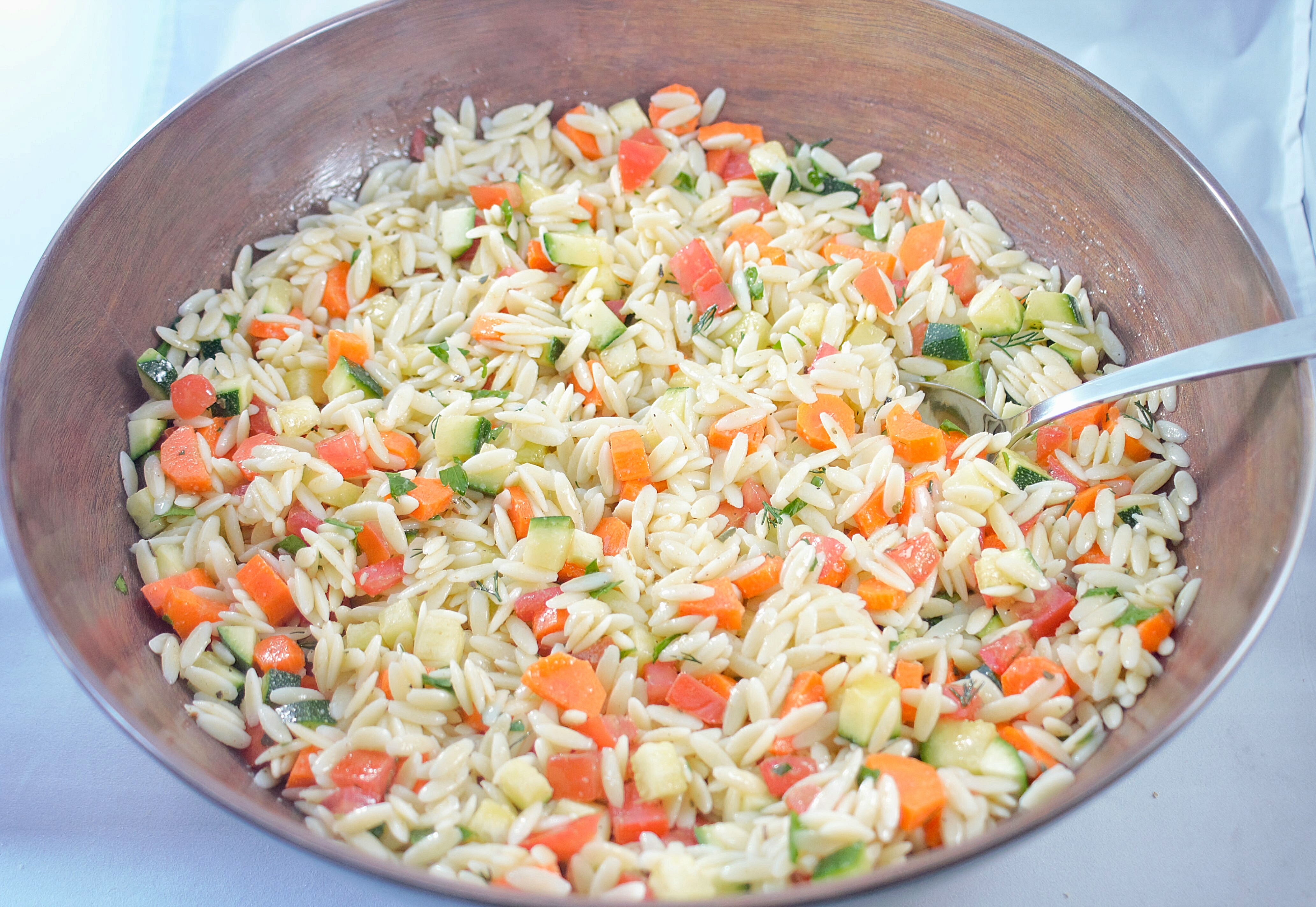 Orzo Vegetable Salad
This orzo vegetable orzo salad is a perfect light side dish. This pairs great with a fish or chicken main. Quick and easy to whip up.
Print Recipe
Ingredients
1 1/2

cups

orzo

1 1/2

cups

chopped zucchini

1

cup

chopped carrots

1

cup

chopped tomato

1/2

cup

canola oil

4

TBSP

of lemon juice

2

TBSP

chopped fresh parsley

2

TSP

chopped fresh dill

4

TSP

red wine vinegar

1

TSP

coriander

1

TSP

salt

1

TSP

pepper

1

TSP

garlic powder

1/2

TSP

oregano
Instructions
Cook orzo pasta in a pot of boiling salted water approximately 10 minutes

While orzo is cooking chop up all your vegetables in small pieces and your herbs chopped fine

Drain orzo in a strainer running cold water over orzo

Add all ingredients in a big bowl and mix together well

For best results cover and refrigerate until ready to serve
Nutrition
Serving:
1
cup
|
Calories:
331
kcal
|
Carbohydrates:
34
g
|
Protein:
6
g
|
Fat:
19
g
|
Saturated Fat:
1
g
|
Sodium:
465
mg
|
Potassium:
331
mg
|
Fiber:
2
g
|
Sugar:
4
g
|
Vitamin A:
3780
IU
|
Vitamin C:
16.7
mg
|
Calcium:
34
mg
|
Iron:
1.2
mg