This chipotle chicken sandwich is a chicken sandwich with a little kick.  Perfect blend of fresh vegetables, chicken, cheese, and a spicy
chipotle mayo sauce that will please your taste buds.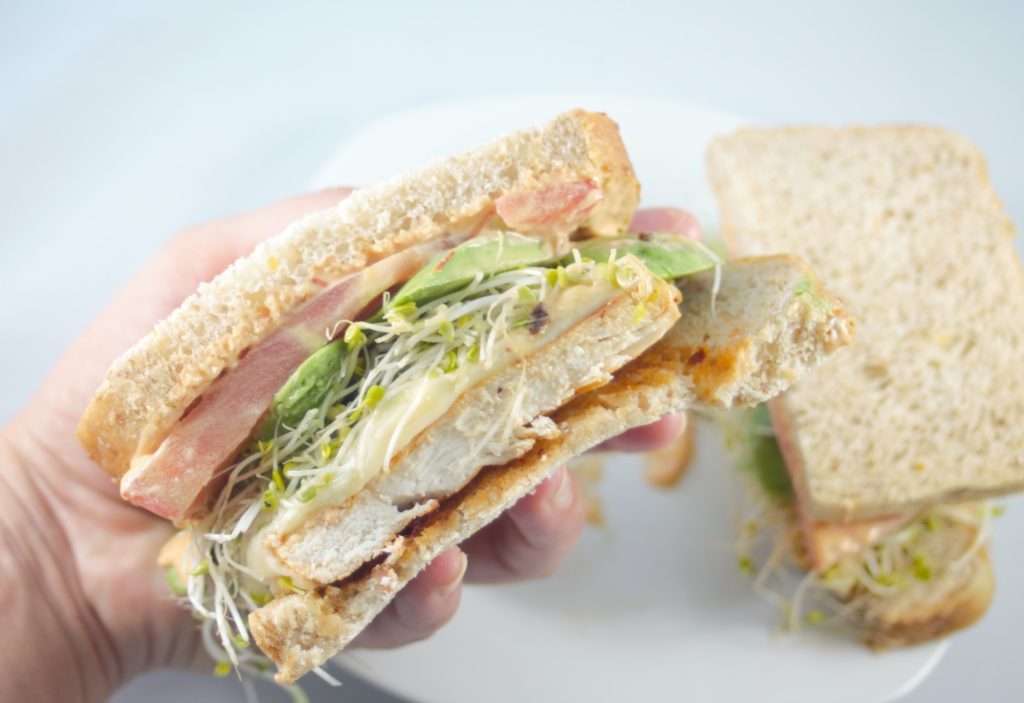 Disclaimer: Please note that some of the links below are affiliate links in which I will receive a commission if you purchase those items through that link. I used and recommend all the products below because I have found the company and products are reliable and are my personal preference.
How often do you have a sandwich for lunch? I love sandwiches and eat them all the time. It doesn't even have to be at lunch time either. Breakfast, lunch, or dinner I'm good to go with a sandwich. Just something about two pieces of carbs filled with meat, cheeses, and veggies. Oh and sauce. Can never forget the sauce.
With most of my meals I like something in it that gives it a little kick. Usually for me that's something spicy. Not over bearing type spicy, but a nice subtle type spice. That's why I decided chipotle peppers were perfect for this sandwich.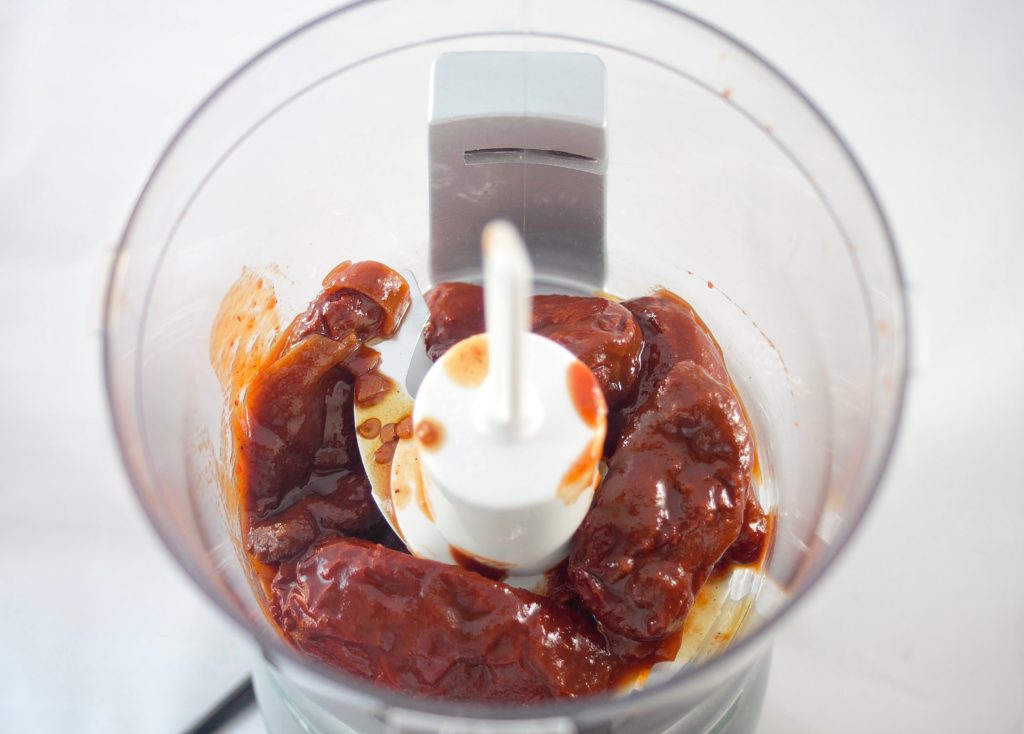 If you go down the grocery store aisle where you'd find the salsa and taco kits at you will find small cans of chipotle in adobo sauce. These adobo soaked chipotle peppers are so yummy.
Just grab the peppers out of the can and put them in your food processor and grind, grind, grind. Lookie there, now you have a a spreadable chipolte sauce.
So let me tell you about my Cuisinart 5-in-1 Griddler. I LOVE this thing. I got this gem at my bridal shower about two years ago. It was something on my registry I REALLY wanted. This griddler is so easy to use and you don't even have to go outside to use it.
Not only does this griddler have the grill side plates you can also flip over the plates and use the smooth side for such things as cooking eggs or bacon. This is the best panini maker ever too. I highly recommend this grill.
You want to make sure you're not using a too thick piece of chicken. The thicker the meat the thicker the sandwich and we already have a list of items to stack on this sandwich. If you happen to only have thick pieces of chicken cut it in half long ways. Now you will have chicken for two sandwiches.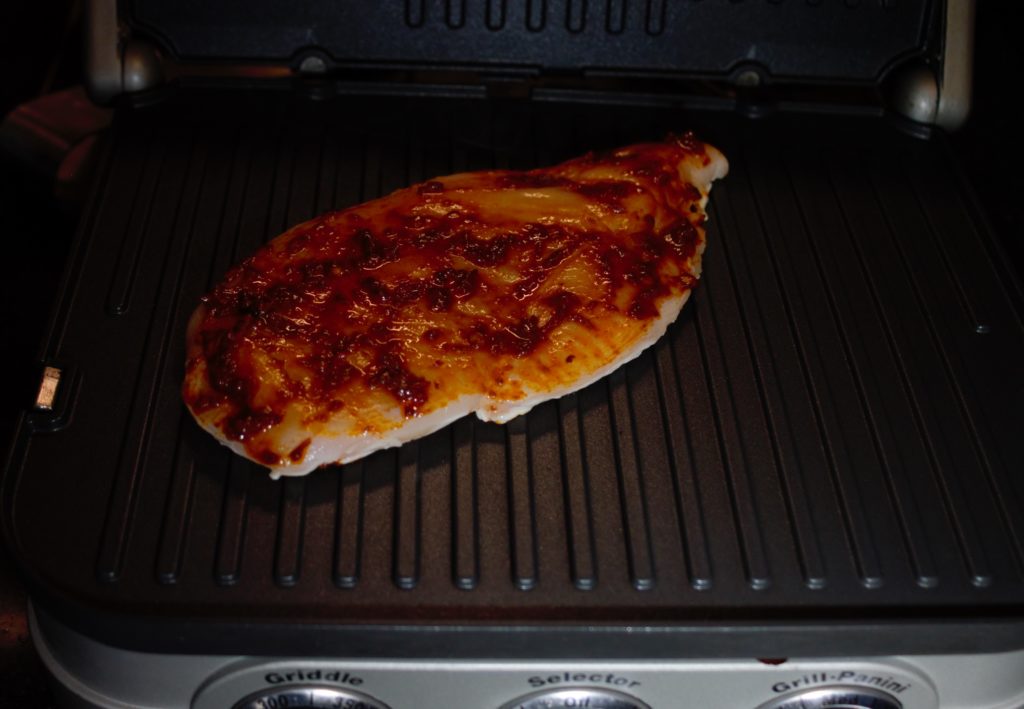 Now take your chicken breast and rub both sides with you chipotle spread. Be sure your griddler is on high and comes to temperature before adding your chicken. Add your chicken to your griddler and close shut. Let it cook for 8-10 minutes.
If you don't have a griddler you can cook in the oven at 350 degrees until chicken is cooked through fully.
While your chicken is cooking you can make your chipotle mayo. This is some serious good stuff. Just add your ingredients together and stir. I like to cover this and put in the refrigerator until it is time to use it.
After your chicken is done cooking open the lid and add your slice of cheese on top. To melt the cheese faster grab a lid from one of your stove top pans and place over chicken. This locks in the heat and melts the cheese much faster.
I like to use the chipotle spread on both pieces of bread. Yes, I'm one of those people who ask for extra sauce. The more the better.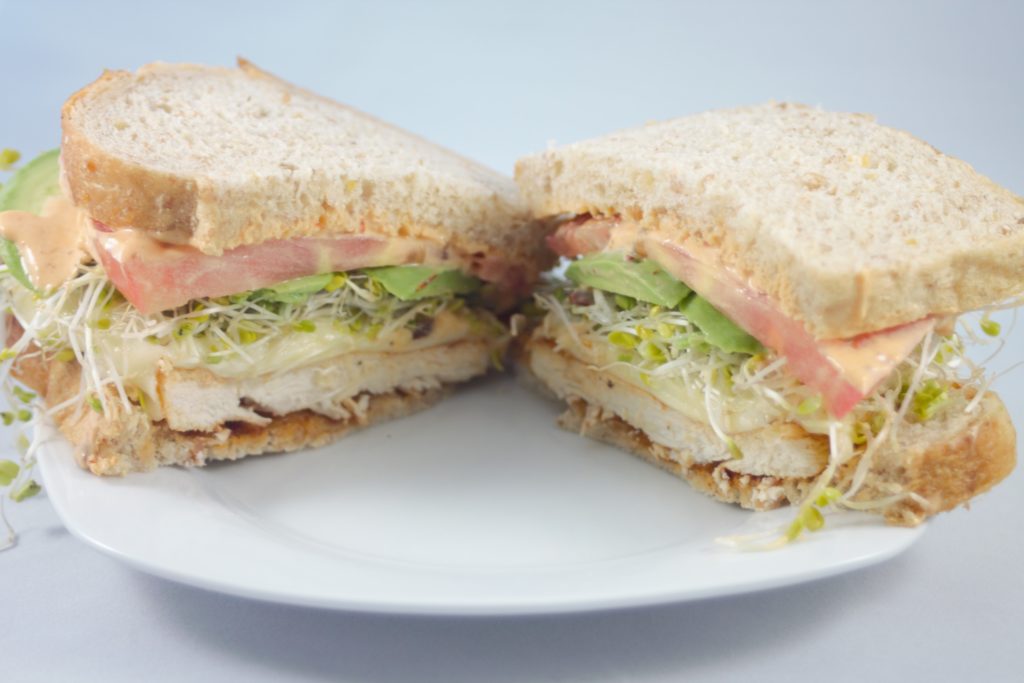 The bread I used for this sandwich was a honey grain oat. I'm fortunate enough to have a grocery store that makes fresh bread everyday and has over 50 different kinds to choose from. They always give out samples of over 10 different kinds each day. I try to have some self control and only taste 2 or 3.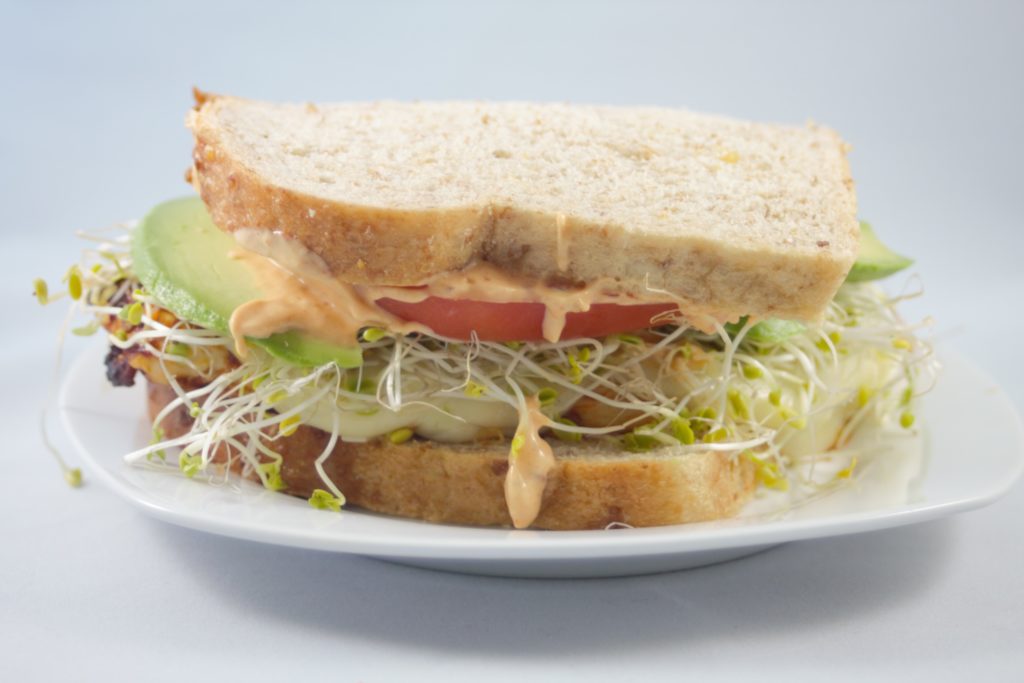 Now just build your sandwich. Chicken, cheese, avocado, tomato, sprouts, and chipotle spread all between two pieces of bread. And now eat and enjoy.
With your left over chipotle mayo store in an air tight container and store in the refrigerator for up to a week.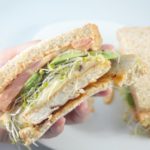 Print Recipe
Chipotle Chicken Sandwich
This chipotle chicken sandwich is a chicken sandwich with a little kick. Perfect blend of fresh vegetables, chicken, cheese, and a spicy chipotle mayo sauce that will please your taste buds.
Ingredients
1

chicken breast

2

slices

of bread

1/2

sliced avocado

1

slice

of tomato

1

cup

bean sprouts

1

small jar of chipotle peppers in adobo sauce

2

slices

of provolone cheese
Chipotle Mayo
1/2

cup

mayo

1

TBSP

grinned chipotle peppers

1

TSP

lime juice

1/4

TSP

minced garlic

1/4

TSP

sugar

1/4

TSP

red wine vinegar

pinch

of salt
Instructions
Plug in griddler in and set to high heat or preheat oven to 350

Take chipotle peppers out of jar and put in food processor and grind well

Take 1 TBSP of chipotle and spread on both sides of chicken

Cook the chicken with lid close on griddler or in oven for 8-10 minutes until fully cooked

Mix all ingredients for chipotle mayo together cover and refrigerate

When chicken is cooked add cheese on top and allow to melt.

Spread chipotle mayo on bread and layer with chicken, avocado, tomato, and sprouts
Nutrition
Nutrition Facts
Chipotle Chicken Sandwich
Amount Per Serving (1 g)
Calories 1451
Calories from Fat 1062
% Daily Value*
Fat 118g182%
Cholesterol 158mg53%
Sodium 1828mg79%
Potassium 1303mg37%
Carbohydrates 49g16%
Protein 50g100%
Vitamin A 1690IU34%
Vitamin C 30.4mg37%
Calcium 526mg53%
Iron 4.8mg27%
* Percent Daily Values are based on a 2000 calorie diet.