With this pine nut pesto you can have a little bit of Italy right in your own kitchen. Only 6 ingredients and 7 minutes is all you need for this tasty recipe.
I would say pesto is about as Italian as you can get. The word pesto translated in Italian basically means "to crush" or "to pound" which is what you are basically doing making this recipe.
What is pesto used for?
This list could get really long because there are so many things this pine nut pest goes great with, but just to name a few;
Pasta– this would be the #1 I would say. Just cook some pasta and toss with some pesto and be delighted. Here's a creamy pesto gnocchi recipe to check out.
Marinade– such has chicken or shrimp
Pizza– either dolupe some on some margarita pizza or replace the red sauce completely with pesto
Sandwiches– this is a great spread to substitute for mayo or even to add with mayo
Vegetables– toss with some veggies or potatoes and bake and serve along side your favorite dinner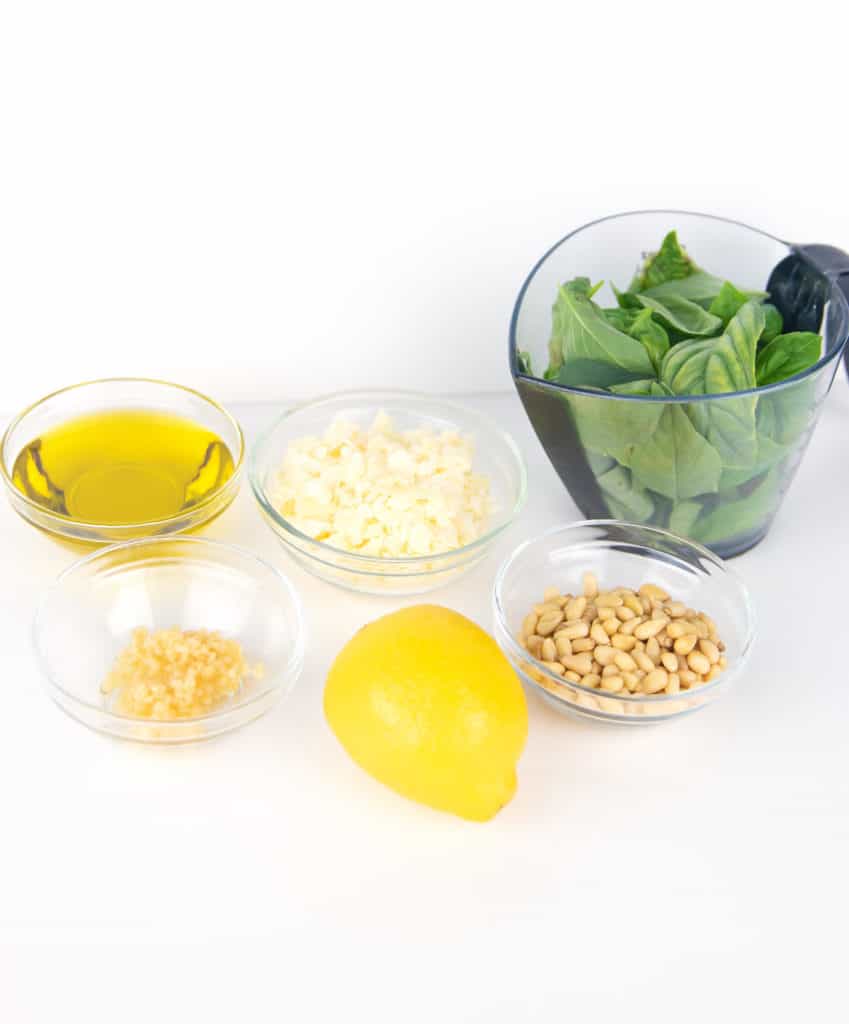 What ingredients you need
Fresh Basil– because you can't make basil pesto without it. I used basil out of my indoor garden, but they sale it at the store either cut or a small indoor plant

Parmesan Cheese– I suggest using fresh Parmesan with just buying a block of it and grated it or shaving it. If you don't have time or access to fresh you can use already grated or shaved.

Pine Nuts- you can find them in the nut aisle or baking aisle of the grocery store usually in a bag

Garlic– fresh garlic cloves are great for this recipe, but if you forget to get some like I did minced canned garlic works great too

Lemon– you will need the juice form the lemon and also zest from the lemon
Olive oil– because not only is it an Italian staple it makes it where the pesto is spreadable and not just chunky
How to make Pine Nut Pesto
Start with fresh basil leaves and adding them to a food processor (Photo 1) Then add fresh Parmesan cheese (Photo 2) pine nuts (Photo 3), olive oil (Photo 4), minced garlic (Photo 5), lemon juice (Photo 6), and lemon zest (Photo 7) all to the food processor.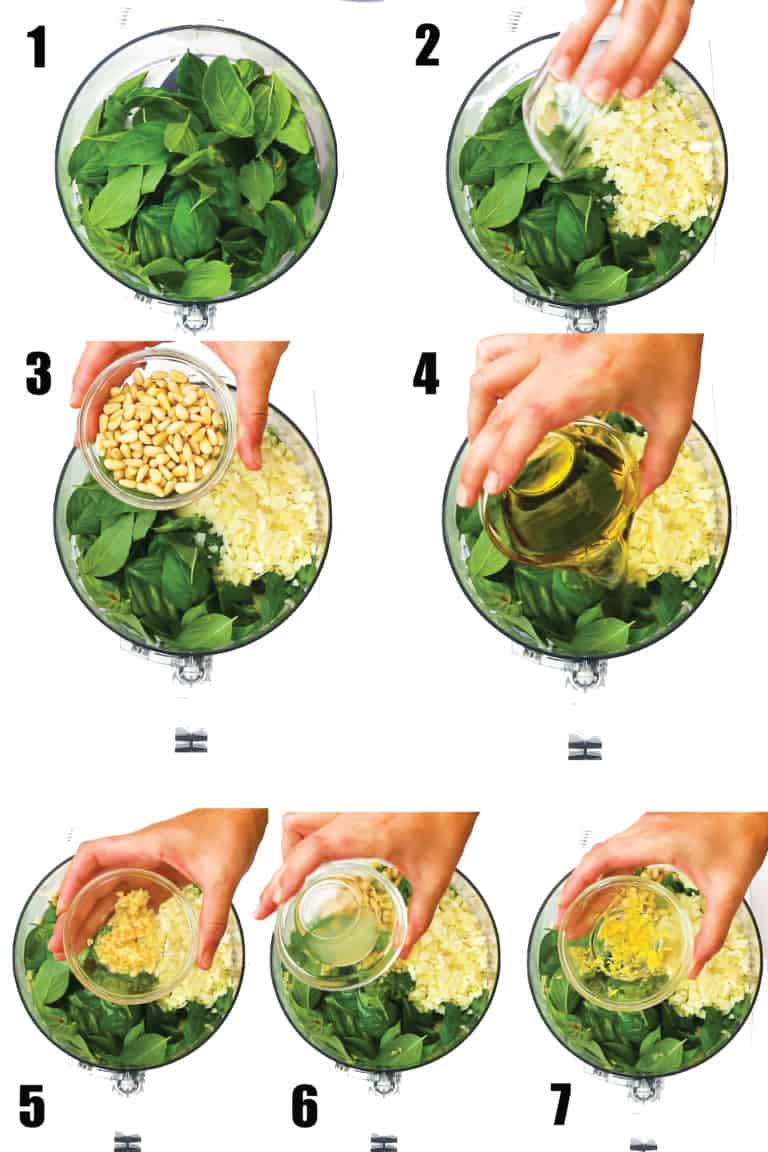 Add the lid to the food processor (Photo 8) and turn on the food processor and blend (Photo 9) Stop the processor and take the lid off and scrape down the sides of the bowl (Photo 10)
Put the lid back on and blend, blend, blend until it is all good (Photo 11) Set the pesto aside until it is needed.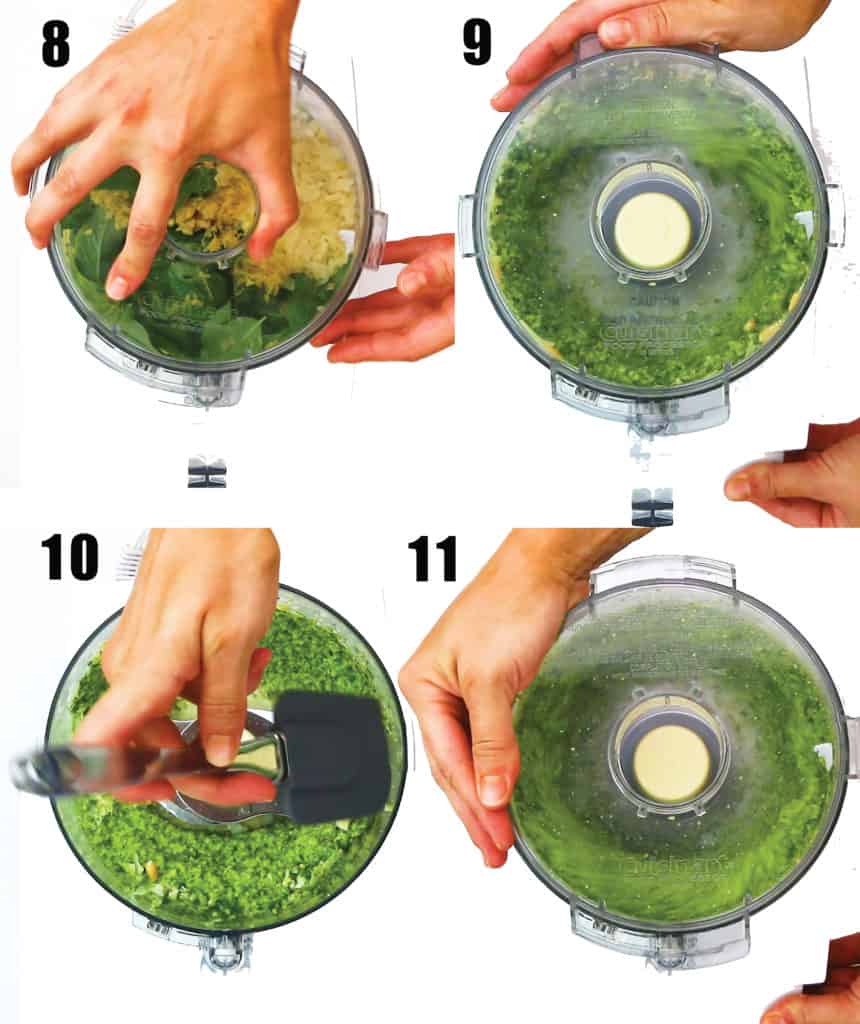 Tips for this recipe
I suggest using fresh Parmesan cheese either grating or shaving off a block of Parmesan because it is more flavorful when straight off the block.

I used canned minced garlic for this recipe but fresh garlic cloves I believe taste a little better. Either will do
You can toast your pine nuts on the stove top over medium-low heat in one even layer until they reach a golden color. This enhances the nut flavor
You can store this pine nut pesto in an air tight container for 4-5 days in the refrigerator
You can freeze the pesto in ice cubes trays and then transfer to a freezer bag and freeze up to 6 months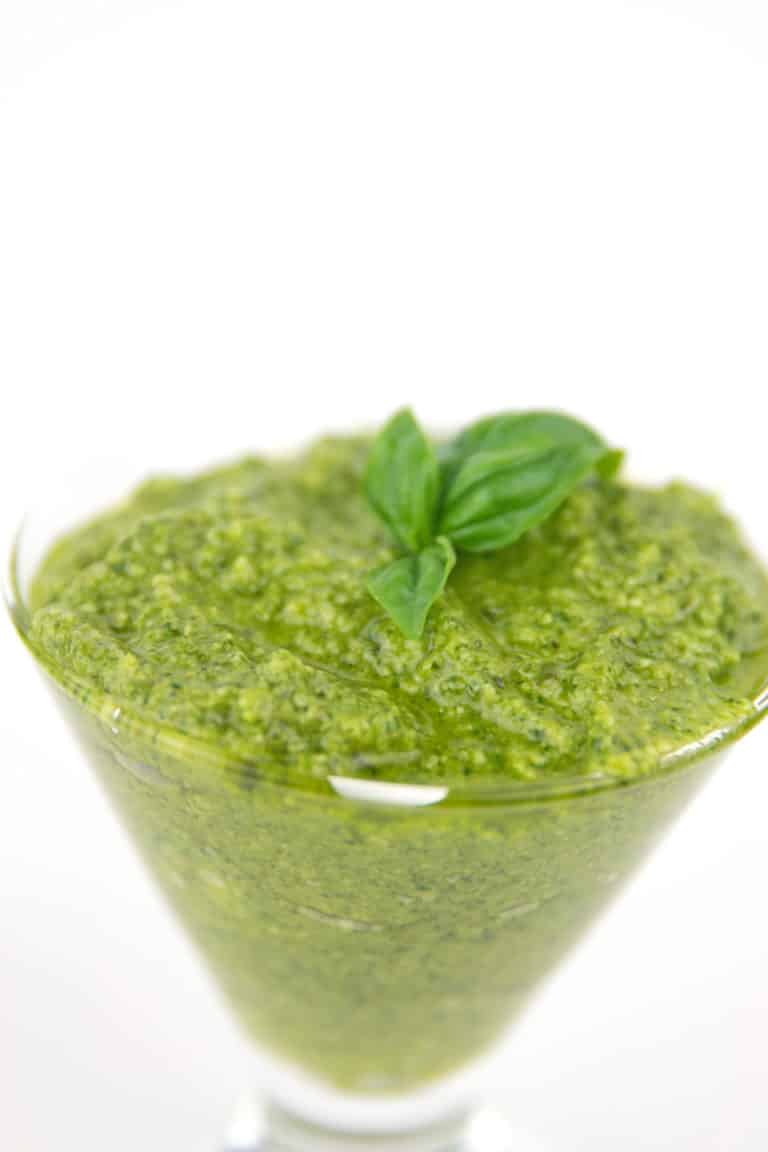 Other Italian recipes to try
Creamy Pesto Gnocchi
Chicken Parmesan
Lasagna without Ricotta
Garlic Bread
Pepperoni Bruschetta
Or check out all my Entrees recipes to find your next dinner
Did you make this recipe? Then give a star rating below and tag your picture on Instagramwith #glitterandgraze
Pine Nut Pesto
With this pine nut pesto you can have a little bit of Italy right in your own kitchen. Only 6 ingredients and 7 minutes is all you need for this tasty recipe.
Print Recipe
Ingredients
2

cups

fresh basil leaves

1/3

cup

Parmesan cheese

1 1/2

tsp

minced garlic

1/4

cup

pine nuts

1 1/2

tsp

lemon juice

1

tsp

lemon zest

1/3

cup

olive oil
Instructions
Add basil, Parmesan cheese, pine nuts, minced garlic, lemon juice and zest, and olive oil to a food processor

Add the food processor lid and blend

Scrape down the inside of the bowl down and then blend again until smooth
Notes
I suggest using fresh Parmesan cheese either grating or shaving off a block of Parmesan because it is more flavorful when straight off the block.
I used canned minced garlic for this recipe but fresh garlic cloves I believe taste a little better. Either will do
You can toast your pine nuts on the stove top over medium-low heat in one even layer until they reach a golden color. This enhances the nut flavor
You can store this pine nut pesto in an air tight container for 4-5 days in the refrigerator
You can freeze the pesto in ice cubes trays and then transfer to a freezer bag and freeze up to 6 months
Nutrition
Serving:
0.833
cups
|
Calories:
507
kcal
|
Carbohydrates:
4
g
|
Protein:
9
g
|
Fat:
52
g
|
Saturated Fat:
8
g
|
Cholesterol:
11
mg
|
Sodium:
269
mg
|
Potassium:
171
mg
|
Fiber:
1
g
|
Vitamin A:
1395
IU
|
Vitamin C:
7.8
mg
|
Calcium:
240
mg
|
Iron:
2
mg