Marinated Tomato Caprese Salad
This tasty marinated tomato caprese salad is so simple to make and is packed with flavor. This is great as an appetizer, snack or even for a light meal.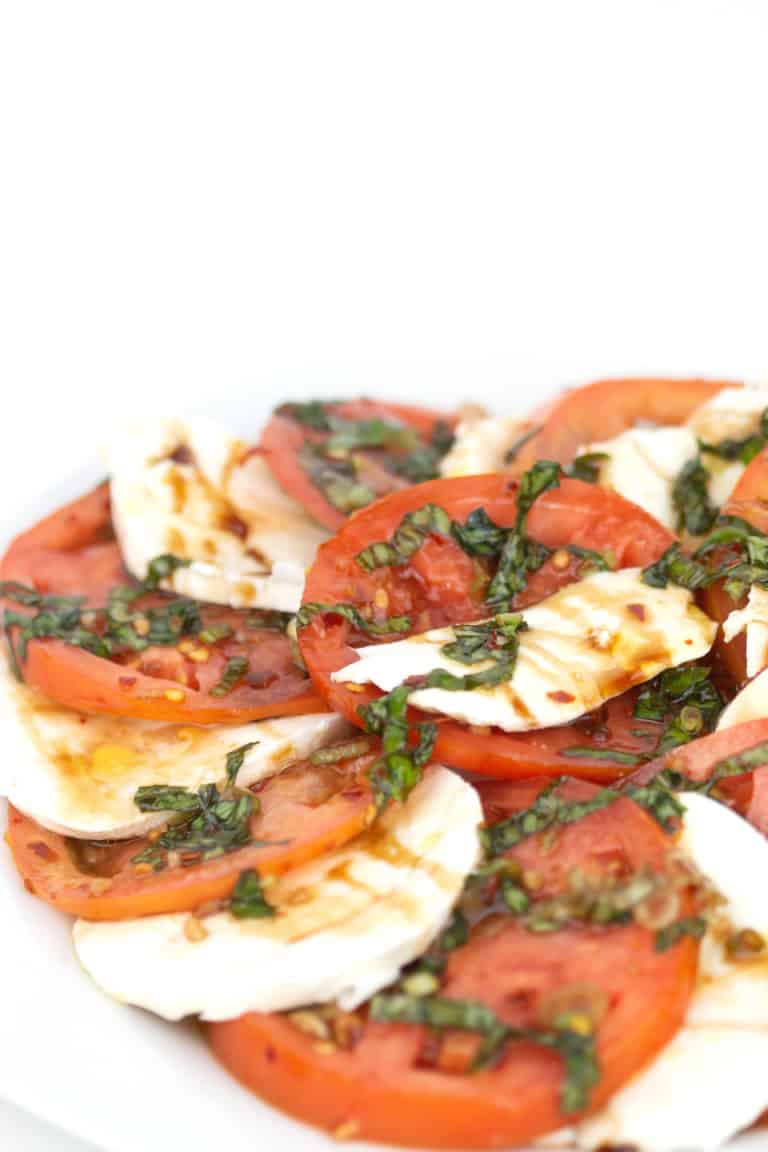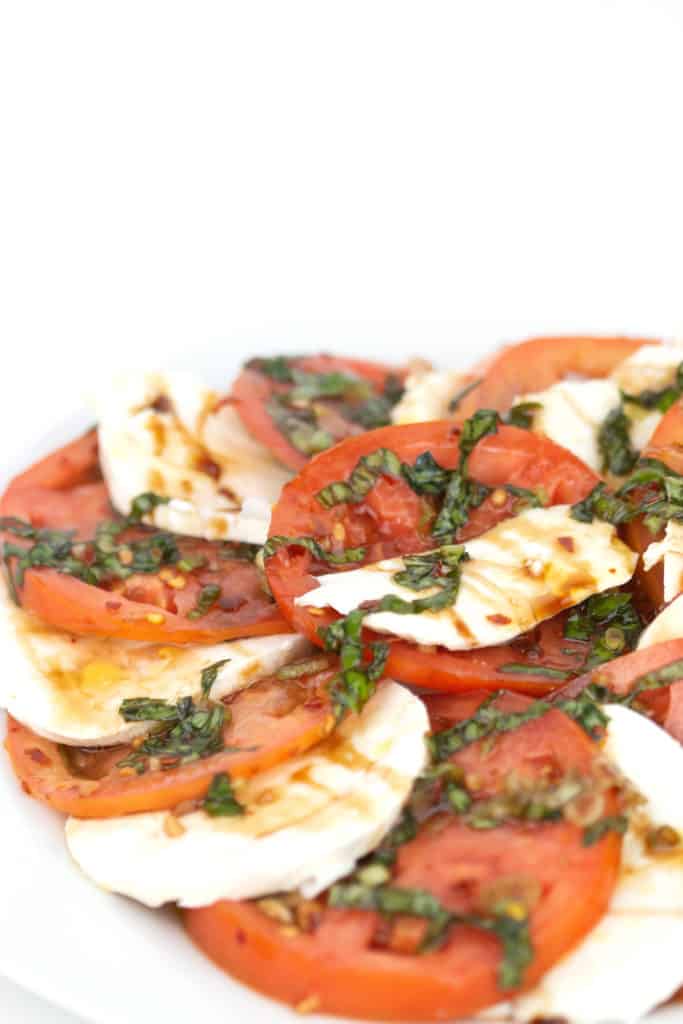 What is a caprese salad?
Caprese salad or aka " Insalata caprese" in Italian, means "salad of Capri." A tomato caprese salad consists of Mozzarella, tomatoes, basil, olive oil, and some salt and pepper. Over the years other ingredients such as balsamic vinegar has been added to the recipe.
It is literally one of the simplest salads ever. Just layer slices of tomatoes and mozzarella, throw some basil and olive oil on top and you're good to go. But with this recipe I wanted to add a few more ingredients to give it a little more flavor.
Here is a great article on the 3 secrets of a perfect caprese salad where the author goes in to depth about choosing your ingredients to prepare this tomato caprese.
What ingredients you need
Tomatoes– I like to use beef steak tomatoes because they are large and are about the same circumference as the mozzarella. Regular vine tomatoes work too
Fresh Mozzarella Cheese– you can buy this about any grocery store it comes in a baseball like form.
Basil– Fresh, fresh, fresh. It makes all the difference. You can buy it in bunches at the store or if you grow your own like me and just pick it out of your garden when you're ready to make your marinate
Green Onions– I do like to use parts of the white part of the onion and the green
Garlic– Fresh is always best
Balsamic Vinegar– because you can't have a caprese salad without it
Red Wine Vinegar– because I think it's such a great flavor. I think this ingredient is pretty important
Olive Oil– because what marinate goes without oil?
Red Pepper Flakes– this gives a little kick to the marinate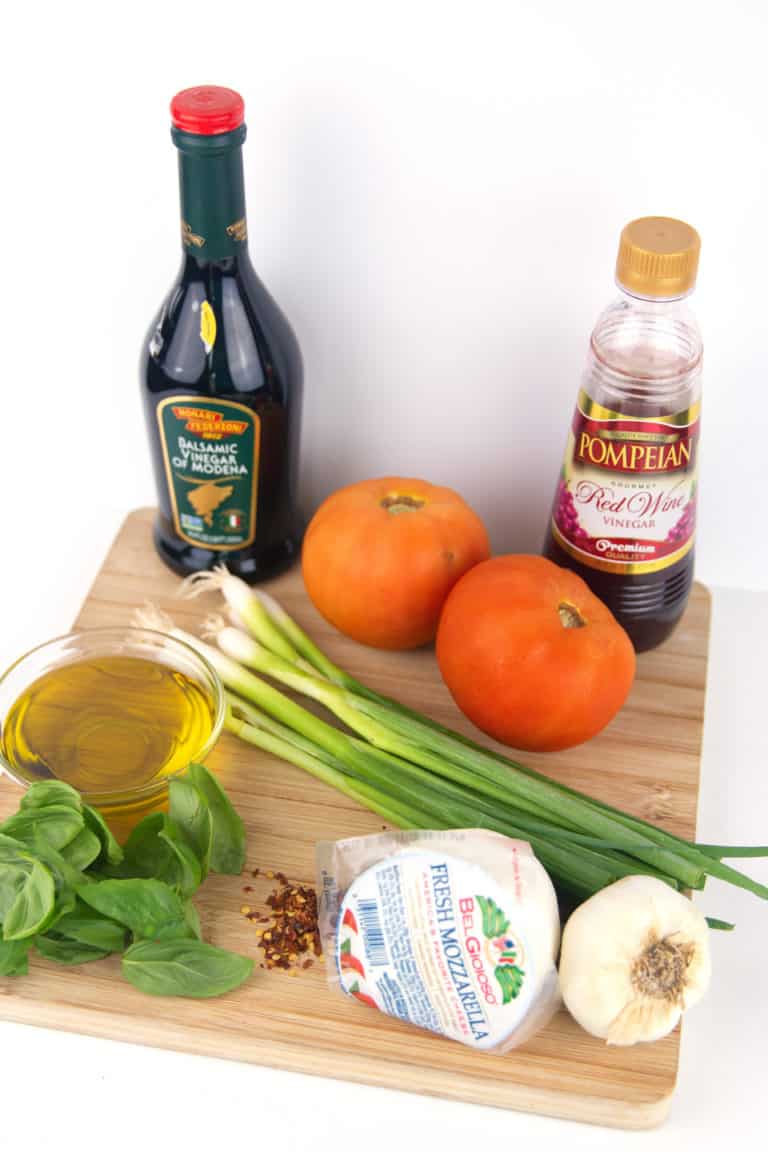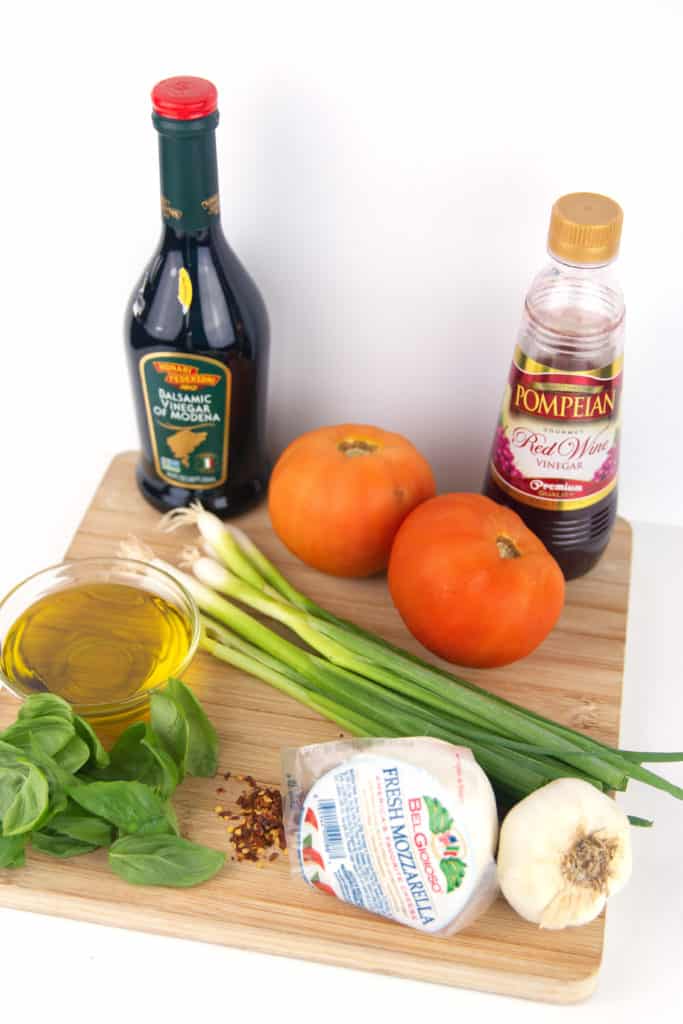 How to make the marinate
Start by adding olive oil to a medium sized bowl (Photo 1) then add the balsamic vinegar (Photo 2) and then the red wine vinegar (Photo 3)
Next add the red pepper flakes to the bowl (Photo 4) and then the minced garlic (Photo 5) then the chopped green onions (Photos 6) and last the chopped fresh basil (Photo 7)
Stir everything in the bowl really well (Photo 8) Once mixed well set the bowl aside until ready to use (Photo 9)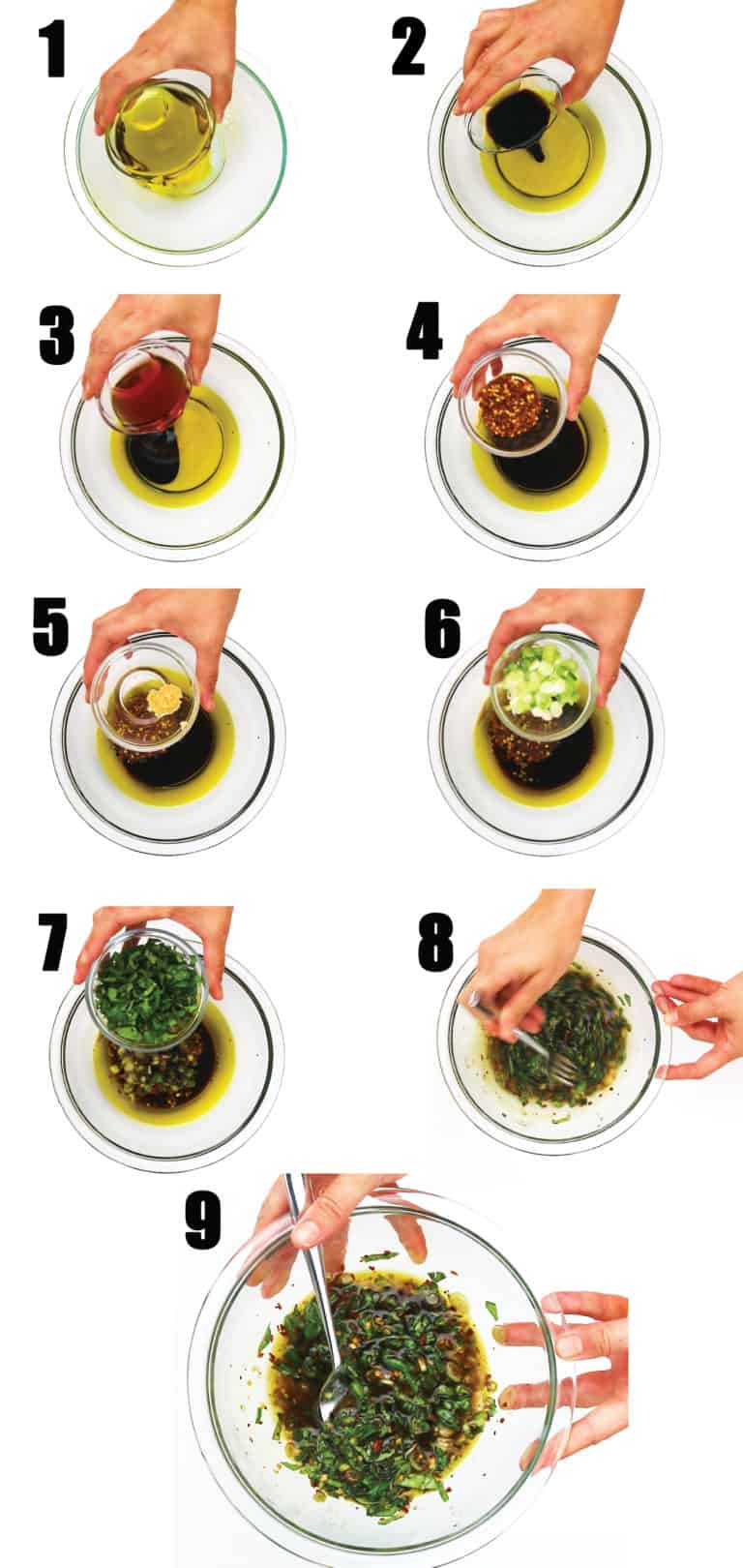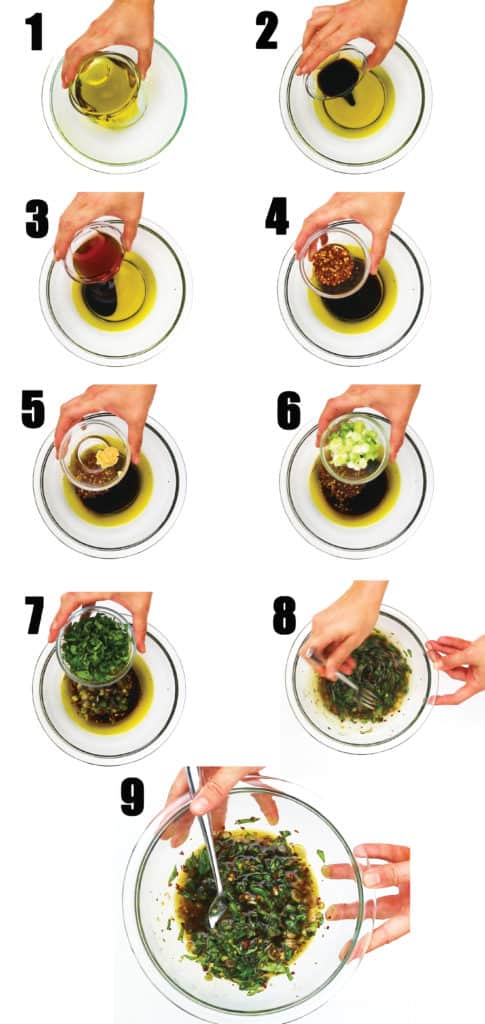 Marinating the tomatoes
Take your tomatoes and slice them between 1/8-1/4 inch thick (Photo 10) Next take a casserole or flat bottom dish (Photo 11) and start layering the tomatoes (Photo 12) until they are all in the dish (Photo 13)
Now take the marinade and pour it on top of the tomatoes (Photo 14) then start mixing the tomatoes around (Photo 15) getting marinade covered on all of the tomatoes (Photo 16) Then cover and refrigerate (Photo 17) for a couple hours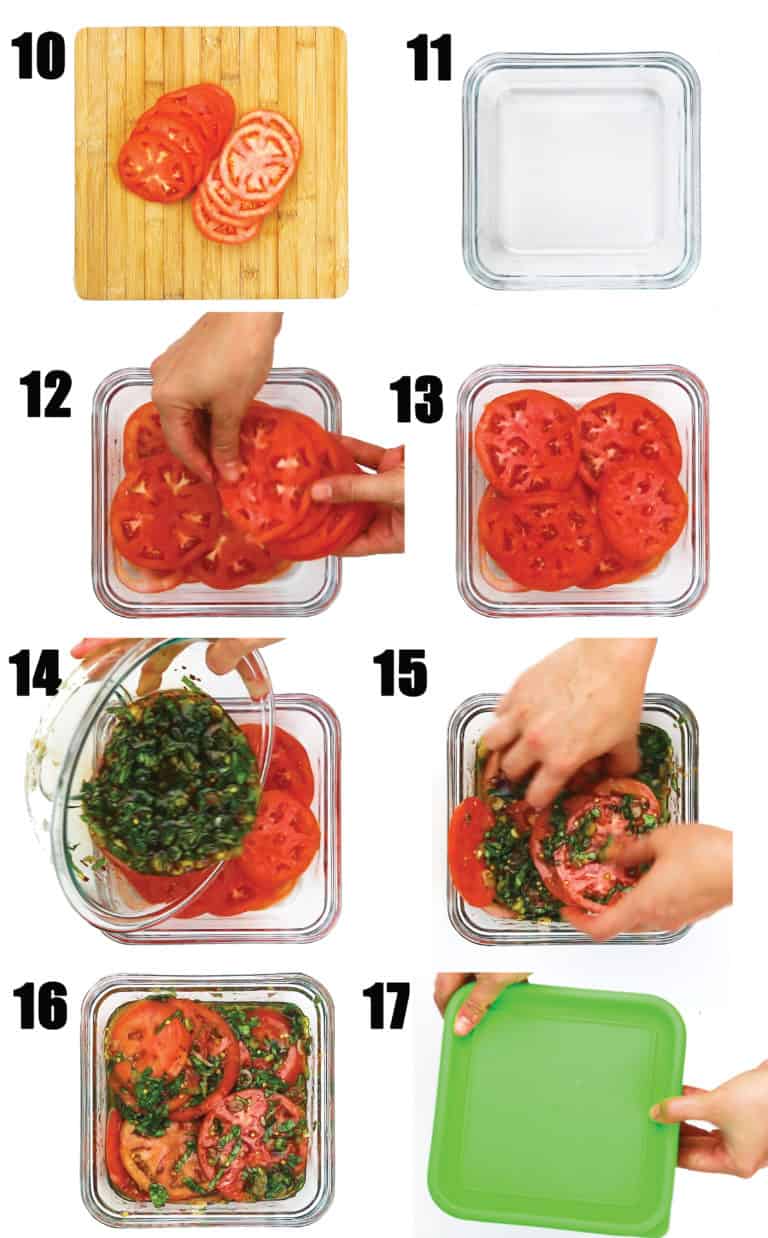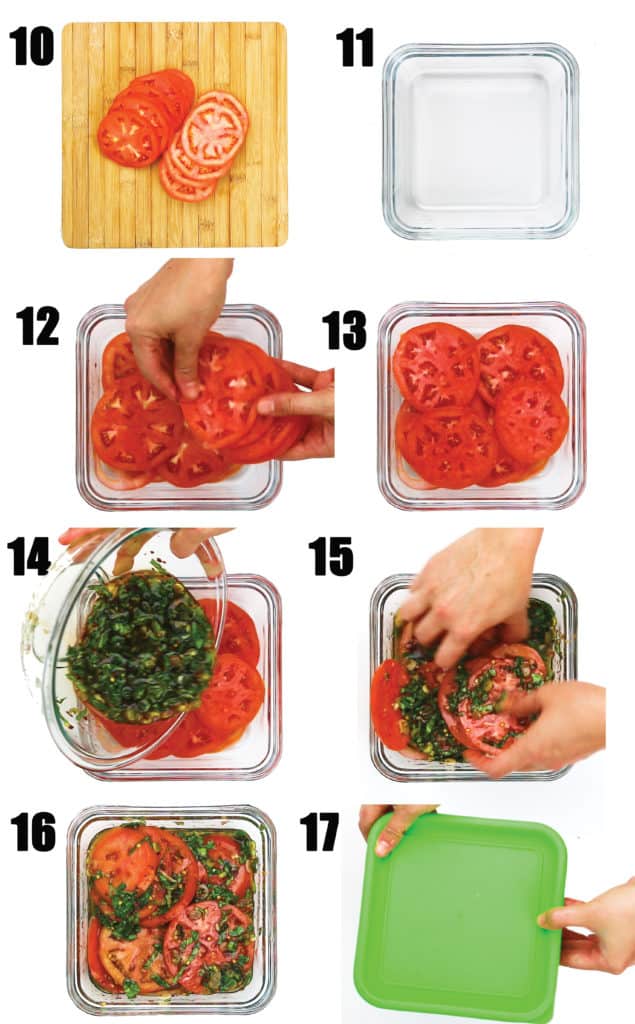 Plating the tomato caprese salad
You can serve this on one big plate and people can take what they want or serve it on individual plates. I'm showing how to serve on one big plate.
Just start putting down one piece of tomato and then a piece of mozzarella cheese slightly on top of it and repeat (Photo 18) Once all the tomatoes and sliced of mozzarella cheese are on the plate take some of the left over marinate and pour it over top (Photo 19)
Now take some balsamic glaze and drizzle it all over top of the salad (Photo 20) How much you use is all up to you. I really like balsamic glaze so I use quite a bit.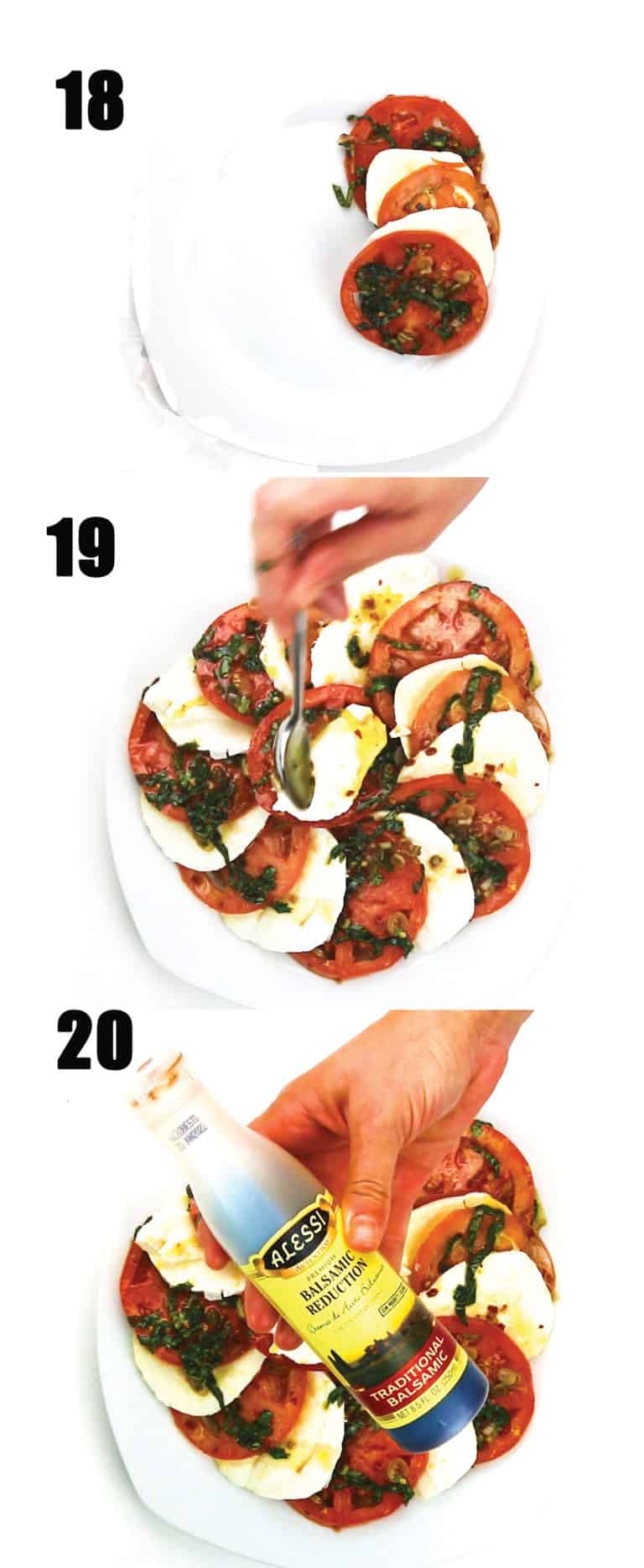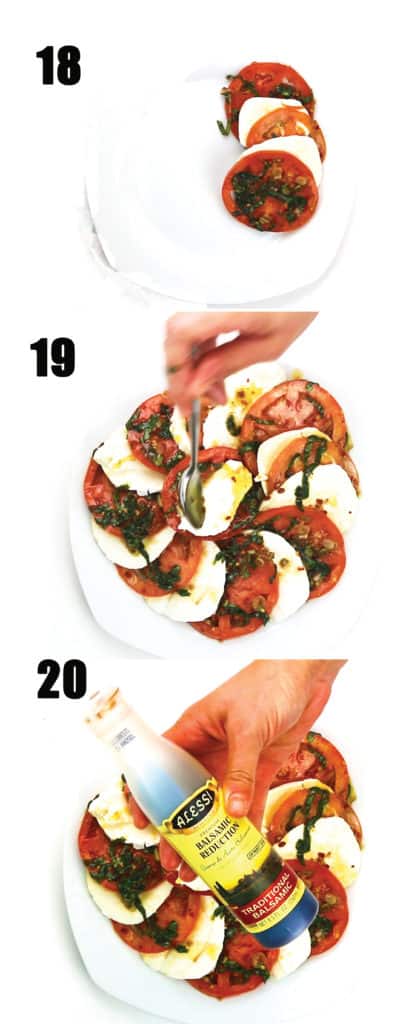 Tips for this recipe
Do pick nice red tomato that are ripe.
I suggest using good quality olive oil. It does taste different
Fresh basil is a must. You can pick some up at the grocery store
Stir the tomatoes about every 30 minutes while marinating
To make things easier you can buy already made balsamic glaze or you can make your own here is a recipe for it with my crab stuffed mushrooms with balsamic glaze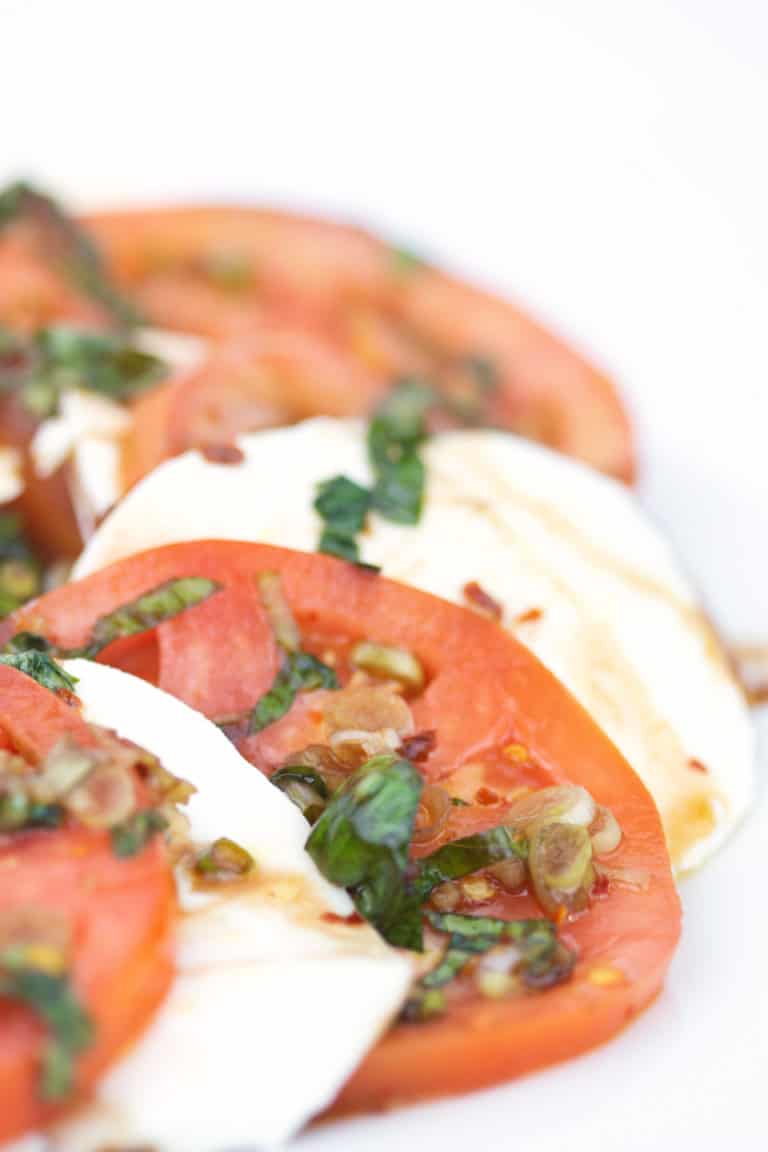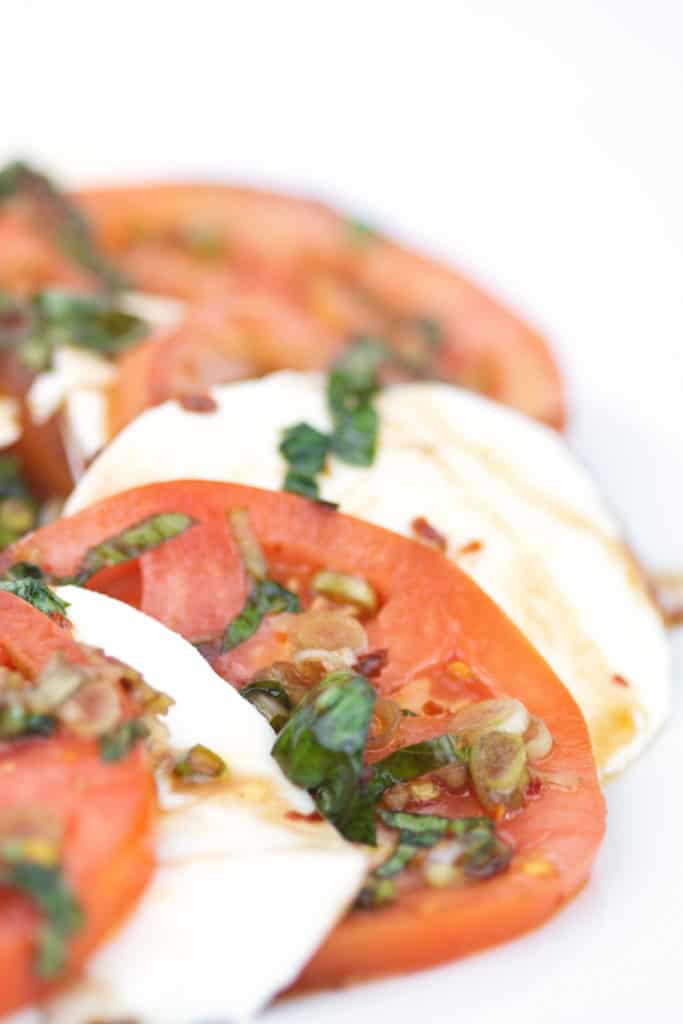 Other caprese recipes to try
Chopped Caprese Salad
Caprese Pasta Salad
Caprese Skewers
Chicken Caprese
Or check out all my Salad recipes to find the right one for your next meal
Did you make this recipe? If so then give a star rating below and tag your picture on Instagram with #glitterandgraze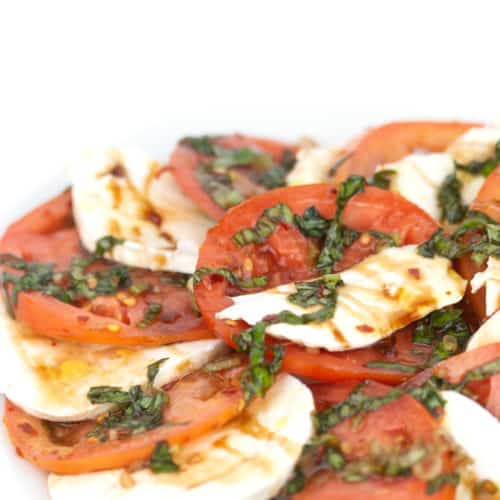 Marinated Tomato Caprese Salad
This tasty marinated tomato caprese salad is so simple to make and is packed with flavor. So pleasing on the eyes and even tastier to the tongue.
Print Recipe
Ingredients
2

large ripe tomatoes

8

oz

fresh mozzarella
Marinated
1/2

cup

chopped fresh basil

1/2

cup

virgin olive oil

3 1/2

TBSP

red wine vinegar

2

TBSP

green onion

4

TSP

balsamic vinegar

2

TSP

of red pepper flakes

1/2

TSP

minced garlic
Instructions
Slice your tomatoes into 1/8- 1/4 inches slices and set aside

Add olive oil, balsamic vinegar, red wine vinegar, chopped basil, minced garlic, green onions, and red pepper flakes to a bowl and stir well

Line a small casserole dish with tomatoes and then pour marinade on top and mix together well

Cover and refrigerate for an hour or 2

When ready to serve slice fresh mozzarella in slices slightly thinner than the tomatoes

Layer a tomato then mozzarella and keep layering

Drizzle some of the marinade on top of salad

Drizzle balsamic glaze on top of the whole salad
Nutrition
Serving:
1
g
|
Calories:
432
kcal
|
Carbohydrates:
5
g
|
Protein:
13
g
|
Fat:
40
g
|
Saturated Fat:
11
g
|
Cholesterol:
45
mg
|
Sodium:
378
mg
|
Potassium:
217
mg
|
Fiber:
1
g
|
Sugar:
3
g
|
Vitamin A:
1380
IU
|
Vitamin C:
9.5
mg
|
Calcium:
301
mg
|
Iron:
0.9
mg
Update Notes; This recipe was originally posted in November of 2016, but was republished with new photos, cooking tips, step by step picture instructions and a recipe tweak in August 2019.