A fresh and light shrimp salad served in an avocado bowl. This shrimp avocado salad is a perfect for a lighter option for lunch.
Mmm…avocado. What is it about that green fruit (yes it's actually classified as a fruit) that is so tasty? Avocado pairs with almost anything. I guess that's why they charge extra if you order a side of it at the restaurant.
The inspiration for this recipe came from my experience from a local restaurant I tried on my lunch break once. If you're anything like me, whenever I go to a new restaurant I always pull up customers photos off of Yelp. I'm a very visual person. I wish every menu in the world had a picture of the item right next to it. When I saw this all I could think was YUM!
Ever since I had that shrimp salad I couldn't get over the presentation. Of course it tasted wonderful, but let's be honest, it's all about the presentation. When something looks pretty we just expect it to taste good.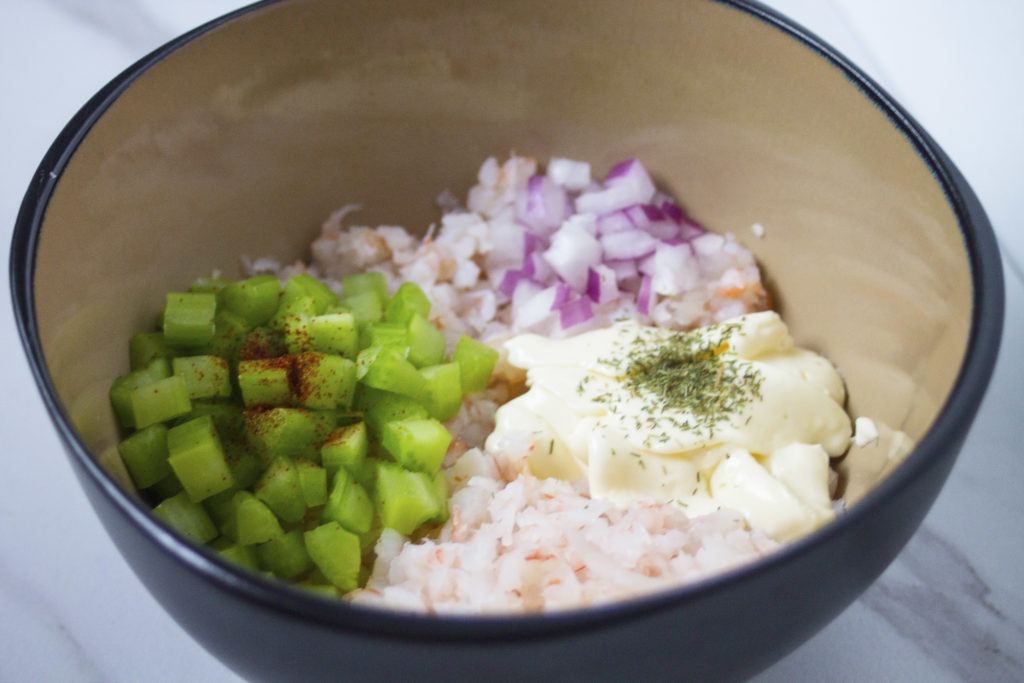 I used the pre cooked frozen shrimp for this recipe. Easy and quick to defrost and ready to eat. Just follow the defrost directions on the package. The package said these were extra large shrimp, but could of fooled me. Maybe almost large at best. You want to save 2 shrimp and leave whole to go on top.
I threw the rest of the shrimp in my small food processor and pressed 4 quick times on the chop button and the shrimp is ready to go. If you prefer you can just chop up your shrimp, but I prefer more of a shredded type shrimp.
Now just combine the rest of your ingredients, minus the 2 whole shrimp, in a bowl and mix together. I always like to refrigerate the mix for at least 20 minutes before serving. This helps set the shrimp salad better.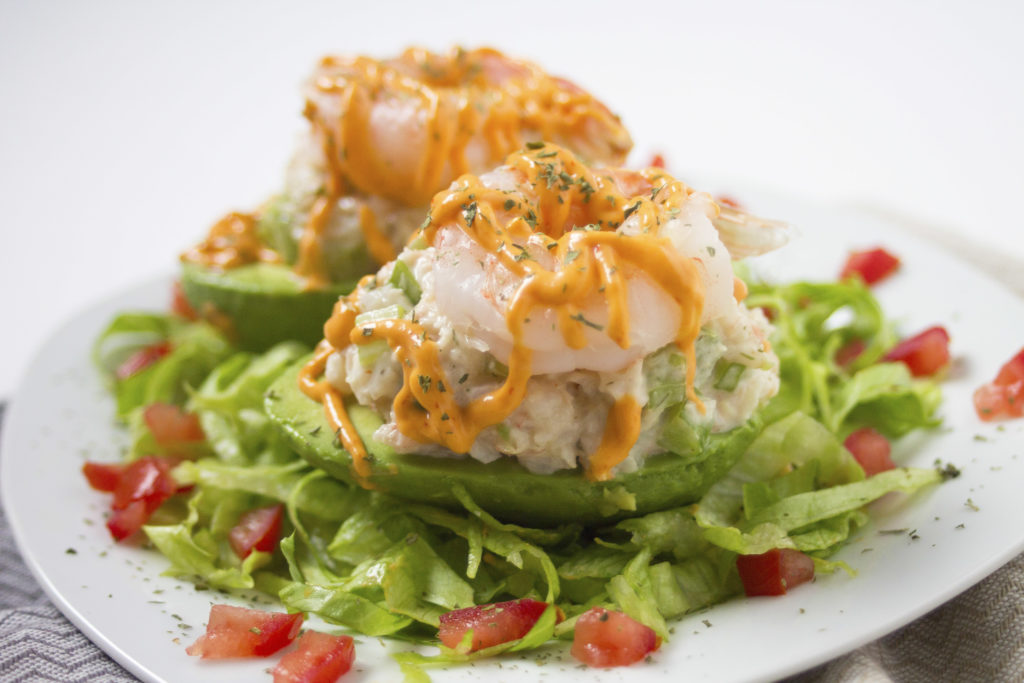 Take your large avocado peel and remove the pit. You should of seen the pit that was in this avocado. It was smaller than a dime. I had never seen a pit that small ever. Because of this I dug out some of the inside of the avocado to make room for the shrimp salad. Let's be honest the middle of the avocado is not the best part anyway.
To make this recipe a little more "salad" like I placed it on a bed of shredded lettuce. I wouldn't skip this step. It was so good with the lettuce.
Next take your shrimp mix out of the refrigerator and split it in equals halves and put into the avocado bowls. Then place your whole shrimp on top of each shrimp salad avocado bowl.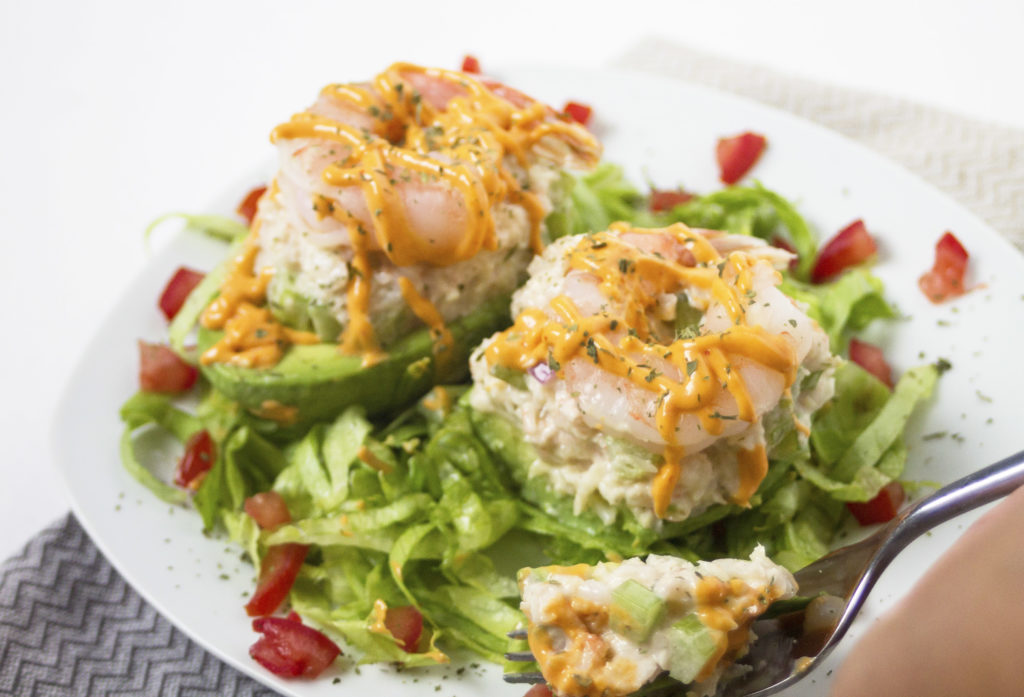 The Sriracha mayo sauce is super easy. Just mix the mayo and Sriracha together and it's made. A quick tip, take a plastic baggy and add your mayo mix to one of the bottom corners of the baggy. Then cut very little of the tip off and now you can drizzle it on top of your shrimp mix and avocado.
And that is it folks. Wasn't that easy for such a pretty dish? Next time you're going to have the ladies over for lunch, this recipe is a quick fix which will sure to impress
.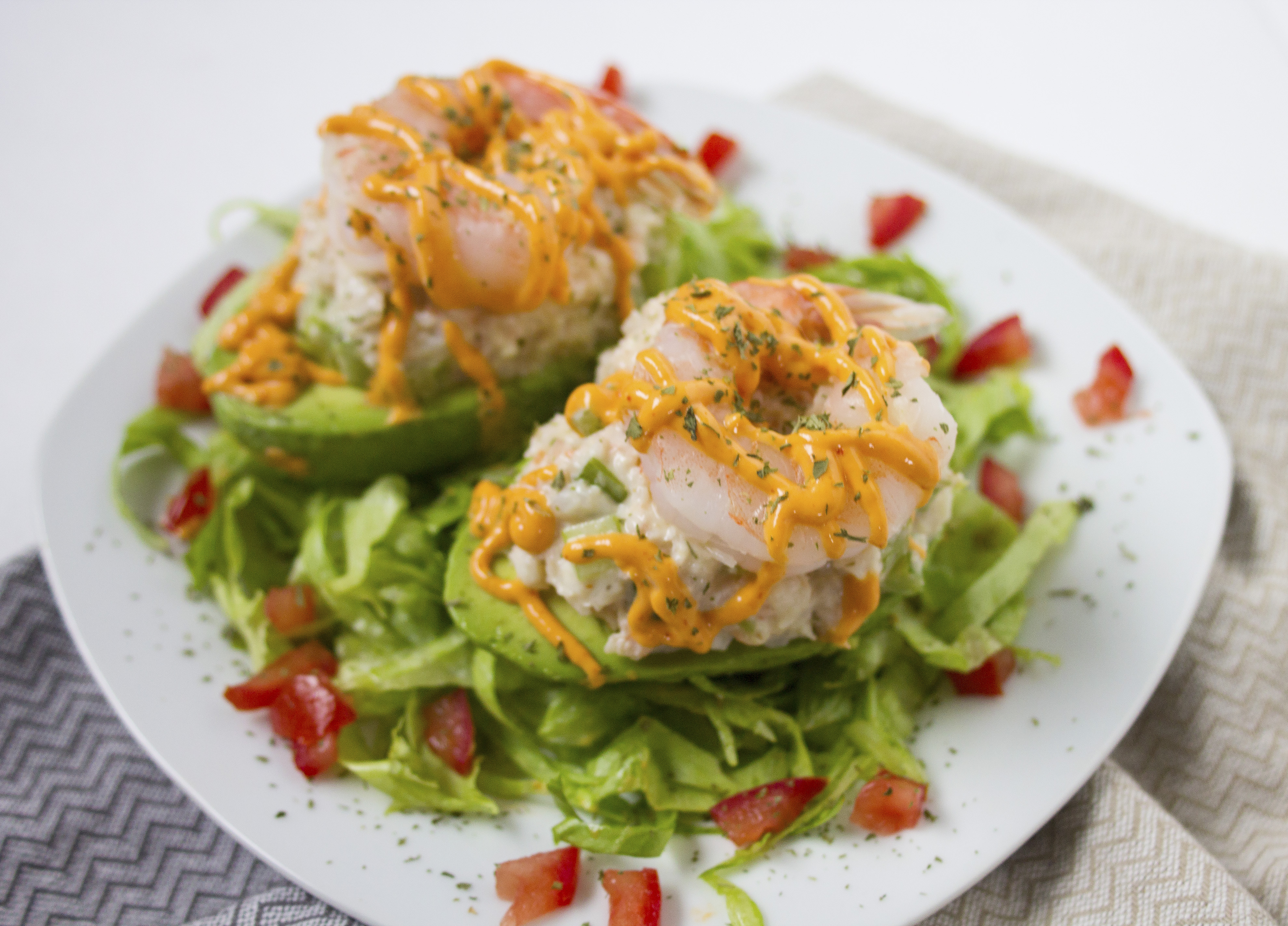 Avocado Shrimp Salad
A fresh and light shrimp salad served in an avocado bowl. This shrimp avocado salad is a perfect for a lighter option for lunch.
Print Recipe
Ingredients
12

extra large shrimp

1

large avocado

1/4

cup

chopped celery

3

TBSP

mayo

1

TBSP

chopped red onion

1

TSP

red wine vinegar

1

TSP

lemon juice

1/2

TSP

old bay seasoning

1/4

TSP

dill

Pinch

of paprika
Sriracha Mayo
1

TBSP

mayo

1

TSP

Sriracha
Instructions
Defrost frozen shrimp

Set 2 whole shrimp aside and chop up the rest of the shrimp

Add all ingredients together and mix

Cover and put in refrigerator for 20 minutes

Cut avocado in half long ways, peel and remove pit

Mix together sriracha and mayo and put in the corner of a plastic sandwich bag

Fill avocado pits with your shrimp salad mix

Cut the corner of your baggy that your mayo is in and drizzle sauce on top
Notes
Serve on a bed of shredded lettuce for more of a salad taste
Nutrition
Serving:
1
g
|
Calories:
781
kcal
|
Carbohydrates:
20
g
|
Protein:
19
g
|
Fat:
71
g
|
Saturated Fat:
10
g
|
Cholesterol:
204
mg
|
Sodium:
1072
mg
|
Potassium:
1098
mg
|
Fiber:
13
g
|
Sugar:
3
g
|
Vitamin A:
405
IU
|
Vitamin C:
28.5
mg
|
Calcium:
139
mg
|
Iron:
2.9
mg