This ultimate wedge salad takes that normal wedge to the next level. Great starter to make for your next dinner or eat it as your meal alone.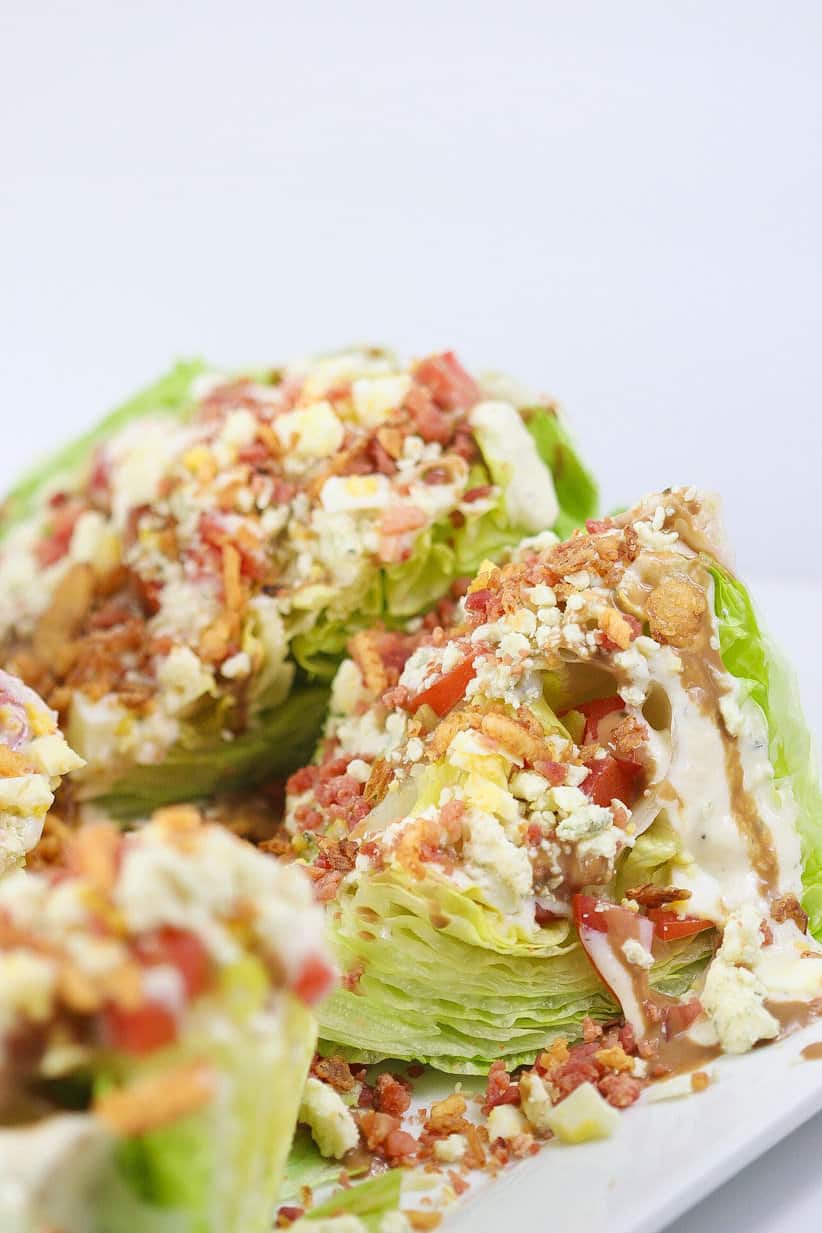 I don't know what has been my deal lately, but I've been mildly obsessed with wedge salads. If a restaurant has it I'm ordering it. Or I'm making it at home for my meal.
The funny thing is I'm not the biggest fan of iceberg lettuce. I don't mind that really green leafy part, but can't stand that thick white part towards the base of the lettuce. I will sit there and pick out everyone of those pieces from my salad.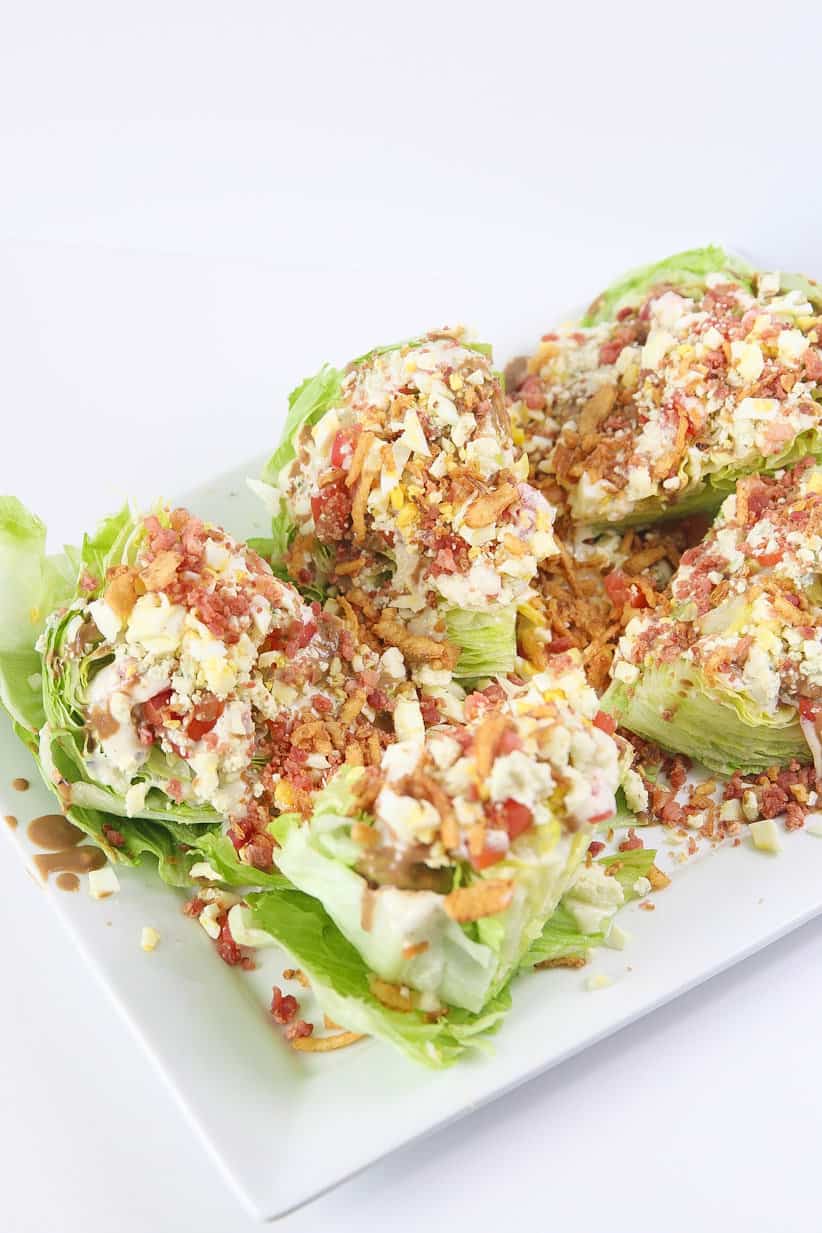 That's why I usually stick with romaine or green or red leaf lettuce. Then we had the big romaine crisis so there went one of my favs for a bit. Luckily that was right in the middle of my wedge salad obsession.
I'm not the hugest fan of blue cheese. Small doses of bursts of blue cheese is great, but smothered in blue cheese dressing I rather pass on. You know me I'm all about that ranch dressing. In Texas we put ranch on just about anything.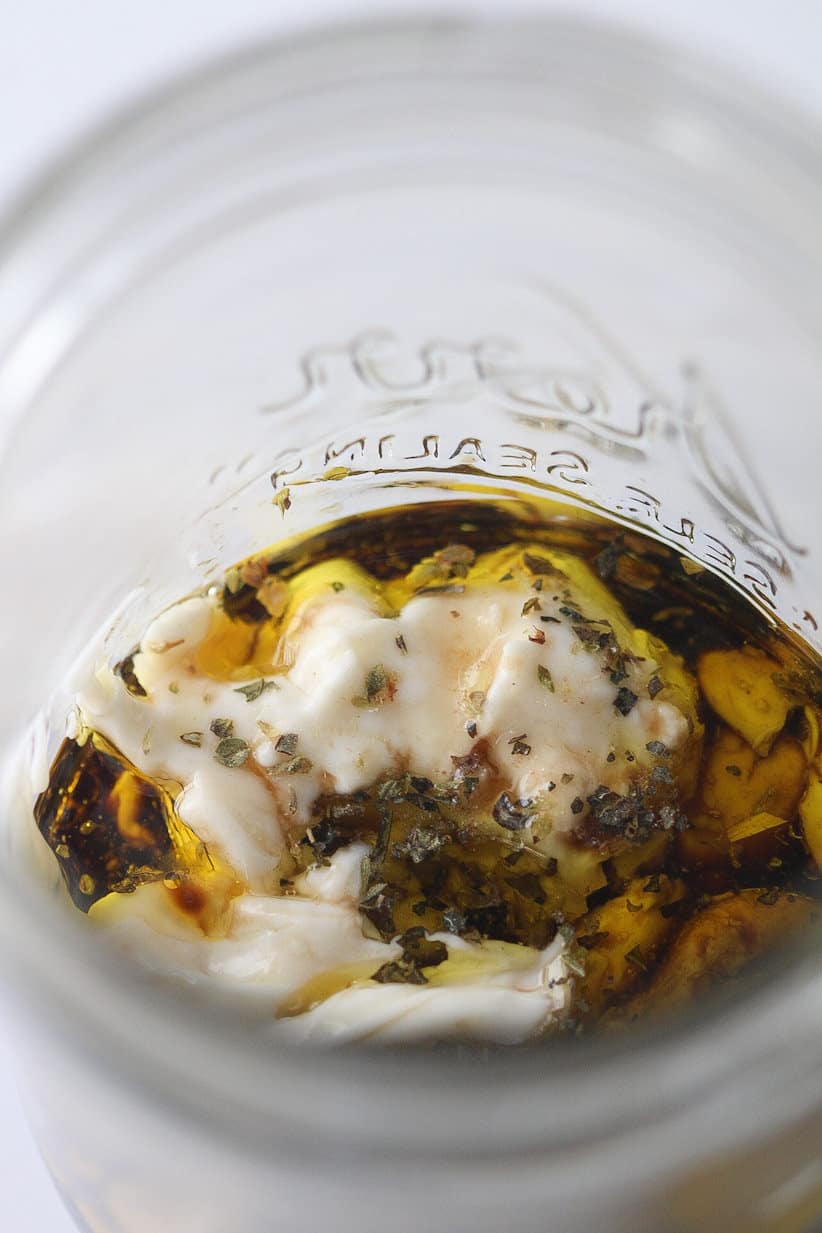 With this recipe I came up with two easy to make dressings that compliment each other very well. A creamy balsamic which I also used in my Brussels sprouts salad and a simple Parmesan ranch dressing.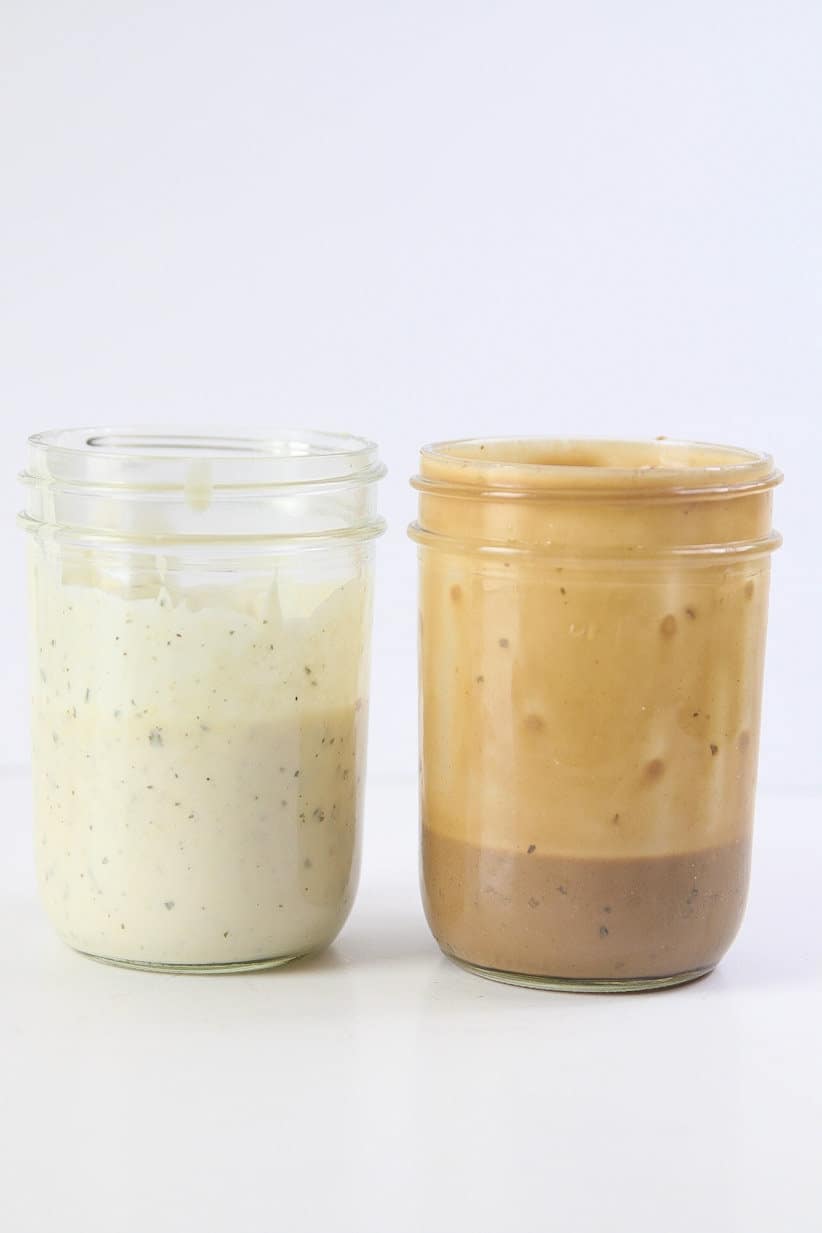 I made the Parmesan ranch by simply using ranch dressing seasoning and some Parmesan cheese. If you don't have the seasoning to make this dressing, simply adding some Parmesan cheese to some already made ranch will work just as good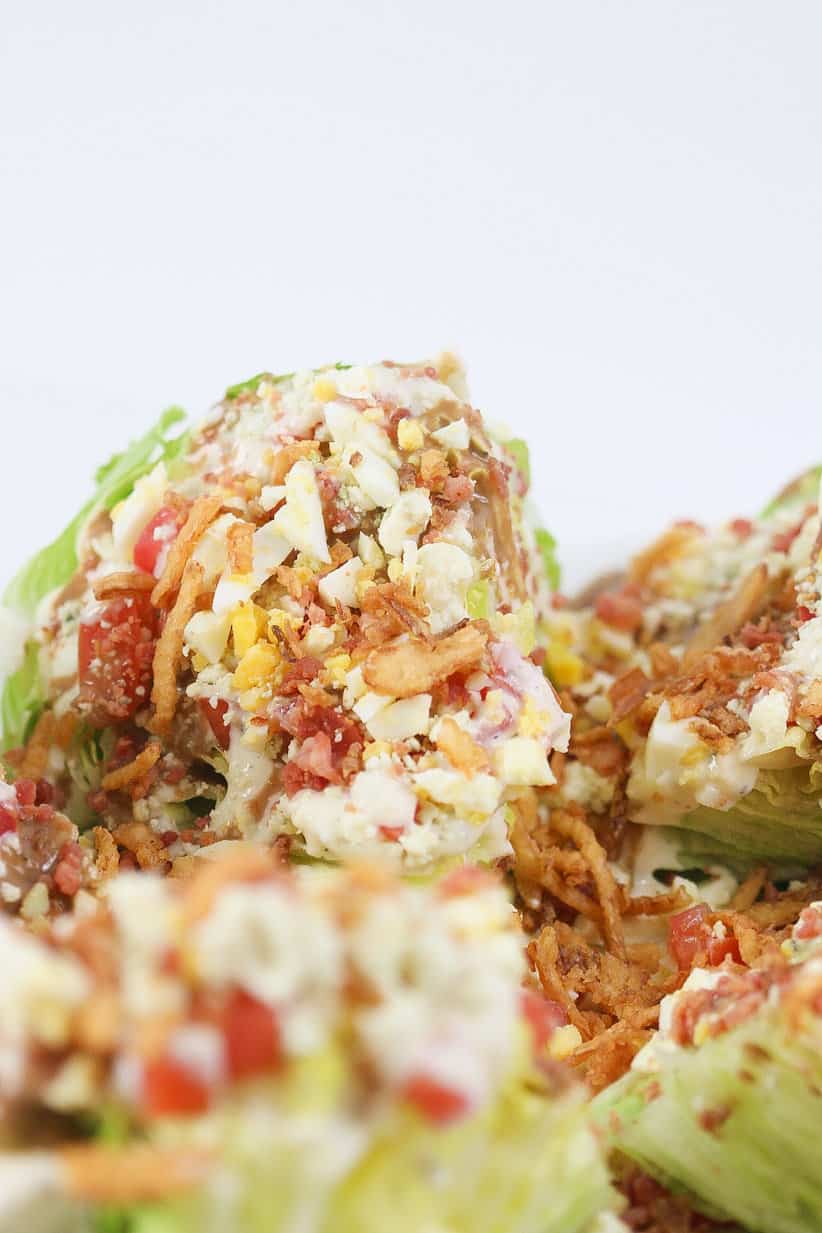 It's no secret that I do not like raw onion. There's no going around it I just can't stand the taste. Different story when it comes to cooked onions. I can eat a ton of those.
So instead of using raw onions like most wedge salads call for I used those crunchy little fried onions that you use in green bean casserole. I always
have these stocked in my pantry. Great on salads and I even use on top of my steaks.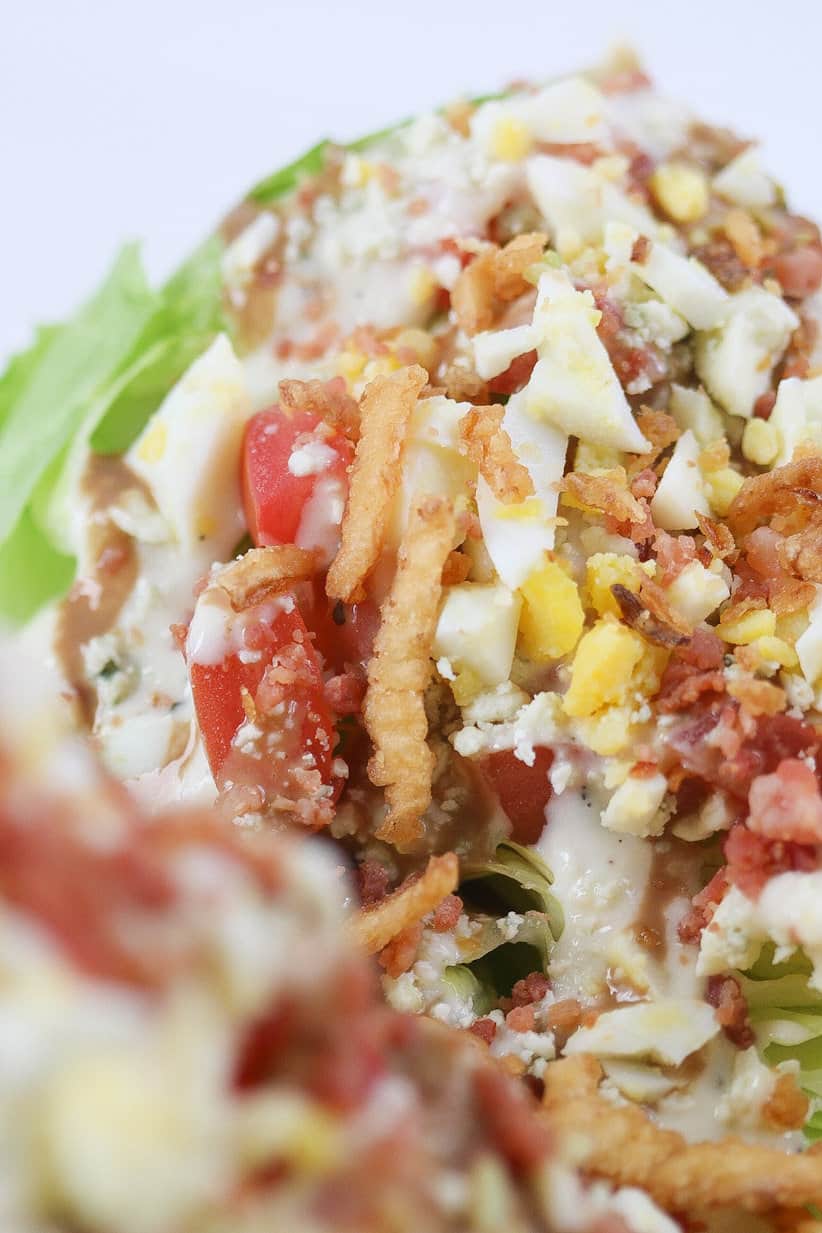 If you have extra time on your hands and really want to amp up this salad check out my spicy ranch onion strings. These would be amazing on this salad. Unfortunately I don't have enough time to make a batch of those. Chasing a toddler all day is no joke.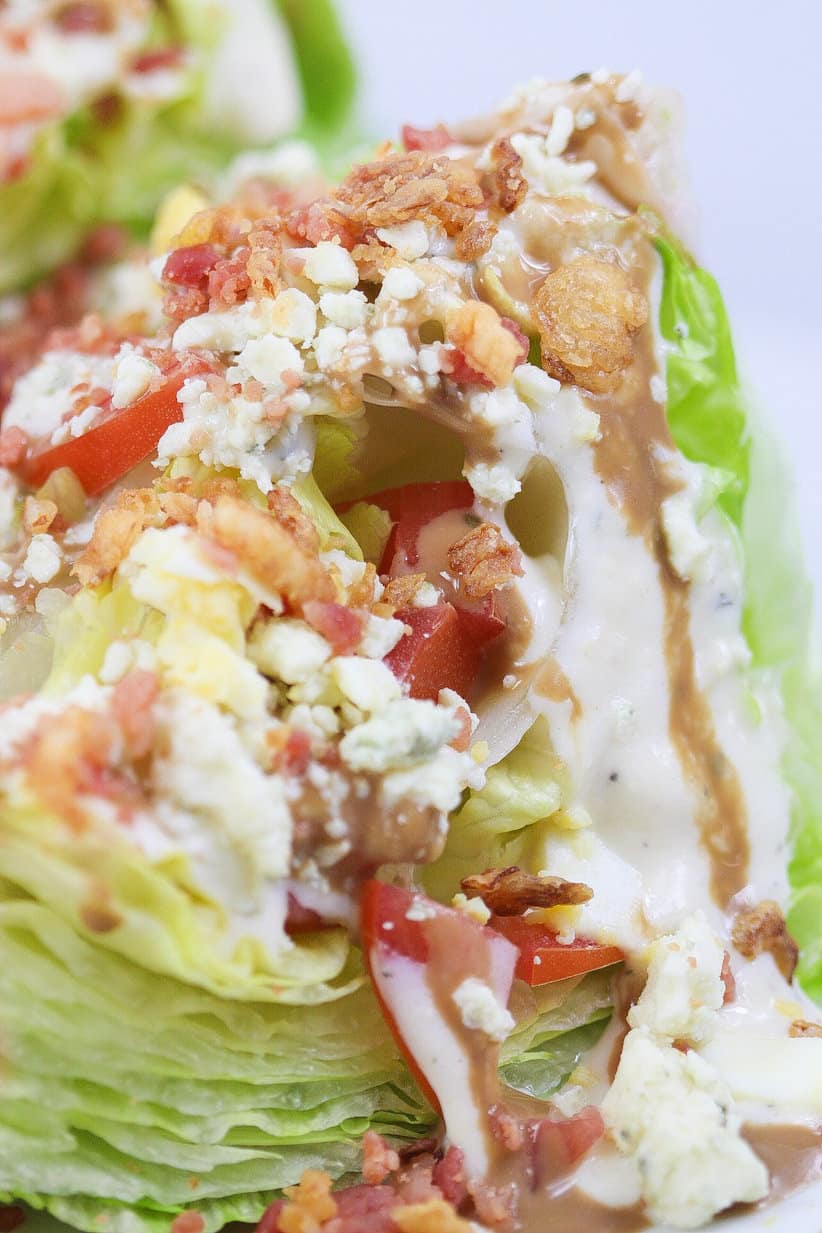 And don't forget about the boiled egg. You don't see this all too often either, but I think adds a great taste and protein to the salad. Boiled eggs are easy enough to make too.
Usually I would cut my head of lettuce 4 ways, but this time I got an exceptionally large head of lettuce so got 5 pieces out of it. So the size of your wedges will depend on the size of your head of lettuce.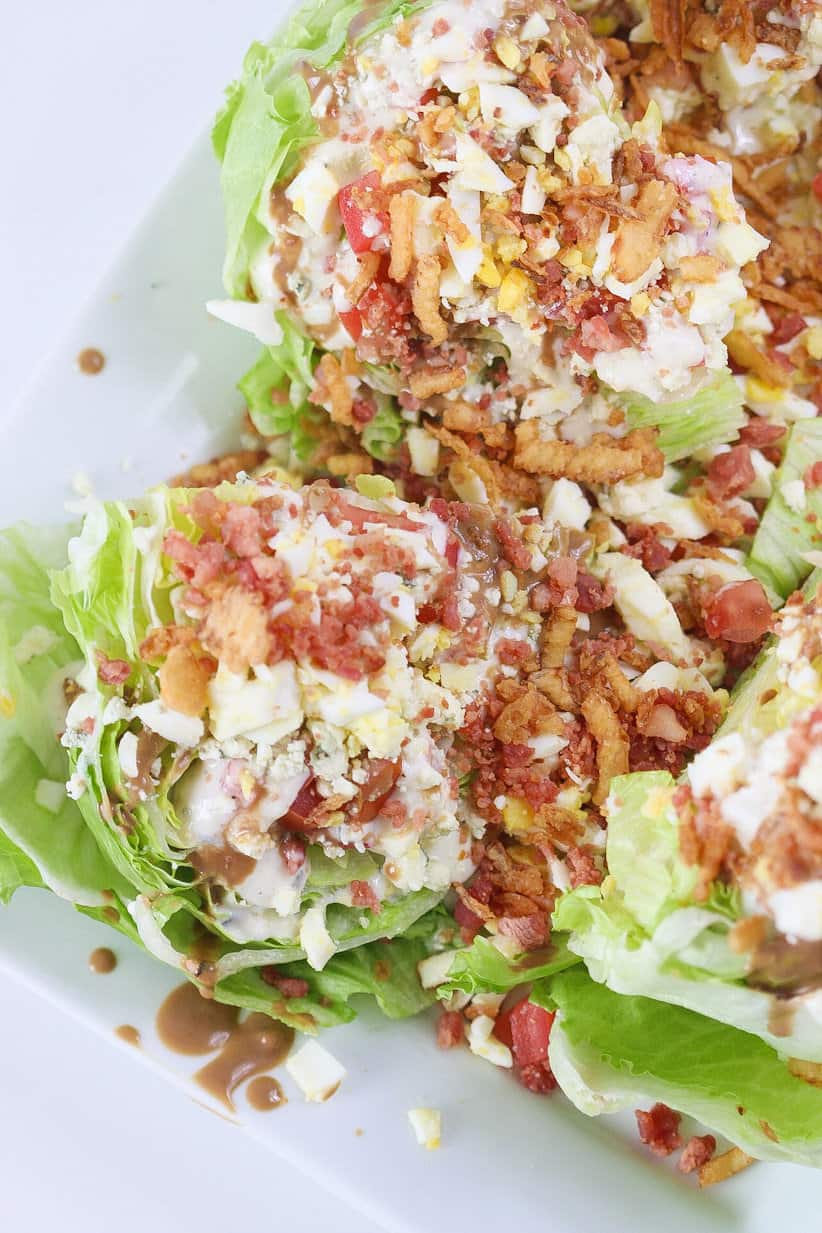 The layering I like to do is lettuce, tomato, drizzle of both dressings then the egg, bacon, blue cheese, and last crunchy onions. There is really no wrong or right way. I do this so the dressings can help hold some of the ingredients on the salad.
And that is it. Now you have not only a tasty, but beautifully displayed salad to eat.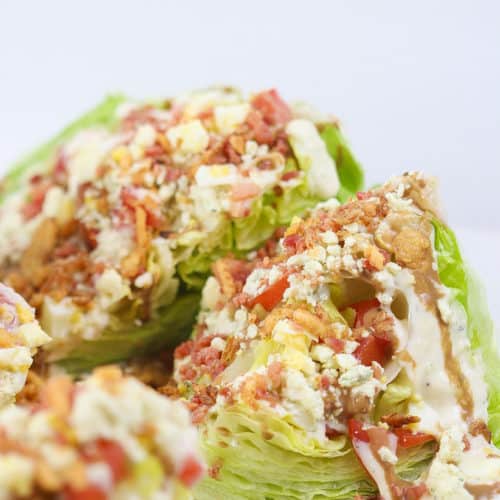 Ultimate Wedge Salad
This ultimate wedge salad takes that normal wedge to the next level. Great starter to make for your next dinner or eat it as your meal alone.
Print Recipe
Ingredients
1

head

iceberg lettuce

large

1

tomato

2

boiled egg

1/2

cup

bacon bits

1/2

cup

blue cheese crumbles

1/2

cup

fried onions
Ranch Dressing
1 1/2

TBSP

ranch dressing seasoning

3/4

cup

milk

1/2

cup

mayo

1/4

cup

grated Parmesan cheese
Balsamic Vinaigrette Dressing
3

TBSP

balsamic vingaer

3

TBSP

olive oil

3

TBSP

mayo

1

TBSP

honey

2

garlic cloves minced

1 1/2

TSP

Dijon mustard

1/2

TSP

basil

1/2

TSP

oregano

pinch of salt and pepper
Instructions
Make both dressings in separate containers and put in the refrigerator

Boil your eggs and chop after cooked

Peel off first layer of lettuce and rinse then cut into 4 or 5 pieces depending on size

Put chopped tomatoes on top of wedges then drizzle with both dressings

Add eggs, bacon, blue cheese, and fried onions on top and enjoy
Nutrition
Serving:
1
Wedge
|
Calories:
542
kcal
|
Carbohydrates:
24
g
|
Protein:
17
g
|
Fat:
41
g
|
Saturated Fat:
10
g
|
Cholesterol:
105
mg
|
Sodium:
1409
mg
|
Potassium:
363
mg
|
Fiber:
4
g
|
Sugar:
10
g
|
Vitamin A:
1090
IU
|
Vitamin C:
7.2
mg
|
Calcium:
231
mg
|
Iron:
1.2
mg