A classic chicken cordon bleu with a little twist. A combination of cheeses and chicken and ham you'll be sure to please any crowd.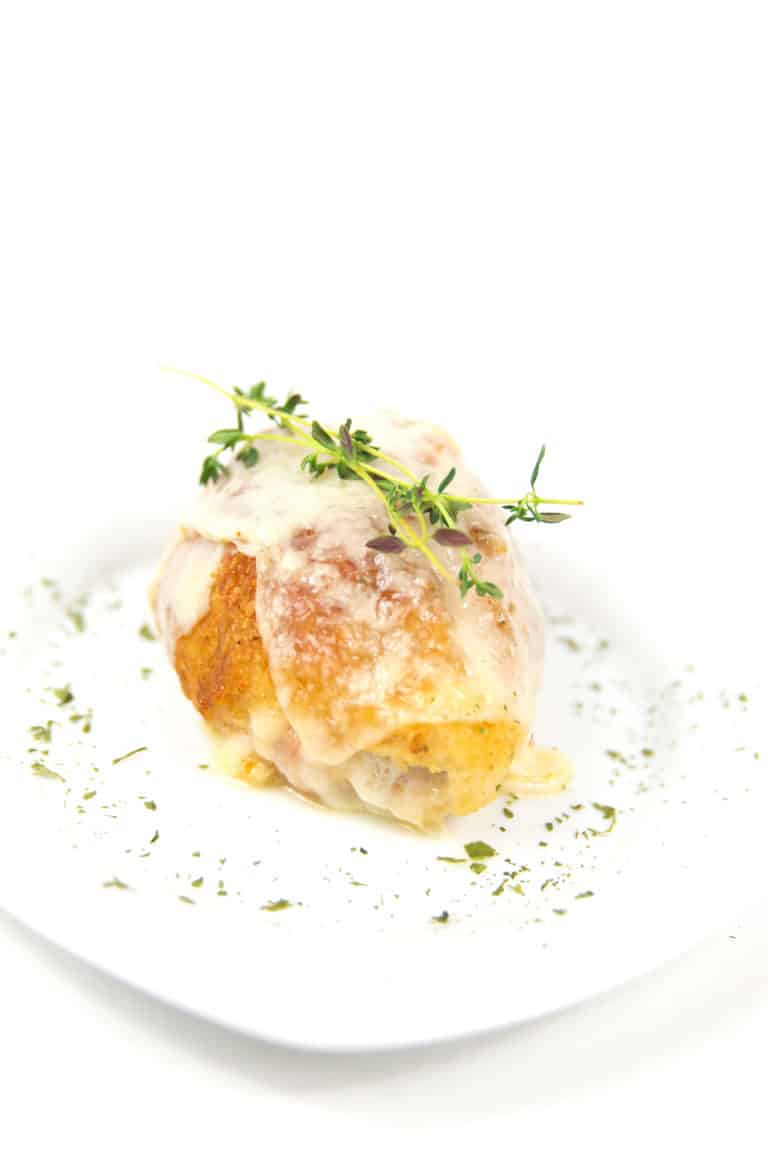 I just love chicken cordon bleu. My step-mom actually taught me how to make this when I was just a kid. I was in love ever since. Every time I make this people think I'm the cook of all cooks. It's just such a delicious classic your family will ensure to love.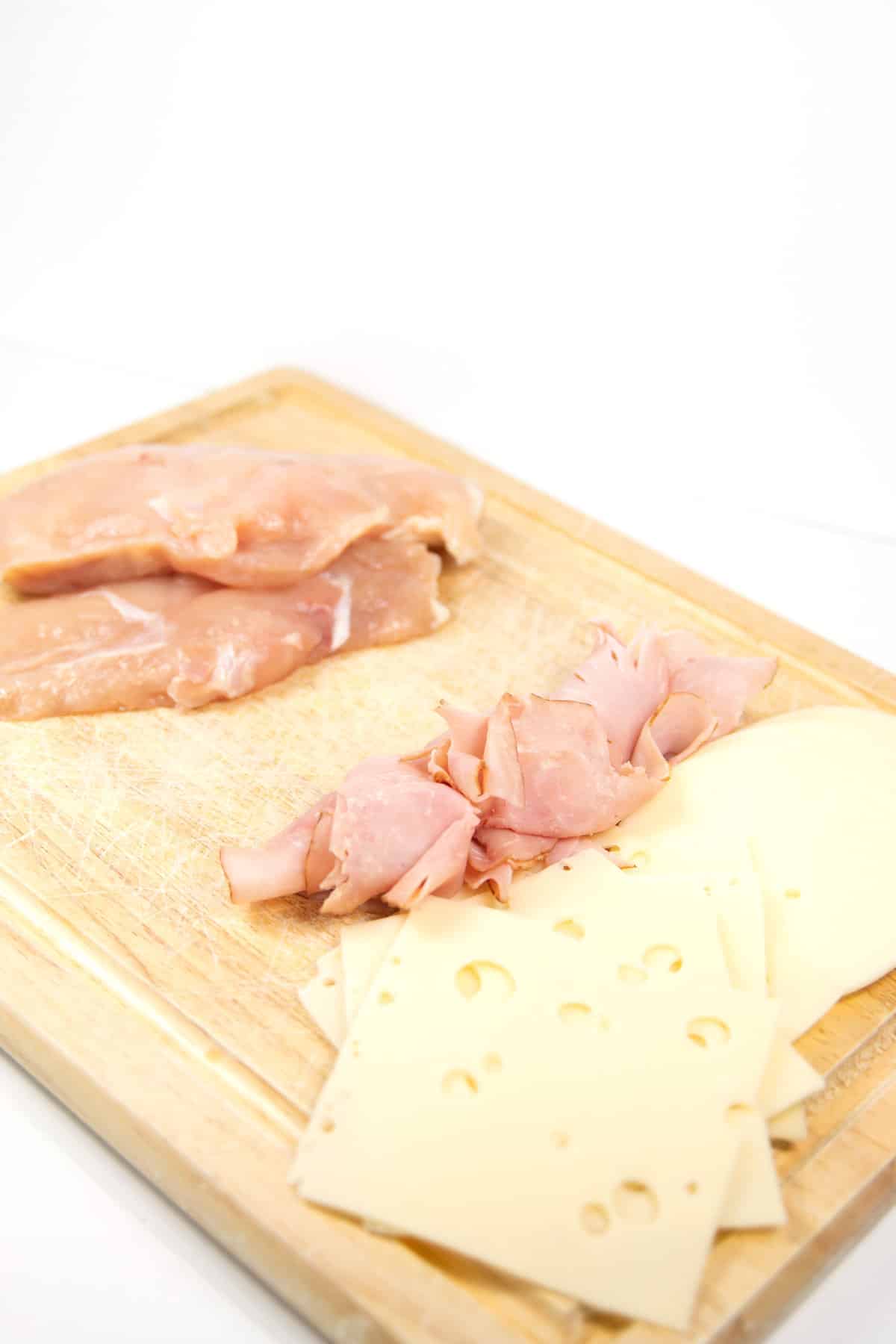 With this recipe I switch it up with a little twist. The traditional cordon bleu is a combination of provolone and swiss cheese. I stick to tradition using both cheeses, but add a third. I like to add some creamy garlic and herb laughing cow cheese. I mean honestly you can never have enough cheese. You can add it or not, but it just gives an extra burst to the taste buds.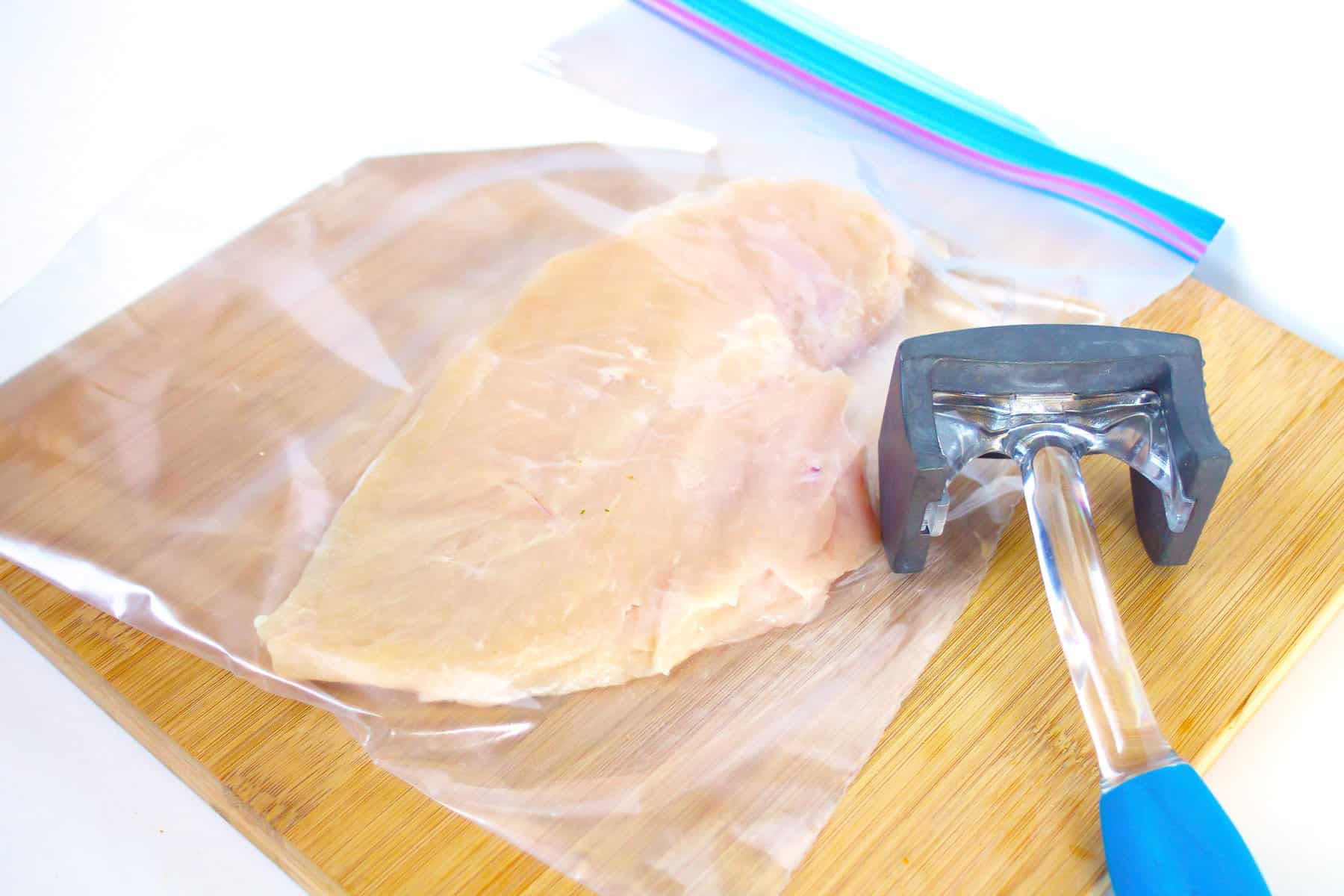 A trick I learned over the years was how to flatten out the chicken breast. I used to just lay the chicken breast out on a cutting board and flatten it out with a meat tenderizer. Chicken pieces would go everywhere. So the trick is to put the chicken breast in a freezer bag and seal and then flatten your chicken out. No chicken pieces flying every which way anymore.
You want to flatten it out as much as possible because this makes it easier to roll up when the time comes. Be careful when flattening it because you don't want to don't want to completely break whole pieces of the chicken off.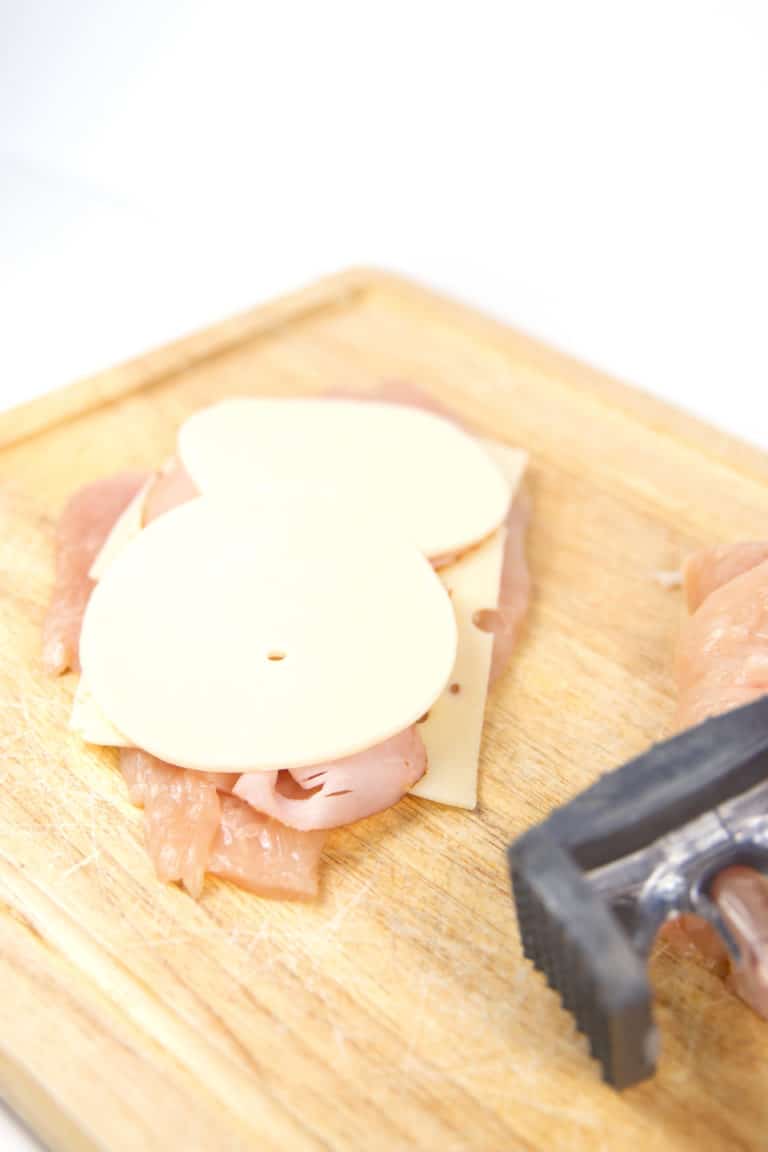 Now it's time to start layering. Let's start off with the provolone and swiss cheese. Put down a slice of each in the middle of the chicken breast. Then a layer of ham on top of those. Another layer of cheese and then ham. Now spread your laughing cow cheese on top. Using a knife usually doesn't work when spreading this cheese so I just use my fingers. Yes my clean fingers.
The tricky part, rolling it all together. Have your tooth picks ready to grab. Roll one side of the chicken to meet the other. Now use your toothpicks to hold the two sides together. This is my least favorite part, but is a must. You're trying to prevent any of the cheese oozing out once they start melting. You usually can't completely close the chicken together and that is fine. You just want to get it as close as you can.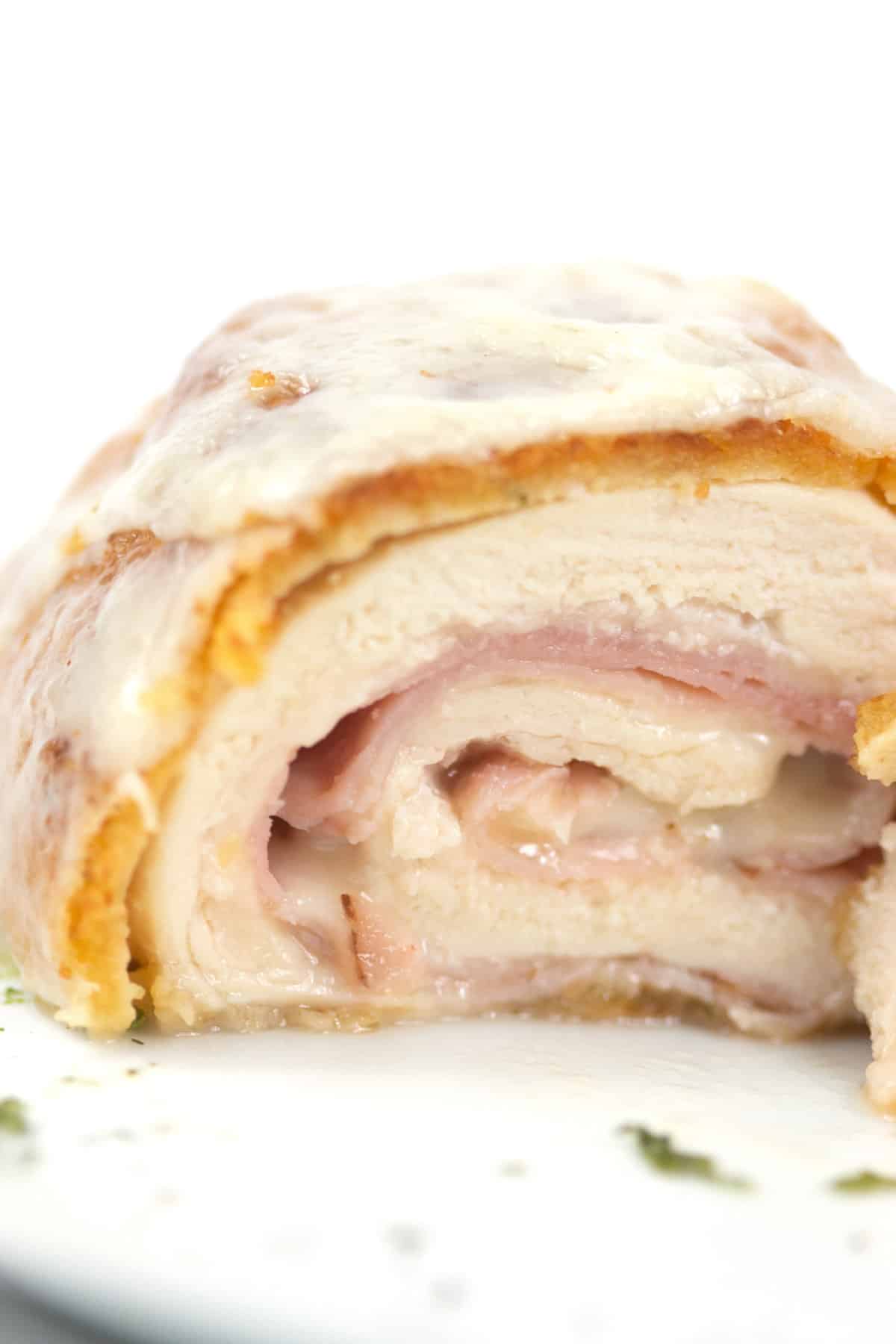 A good tip count how many toothpicks you use for each breast so when it's time to take them out you can make sure you got them all. I picked up this trick after my husband would say, "how many toothpicks did you leave in?" Then would count out loud how many toothpicks he would find in his cordon bleu. So it became a I'll show you thing.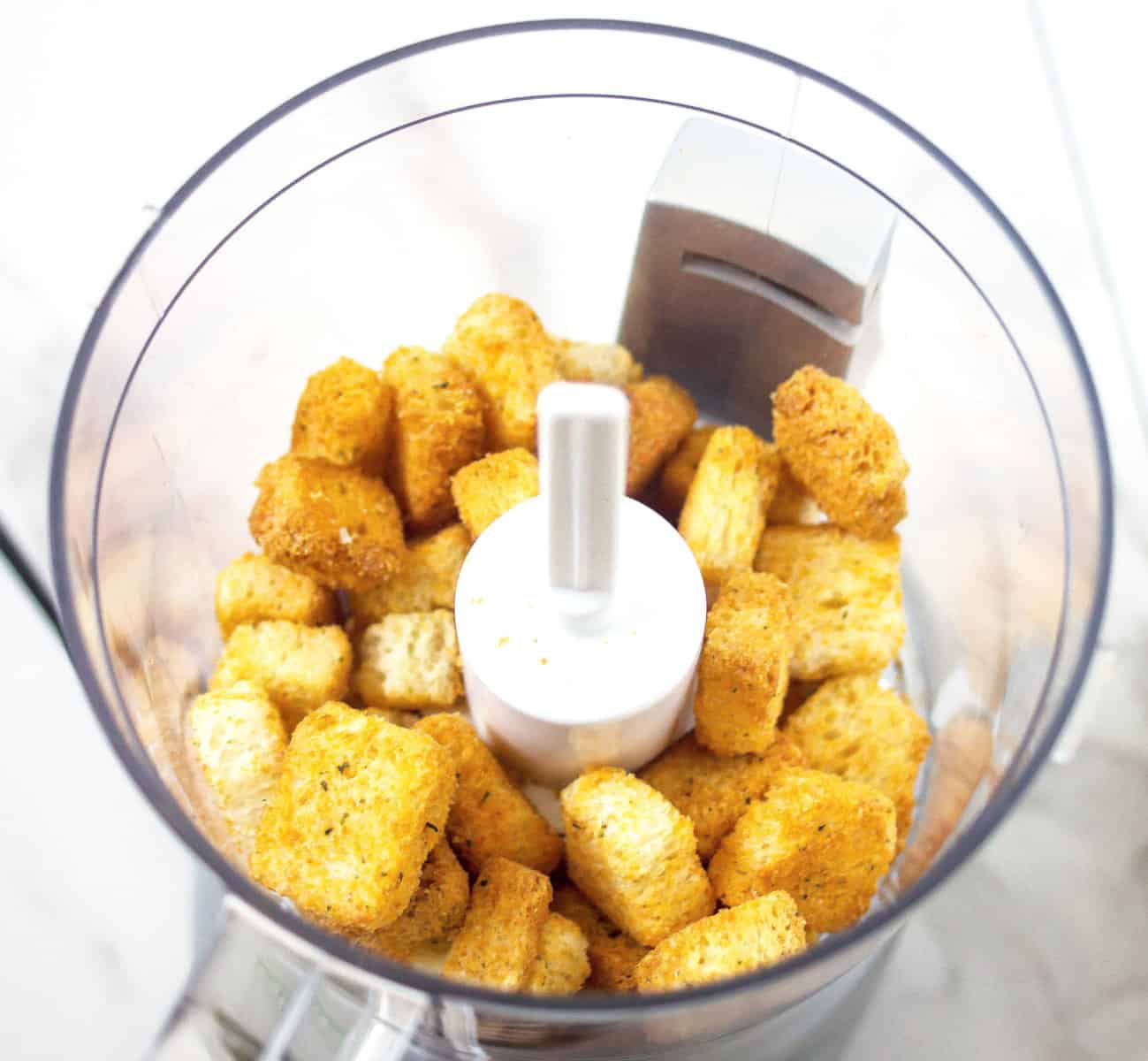 The traditional breading for this recipe usually calls for just regular bread crumbs. I switched that up with using flavored croutons instead. The taste of these garlic cheese croutons pair perfectly with this recipe. Just threw them in the food processor and a couple pushes on the chop button and done.
The next part might be a little tricky because of the toothpicks. You need to roll the chicken breast in egg whites to then roll in the bread crumbs. When it comes to the side of the chicken breast with the toothpicks I usually just rub some of the egg whites on it and then sprinkle the bread crumbs. You just want to make sure the whole chicken is coated with bread crumbs.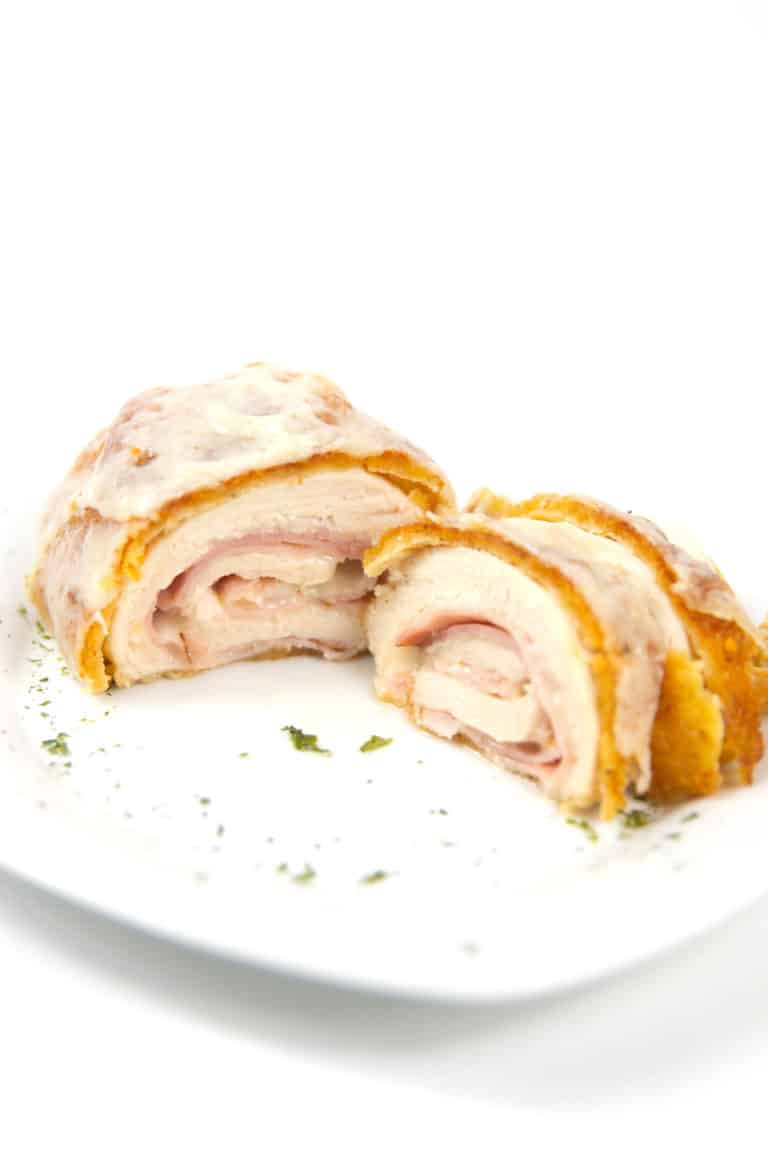 Place both breast in a greased glass pan and bake with the toothpicks side up. This will help prevent the cheeses melting all in the pan.
After 30 minutes of baking I pull the pan out of the oven. I then take out all the toothpicks. Using a fork comes in handy when doing this step. Some of the toothpicks are really stuck in there. I just wiggle them around until they come out.
Now put a layer of provolone and swiss cheese on top and put back in the oven for 5 minutes or until the cheese on top is melted.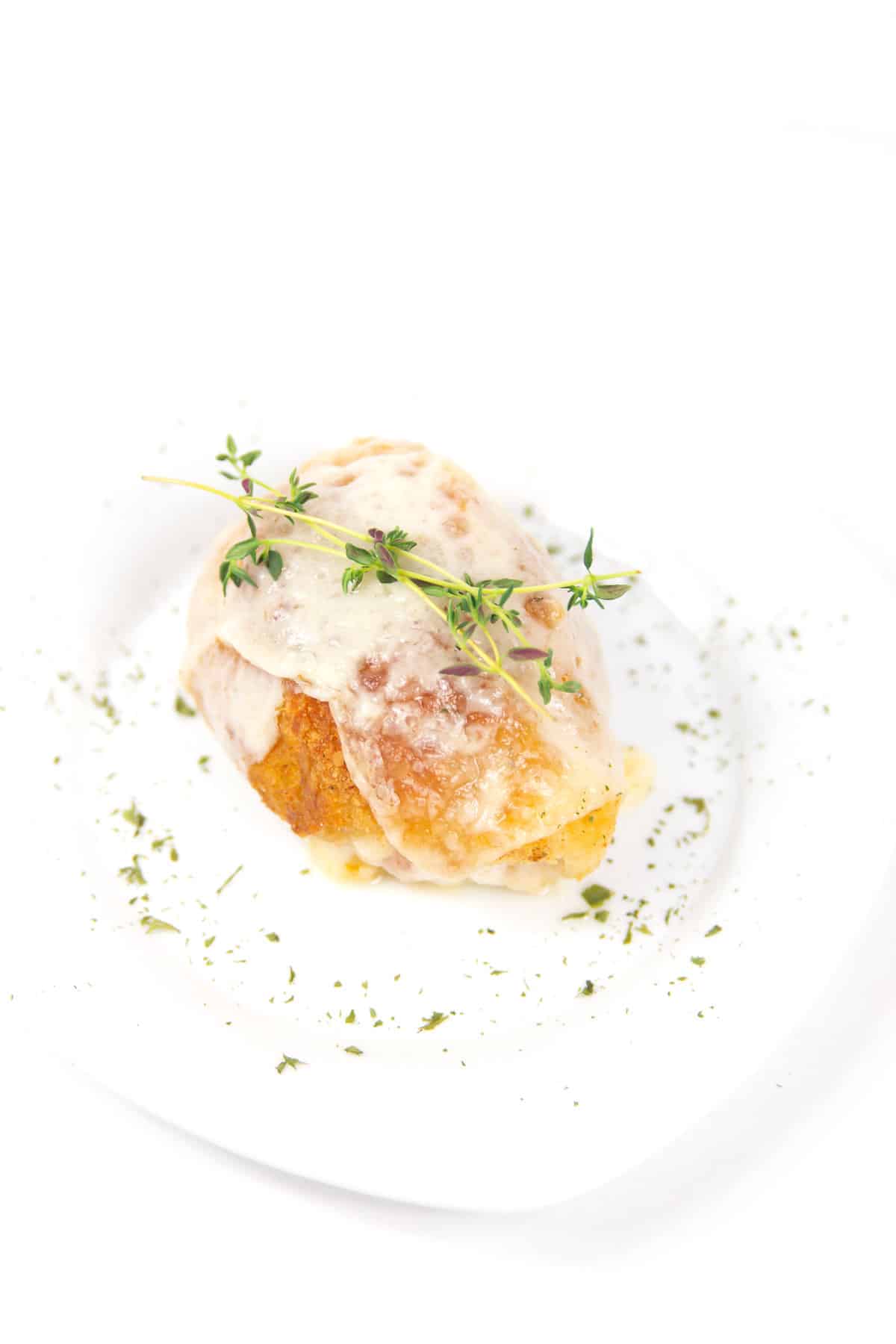 After that pull out of the oven and serve. This meal is soooo yummy. If you love cheese you will fall in love.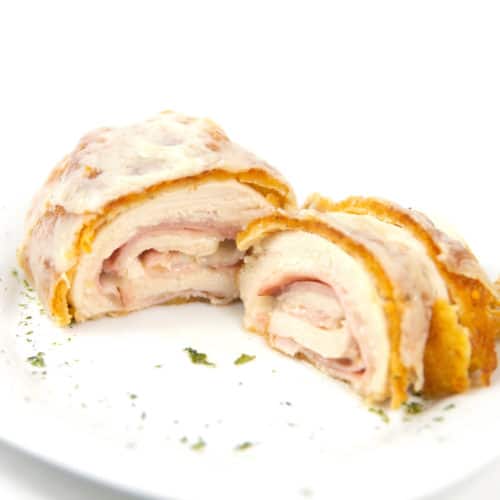 Chicken Cordon Bleu
A classic chicken cordon bleu with a little twist. A combination of cheeses and chicken and ham you'll be sure to please any crowd.
Print Recipe
Ingredients
2

chicken breast halves

6

thin slices provolone cheese

6

thin slices swiss cheese

6

thin pieces of ham

2

wedges of garlic and herb laughing cow cheese

1 1/2

cups

of flavored croutons

2

TBSP

grated Parmesan cheese

2

TBSP

of Italian seasonings

1/2

cup

egg whites

toothpicks
Instructions
Preheat oven to 350 degrees

Take your chicken breast and place in a freezer bag and flatten with a meat tenderizer

Lay your chicken breast out and put a layer of provolone and swiss cheese in the middle of the breast.

Add a layer of ham on top of the cheese, then a layer of cheese and layer of ham

Spread out the laughing cow cheese on the last layer of ham

Roll one side to the other side of the chicken breast and hold together with toothpicks

Put the croutons, Parmesan cheese and Italian seasonings in food processor and blend

Roll the chicken breast in egg whites and then in bread crumbs

Place chicken breast toothpicks side up in a grease glass pan and put in oven

After 30 minutes of cooking pull the chicken out of the oven and remove the toothpicks

Place a layer of provolone and swiss cheese on top of chicken and place back in the oven for 5 minutes or until cheese is melted
Nutrition
Serving:
1
g
|
Calories:
1021
kcal
|
Carbohydrates:
58
g
|
Protein:
40
g
|
Fat:
7
g
|
Saturated Fat:
2
g
|
Cholesterol:
76
mg
|
Sodium:
1691
mg
|
Potassium:
608
mg
|
Fiber:
3
g
|
Vitamin A:
160
IU
|
Vitamin C:
1.3
mg
|
Calcium:
158
mg
|
Iron:
3.2
mg