This kicked up potato salad is so creamy and delicious perfect for your next BBQ, picnic, or just a nice side dish.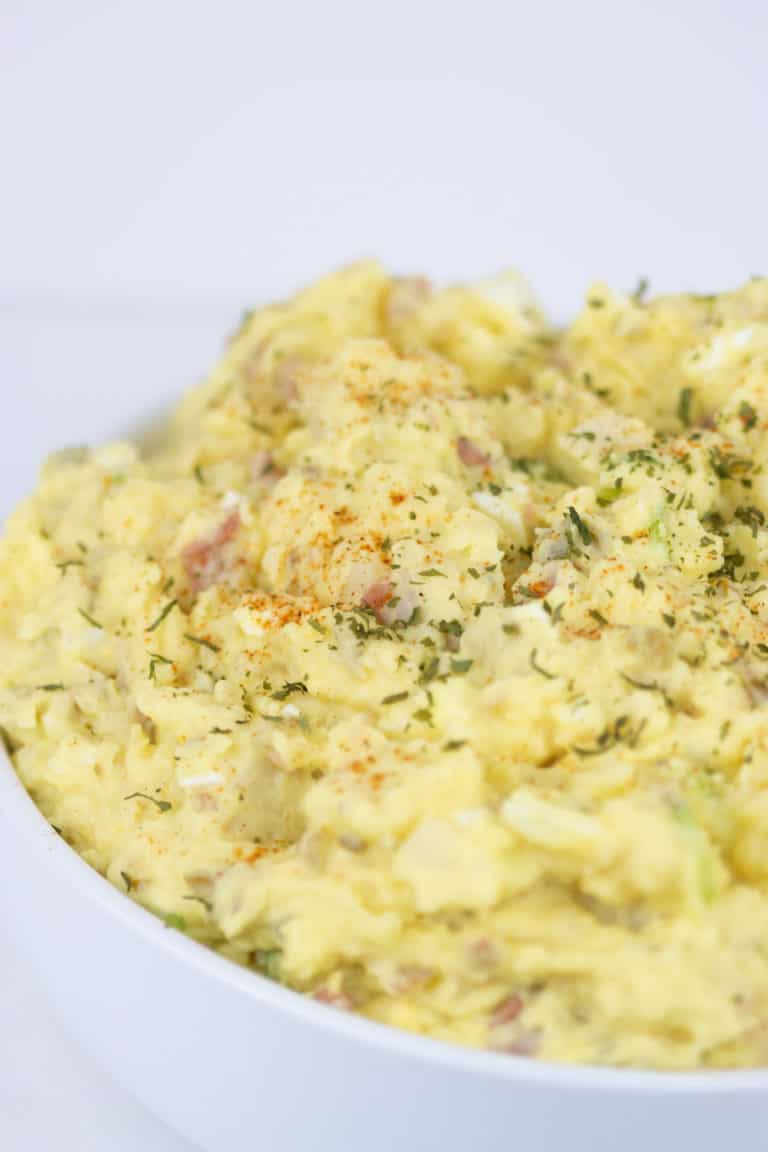 Summer time is for backyard BBQs with friends and family which means lots of food. A staple BBQ food is potato salad here in Texas. I always like to do things a little bit different and came up with this kicked-up version of potato salad.
What is kicked-up potato salad?
Potato salad is great in itself, but whenever I can I like to add a little more spice to stuff. That's where the jalapeno mustard and cayenne pepper come in.
Now neither of this actually make this kicked up potato salad spicy, just gives it a little more flavor. If you are wanting a little more of a spicy potato salad add extra chopped jalapeno and a little more cayenne pepper.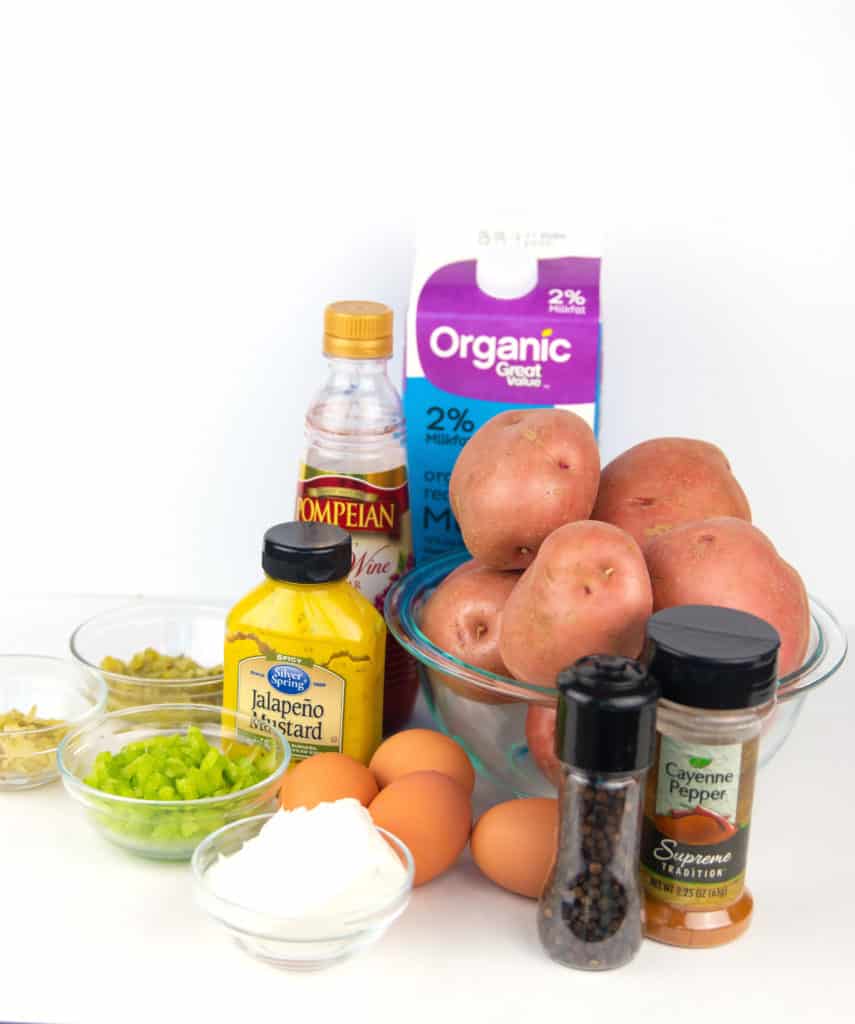 What ingredients you need
Potatoes– I prefer red potatoes and leaving the skin on, but any potatoes will work skin on or off
Boiled eggs– because no southern potato salad would be complete without them
Dill and sweet pickles– this gives the potato salad a salty and sweet flavor. You can either use relish or chop up some pickles really small
Celery– to give an added crunch
Cream Cheese– this gives it a creamy texture
Mayo– because mayo is always the 2nd main ingredient in potato salad. You can use regular mayo, but prefer miracle whip
Jalapeno Mustard– this is what gives this potato salad its kick. It doesn't make it spicy just gives it an extra boost. You can always use regular mustard and chop up some pickled jalapenos
Red Wine Vinegar– I prefer red wine vinegar over any other for my mayo based recipes. It really has such a great flavor
Milk– to thin out the salad
Cayenne Pepper– to give it a little more spice
Salt & Pepper– just a little of both
Prepping the Potatoes
Wash and scrub all the potatoes and slice them into bite slices pieces (Photo 1) Boil a large pot half full of water (Photo 2) and add all the chopped potatoes (Photo 3)
Cook for about 15 minutes until you can easily pierce with a fork (Photo 4) Drain and strain and rinse with cool water in the strainer
Also boil another pot of water to cook your eggs. I like to bring to a boil then remove from heat with the lid on. After 12 minutes drain and run in cold water and peel.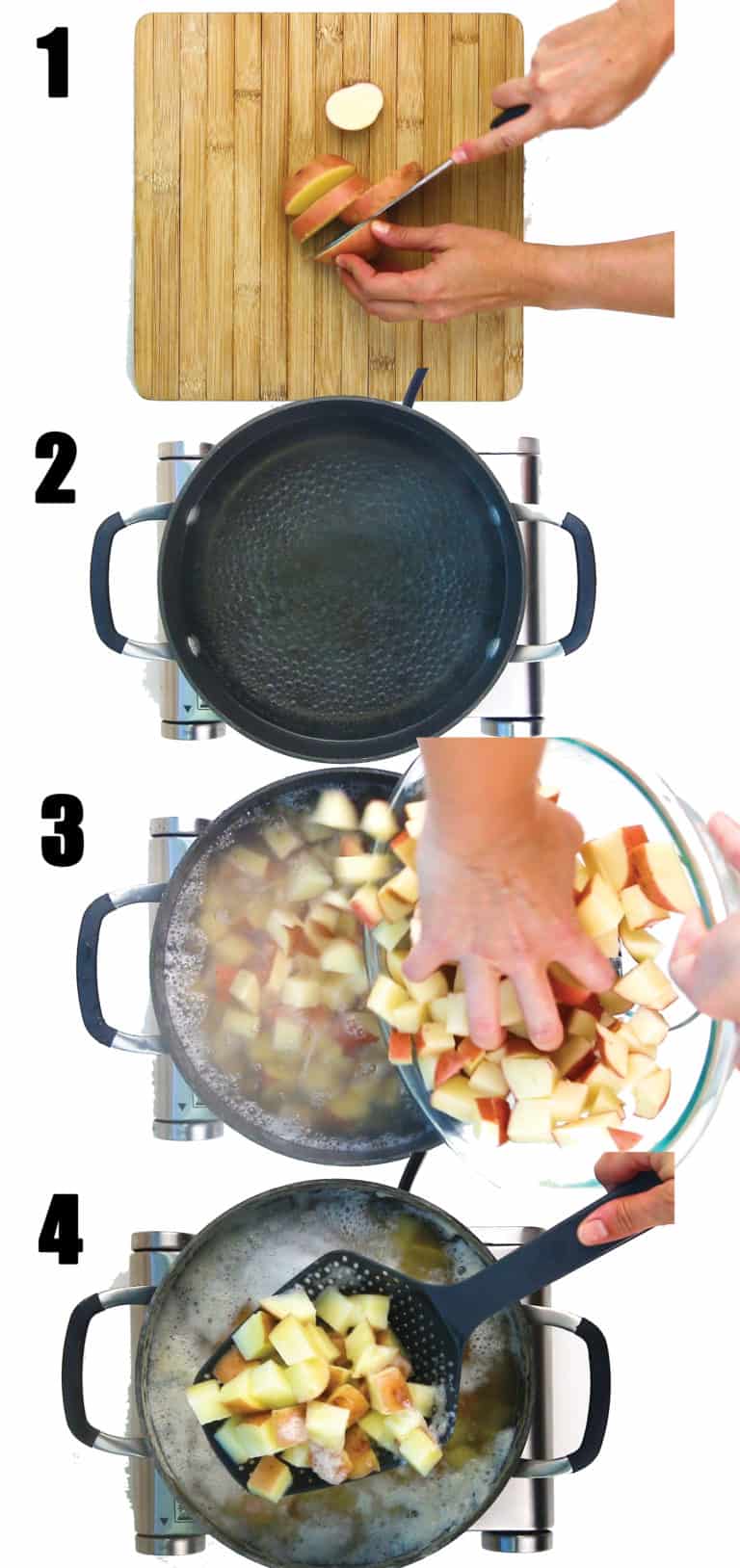 Making the kicked-up potato salad
Add the cooked potatoes to a big mixing bowl and use a potato masher to mash them a little bit (Photo 5) I like to leave some chucks of potatoes so I don't mash them completely
Add milk to the potatoes (Photo 6) then the chopped celery (Photo 7) and the sweet pickles (Photo 8) and the dill pickles (Photo 9) and the red wine vinegar (Photo 10)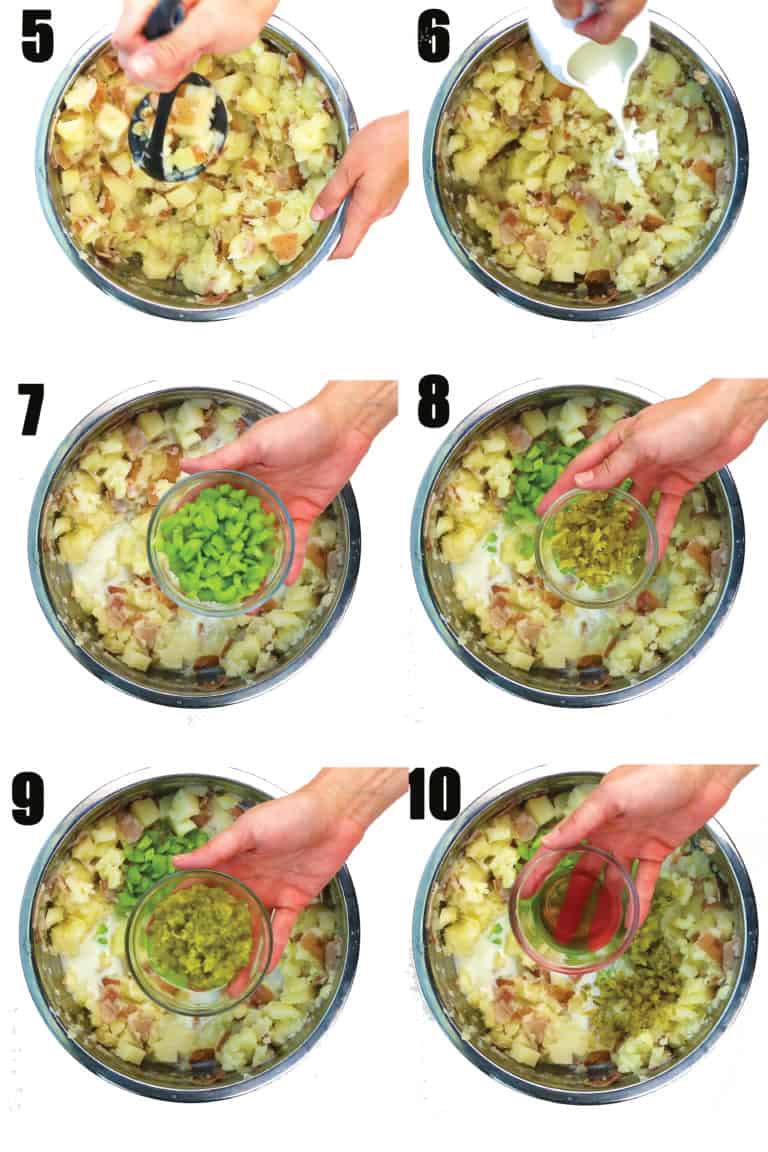 Next add the soften cream cheese to the potatoes (Photo 11) and then the salt and pepper (Photo 12) and cayenne pepper (Photo 13) Add the chopped boiled eggs (Photo 14)
Then add the mayo (Photo 15) and last add the jalapeno mustard (Photo 16) and then mix together really well (Photo 17) and cover and refrigerate until ready to serve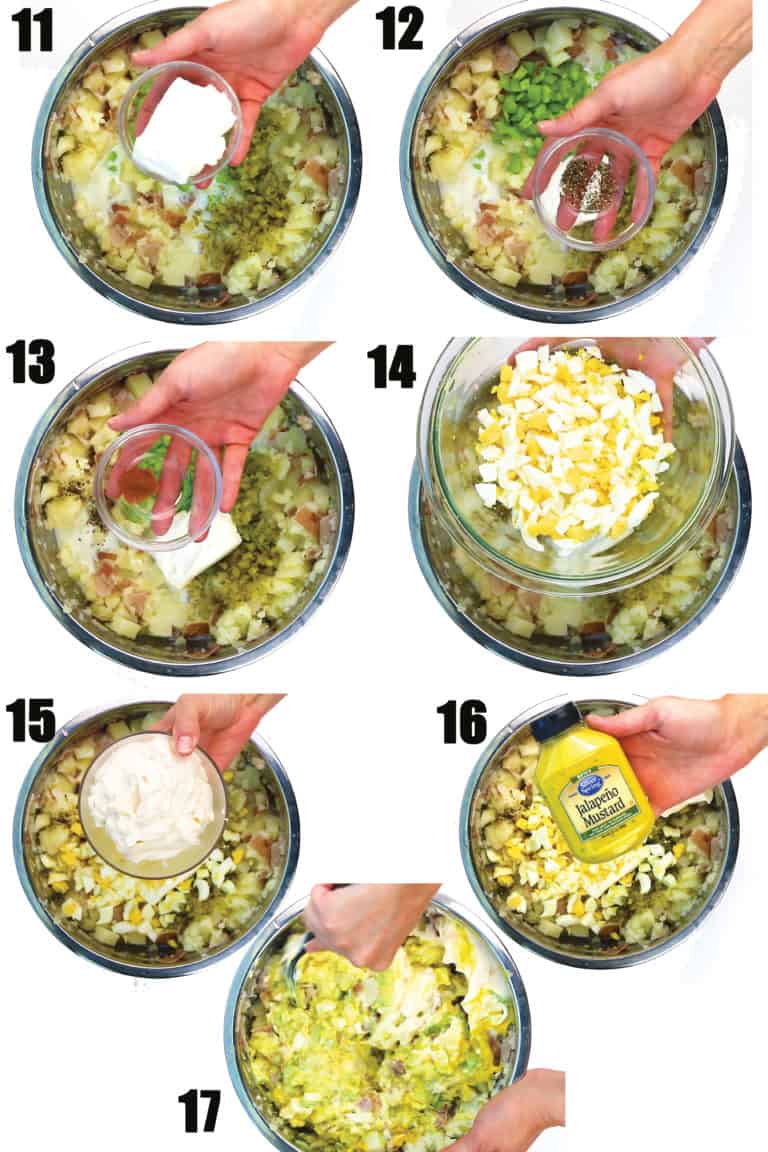 Tips for this recipe
If you can't get a hold of jalapeno mustard use 2/3 a cup of regular mustard and 1/4 of a cup of chopped pickled jalapenos
This recipe is not spicy, but when I want it to be a little bit spicier I add about a half of a cup of chopped jalapenos and a little more cayenne pepper
Be sure to let your cream cheese sit out for 30 minutes to a hour to soften up. Makes it so much easier to mix
You can always cook and mash your potatoes a day before and refrigerate overnight and add all the remaining ingredients the next day
The best way I have found to boil eggs is place the eggs in a pot and fill over top with water and set the stove to high and once they start to boil, cover and remove from heat and time 12 minutes. After that run under cool water and peel
I am not a raw onion fan, but a lot of people add onions to their potato salad. Just add the same amount of onions as you did celery.
Another great addition to this recipe is add bacon. Either cook up a pack of bacon or buy some real bacon bits and mix it in right before serving
Do remember!
Food shouldn't be left unrefrigerated more than 2 hours and only 1 hour if the food is outside in temperatures over 90 degrees.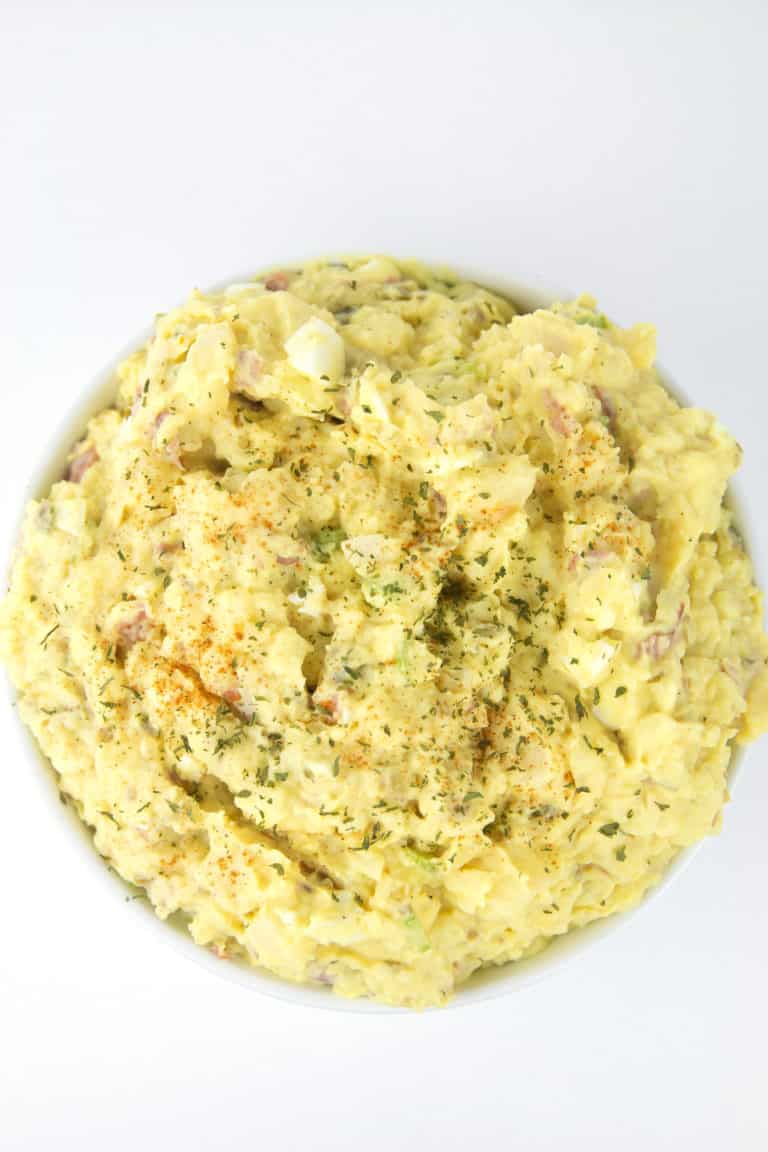 Other recipes to go with this kicked up potato salad
Oven Baked BBQ Ribs
Ranch Coleslaw
Bacon Wrapped Ranch Chicken Jalapeno Poppers
Banana Pudding Pie

Or check out my side dishes to find the right one for your meal
Did you make this recipe? Then give a star rating below and tag your picture on Instagramwith #glitterandgraze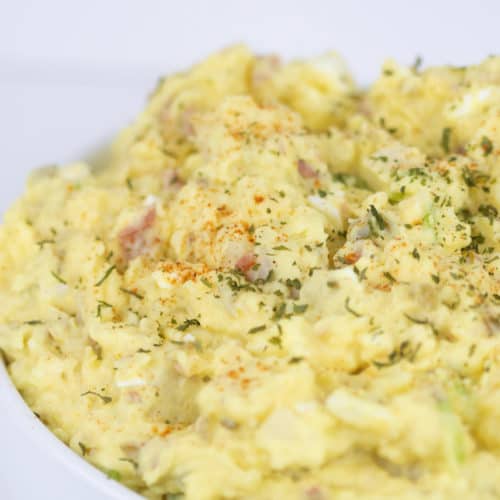 Kicked-up Potato Salad
This kicked up potato salad is so creamy and delicious perfect for your next BBQ, picnic, or just a nice side dish.
Print Recipe
Ingredients
10

medium red/new potatoes

4 cups

1 1/2

cups

mayo

3/4

cup

jalapeno mustard

or 3/4 cup regular mustard and 1/4 cup chopped jalapenos

1/2

cup

celery

3

oz

cream cheese

1/2

cup

milk

3

TBSP

chopped pickles or pickle relish

2

TBSP

sweet pickles

2

TBSP

red wine vinegar

1

TSP

salt

1/4

TSP

pepper

1/4

TSP

cayenne pepper
Instructions
Fill 2 pots half way with water and boil

Wash and chop up new potatoes and add to boiling water and eggs to other pot of boiling water

Cook potatoes for about 15 minutes until tender then drain and strain

Boil eggs for about 12 minutes then drain and peel and chop up

Mash up potatoes with leaving some chunks of potatoes

Add milk, celery, both pickles, red wine vinegar,cream cheese, salt & pepper, cayenne pepper, mayo, jalapeno mustard and eggs to the bowl and stir really well until all ingredients are mixed

Cover and refrigerate for an hour or 2 before serving
Notes
If you can't get a hold of jalapeno mustard use 2/3 a cup of regular mustard and 1/4 of a cup of chopped pickled jalapenos
This recipe is not spicy, but when I want it to be a little bit spicier I add about a half of a cup of chopped jalapenos and a little more cayenne pepper
Be sure to let your cream cheese sit out for 30 minutes to a hour to soften up. Makes it so much easier to mix
You can always cook and mash your potatoes a day before and refrigerate overnight and add all the remaining ingredients the next day
The best way I have found to boil eggs is place the eggs in a pot and fill over top with water and set the stove to high and once they start to boil, cover and remove from heat and time 12 minutes. After that run under cool water and peel
I am not a raw onion fan, but a lot of people add onions to their potato salad. Just add the same amount of onions as you did celery.
Another great addition to this recipe is add bacon. Either cook up a pack of bacon or buy some real bacon bits and mix it in right before serving
Nutrition
Serving:
1
cup
|
Calories:
621
kcal
|
Carbohydrates:
54
g
|
Protein:
9
g
|
Fat:
42
g
|
Saturated Fat:
8
g
|
Cholesterol:
35
mg
|
Sodium:
1137
mg
|
Potassium:
1489
mg
|
Fiber:
6
g
|
Sugar:
7
g
|
Vitamin A:
365
IU
|
Vitamin C:
26.8
mg
|
Calcium:
87
mg
|
Iron:
2.8
mg
Update Notes; This recipe was originally posted in November of 2016, but was republished with new photos, cooking tips, step by step picture instructions and a recipe tweak in August 2019