Whip up a delightful Tzatziki Sauce in minutes with this easy recipe, perfect for transforming your sandwiches or serving as a refreshing dip​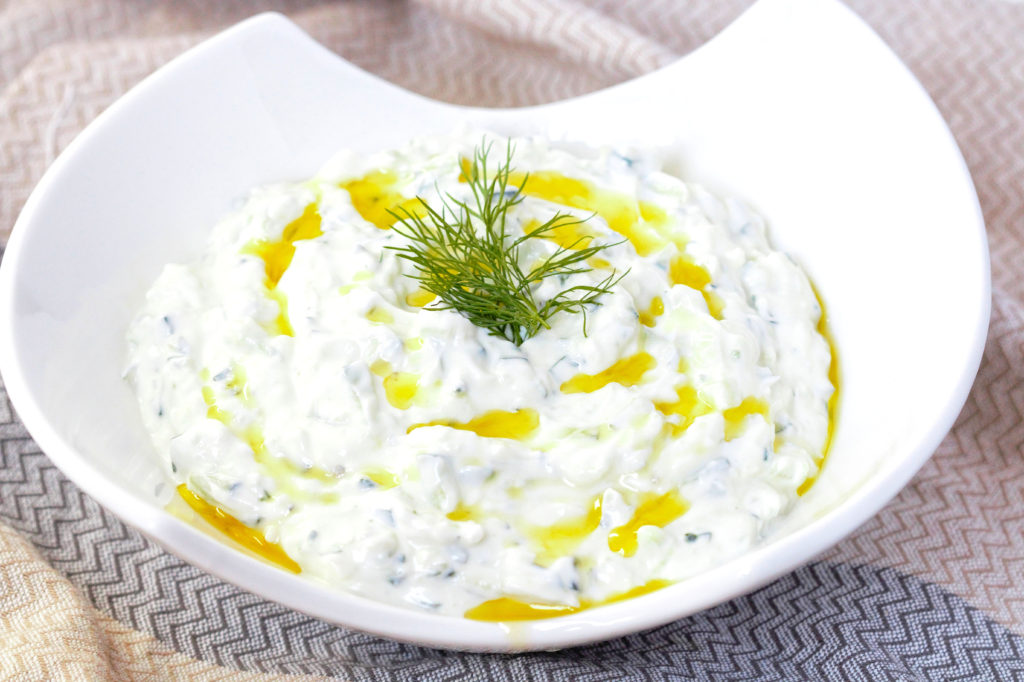 What is Tzatziki Sauce?
Tzatziki sauce is a traditional Greek sauce or dip that's known for its tangy, fresh flavor profile. It's typically made from strained yogurt, cucumbers, garlic, olive oil, and herbs like dill, and it's loved for its versatility – you can slather it on sandwiches, use it as a dip, or even dress salads with it.
Why Choose this Recipe?
Freshness and Healthiness: This recipe is made with fresh ingredients, including Greek yogurt, cucumbers, garlic, lemon juice, and dill, making it a healthy option that doesn't sacrifice taste​.
Unique Preparation Methods: Offers distinct preparation techniques, such as using full-fat Greek yogurt and draining it to make the sauce thicker, and combining chopped and grated cucumber to achieve the perfect texture, which results in a more flavorful and satisfying tzatziki sauce​.
Flavor Optimization: The garlic is grated to avoid biting into large chunks, and the sauce is refrigerated for at least an hour to allow the flavors to fully blend together, enhancing the overall taste experience​1​.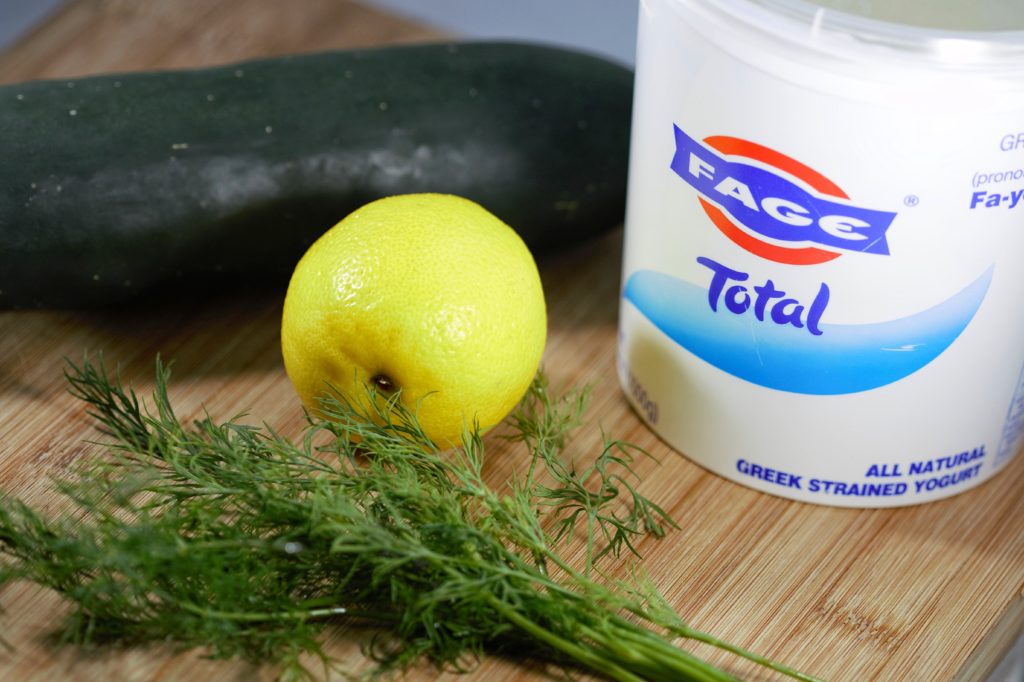 Ingredients for Tzatziki Sauce
Greek Yogurt: Choose full-fat Greek yogurt for this recipe as it will provide a thicker and creamier consistency compared to low-fat variants. It's also recommended to strain the yogurt for a few hours to remove any extra moisture, further contributing to the thickness of the sauce​.
Cucumber: Use a fresh cucumber, cutting it lengthwise and removing all the seeds. Half of the cucumber should be chopped into small cubes and the other half should be grated. It's important to remove as much juice as possible from the cucumber to avoid diluting the sauce. Using a bag and squeezing it can be a useful method for this​.
Fresh Lemon Juice: This adds a tangy flavor to the sauce. Use fresh lemons rather than bottled juice for the best flavor​.
Dill: Freshly chopped dill is the best. It gives a unique flavor that's characteristic of Tzatziki Sauce​.
Garlic: Opt for fresh garlic cloves and either grate them using a zester or mince them super fine. This is to avoid large chunks of garlic in the sauce and to ensure the garlic flavor is evenly distributed​.
Olive Oil: This adds a smooth texture and rich flavor to the sauce. Choose a good quality olive oil for the best results​.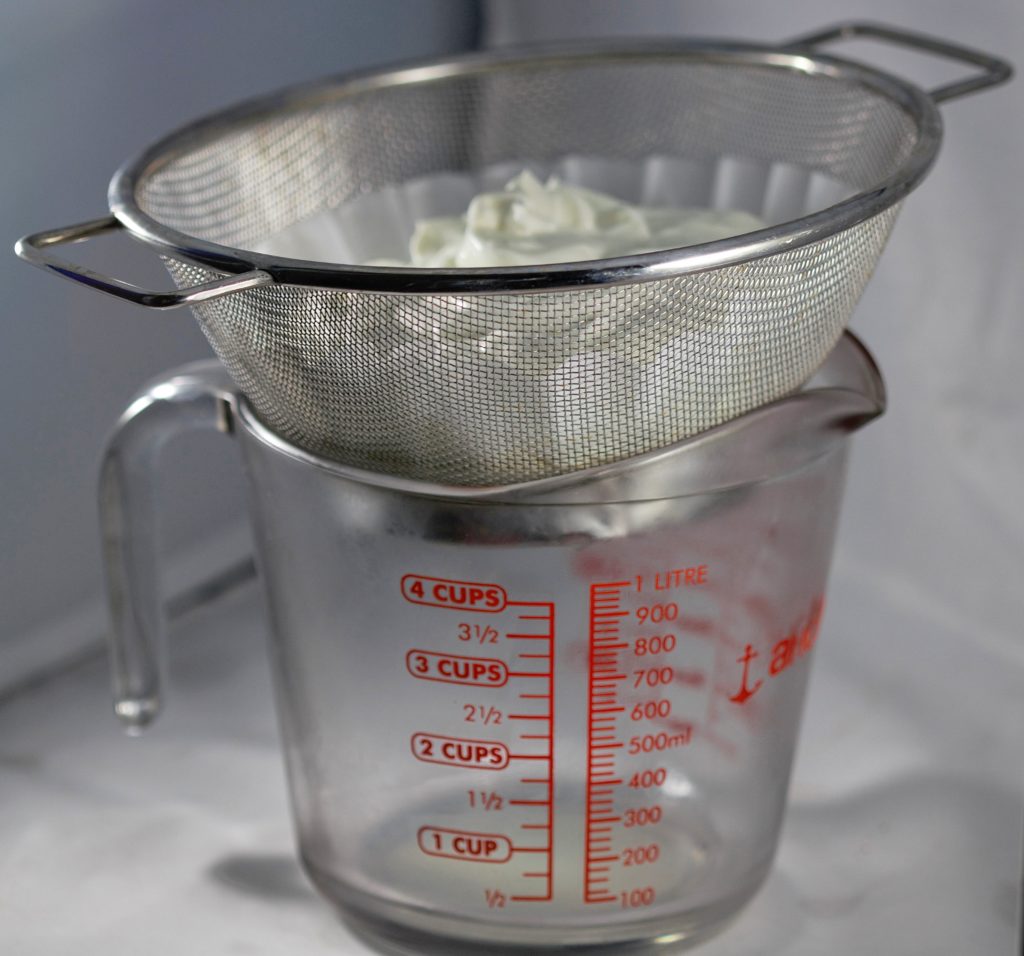 What to use Tzatziki Sauce for?
Gyros: Imagine sinking your teeth into a flavorful gyro filled with grilled meat, warm pita bread, and a generous dollop of creamy tzatziki sauce. The sauce adds a refreshing and tangy element that perfectly complements the savory goodness of the gyro. Or even this Greek Pizza
Grilled Meats: Whether you're grilling chicken, lamb, pork, or beef, don't forget to whip up a batch of tzatziki sauce. Slather it on your juicy grilled meats to experience the delightful contrast of cool and tangy sauce.
Vegetables and Crudités: Transform a platter of fresh veggies into an irresistible appetizer by serving them with a side of tzatziki sauce. Dip crunchy cucumbers, carrots, bell peppers, and cherry tomatoes into the creamy sauce for a burst of Mediterranean flavor.
Pita Bread or Naan: Take your pita bread or naan to the next level by spreading a generous amount of tzatziki sauce on top.
Salads: Give your salads a Greek twist by drizzling them with tzatziki sauce as a dressing. It infuses the fresh vegetables, olives, and feta cheese with a creamy and tangy kick, turning a simple salad into a delightful Mediterranean feast.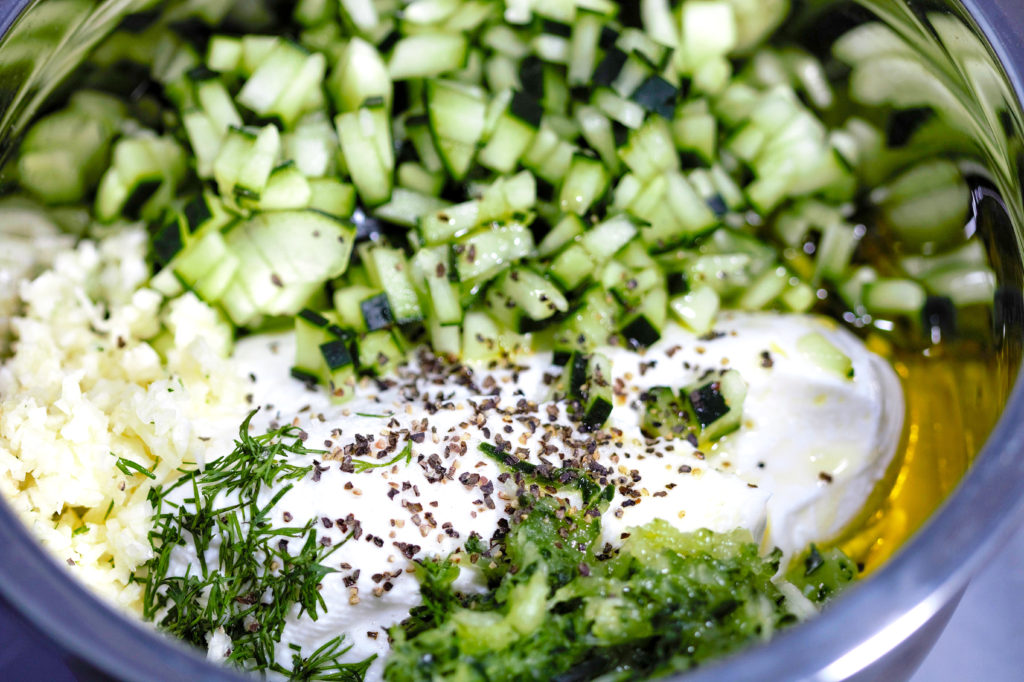 Can I use low-fat yogurt instead of full-fat Greek yogurt?
You can use low-fat yogurt as a substitute, it's recommended to use full-fat Greek yogurt for Tzatziki sauce. The full-fat version provides a richer and creamier texture, which enhances the taste and mouthfeel of the sauce.
How long does Tzatziki sauce last in the refrigerator?
Tzatziki sauce can typically be stored in the refrigerator for a few days, usually up to 3-4 days. Make sure to keep it in an airtight container to maintain freshness.
Is Tzatziki sauce healthy?
Yes, Tzatziki sauce can be a healthy choice. Beecause it's made with nutritious ingredients like Greek yogurt, which is high in protein and calcium, and cucumbers, which are hydrating and rich in vitamins. However, the overall healthiness can vary depending on the specific recipe and serving size.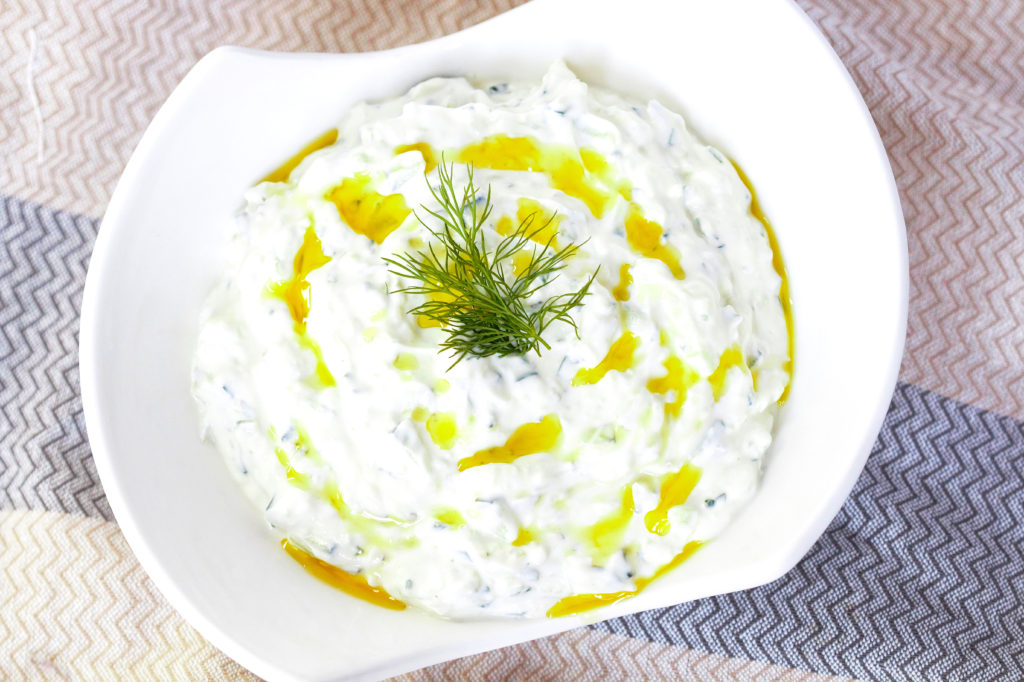 Tips and Tricks for Tzatziki Sauce
Choose the right yogurt: Opt for full-fat Greek yogurt instead of low-fat versions. The full-fat yogurt provides a richer and creamier texture, which enhances the overall taste of the sauce.
Drain the yogurt: To achieve a thicker consistency, strain the yogurt before using it in the recipe. Place the yogurt in a strainer lined with coffee filters or a cheesecloth and let it drain in the refrigerator for a few hours. This helps remove excess moisture and makes the sauce creamier.
Remove excess moisture from the cucumber: Cucumbers naturally contain a lot of water, which can dilute the sauce. After chopping and grating the cucumber, squeeze out the excess juice. A handy trick is to place the shredded cucumber in a Ziploc bag and squeeze out the liquid through a small opening.
Get creative with herbs and spices: Try adding fresh mint, parsley, or a pinch of paprika to add a unique twist to the sauce.
Let it rest for the flavors to meld: After mixing all the ingredients, refrigerate the Tzatziki sauce for at least an hour before serving. This allows the flavors to blend together and intensify, resulting in a more delicious and well-rounded sauce.
Store properly and enjoy within a few days: Keep the Tzatziki sauce in an airtight container and store it in the refrigerator. It will typically stay fresh for a few days, but it's best consumed within that time frame to ensure optimal taste and quality.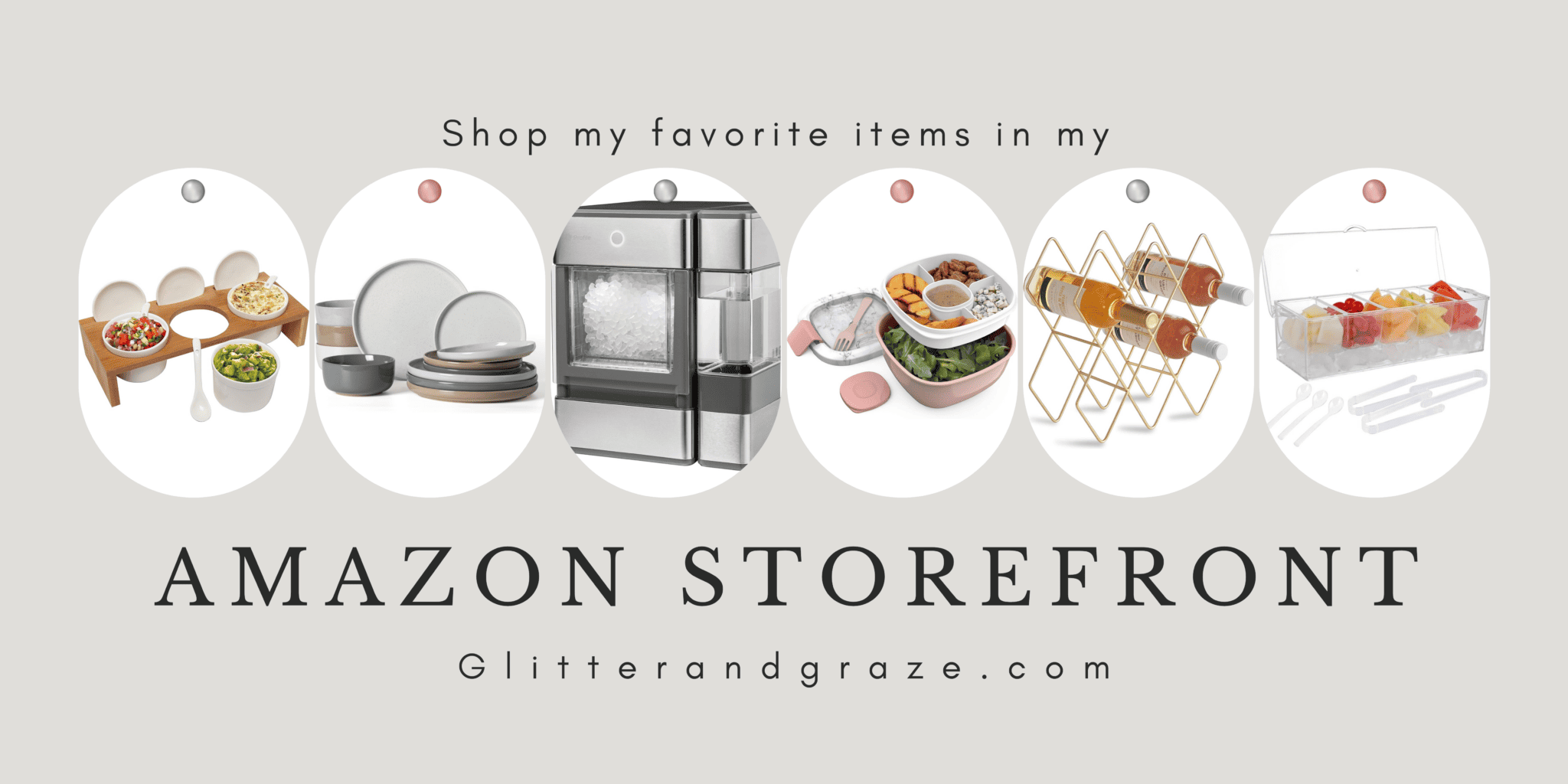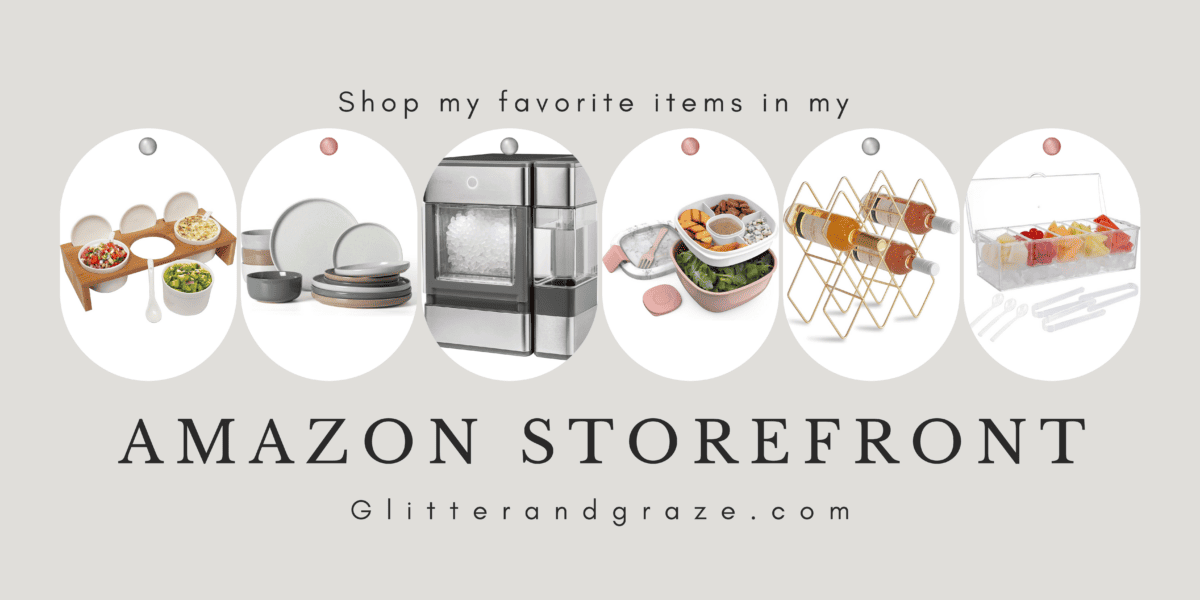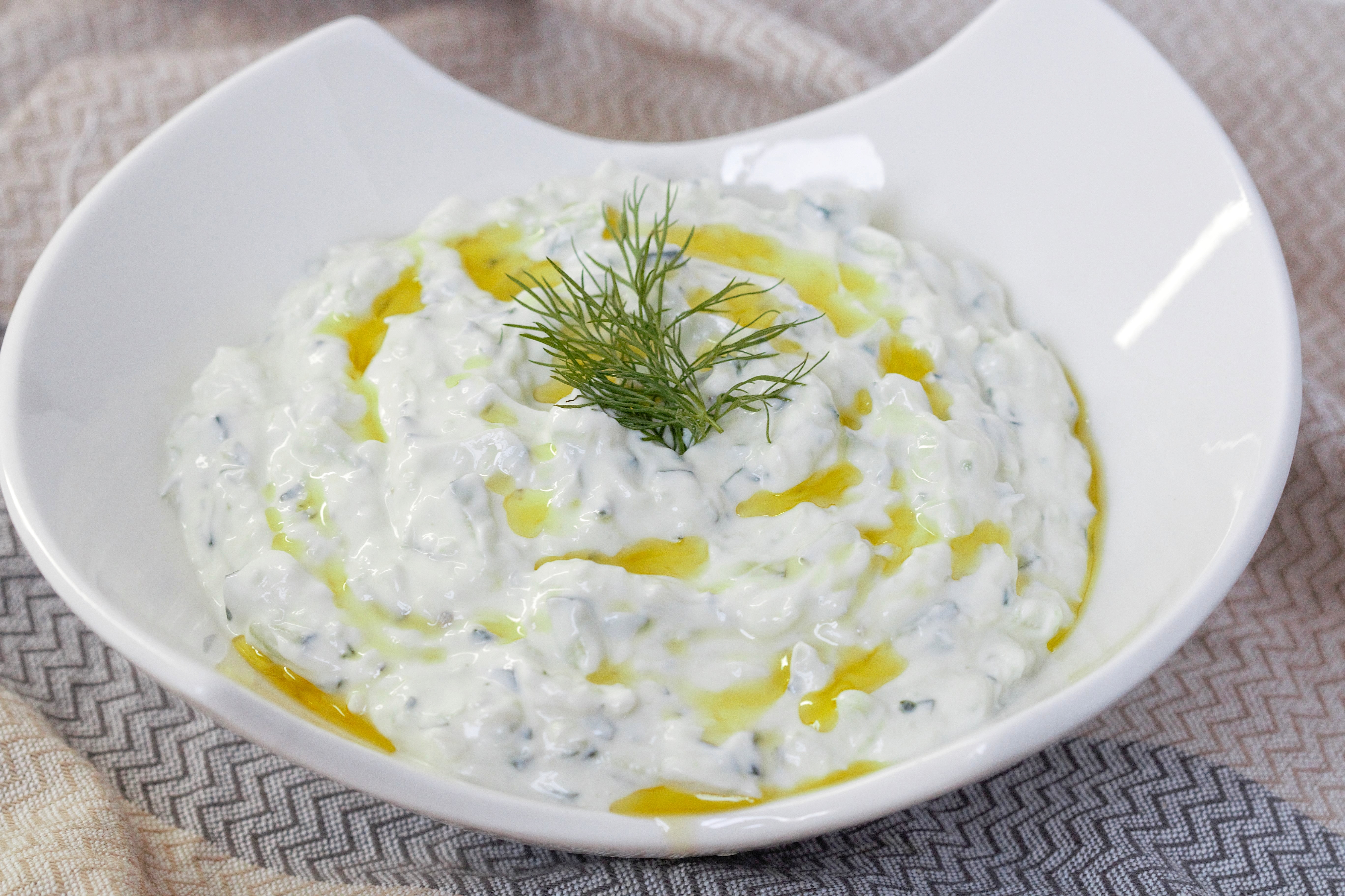 Taziki Sauce
This taziki sauce is made with fresh ingredients and can be prepared in such a short time. Taziki sauce is perfect to use as a dip or to spread on your favorite sandwiches.
Print Recipe
Ingredients
2

cups

full fat of greek yogurt

1

cucumber

2

TBSP

of fresh lemon juice

1 lemon

1

TBSP

of chopped dill

2

cloves

of garlic

2

TBSP

of olive oil

1/2

TSP

sea salt

1/2

TSP

of pepper
Instructions
Take a strainer and a bowl and place 2 coffee filters or a cheese cloth and put in strainer and add greek yogurt to drain for 2 hours in the refrigerator

Take the cucumber and cut long ways and dig out all the seeds

Take one half of the cucumber and chop into small cubes and the other half grate with a cheese grater. Get rid of excess juice from the cucumber

Peel the garlic cloves and use a zester to grate the garlic or mince super fine

Chop up the fresh dill

Add all the ingredients into a bowl and mix together then refrigerate for at least an hour
Nutrition
Calories:
134
kcal
|
Carbohydrates:
6
g
|
Protein:
10
g
|
Fat:
7
g
|
Saturated Fat:
1
g
|
Cholesterol:
5
mg
|
Sodium:
328
mg
|
Potassium:
243
mg
|
Sugar:
4
g
|
Vitamin A:
55
IU
|
Vitamin C:
5.8
mg
|
Calcium:
123
mg
|
Iron:
0.2
mg