A spicy ranch snack mix that will for sure please your crowd. Fair warning though, once you start you won't be able to stop. The spicy, zesty flavor of this mix will make it hard to stop eating.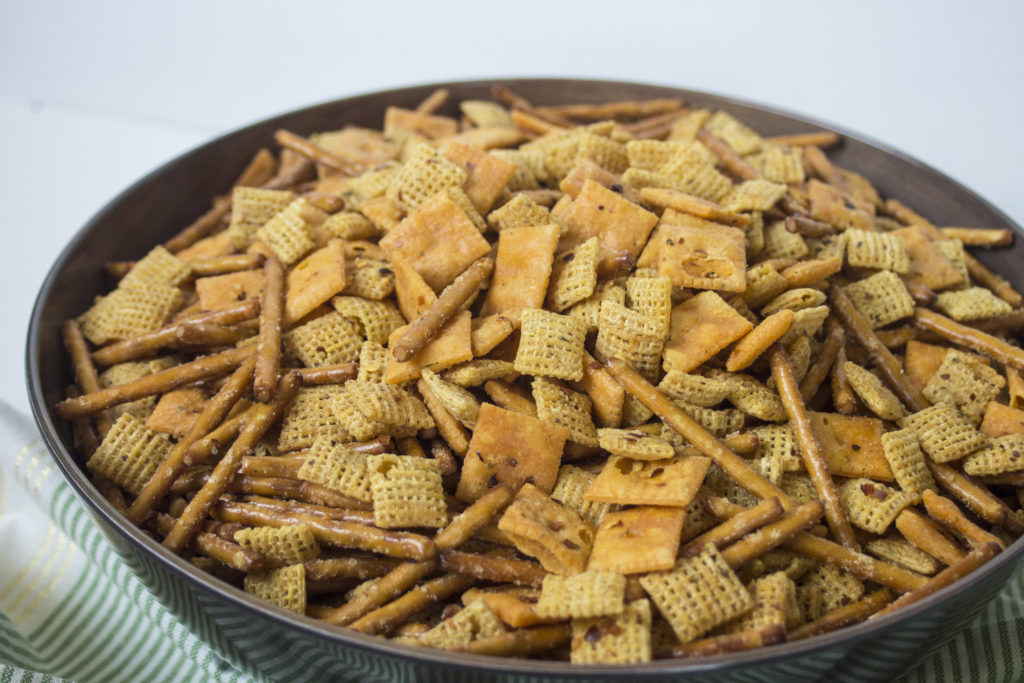 Disclaimer: Please note that some of the links below are affiliate links in
which I will receive a commission if you purchase those items through
that link. I used and recommend all the products below because I have
found the company and products are reliable and are my personal preference
You want to talk about something addicting here it is. I usually try to only make this for when I have people coming over or going over to a party. The reason why is because if this mix is sitting around too long around me it will be gone. Once I start eating this mix I cannot stop. Why can't it just be zero calories and I could have it all the time?
I picked to use Cheezits, pretzels, and rice Chex cereal, but the possibilities are endless of what you can put in your mix. I've made it with gold fish, oyster crackers, and also different types of Chex cereal. It's honestly whatever your personal preference is.
Another great thing you can make with this oil and seasoning mix are saltine crackers. Do all the same steps and pair these crackers with a meat and cheese platter or whatever you seem fit.
Funny story, I took a bowl of the saltine crackers with this mix to a party. Someone later told me they thought, "why would someone just bring a bowl of saltine crackers?" Then they said they couldn't believe how good they were and couldn't stop eating them.
I even put this oil, seasoning mix over my popcorn. That's how much I can't get enough of this.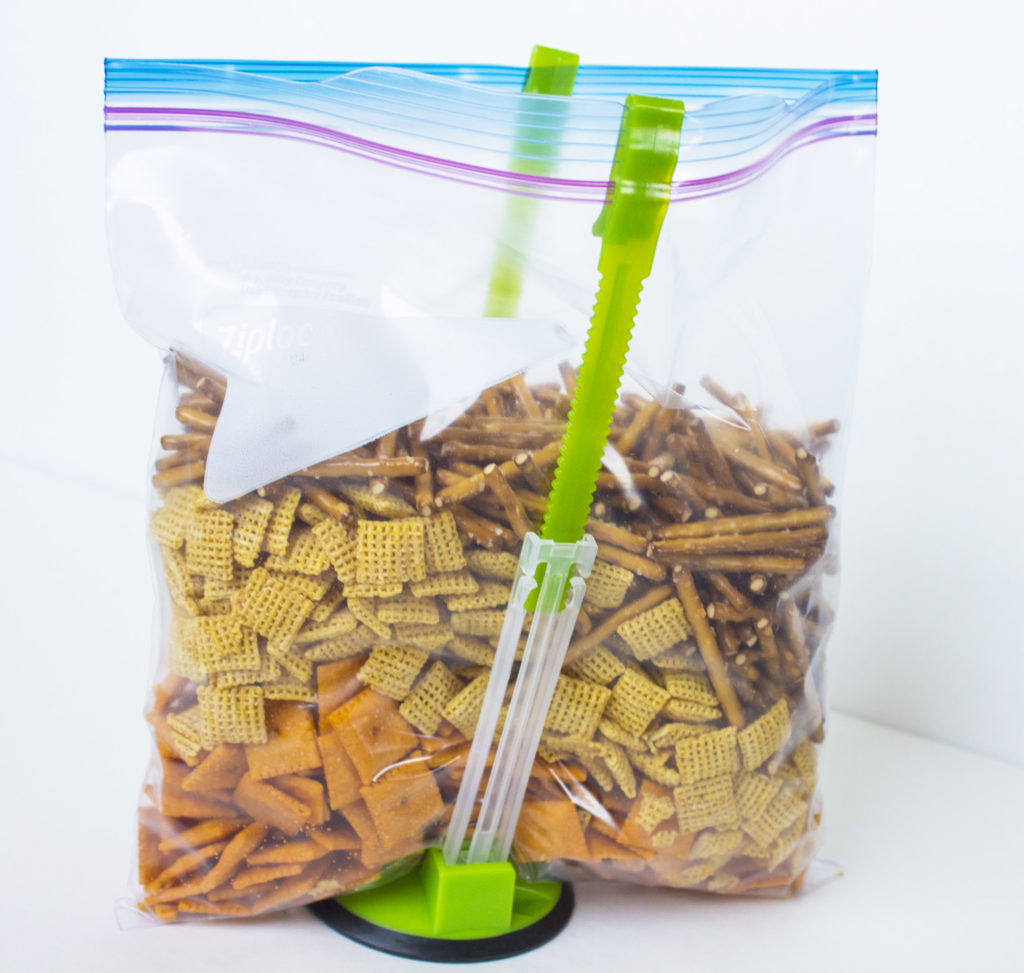 This nifty bag holder-upper I have in the picture is such a big help. Especially when you're having to pour something in a bag, but need both hands to hold the bag open.
Here is where I got mine. Jokari 16930 Baggy Rack Storage Bag Opener and Holder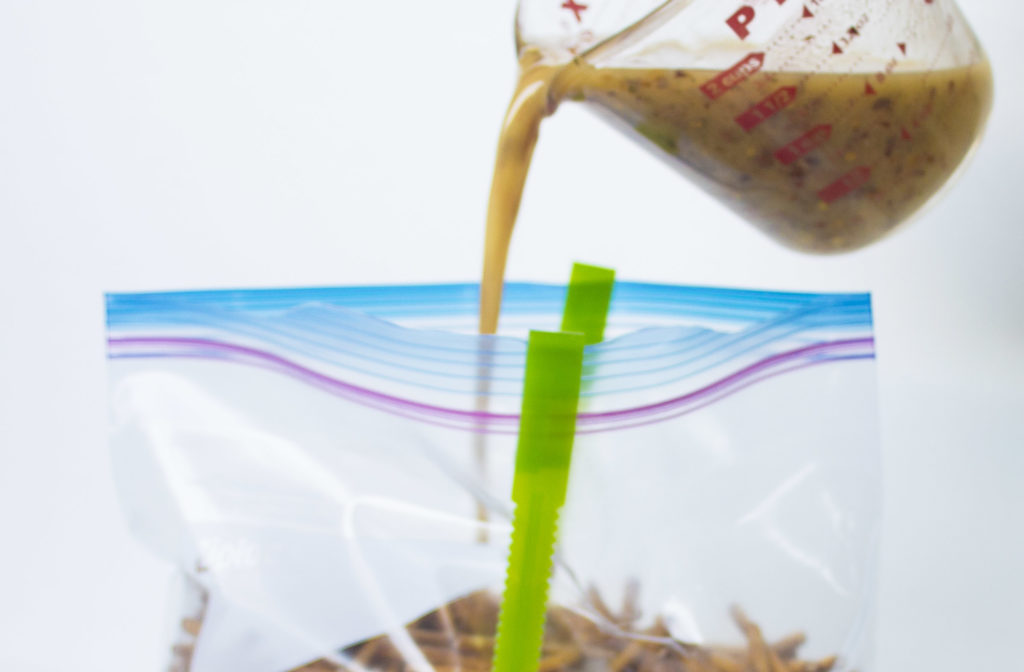 After pouring your oil mix in you want to seal the bag good and shake around. Make sure you get every piece coated. I mixed all mine in one big freezer bag, but if you feel mixing it in two separate equal parts together would be easier go ahead. Just make sure to split your oil mix in half to get even coating.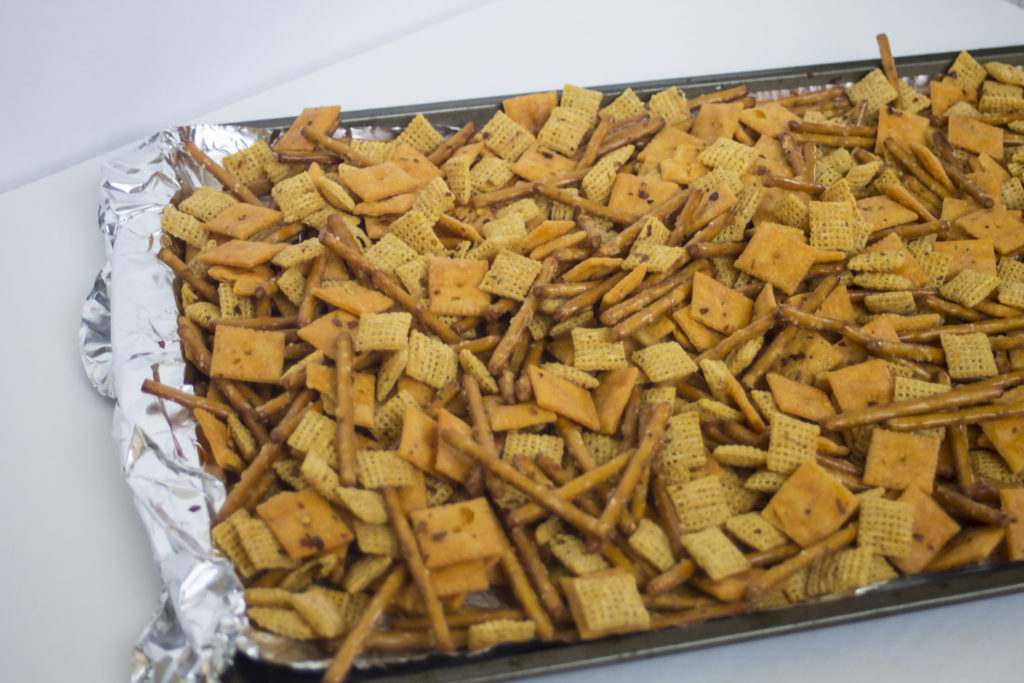 You want to spread out evenly on a big baking pan lined with foil. No need to grease before hand because the mix has enough oil on it to not stick.
I like to stir the mix around every 10 minutes once its in the oven. I personally take the pan out of the oven to stir it because I will spill the mix everywhere in the oven. The mix that is on top will look dryer than the mix on the bottom. You want to make sure all your mix looks dry and not all oily before you are done cooking. The low temp of your oven is what helps achieve this. It's really creating a dry environment instead of actually baking. The mix is usually ready in 30 minutes.
I leave my mix out on the tray for at least 30 minutes to cool down, mixing it around every so often. If you are serving immediately then going ahead and putting it in your serving bowl is not problem. I usually make it ahead of time so I put it in Ziploc bags, which is why I let mine cool down before doing so.
The holidays are right around the corner, which means parties galore. This is such a great addition for any crowd and you won't disappoint. Again, this is so addicting it won't last long. Enjoy!
Print Recipe
Spicy Ranch Snack Mix
A spicy ranch snack mix that will for sure please your crowd. Fair warning though, once you start you won't be able to stop. The spicy, zesty flavor of this mix will make it hard to stop eating.
Ingredients
4

cups

of rice Chex Mix

4

cups

pretzel sticks

4

cups

Cheezits

2/3

cups

of canola oil

4

TBSP

of Ranch dressing seasoning

1 1/2

TBSP

red pepper flakes
Instructions
Preheat oven at 250 degrees

Combine Chex mix, pretzels, and Cheezits into a large Ziploc freezer bag

In a large mix cup add canola oil, ranch dressing seasoning, and red pepper flakes and whisk together well

Pour over the snack mix and seal the Ziploc bag and start shaking around to evenly coat all the snack pieces

Line a large baking pan with foil

Spread your oil coated mix even in the foil line pan and put in the oven

Cook for 30 minutes stir the mix every 10 minutes

Either serve immediately in your serving bowl of choice or let cool down in the cooking pan for another 30 minutes and store in a Ziploc storage bag
Nutrition
Nutrition Facts
Spicy Ranch Snack Mix
Amount Per Serving (1 g)
Calories 884
Calories from Fat 351
% Daily Value*
Fat 39g60%
Cholesterol 39mg13%
Sodium 1927mg84%
Potassium 78mg2%
Carbohydrates 114g38%
Protein 15g30%
Vitamin A 445IU9%
Calcium 168mg17%
Iron 2mg11%
* Percent Daily Values are based on a 2000 calorie diet.