Tom Kha Gai- Coconut Chicken Soup
Do you have a favorite go to meal? Well, this is one of mine. Tom Kha Gai-coconut chicken soup is so tasty. I cannot get enough of this soup.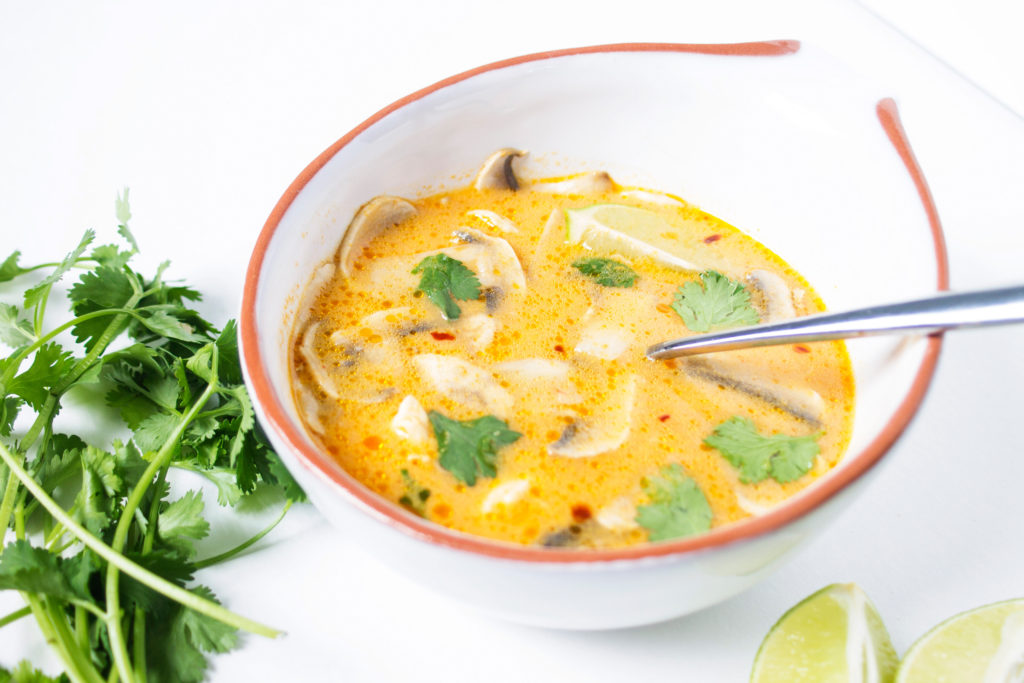 Disclaimer: Please note that some of the links below are affiliate links in which I will receive a commission if you purchase those items through that link. I used and recommend all the products below because I have found the company and
products are reliable and are my personal preference.
Before I started making this myself, I searched all over town to find the best one. Once I finally found my favorite, shortly after the restaurant closed down. Noooo. Now what do I do? That's when I decided it's time to create my own.
Here in Texas we have a specialty grocery store called Central Market, which is literally a piece of Heaven on earth. They literally have EVERYTHING from all over the world. Each isle is from a different cultural from around the world.
So instead of just one tiny section down a isle, you get a whole isle. Hopefully you have a similar store like this because if not you are missing out.
So they had all I needed to make this soup. Here about a month ago I go to stock up on the ingredients I needed for this soup. Much to my surprise they didn't have the coconut ginger soup base mix, nor the hot chili pepper oil that I've always used. What? Maybe they are just out of stocked.
Came back a week later and still nothing. They replaced the coconut ginger soup base with some powder stuff and only had garlic chili pepper oil. This was not going to work. I looked around at other grocery stores hoping to maybe find them, but failed.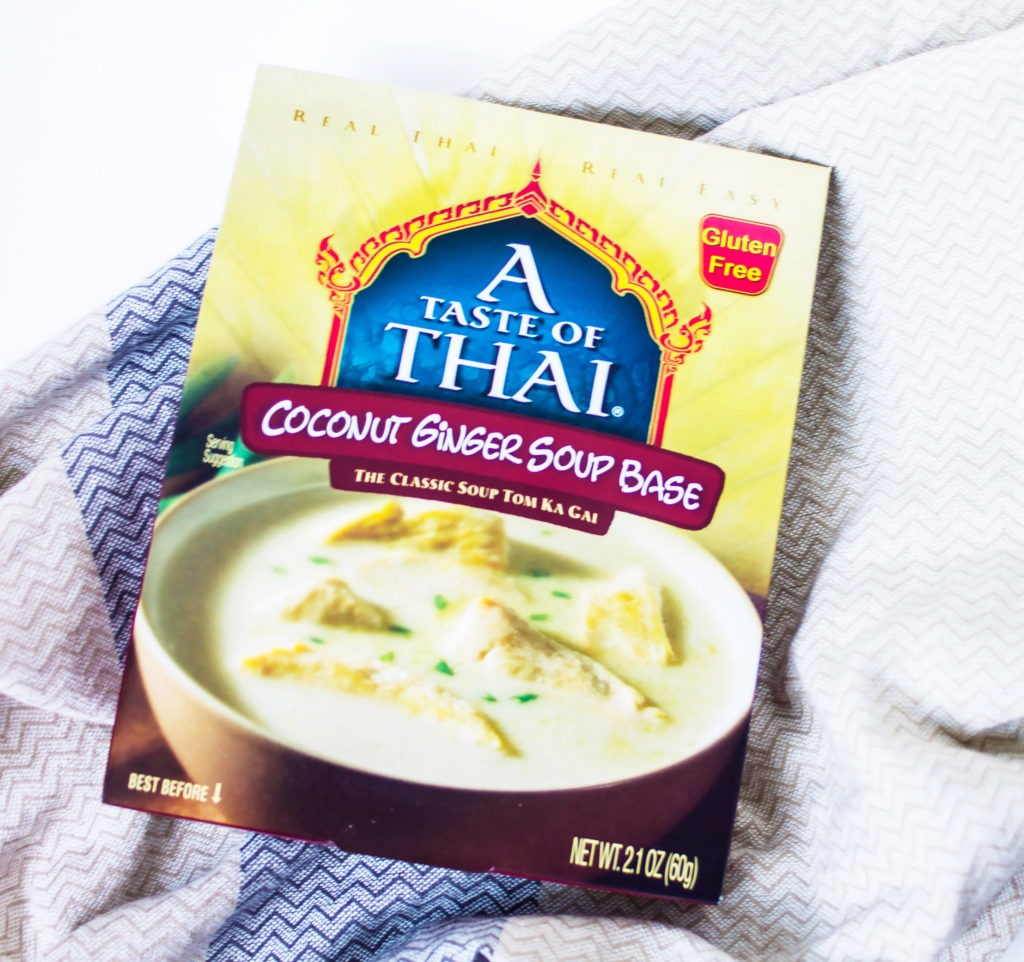 So onto Amazon I go. Yay! They had both. Since I couldn't just run down to the store to get these, I stocked up. The A Taste of Thai Coconut Ginger Soup Base, 2.1 Ounce Box (Pack of 6) makes it so this is a quick and easy meal. It didn't cost anymore to buy it online than it was when they did have it in store. With each pouch of the coconut ginger soup base you get 2 envelopes of base so you get to make this soup twice.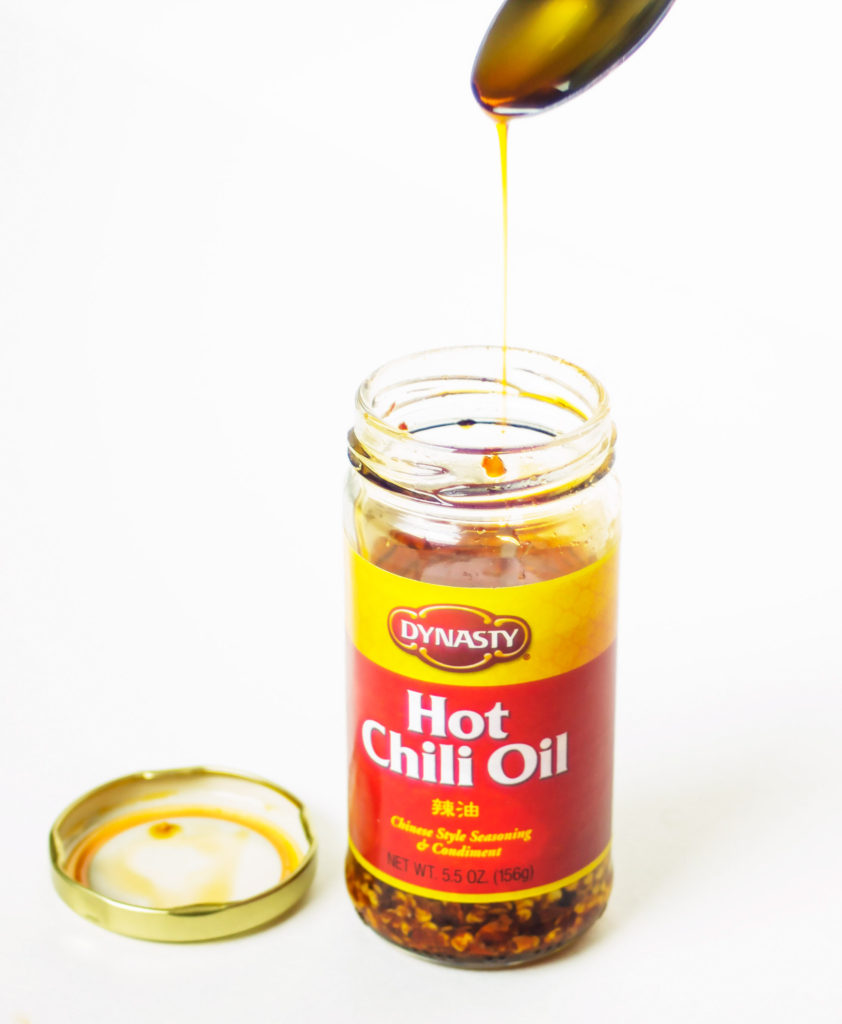 As far as the Dynasty Hot Chili Oil there was no way a garlic version of this was going to work because there is no garlic in this soup. When using hot chili pepper oil a little goes a long way. That's why I say use 1 teaspoon for this recipe.
Of course if you like it spicy, like I do, add more 1 teaspoon at a time. If you use some of the actual chilies that are at the bottom of the jar, you'll be giving your soup an extra kick. So use those very carefully.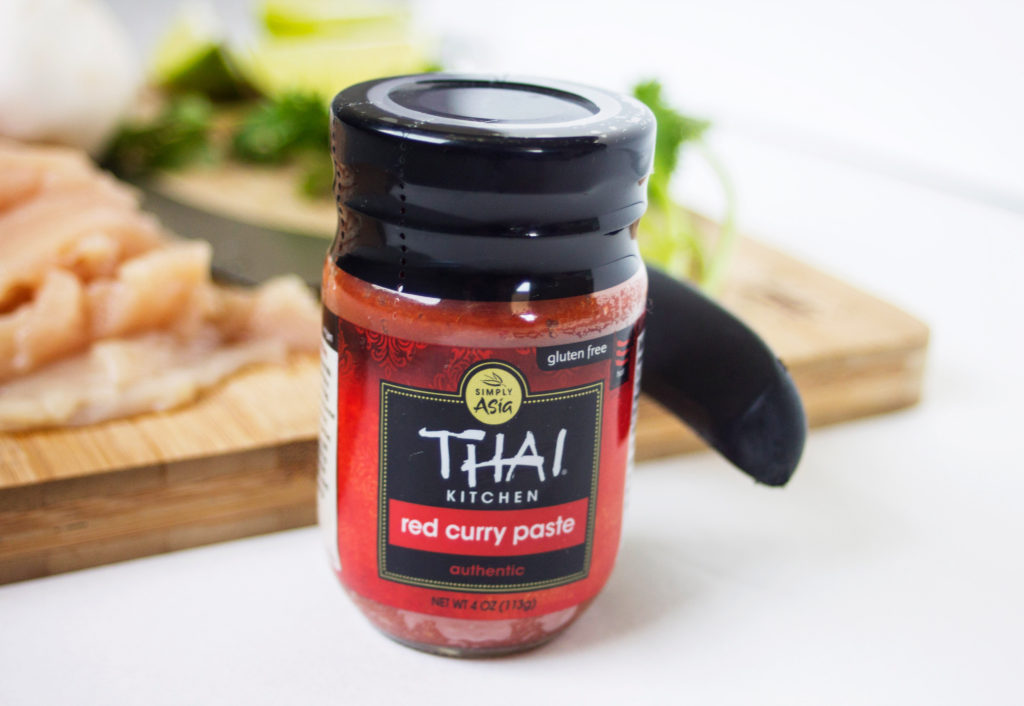 Fortunately the red curry paste is pretty easy to find in most stores. My local Walmart even carries it. The bottle says hot red curry, but honestly I don't find it hot at all. Sometimes I even use half the bottle for one recipe hoping to spice it up, but found the hot chili pepper oil does the job.
I personally use the lite version of the coconut milk. The reason I do this is I like to save calories wherever I can. Of course the non lite version of the coconut milk tastes so much better, but I've gotten so used to the lite version that I don't sit there and think "this would taste so much better with regular coconut milk." It's really up to you which you rather use. Or even try it both ways.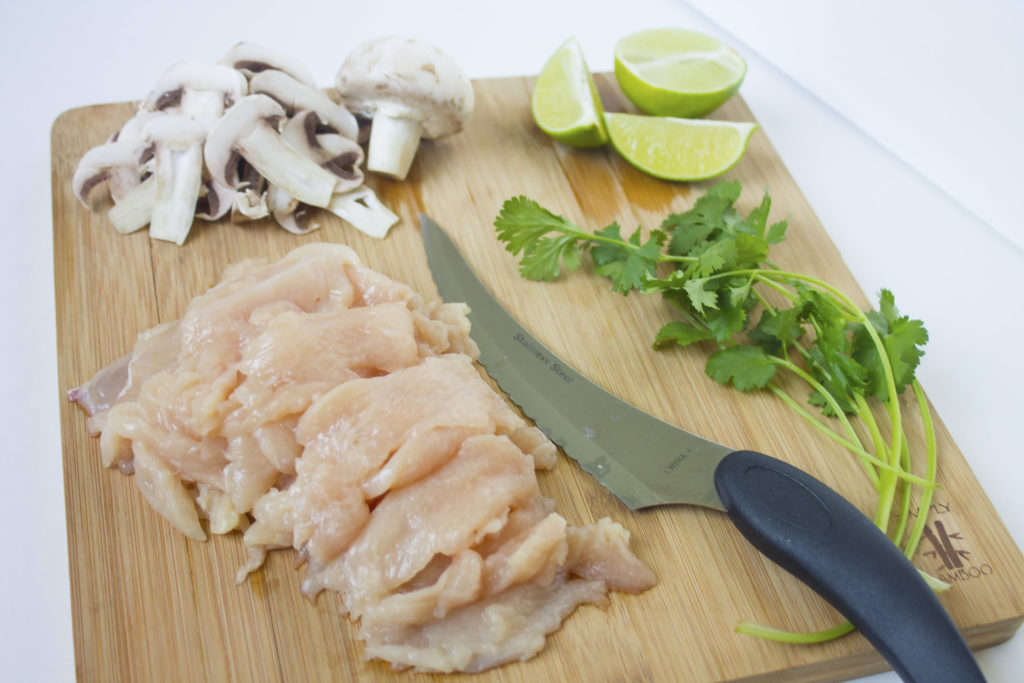 You wouldn't think the way you cut up chicken is really that big of deal, but in this case I would say it is. You want to make nice thin slices. I used my filet knife to achieve this. Big chucks of chicken just don't go with this soup. Plus you are cooking the chicken in the coconut milk so thin slices cook much faster.
I personally use fresh limes for this recipe. My love for limes is almost ridiculous. I've had a love a limes since I was a kid. A nightmare for my dental hygienist mother, caring about the enamel on my teeth. If you don't use actual limes, lime concentrate works just as well. I've used both before and the soup turns out great.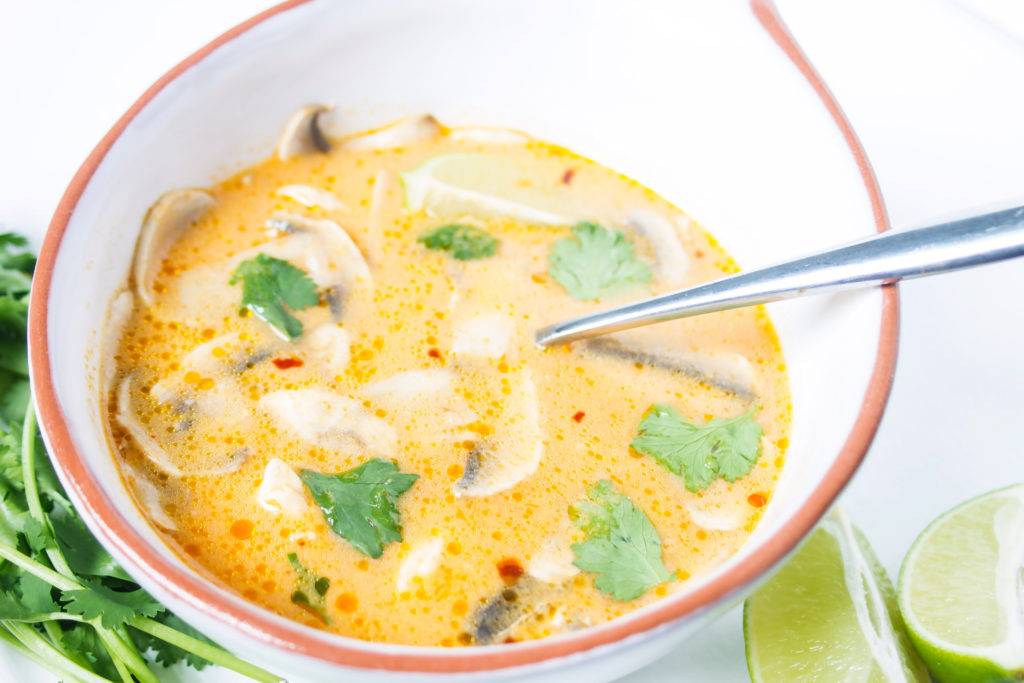 If you're wanting to try something new that is quick to make this is for you. Maybe you'll be making it once a week just like me. A creamy spicy soup that fills you up. What more could you ask for? I hope you enjoy!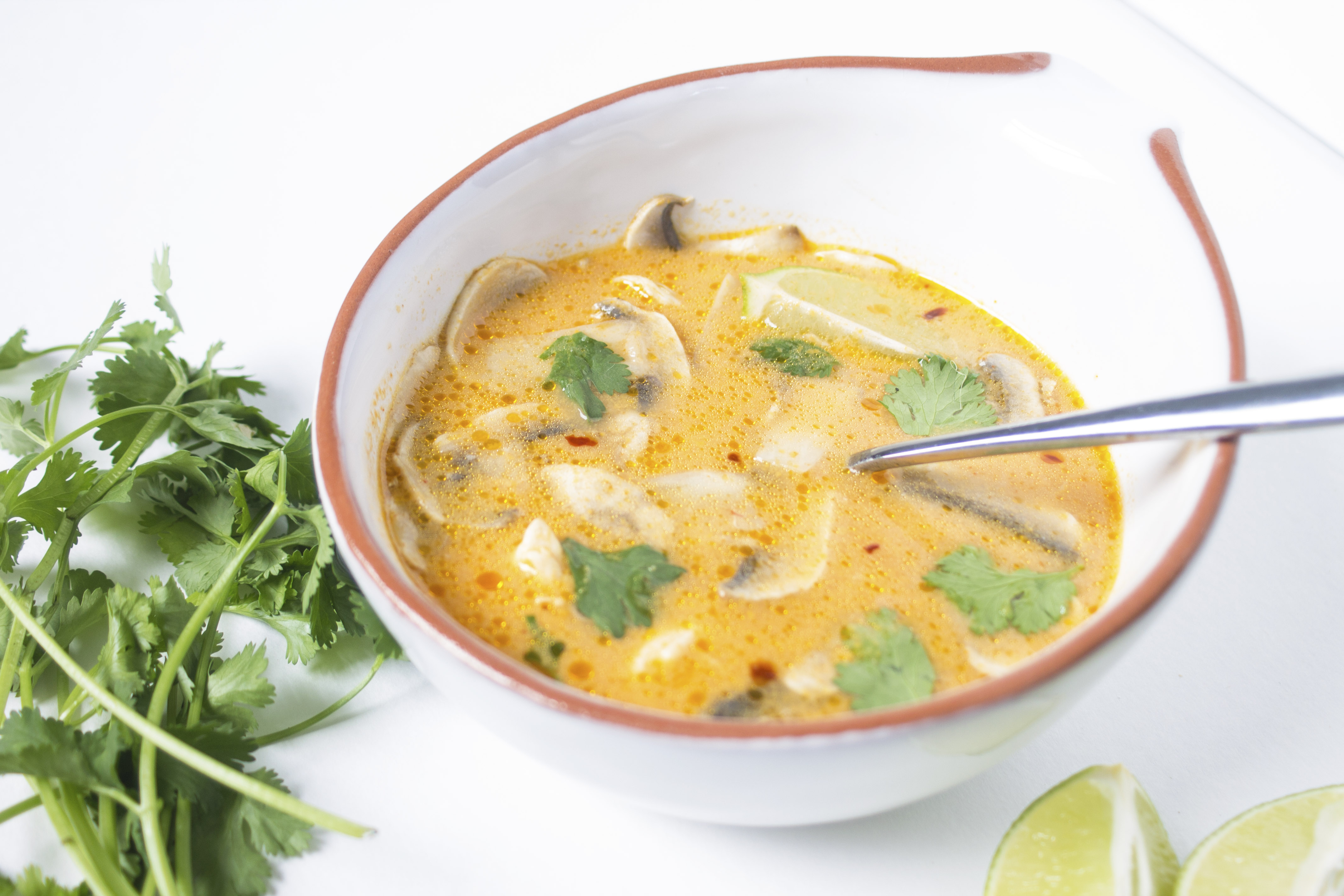 Tom Kha Gai- Coconut Chicken Soup
Coconut Chicken Soup so creamy and spicy all together. A classic Thai favorite.
Print Recipe
Ingredients
1

lb

boneless chicken

cut into thin slices

1

can of coconut milk

lite or regular

1

can

14.5 oz of chicken broth

1

envelope of A Taste of Thai Coconut Ginger Soup Base

1 1/2

cups

sliced mushrooms

1/4

cup

of lime juice

2 large limes

2

TBSP

of red curry paste

2

TSP

of hot chili pepper oil

4

stems of cliantro

leaves only
Instructions
In a medium size saucepan, combine the Coconut Ginger Soup Base with the coconut milk and red curry paste over high heat

Bring to a boil

Once boiling add chicken, returning to a boil

Cook for 3 minutes, stirring every so often until chickem is fully cooked

Add chicken broth, hot chili pepper oil, lime juice and mushrooms and return to a boil

Remove from heat and garnish with cilantro and serve
Nutrition
Serving:
1
g
|
Calories:
180
kcal
|
Carbohydrates:
3
g
|
Protein:
25
g
|
Fat:
6
g
|
Saturated Fat:
1
g
|
Cholesterol:
72
mg
|
Sodium:
134
mg
|
Potassium:
562
mg
|
Sugar:
1
g
|
Vitamin A:
1350
IU
|
Vitamin C:
7.8
mg
|
Calcium:
16
mg
|
Iron:
0.8
mg