Buffalo Hummus with Ranch Pita Chips
This buffalo hummus with ranch
pita chips is a smooth, tangy
twist on a Mediterranean classic
paired with crunchy flavored pita chips.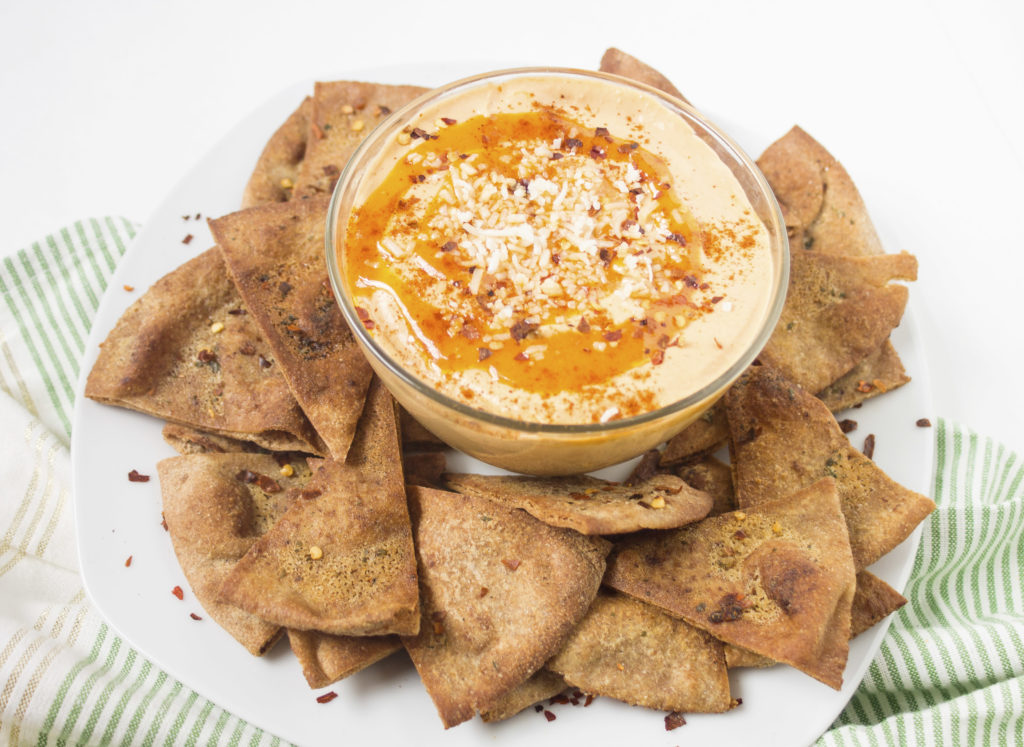 Hummus. Don't you just love it? I literally have 3 different kinds in my refrigerator currently. I cannot get enough of the stuff. Plus it's not bad for you either. Tasty and healthy what more could you ask for?
My love for buffalo sauce is unreal. I will eat anything with buffalo sauce on it. Just something about that tangy spicy flavor I cannot resist. So why not combine two of my loves in one great tasty snack. So that I did.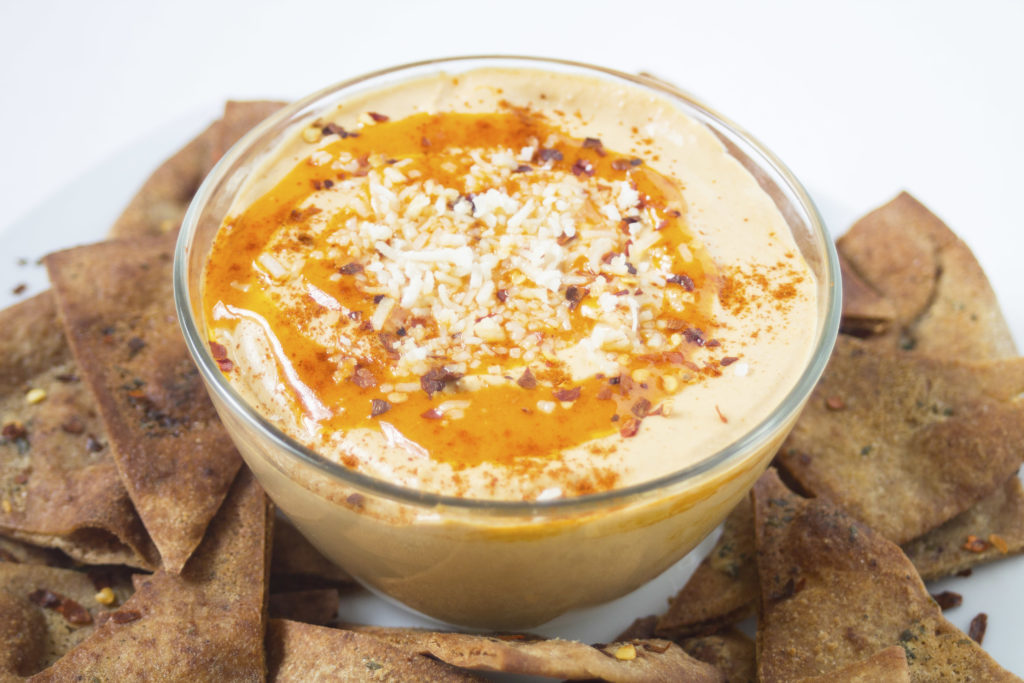 I've made different hummus recipes over the years. One thing I always ran into was chunks of beans in my hummus. How do I get mine to be smooth just like the store bought kind? I used different kitchen appliances thinking one would work better than the rest. I did find my larger food processor worked better than my smaller one, but still had some chunks.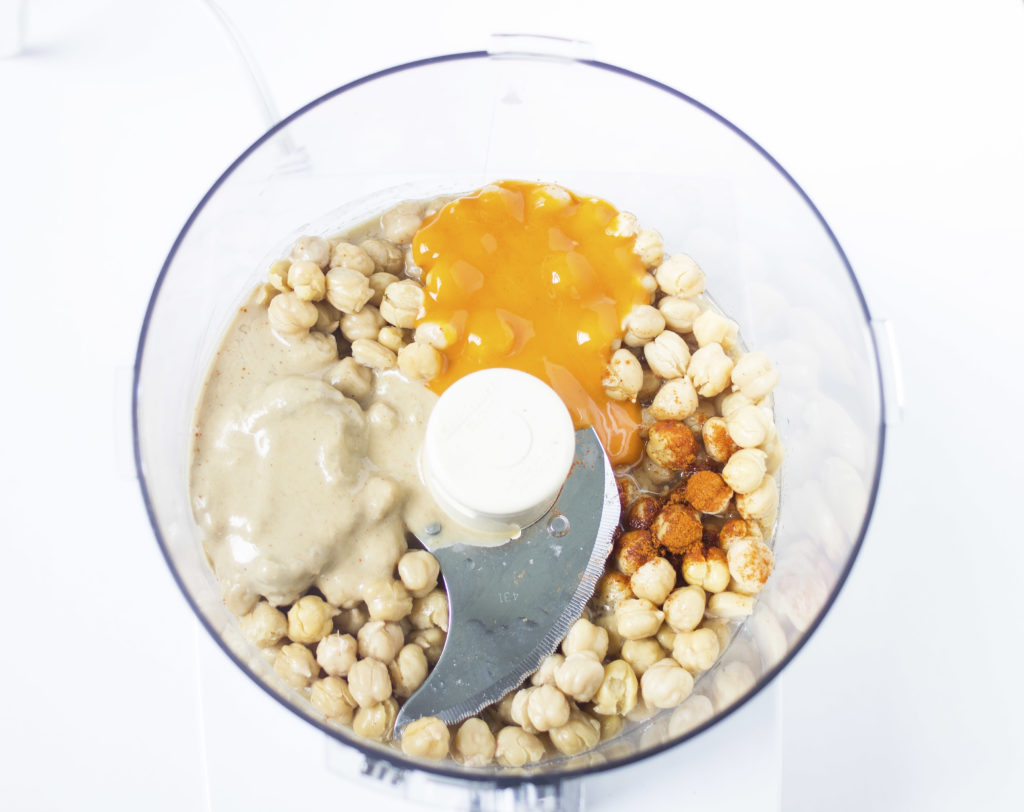 Finally I took to Pinterest to see if someone out there had the secret. I saw add more water or add baking soda. Ugh…no thanks if it's going to effect the taste. Then finally I found one solution that worked. Pealing the chickpeas (garbanzo beans).
Pealing the chickpeas? What does that mean? If you open up a can of these beans and pull one out you'll be able to see a thin film around the bean. All you have to do is pinch the bean slightly between 2 fingers and usually the film will pop right off. Once you get the hang of it it should only take you about 10 minutes to get through a whole can.
I know going through every bean peeling the skin off seems like such a pain. You can totally skip this step, but you will not have as smooth as hummus as to if you do. Personally I will sacrifice the extra ten minutes for that smooth texture.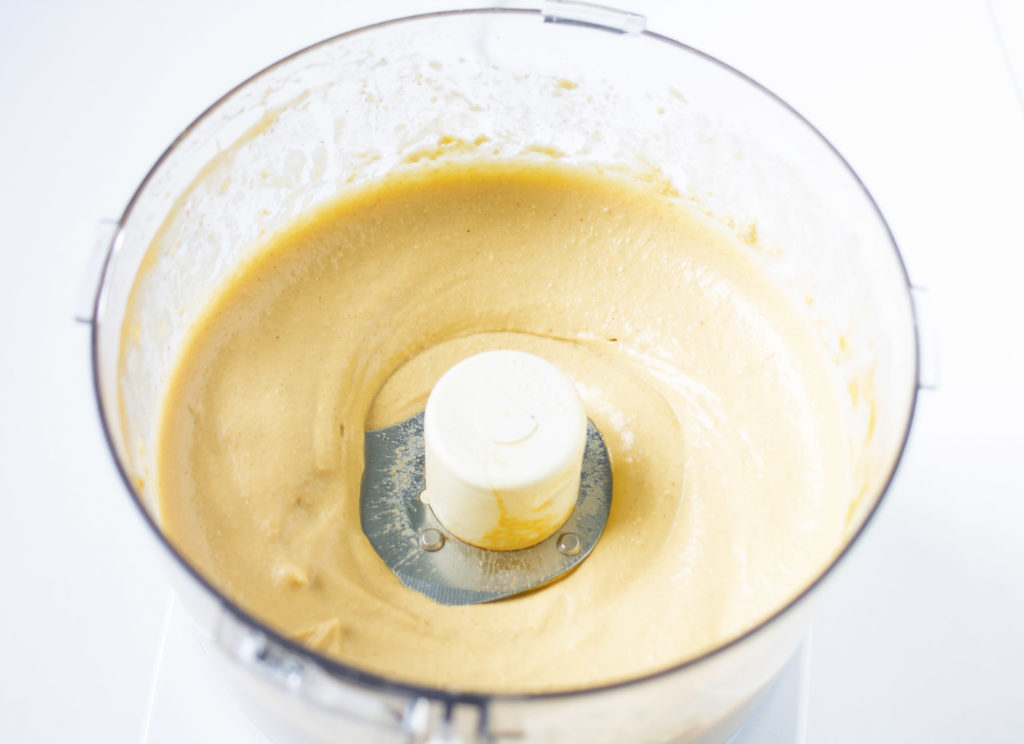 If you don't know about Tahini I'll give you a quick little overview. Tahini is a toasted ground sesame seeds paste. It has the same texture as natural peanut butter. Just like natural peanut butter the oil settles on top and you really have to put some arm work to mix it up. Tahini is used mostly in Mediterranean dishes. Finding Tahini in the store can sometimes be a struggle. When I was shopping for it the other day at a new store I just finally asked where it was. It was placed right by the peanut butter. Makes sense, but I would have never thought to look there. So when in doubt, just ask.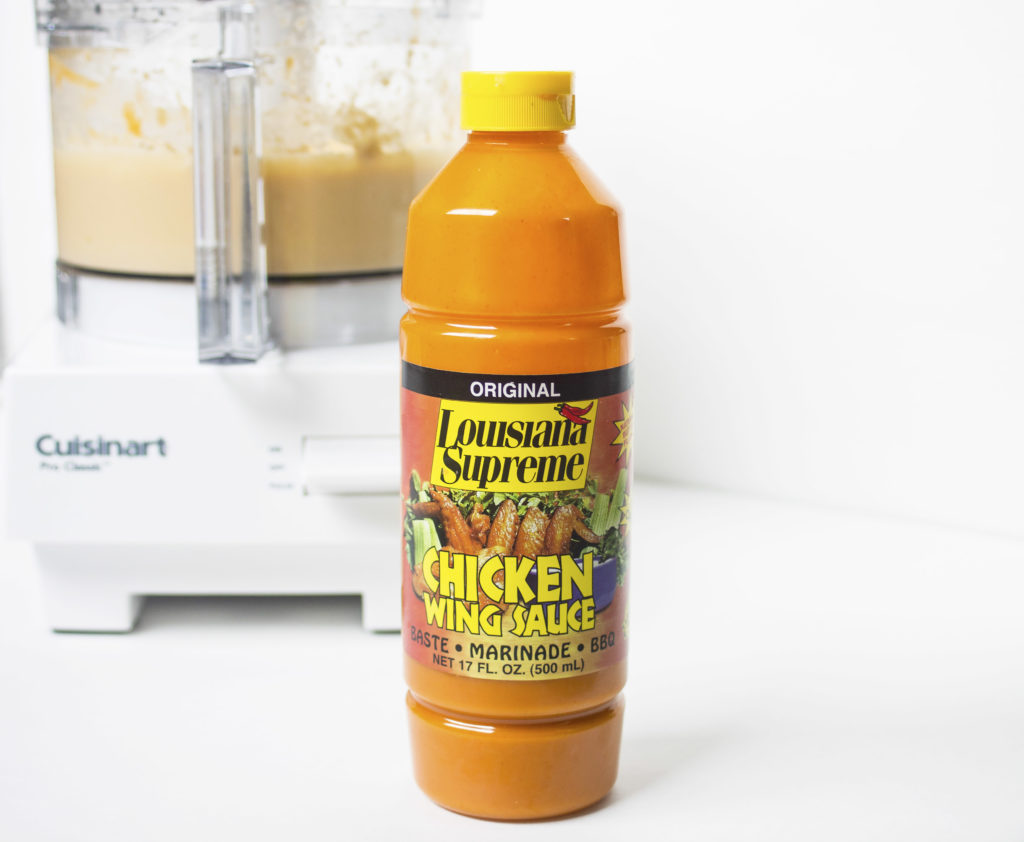 With this recipe I use a ½ a cup of buffalo sauce. This was definitely a trial and error. I just kept adding more tablespoon by tablespoon until I got the exact taste I was looking for.
My favorite go-to buffalo sauce is this Louisiana Supreme Chicken Wing Sauce. I've tried many others whenever I had ran out of this one and didn't have the time to go pick up this one. But have never found one I love as much as this one. Believe it or not I get this buffalo sauce from no other than Dollar Tree. I love me some Dollar Tree. So not only is this sauce so tasty, it's cheap. $1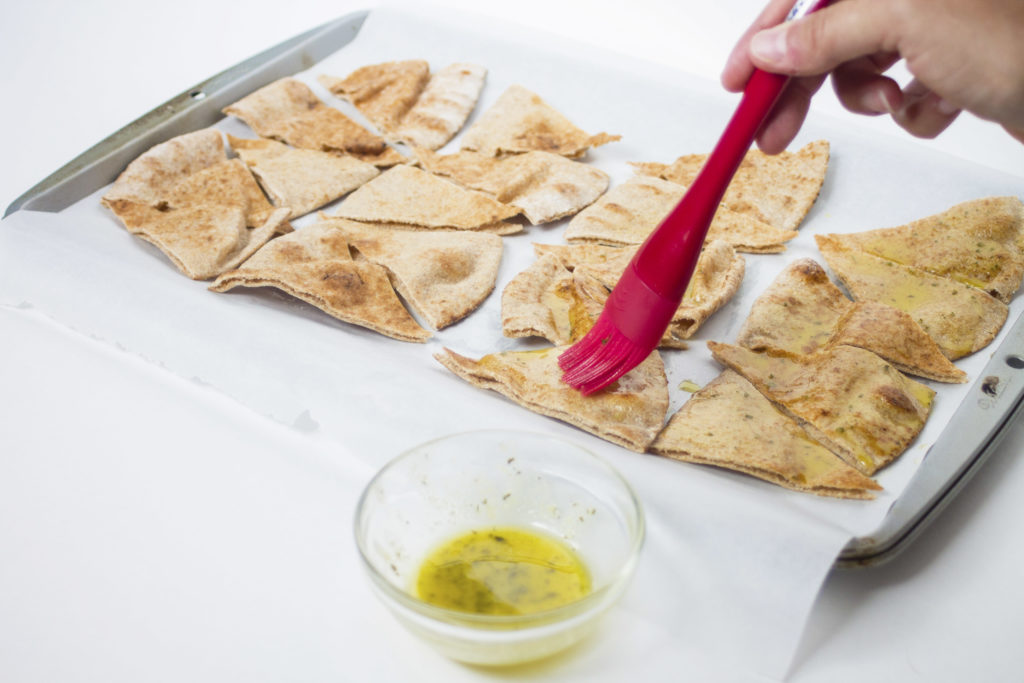 A lot of times I just buy pre-made pita chips at the store. There are many great flavors out there. Most of them flavor well with the Mediterranean flavored hummus. But none really fit well with buffalo hummus.
So what do I usually pair with anything buffalo? Ranch, duh. I love Ranch. I'm so obsessed I take Ranch with me on trips when we go out of the country. Yeah, a little ridiculous, I know. So with a little olive oil and ranch dressing seasoning you can have ranch pita chips too.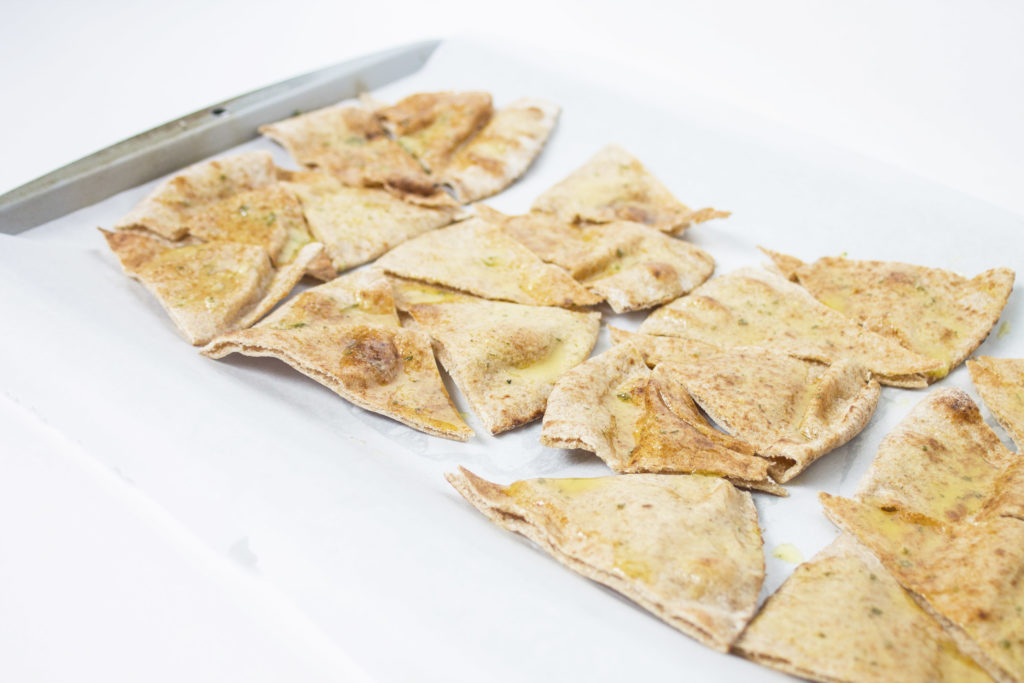 I used whole wheat pita bread for my recipe. That's why my chips look like they are cooked a little too much. But in fact they were cooked just right. I personally picked whole wheat because I try to make healthier choices when I can.
This recipe uses 4 pita bread circles. Enough chips to finish off all your buffalo hummus. Just cut up your pita bread in triangles, brush with the olive oil mix and bake for 10 minutes and enjoy.
When ready to serve I just mixed up some olive oil and buffalo sauce equally and drizzled on top. Buffalo sauce alone was a bit strong and olive oil alone just wasn't for this type of hummus. So the two combined worked out perfect.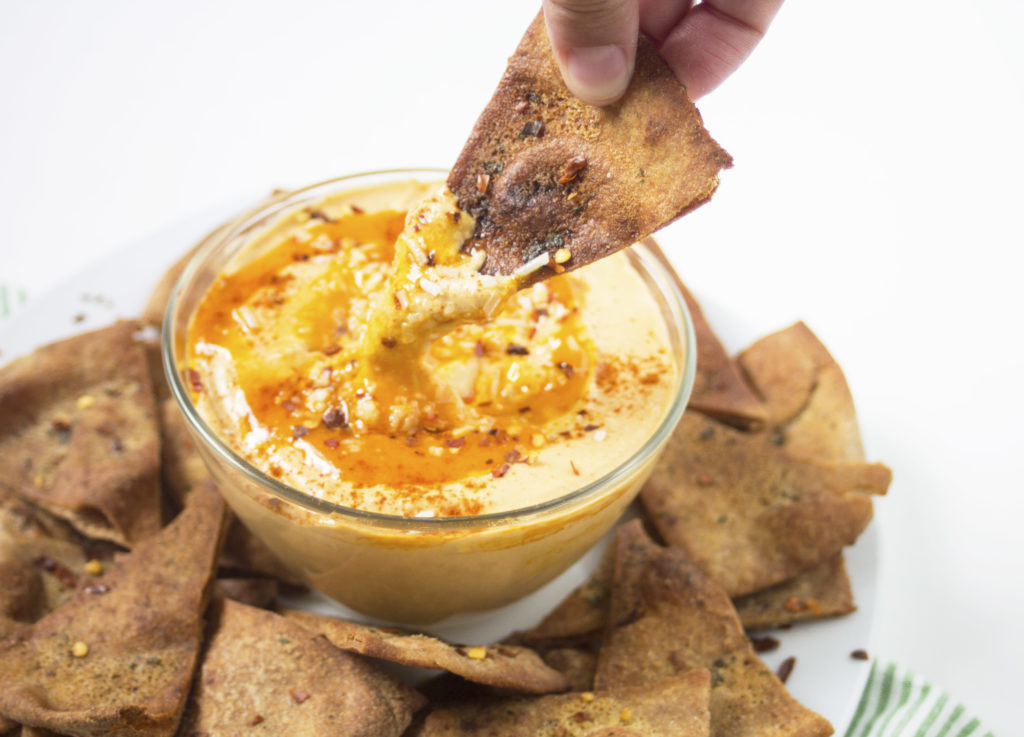 This recipe has been made time and time again. Every time I share it with friends it's gone before I leave. So next time you need a quick snack for family and friends, you can't go wrong with this recipe.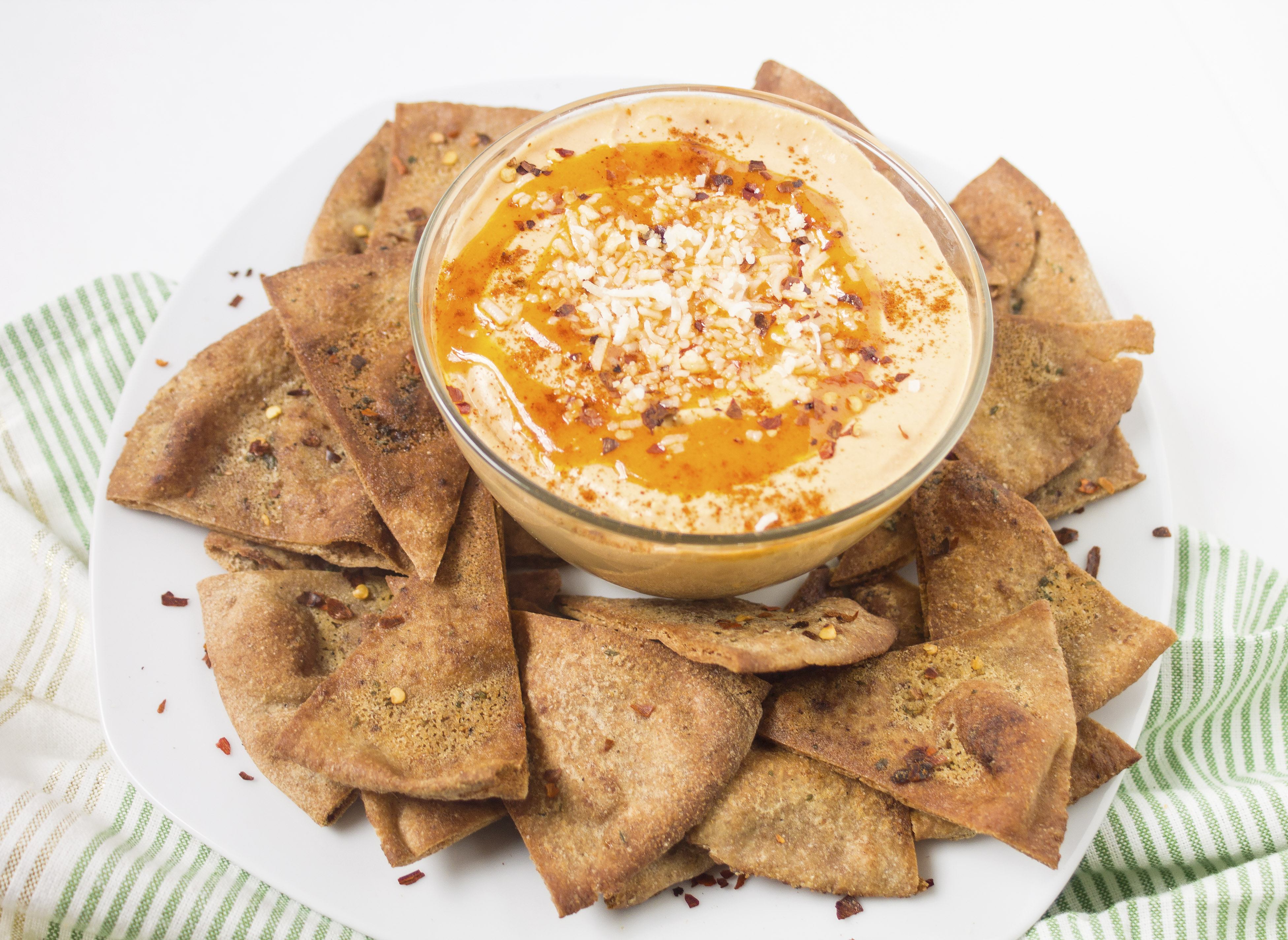 Buffalo Hummus with Ranch Pita Chips
A smooth, tangy twist on a Mediterranean classic paired with crunchy flavored pita chips.
Print Recipe
Ingredients
1

15oz can of chickpeas (garbanzo beans), drained and skins removed

½

cup

of buffalo sauce

4

TBSP

water

3

TBSP

Tahini

1

TSP

lemon juice

½

TSP

Cayenne Pepper
Pita Chips
4

whole pita bread rounds

6

TBSP

of olive oil

3

TBSP

ranch dressing seasoning
Instructions
Combine all hummus ingredients together in food processor or blender

Blend together until nice and smooth texture
Pita Chips
Preheat oven at 350 degrees

Cut pita bread in triangle slices

Line a pan with parchment paper or baking mat

Line up pita slices in pan

Mix together olive oil and ranch dressing seasoning

Using a basting brush, brush each slice of pita with olive oil mixture

Cook for 10 minutes until crispy texture
Nutrition
Serving:
1
g
|
Calories:
607
kcal
|
Carbohydrates:
68
g
|
Protein:
16
g
|
Fat:
31
g
|
Saturated Fat:
4
g
|
Sodium:
2024
mg
|
Potassium:
456
mg
|
Fiber:
12
g
|
Sugar:
5
g
|
Vitamin A:
120
IU
|
Vitamin C:
2.3
mg
|
Calcium:
76
mg
|
Iron:
5.4
mg