Make these adorable baby shark valentines with your Cricut and be the hit of the class. Free downloadable svg to create these one of a kind valentines.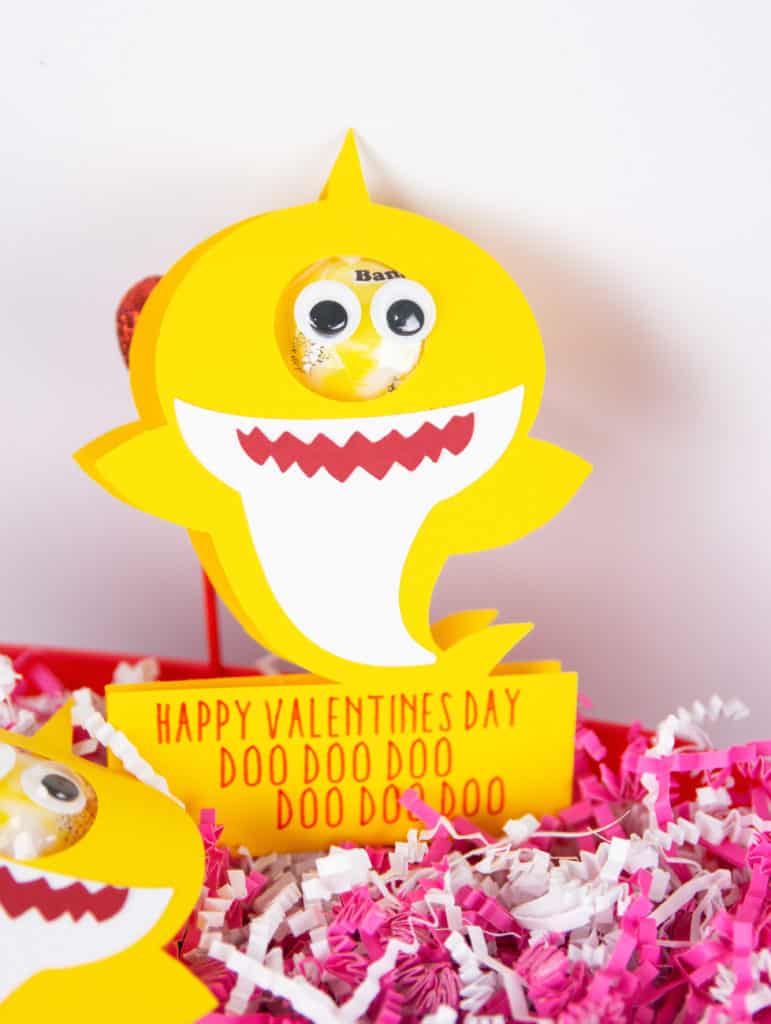 Baby Shark is in full force in this household and along with any children around my child's age. So I'm getting a head start on Valentines this year and making these cute baby shark Valentines.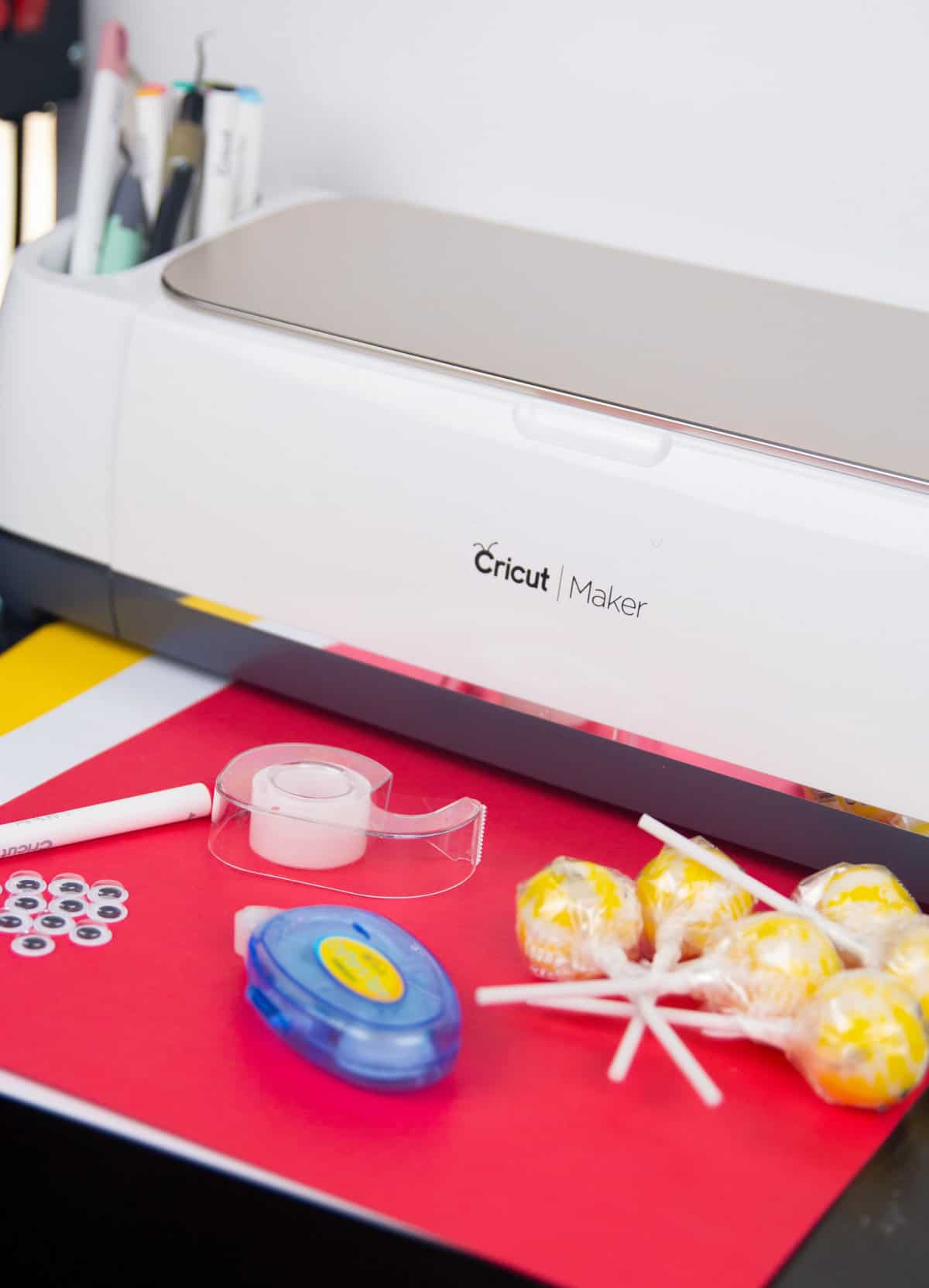 What Supplies You Need:
Cricut– doesn't matter if you have the maker or even the explore any machine will cut this file
Cricut mat– a light mat or just a well used standard grip mat
Card stock– baby shark yellow, white and red
Yellow Suckers– I purchased these banana split ones off amazon
Googly Eyes– you can find some of these googly eyes on Amazon
Tape– to tape the sucker down
Crafter's Tape or Glue– I use this crafter's tape for all my paper projects
(Optional) Cricut fine point pen to add a Valentines message
Video How to
Cutting out the Baby Shark Valentines
Start by downloading the svg file below. Then open a new project in Cricut design space and go to upload on the left side of the screen and then click browse.
Find the baby shark valentine svg file and double click on it. Then click the save button on the bottom right side of the screen.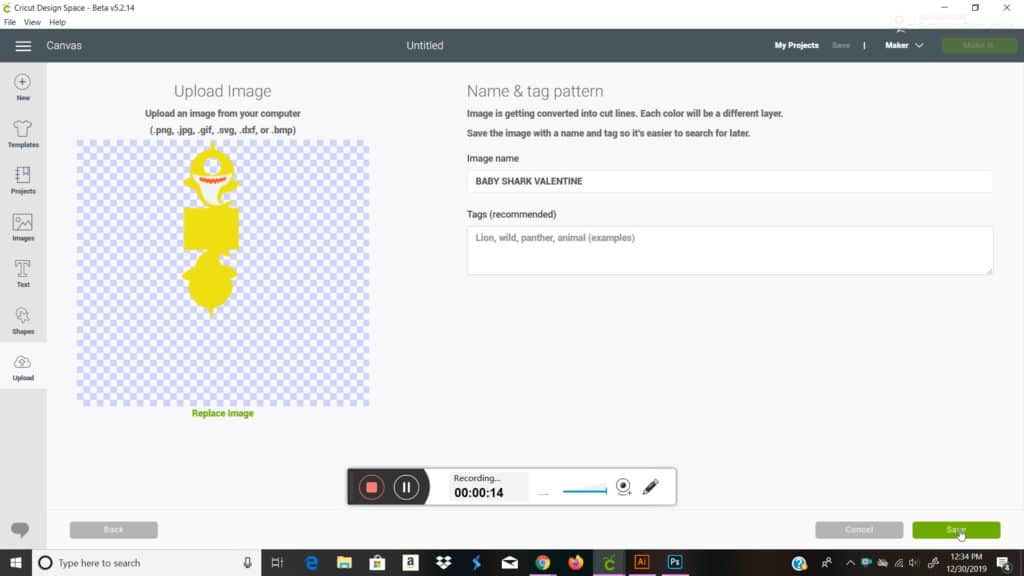 Your file should be the first picture on the bottom left side of the screen. Click it and press insert image.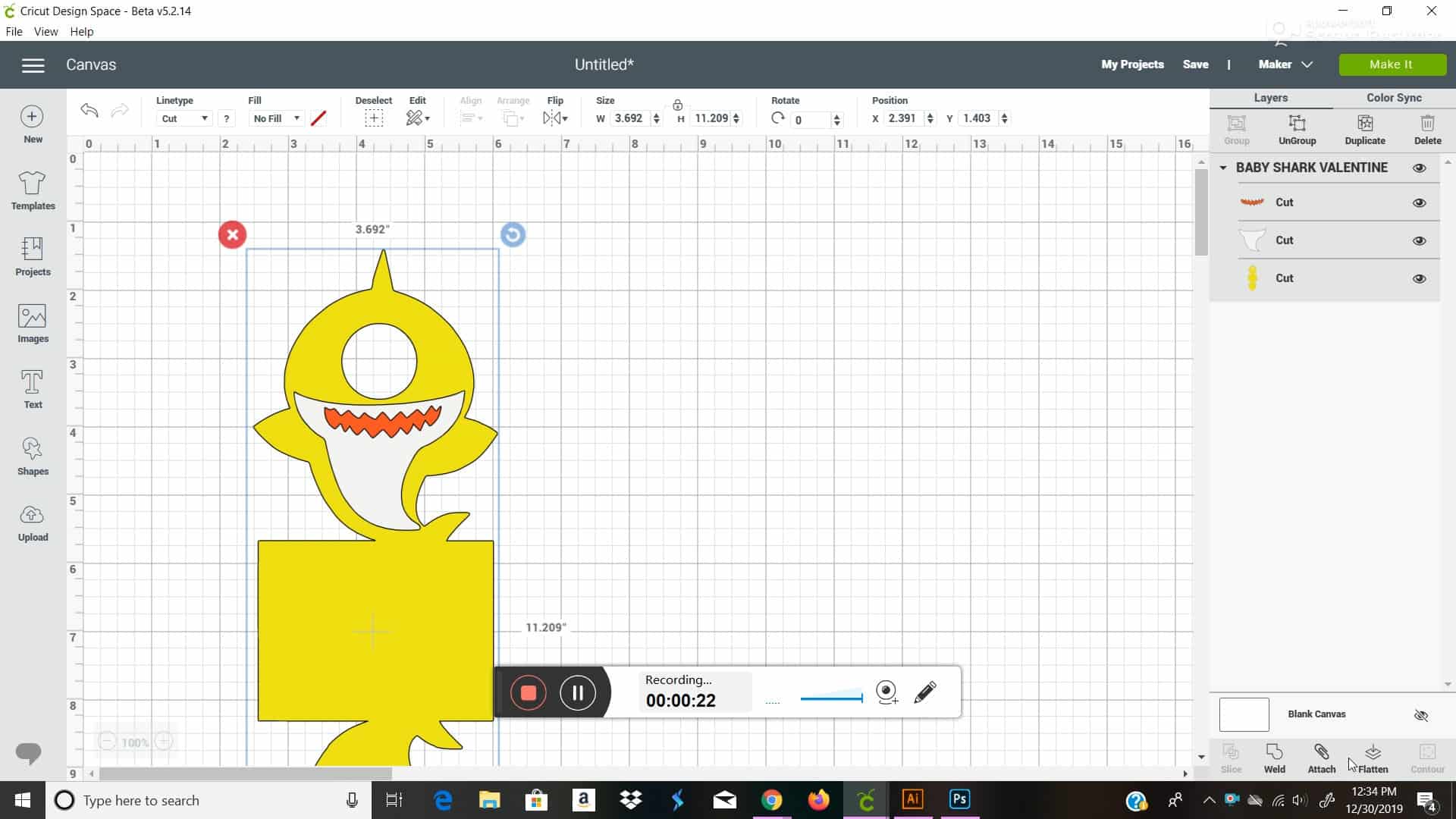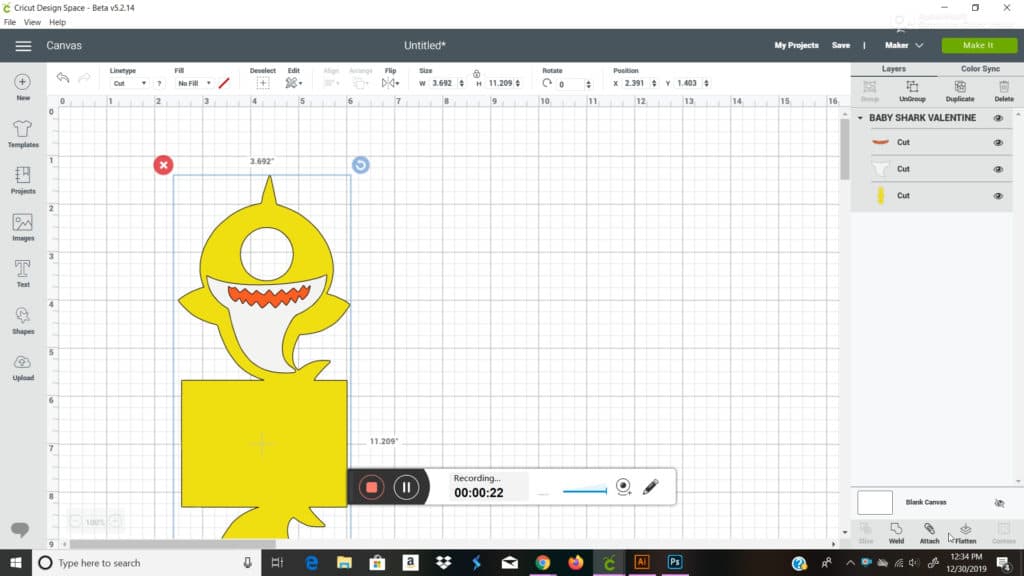 If you need to make multiple then select all and duplicate it twice. 3 of these will fit on one sheet of 12×12 paper.
Adding a Valentines Message
If you don't have awesome hand writing, just like I do not, then let your cricut do the writing for you.
Delete one of the three baby shark valentines from the steps above.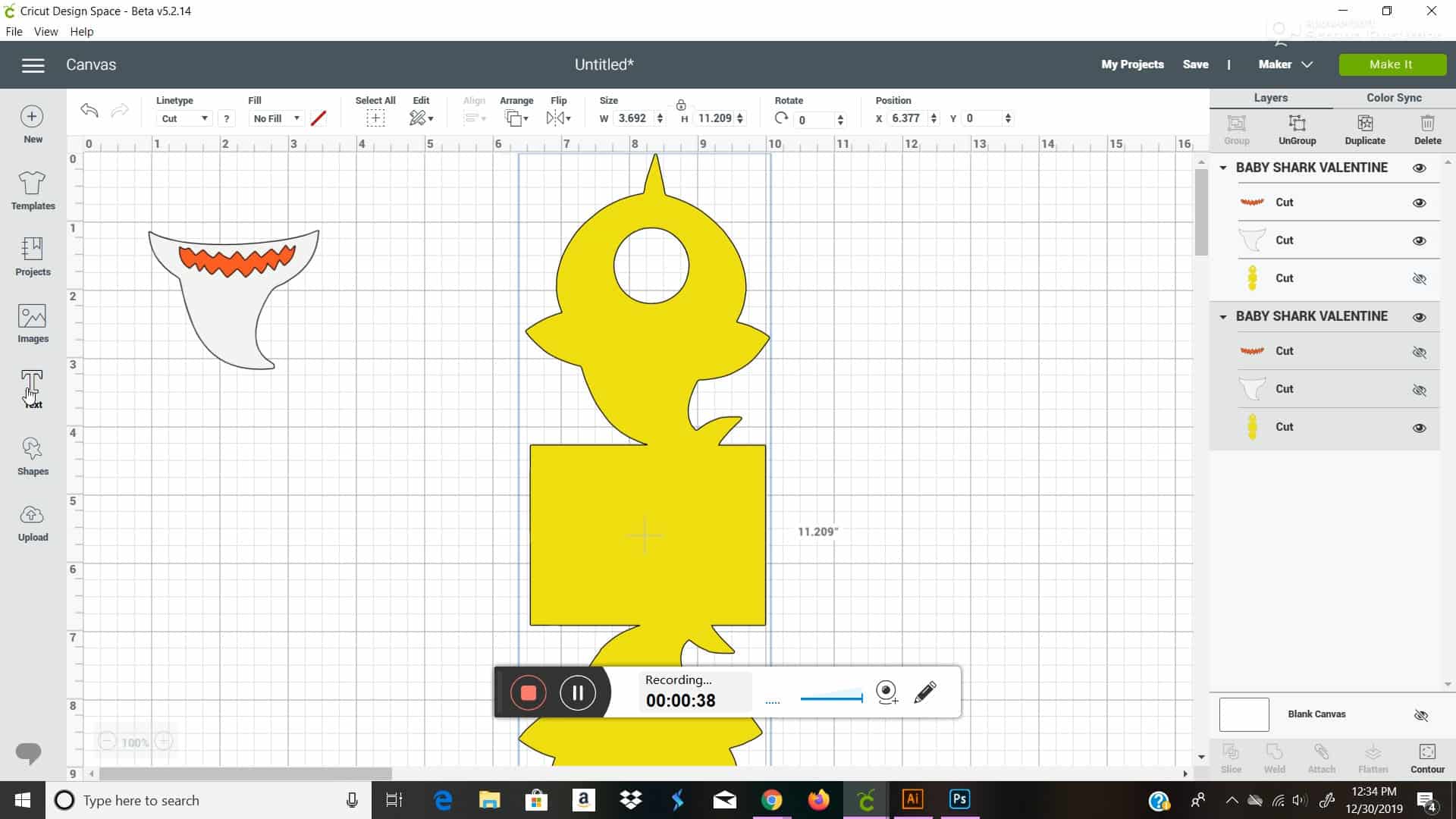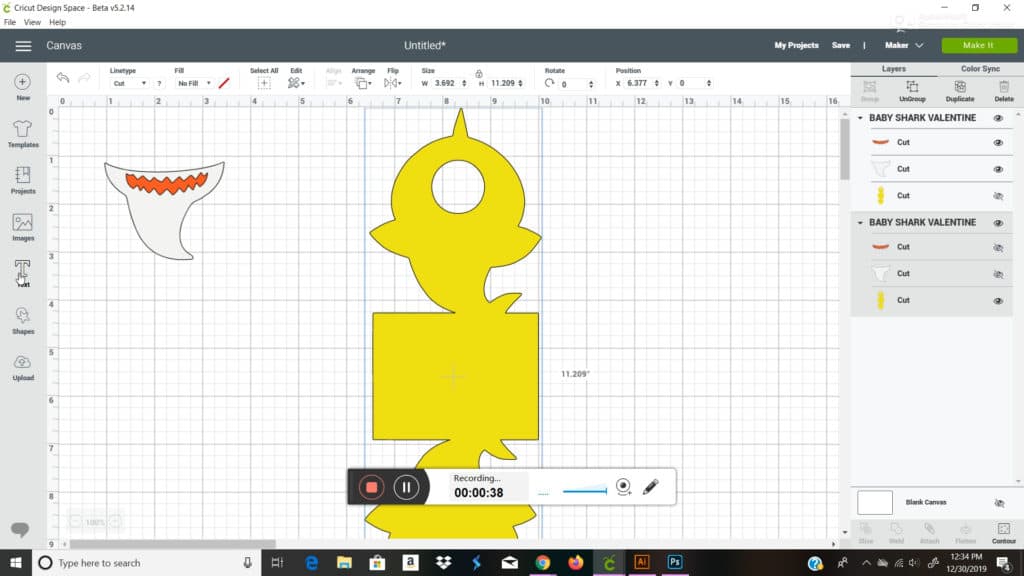 On one set of valentines click on the "eye ball" of the red and white pieces and then on the other click the "eye ball" on the yellow piece.
Create a text box and pick a thin font. I used aracne ultra condensed light font from dafont. (If you need to learn how to download fonts for free read this post on Cricut Explore Air- Free Fonts) If you have a subscription to cricut access you can use a single layer font from there as well.
Write out what you are wanting it to say and make sure it is under draw instead of cut. Remember you can only use half of the rectangle space because you will be folding it in half.
If you want to do a " To: and From: "on the back, create a text box write out To: and From" and then go to the top and flip it vertically and hortizally.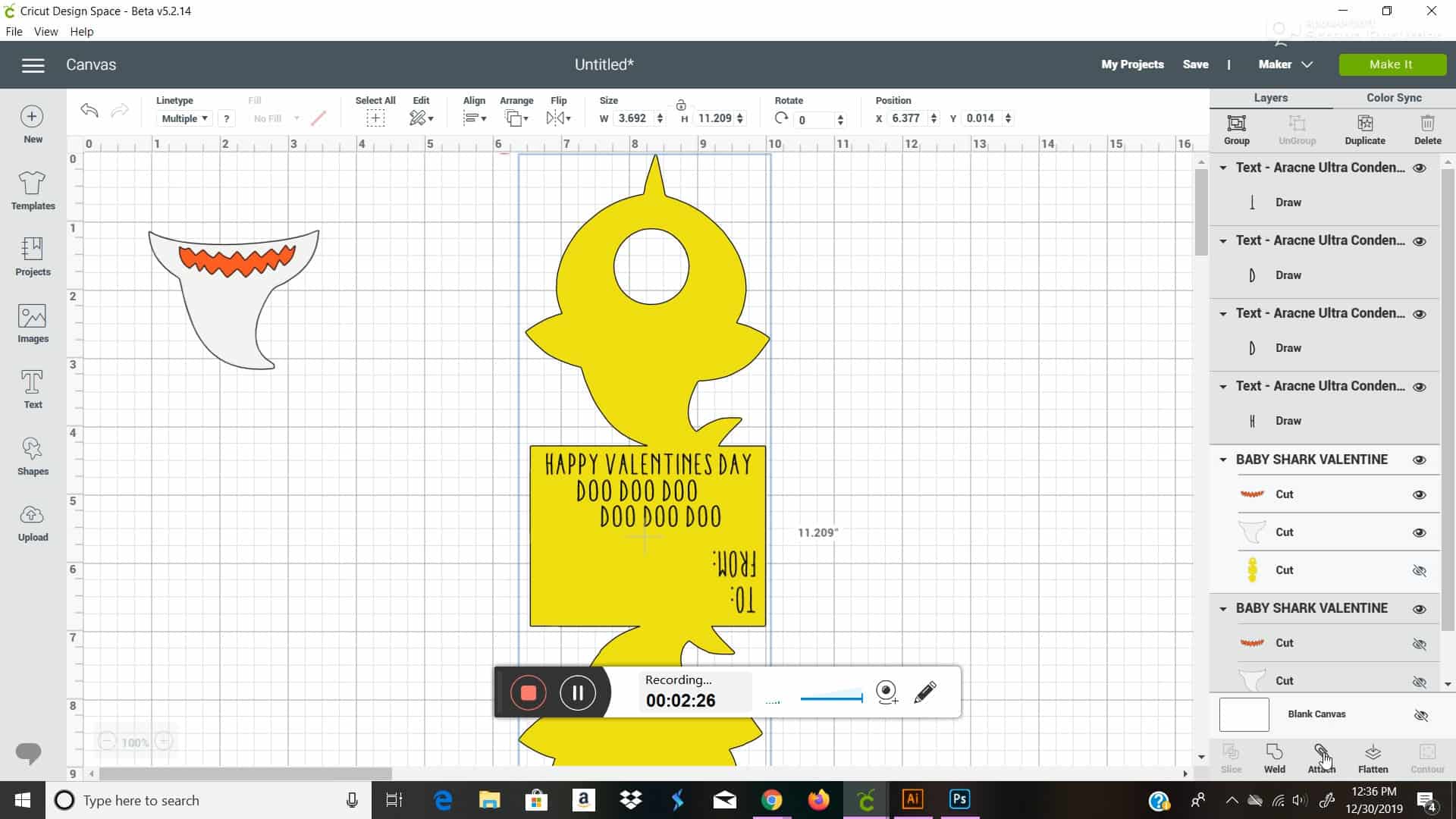 After you get all you text where you want it to be click on the yellow baby shark cut out and the 2 texts boxes and then go down to the bottom right side of the screen and select attach.
You have to do it this way because if you try to attach the words to one single svg file it will change all the red, white, and yellow cut out pieces to one color and you don't want that.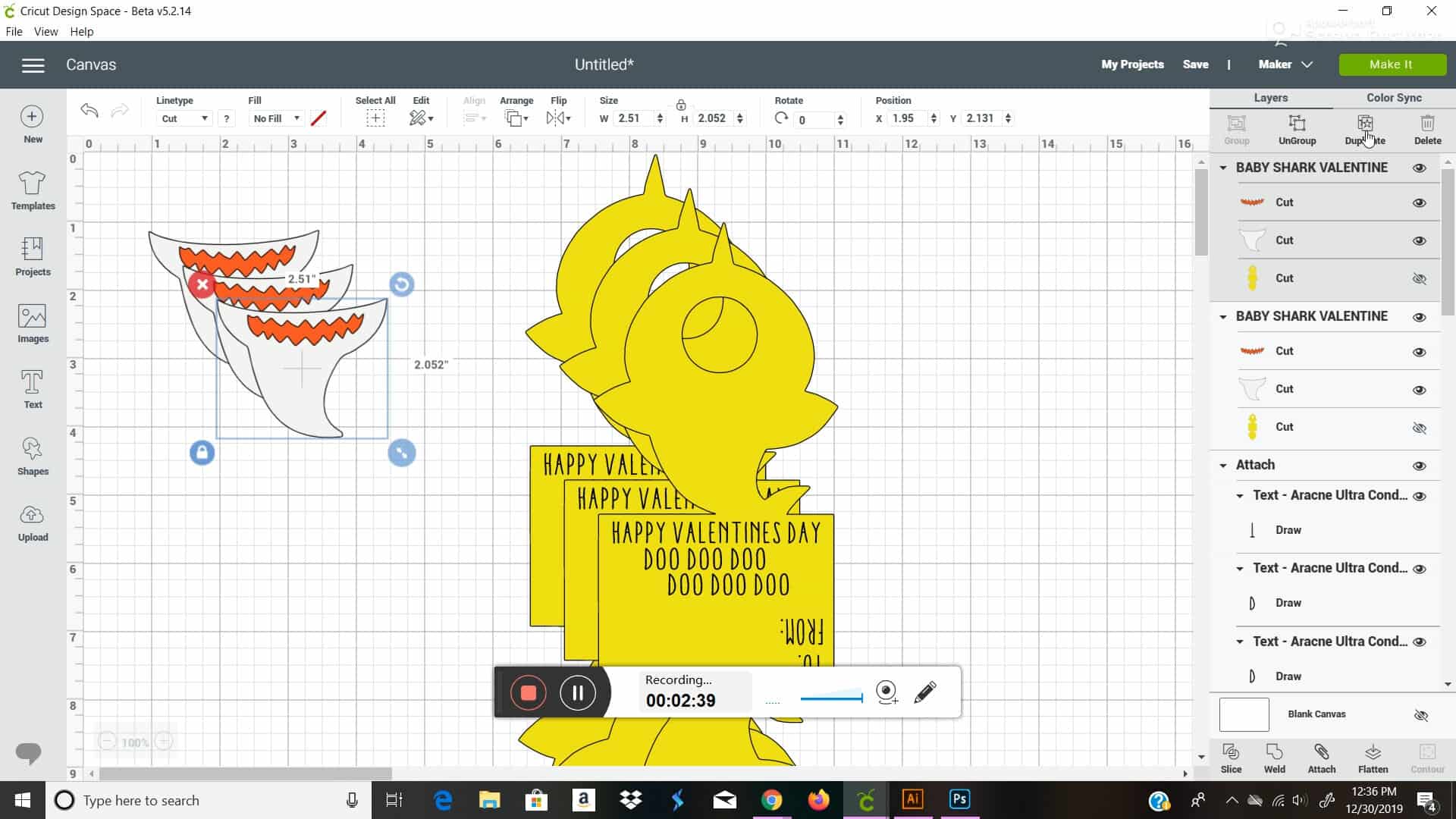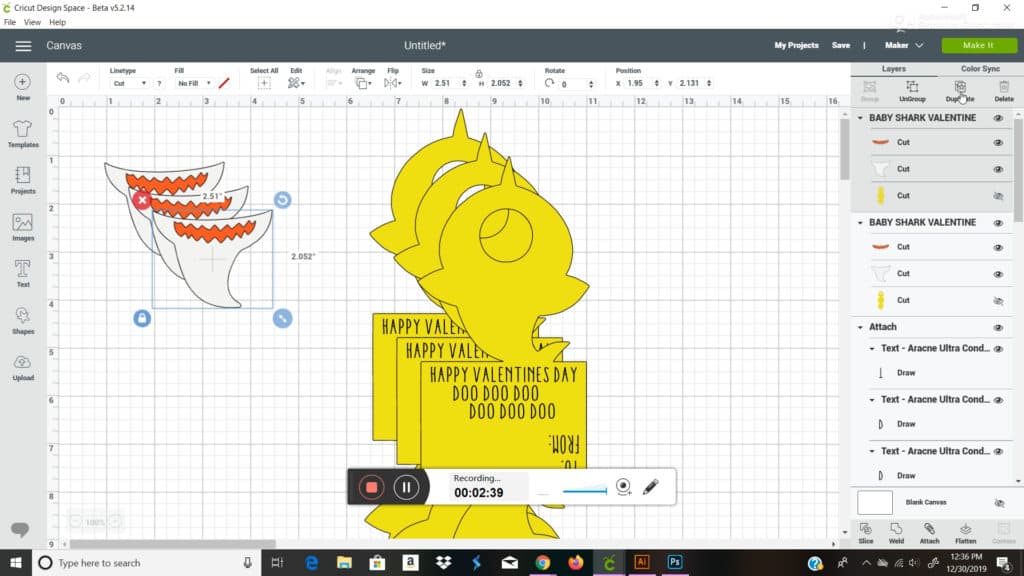 Now duplicate that baby shark with the text twice.
Assembling the Valentine
Start by folding the baby shark cut out in half trying to line up the cut out of the baby shark.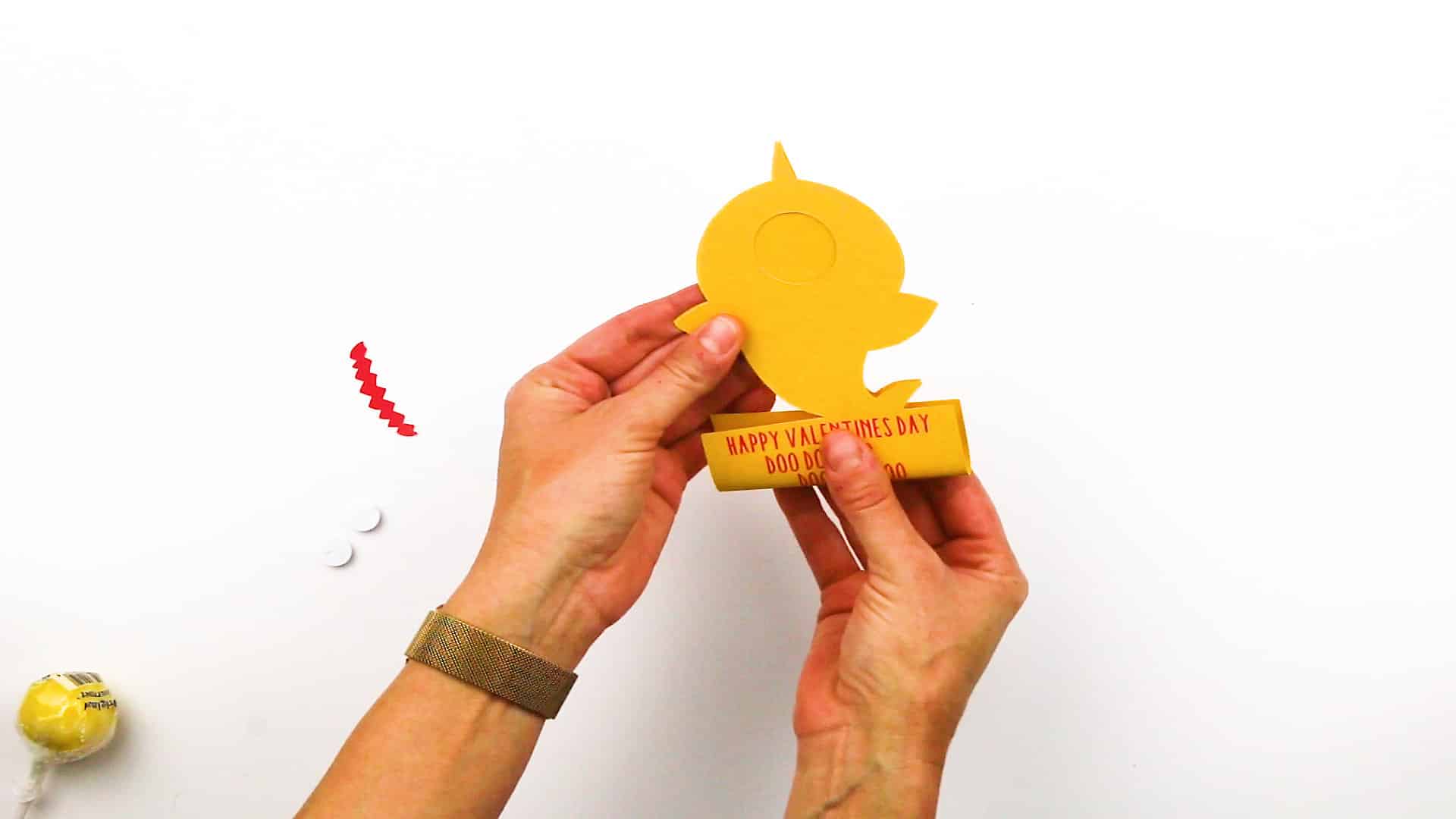 Take your crafter's tape and tape down the white part of the shark on the body of the shark and then the mouth on top of that.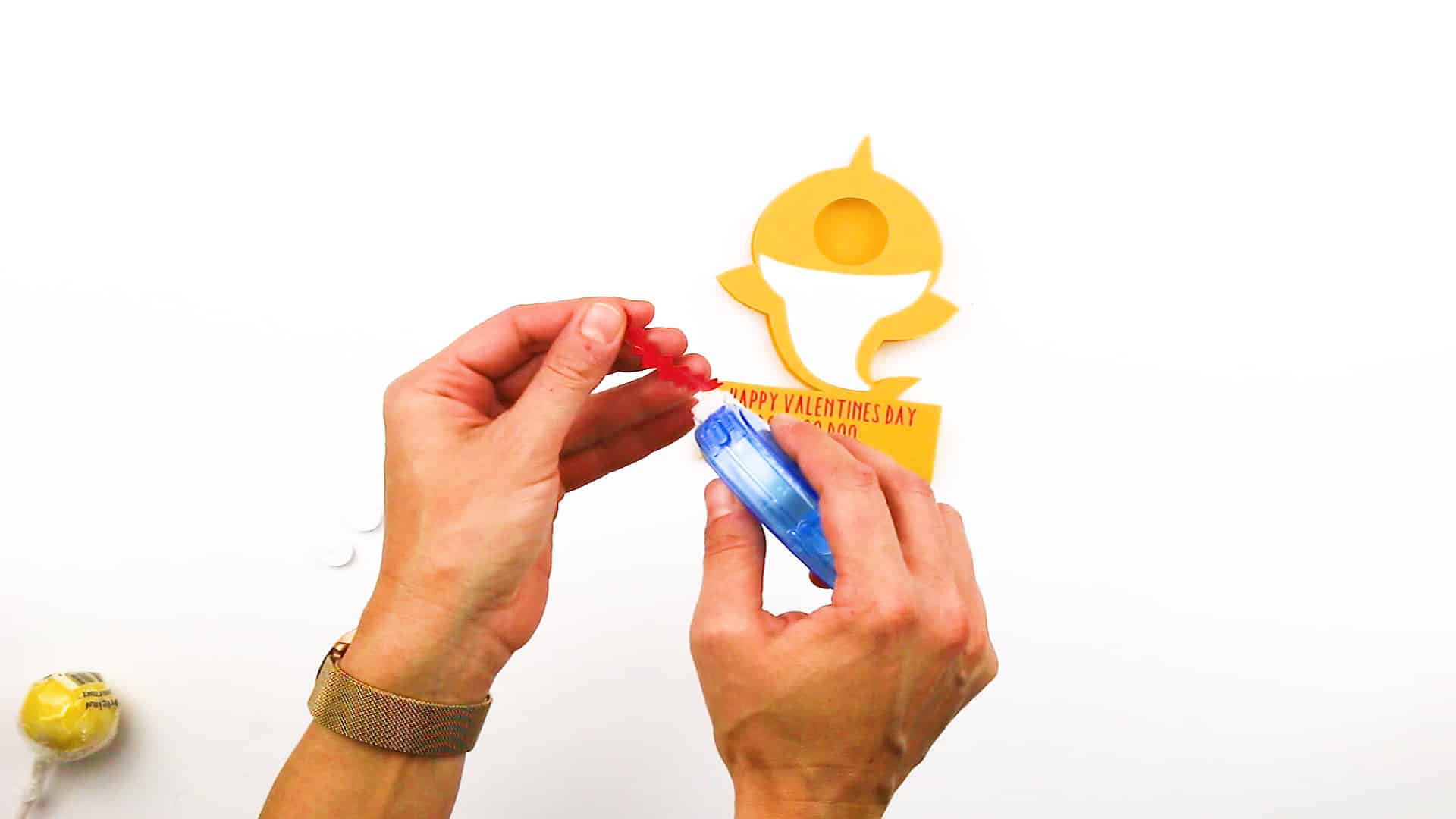 Take the sucker and a piece of tape and tape it down where it lines up with the hole of the cut out.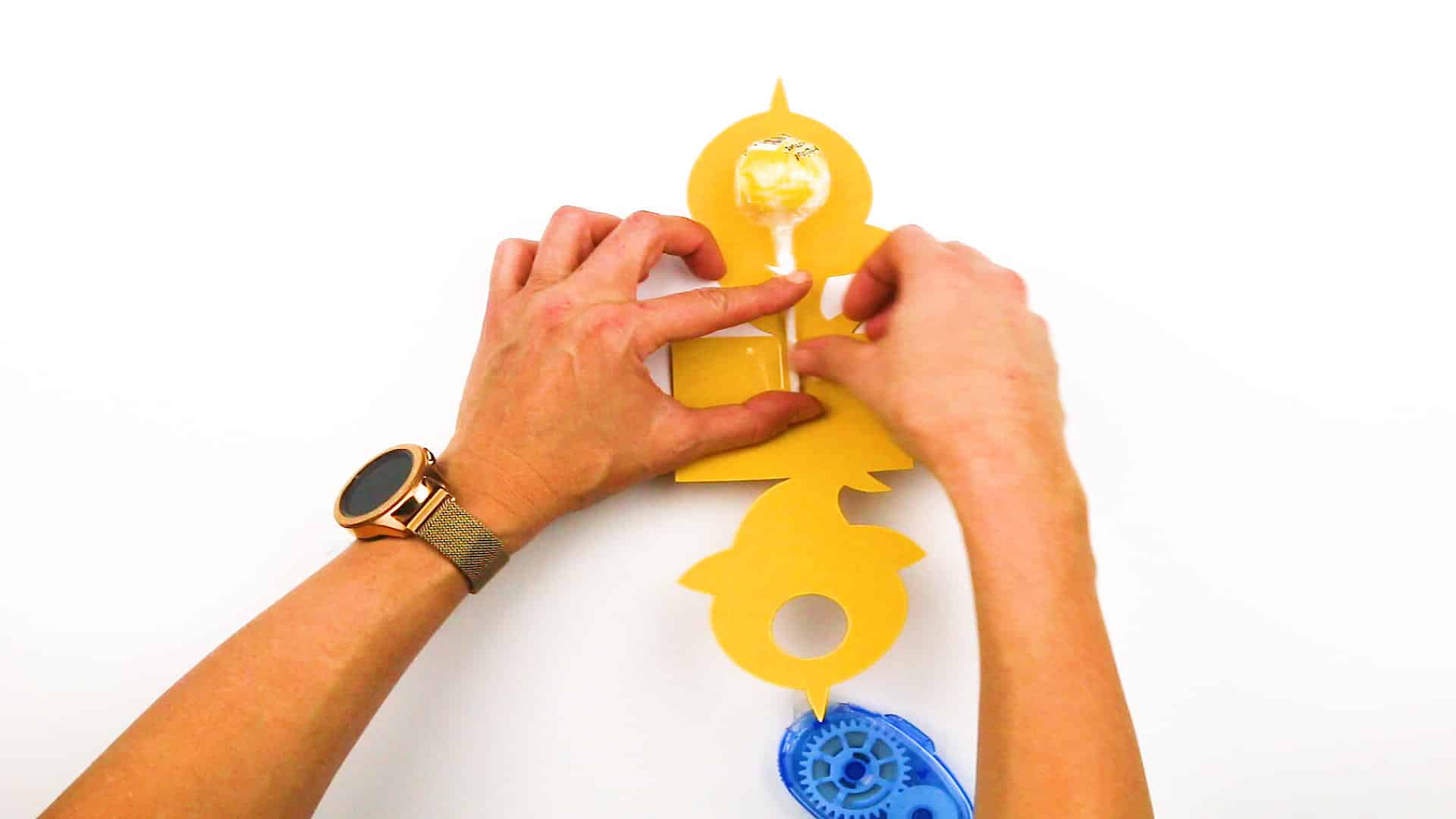 Then take your crafters tape and put a strip on the fin of the baby shark and some on each side of the text box and push everything together.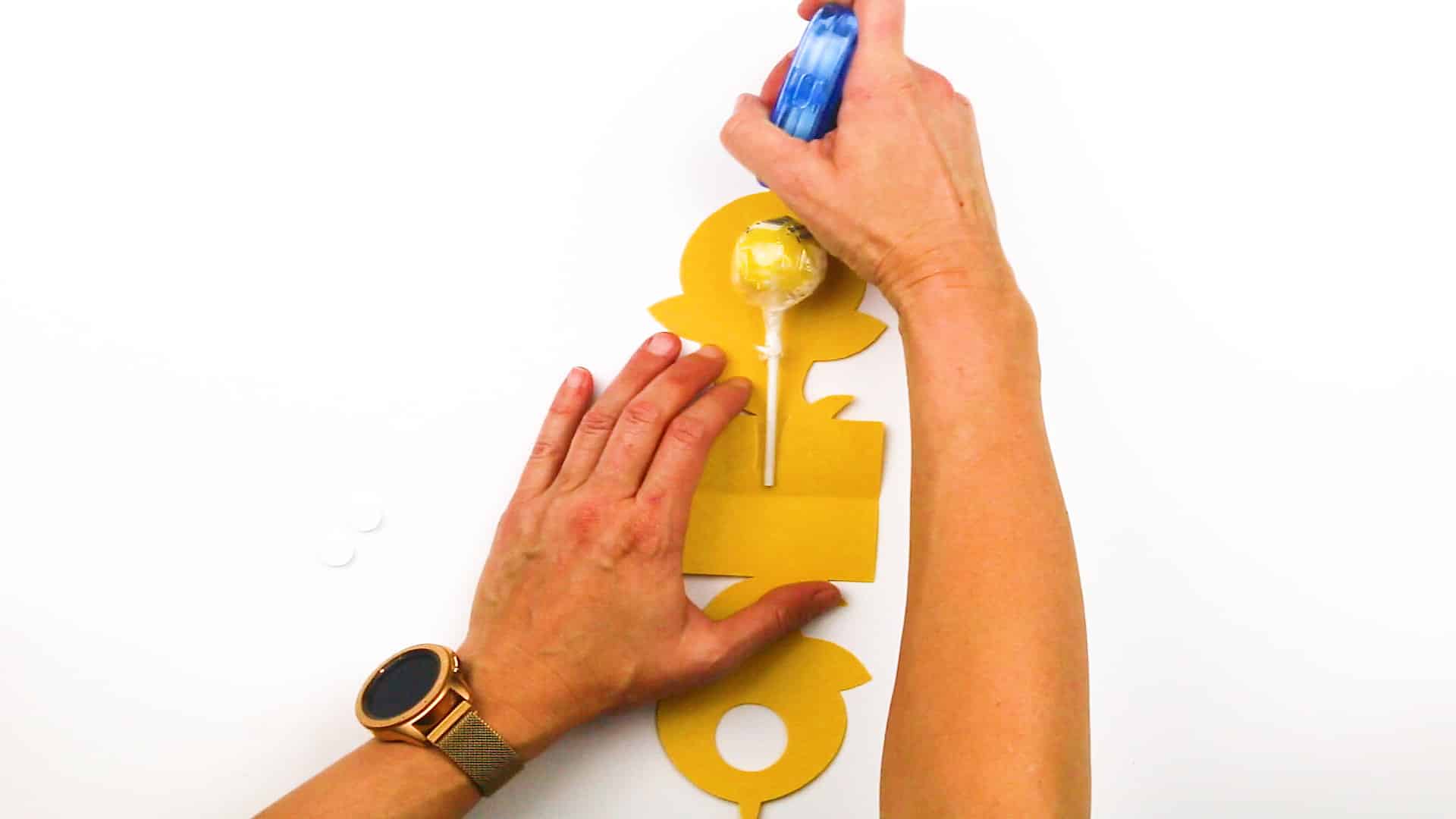 Now take 2 googly eyes and tape or glue them on the sucker. And you're done.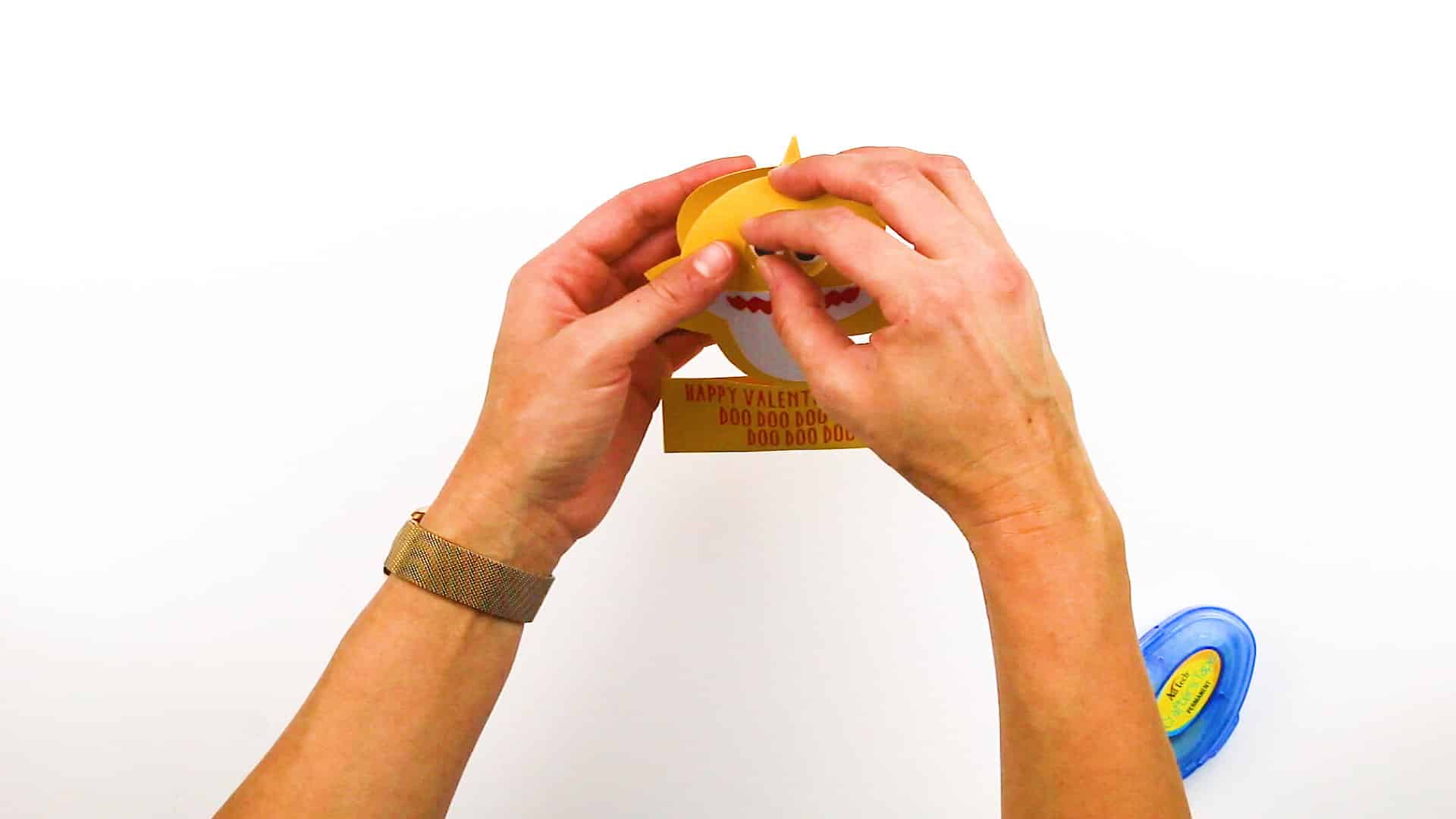 Repeat the assembling steps above for how many baby shark valentines you need. You don't have to be limited to baby shark either. You could make mommy and daddy sharks as well by just changing the color of the yellow card stock and sucker.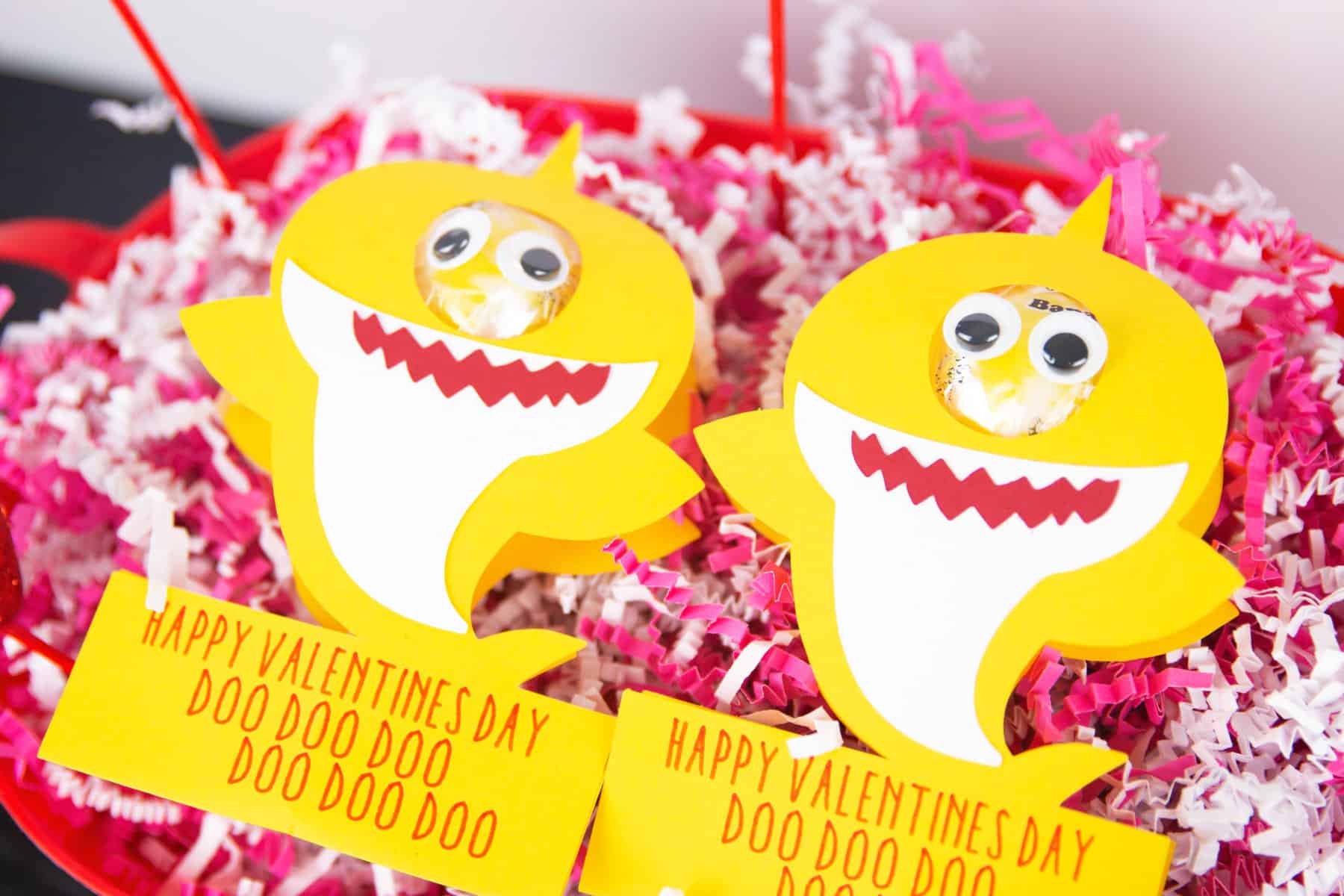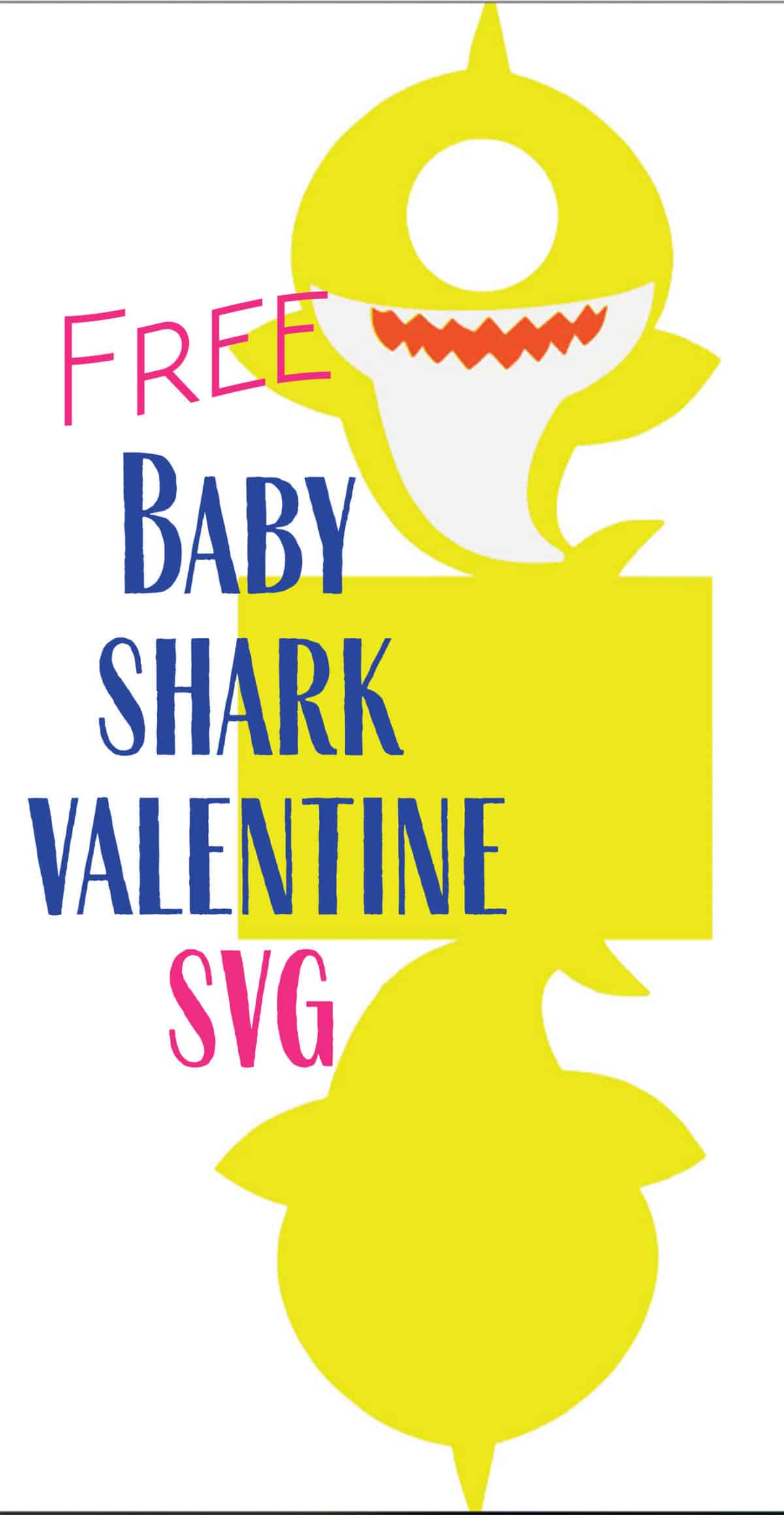 Get your Free Baby Shark Valentines SVG HERE!
What if I don't have a Cricut?
Having a Cricut does make life easier when making DIY projects. But if you don't have one or a silhouette then I made a PDF file you can print off and cut out by hand.
This file will give you 2 baby sharks per piece of paper. Then you will just need to cut out each baby shark design and then the white circle in the middle of baby sharks face for the sucker to go.
I suggest printing on some thicker printer paper.
Get your baby shark valentines printable HERE!
Need some more Valentines Inspiration?
Did you make these Valentines? If so, tag your pic on Instagram with #glitterandgraze