Jalapeno Cheddar Sausage Balls
Step up your sausage ball game with these jalapeno cheddar sausage balls. Only three ingredients including Red Lobster biscuit mix to really mix things up.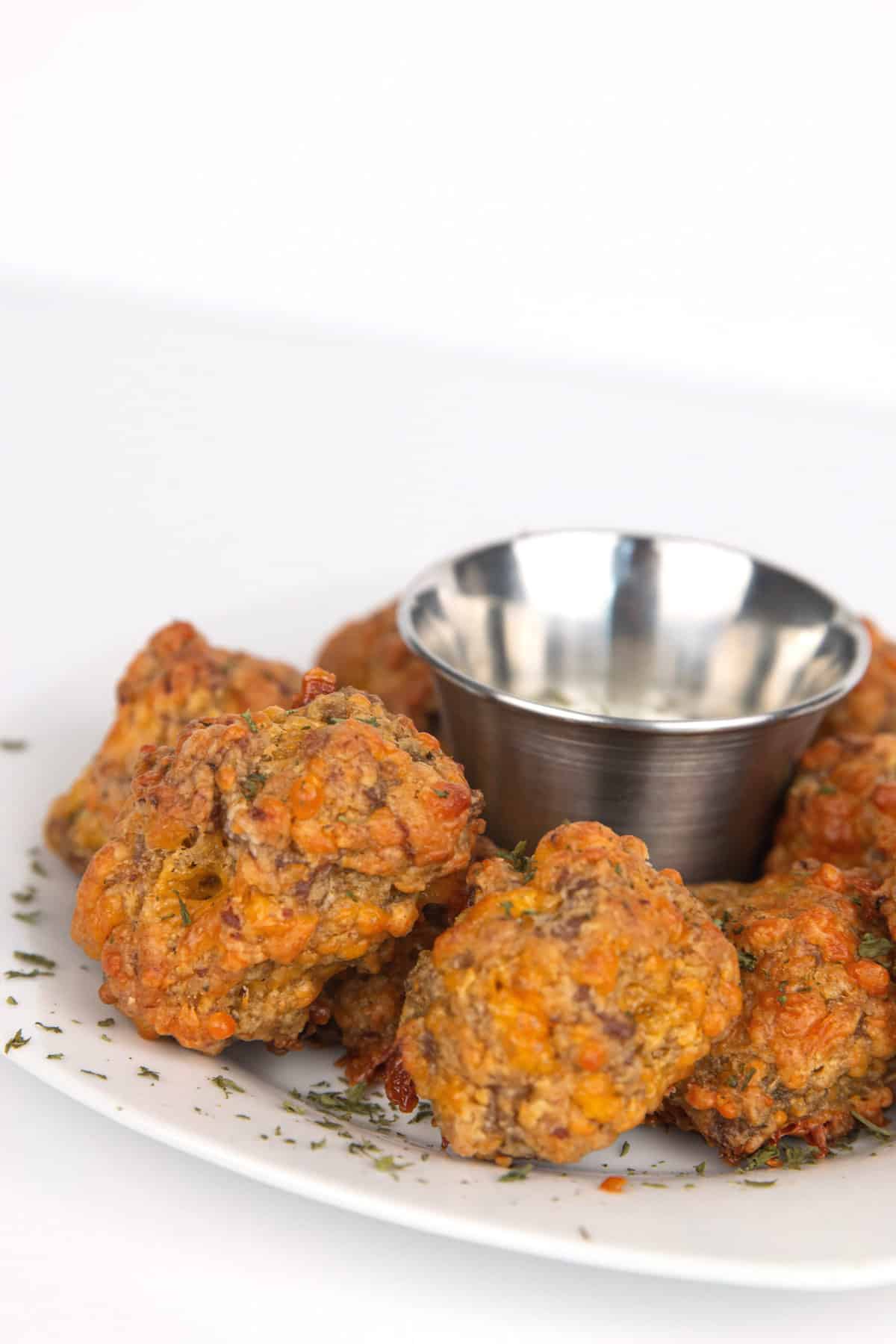 Looking for something than your average sausage balls for an upcoming party or even for your next breakfast? Look no further with these Jalapeno Cheddar Sausage Balls. These pack so much flavor and do not come out dry.
How far in advanced to make them?
I personally think they are perfect being served straight from the oven. Once they cool a few minutes taking a bite of that warm sausage ball is the best.
But if you are bringing these to an event I make them the day of and store in an air tight container until I'm at the event. You can serve them as is or warm them in the microwave a little bit.
If you happen to have any leftover (I never do) store in a an air tight container and refrigerate for up to 5 days. Warm them in the microwave before consuming.
You can also assemble them and store them in the refrigerator overnight until you are ready to cook.
What to serve with Jalapeno Cheddar Sausage Balls
Mustard– I'd say not your typical mustard, but more like honey mustard or Dijon or even spicy mustard.
Ranch– everything tastes better with ranch in my opinion, but I am Texan
Spicy Ketchup– not just regular ketchup, but one that has a little kick to it
Gravy– I mean these basically are biscuits and sausage with some cheese so it only seems natural to dip in gravy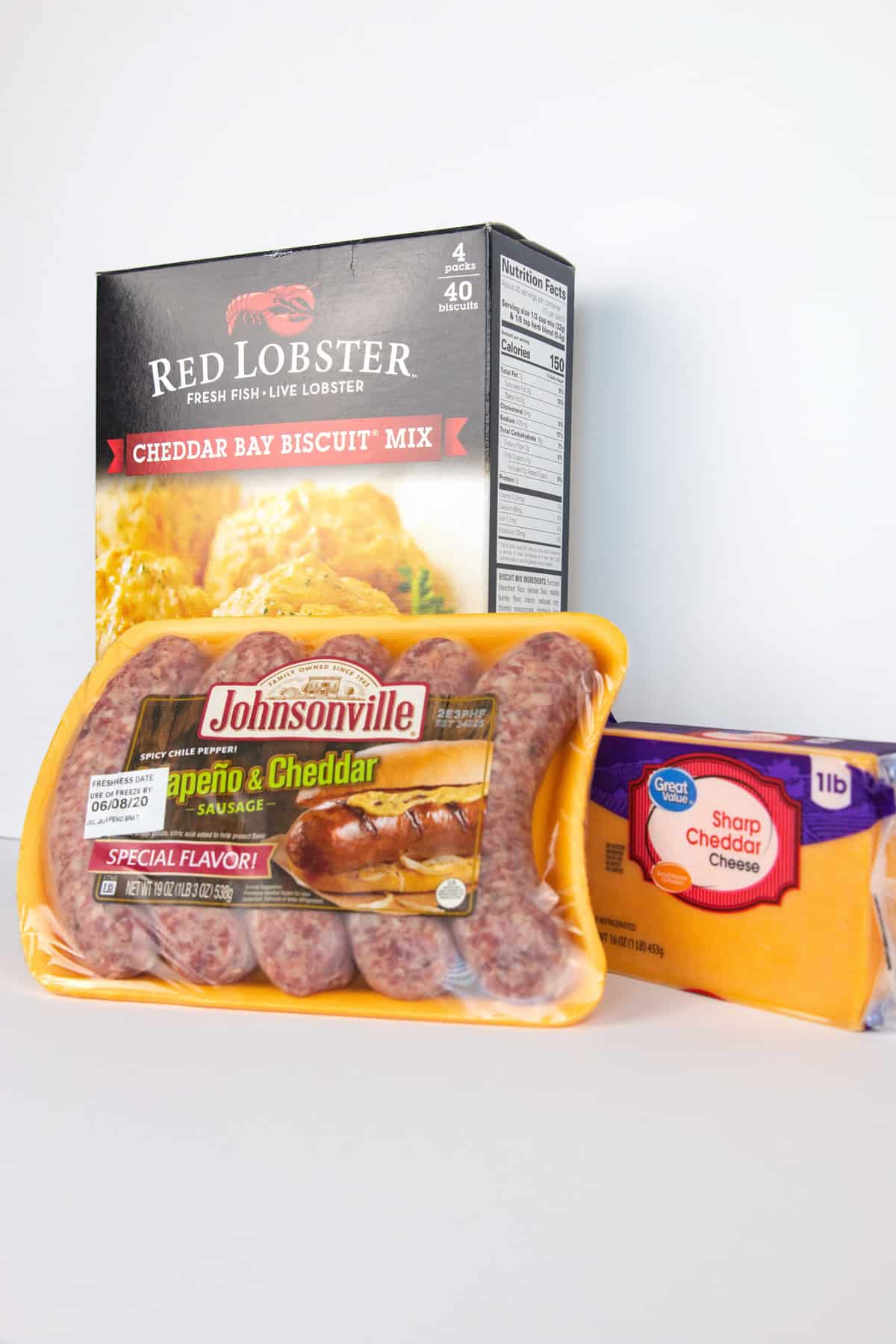 Ingredients for Jalapeno Cheddar Sausage Balls
Red Lobster Cheddar Bay Biscuit Mix– one box of this biscuit mix is all you need. I buy this big box at Sam's Club that comes with 4 mixes so I always have it on hand.
Jalapeno Cheddar Sausage– You can find uncooked jalapeno cheddar sausage at just about any grocery store
Cheddar Cheese– I like to use sharp cheddar cheese to get that stronger flavor. I suggest grating your own cheese instead of pre shredded.
When should I make these sausage balls?
These are perfect for holiday events and parties. I always bring a batch to any of my Christmas time events
Christmas morning breakfast– these have been my go to Christmas morning breakfast. Easy enough to prepare and pop in the oven while the kid is playing with her new gifts
Football parties– Super Bowl is right around the corner and these are the perfect finger food to bring to the event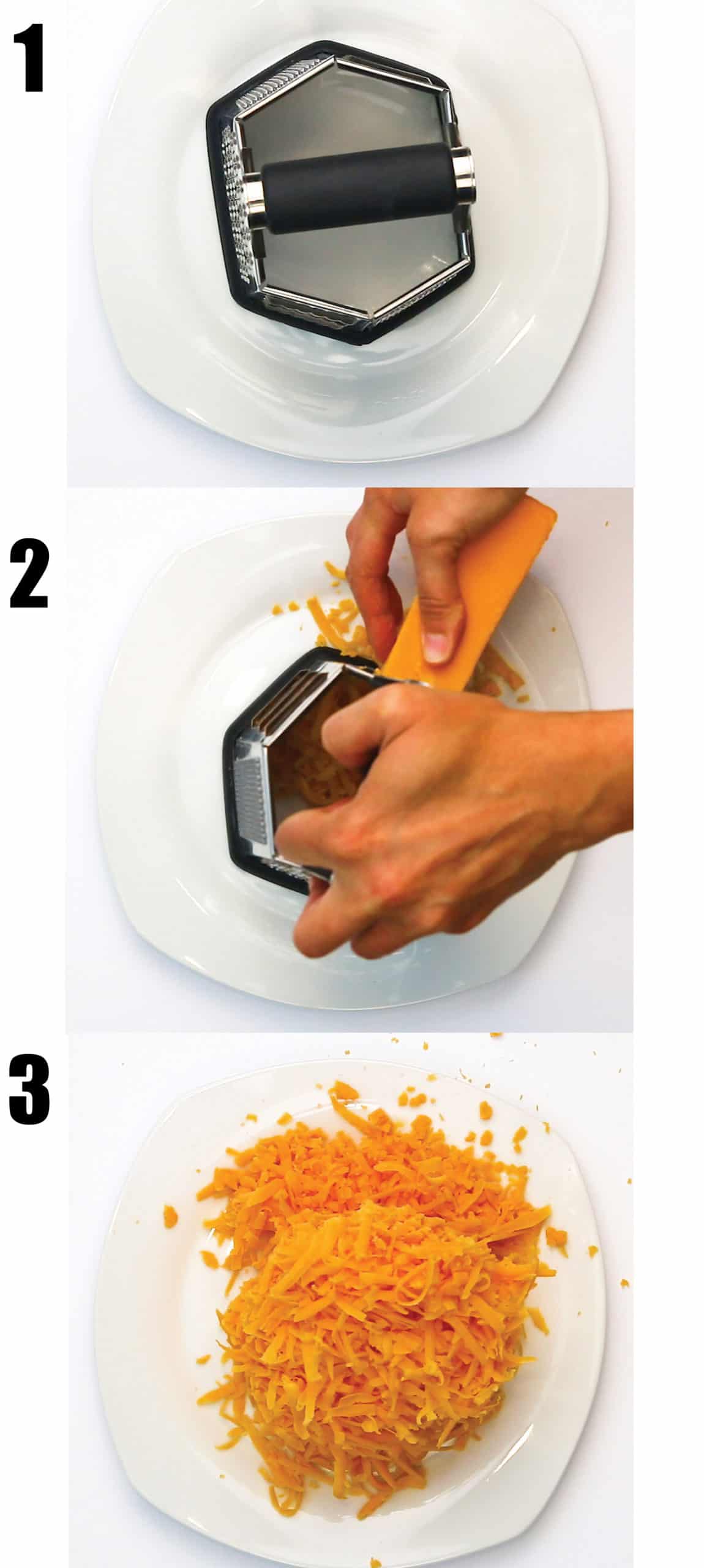 Getting Cheesy
Start by preheating your oven to 350 degrees.
Take a hand grater (Photo 1) or food processor and grate the block (Photo 2) and set the grated cheese aside (Photo 3)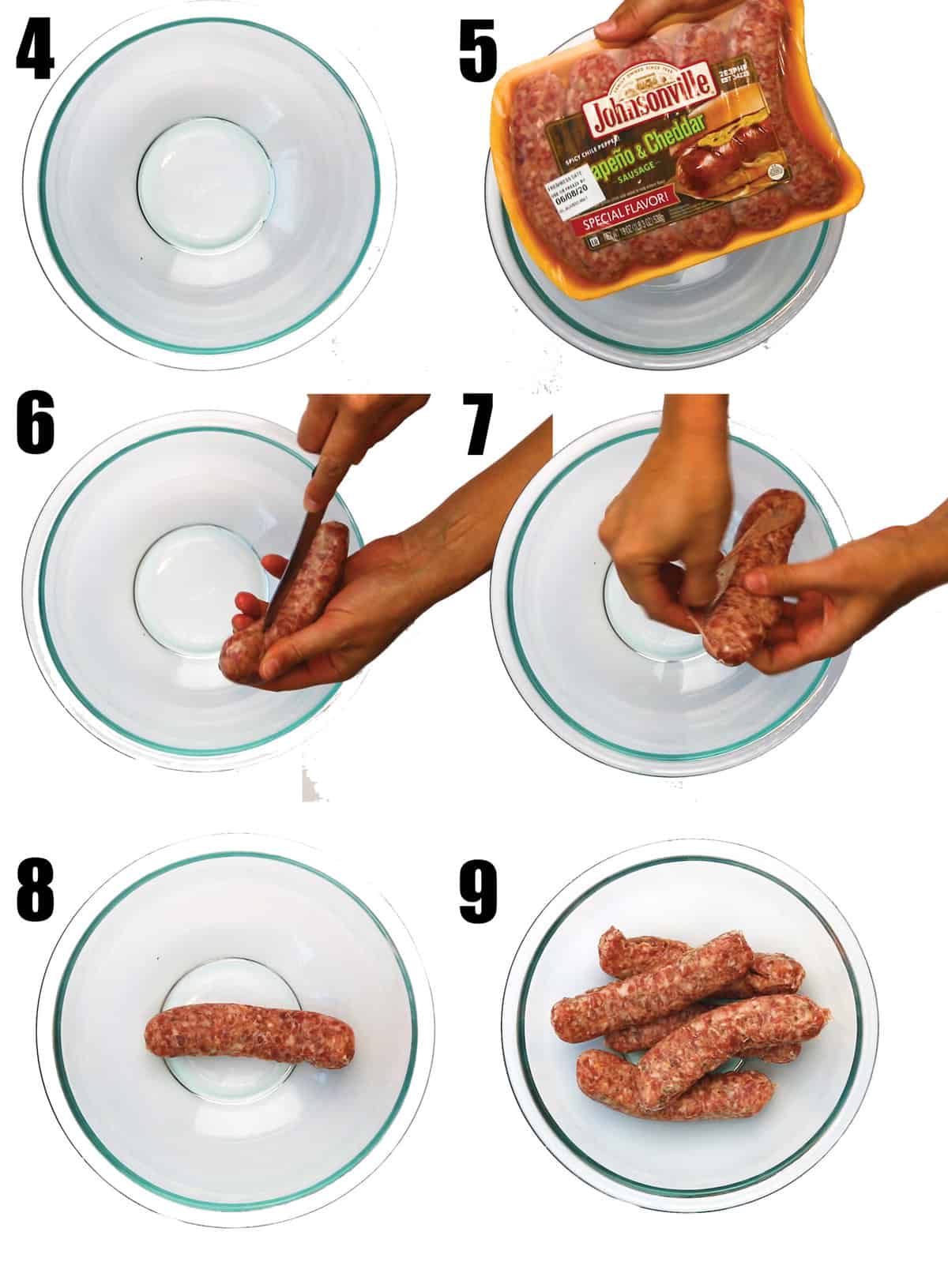 Sausage Time
Take a big glass bowl (Photo 4) or a mixing bowl and open the package to the jalapeno cheddar sausage (Photo 5)
Take 1 link and cut it down the middle of the casing (Photo 6) and pull the casing away from the sausage (Photo 7) and add the sausage to the bowl (Photo 8) and repeat with the rest of the sausages (Photo 8)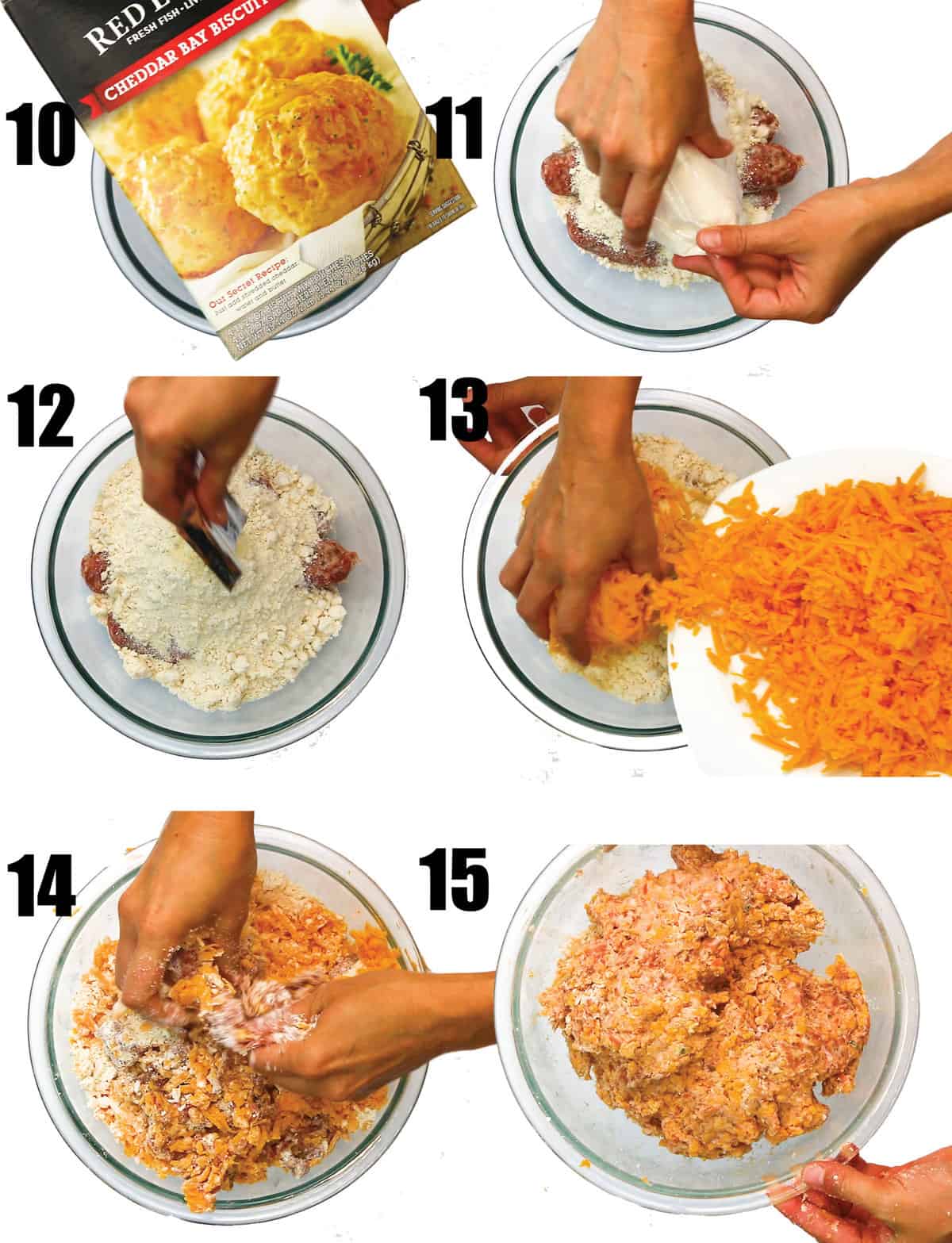 Mixing it all Together
Take the red lobster biscuit mix (Photo 10) and add the biscuit mix to the bowl of sausage (Photo 11) and then add the biscuit mix seasoning to the bowl (Photo 12)
Next add the shredded cheese to the bowl (Photo 13) and start mixing it all together with your hands (Photo 14) until it's all mixed together well (Photo 15)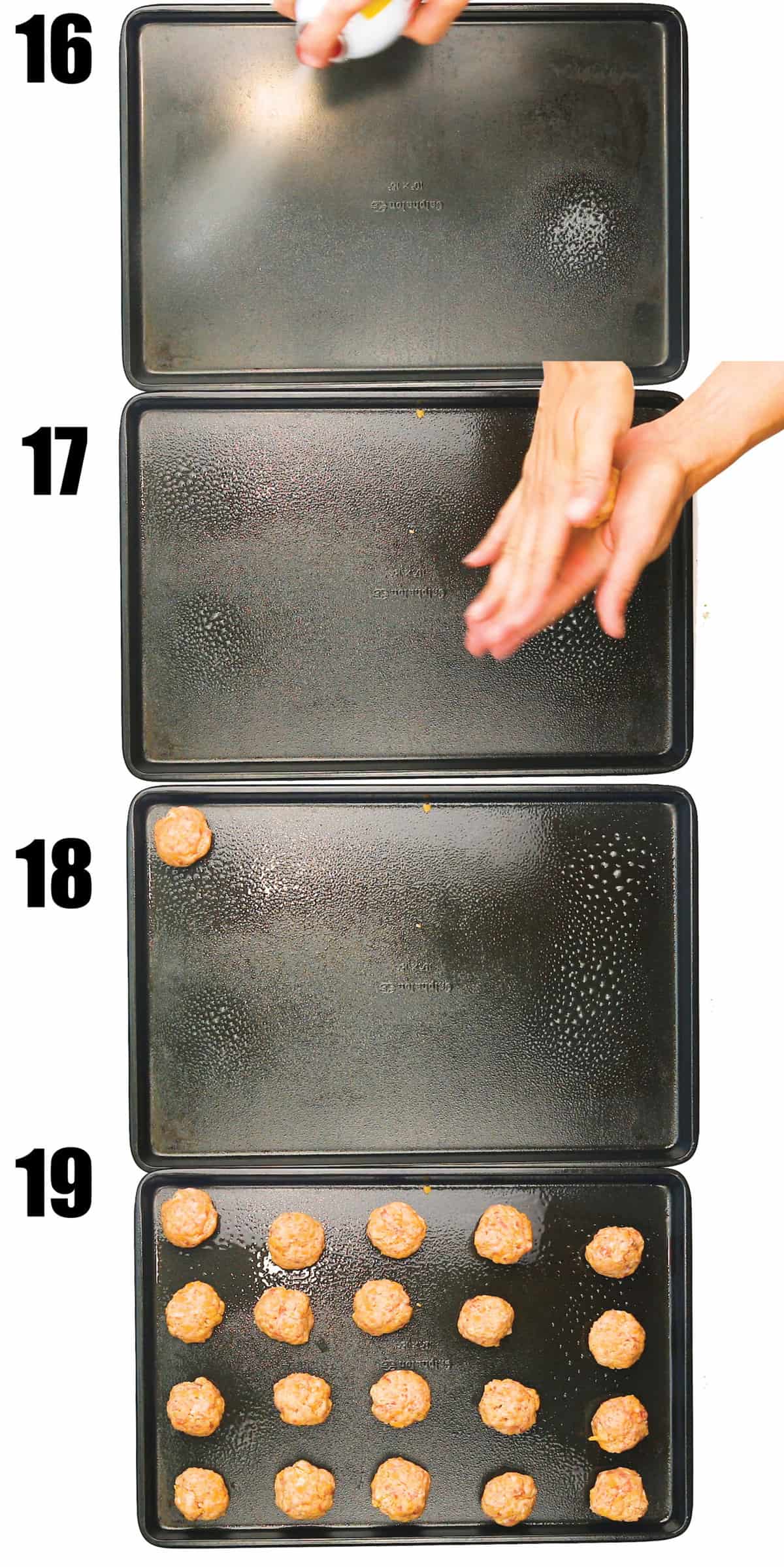 Almost Time to Bake
Take a large cookie sheet or 2 baking pans and spray with cooking spray (Photo 16) Take some of the sausage mix and roll into a ball to make about 1 inch balls (Photo 17) and add it to the baking sheet (Photo 18)
Continue making balls spacing them a little bit apart on the pan (Photo 19) so as they cook they don't touch each other. Put in the oven for 20-25 minutes. Lay on a plate with paper towels to soak up some of the grease as they cool.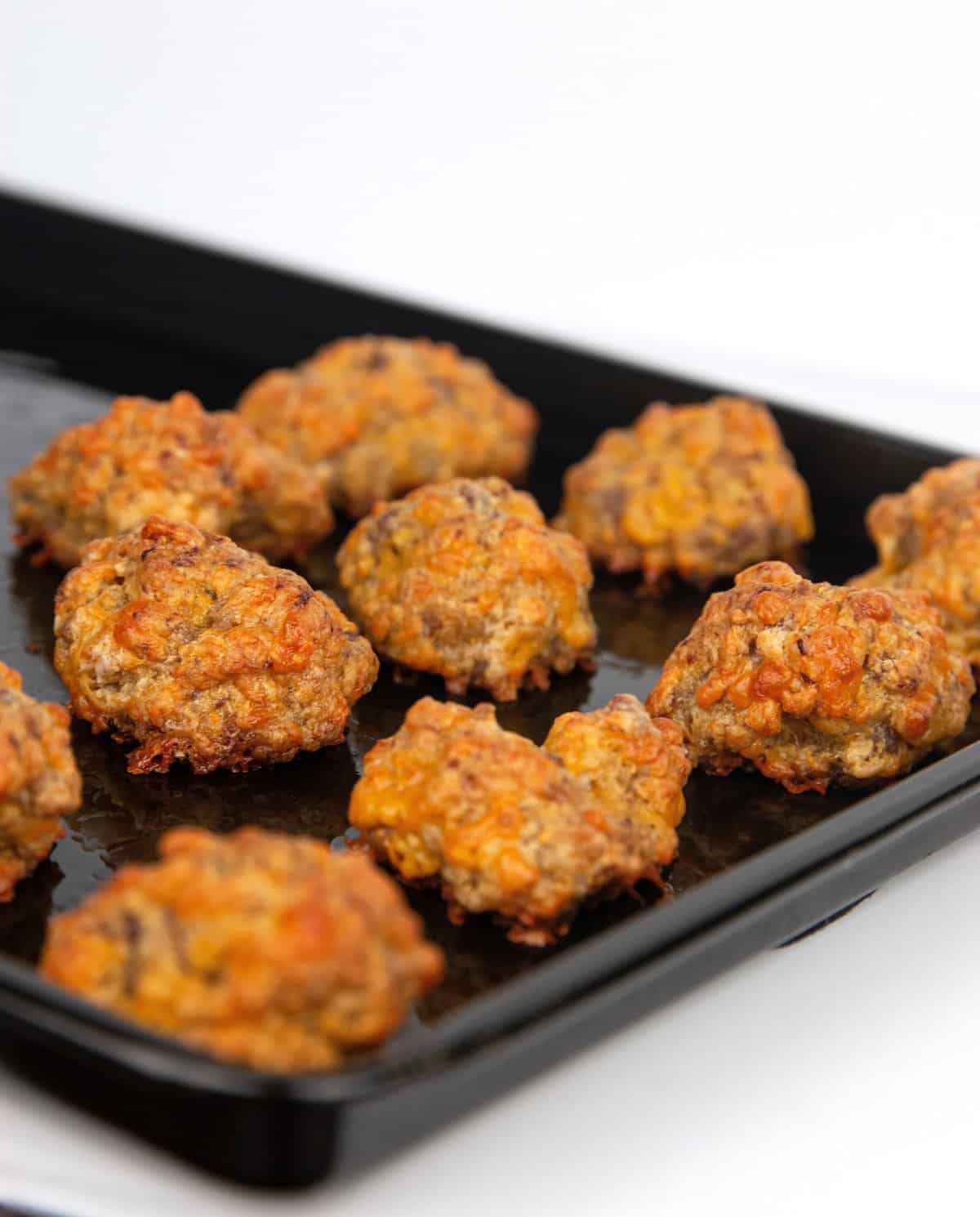 Tips and Tricks
Set the sausage out of the refrigerator 30 minutes to an hour before mixing together. Makes it easier to mix
Use fresh grated cheese. I've noticed using pre shredded cheese can make the sausage balls go flat when cooking. Something to do with the preservatives used in the cheese
You can also use a stand mixer to mix all the ingredients together. I usually use my stand mixer
You can use a cookie scoop to make even sized sausage balls
In order to fit all the sausage balls on one pan I use a huge cooking sheet. Other wise you will have to use 2 pans
After cooking lay some paper towels down on a plate to let some of the grease soak up after placing the sausage balls on top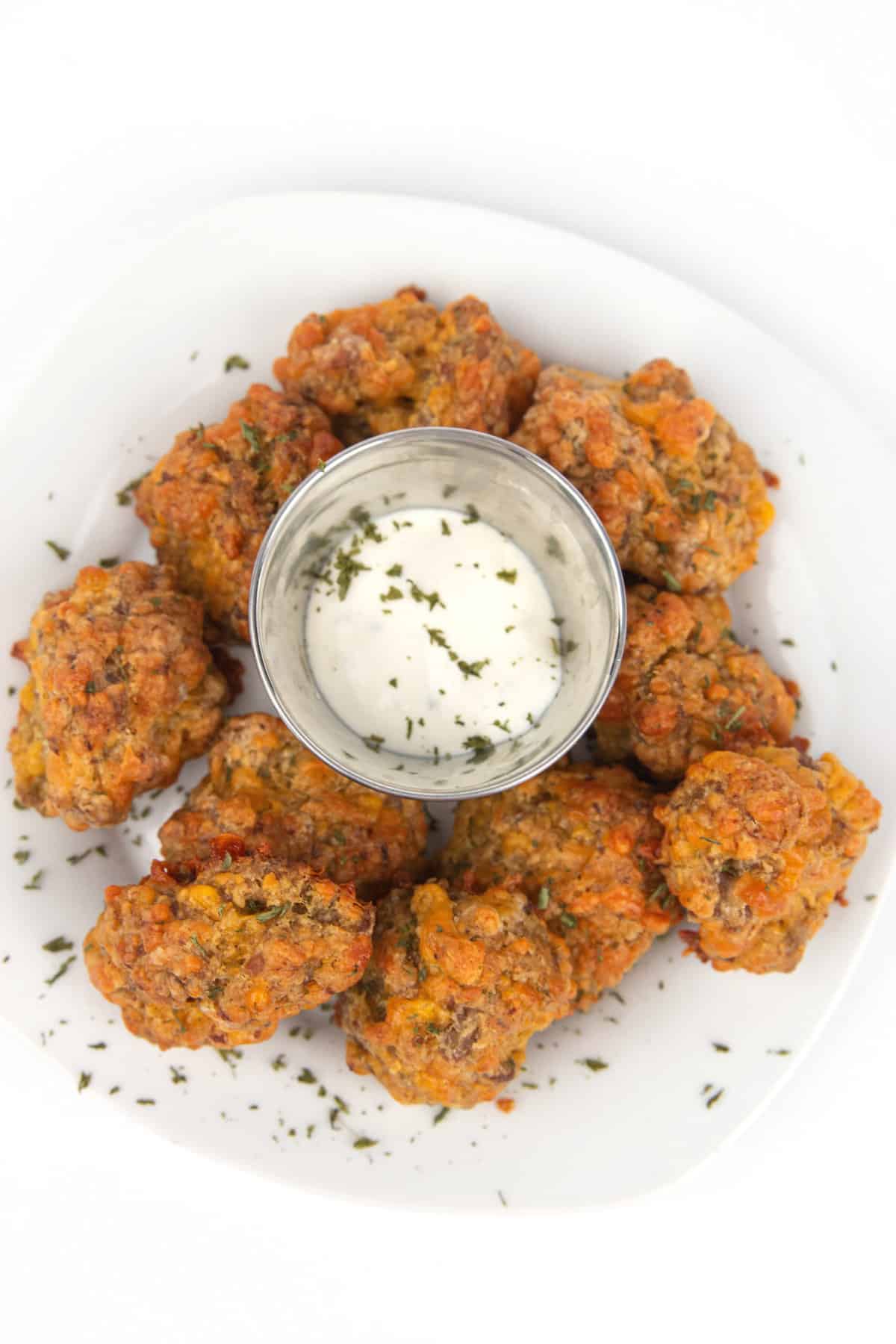 Want some more Sausage Recipes?
Even Better Sausage Balls
Mexican Sausage Balls
Sausage Stuffing Bites
Spicy Sausage Mashed Potato Bombs
Or check out all my Appetizer recipes to find the right one for you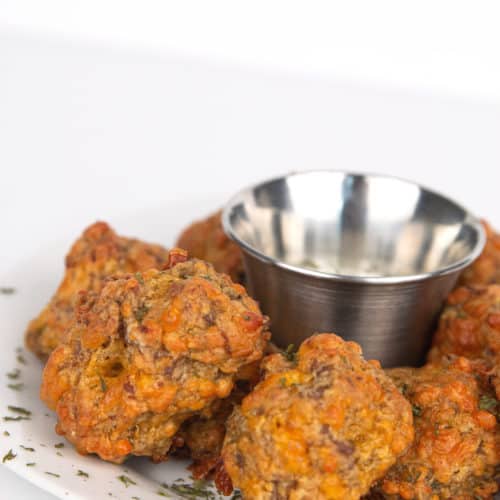 Jalapeno Cheddar Sausage Balls
Step up your sausage ball game with these jalapeno cheddar sausage balls. Only three ingredients including Red Lobster biscuit mix to really mix things up.
Print Recipe
Ingredients
1

box

red lobster cheddar bay biscuit mix

19

oz

jalapeno cheddar sausage

16

oz

sharp cheddar cheese block
Instructions
Preheat oven to 350 degrees

Grate your block of cheddar cheese and set aside

Take a mixing bowl and take a sausage link and cut it down the middle of the casing and peel the casing away from the sausage and add the sausage to the bowl

Repeat the above step with all the sausage

Take the Red Lobster biscuit mix and add it to the bowl along with the seasoning it came with

Next add the shredded cheese to the bowl

Use your hands or a stand mixer and mix all the ingredients together really well

Take a large cookie sheet or 2 baking pans and spray with cooking spray

Take some of the mixer and roll into a ball to create 1 inch balls and set on the baking pan and repeat until all the mixture is rolled allowing the balls to be spaced out some

Put in the oven for 20-25 minutes

Let cool on a plate that has some paper towels on it to soak up some of the grease
Notes
Set the sausage out of the refrigerator 30 minutes to an hour before mixing together. Makes it easier to mix
Use fresh grated cheese. I've noticed using pre shredded cheese can make the sausage balls go flat when cooking. Something to do with the preservatives used in the cheese
You can also use a stand mixer to mix all the ingredients together. I usually use my stand mixer
You can use a cookie scoop to make even sized sausage balls
In order to fit all the sausage balls on one pan I use a huge cooking sheet. Other wise you will have to use 2 pans
After cooking lay some paper towels down on a plate to let some of the grease soak up after placing the sausage balls on top
Nutrition
Serving:
1
ball
|
Calories:
90
kcal
|
Carbohydrates:
4
g
|
Protein:
4
g
|
Fat:
1
g
|
Saturated Fat:
3
g
|
Cholesterol:
16
mg
|
Sodium:
196
mg