This almond crusted tilapia adds a crunchy flavorful crust to spruce
up your next tilapia meal. Only 8 ingredients and 25 minutes and you are ready to enjoy.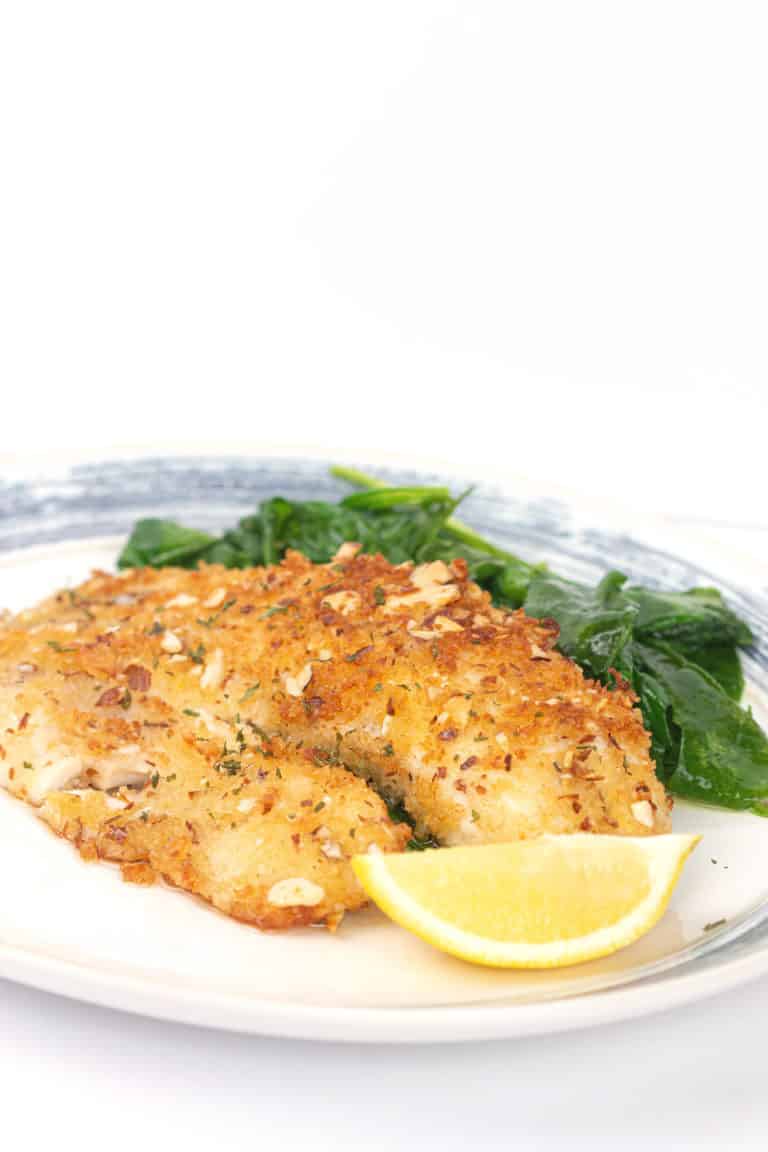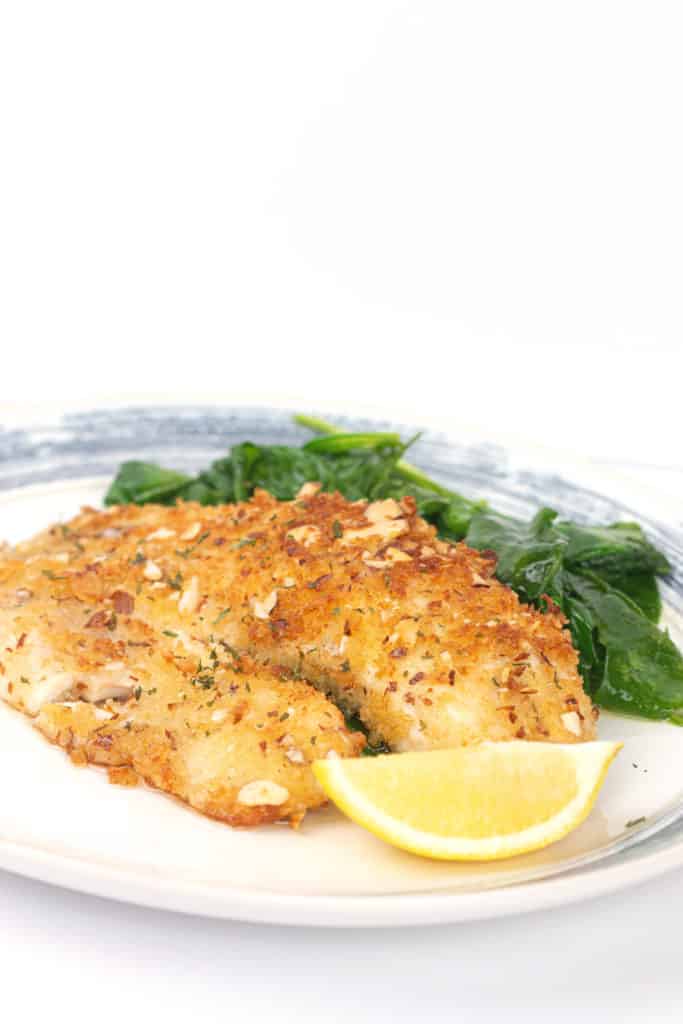 Need to change up your dinner game? Fish is always a good lean source of protein, but sometimes you need to mix it up. That's where this almond crusted tilapia recipe comes to the rescue.
What if you don't want to fry it?
Need not worry. This recipe was originally a baked tilapia recipe, but decided to make it a pan fried one.
But if you're looking to go the healthier route, skip the olive olive and do an olive oil spray to spray the coated tilapia filets and pop in the oven for 12-15 minutes at 400 degrees.
Or if you're wanting to use your air fryer set it to 390 degrees and spray both sides with olive oil spray for 12-15 minutes, flipping half way through.
What About Some Sauce?
While this fish is pretty flavorful by itself maybe you want some sauce to go with it. Here are some I think go well with it
Lemon- not really a sauce but really enhances the fish flavor
Tarter Sauce- If you like the taste of homemade tarter sauce check out this recipe from Simply Whisked
Remoulade Sauce- Self Proclaimed Foodie has an amazing remoulade sauce
Malt Vinegar- People use this often for fish and chips. I personally love it and think it could work for this recipe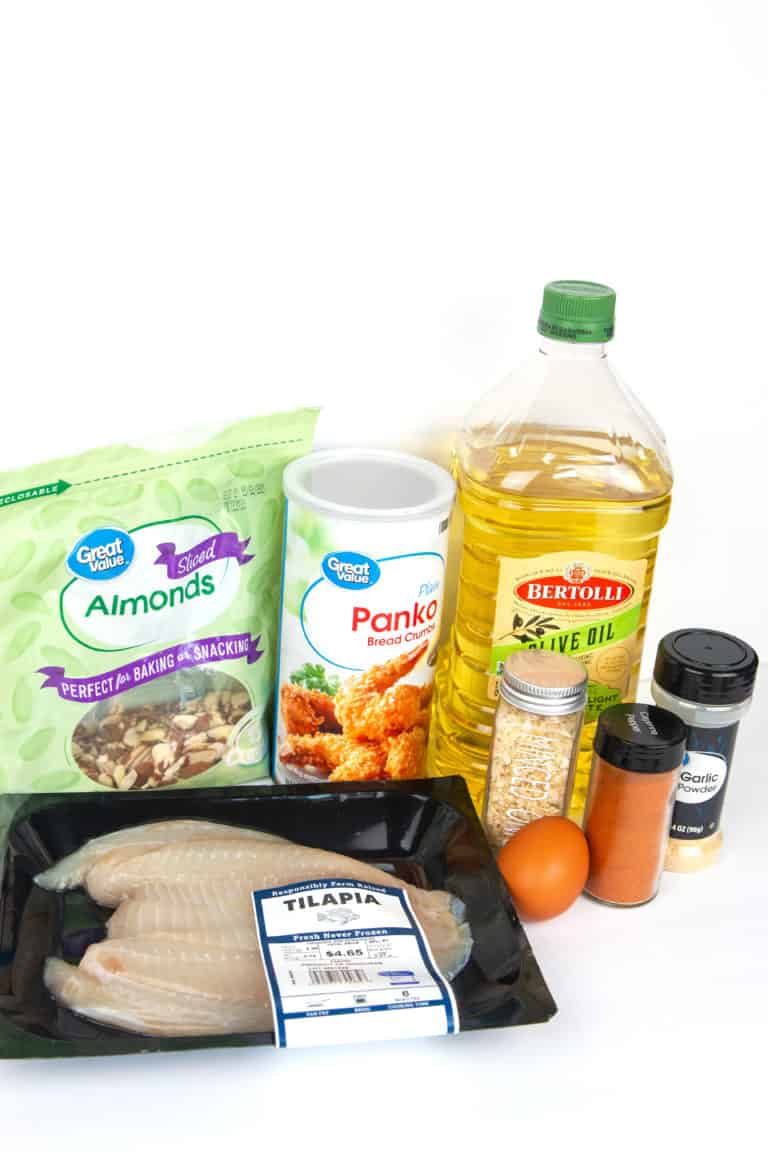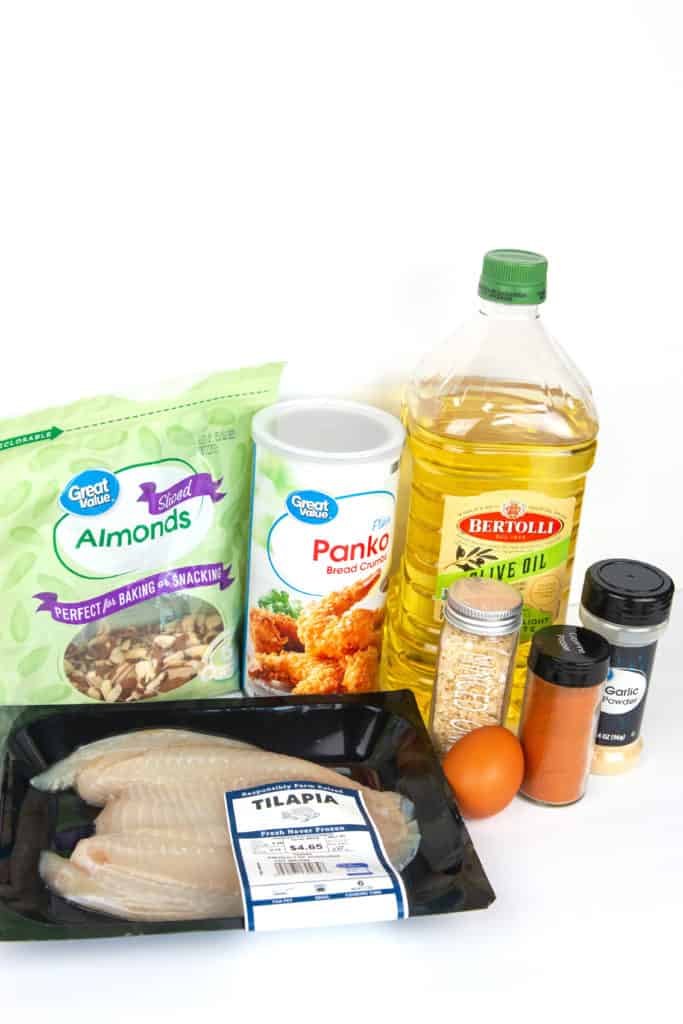 Ingredients for Almond Crusted Tilapia:
Tilapia– this recipe makes 2 fillet sof tilapia
Sliced Almonds– I keep this big bag of almonds handy and have used this same bag in multiple recipes
Panko Bread Crumbs– this gives this recipe a nice crunch
Egg- just 1
Olive Oil for cooking
Onion Flakes, Garlic Powder, Cayenne Pepper– to add some flavor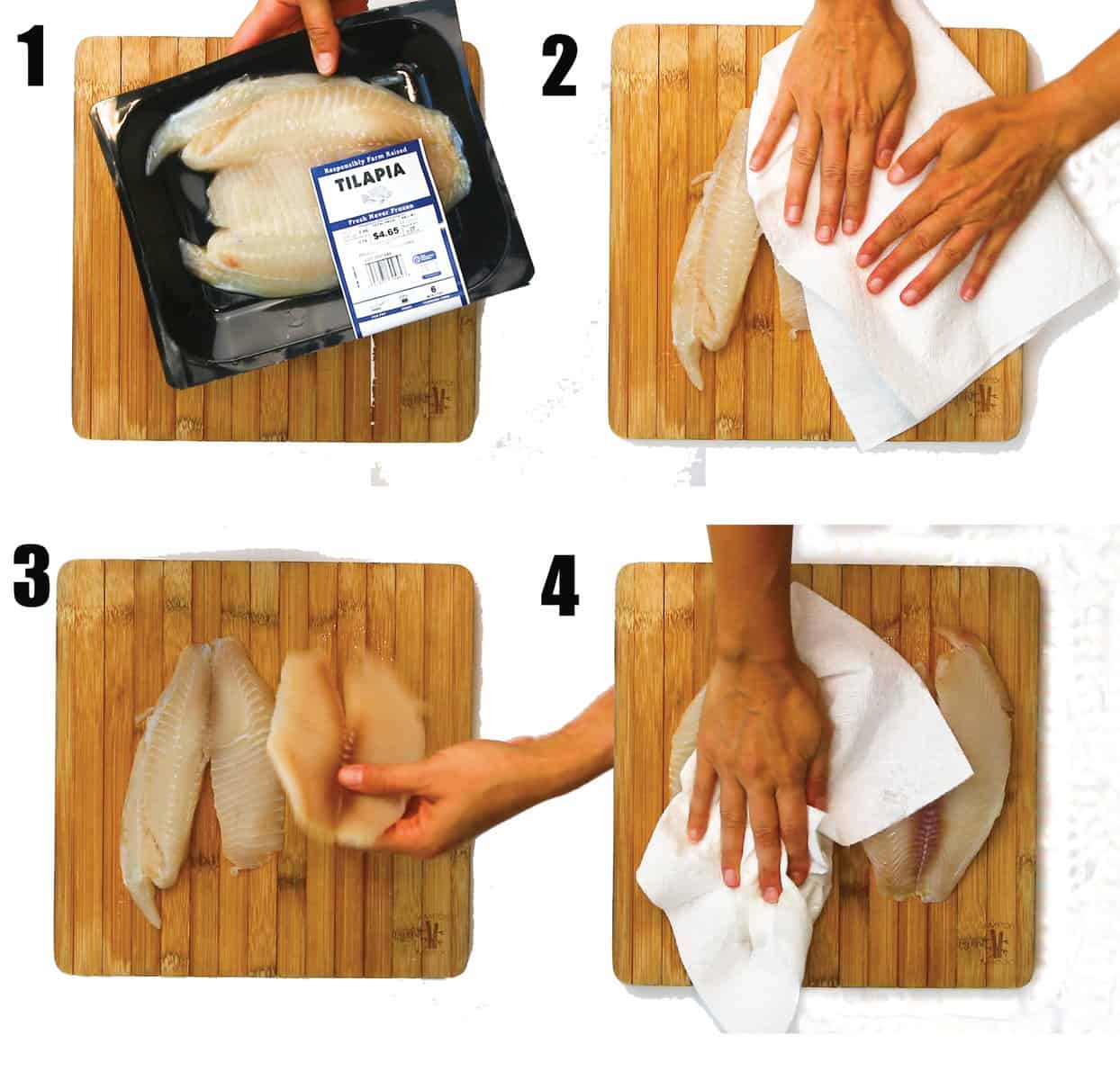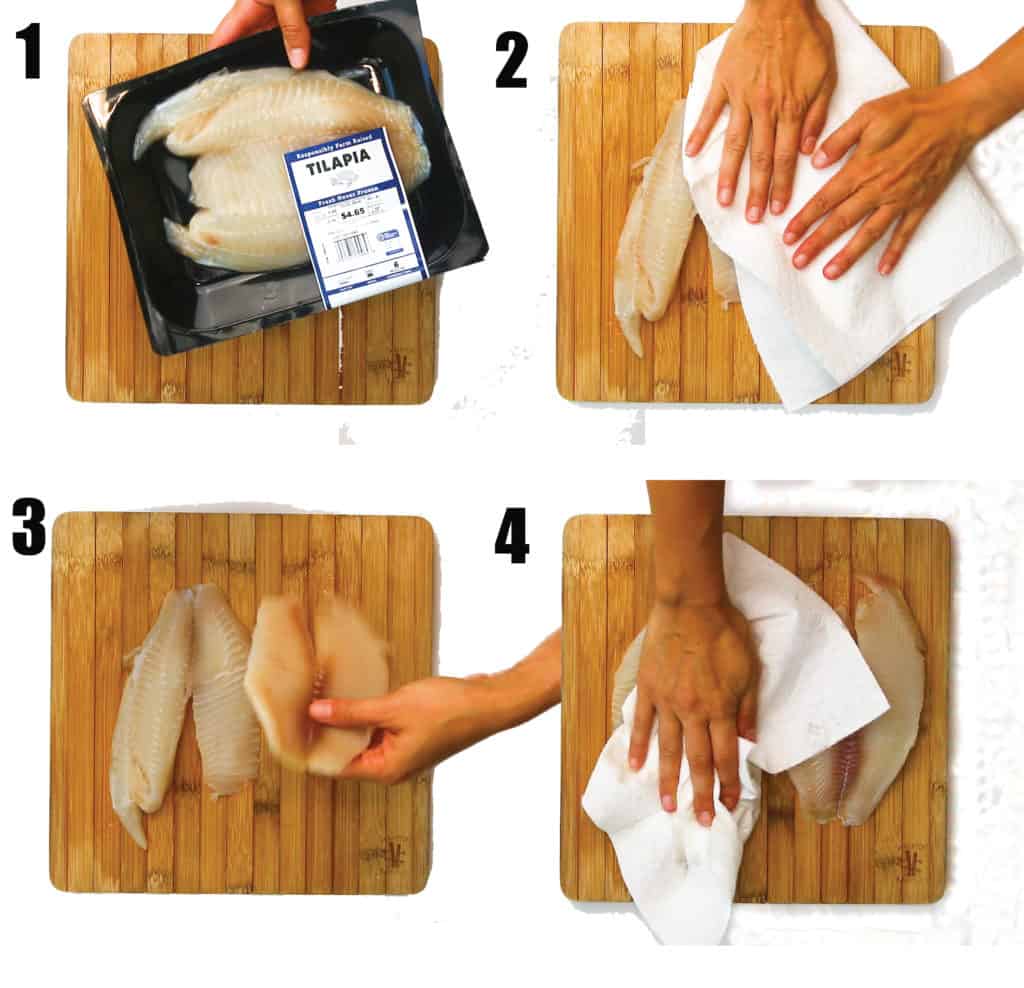 Preparing the Tilapia
Take your tilapia (Photo 1) and put it on a plate or cutting board and pat dry with paper towels (Photo 2) Flip the tilapia over (Photo 3) and pat dry the other side (Photo 4) and set aside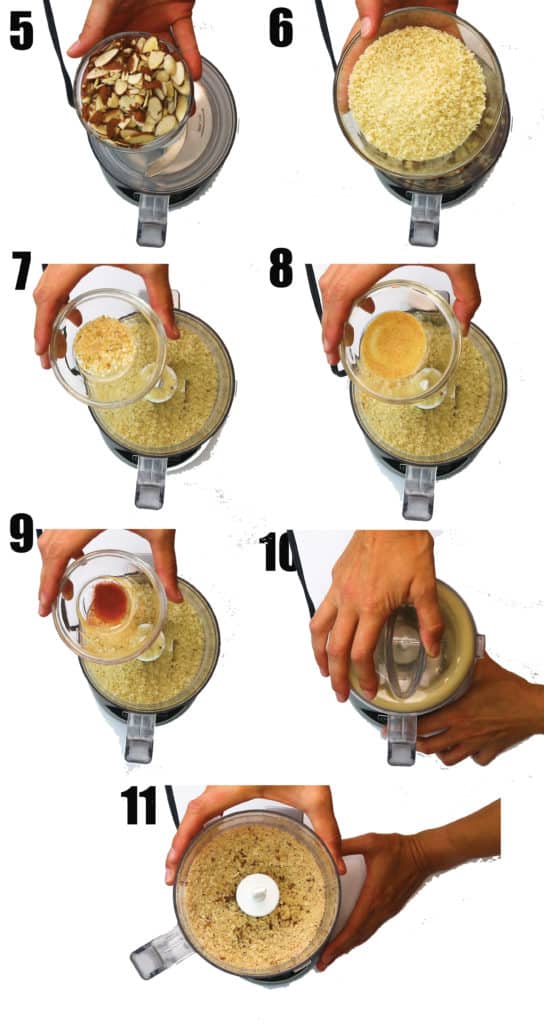 Making the Crust
Take the sliced almonds and add them to a food processor or blender (Photo 5) Next add the Panko bread crumbs (Photo 6) then the minced dried onions (Photo 7), garlic powder (Photo 8) and cayenne pepper (Photo 9)
Put the lid on and grind it all up for a few seconds (Photo 10) Then set the mixture aside (Photo 11)


Coating the Fish
Take two plates and pour the almond crust mixture on one of them (Photo 12) Then crack your egg and add it to the other plate (Photo 13) and whisk the egg (Photo 14)
Next take one tilapia fillet and dip it in the egg with both sides (Photo 15) and then dip in the almond crust mixture (Photo 16) after coated well flip the tilapia and coat the other side (Photo 17)
You will repeat the above steps with the second tilapia fillet


Cooking Almond Crusted Tilapia
Take a large pan and turn your burner on medium/high heat and add the olive oil to the pan (Photo 18) Once the pan is heated add your tilapia fillets to the pan (Photo 19)
After 6 minutes of cooking flip both fillets over (Photo 20) and cook on that side for another 6 minutes or until there is a nice golden crust (Photo 21)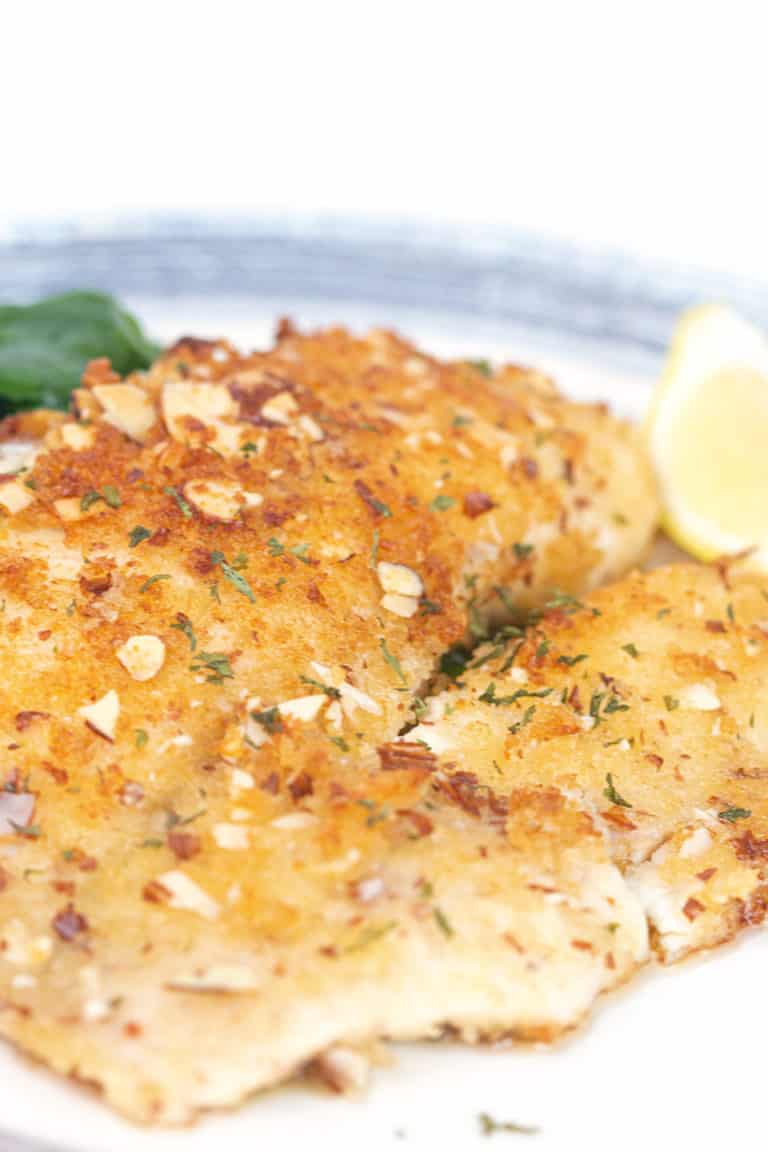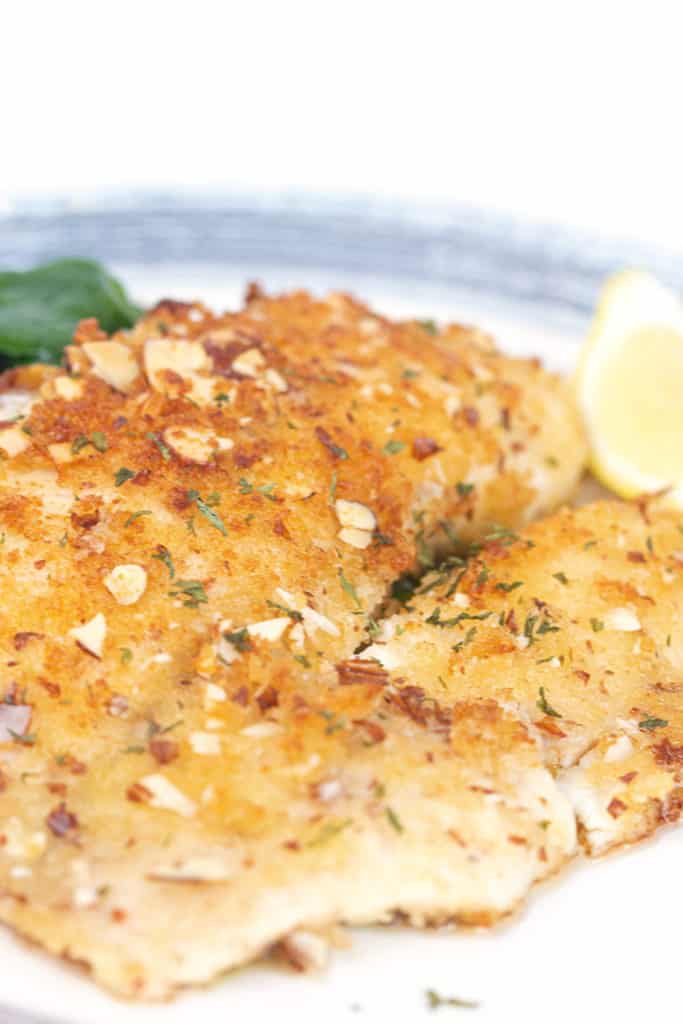 Tips and Tricks
Do not skip the step of drying off the tilapia with paper towels before coating
If you want to change it up a bit add 1/4 cup of grated Parmesan cheese to the crust mix
Be careful when flipping the fish over because you don't want to accidentally pull off the crust
If you aren't sure the fish is fully cook take a knife or fork and cut into the thickest part of the fish. If it is white it's cooked
Wanting to do a slightly healthy version? Then you want to bake instead of pan fry cook at 400 degrees for 12-15 minutes spray the fish with oil before
Or maybe you want to air fry cook at 390 degrees for 12-15 minutes spraying both sides with oil and flipping half way through
Want More Fish Recipes?
Blackened Mahi Mahi with Mango Salsa
Salmon Patties
Pan Seared Chilean Sea Bass
Pan Seared Salmon
Or Check out all my Entree recipes to find your next dinner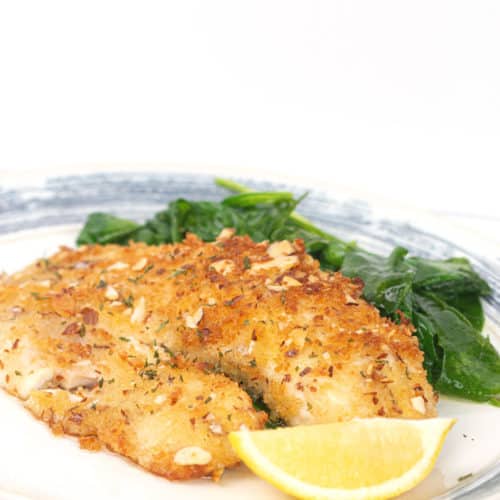 Almond Crusted Tilapia
This almond crusted tilapia adds a crunchy flavorful crust to spruce up your next tilapia meal. Only 8 ingredients and 25 minutes and you are ready to enjoy.
Print Recipe
Ingredients
2

tilapia fillets

1/2

cup

panko bread crumbs

1/2

cup

sliced almonds

1

egg

1

TSP

Dried minced onion

1/2

TSP

garlic powder

1/4

TSP

cayenne pepper

3

TBSP

olive oil
Instructions
Take your tilapia filets and pat them dry with paper towels on both side

With a food processor or blender add sliced almonds, panko bread crumbs, minced dried onion, garlic powder, and cayenne pepper and grind for a few seconds until almonds are chopped up

Take two plates and add almond crust mixture on one and crack and whisk the egg on the other plate

Take one tilapia and dip both sides in the egg and then in the almond mixture and coat both sides with the almond crust mixture

Repeat the above step with the other piece of tilapia

Take a lot pan and turn on the burner to medium/high heat and add olive oil

Once heated add tilapia and cook for 6 minutes on one side

Flip tilapia and cook another 6 minutes on that side
Notes
The nutritional values reflect if you actually consumed the whole amount of olive oil while cooking, in which you do not.  You are probably getting less than half of the 377 calories of olive oil
Do not skip the step of drying off the tilapia with paper towels before coating
If you want to change it up a bit add 1/4 cup of grated Parmesan cheese to the crust mix
Be careful when flipping the fish over because you don't want to accidentally pull off the crust
If you aren't sure the fish is fully cook take a knife or fork and cut into the thickest part of the fish. If it is white it's cooked
If you want to bake instead of pan fry cook at 400 degrees for 12-15 minutes spray the fish with oil before
If you want to air fry cook at 390 degrees for 12-15 minutes spraying both sides with oil and flipping half way through
Nutrition
Serving:
1
tilapia
|
Calories:
599
kcal
|
Carbohydrates:
18
g
|
Protein:
45
g
|
Fat:
40
g
|
Saturated Fat:
6
g
|
Cholesterol:
167
mg
|
Sodium:
231
mg
|
Potassium:
764
mg
|
Fiber:
4
g
|
Sugar:
2
g
|
Vitamin A:
223
IU
|
Calcium:
128
mg
|
Iron:
3
mg