Even Better Sausage Balls
These even better sausage balls are a twist on a classic recipe. One batch may not even be enough once you take one bite.
Ready to up your sausage ball game? These Even Better Sausage Balls give that boring old sausage ball recipe a little kick that it needs. With only 4 ingredients you can make sausage balls that people will actually be talking about.
When should I make these sausage balls?
These are perfect for holiday events and parties. I always bring a batch to any of my Christmas time events
Christmas morning breakfast– these have been my go to Christmas morning breakfast. Easy enough to prepare and pop in the oven while the kid is playing with her new gifts
Football parties– Super Bowl is right around the corner and these are the perfect finger food to bring to the event
How far in advanced to make them?
I personally think they are perfect being served straight from the oven. Once they cool a few minutes taking a bite of that warm sausage ball is the best.
But if you are bringing these to an event I make them the day of and store in an air tight container until I'm at the event. You can serve them as is or warm them in the microwave a little bit.
If you happen to have any leftover (I never do) store in a an air tight container and refrigerate for up to 5 days. Warm them in the microwave before consuming.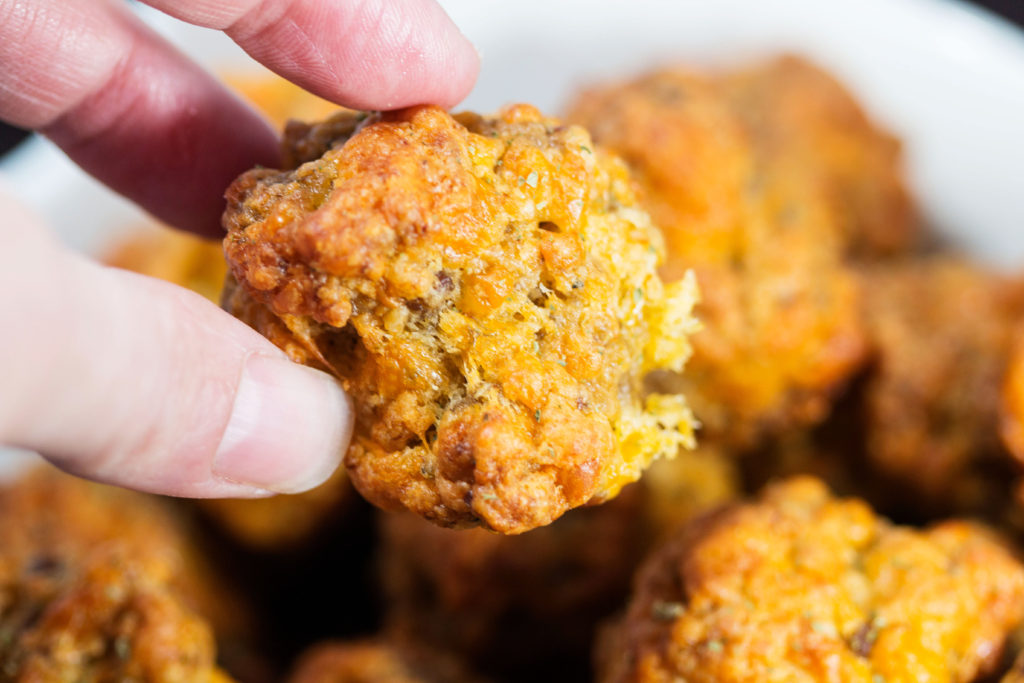 What to serve with Even Better Sausage Balls
Mustard– I'd say not your typical mustard, but more like honey mustard or Dijon or even spicy mustard.
Ranch– everything tastes better with ranch in my opinion, but I am Texan
Spicy Ketchup– not just regular ketchup, but one that has a little kick to it
Gravy– I mean these basically are biscuits and sausage with some cheese so it only seems natural to dip in gravy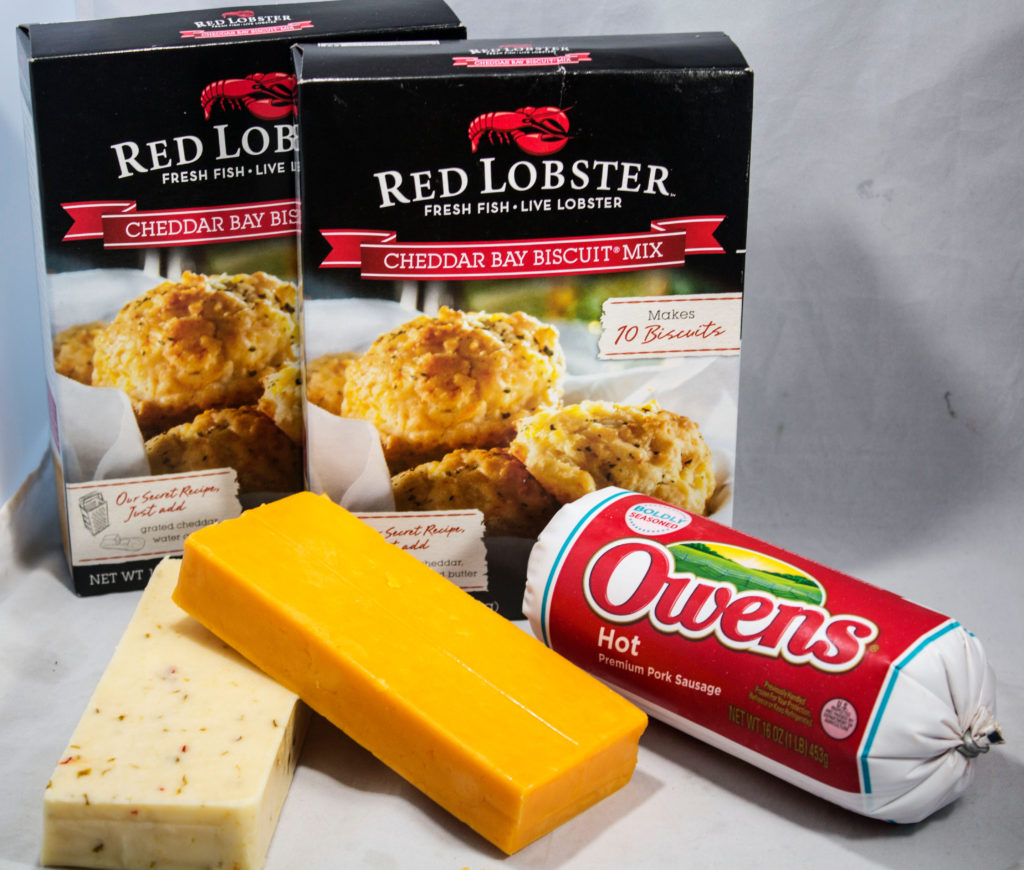 Ingredients for this recipe
Red Lobster Cheddar Bay Biscuit Mix– one box of this biscuit mix is all you need
Ground sausage– I prefer to use hot sausage but regular sausage works too or even Italian sausage
Cheese– I use sharp cheddar and pepper jack cheese, but you can just use cheddar if you want to stay away from the spice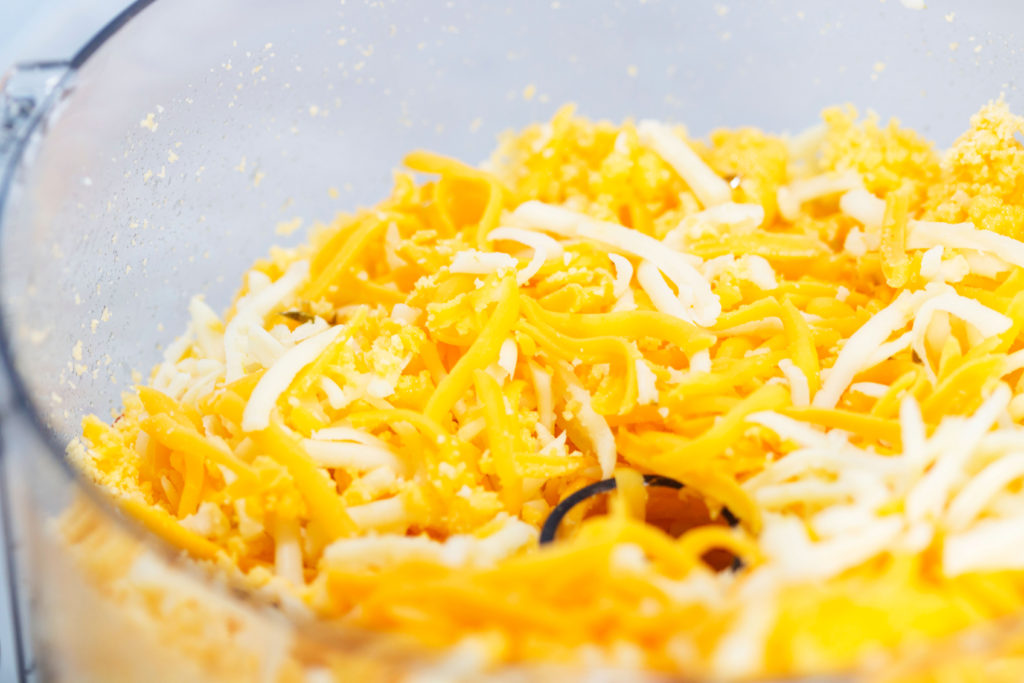 Cheesy
Start by shredding your blocks of cheese. A food processor comes in real handy for this. If you don't have one just get out your grater and start shredding your cheese.
Skip the pre shredded cheese for this recipe. The coating they put on pre shredded cheese can make your sausage balls go flat and not be in a ball form.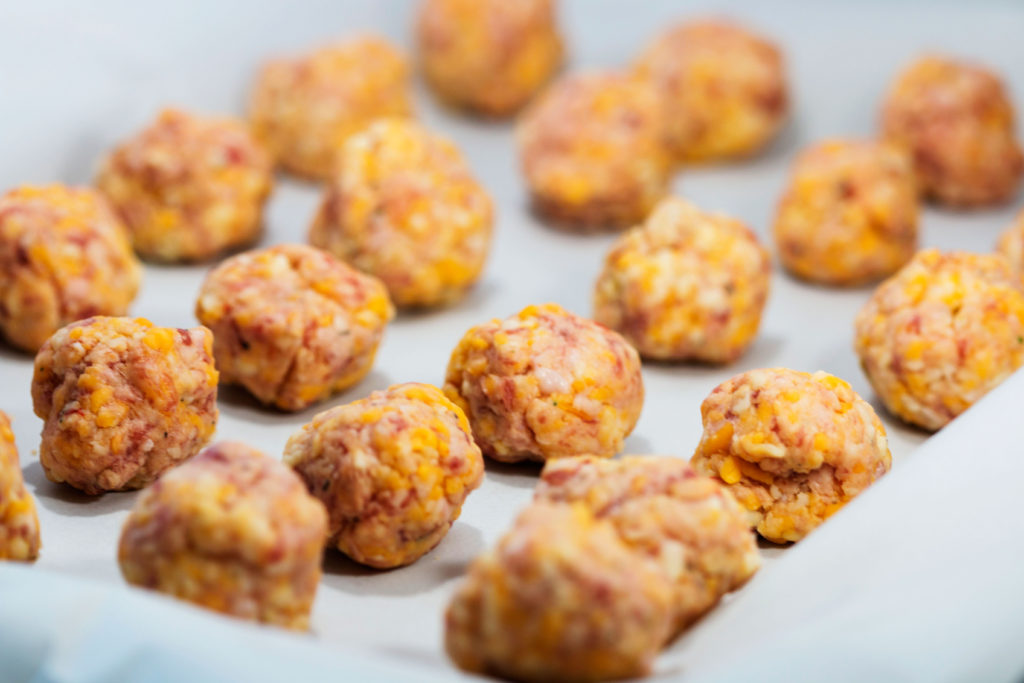 Making these Even Better Sausage Balls
Let your sausage sit out a bit to not be so cold so it makes it easier to mix. Then just add your sausage to a stand mixer. Pour the biscuit mix and seasoning pack in a separate bowl and mix the two together well.
Then add the seasoned biscuit mix to the stand mixer and then the shredded cheese and start mixing on low speed. Have your hands on the side of the mixer just in case any of the mix tries to get outside the bowl
Use a cookie scoop to get out the dough and roll into ball form and lay out on 2 parchment paper baking sheets. Give them a little room to grow so don't put them right near each other.
Now bake for 20-25 minutes at 350 degrees. When they are done cooking lay out on paper towels so some of the oil from the sausage can be soaked up.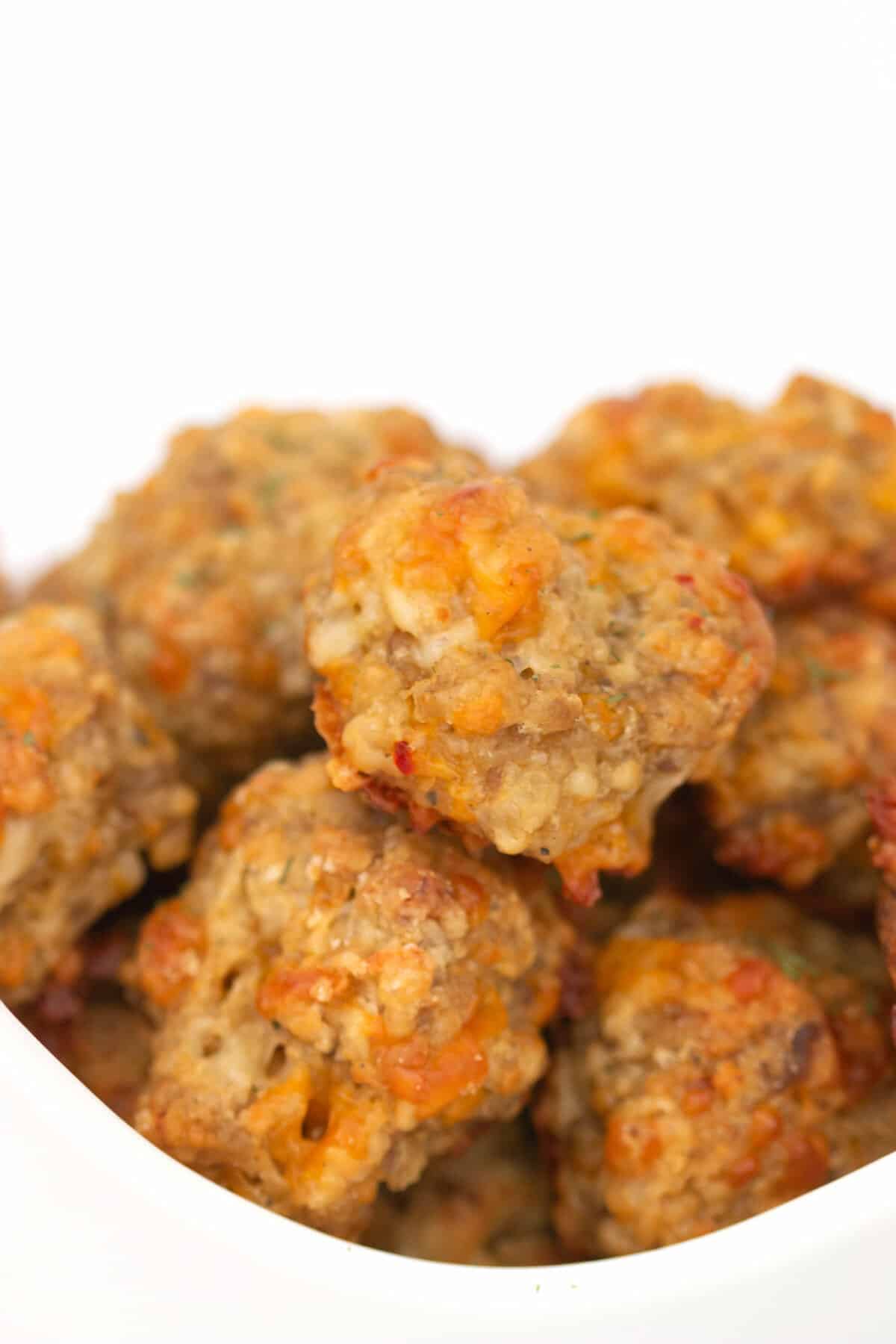 Tips and Tricks
Use fresh shredded cheese and not pre shredded cheese for this recipe. The coating that is on pre shredded cheese can make these sausage balls go flat when cooking
Use a cookie scoop to make even sized sausage balls. Scoop out the mix and then roll in your hands to form a ball
I put parchment paper on top of my baking sheet so avoid any sticking to the pan
After cooking lay on some paper towels to soak up any extra grease
Want some more Sausage recipes?
Sausage Stuffing Bites
Sausage and Cabbage Skillet
Mexican Sausage Balls
Spicy Sausage Mashed Potato Bombs
Or check out all my Appetizers recipes to find the perfect party food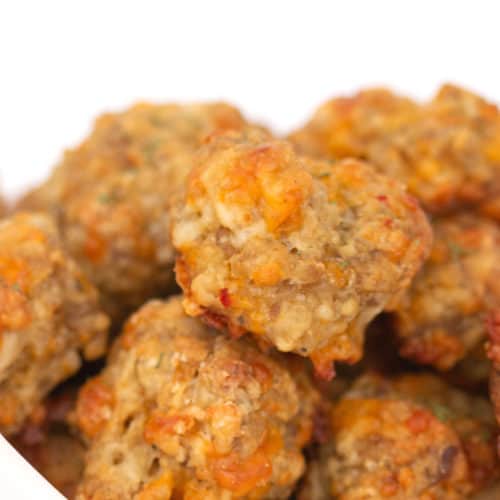 Even Better Sausage Balls
These even better sausage balls are a twist on a classic recipe. One batch may not even be enough once you take one bite.
Print Recipe
Ingredients
1

box of Red Lobster biscuit mix

1

package

16oz hot sausage

1 8

oz

block of sharp cheddar cheese

1 8

oz

block of pepper jack cheese
Instructions
Preheat oven to 350 degrees

Mix together biscuit mix and seasoning with sausage

Shred both blocks of cheese and add the cheese to the sausage and biscuit mix and mix together well

Line 2 baking sheets with parchment paper and roll 1 inch balls of the sausage ball mix spacing apart

Cook for 20-25 minutes and let cool on some paper towels to soak up some of the oil
Notes
Use fresh shredded cheese and not pre shredded cheese for this recipe. The coating that is on pre shredded cheese can make these sausage balls go flat when cooking
Use a cookie scoop to make even sized sausage balls. Scoop out the mix and then roll in your hands to form a ball
I put parchment paper on top of my baking sheet so avoid any sticking to the pan
After cooking lay on some paper towels to soak up any extra grease
Nutrition
Serving:
1
ball
|
Calories:
68
kcal
|
Carbohydrates:
4
g
|
Protein:
2
g
|
Fat:
4
g
|
Saturated Fat:
2
g
|
Cholesterol:
9
mg
|
Sodium:
133
mg
|
Potassium:
9
mg
|
Vitamin A:
85
IU
|
Calcium:
72
mg
|
Iron:
0.1
mg