Air Fryer Spicy Ranch Toasted Ravioli
These air fryer toasted spicy ranch ravioli are the perfect quick appetizer that pack a lot of flavor and can be whipped up in no time.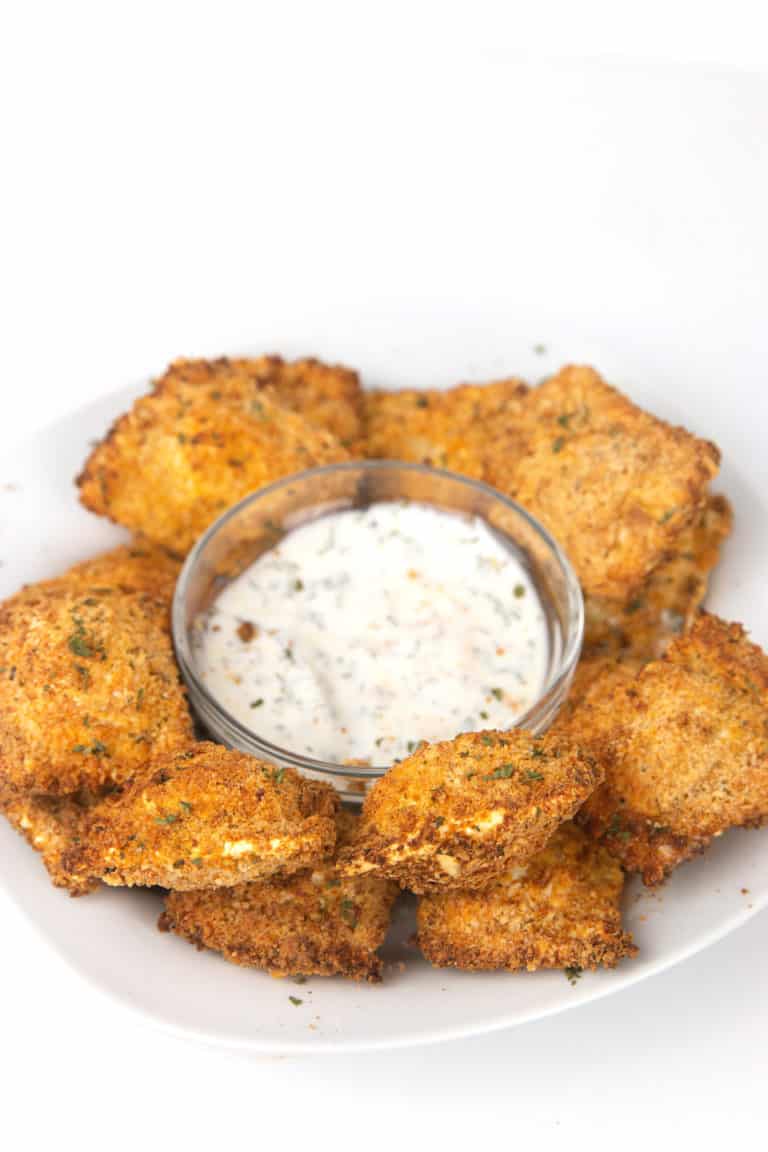 Talk about a new obsession. These air fryer toasted spicy ranch raviolis are not only addicting, but so easy to make. And besides not having a greasy residue you can't even tell these aren't fried. Talk about a win.
When Would be a Good Time to Make These?
ANYTIME! These are such a tasty appetizer they really can be made anytime you want. Some other occasions or times these would be great would be:
Appetizer for your Italian dinner or any dinner
Superbowl or Football party– quick to make and super tasty
Parties– just start cooking them when guest arrive so they are nice and hot
For your Kids– these are almost like cheese sticks and kids love cheese sticks
Wine with the girls– nice little cheesy snack to go with your wine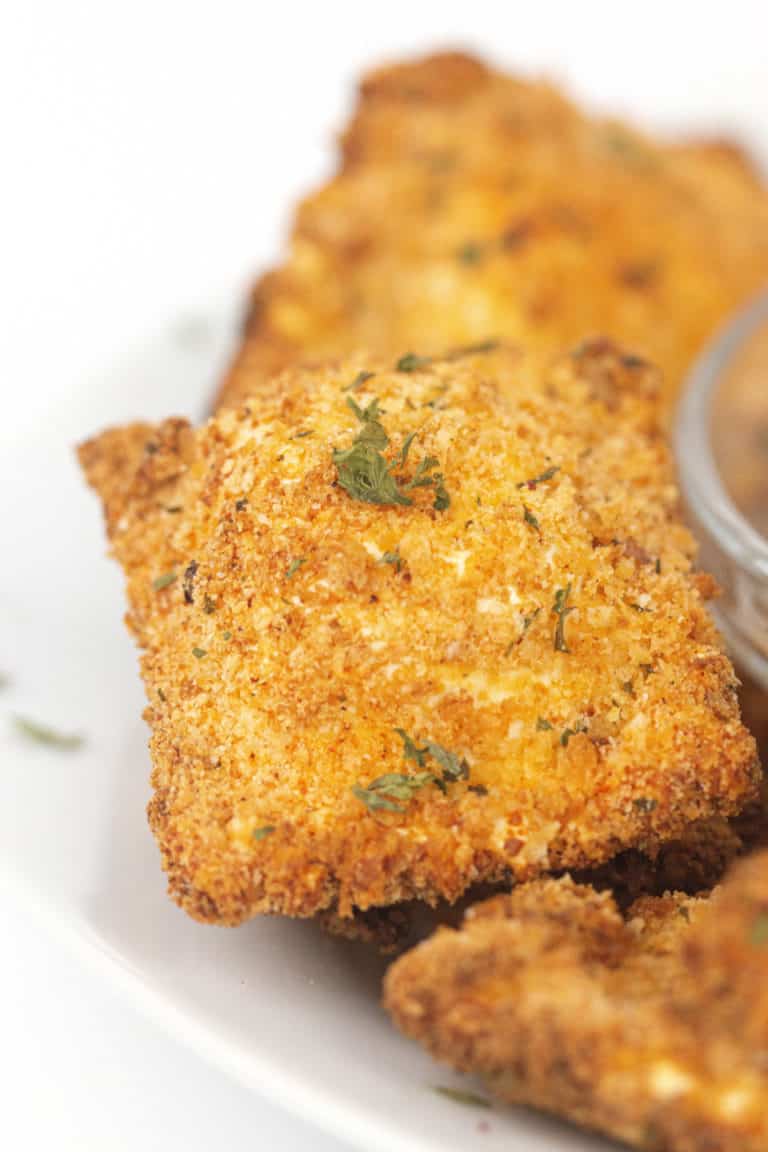 What Type of Ravioli do I use?
That is totally up to you! There is a variety of flavors out there for you to try.
Different types of cheese kinds
Spinach Ravioli
Artichoke Ravioli
Meat and cheese filled Ravioli
Seafood filled Ravioli
Mushroom Ravioli
And What About the Dip?
I personally prefer ranch dressing for dipping since it goes with the flavor of the ranch seasoning of the bread crumb mix. But you could also do marinara or alfredo sauce. All would go great with this air fryer toasted spicy ranch ravioli.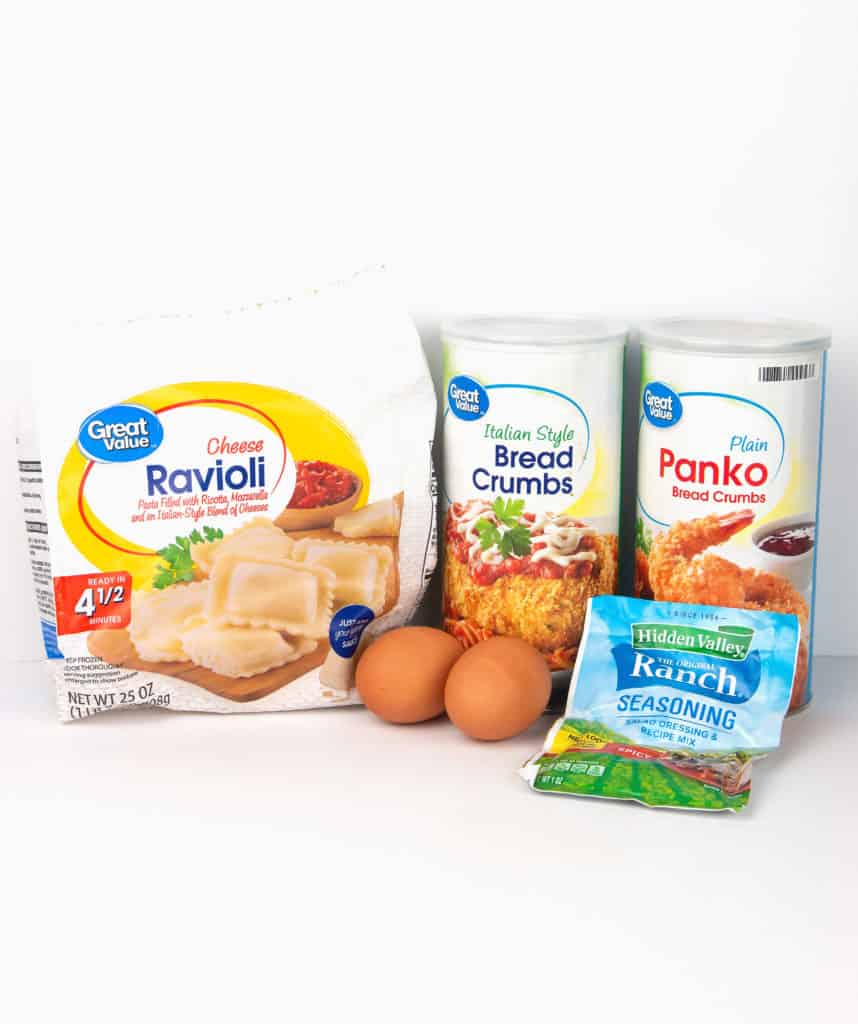 Ingredients you will need:
Frozen Ravioli– 1 pound bag of whatever frozen ravioli you prefer.
Spicy Ranch Seasoning– you can pick up a package at about any grocery store. It's not actually "spicy" but has a good flavor
Bread Crumbs– I keep Italian bread crumbs on hand
Panko Bread Crumbs– this helps with the crunch factor
Eggs– 2 eggs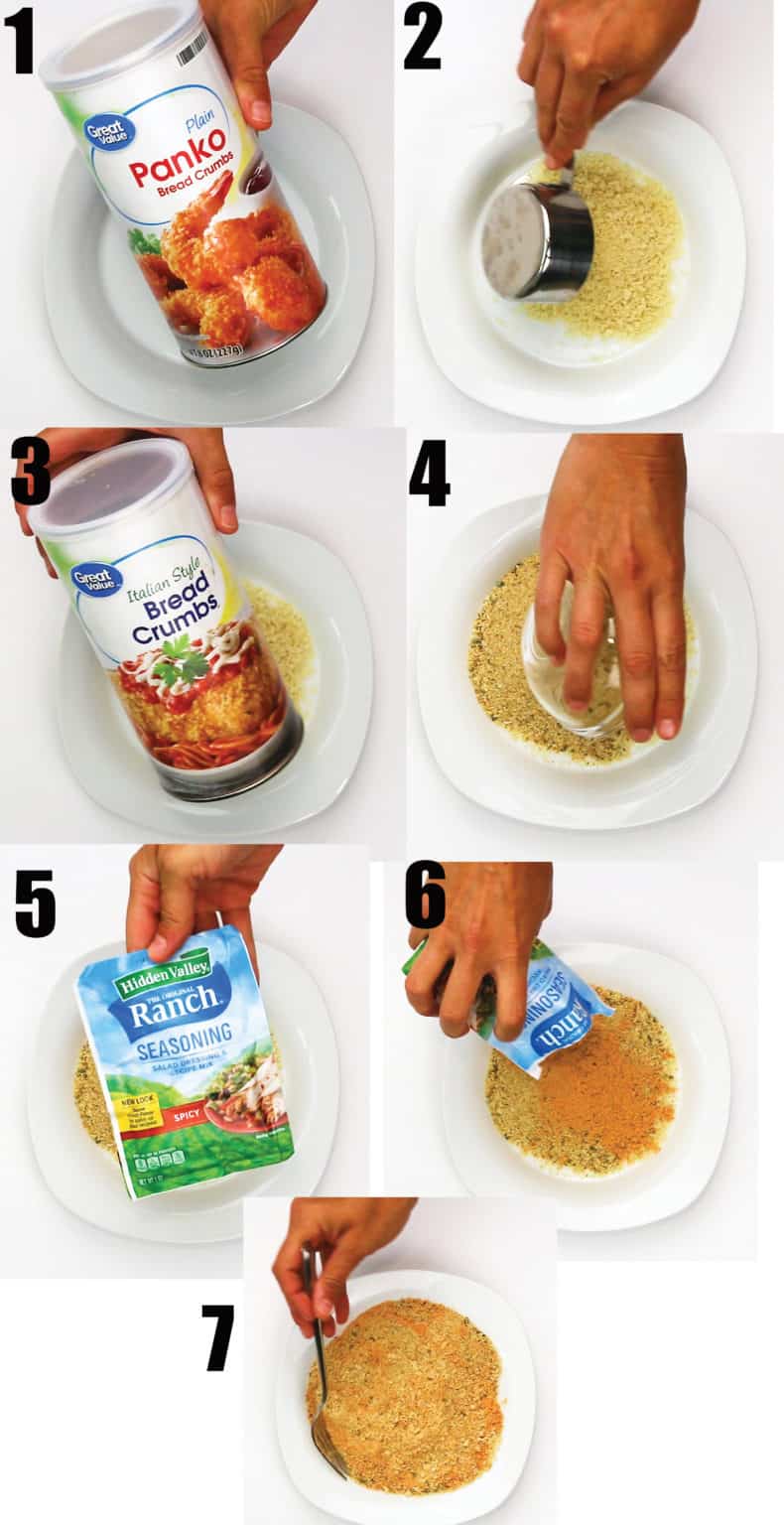 Mixing the Coating
Start by adding the panko bread crumbs (Photo 1) to a plate (Photo 2) Then take the Italian Bread crumbs (Photo 3) and add it to the same plate as the panko bread crumbs (Photo 4)
Next take the Spicy Ranch seasoning (Photo 5 ) and add it to the bread crumbs (Photo 6) and mix together well (Photo 7)

Eggs
Take 2 large eggs (Photo 8) and crack them into a bowl or cup (Photo 9) and whisk together well (Photo 10) and set aside (Photo 11)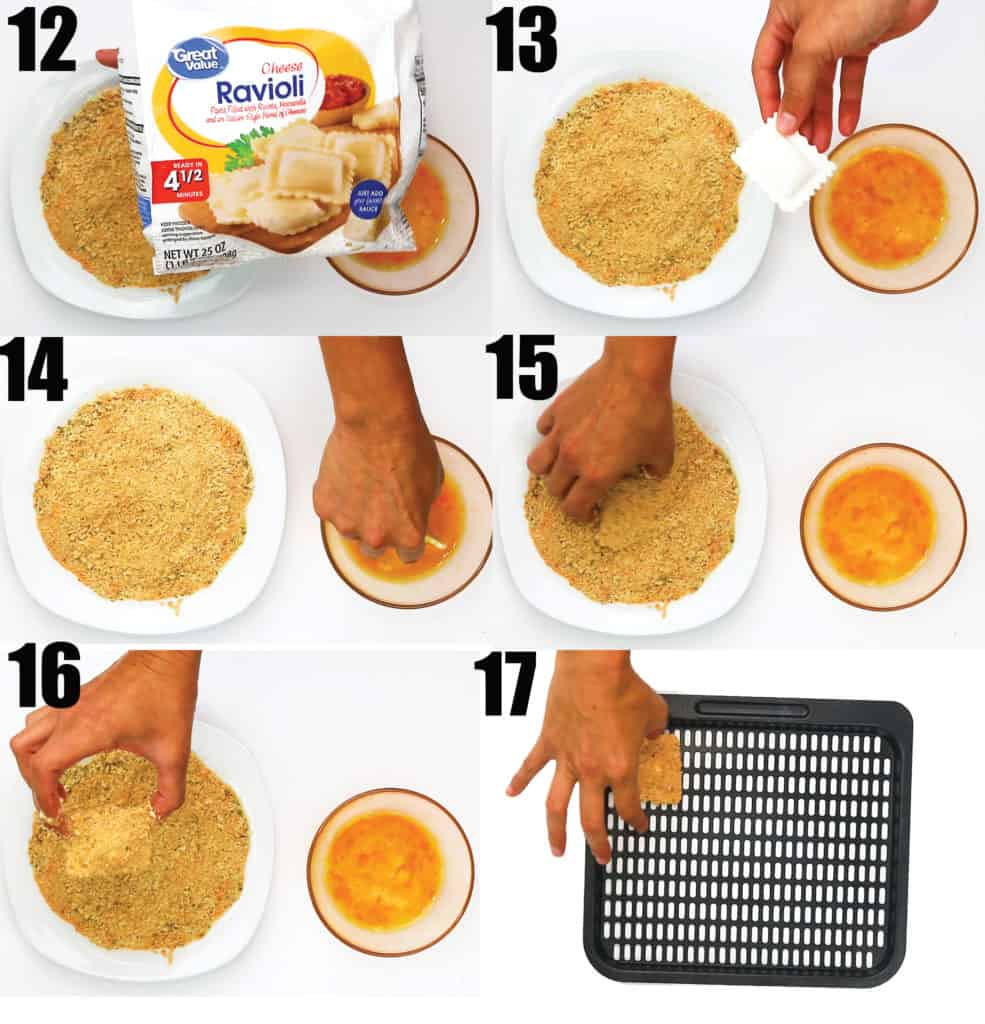 Preparing the Ravioli
Take the plate of bread crumbs and add the eggs to a plate and grab your frozen ravioli (Photo 12) Take a ravioli out (Photo 13) and dip it in the eggs (Photo 14)
Next dip it in the bread crumb mix (Photo 15) and get a nice good coat of bread crumbs all over the ravioli (Photo 16) and set on your air fryer tray (Photo 17) Repeat with all the raviolis
Depending on the size of your air fryer you might have to make the whole bag in batches. Cook on 400 degrees for 9 minutes.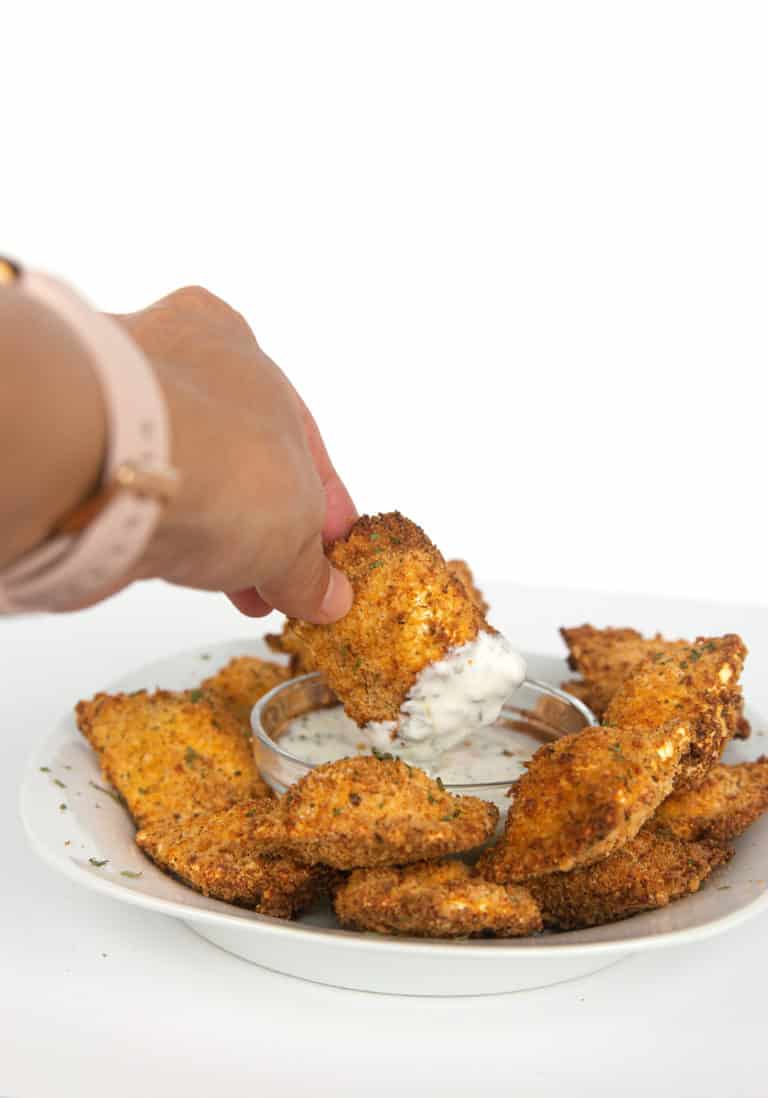 Tips and Tricks
Only making half the bag gives you about 14 ravioli which is a good amount and all can be cooked in one time if you have a 2 tray air fryer. Just cut all the ingredients in half.
You can serve with ranch dressing or even marinara. I prefer ranch to go with the ranch flavor of the ravioli
Flip the raviolis half way through cooking to get an even crunchiness
For an added crunch spray some olive oil spray on the ravioli before cooking
Want Some More Spicy Ranch Recipes?
Spicy Ranch Spinach Dip
Spicy Ranch Oyster Crackers
Spicy Ranch Potatoes
Spicy Ranch Onion Fries
Or Check Out all my appetizer recipes to find the perfect start to any meal!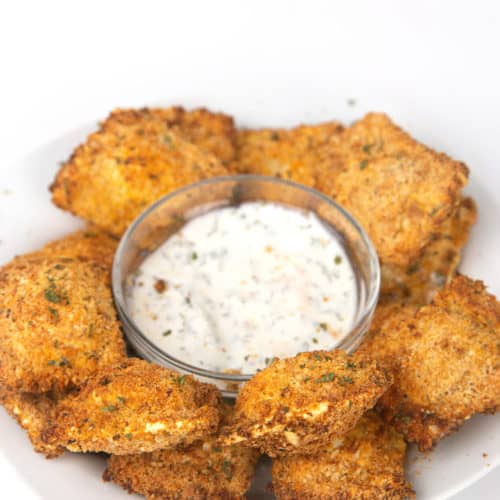 Air Fryer Toasted Spicy Ranch Ravioli
These air fryer toasted spicy ranch ravioli are the perfect quick appetizer that pack a lot of flavor and can be whipped up in no time.
Print Recipe
Ingredients
1

lb

frozen ravioli

1

cup

panko bread crumbs

1

cup

italian bread crumbs

1

package

spicy ranch dressing seasoning

2

eggs
Instructions
Mix together the panko bread crumbs, italian bread crumbs, and spicy ranch seasoning mix on a plate

Whisk together the two eggs and put on a plate

Take your frozen ravioli and dip in the eggs and then the bread crumb until nice and coated and place on your air fryer tray

Repeat with all the ravioli

Cook at 400 degrees for 9 minutes
Notes
Only making half the bag gives you about 14 ravioli which is a good amount and all can be cooked in one time if you have a 2 tray air fryer. Just cut all the ingredients in half.
You can serve with ranch dressing or even marinara. I prefer ranch to go with the ranch flavor of the ravioli
Flip the raviolis half way through cooking to get an even crunchiness
For added crunch spray some olive oil spray on the ravioli before cooking
Nutrition
Serving:
1
ravioli
|
Calories:
86
kcal
|
Carbohydrates:
12
g
|
Protein:
4
g
|
Fat:
3
g
|
Saturated Fat:
1
g
|
Cholesterol:
20
mg
|
Sodium:
243
mg
|
Potassium:
18
mg
|
Fiber:
1
g
|
Sugar:
1
g
|
Vitamin A:
25
IU
|
Vitamin C:
1
mg
|
Calcium:
17
mg
|
Iron:
2
mg