Buffalo Chicken Quinoa Bites
Buffalo chicken quinoa bites are a light and tangy treat. Easy to make for your family to enjoy or serve up for your next football watching party.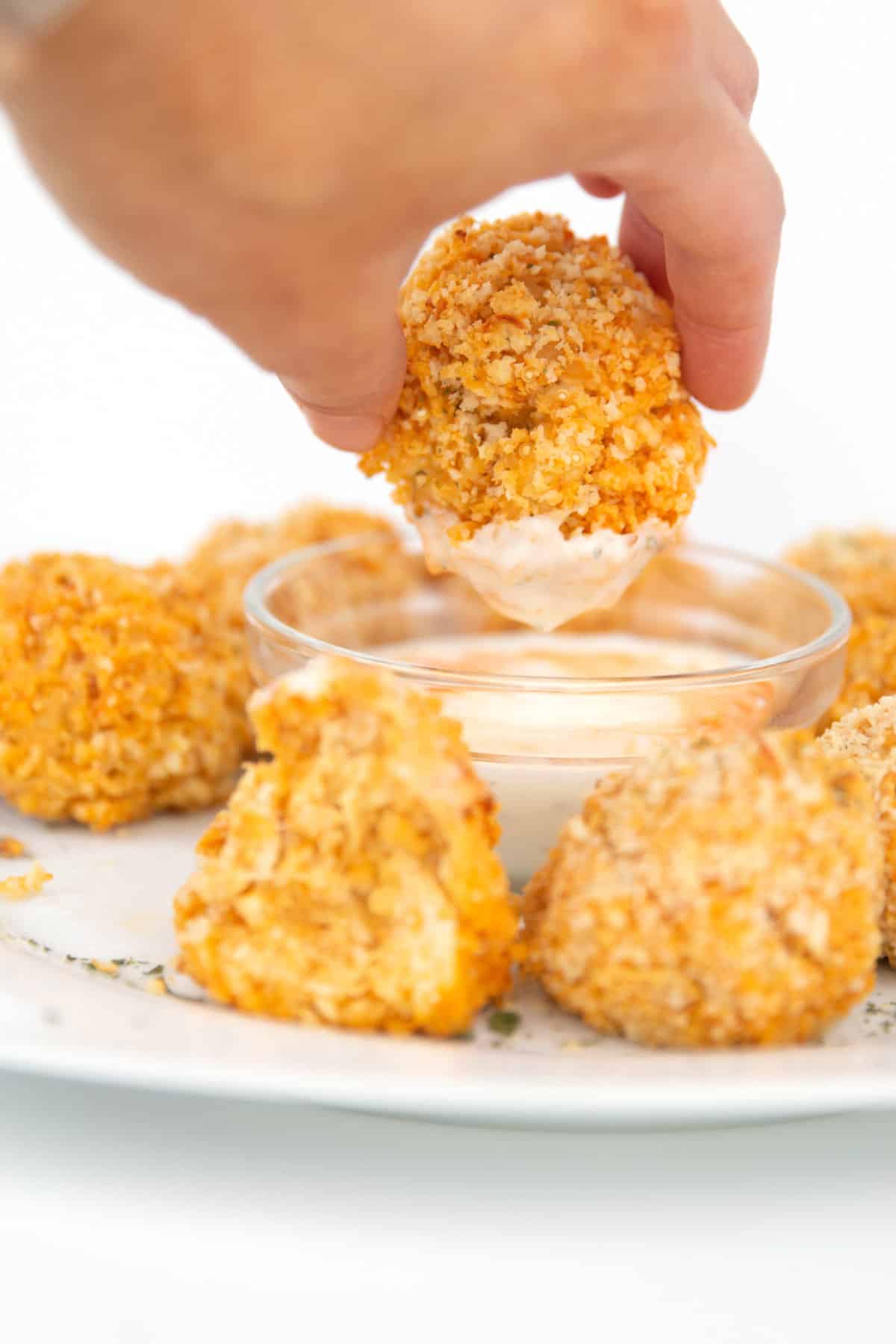 Yes, it's a recipe with buffalo sauce AGAIN. You know I've already told you how much I love anything with buffalo sauce. I wasn't joking. I could eat something flavored buffalo every single day. And what goes well with buffalo sauce? Chicken!
What is Quinoa?
Know as an "ancient grain" and/or a "superfood" quinoa is a seed from a weed like plant called the goosefoot. It acts like a whole grain and can be prepared like brown rice or barley.
It is very nutritionist and high in fiber compared to other grains. Quinoa is gluten free and has a low glycemic index. Overall if you were to pick a grain that actually benefits you, quinoa is the one.
I have an awesome super easy quinoa and brown rice asparagus salad that makes for an excellent side dish for you next dinner.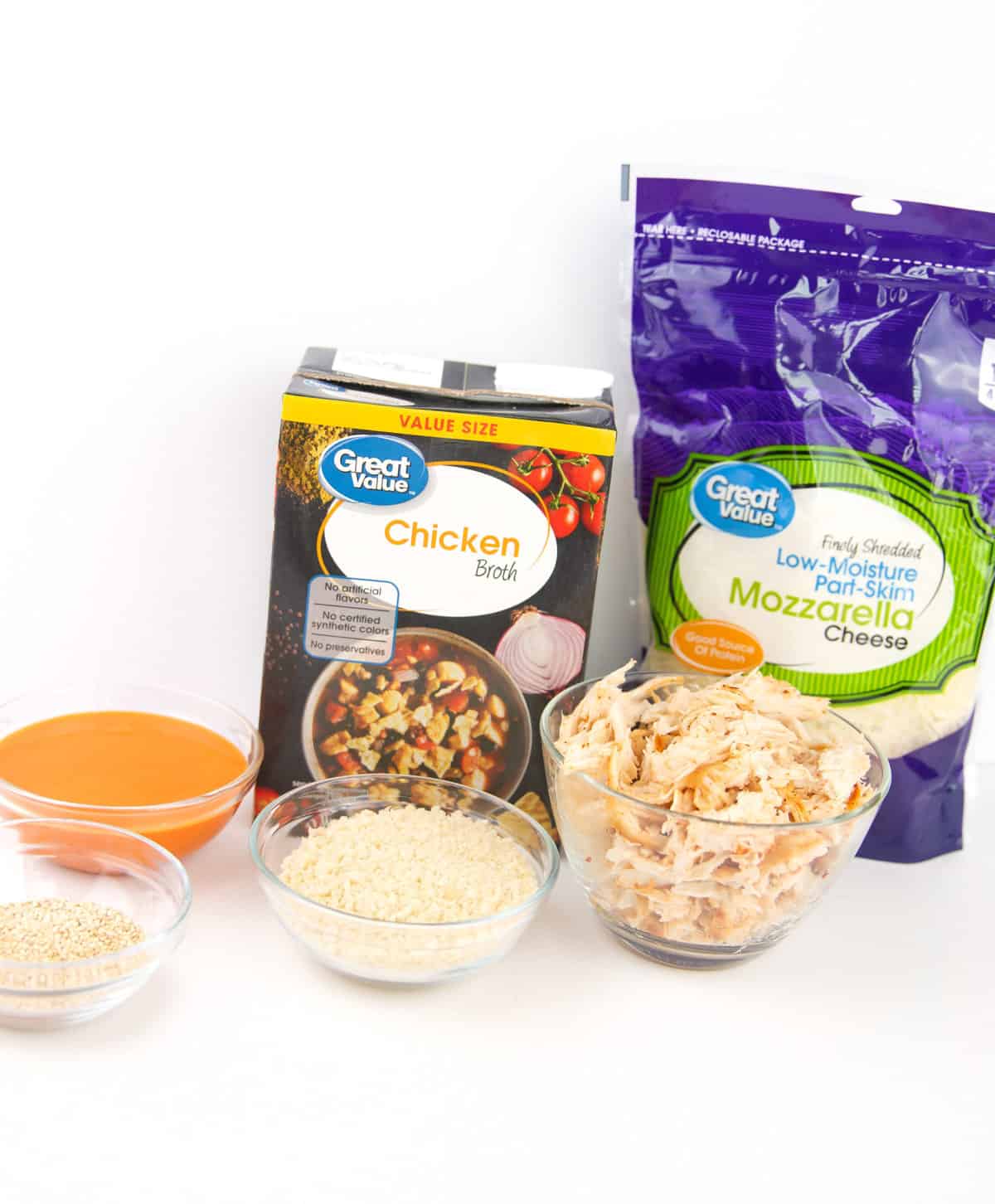 Ingredients for Buffalo Chicken Quinoa Bites
Chicken– I prefer to use rotisserie chicken that I shred, but cooking up some chicken breasts and shredding them or canned chicken works well too
Quinoa– you can find quinoa at most grocery stores by the rice. Just follow the instructions on the package on how to cook, but substitute the water with chicken broth when cooking
Mozzarella Cheese– you can buy pre shredded or shred your own. I usually always have pre shredded cheese on hand so I go with that
Buffalo Sauce– the brand I prefer is actually this one I find at Dollar Tree, but your favorite buffalo sauce brand will do
Panko Bread Crumbs– I prefer these over regular bread crumbs because they are a lot crunchy
Chicken Broth– this is to cook your quinoa instead of water to add some extra flavor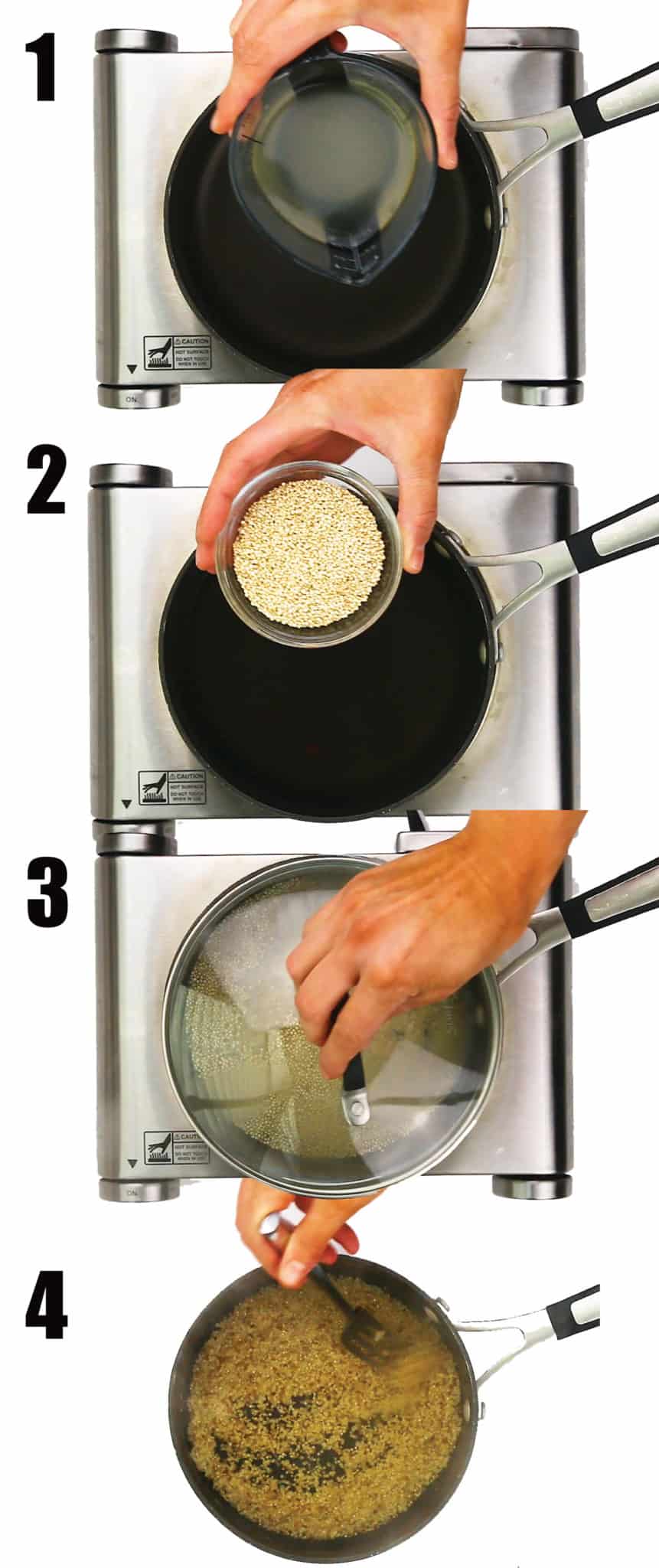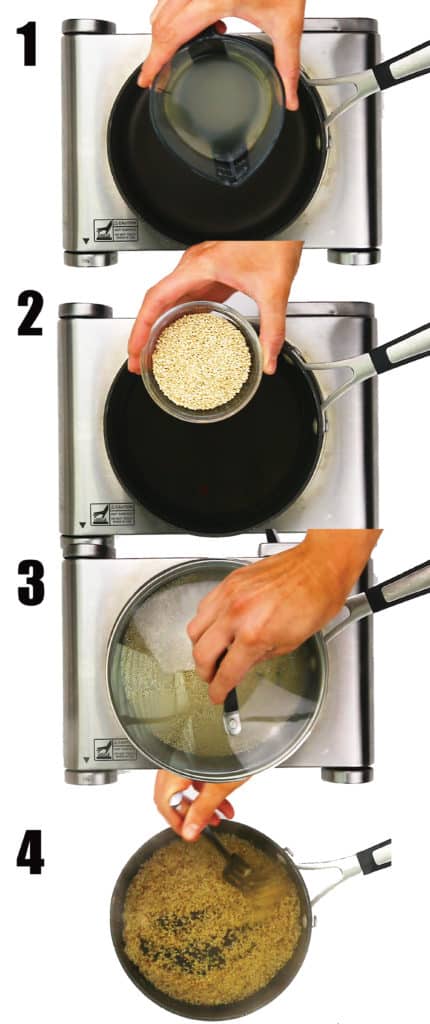 Cooking the quinoa
Add the chicken broth in a small sauce pan (Photo 1) and add the uncooked quinoa to the pan (Photo 2) bring to a boil and cover (Photo 3) for as long as the instructions say (5 minutes for mine) and remove from heat and let sit for 5 minutes. After sitting uncover and fluff with a fork (Photo 4)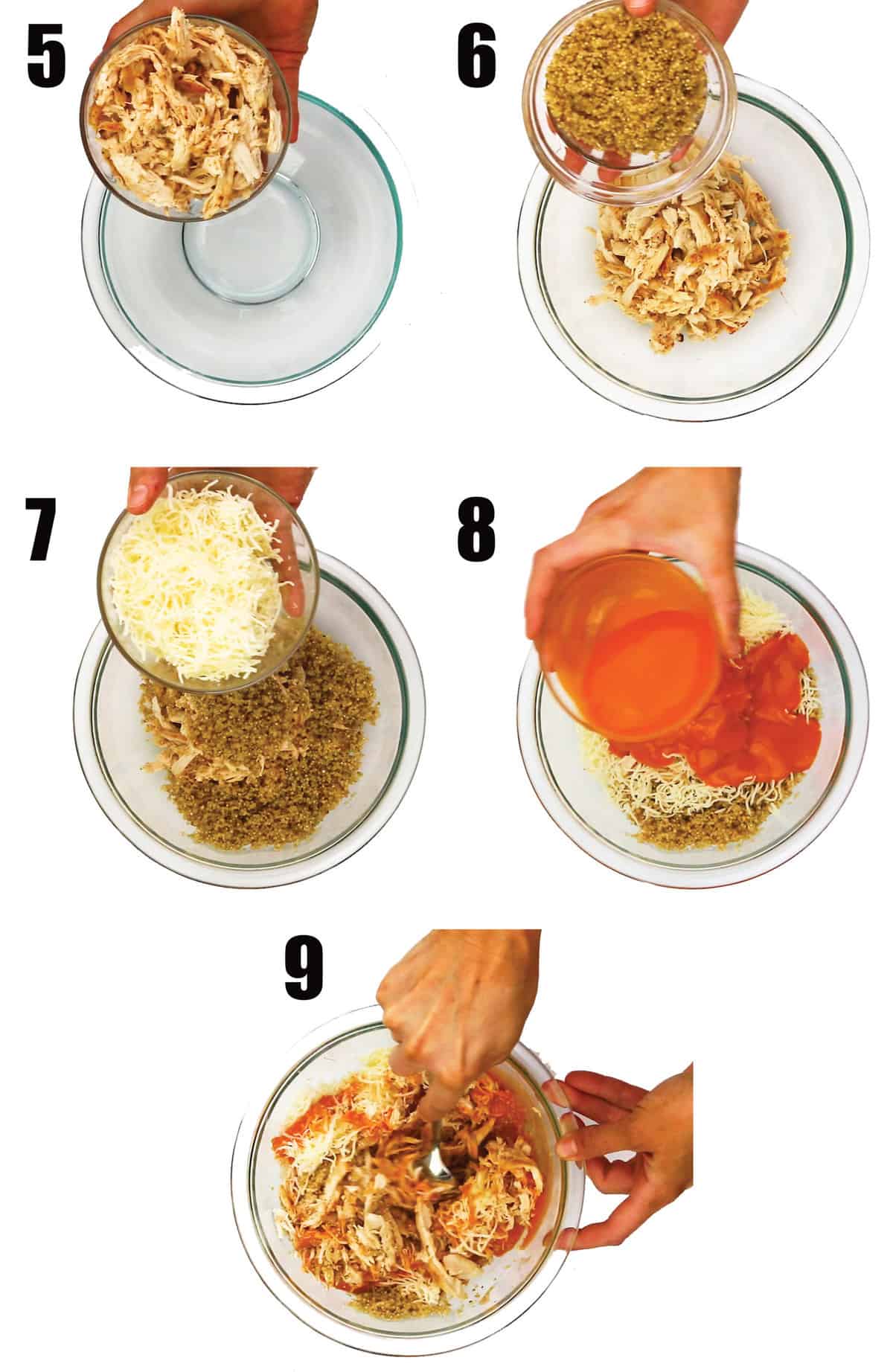 Mixing the ingredients
Take a big bowl and add the shredded chicken (Photo 5), cooked quinoa (Photo 6), shredded cheese (Photo 7), and half of the buffalo sauce (Photo 8) and mix all the ingredients together really well (Photo 9)

Assembling the bites
Take a big spoonful of the chicken mix in your hand and form into a ball (Photo 10) Then dip the ball into the leftover buffalo sauce (Photo 11) and then roll around in the panko bread crumbs (Photo 12) until it is all coated (Photo 13)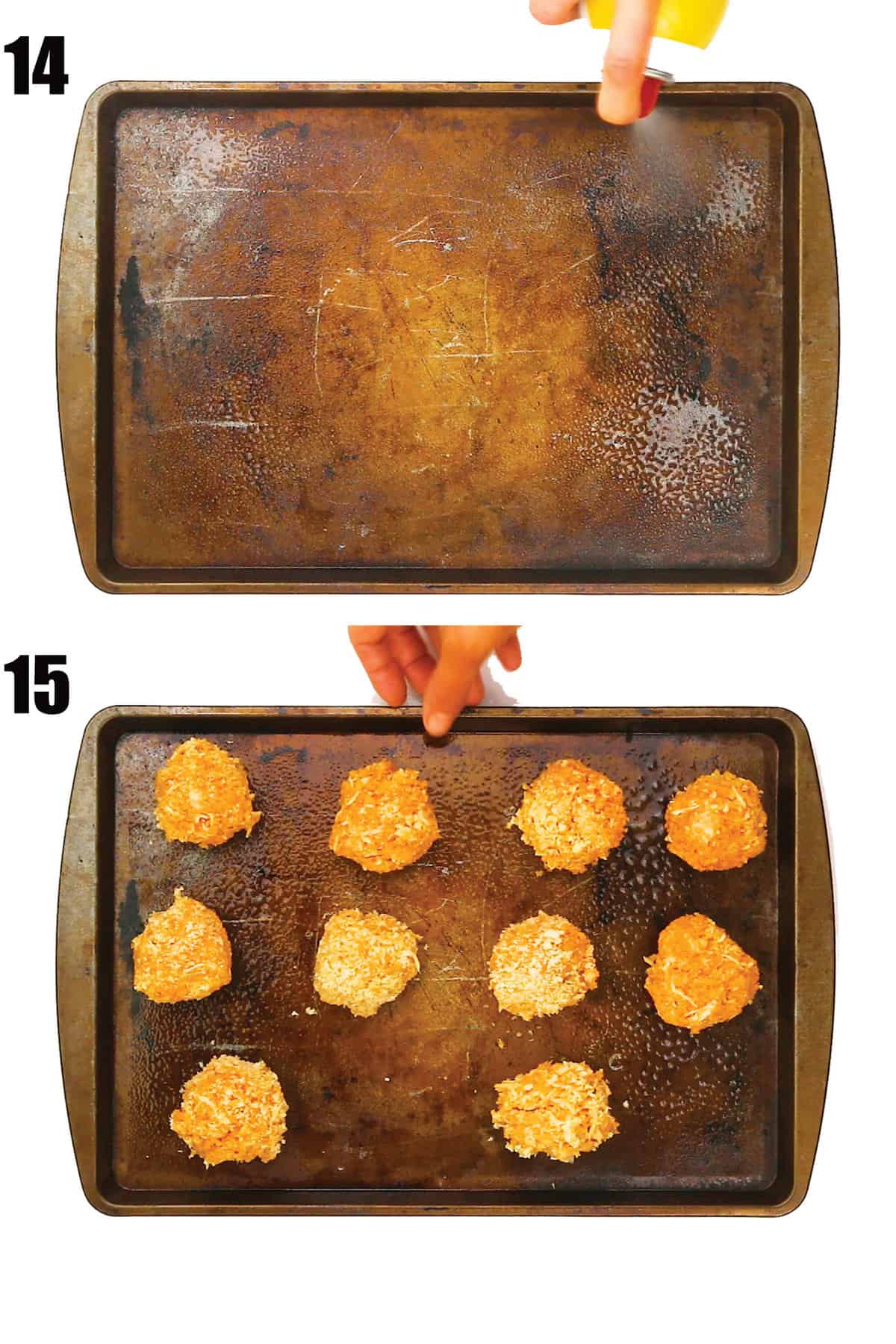 Cooking the bites
Take a baking sheet and spray with cooking spray (Photo 14) lay the buffalo chicken quinoa bites on the baking sheet with a little space in between them (Photo 15) and put in the oven at 350 degrees for 20 minutes.
Tips and Tricks
Don't have rotisserie chicken on hand? Not to worry, you can cook a couple chicken breasts in the oven and shred them yourself. Or even some canned chicken will work if you're in a pinch
Be sure and DO NOT pour all the buffalo sauce in the chicken mix. This will be way too much and your mix will not stick together
If you are still having a hard time getting the mix to form into balls pop in the refrigerator for 30 minutes or so and then shape into balls
If you want your panko bread crumbs to brown a little spray with some cooking spray all over the bites before putting in the oven
You can actually make these as big or little as you want. If you do decide to make them into smaller bites you might need a little more panko bread crumbs than the recipe calls for
These go great with some ranch dressing for dipping
If you want to add an extra crunch pop these in an air fryer instead of the oven. Everything is already cooked so you're basically just warming them up
Want to make this gluten-free? Buy some gluten free bread crumbs to use instead of the panko and now they are gluten free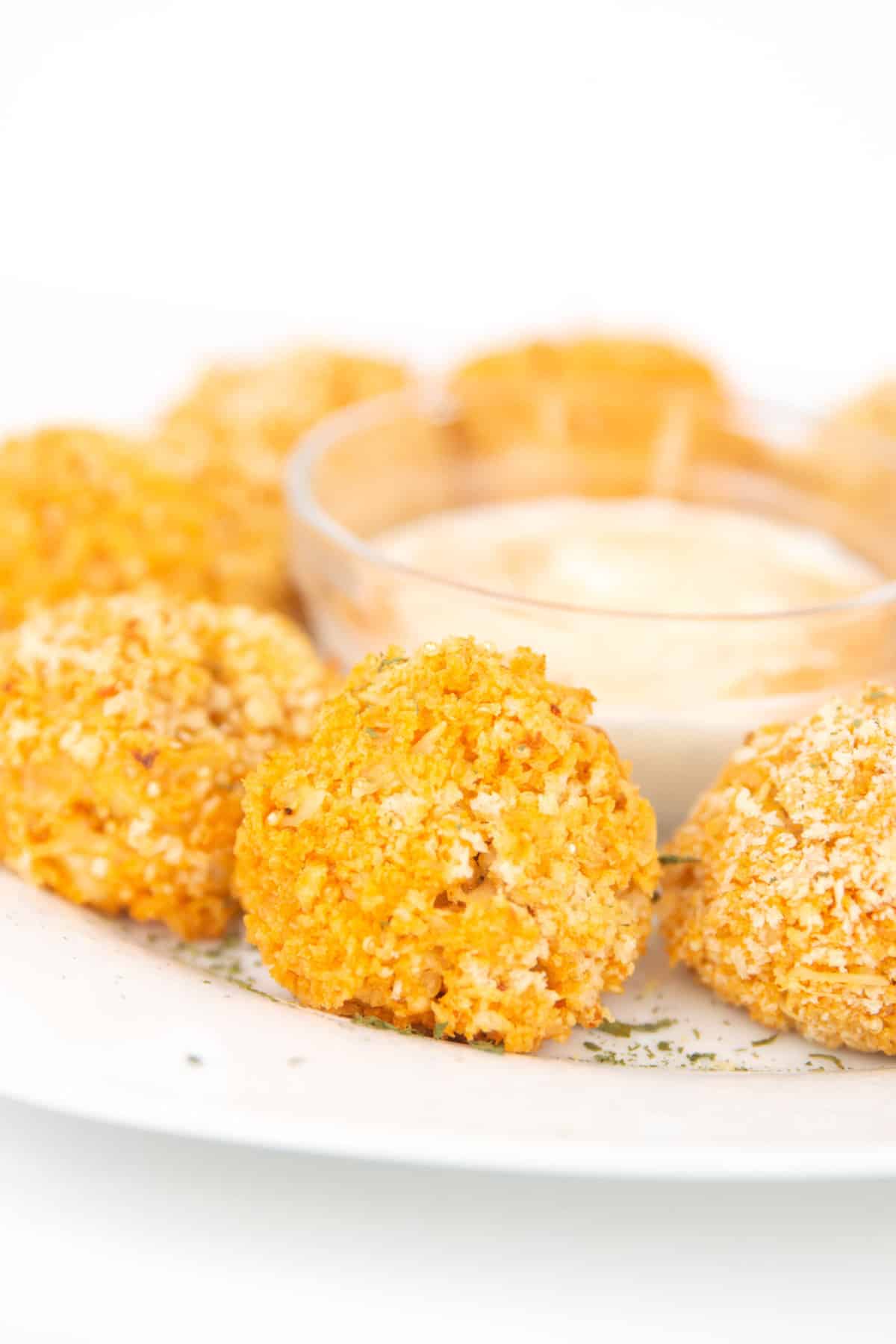 Want More Buffalo Recipes?
Buffalo Chicken Biscuits
Buffalo Ranch Pretzels
Buffalo Chicken Dip
Buffalo Chicken Bombs
Or check out all my appetizer recipes to find the right recipe for you!
Did you make this recipe? Then give a star rating below and tag your picture on Instagram with #glitterandgraze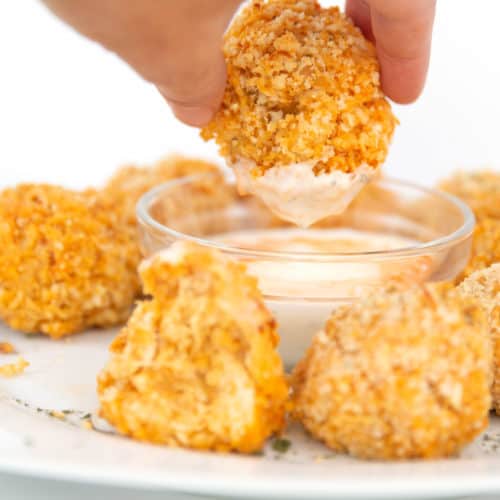 Buffalo Chicken Quinoa Bites
Buffalo chicken quinoa bites are a light and tangy treat.  Easy to make for your family to enjoy or serve up for your next football watching party.

Print Recipe
Ingredients
1 1/2

cups

shredded chicken

1

cup

mozzarella cheese

1/4

cup

uncooked quinoa

1/2

cup

buffalo sauce

1

cup

panko bread crumbs

1/2

cup

chicken broth
Instructions
Cook quinoa according to instructions on package substituting water for chicken broth

Add chicken, cooked quinoa, mozzarella cheese, and half of the buffalo sauce to a mixing bowl and mix well.

Spray a baking sheet with cooking spray

Grab some of your mixture and roll into a ball with your hands

Roll the mixture ball in the remaining buffalo sauce and then roll in panko bread crumbs and place on baking sheet

Repeat above until all the mixture is used

Cook for 20 minutes and serve
Nutrition
Serving:
1
g
|
Calories:
161
kcal
|
Carbohydrates:
3
g
|
Protein:
14
g
|
Fat:
9
g
|
Saturated Fat:
3
g
|
Cholesterol:
44
mg
|
Sodium:
634
mg
|
Potassium:
145
mg
|
Vitamin A:
130
IU
|
Vitamin C:
1
mg
|
Calcium:
79
mg
|
Iron:
0.9
mg
Update Notes; This recipe was originally posted in September of 2016, but was republished with new photos, cooking tips, recipe tweeks, and step by step picture instructions in February 2020