These full of flavor zesty Italian potatoes are the perfect side dish
for your next meal. Watch these quickly become a household favorite.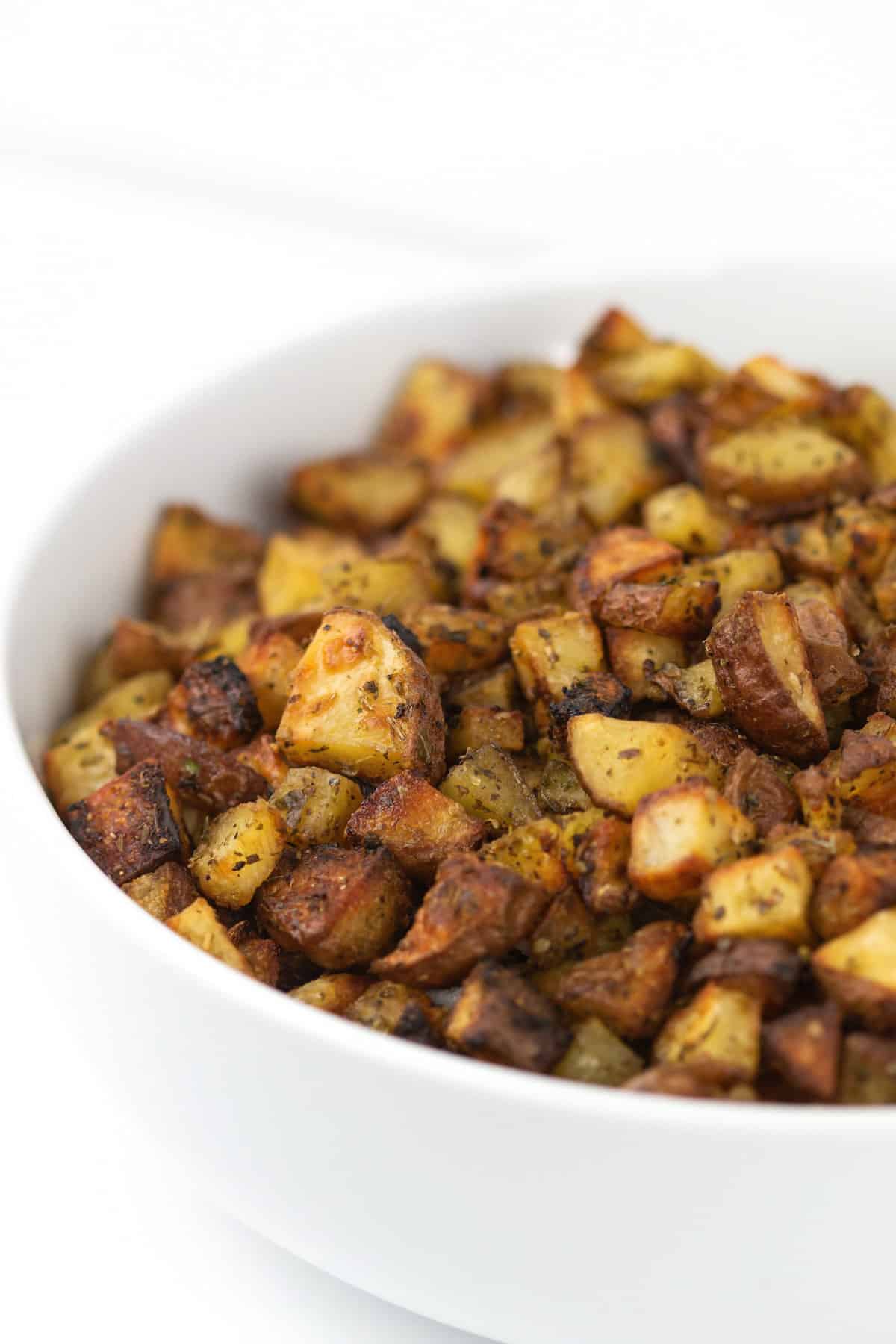 Needing a new side dish to change up your dinner style? Well that's where these zesty Italian potatoes will come in real handy. These are by far the household favorite potato side dish.
What do I serve these with?
Honestly really about anything. The flavor is so broad and addicting these go great with a bunch of meals.
Do I need to boil these potatoes before roasting?
Nope! Just chop up the raw potatoes and seasoning and pop in the oven. They come out tender, but crispy with no boiling before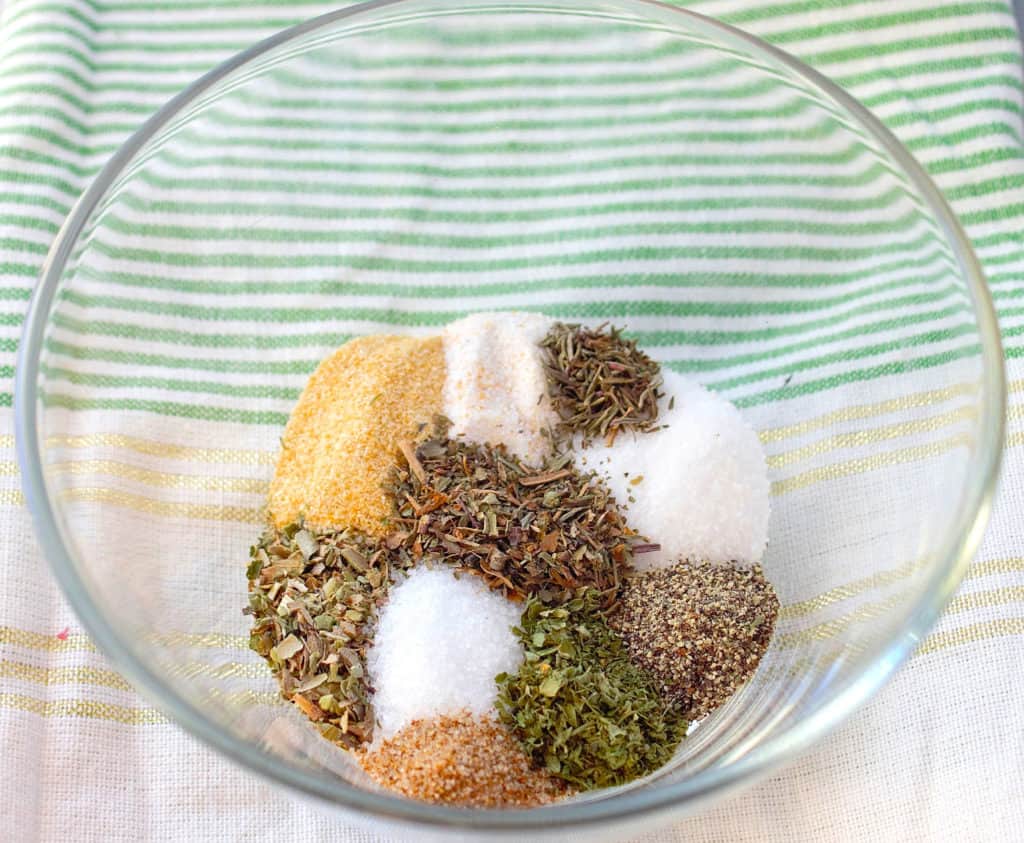 What is Zesty Italian?
Have you ever seen that Zesty Italian salad dressing or dressing mix? It's basically that but with your own spices that are probably sitting right in your cabinet. A combination of 10 spices that really puts out a good flavor.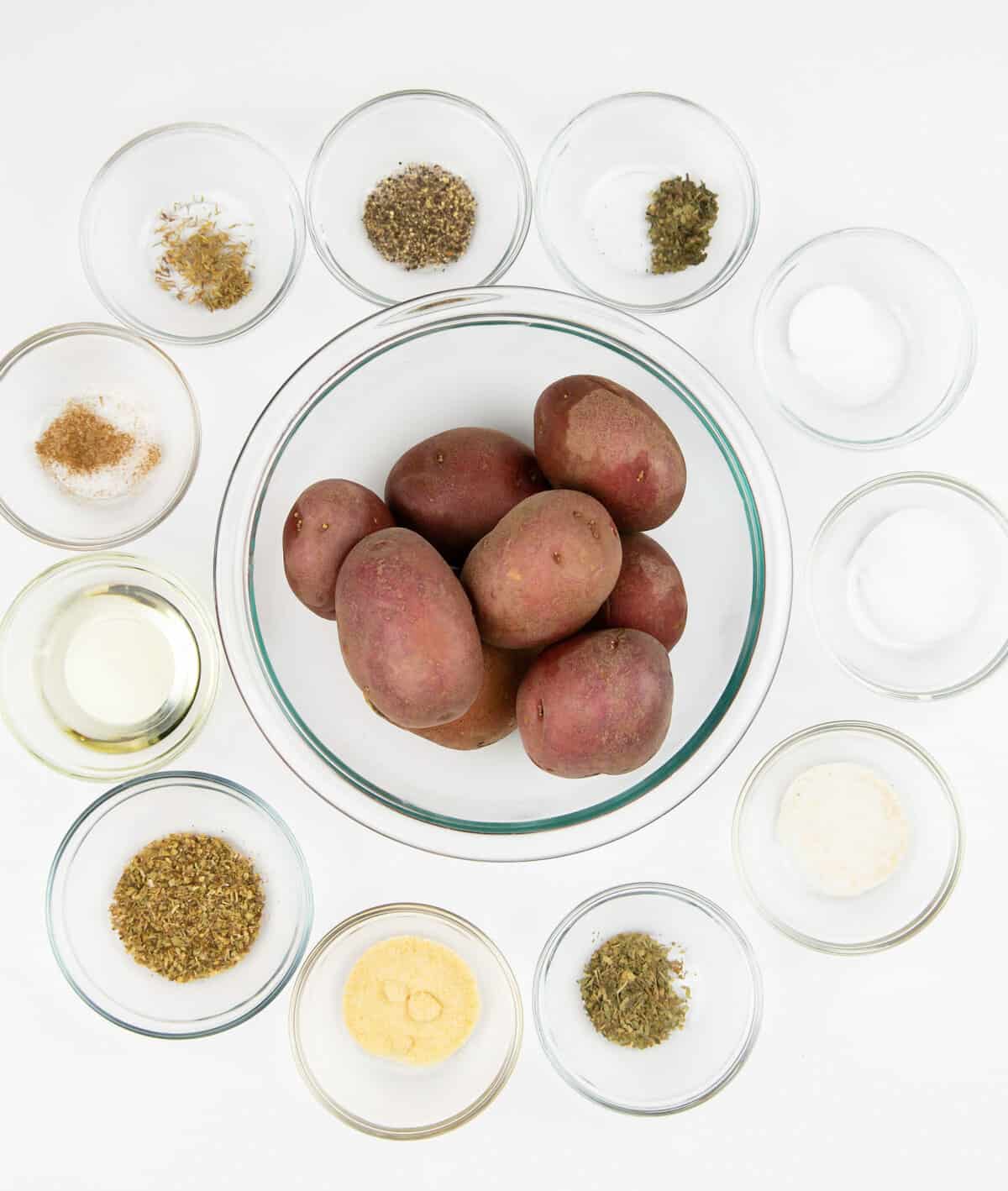 Ingredients for Zesty Italian Potatoes
Red Potatoes– red potatoes are my personal favorite to use. Other potatoes will work for this recipe as well
Olive Oil– to help make the spices stick to the potatoes and give them that golden brown color
Spices– oregano, onion powder, dried parsley, garlic salt, sugar, salt, dried basil, pepper, dried thyme, and celery salt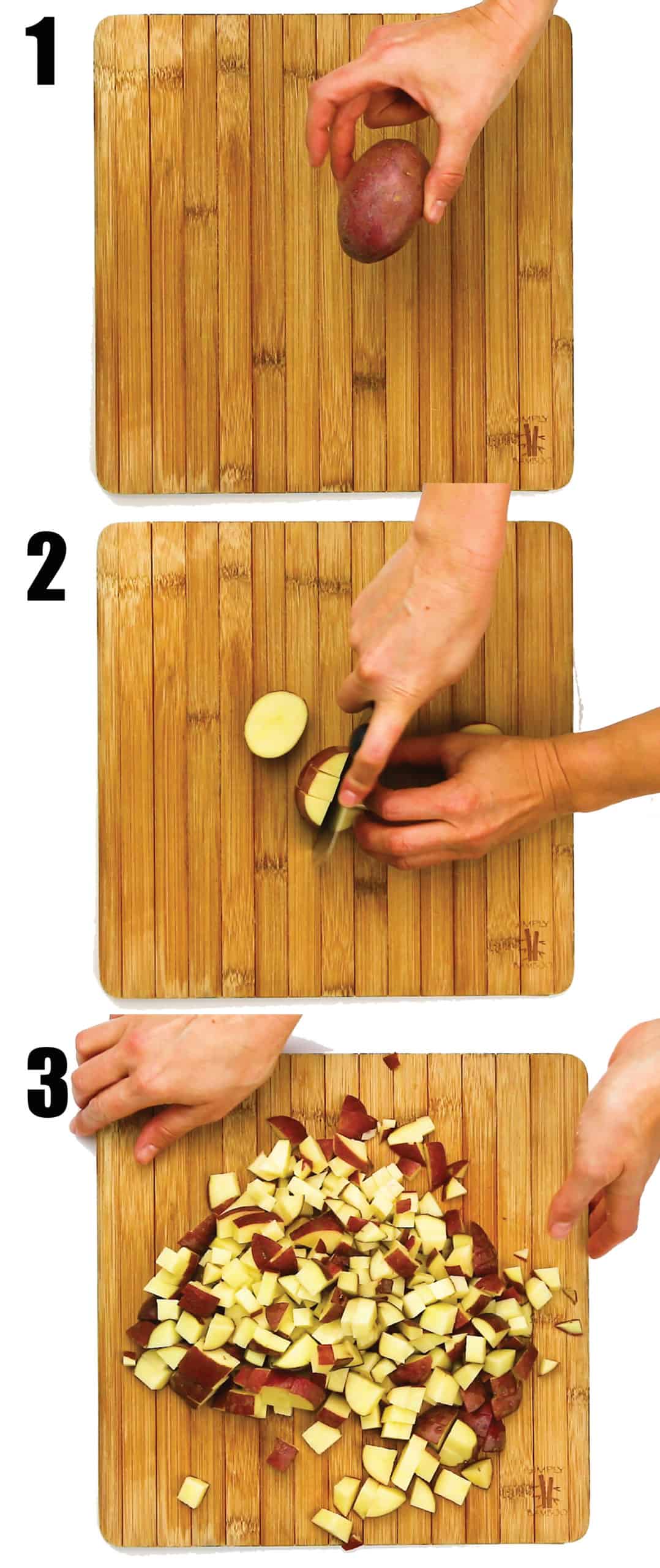 Prepping the Potatoes
Preheat the oven to 375 degrees and wash and dry your potatoes. Start by taking one potato (Photo 1) and chopping it into bite size pieces (Photo 2). Continue to do this for all the potatoes (Photo 3) and set aside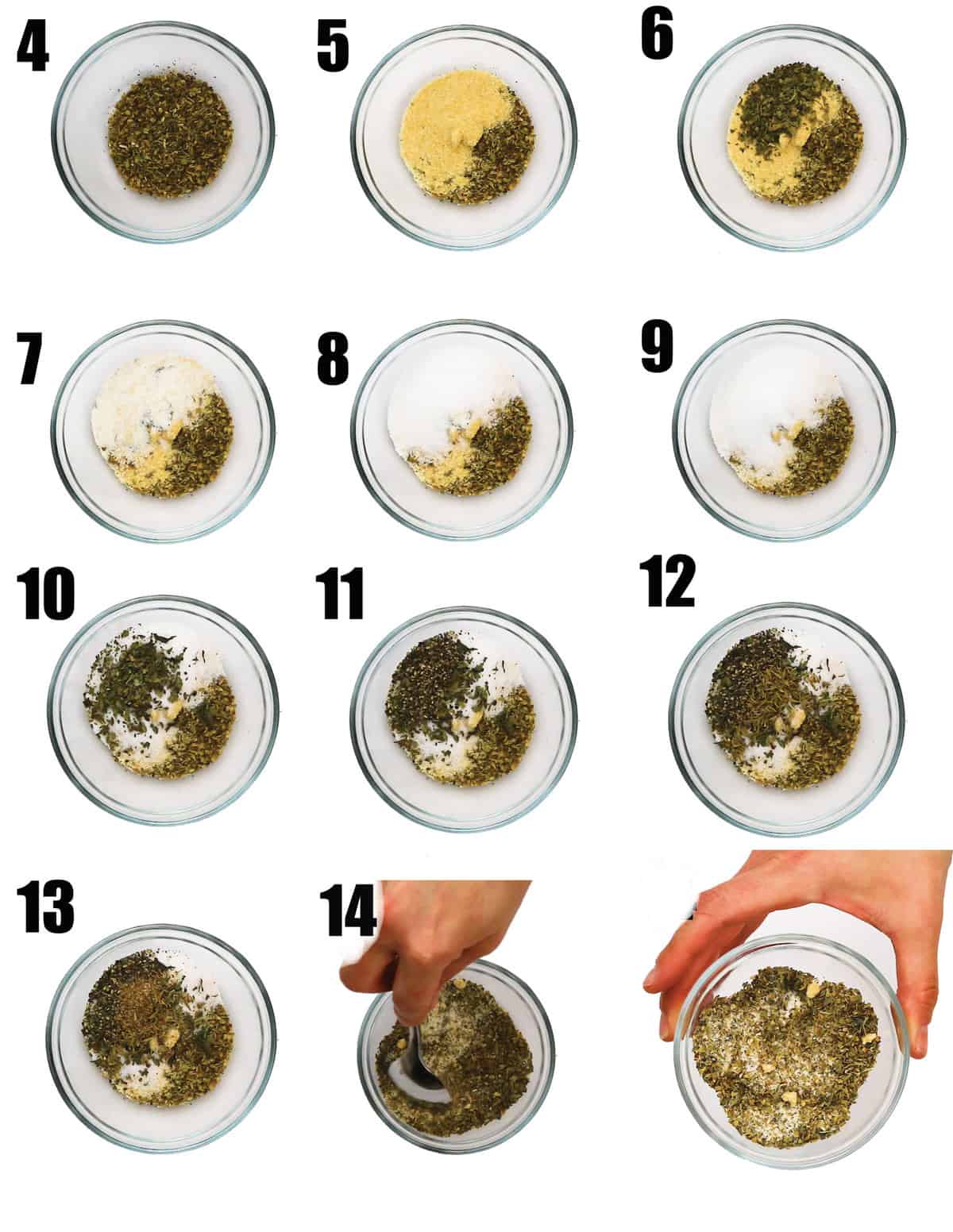 Mixing the Spices
Take small bowl and add the dried oregano (Photo 4), onion powder (Photo 5), dried parsley (Photo 6), garlic salt (Photo 7), sugar (photo 8), salt (Photo 9), dried basil (Photo 10), pepper (Photo 11), dried thyme (photo 12), and celery salt (Photo 13) and stir really well (Photo 14) and set aside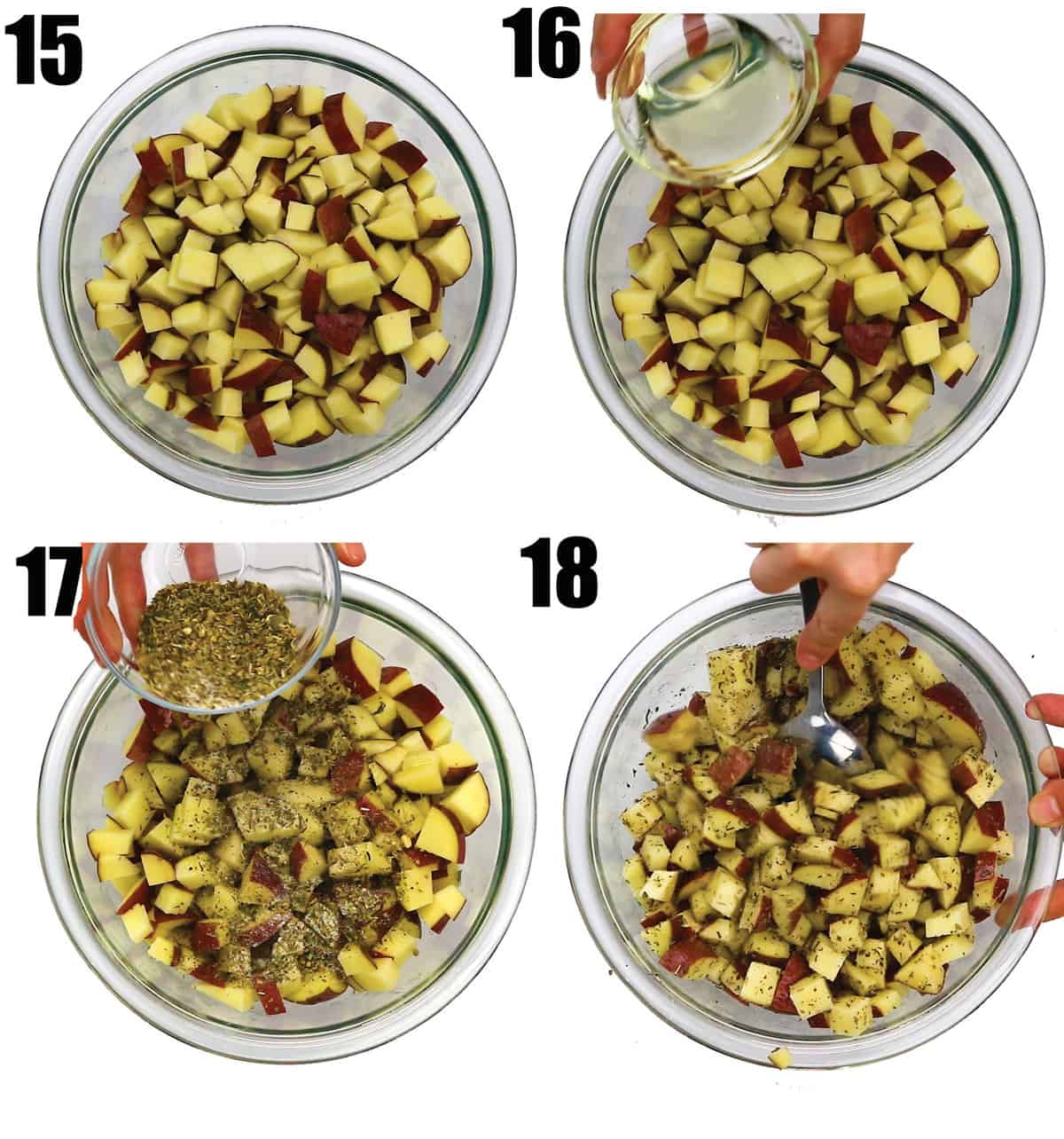 Get a big bowl and add chopped potatoes to it (Photo 15) and pour olive oil over top of the potatoes (Photo 16). Then sprinkle spices on top (Photo 17) and use a spoon to mix together really well (Photo 18)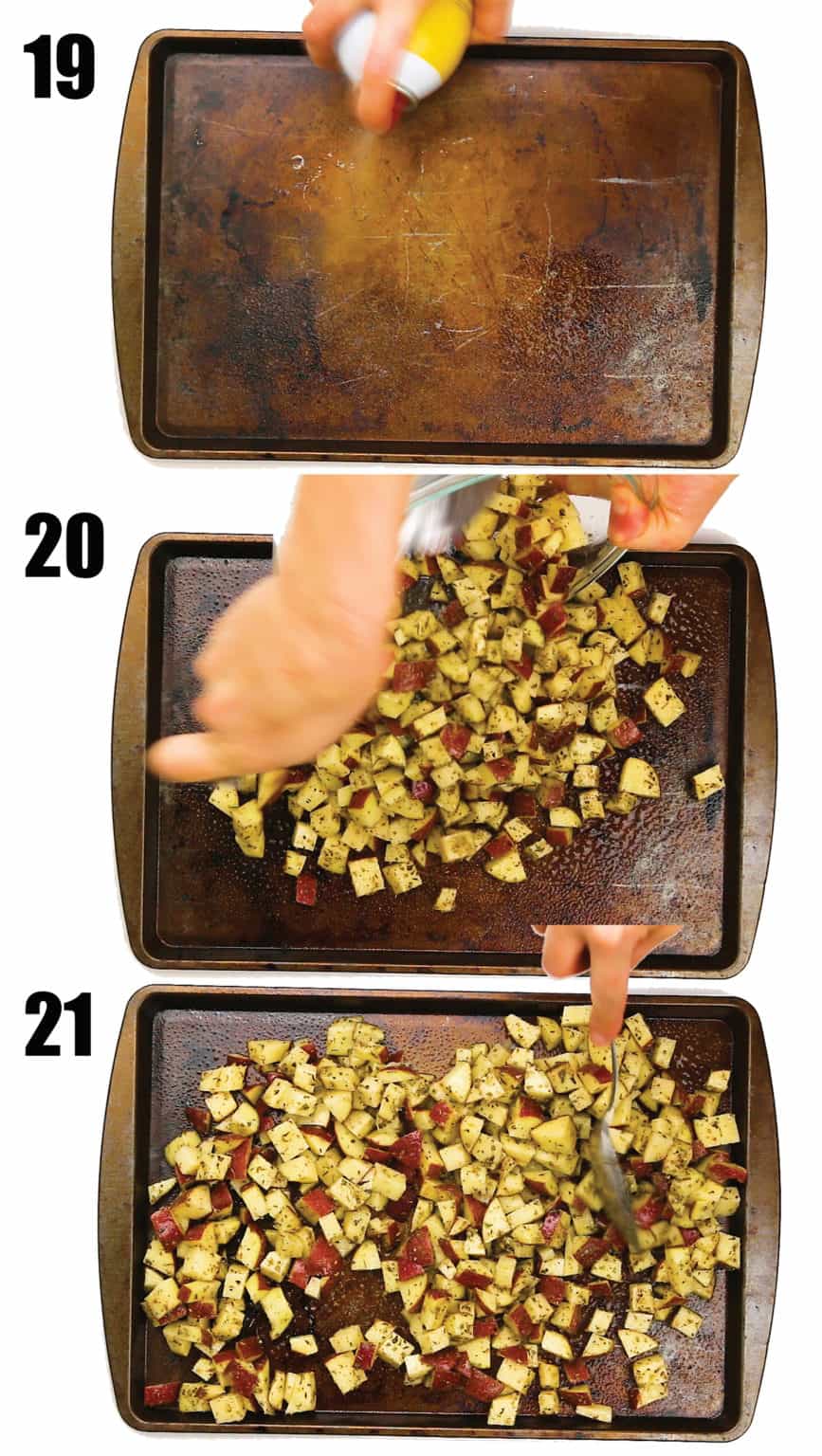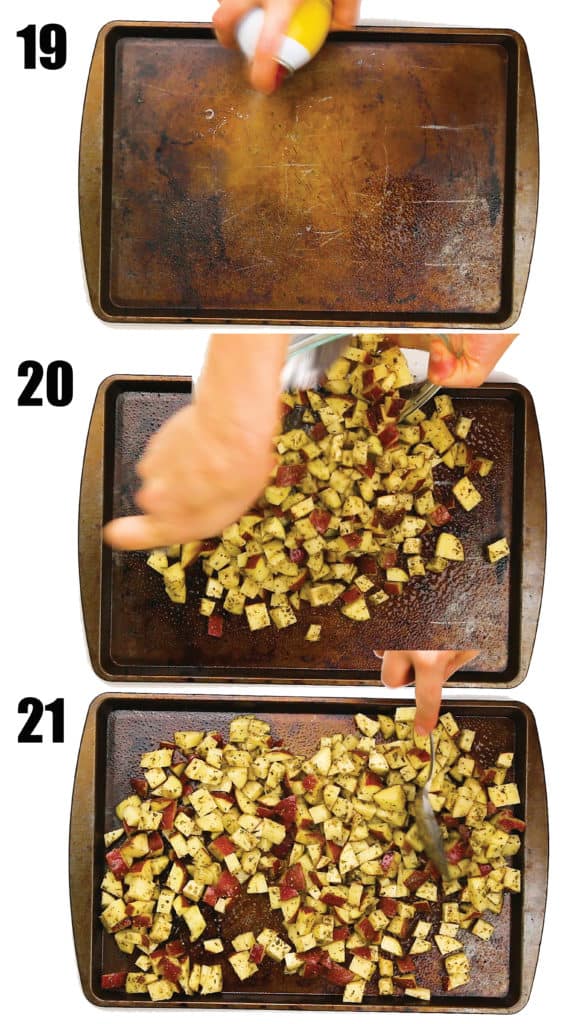 Cooking the Potatoes
Take a baking pan and spray cooking spray all over the pan (Photo 19). Pour the seasoned potatoes on the pan (Photo 20) and spread them out in an even layer (Photo 21) and put in the preheated oven and cook for 45 minutes flipping them half way through.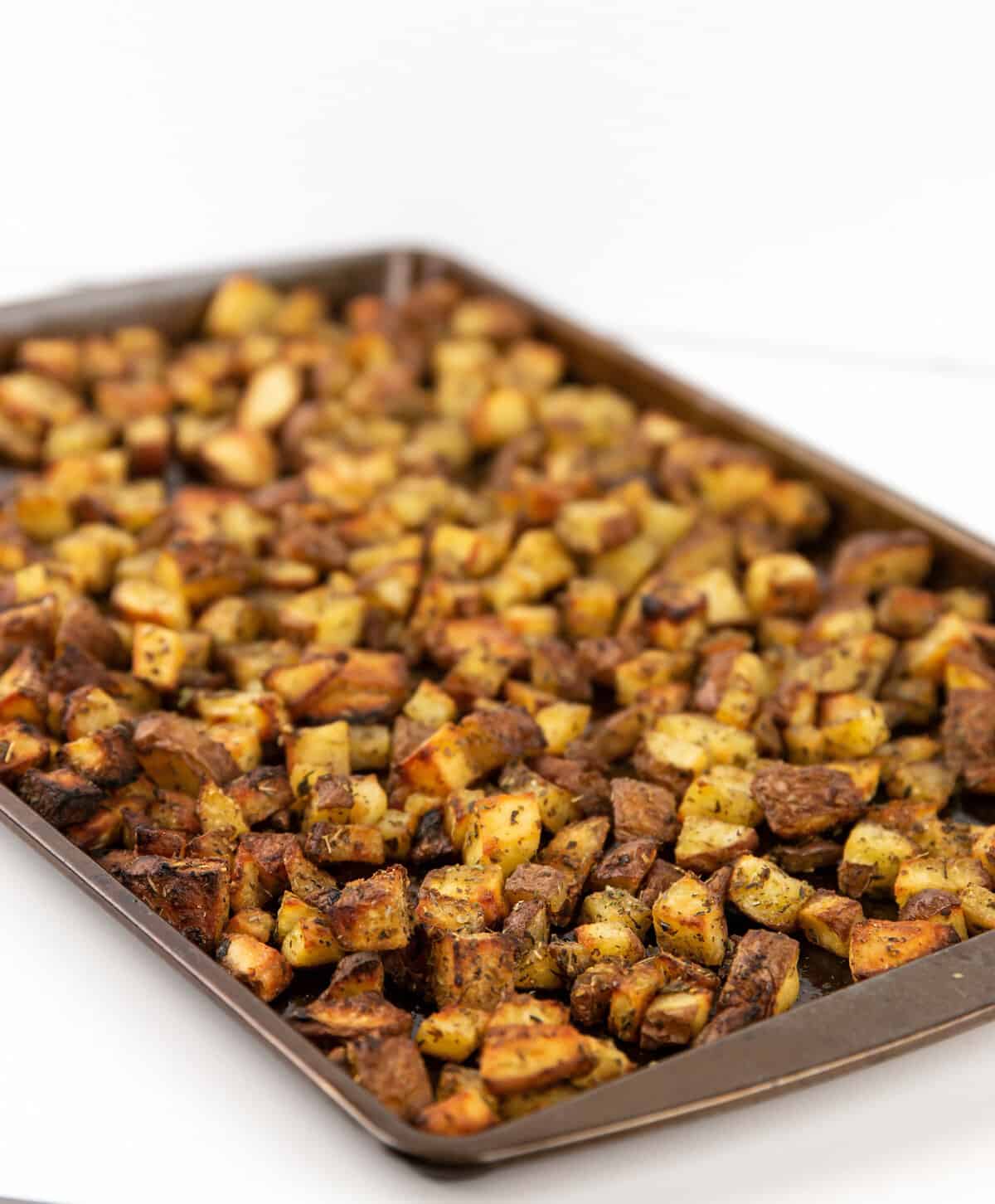 Tips and Tricks
If leaving the skins on (which I prefer) be sure and wash and scrub your potatoes really well and dry them off before chopping them up
The smaller the size of the chopped potatoes the quicker they cook. So if you decide to chop them in bigger pieces you will probably have to cook them a little longer
Don't forget to flip the potatoes half way so they will get a more even cooking
If they aren't as crunchy as you want them when done cooking turn on the broil to high and cook for 5- 10 minutes keep a close eye on them to watch for burning
Want More Potato Recipes?
Creamy Sriracha Potatoes
Spicy Mustard Potatoes
Spicy Ranch Potatoes
Kicked Up Potato Salad
Or Check Out all my side dish recipes and find the perfect side dish for your next meal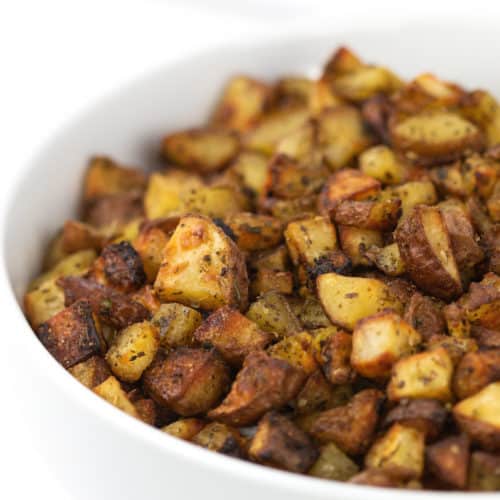 Zesty Italian Potatoes
These full of flavor zesty Italian potatoes are the perfect side dish for your next meal. Watch these quickly become a household favorite.
Print Recipe
Ingredients
5

cups

chopped red/new potatoes

about 9 medium red potatoes

2

TBSP

olive oil
seasoning
1

TBSP

dried oregano

1 12

TSP

onion powder

1

TSP

dried parsley

1 1/2

TSP

garlic salt

1 1/2

TSP

sugar

1/2

TSP

salt

1/2

TSP

dried basil

1/2

TSP

pepper

1/8

TSP

dried thyme

1/8

TSP

celery salt
Instructions
Preheat oven to 375 and wash, scrub, and dry potatoes

Chop all potatoes in bite size pieces

In a small bowl add dried oregano, onion powder, dried parsley, garlic salt, sugar, salt, dried basil, pepper, dried thyme, celery salt and mix together really well and set aside

Take a big bowl and add chopped potatoes to it and pour olive oil over potatoes and then spices and mix together really well

Take a baking pan and spray with cooking spray and pour out seasoned potatoes evenly on the baking sheet put in oven

Cook for 45 minutes flipping potatoes half way through the cooking time
Notes
If leaving the skins on (which I prefer) be sure and wash and scrub your potatoes really well and dry them off before chopping them up
The smaller the size of the chopped potatoes the quicker they cook. So if you decide to chop them in bigger pieces you will probably have to cook them a little longer
Don't forget to flip the potatoes half way so they will get a more even cooking
If they aren't as crunchy as you want them when done cooking turn on the broil to high and cook for 5- 10 minutes keep a close eye on them to watch for burning
Nutrition
Serving:
1
g
|
Calories:
132
kcal
|
Carbohydrates:
21
g
|
Protein:
2
g
|
Fat:
4
g
|
Sodium:
1119
mg
|
Potassium:
461
mg
|
Fiber:
3
g
|
Sugar:
2
g
|
Vitamin A:
20
IU
|
Vitamin C:
8.8
mg
|
Calcium:
53
mg
|
Iron:
1.4
mg
Update Notes; This recipe was originally posted in November of 2016, but was republished with new photos, cooking tips, recipe tweeks, and step by step picture instructions in March 2020