No Taco Twosday Party is complete without a taco bar. Find out tips you need to pull this party theme off yourself.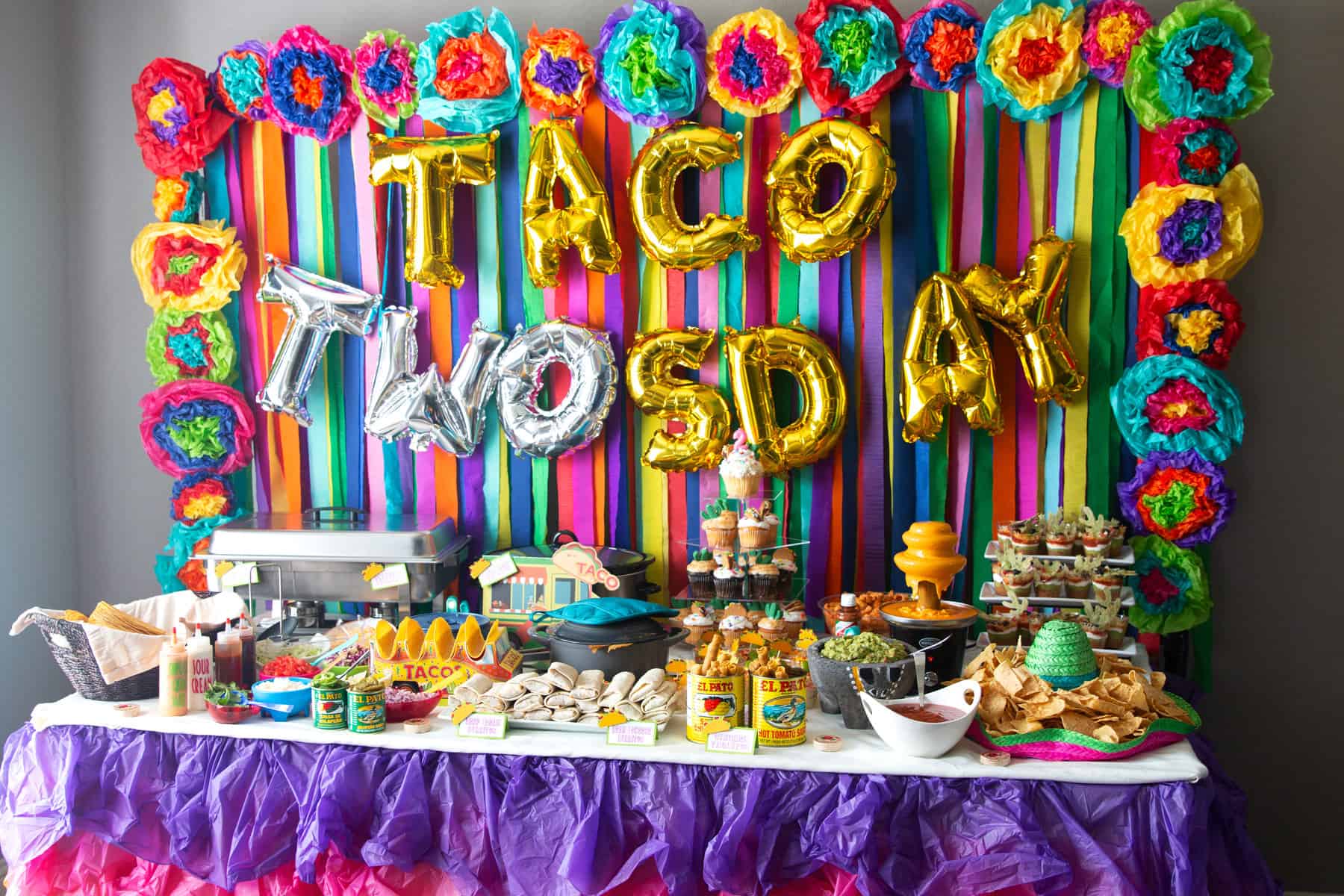 It's that time of year again where I'm hosting another birthday party for my daughter. The big 2 this year. And what could be better than a Taco Twosdays birthday with a taco bar party. I mean who doesn't love tacos?
And being from Texas and all we can never get enough Tex-Mex so it only seemed fitting having a taco bar party that all our guest would enjoy.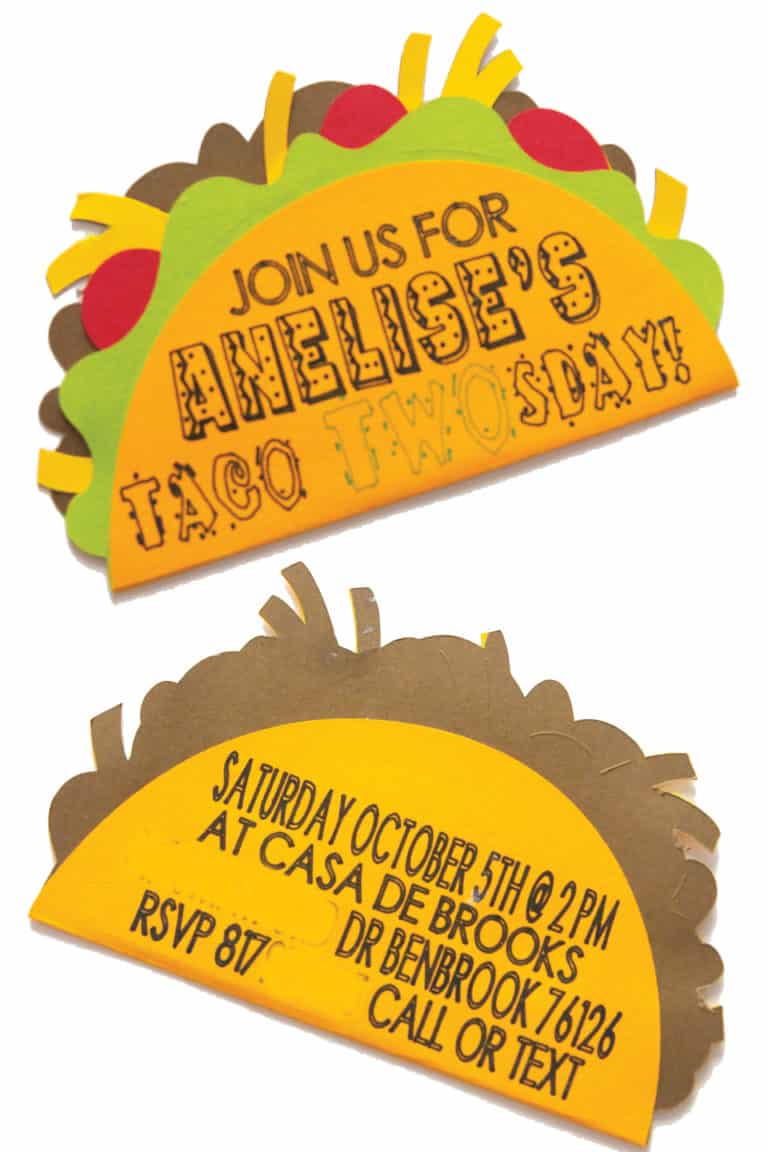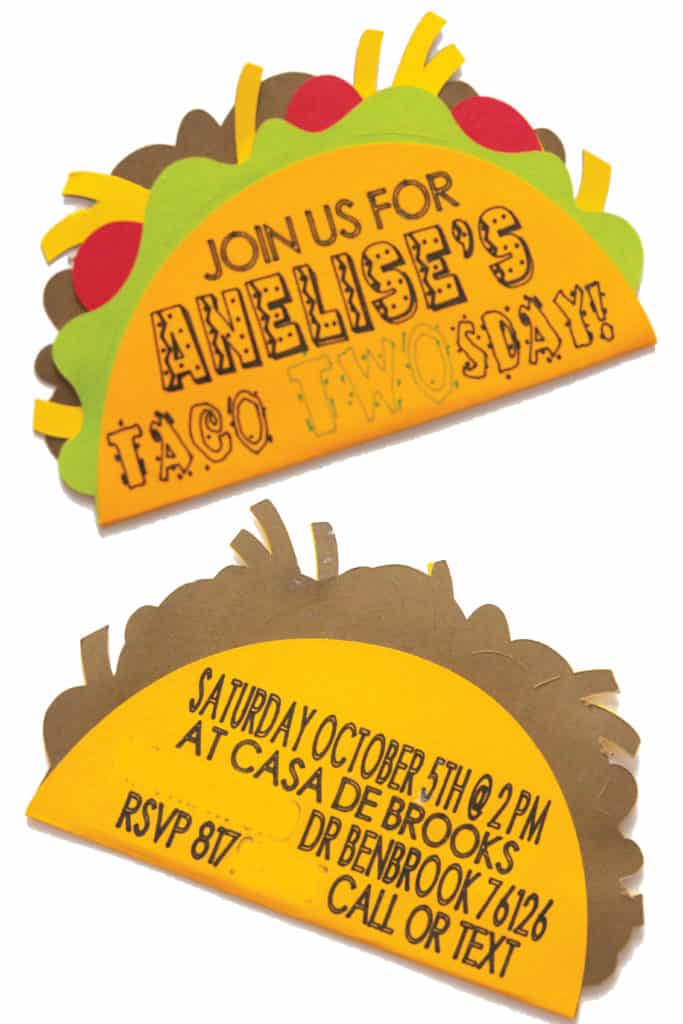 Invitations
In a world of everything digital I still like to send out regular invitations for my daughters birthday. Just something seems special about receiving a paper invitation in the mail.
I used a Cricut template of a layered taco from Desgin Space and then duplicated to taco shell and flipped it and attached it to the original taco shell. I then added a score line in the middle.
I then attached all the words to the taco shells. For the back which had all the information details I typed everything out and then when it was perfect I flipped it and attached it to the back of the taco shell.
To make things a little easier about 2 weeks after in the invites went out I created a Facebook event so people could RSVP through there.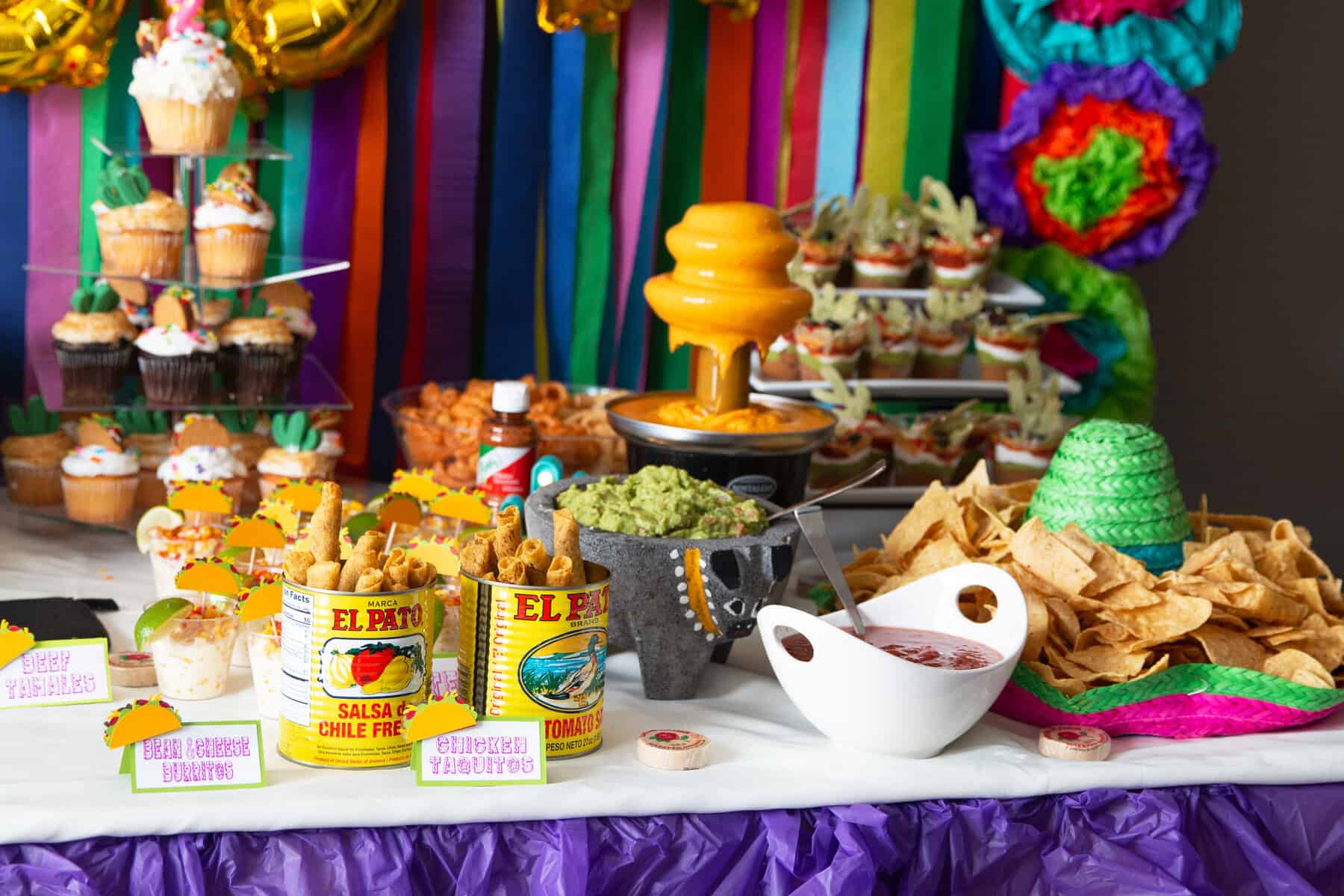 What food to serve at a Taco Bar Party
You don't have to limit yourself to just having tacos at this type of party. I had a nice variety of all things Tex-Mex at our party. From chips and salsa and guacamole. To a queso cheese fountain. Store bought chicken taquitos, to Chicharrones.
I used a sombrero to hold the chips. You can find a sombrero with a folded brim, but I didn't even think about it when I bought this one. So I took some floral wire and ran it through the sombrero and made the brim bend up so the chips wouldn't fall out.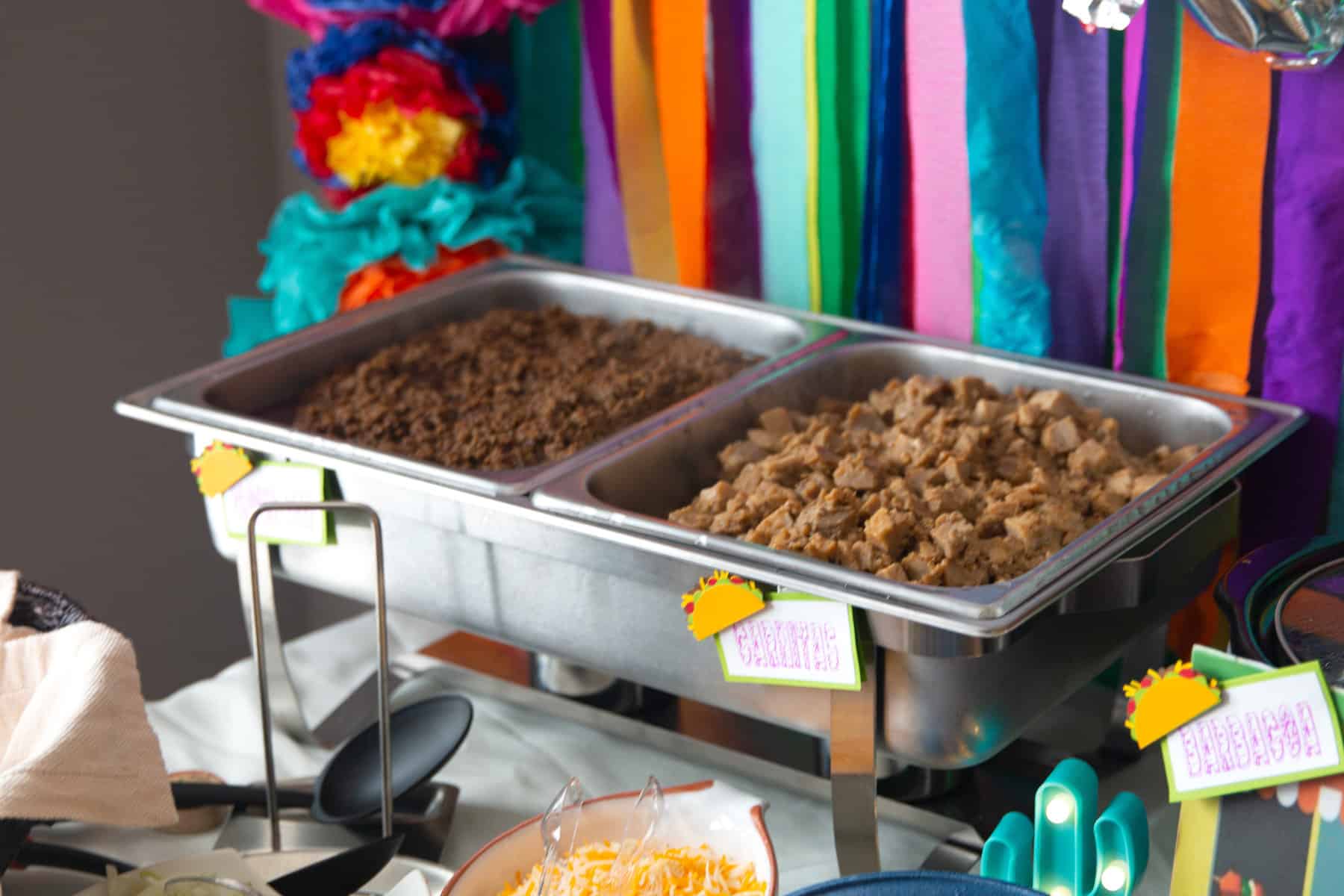 Tacos
For the tacos I went with 3 different meats. Regular taco meat I made with some Taco Bell seasoning. Some beef barbacoa which I made in the crockpot using my own recipe. And then Sam's club had these frozen pork carnitas that my mom just heated up in a pan.
I included regular crunchy taco shells, along with corn and flour tortillas. For toppings I did lettuce, cheese, tomatoes, both fresh and pickled jalapenos, onions, mexican coleslaw along with a variety of sauces such as sour cream, hot sauces, and a creamy chiptole sauce.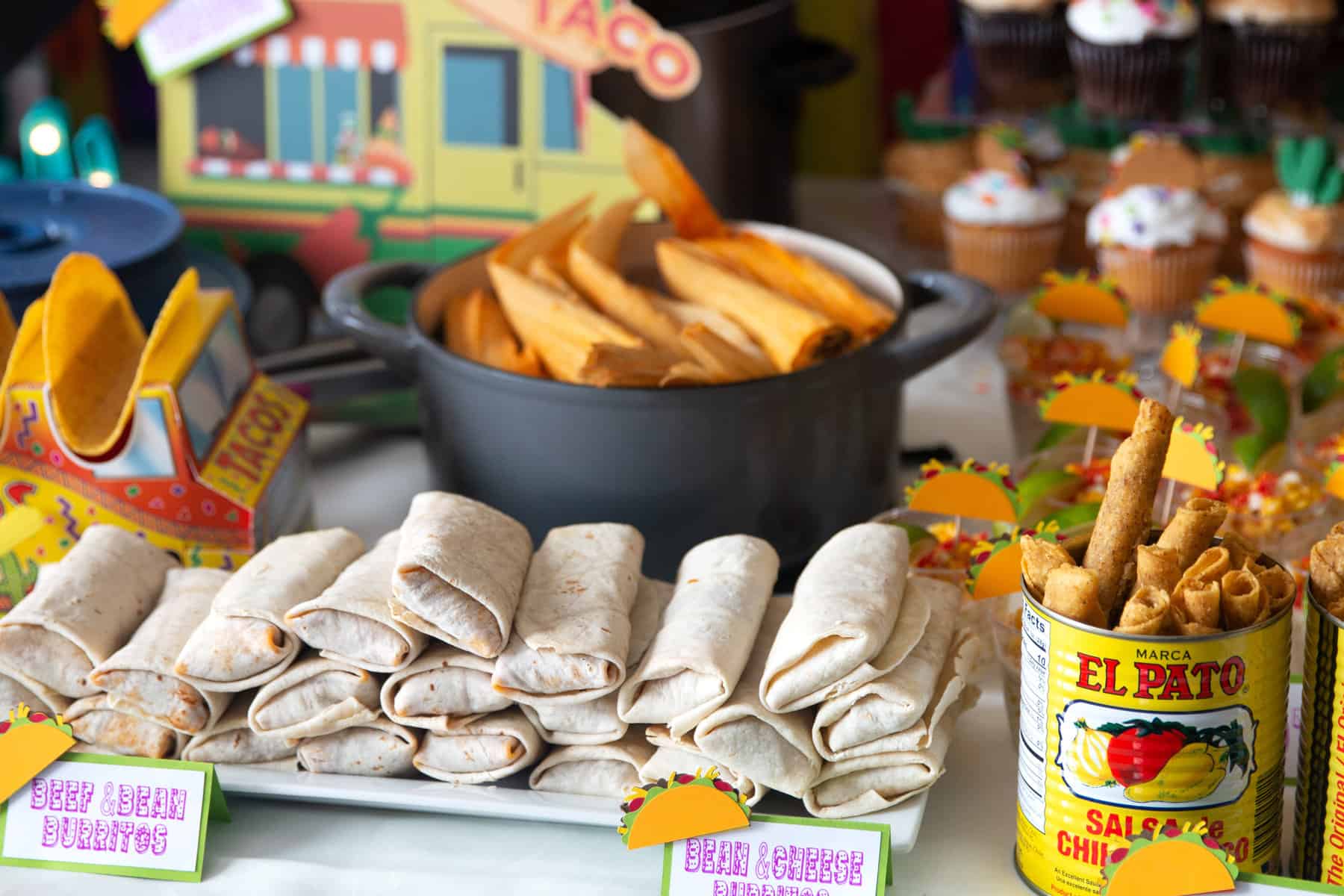 What Mexican party would be complete without some burritos and homemade tamales. The burritos were just frozen ones from the grocery store.
As for the tamales I took on this challenge a couple weeks before. Turned out pretty good being my first time and not following any one recipe. Once I perfect the recipe a little more I will share.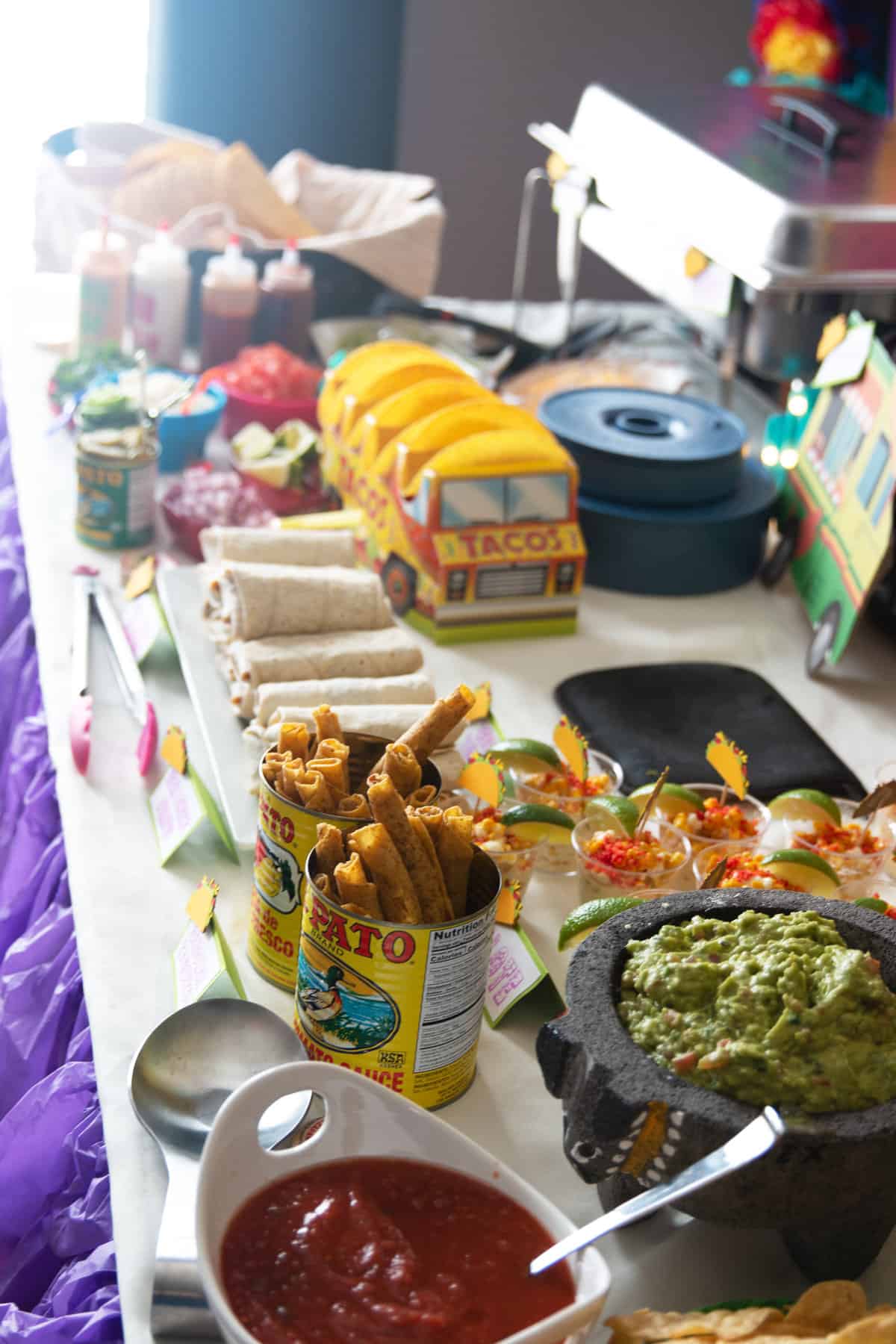 I made little elote (corn in a cup) with some canned corn, queso fresco, and mayo. Topped with some crushed flamin hot lime cheetos and a lime wedge. Skipped the hot sauce on these just because of the younger guest.
I purchsed large el pato tomato sauce cans from dollar tree and empty the contents and washed and used to hold the chicken taquitos. I thought this added a nice mexican flare.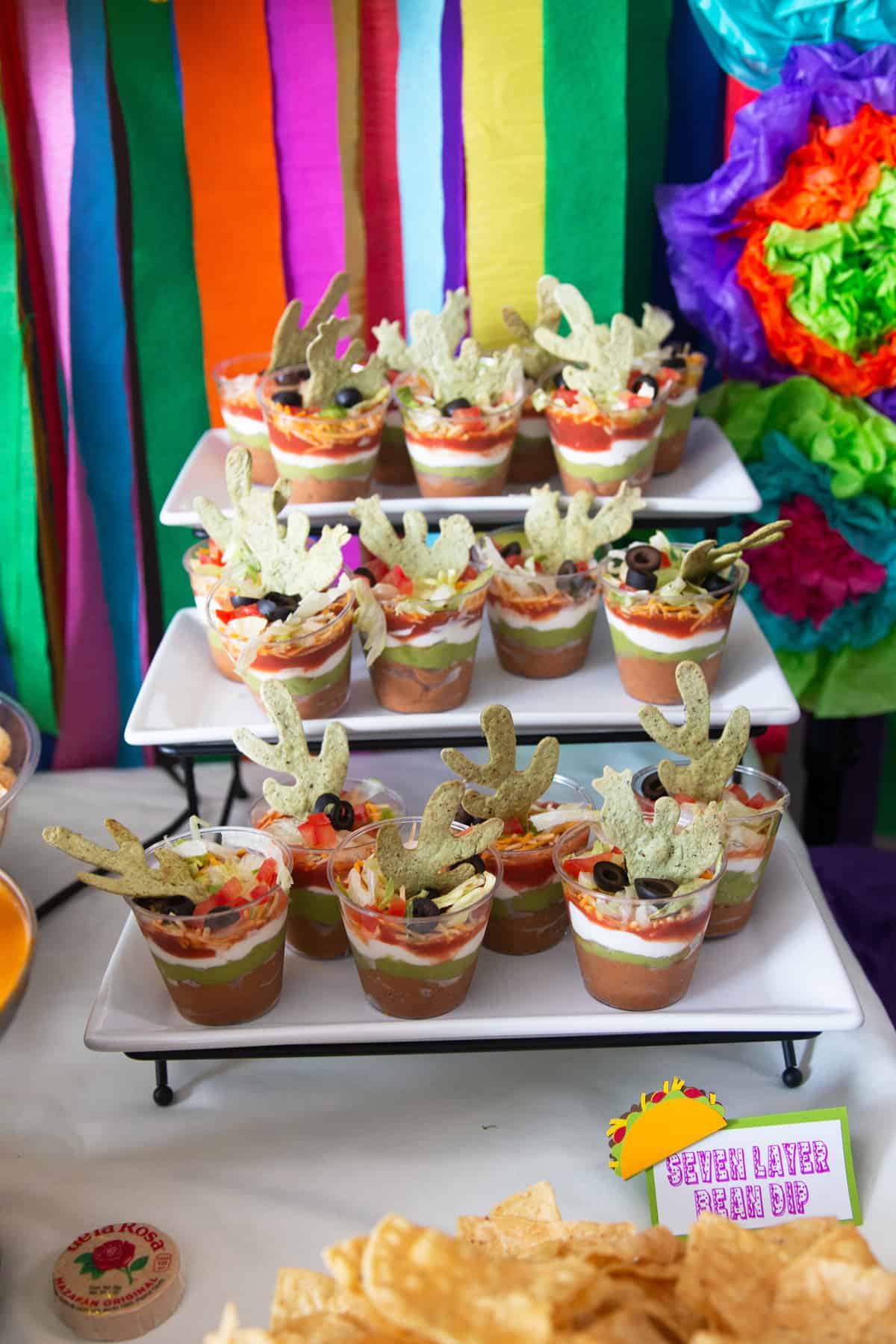 I used my 7 layer taco bean dip recipe and made them into individual cup size dips topped with a tortilla chip cactus. I bought green tortillas and used some cactus cookie cutters to make the cactus chips. Just brush with some oil and put in the oven at 350 degrees until they start to golden.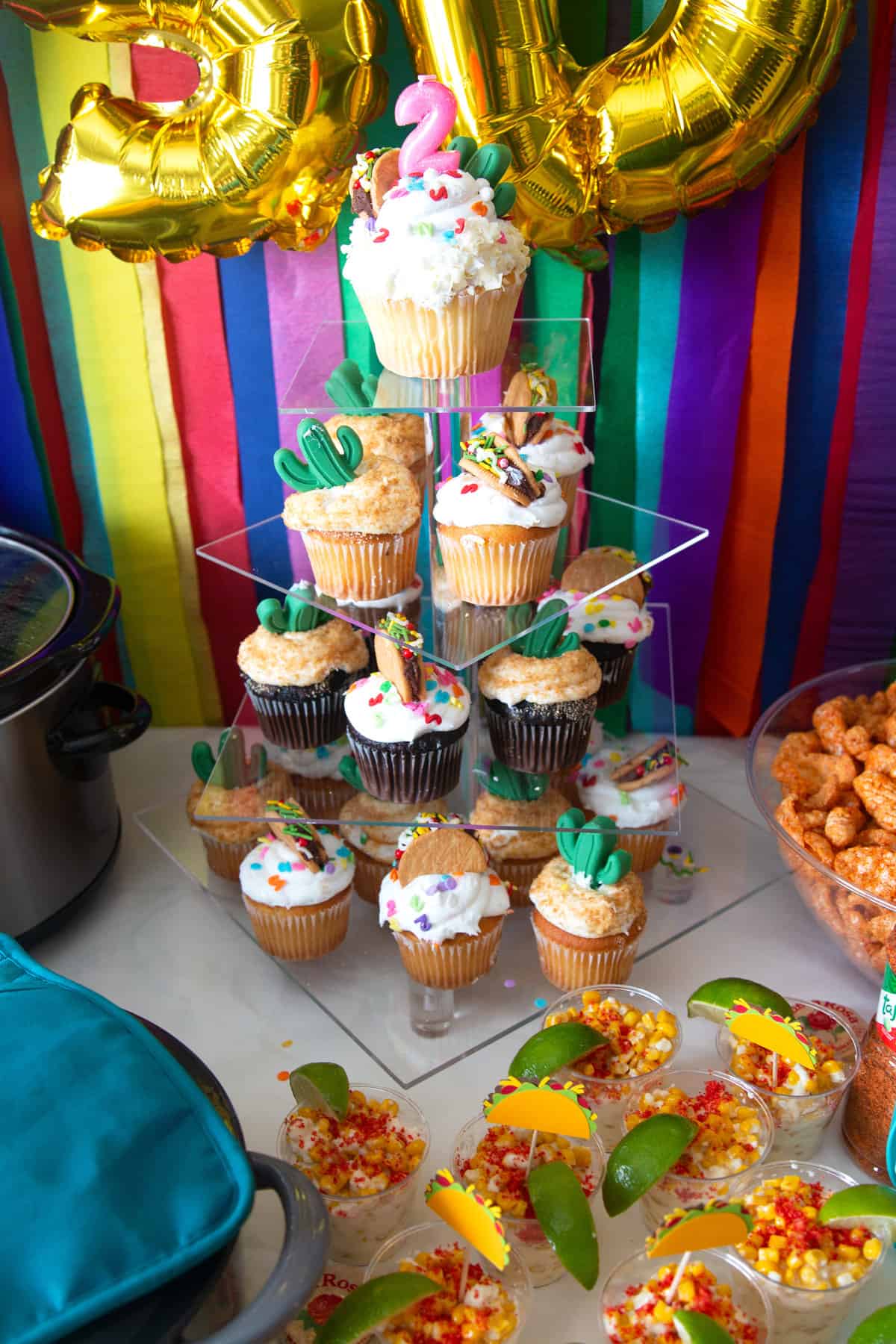 Cupcakes
I have been known to go the cupcake route when it comes to my daughters birthday. This way the chocolate lovers get a chocolate cupcake and the vanilla people get theirs. I buy plain/bare cupcakes from Sam's Club and do the decorating myself.
For these I bought a silicone cactus molds and used green candy melts to make the cactus. I made these a couple days in advanced and store in an air tight container until I added them on the cupcakes. I crushed up some graham crackers and dipped the top of the cupcakes in it to give the look of sand.
For the taco ones I took vanilla creme cookies and scraped out the creme and cut 1/4 of the cookie off. Took some chocolate frosting and put it in the middle of 2 pieces of cookie. Then topped with green candy melts for lettuce, yellow sprinkles for cheese, red ball sprinkles for tomatoes, and used the creme filling to drizzle on top to look like sour cream.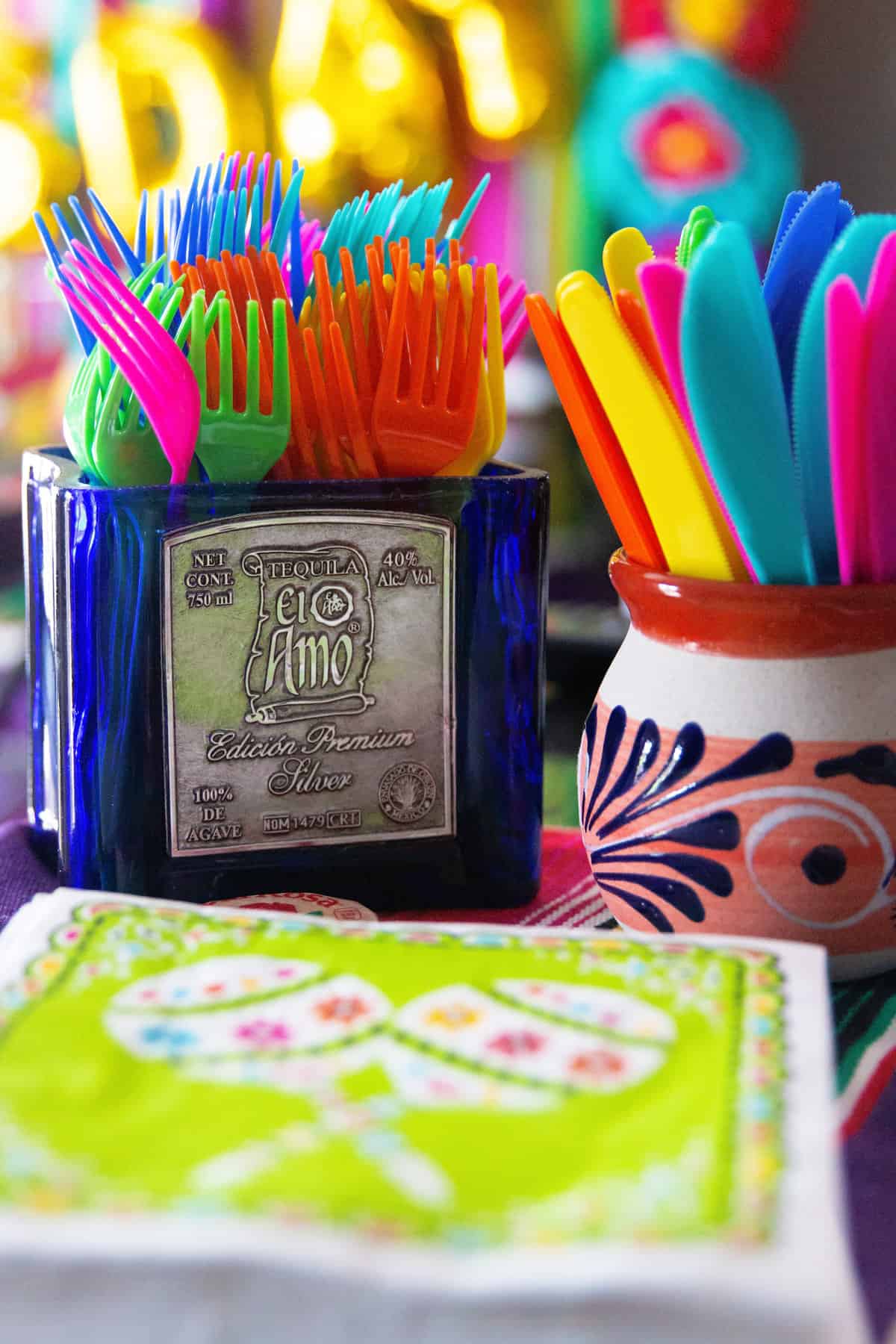 Serving Ware
I bought a variety of colors of plastic silverware from Walmart and mixed them all together. I had some old tequila bottles I had my husband cut the tops off of to hold some of the silverware.
I bought some fiesta themed plates and napkins from Party City.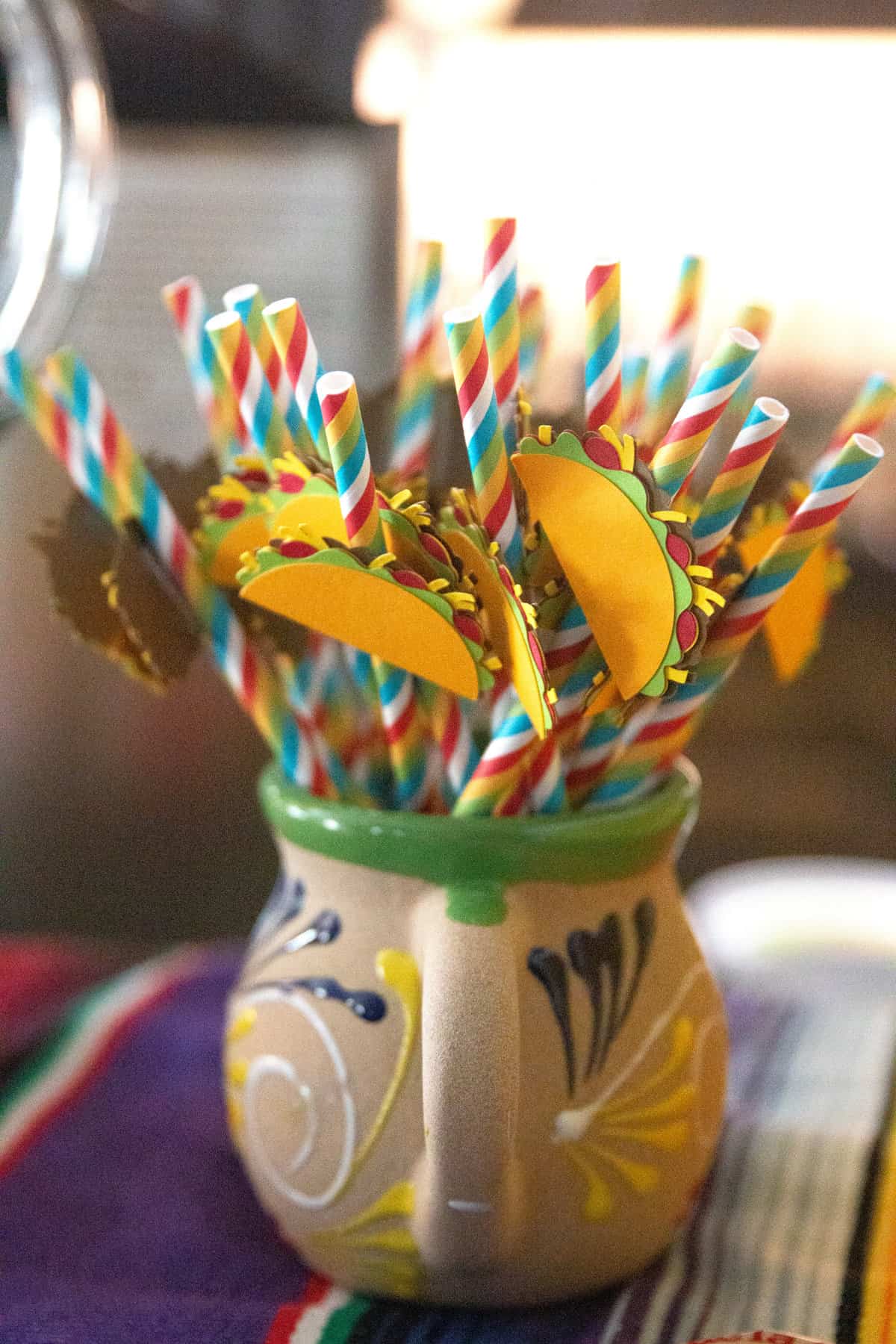 I made these taco straws using my cricut to make the tacos and then taping them to these colorful straws. The container to hold them I actually found at my local Fiesta grocery store for a couple dollars.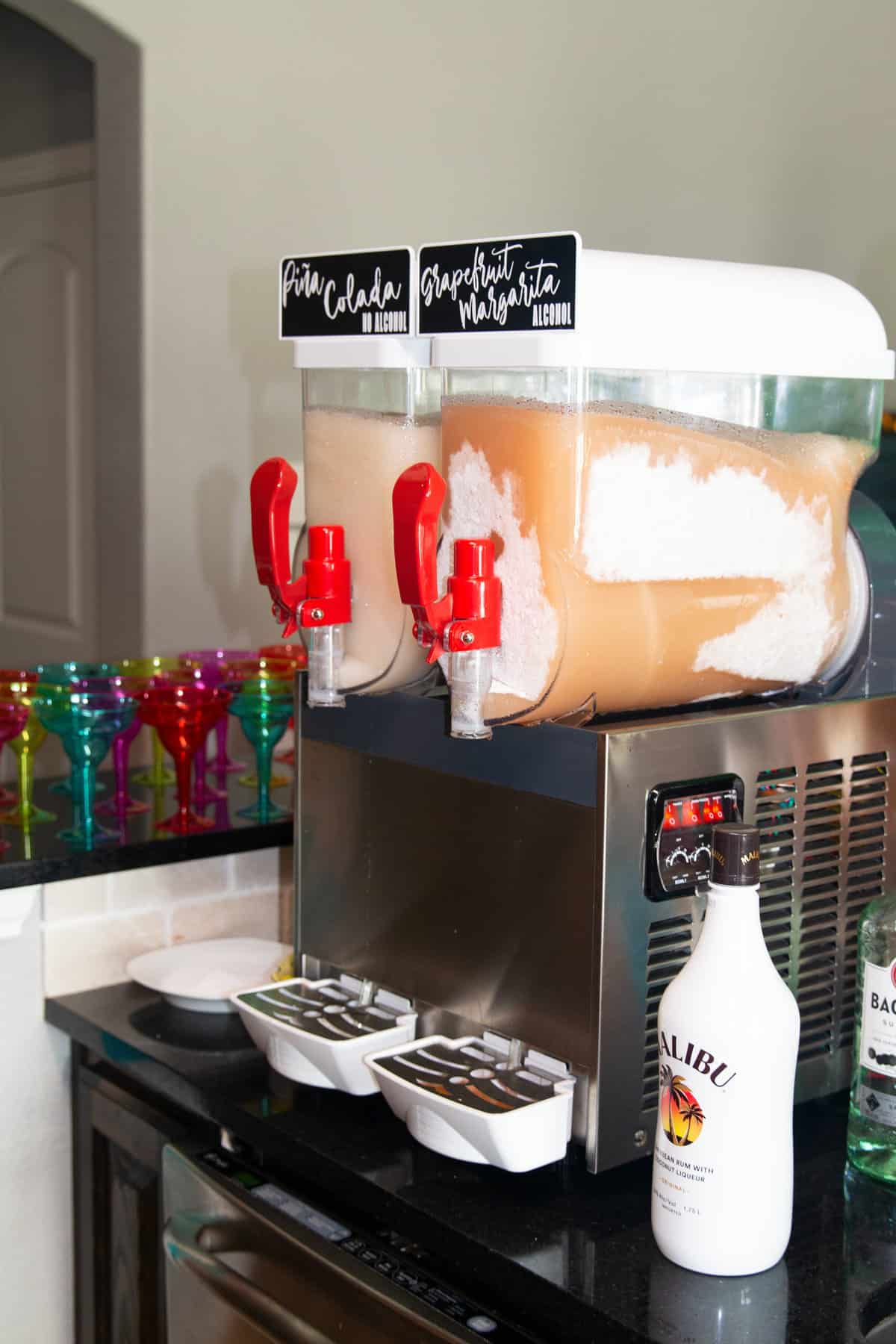 Beverages
What taco bar party would be complete without some margaritas. In the frozen margarita machine I had grapefruit margaritas (Paloma) and Pina Coladas. I kept the margarita to have alcohol and the pina colada to be alcohol free so the kids could have some. I kept some rum on the side in case an adult wanted a real pina colada.
I personally like to use Kelvin slush mixes when using the margarita machine. It's all organic which makes it not have that artificial taste like so many mixes have.
This margarita machine was not rented, but I purchased it earlier this year. For the price and the amount of events I would use it for it seemed like the better choice to just purchase one. The price of it has gone down a couple hundred dollars since I purchased mine.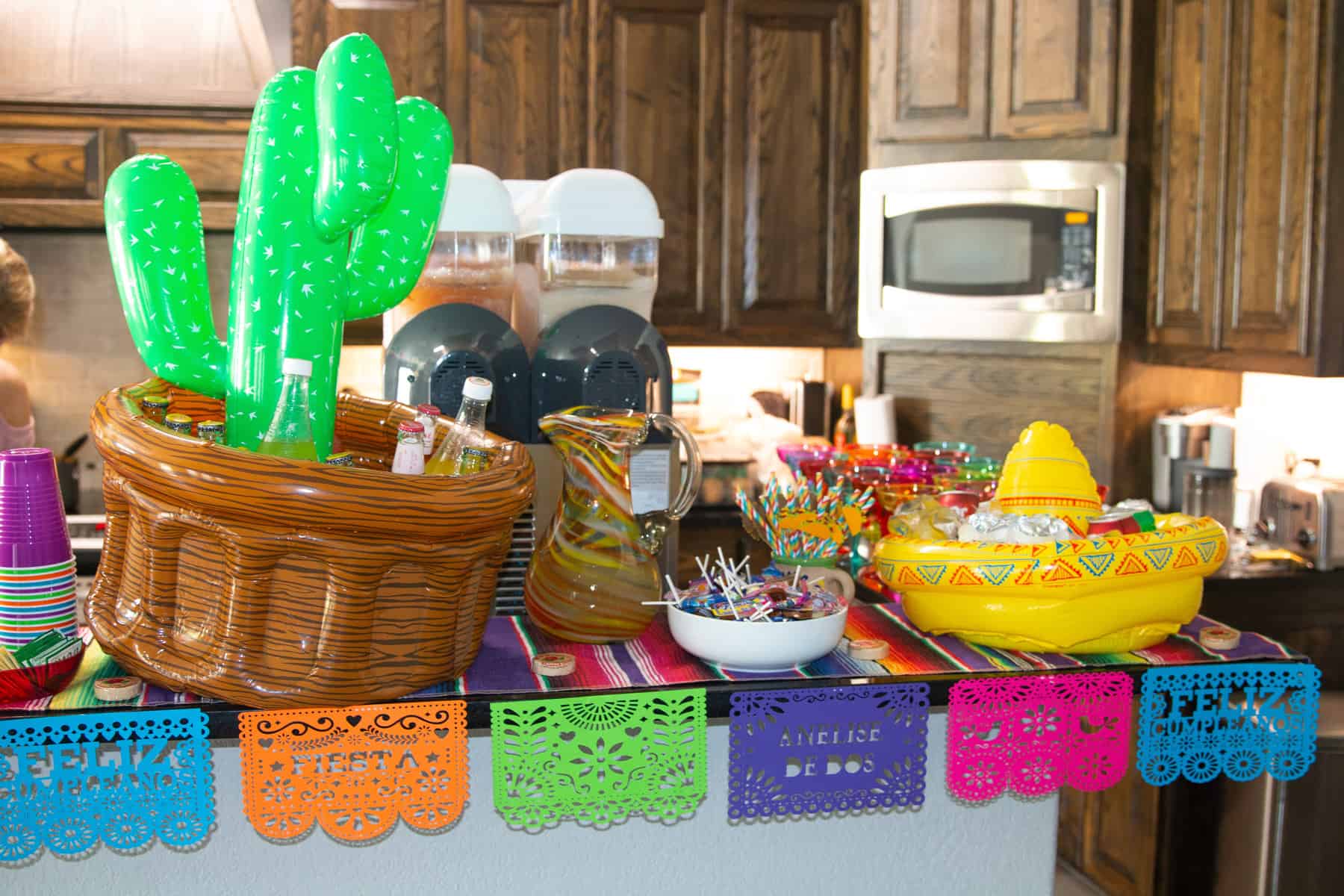 I also provided kid's juices, sodas, margaritas on the rocks, and to stay on the theme some Topo Chico and some Jarritos in various flavors. I bought this cute inflatable coolers off Amazon. The cactus one held so much more than the sombrero one.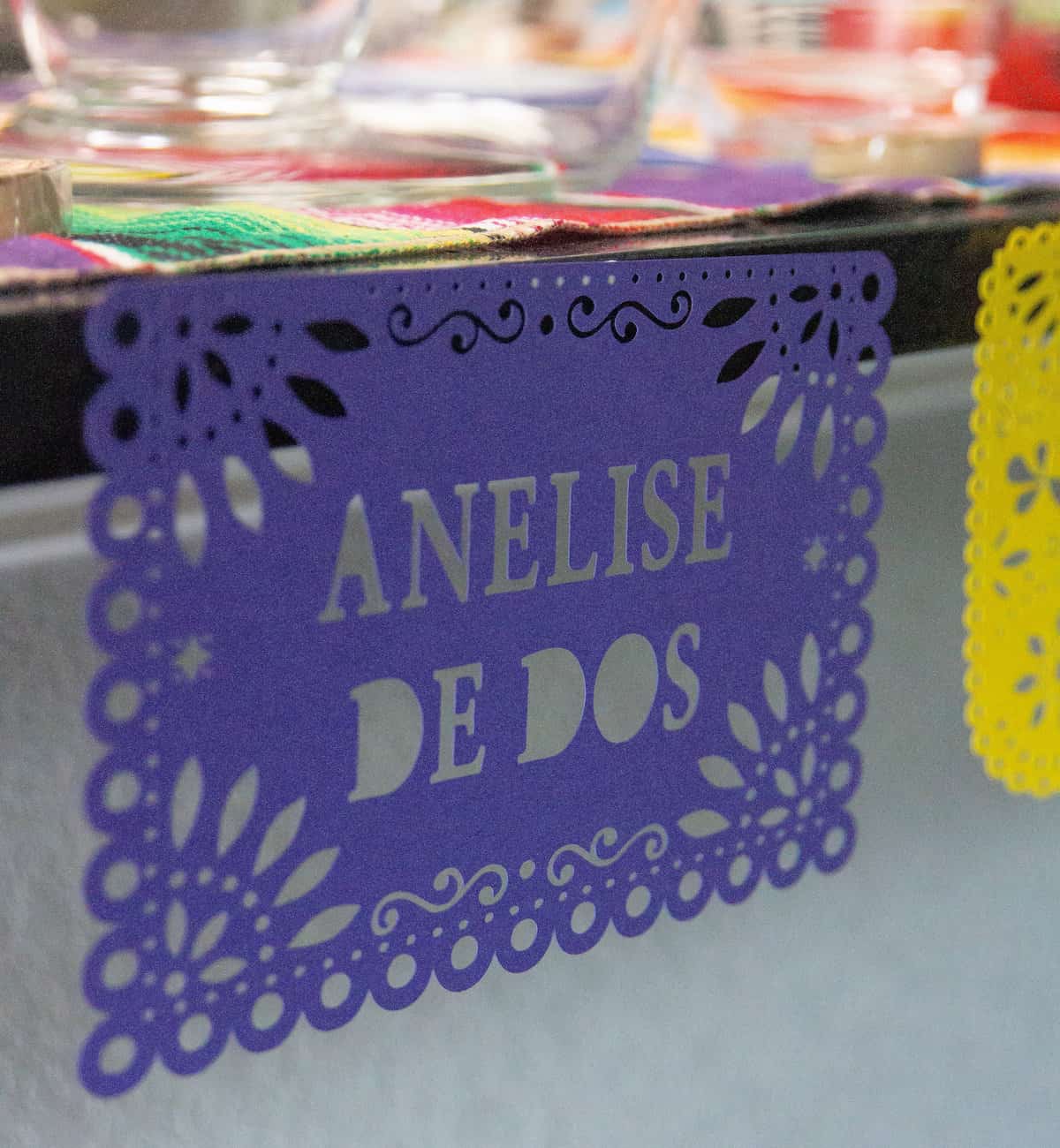 Decorations
As for decorations, what didn't I have? Some stuff I made myself and some I bought. These papel picado I made with my Cricut and even incorporated my daughters name on them. I made about 5 different ones in different colors and taped them up along the kitchen bar area.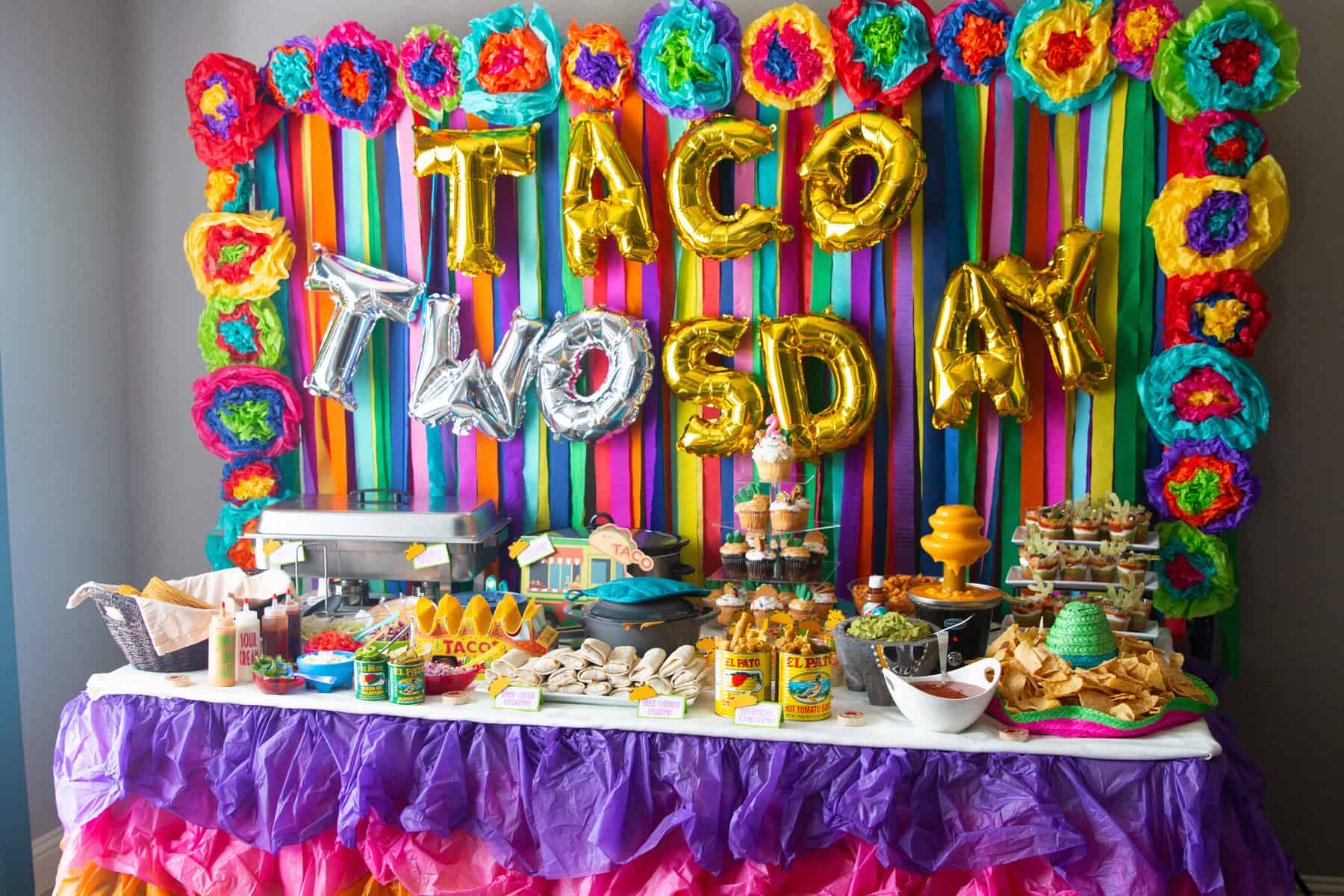 I used a photography backdrop stand and hung various colors of crape paper streamers over the top bar and taped them down into place. Then I made different sizes of tissue paper flowers and tied them on the side bars of the backdrop stand.
I bought the TACO TWOSDAY balloons individually off ebay for about a $1 each. I like the different color balloons for the two so it would stand out.
I made a ruffle table skirt out of plastic table clothes I bought from Dollar tree. Here is a great tutorial on how to do that, Rainbow Ruffle Tablecloth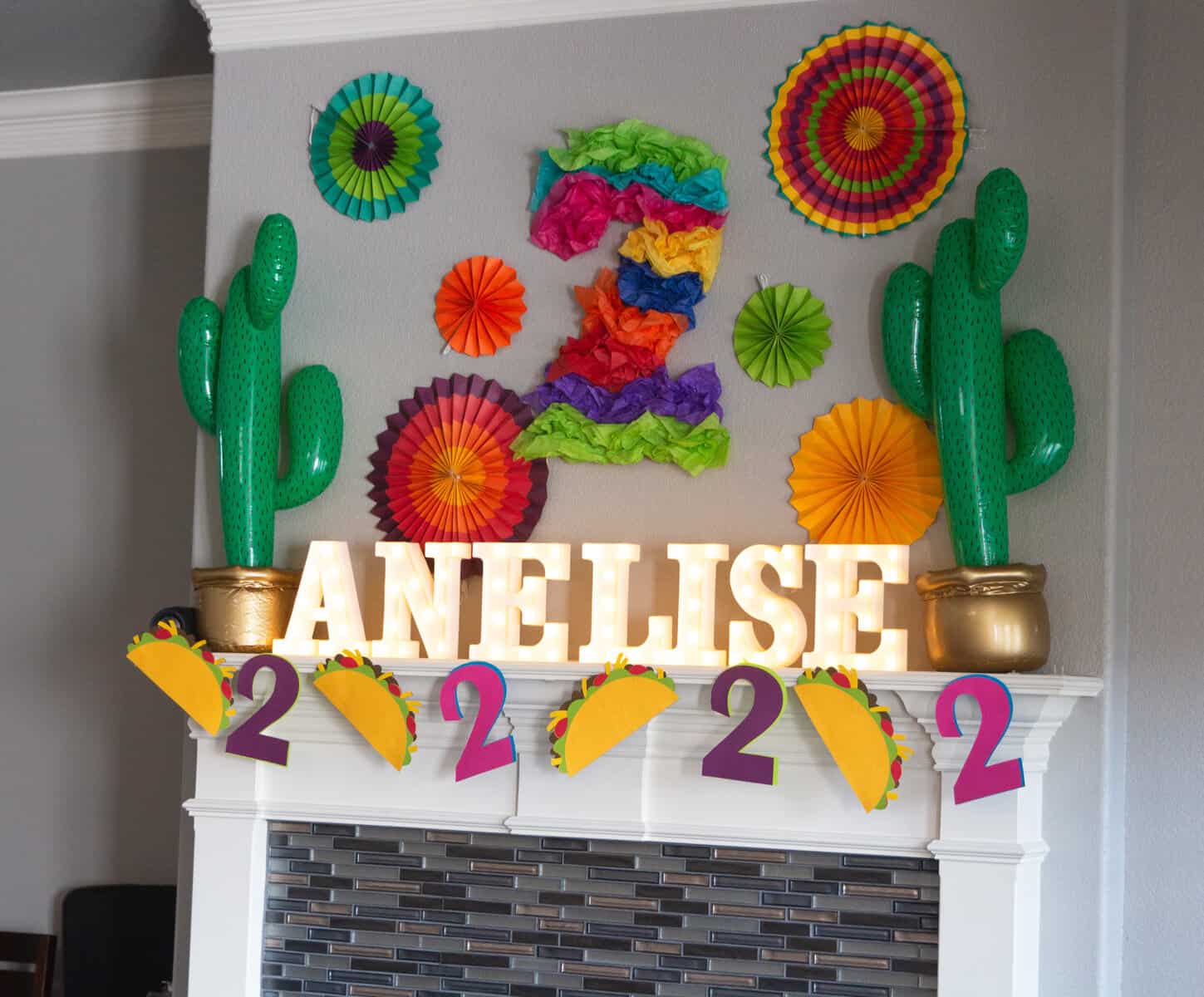 I bought these spiral fans off Amazon along with these inflatable cactus. I made the number 2 out of tissue paper and cardboard. And used my Cricut to make the tacos and small 2's.
The light up letters I purchased off Amazon and thought this would be a good investment since I could use them for years to come or even put in her room if I wanted.
The tissue pom poms I bought from dollar tree. They literally have every color and come with 2 in a pack. Throughout the house I hung these plastic papel picado flags which I purchased off Amazon.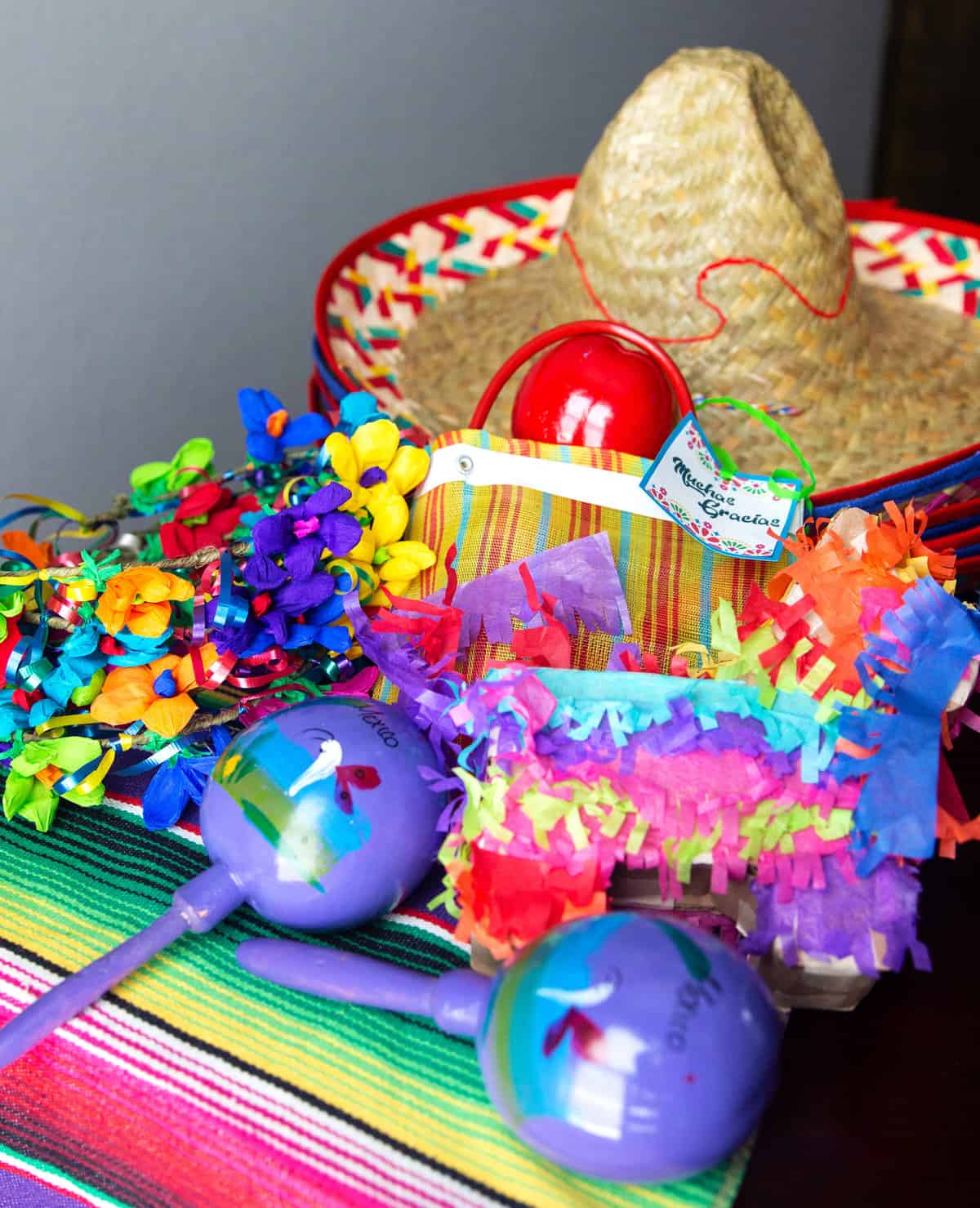 Party Favors
No kids birthday party is complete without some party favors. Upon arrival I had a sign saying take a sombrero or Mexican flower crown and wear it through out the party. Which you got to take home with you. I purchased the sombreros from Amols and the flowers to make the crowns from there as well.
I also purchased this cute Mexican bags from Amazon and filled them with these Mariachi rubber duckies from Amazon and also authentic maracas from Amols.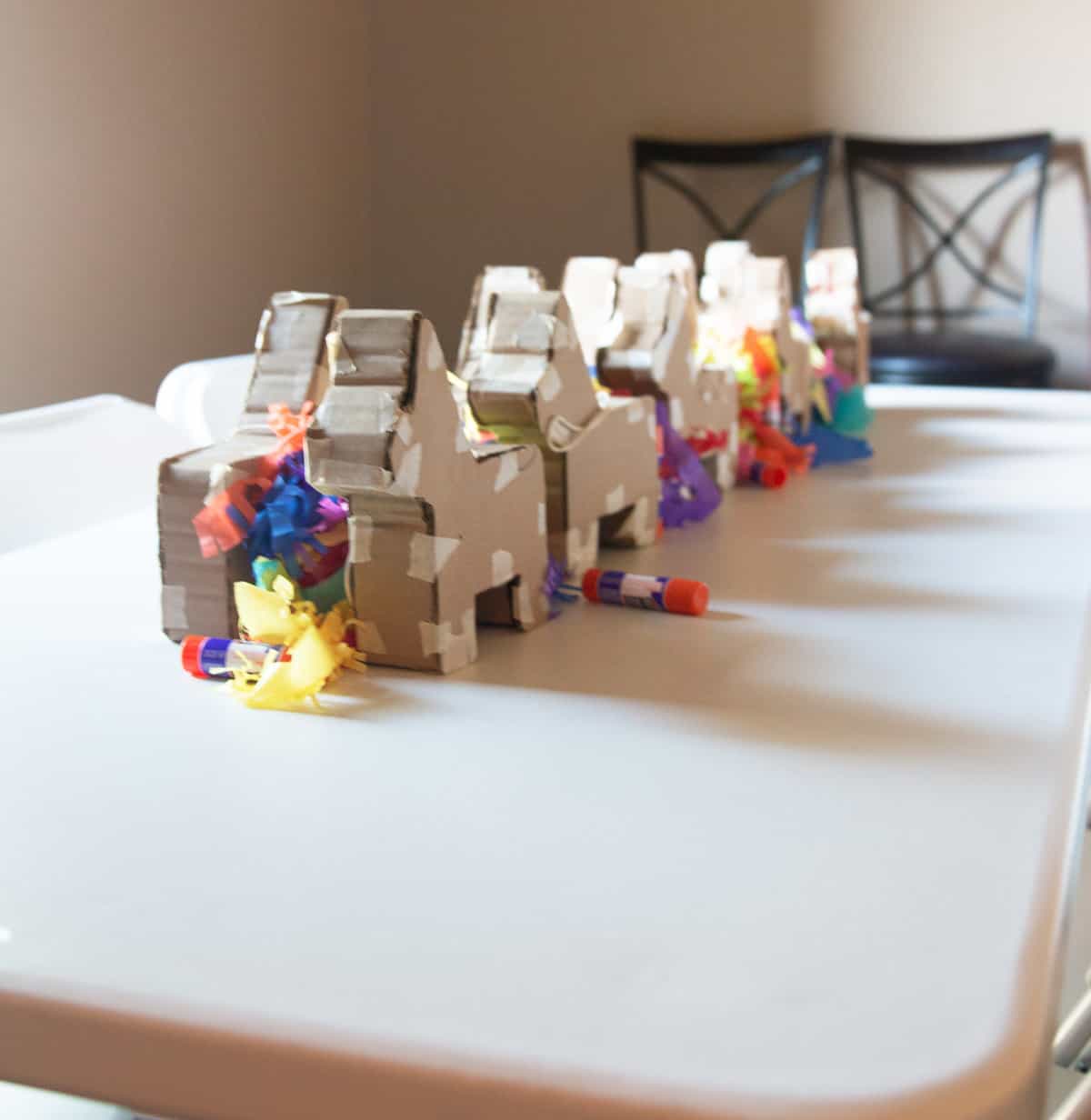 Activity
For the activity which also dubed for a party favor I made these mini pinatas out of cardboard and filled them with Mexican candy.
I just took a template of a donkey pinata and cut it out with my cricut to use as a stencil. Then I traced it a bunch of times on some old cardboard boxes and cut them out. Then I cut strips of cardboard about 1.5 inches thick and taped it in between 2 donkey cutouts.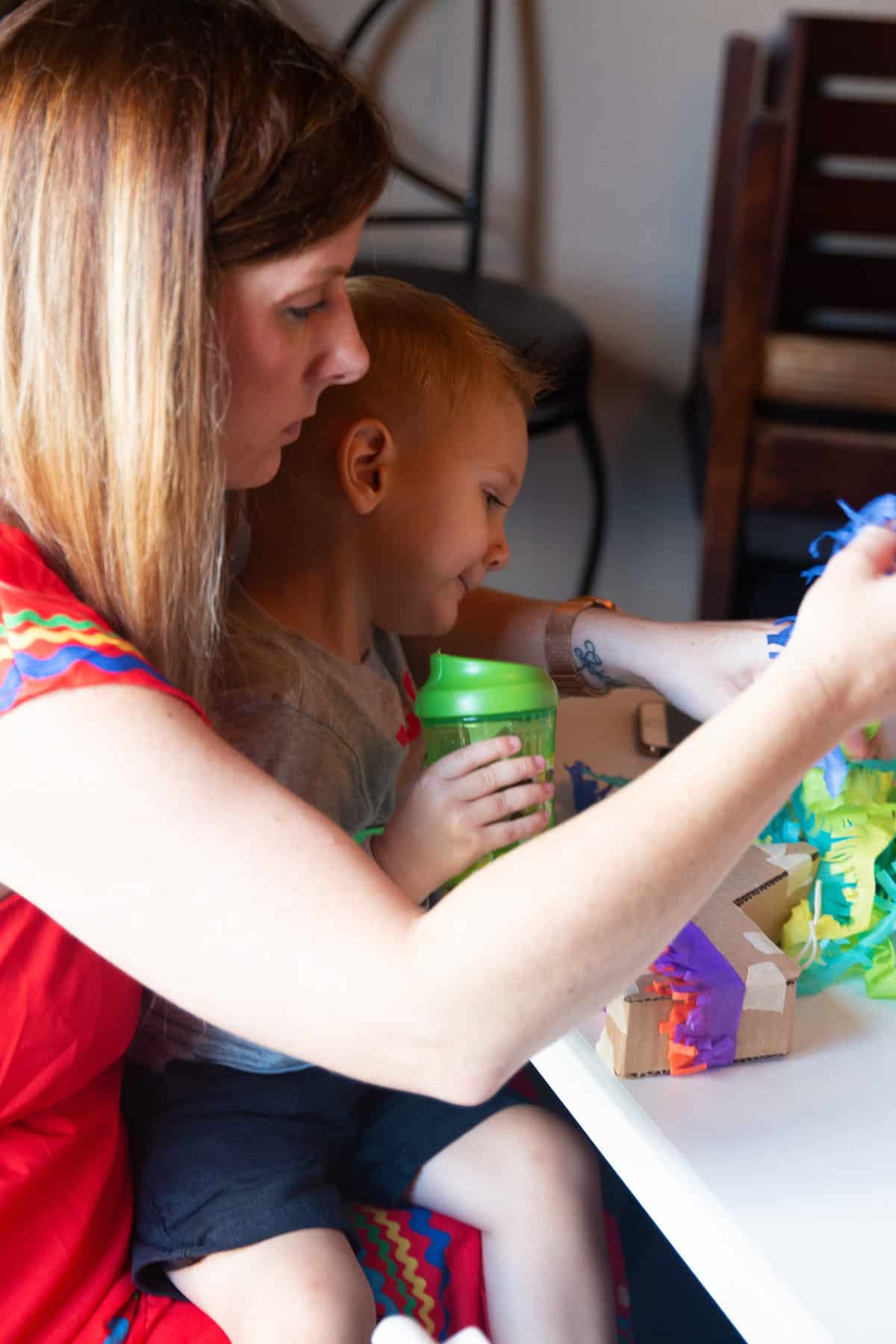 I cut colorful tissue paper in to strips and provided glue sticks so each child could personalize their own pinata and take it home with them and smash it open whenever they want.
I had to skip an actual pianta because we really didn't have anywhere to hang one, plus most of the children were pretty young so the personal pianats seemed like a better fit.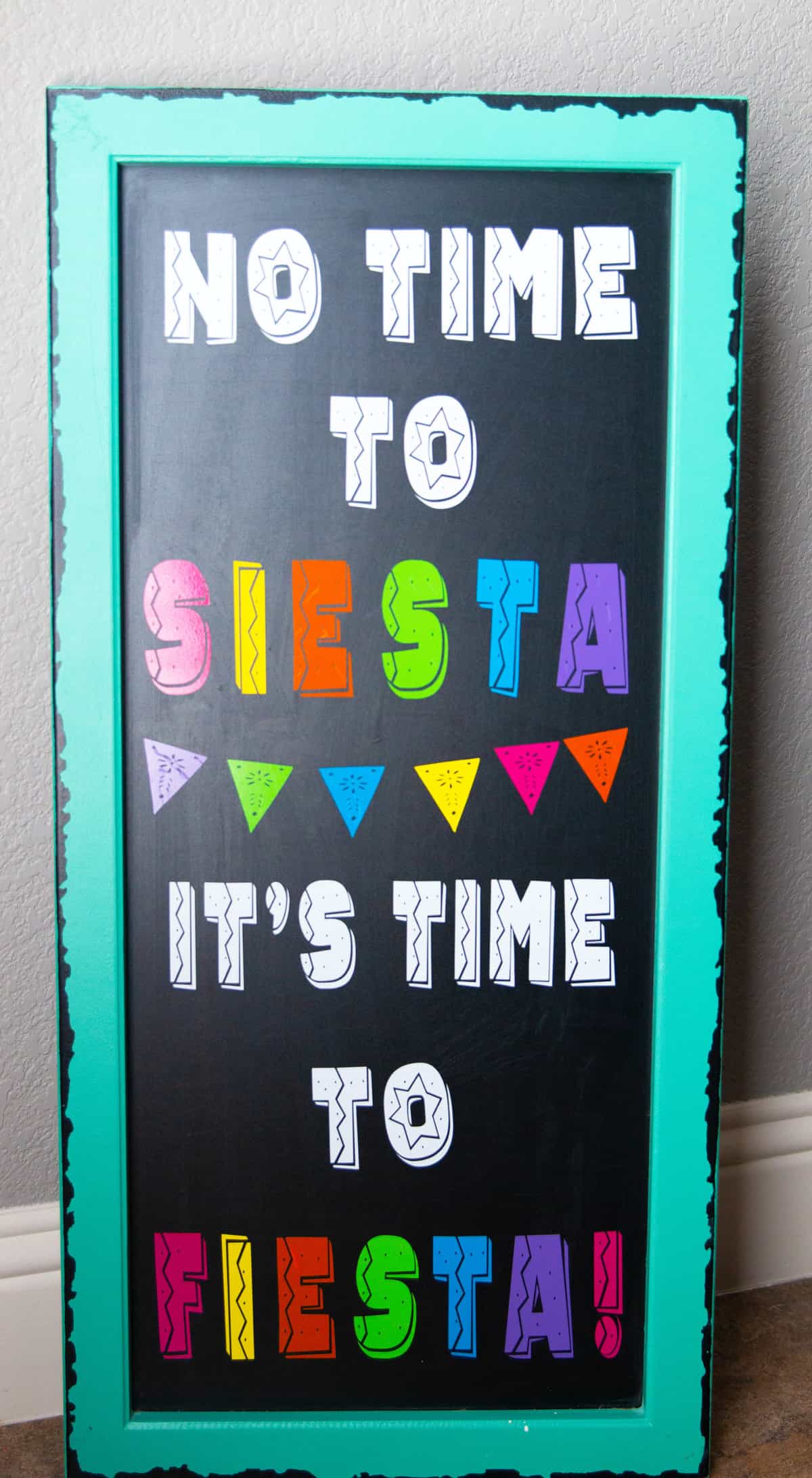 All in all I think it was a pretty good party. A lot of work only because I prefer making stuff myself then buying it already made. This is a great theme for all sorts of parties. Cinco de Mayo, Taco Twosday, 1st birthday, or just a regular ole birthday party.
Tips for a Taco Bar Party
If you are having a bigger party with many guests buy your food in bulk from Sam's Club or Costco. It cuts costs a lot.
Buy as much premade food as you can to take some of the stress off. The burritos and taquitos were premade. All they needed was some heating up. You can also buy premade guacamole too so you don't have to mess with that.
To make it even easier some Mexican food places like On the Border or Pappasitos over a taco bar catering. They have all the meat and fixings all ready to go for you. If I wasn't such a bargain person I would have gone that route.
Prep what food you can the day before. I put all the ingredients for the barbacoa in a bag the day before and then threw in a crockpot the morning of. I also chopped up all the onions, tomatoes, and jalapenos the day before.
Have some containers to keep your meat warm. I used my crockpot and a chafer set. This way you can prepare the meat a couple hours before and keep warm until the guest arrive and start eating.
If you want to save money buy plain cupcakes and decorate them yourself. Plain cupcakes only cost $14 for 30 from Sam's.
If possible decorate as much as you can the week of. Most of my house was decorated days before. I did the table setup 2 days before and put up a baby gate so my child wouldn't mess with it.
I kept chips, salsa, and guacamole in two places. One on the main table and one on the bar area because these are what people eat most of. I also had queso in those same two locations.
Have to-go containers handy for guest to take some food home. I ALWAYS have too much food so everybody taking some home helps me out. Less to store and less for me to be tempted to eat since I'm dieting.
Plan the time of your party around a main meal time since it's a taco bar party. I chose 2 o'clock just because of nap time for my daughter. If she was older and didn't have nap time I would have done 12 or 1 o'clock.
Check out some more party ideas
Safari Baby Shower
Enchanted Forest Birthday Party
Forest Baby Shower
Hosting a Friendsgiving