My rendition of a mermaid under the sea themed birthday party fit for any little girls birthday. Everything I used to achieve the theme.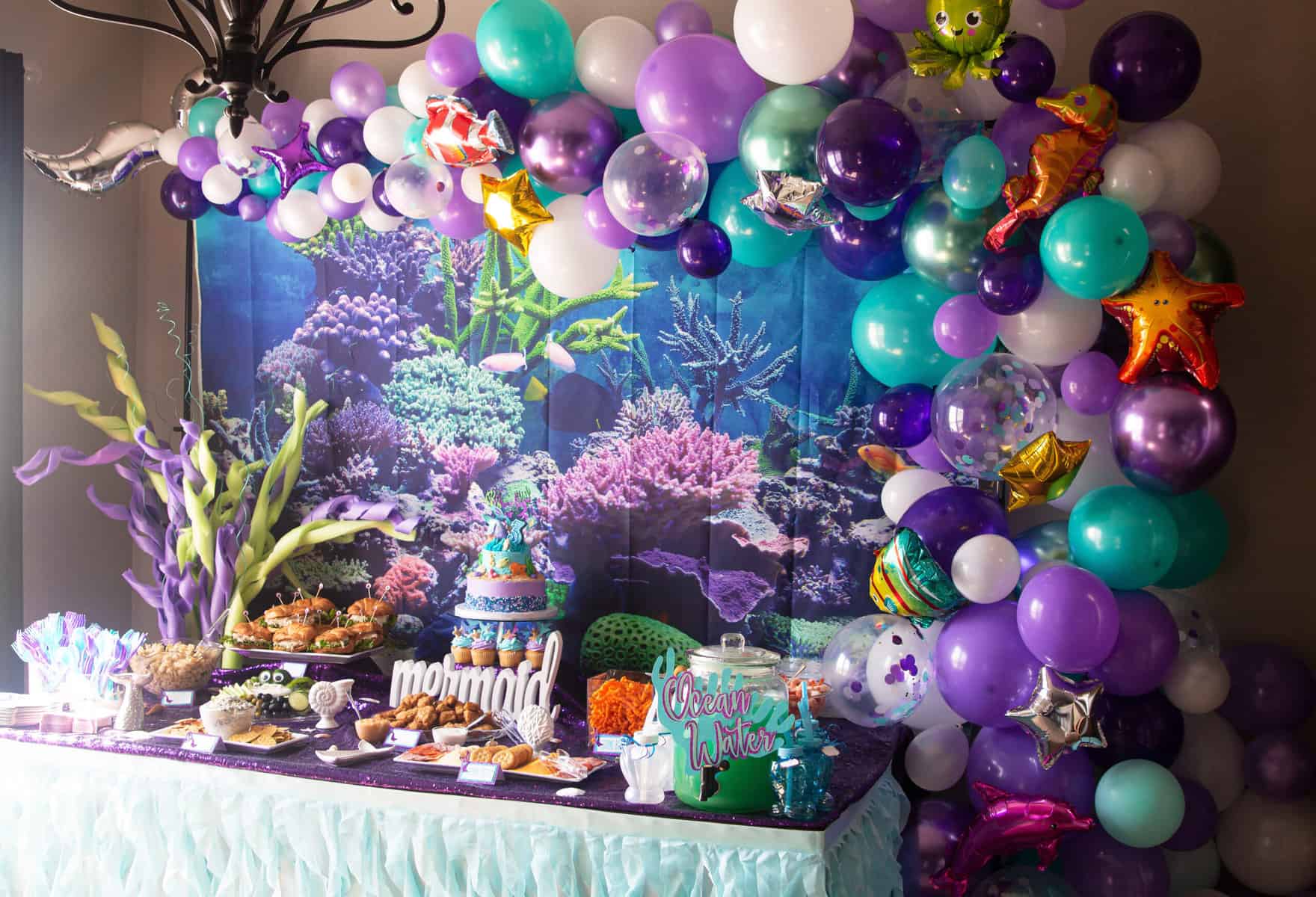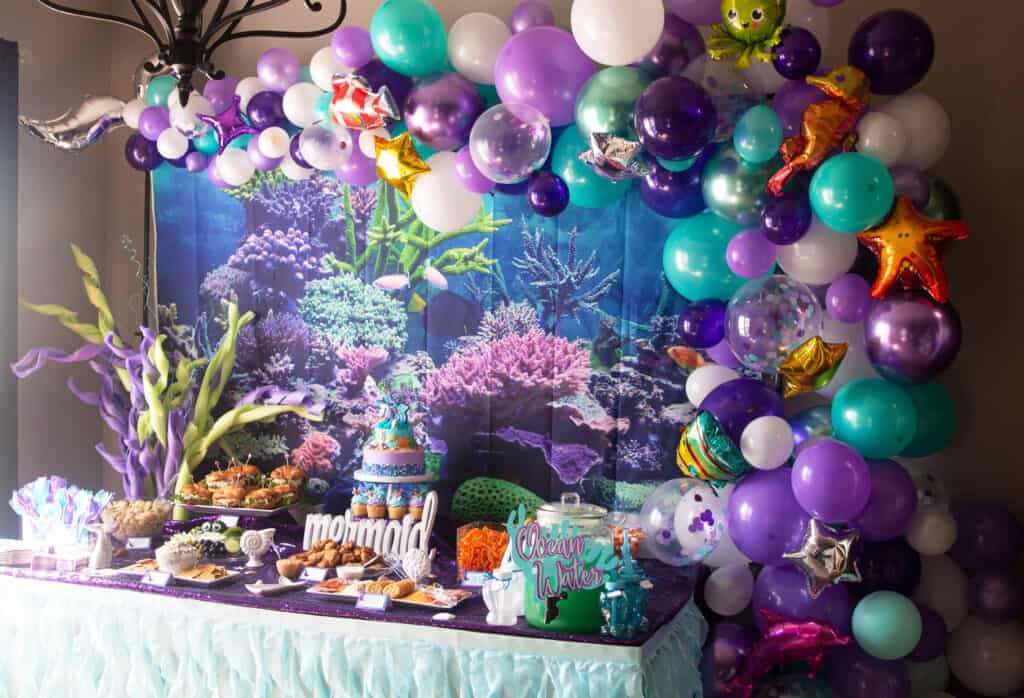 Here we are again in October which means it's time for another birthday party theme. This year we went with a mermaid/under the sea theme for my daughters 3rd birthday.
DYI Mermaid Invitations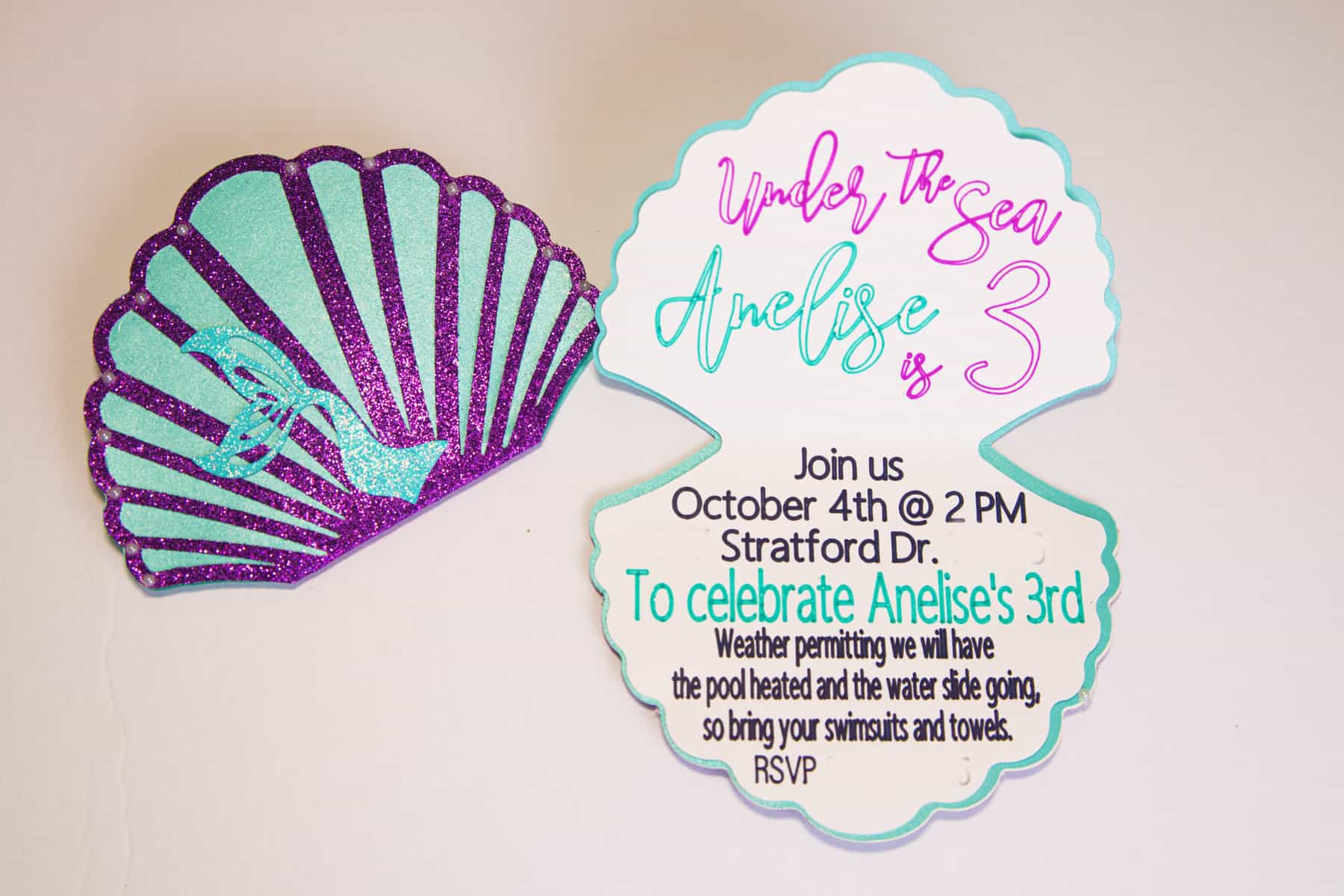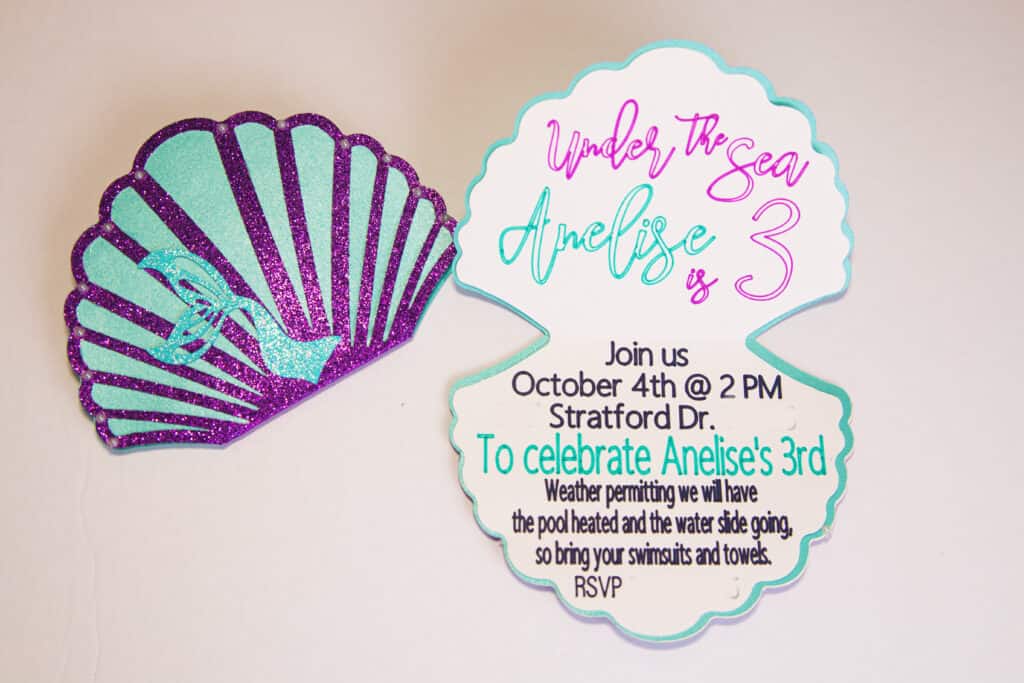 I put my Cricut to work again this year when making the invitations for this party. I used a seashell image I found in design space for the base of the invitation and then let my Cricut do the work of writing out the words.
I also added an image of a mermaid tail to add to the front of the invitations and little sticky pearl dots I found at Hobby Lobby.
Decorations
The table scape is always my main focus for parties. I always like to display the food in a grandiose way since people tend to gravitate towards the food at parties. So to stick with the mermaid themed birthday everything had to be themed that way.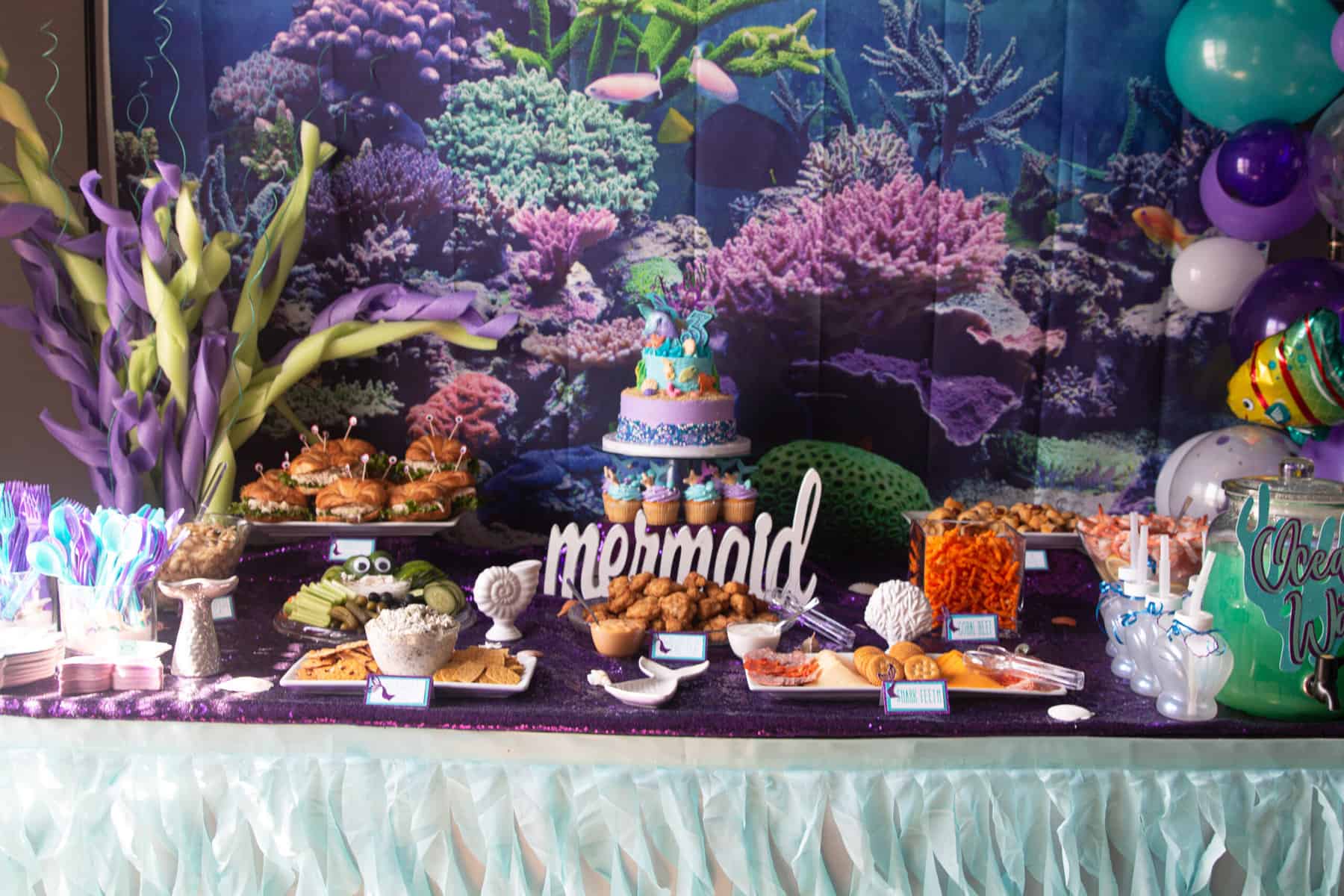 I purchased this under the sea type backdrop on ebay. There really are a ton of under the sea themed backdrops out there, but ultimatley this is the one I loved.
I simply taped it to my backdrop stand that I have had for years, which comes in quite handy when doing themed parties. Because the stand I bought is a little over 8 feet wide the 7×5 backdrops don't cover the side poles. That's when I get crafty and figure out way to cover them.
I bought a purple sequin table cloth and this seaweed looking table skirt to keep with the theme of the party.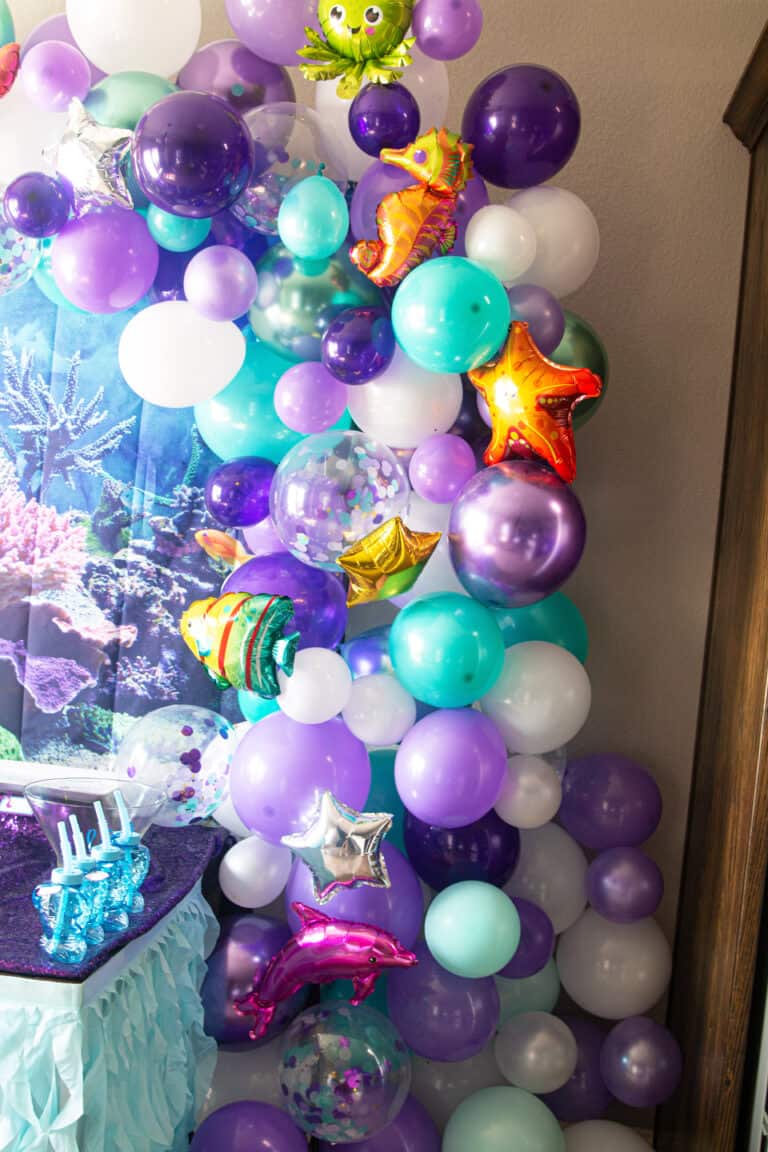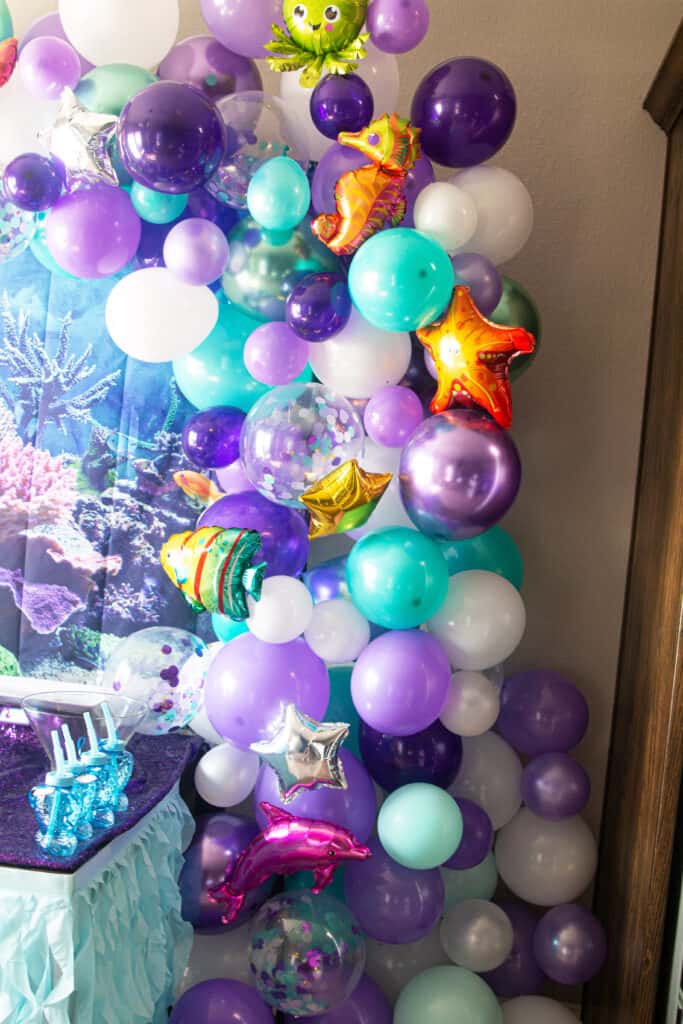 The Balloons
Which is where the balloon arch comes in handy. This is only my second balloon arch to do, but I must say they are quite simple. Only time consuming part is usually the blowing up the balloons. But that's where my electric air blower comes in handy. There's 2 nozzles so 2 people blowing up balloons at the same time, it took only 30 minutes to blow up the balloons.
I bought this mermaid themed balloon kit and everything you need is there to create your balloon garland. I just taped and ties the arch to my backdrop stand and started creating the balloon garland.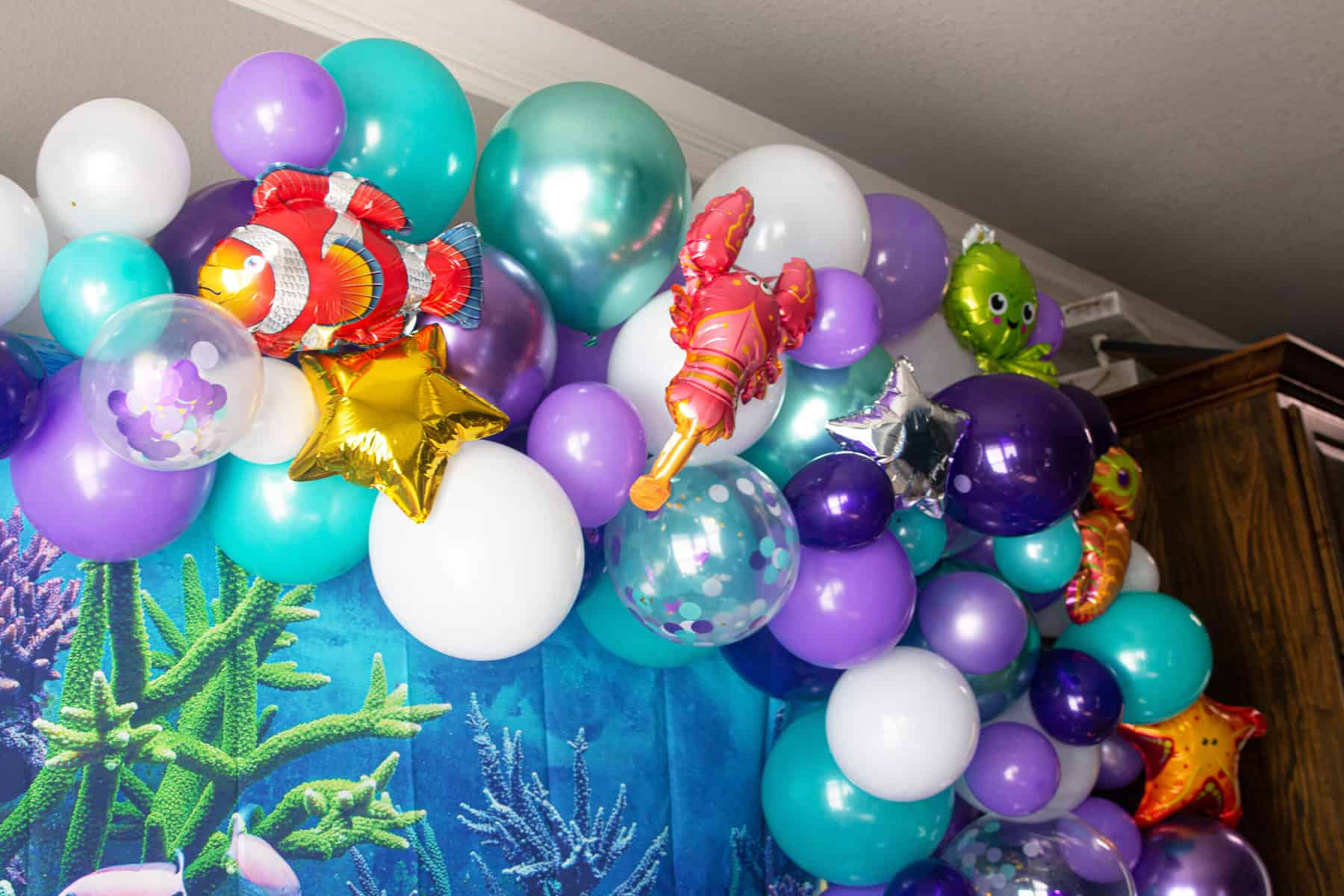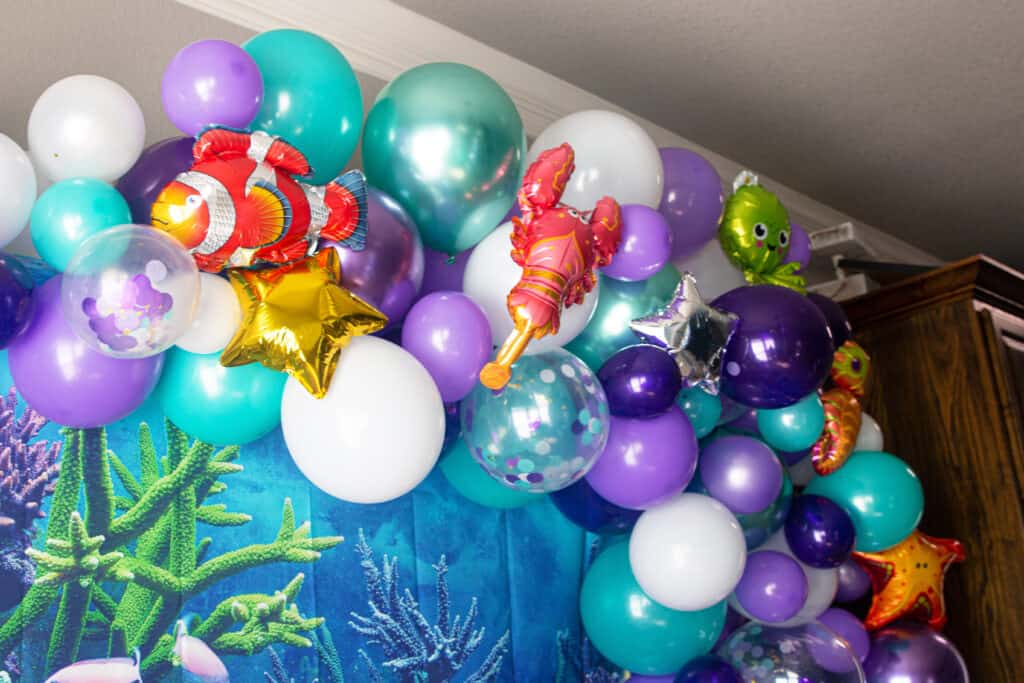 Then I bought these sea life balloons to add an extra under the sea effect to the balloon garland. It also came with larger balloons which I used for the party favor table display.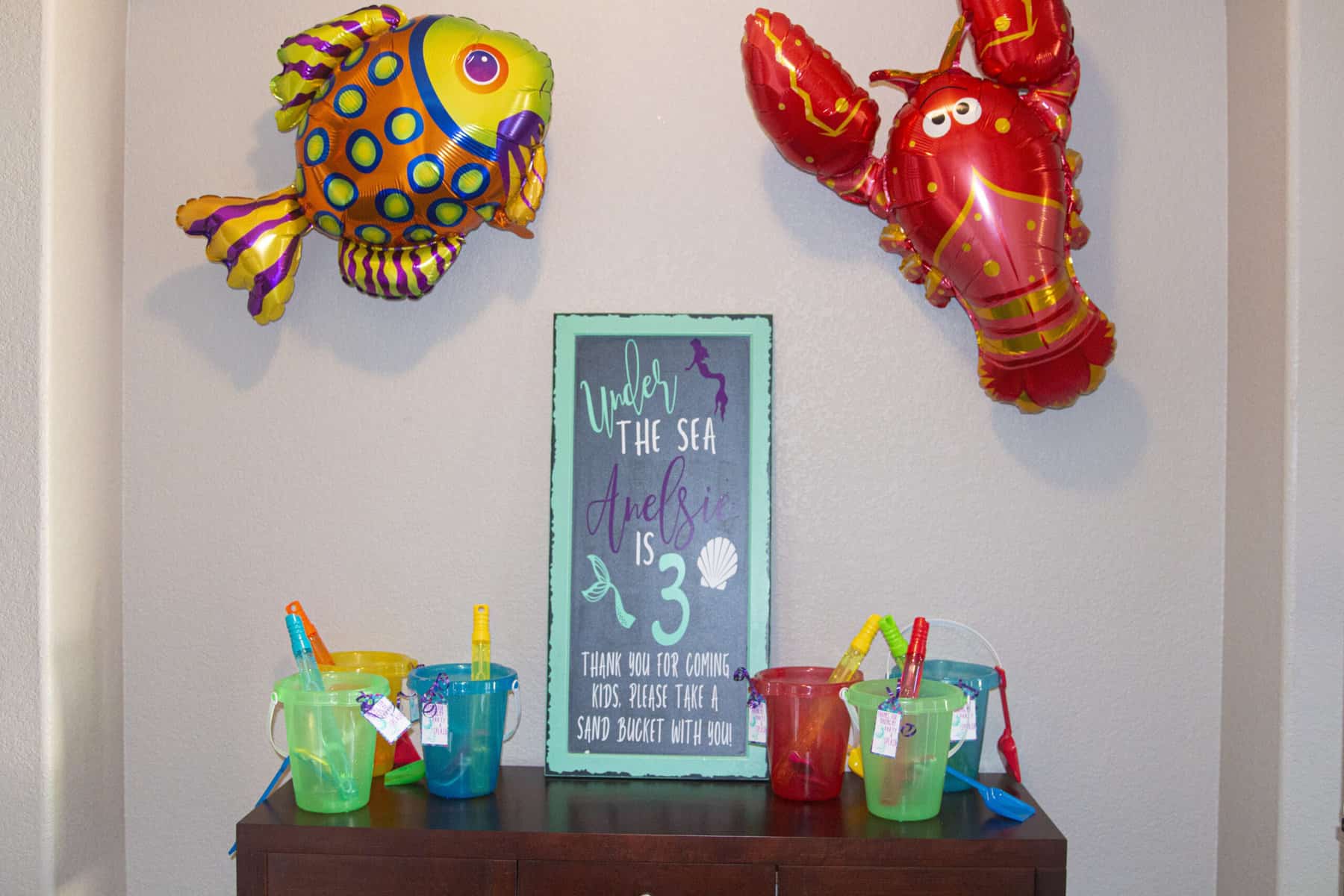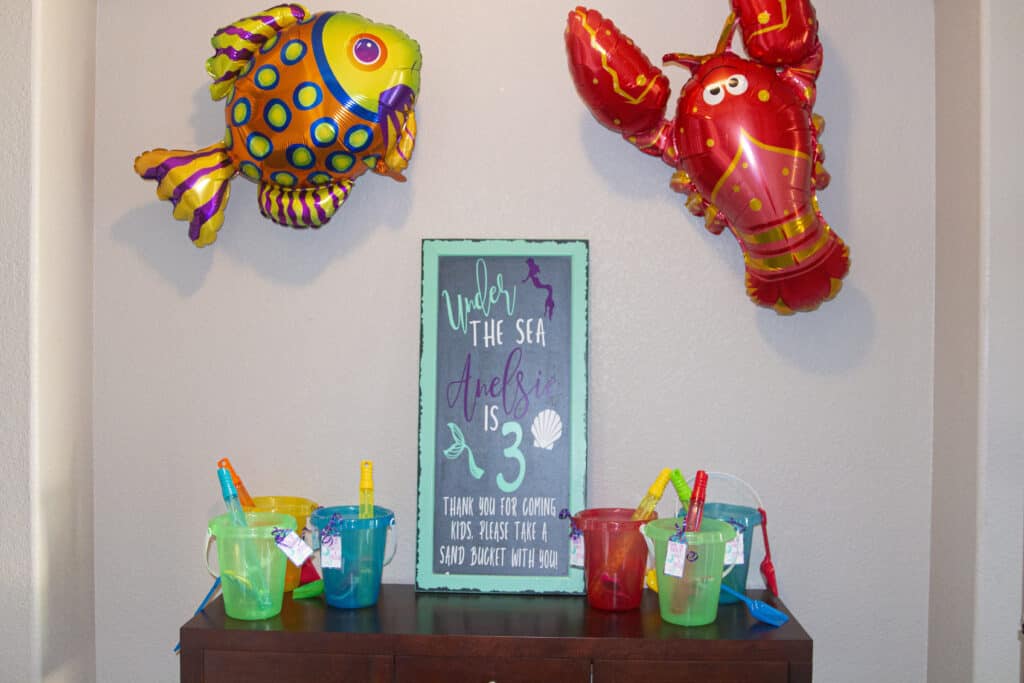 To keep with the mermaid theme I picked up some sand buckets and shovels from Dollar Tree during the summer and filled them with some bubble wands and a pair of sunglasses for each kid.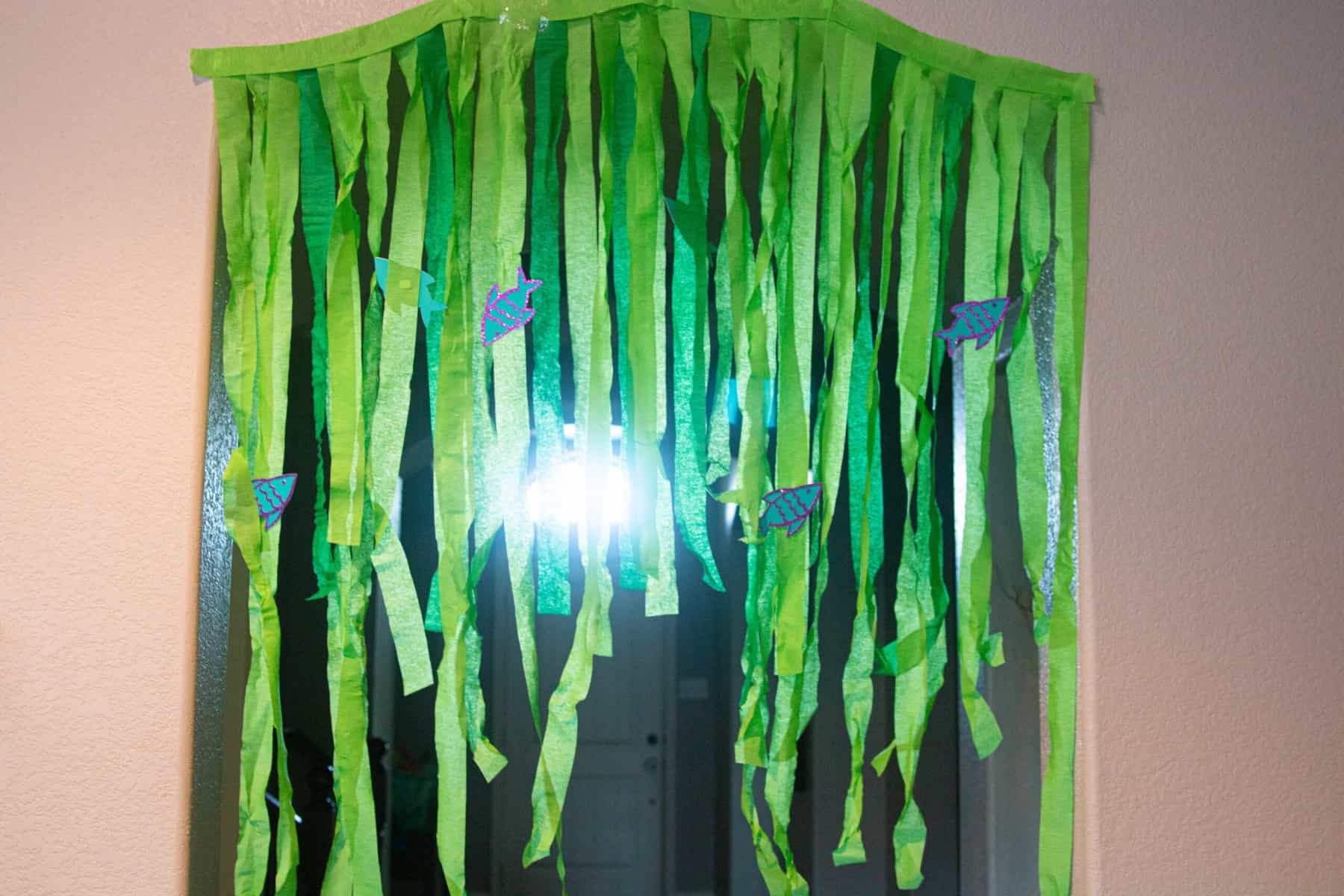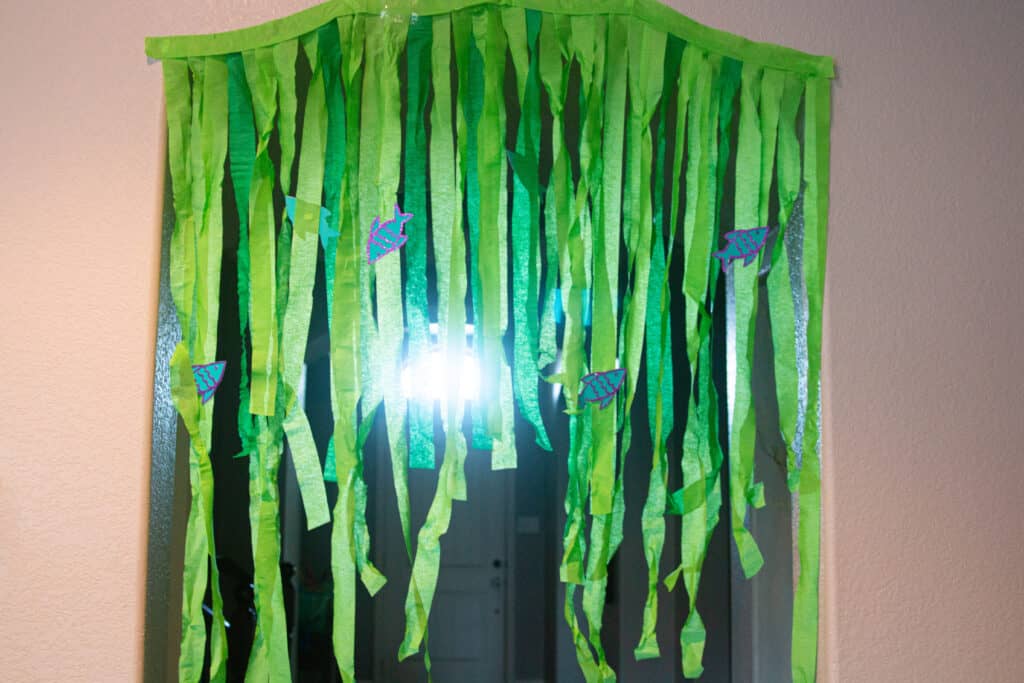 I made a seaweed arch to go over the entry into our living room. I bought 2 different shades of green streams and taped them to one long piece of streamer. Twist them some to give that seaweed look. I made some fish cutouts with my Cricut and taped them on the streamers.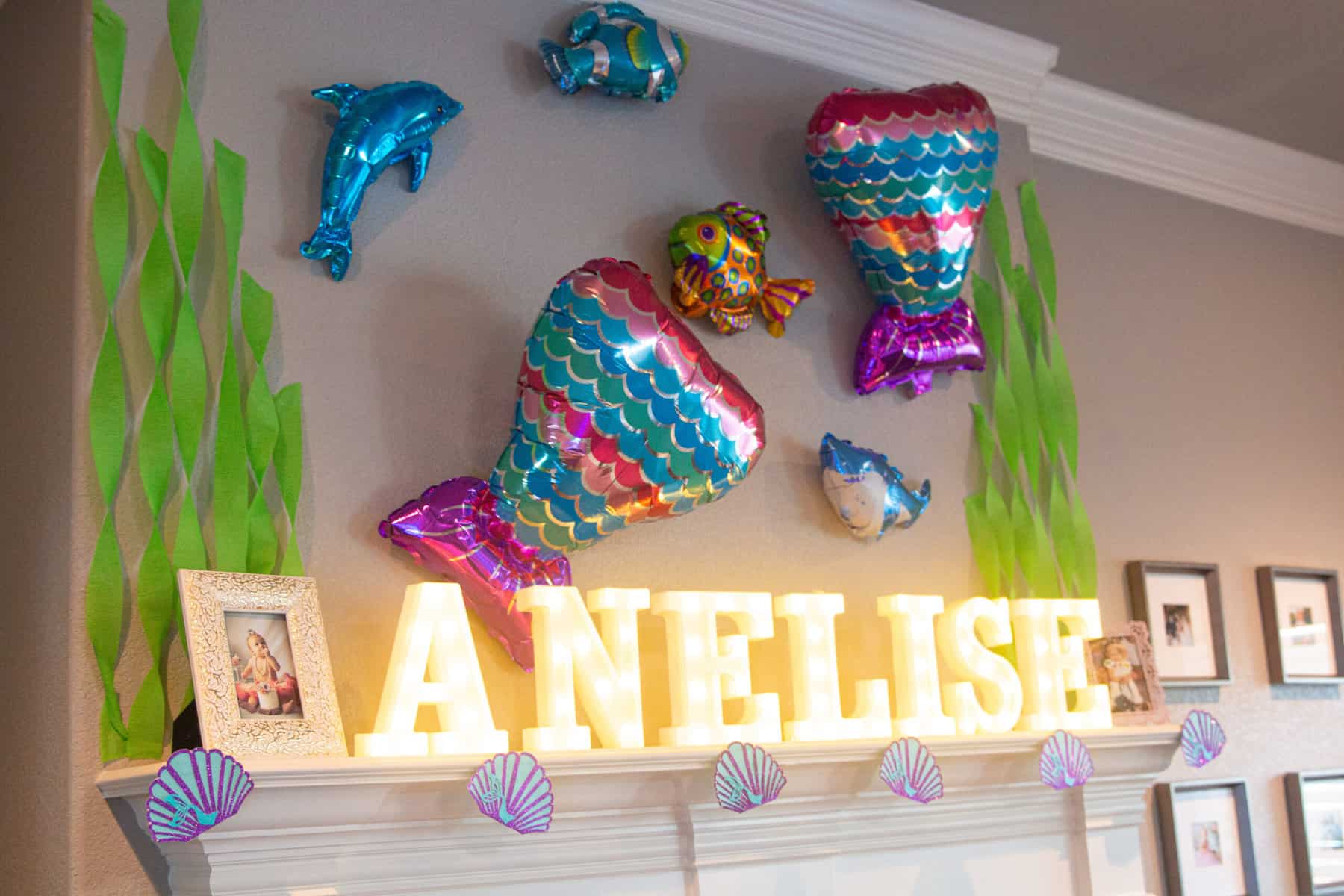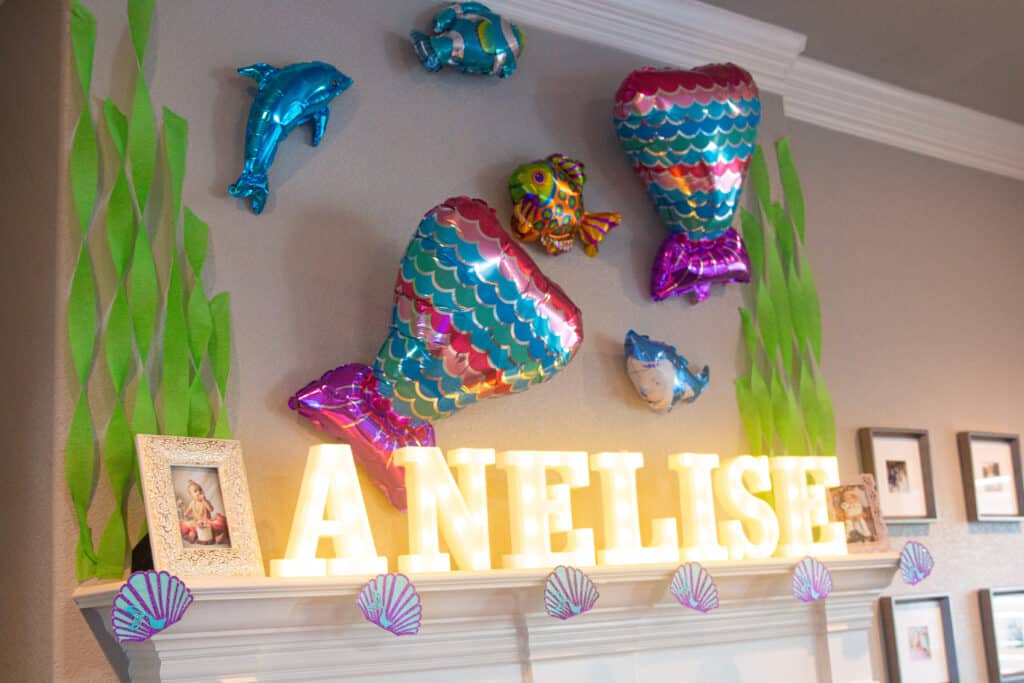 For the gift display I always use my fireplace area. I bought these light up letters last year and figured I could use them for the years to come. Added some of those sea life balloons and got these mermaid balloons from Dollar Tree. Used some of those green streamers to make seaweed to go up the wall.
Under the Sea Food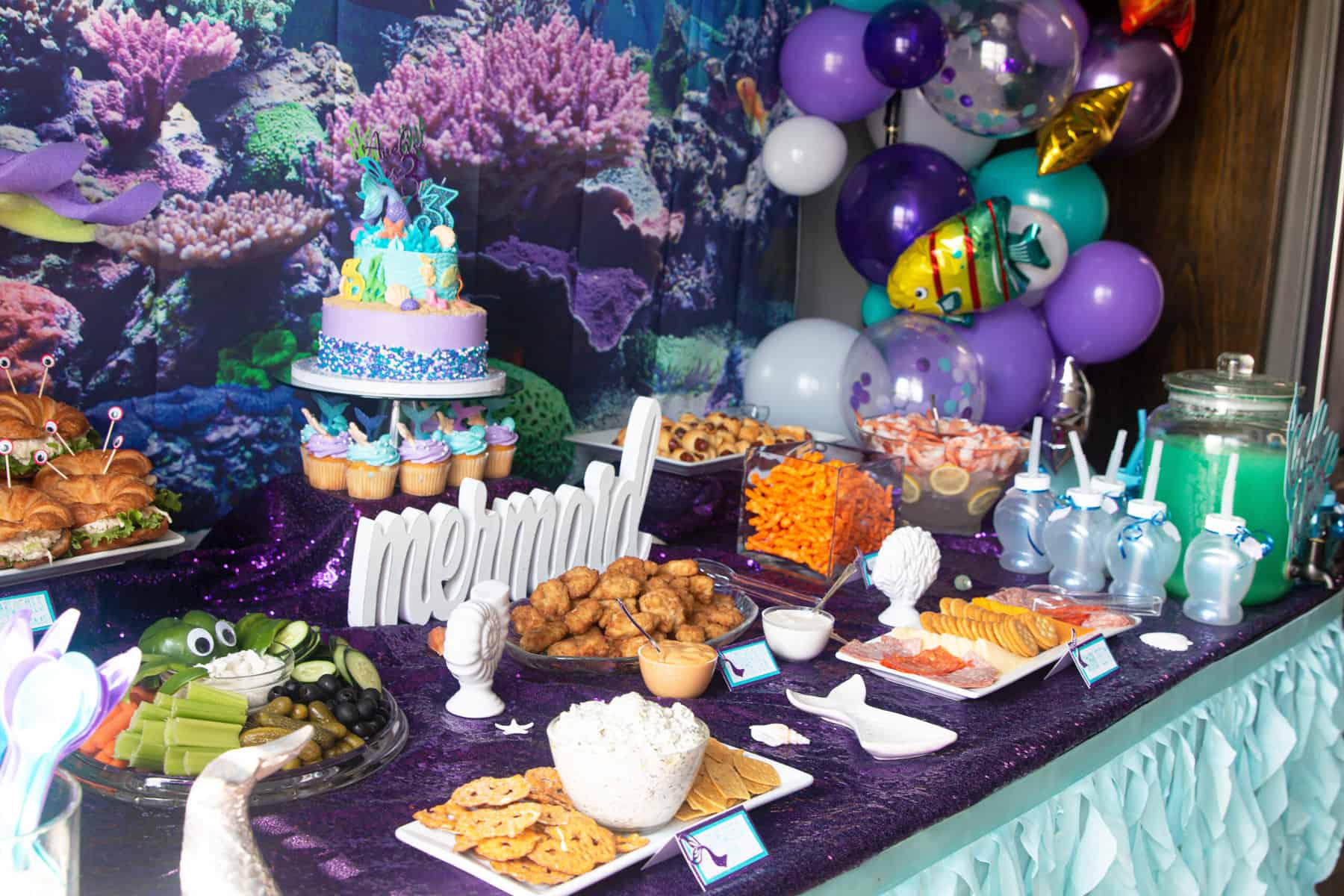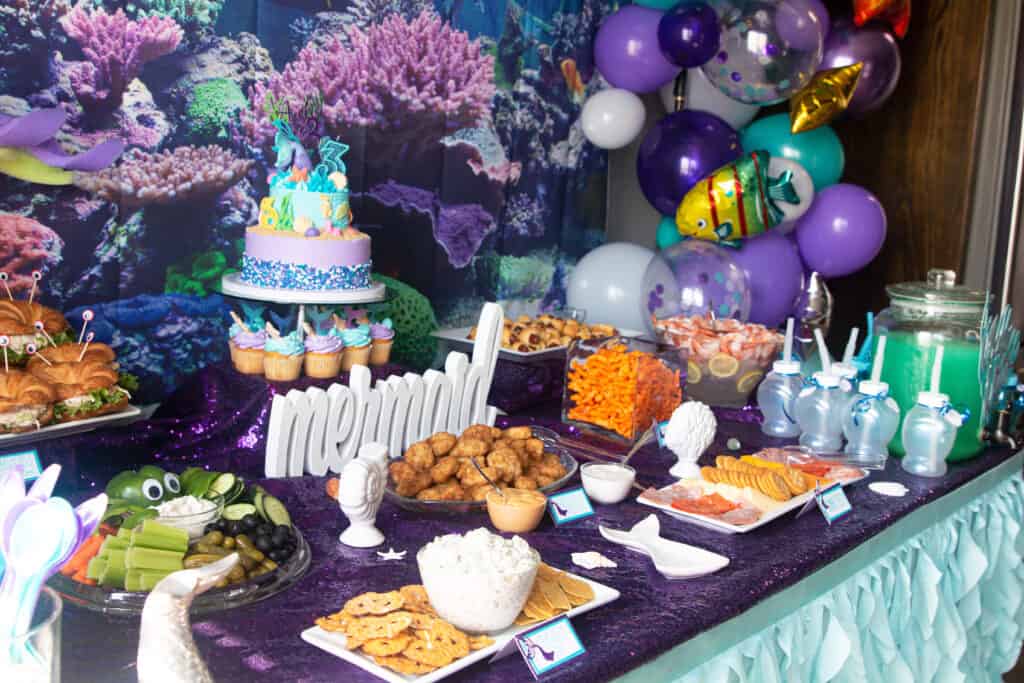 Now to my favorite part, the food. I usually try to stick to themed foods when doing a themed birthday. It really just brings it all together. Depending on the time of day you have your party determines what type of food you should serve.
I do my daughters parties around 2 o'clock due to nap. So with that being after most people's lunch, but maybe not everyone has had lunch I try to accommodate for both. Some food with substance and then some snacking food.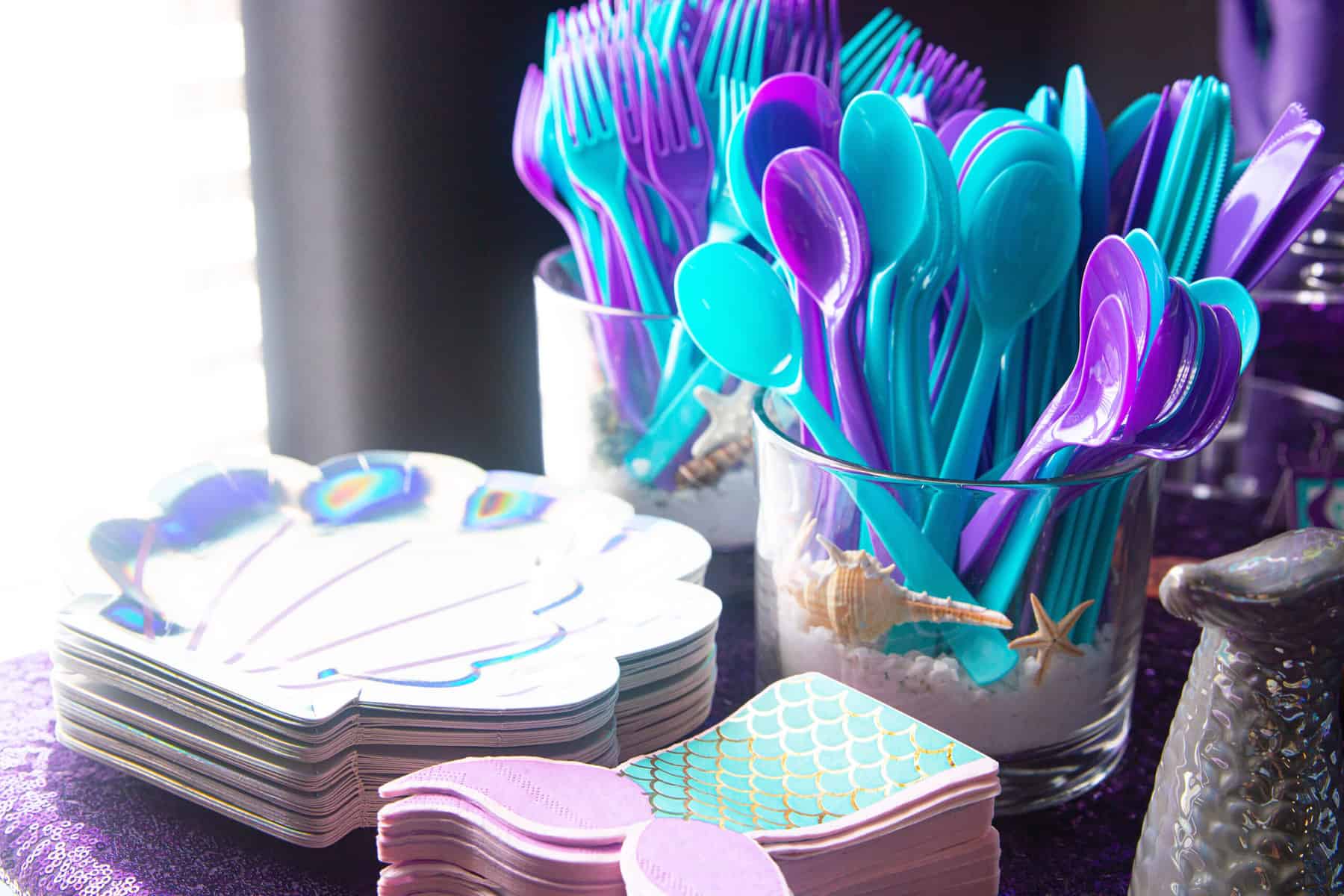 I found these adorable seashell plates and mermaid tail napkins on Amazon. I bought the plastic wear from Walmart. I've had these glass vases from Hobby Lobby for years and use them for all sorts of stuff.
I bought some white sand from Dollar Tree and filled the sides with seashells I got from Amazon.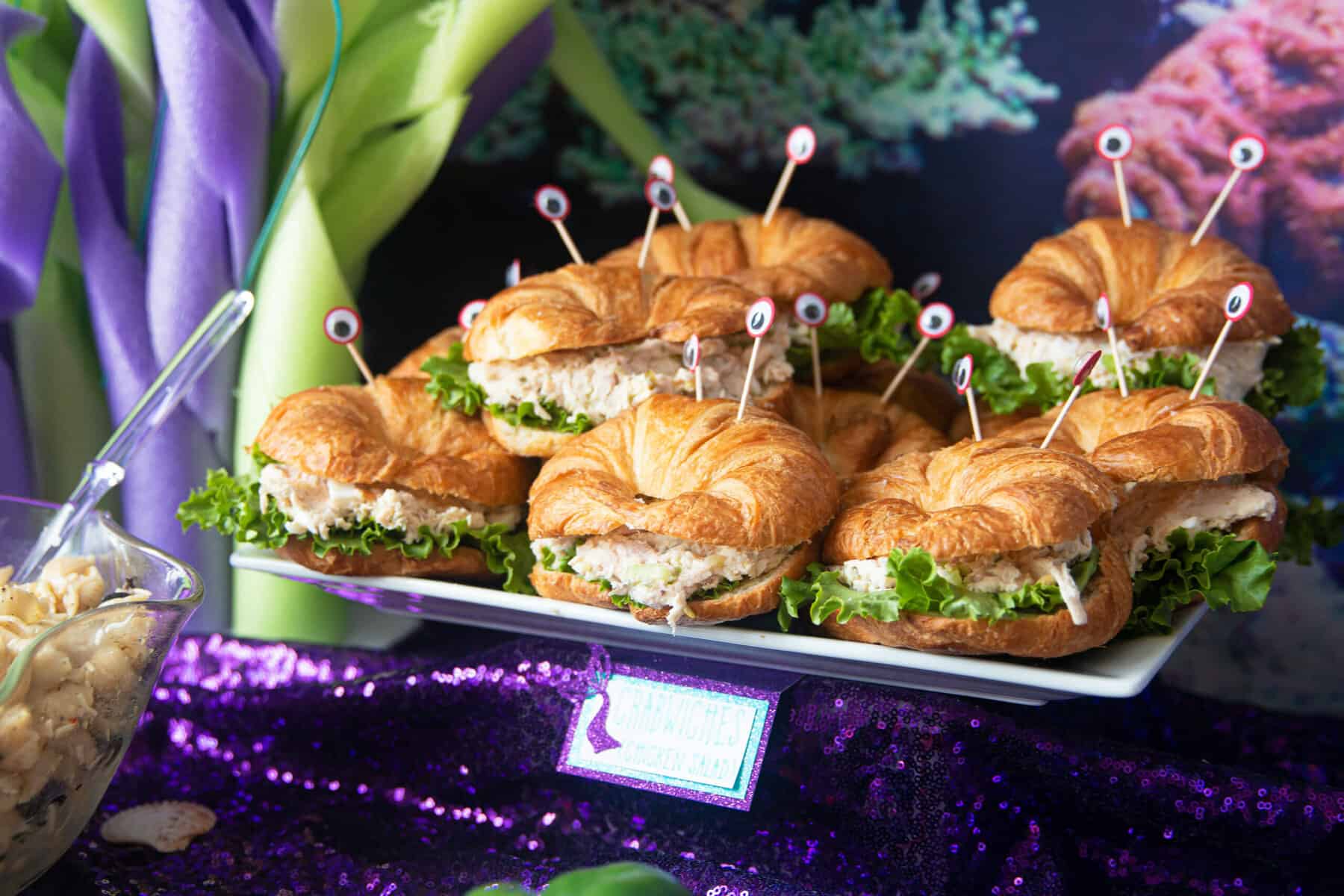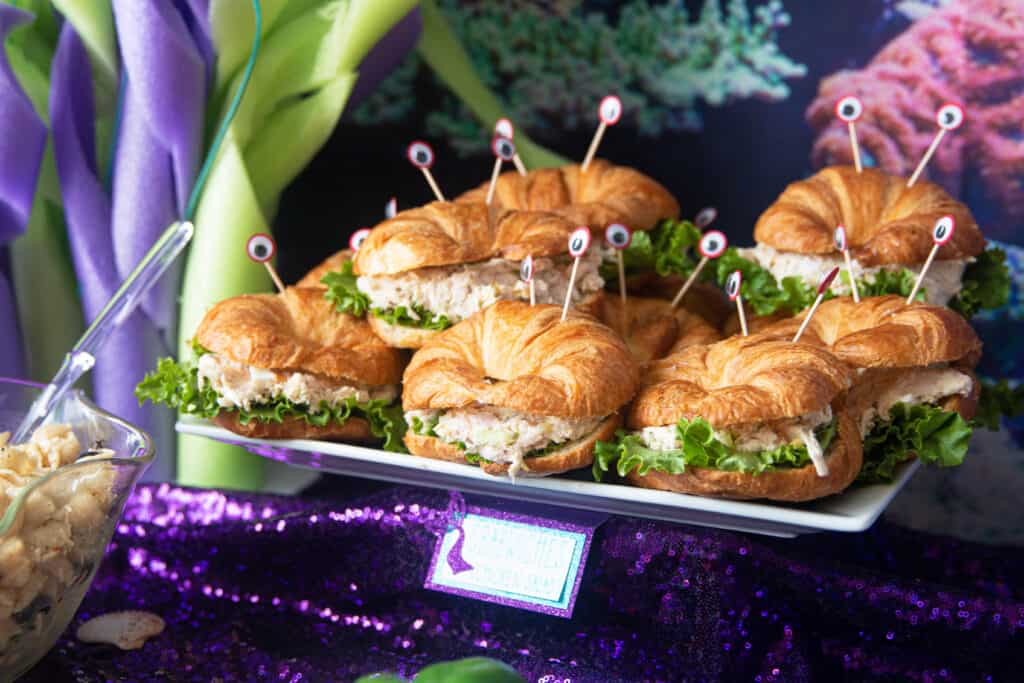 I made "crab sandwiches" which was actually chicken salad sandwiches with a piece of lettuce on Sam's Club croissants. I cut out small circles with my Cricut and glued googly eyes on to toothpicks to make the sandwiches resemble crabs.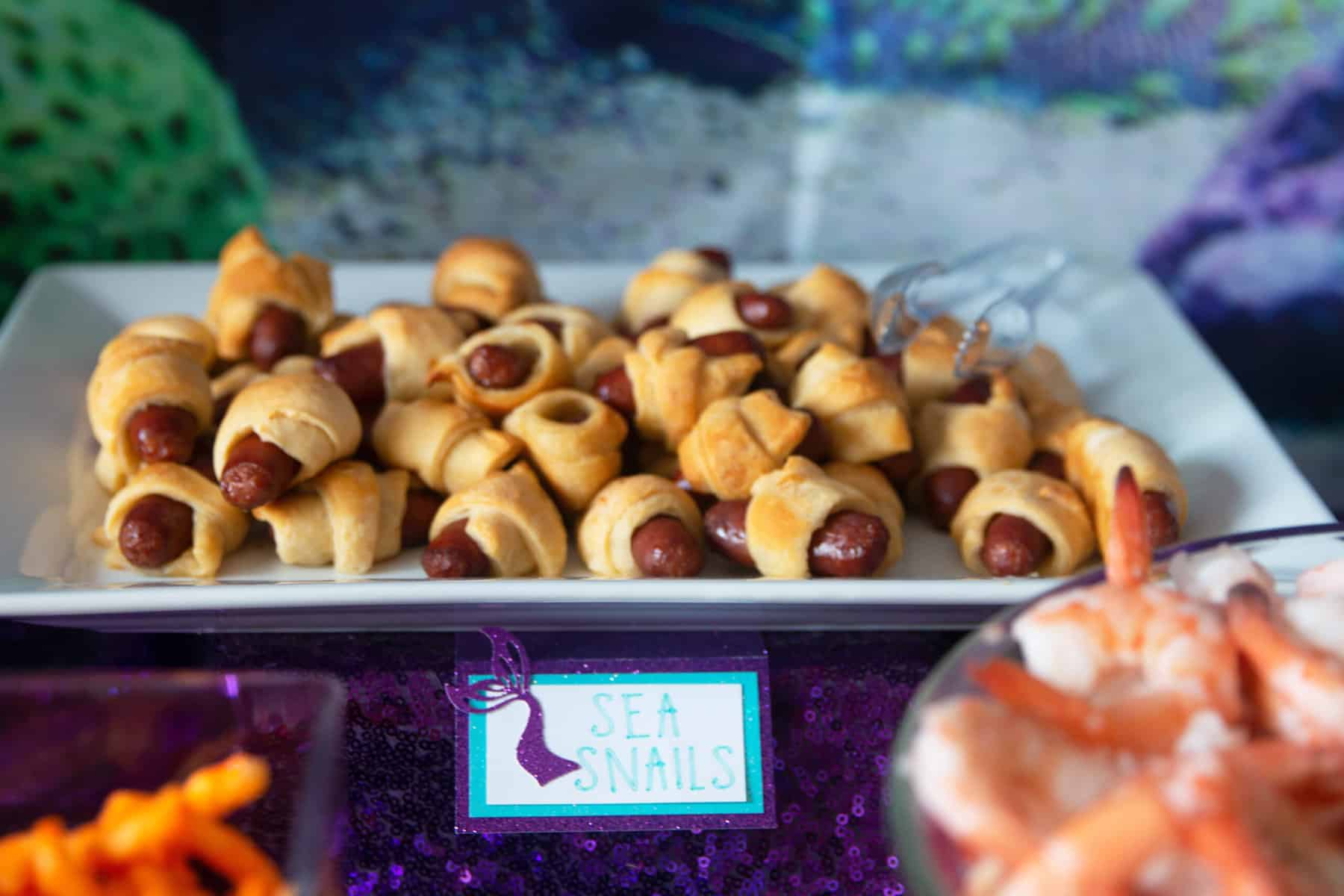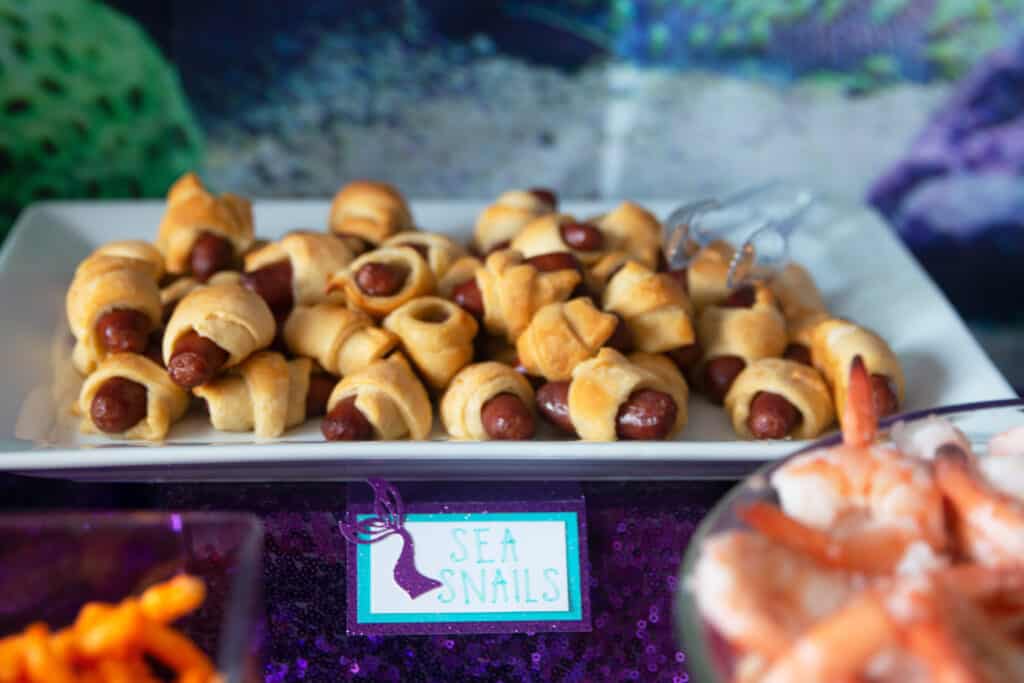 The Sea Snails were mini pigs in the blanket. It's very similar to my cheesy pigs in the blanket recipe, except I decided to skip the cheese for this one.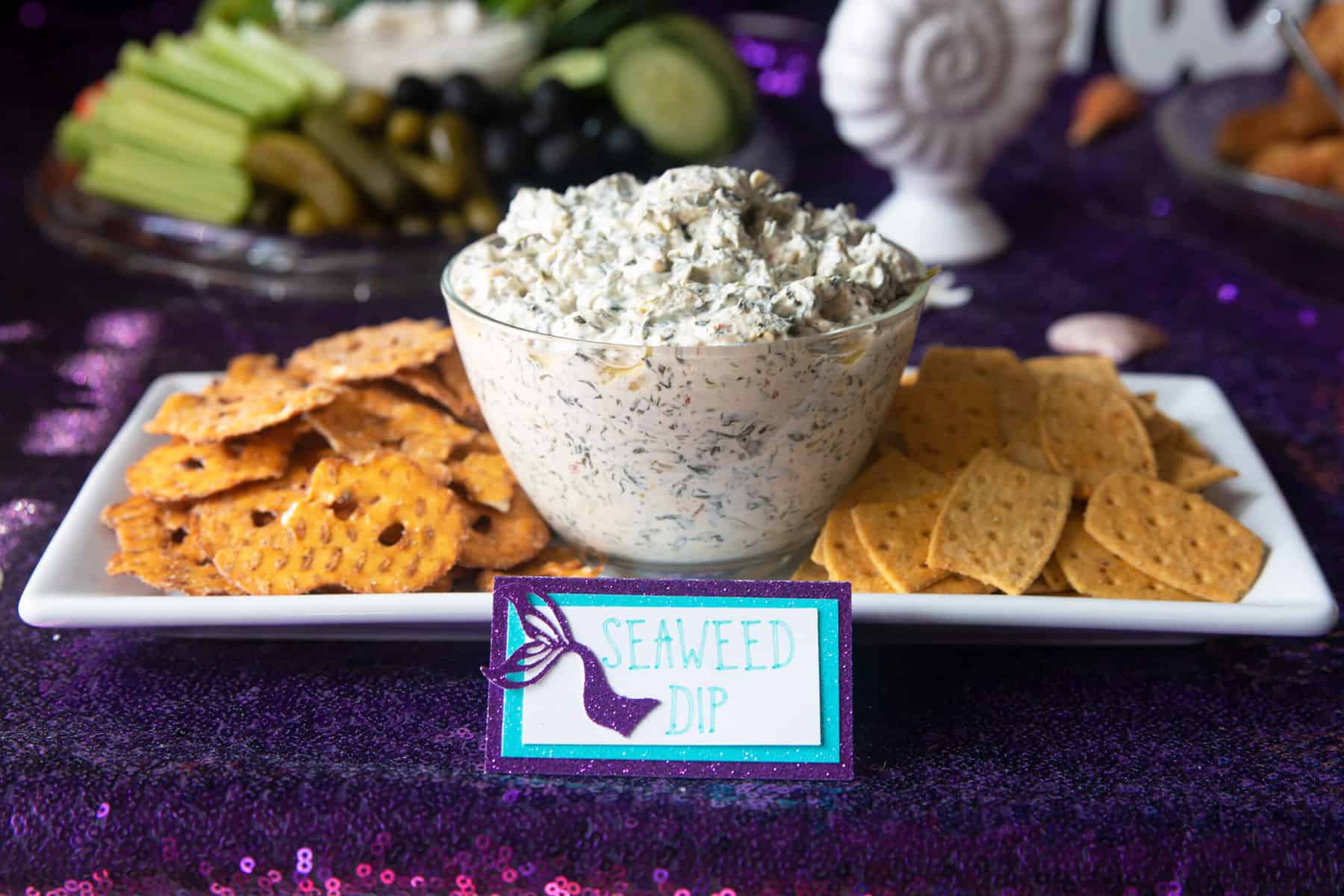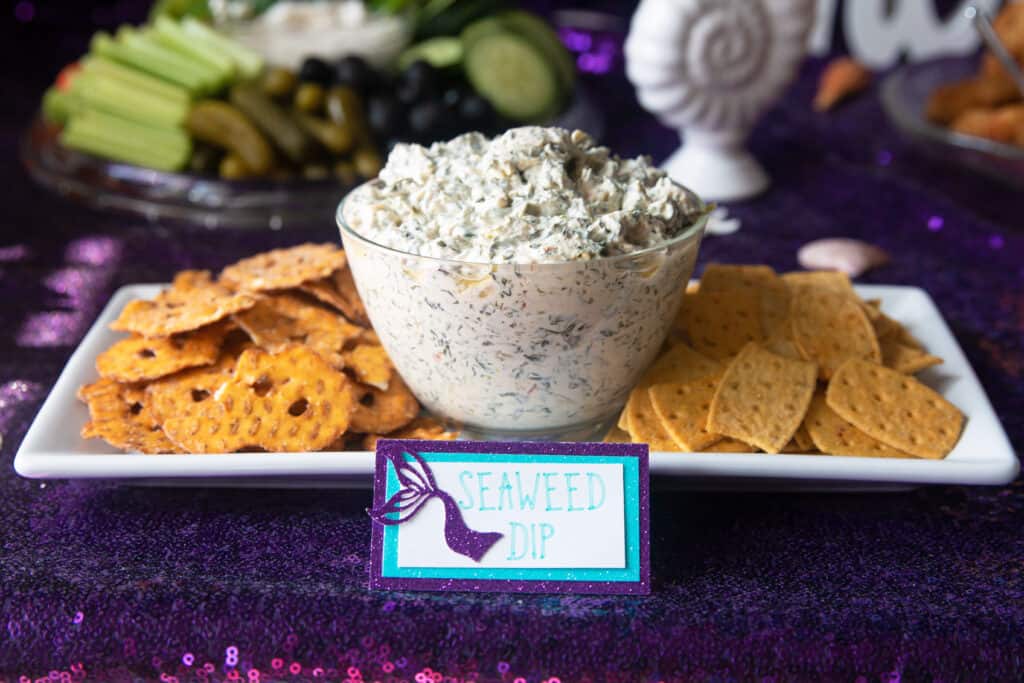 I used my Spicy Ranch Spinach Dip to make the seaweed dip. Still one of my favorite dips to make (and eat) to date.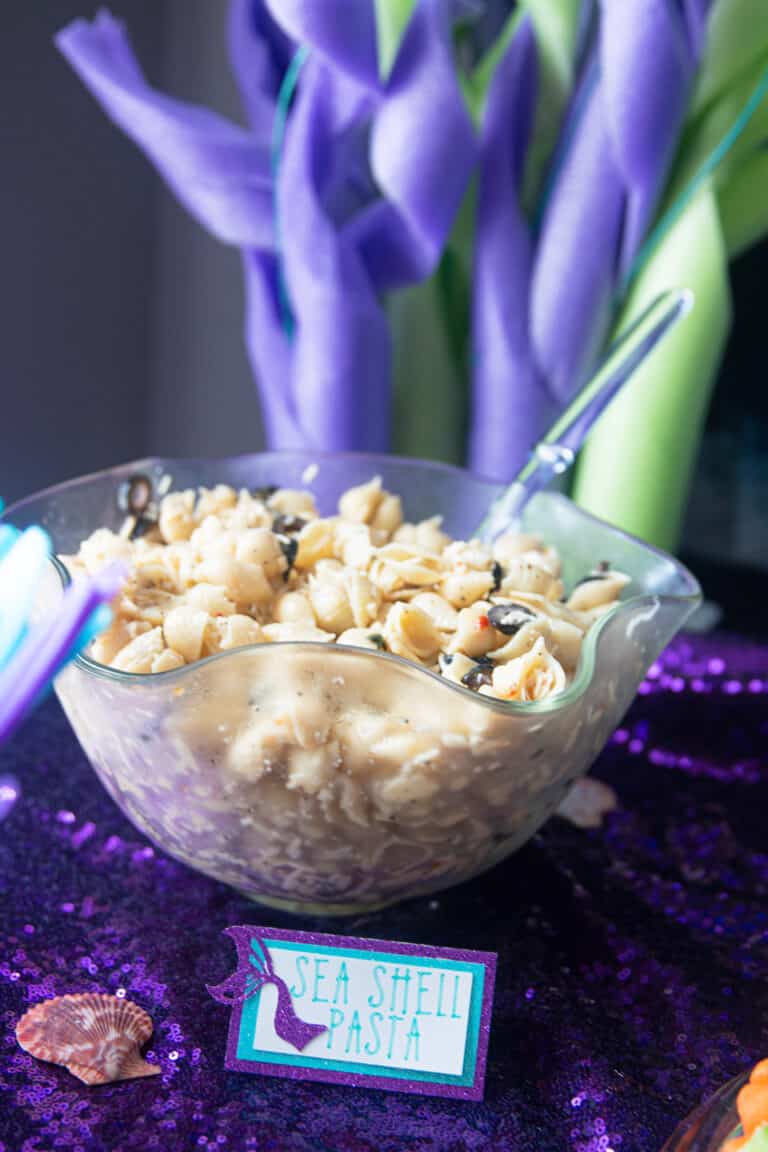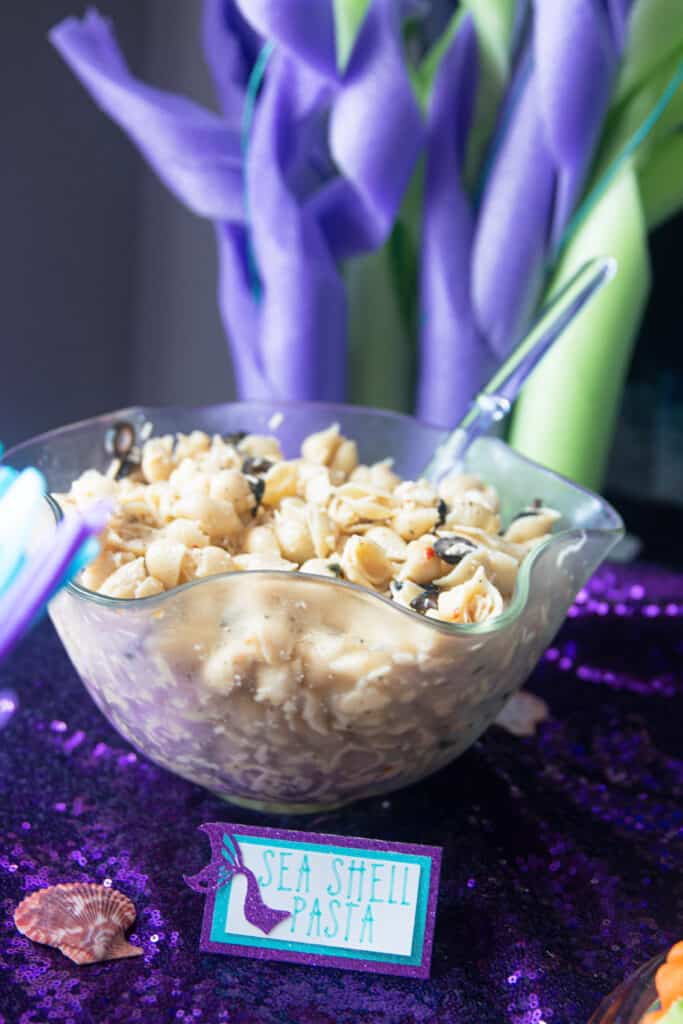 The sea shell pasta was simply cooked pasta, zesty Italian dressing and sliced black olives.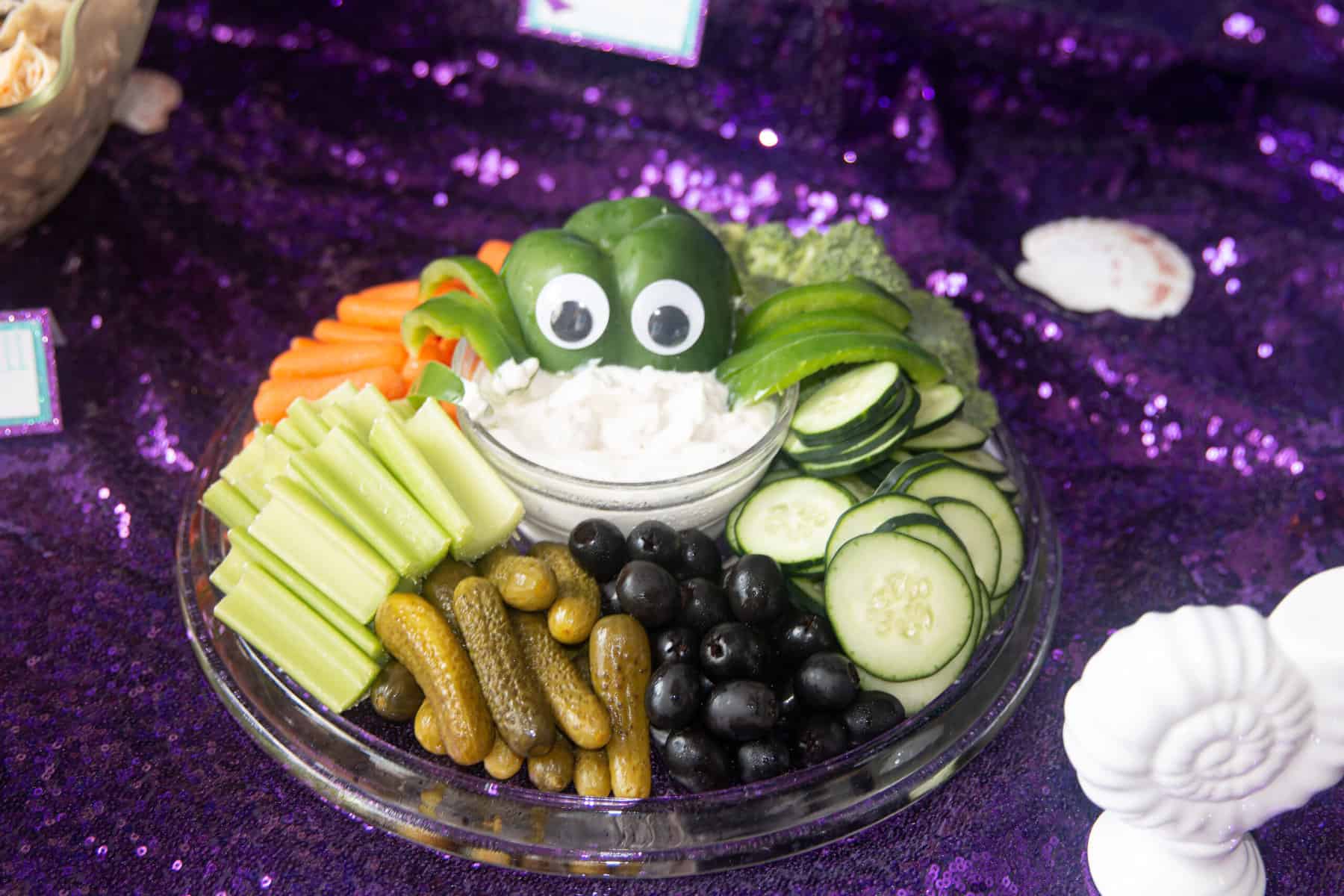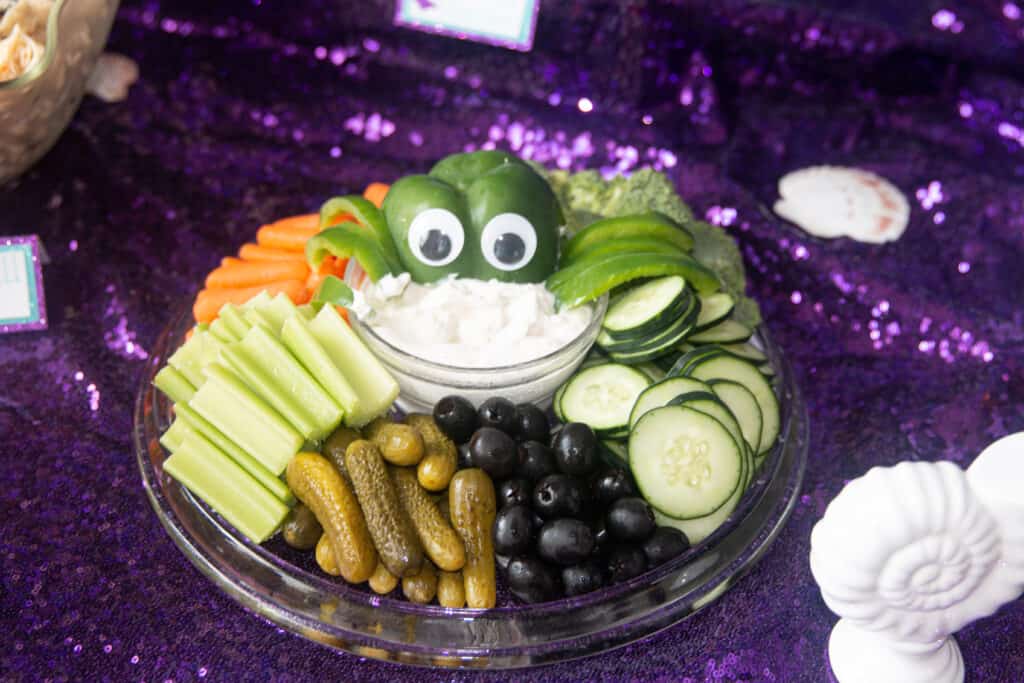 I always like to have a veggie plate in case someone is trying to stick to a diet or is maybe not into the massive amount of meat I supply. To make the octopus I cut off the top and the bell pepper and cut slices to make "legs." Then just super glued some googly eyes on it.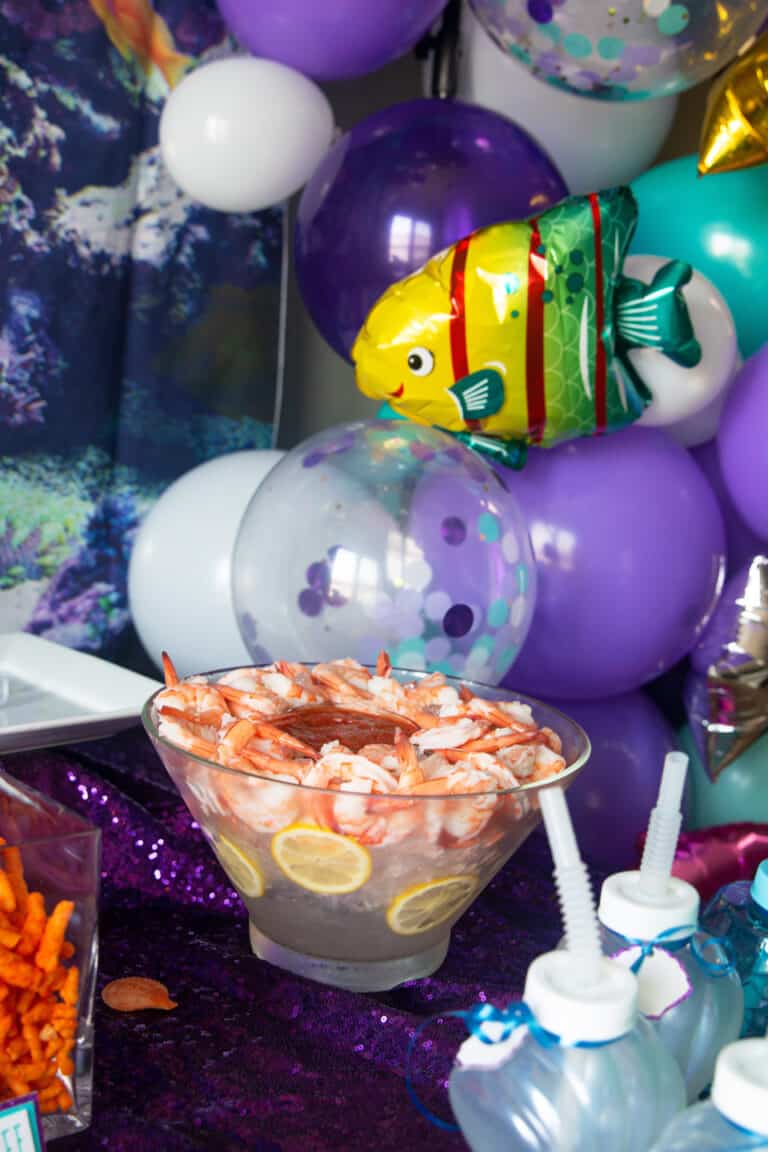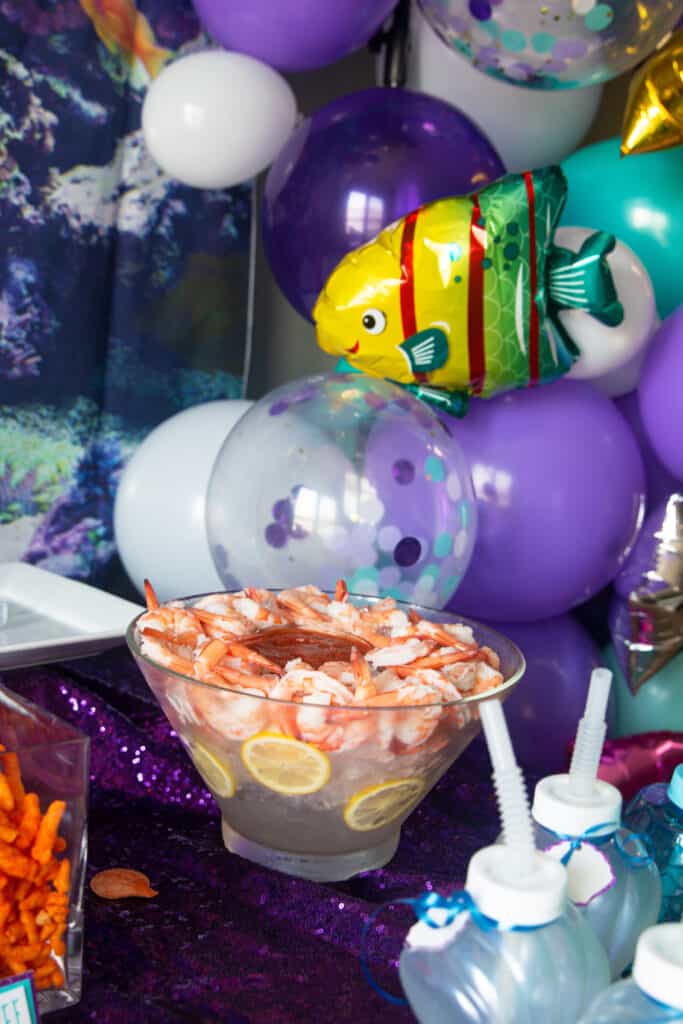 Shrimp cocktail seems to always be a hit at parties. I just bought the already cooked and peeled shrimp and defrosted it. I like to serve it on ice because shrimp cocktail is best served really cold.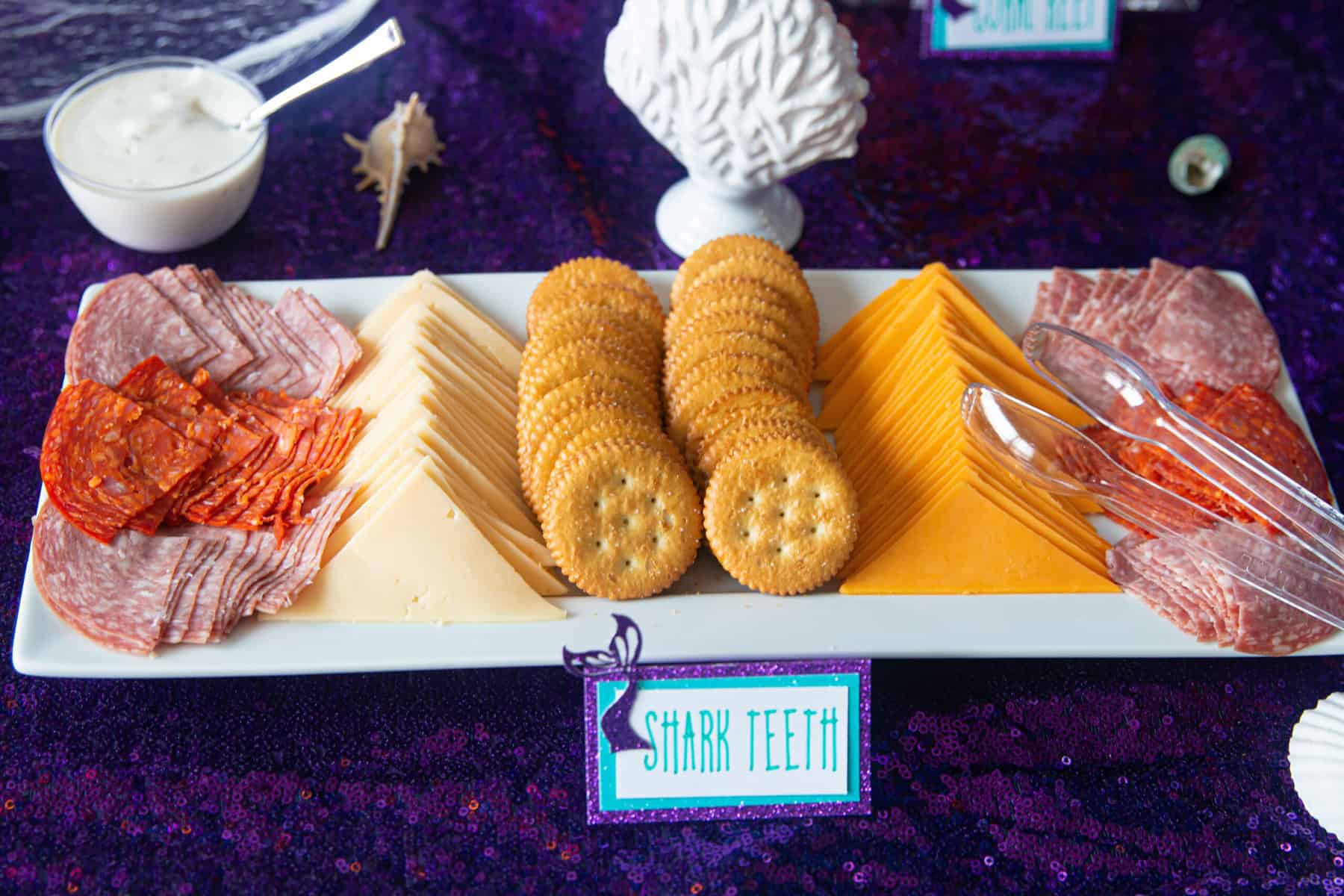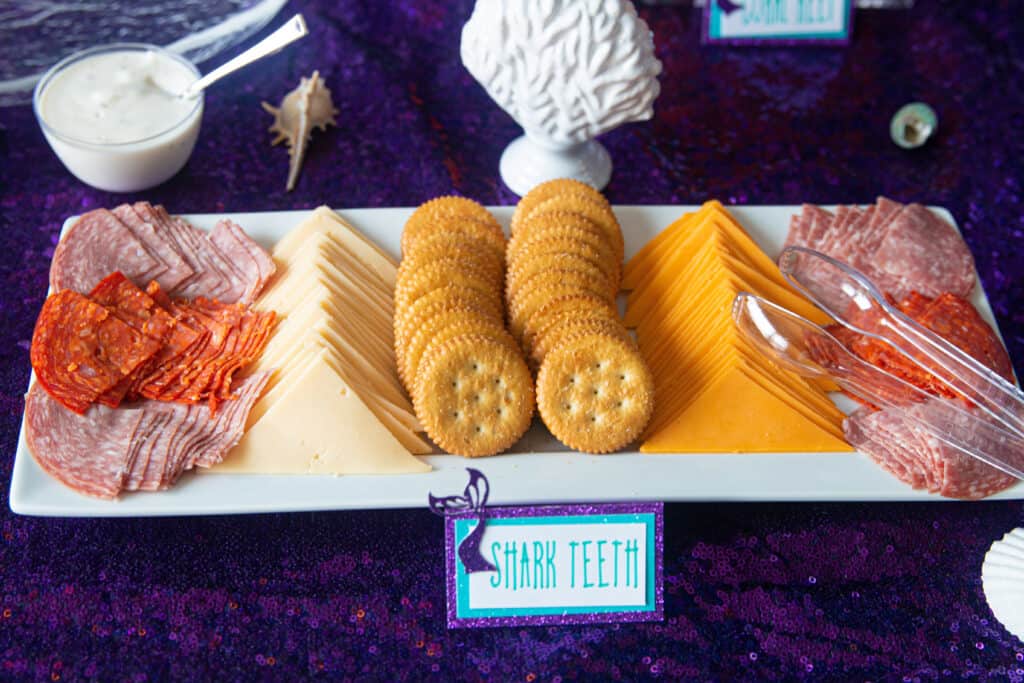 A meat, cheese, and cracker plate is usually always essential for my parties. I cut the cheese and meat into triangles and called it shark teeth.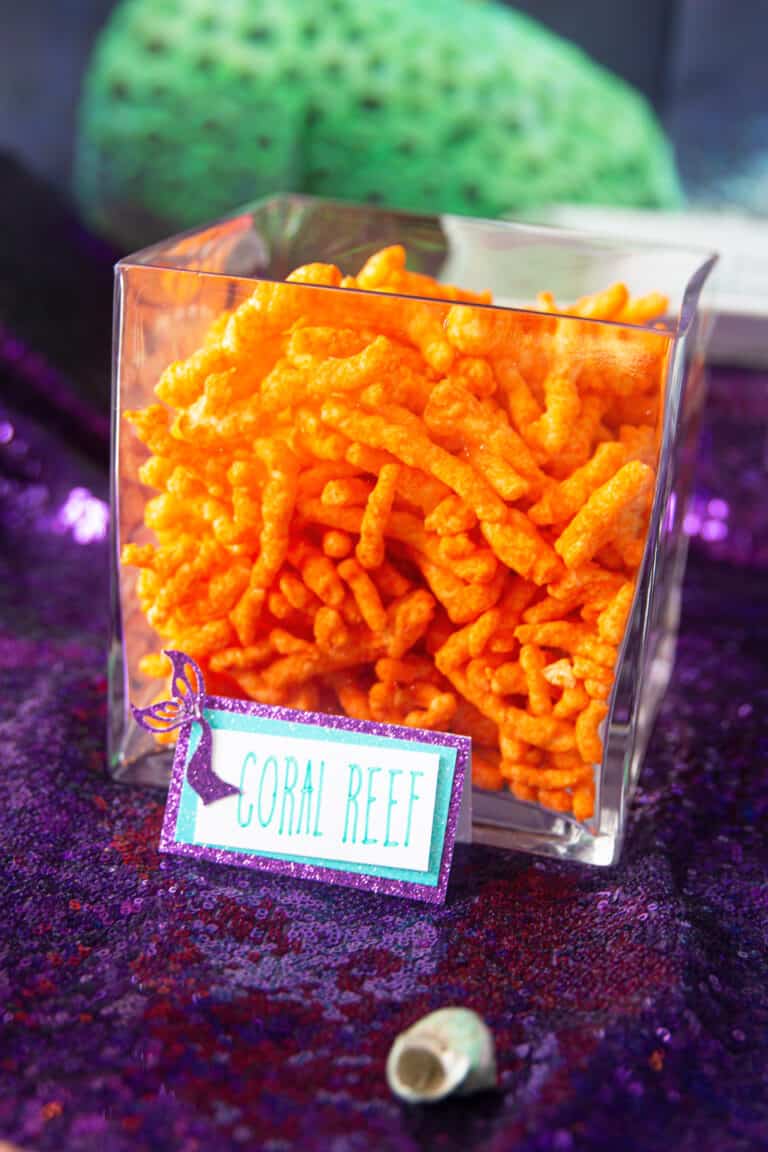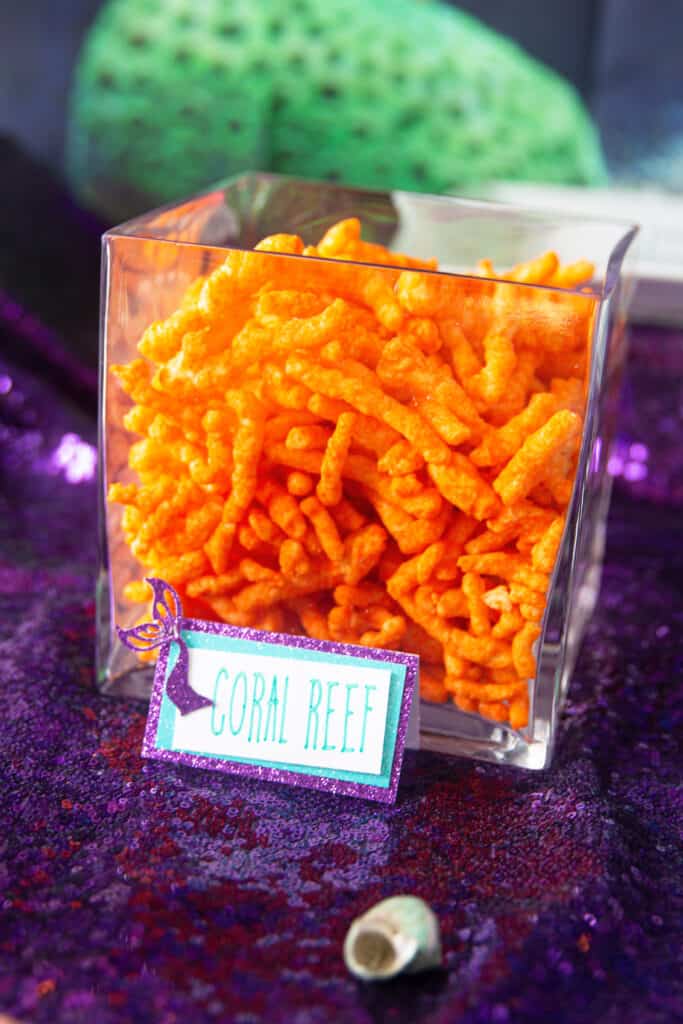 Threw some Cheetos in a bowl and called it coral reef. Chips always seem to be a popular one at parties. Especially with children.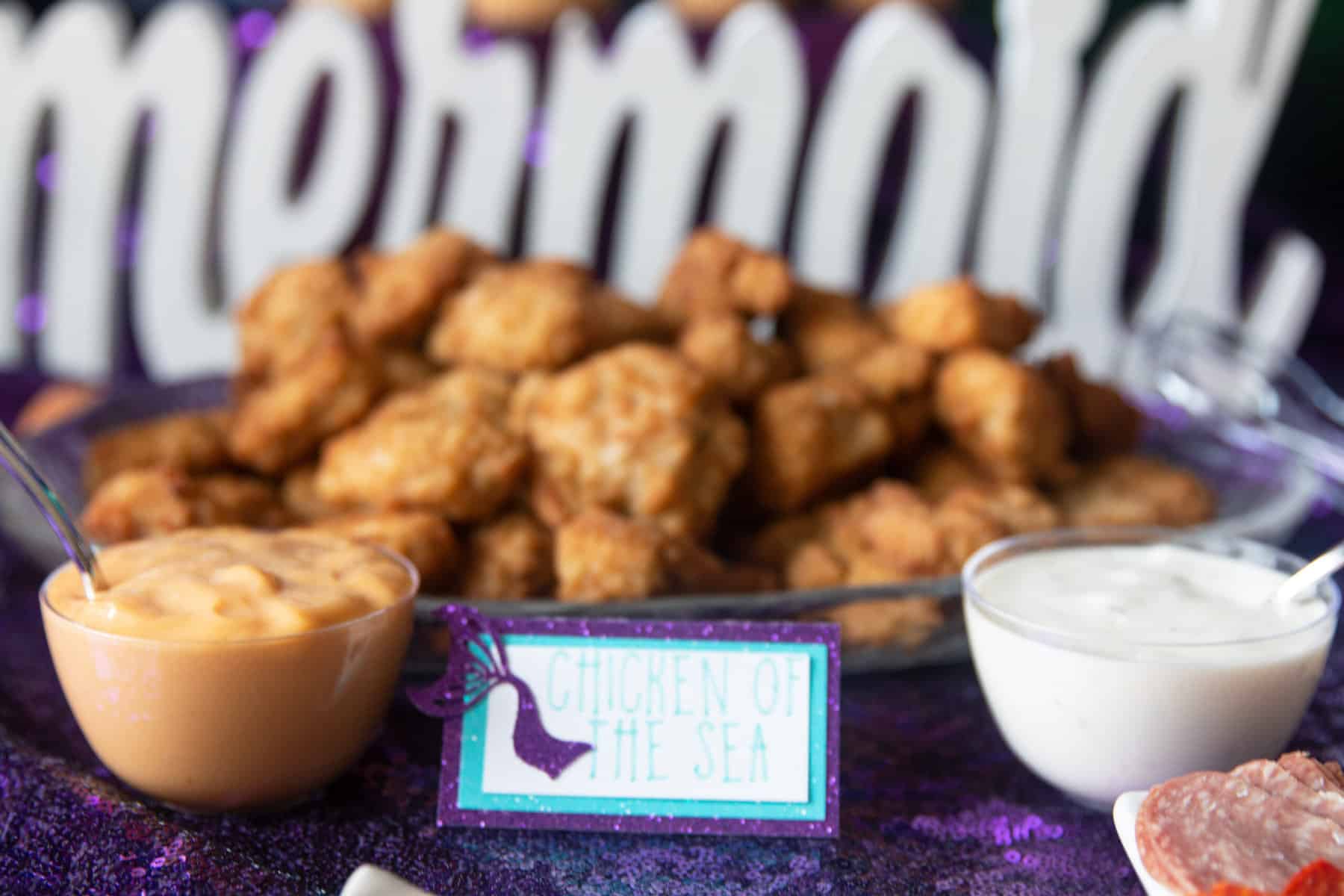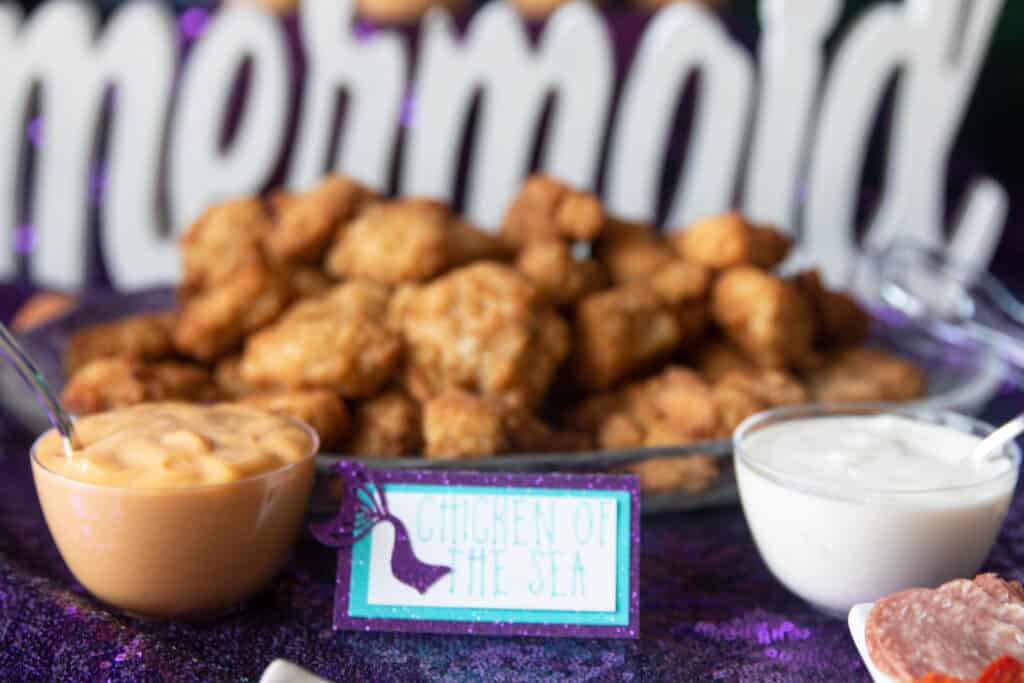 I bought some of the member's mark chicken nuggets form Sam's Club and made them the chicken of the sea. Served with some ranch dressing and Chickfila sauce.
Other Mermaid Themed Food:
1. Seashell Cookies
These adorable cookies are shaped like seashells and can be colored to match the mermaid theme.
2. Ocean Water Punch
A refreshing blue drink that mimics the color of the ocean.
3. Mermaid Sushi
Create colorful sushi rolls using natural ingredients like beet juice and spinach to dye the rice.
4. Octopus Hot Dogs
Turn ordinary hot dogs into sea creatures by slicing them to resemble octopus tentacles.
5. Coral Reef Veggie Platter
A creative way to serve veggies by arranging them to look like a coral reef.
6. Fish-shaped Sandwiches
Use a fish-shaped cookie cutter to make these cute sandwiches.
7. Mermaid Ice Cream
A colorful, homemade ice cream that's perfect for a mermaid-themed party.
8. Seaweed Dip (Spinach and Artichoke)
A delicious dip that fits the theme perfectly.
9. Clam Shell Cookies
Use madeleines or similar shell-shaped cookies and add a "pearl" (white chocolate ball) inside.
10. Mermaid Tail Cupcakes
Cupcakes topped with a mermaid tail made from fondant or chocolate.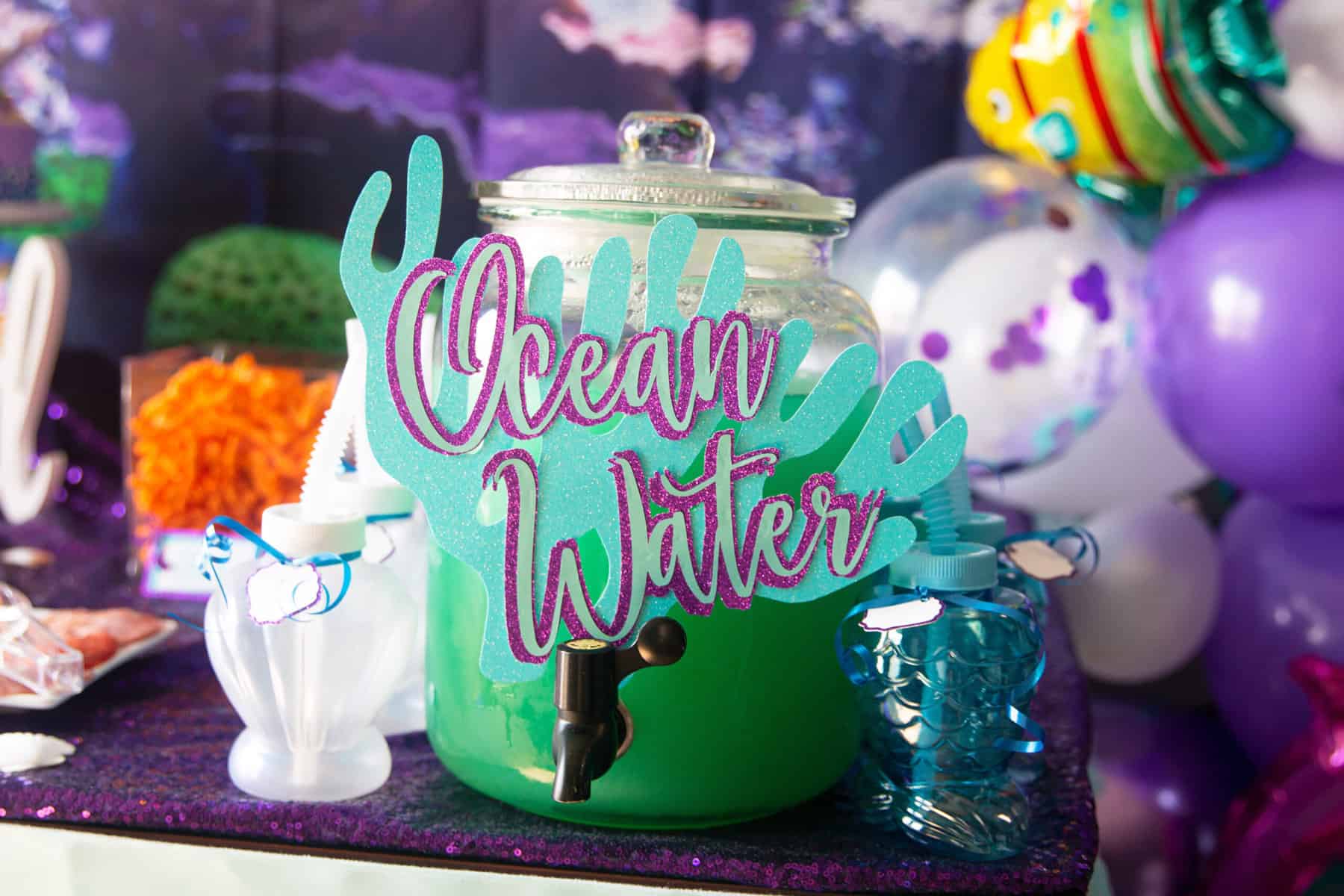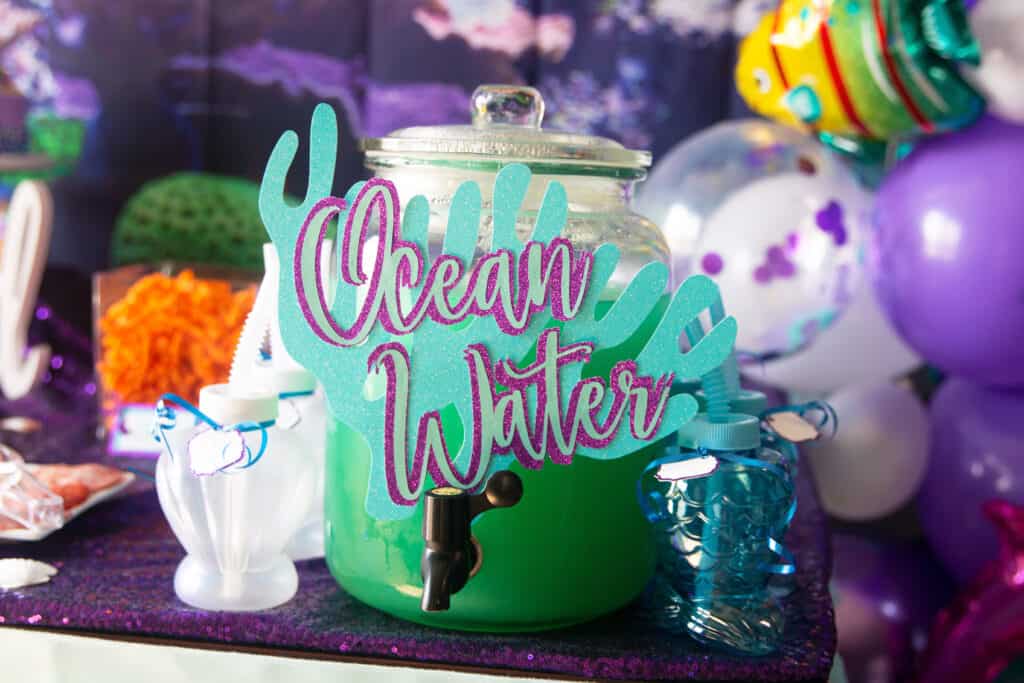 For the kid friendly drink I made ocean water out of blue Hawaiian punch, sprite, and pineapple. I had the option of adding coconut rum or vodka for the adults. I got the cute mermaid tail and sea shell cups at Dollar Tree.
More Kid Friendly Drinks
1. Mermaid Party Punch
This punch is a blend of lemon-lime soda, pineapple juice, and blue Hawaiian punch. It's easy to make and a hit at mermaid-themed parties.
2. Mermaid Lemonade
This lemonade changes color from yellow to blue, adding a magical touch to your party.
3. Mermaid Punch with Lemonade
This version uses lemon-lime soda, pineapple juice, lemonade, and blue Hawaiian punch. It's a bit different from the first one and includes lemonade for an extra tangy flavor.
4. Ocean Water
This is a simple recipe that mimics the color of the ocean using blue food coloring, lemon-lime soda, and coconut extract.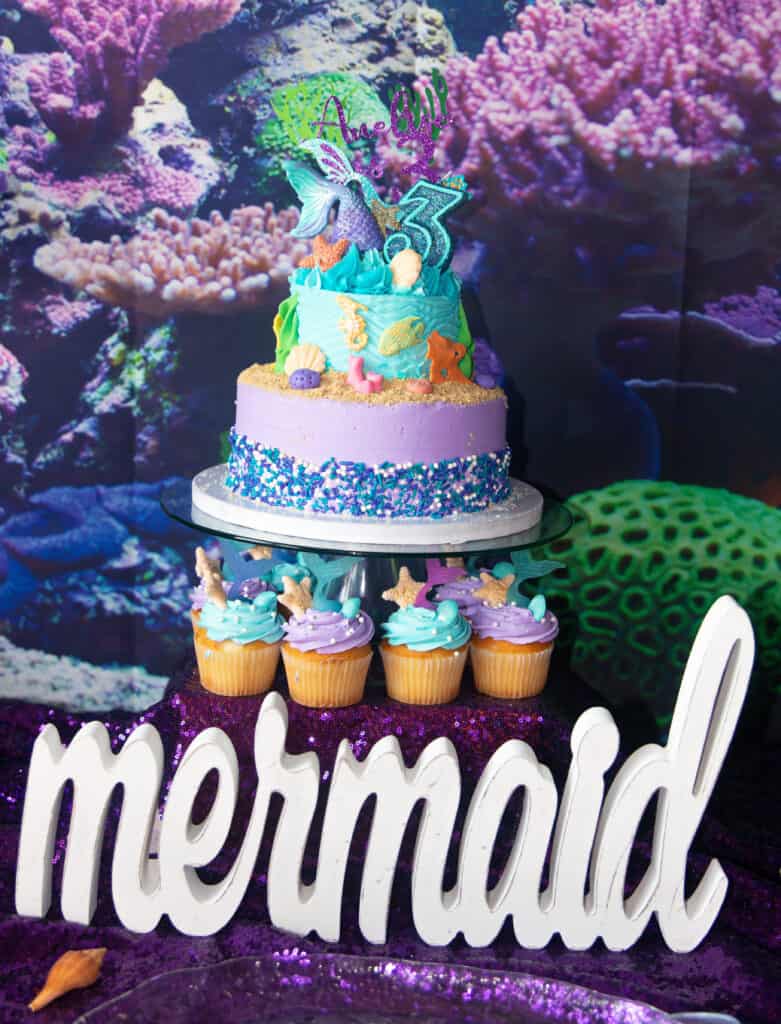 I decided to go with a cake and cupcakes this year. I usually go to Sam's Club, but I didn't like how they changed their mermaid themed cakes. So I went to Target with not really knowing what I wanted. They only do smaller cakes and don't do multiple tiers often. Since the cake was going to be so small I had to add cupcakes.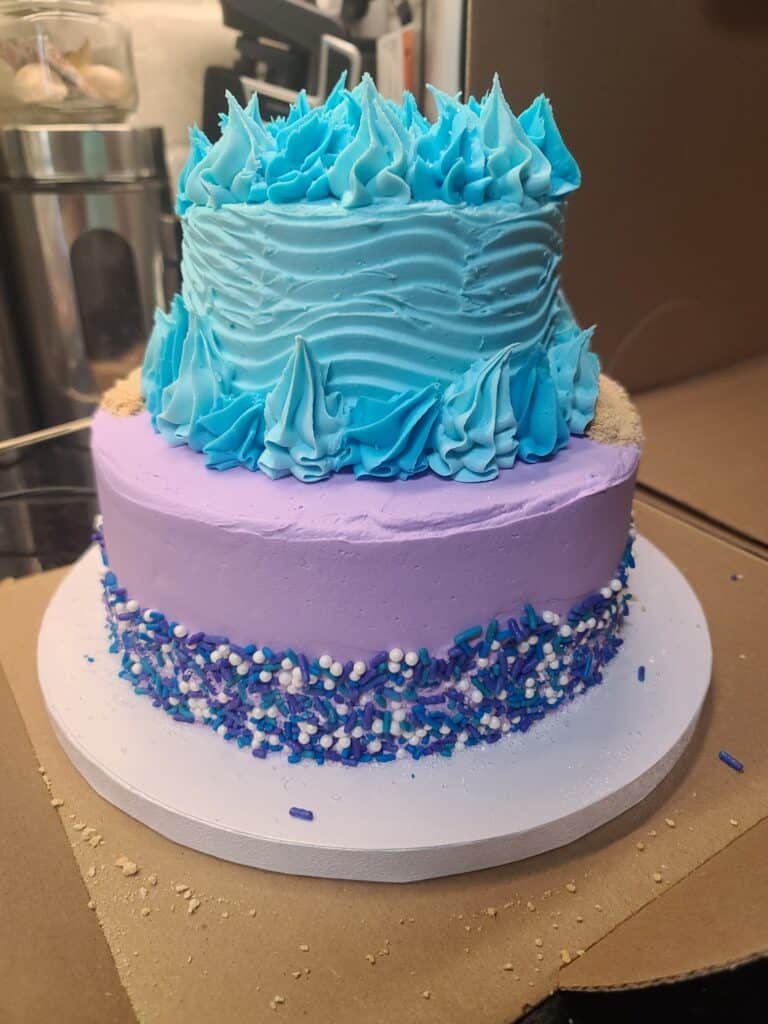 This was the before shot of the cake. I told them to pretty much leave it plan because I was going to add under the sea fondant pieces myself. Granted the cake did taste really good $50 for this tiny, barley decorated cake seemed a bit ridiculous.
I added crushed graham crackers to create the sand look and then attached the fondant pieces I made. For the cup cakes I added these ring mermaid tails and some fondant pieces and white pearl sprinkles.
All in all it turned out great with everyone having fun, especially the birthday girl.
Tips for a Mermaid Themed Birthday
If you are having a bigger party with many guests buy your food in bulk from Sam's Club or Costco. It cuts costs a lot.
Buy as much premade food as you can to take some of the stress off. The shrimp and the chicken nuggets were already cooked just needed some heating up.
Prep what food you can the day before. I assembled the veggies tray and meat and cheese try the day before (admitting the crackers) and covered and stored in the refrigerator. I also made the spinach dip the day before.
If possible decorate as much as you can the week of. Most of my house was decorated days before. I did the table setup 2 days before and also the balloon arch. The balloons will hold their air for quite sometime.
Have to-go containers handy for guest to take some food home. I ALWAYS have too much food so everybody taking some home helps me out. Less to store and less for me to be tempted to eat since I'm dieting.
Check out Some More Party Ideas
Taco Bar Party
Hosting a Friendsgiving
Safari Baby Shower
Enchanted Forest Birthday Party